Pages 230-234
A History of the County of Huntingdon: Volume 2. Originally published by Victoria County History, London, 1932.
This free content was digitised by double rekeying. All rights reserved.
GREAT STUKELEY
Stiuecle (xi cent.); Stiueclai, Stiuekelea (xii cent.); Styvecle, Magna Steuecle, Stiuekle (xiii cent.); Stuecle (xv cent.); Stewkeley, Stukelie, Steukeley (xvi cent.) covering 2,875 acres, lies in the centre of the county, adjoining Huntingdon on the south. The Great Northern Railway runs through the parish in the east. The land is low-lying and fertile; towards the south-west, where Alconbury Brook forms part of the boundary, the pasture land is liable to flood, the highest land being in the northeast.
The parish is mainly arable land, the soil being clay, but there is a small amount of woodland. The principal crops are wheat, barley, and beans.
The scattered village lies on both sides of Ermine Street, the Roman road, which crosses the parish on its way from Peterborough to Huntingdon. The village is divided into three districts. Church End, with the church, vicarage, schools, Wesleyan chapel and some houses and cottages form the more westernly portion; Owl End to the north-east, bordering on Stukeley Hall and Park, the residence of Mrs. Walter Fenwick, consists of the Manor Farm, a 17th-century L-shaped house with later additions, Cartwright's Farm and the cottages subsidiary to these farms and the Hall. Further to the north-east is Prestley Wood, in which is a moated inclosure marking the site of the manor house of Prestley Manor. To the south is Green End, comprising a group of 17th-century half-timbered houses.
MANORS
At the time of the Domesday Survey (1086) the Countess Judith had three hides in Great Stukeley, with a church and a priest, which were held under her by a woman named Hunneve or Hunnef. Eustace the Sheriff had a virgate, then waste, which was held of him by Herbert. Eustace also claimed the Countess Judith's lands. (fn. 1) Both these holdings were retained in the hands of Judith's descendants Earls of Huntingdon until Earl David (d. 1219) sub-enfeoffed Robert de la Carnaile (Kernilio, Kernele) of 20 librates of land for one knight's fee; he further gave to Ralph de Camoys 100 solidates of land for a quarter of a knight's fee and to Simon de St. Liz 10 librates of land for half a knight's fee. (fn. 2)
The first of these holdings seems to have been known as STUKELEY MANOR and later as NOKES MANOR. Maud, daughter of Robert de la Carnaile, probably a son of the grantee, married John de Den, (fn. 3) and they held the manor in 1279 with suit at the court of the honour at Huntingdon called the 'Barunesmote.' (fn. 4) In 1286, Maud evidently being dead, John de Den claimed the manor in right of his daughters Agnes and Alice, who were under age. (fn. 5) John de Den held various appointments as commissioner of the peace and as collector of the fifteenths in Huntingdon from 1297 to 1302. (fn. 6) It would appear that before 1306 Agnes de Den married William son of William de Wassingley and Alice married Hugh atte Noke. (fn. 7) Richard atte Noke, possibly son of Alice, was holding this manor in 1346. (fn. 8) Nicholas, son of John de Stukeley, (fn. 9) settled this manor and Presteleys on himself and his son Nicholas in tail in 1378, (fn. 10) and apparently died in or about 1377. (fn. 11) Nicholas the younger was knighted and died about 1395. (fn. 12) He was succeeded by his brother John, who, with his wife Agnes and son John, settled the manor of Woolley in 1388. (fn. 13) It was probably the son John de Stukeley who presented to the living of Little Stukeley in 1404 and 1407, (fn. 14) but in 1428 the manor of Great Stukeley was held by Nicholas de Stukeley. (fn. 15) Nicholas was knighted and he and his wife Agnes were dealing with lands in 1432. (fn. 16) John de Stukeley had apparently succeeded to the family estates by 1477, when he and his wife Margaret were dealing with lands in Buckden. (fn. 17) In 1484 he made a settlement of the manor of Nokes among various other properties (fn. 18) and died in 1488, his son Gerard being his heir. (fn. 19) Gerard died seised in 1506, leaving a son and heir William, (fn. 20) who proved his age in 1527. (fn. 21) William Stukeley died in 1538 seised of the manors of Stukeley, Nokes and Presteleyes, the heir, his son Matthew, being a minor. (fn. 22) Matthew died in the following year, and his inheritance passed to William's sister Katherine, wife of Henry Torkington, afterwards Katherine Broughton. (fn. 23) Lawrence Torkington, second son of Katherine and Henry, succeeded to the property on Katherine's death in 1554, although it was not until the death, in 1565, of Emma Vaughan, formerly wife of William Stukeley, that he became seised of the whole property. (fn. 24) Lawrence Torkington, son of Lawrence, succeeded his father in 1602 (fn. 25) and was in turn succeeded by his son Thomas in 1627. (fn. 26) At Thomas's death in 1634, a third Lawrence Torkington, brother of Thomas, inherited the manors, (fn. 27) and died leaving a son of the same name in 1645. (fn. 28) The manors descended in the family, (fn. 29) being held by another Lawrence Torkington in the first half of the 19th century, when, and later, they disposed of much of the land of the manor, but retained the Hall until 1901. In that year it was sold to Captain Montgomery, and he in 1905 sold it to Mr. Howard Coote. It was purchased from Mr. Coote in 1923 by Mrs. Walter Fenwick, of Tixover Grange, Rutland, who is the present owner. (fn. 30)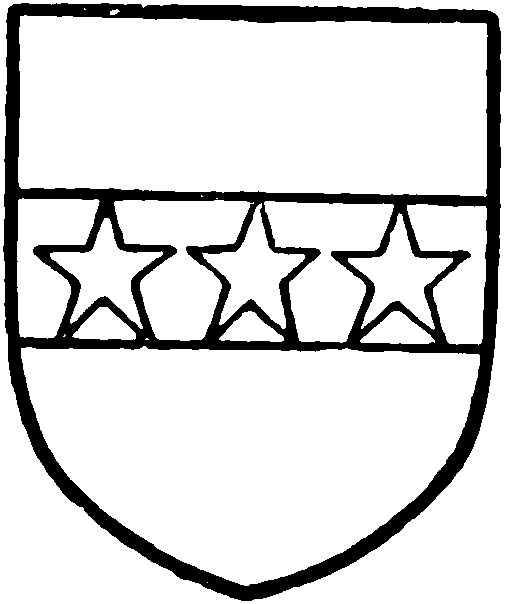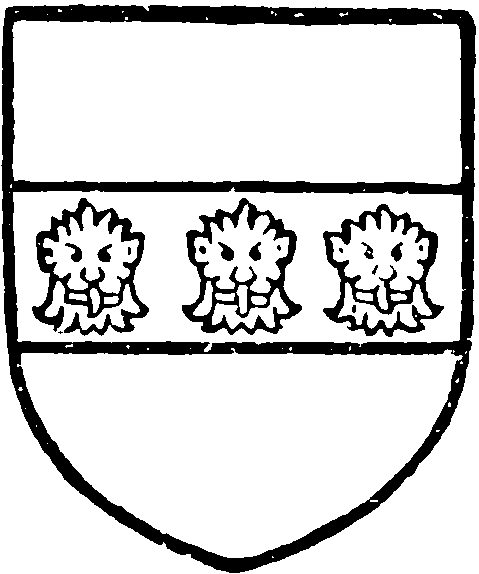 The moiety of the manor which went to Agnes de Den, who married William, son of William de Wassingley, was held of the Honour of Huntingdon by the service of carrying a white rod before the lord of the Honour from the cross called Stukeley Cross to Huntingdon Bridge. (fn. 31) The manor continued in the hands of the Wassingleys of Washingley (q.v.) and passed to Joan sister and heiress of John Wassingley in 1464. (fn. 32) John Dyke and his wife, heiress of John Wassingley, were dealing with the manor in 1480. From them it passed to Ralph Latham and Elizabeth his wife, who in 1517 sold it to the Master and Fellows of St. John's College, Cambridge, who still hold it. (fn. 33)
The second holding which was granted by Earl David to Ralph de Camoys and later known as CAMOYS MANOR, was also held of the Honour of Huntingdon. On the death of Ralph in 1259 the manor passed to Ralph his son. (fn. 34) Ralph the son died about 1277, when he was succeeded by his son John, (fn. 35) who settled the manor for life on his sister Ellen and her husband Stephen de Eppeworth, with remainder to his son Ralph. (fn. 36) In 1316 this Ralph de Camoys, with Elizabeth his wife, settled the manor (fn. 37) and in 1318 obtained a grant of free warren. (fn. 38) Ralph had a son John, who married Margaret daughter of Richard Foliot, and died after 1344 without issue. (fn. 39) In 1386 the manor was held by Thomas son of John de Camoys, (fn. 40) who died seised of it in 1421, leaving his grandson Hugh, son of his son Richard, his heir. (fn. 41) Hugh died five years later, his heirs being his sisters, Margaret, wife of Ralph Radmylde, and Eleanor, wife of Roger Leukenor. (fn. 42) Ralph Radmylde survived his wife and died in 1443, holding a moiety, their son Robert being the heir. (fn. 43) This portion appears to have passed to the Leukenor family as Roger, outliving his wife Eleanor, held the whole of Camoys manor at his death in 1479. (fn. 44) The manor was afterwards acquired by the Windsor family of Little Stukeley (q.v.). (fn. 45) Sir Edward Windsor sold it in 1568 to Thomas Trice, (fn. 46) and it had passed before 1581 to his son, Richard Trice. (fn. 47) A settlement was made in 1601 by Richard Trice and Ann, his wife, (fn. 48) on the marriage of their daughter Frances with Oliver Cheyney. Richard died in 1609 and his daughter in the following year. (fn. 49) Oliver Cheyney, afterwards knighted, held the manor until 1618, when he conveyed it to John Stone. (fn. 50) Sir Richard Stone, John's son, was sheriff and a prominent Royalist. (fn. 51) He still held the manor in 1651. (fn. 52) His son John sold it about 1679 to Mary, widow of Walter Norborne of Calne (co. Wilts), who settled it in 1702. (fn. 53) Her grand-daughter Mary, daughter of John and Isabel Norborne, married Charles Bertie (fn. 54) in 1704. Their son Charles Bertie sold it in 1757 to Sir John Heathcote, from whom it descended to Mr. John Norman Heathcote, the present owner. (fn. 55)
The third holding granted by Earl David was later known as the manor of PRESTLEYS. It was held of the Honour of Huntingdon by the service of half a knight's fee. (fn. 56) The grantee, Simon de Senliz or St. Liz, was probably a member of the family of Senliz, Earls of Huntingdon. The holders of this manor successively held the name of Simon, so that it is difficult to distinguish them. Simon de Senliz was dealing with a rent in Stukely in 1229, (fn. 57) and in 1231 his son and heir, another Simon, was quit of being put on assizes. (fn. 58) In 1236 Simon de Senliz held half a knight's fee in Great Stukeley of the Honour of Huntingdon. (fn. 59) Anne, widow of Simon, in 1259 demanded dower in Great Stukeley against Ralph de Senliz. (fn. 60) Simon de Senliz in 1276 claimed gallows and other liberties in his manor in Great Stukeley, (fn. 61) and in 1279 he held a carucate of land in Great Stukeley for which he did suit at the court called Baron's Mote at Huntingdon. He and Richard de Senliz each claimed view of frankpledge. Simon died soon after Easter, 1287. (fn. 62) Isabel, his widow, had dower of his lands and his heir was apparently a minor. (fn. 63) In 1346 this manor seems to have been held by John Senliz. It was shortly afterwards in the hands of another Simon de Senliz, the kinsman and heir of whose son Simon, John son of Edmund Middleton of Radclif (co. Bucks), conveyed the manor of Presteles in 1367 to Nicholas Stukeley and others, (fn. 64) and it descended henceforth with the manor of Nokes (q.v.).
A messuage and lands in Great Stukeley were held in 1279 by Robert le Sumener of the Honour of Huntingdon by the serjeanty of summoning those who owed suit at the baron's court of the honour in the counties of Huntingdon, Cambridge, and Bedford. (fn. 65) Robert had a daughter Margery who obtained half a virgate of land in Great Stukeley in 1272. (fn. 66)
CHURCH
The church of ST. BARTHOLOMEW (fn. 67) consists of a chancel (25 ft. by 17 ft.), nave (49 ft. by 16½ ft.), north aisle (16 ft. wide), south aisle (8 ft. wide) west tower (12 ft. by 12 ft.), and a south porch. The walls are of rubble with stone dressings, and the roofs are covered with tiles and lead.
Although mentioned in the Domesday Survey (1086), nothing of this early church remains in situ but numerous stones built into the walls indicate a stone church in the 12th century. The earliest parts of the present structure are the north arcade, c. 1250, and the south arcade, south aisle and chancel are of a slightly later date. In the early years of the 14th century the present very wide north aisle was built and apparently the east and west bays of the arcade were rebuilt. The 15th century saw much building in progress at this church, beginning with the rebuilding of the chancel arch, about 1430, following on with the rebuilding of the middle part of the south aisle wall and building of the porch about 1470, and much about the same time the commencement of the tower, which, however, was not finished until a little later, and finally the addition of the clearstory to the nave. The porch was much altered in the 17th century, and partly rebuilt in 1913. The whole church was restored about the middle of the 19th century and again in 1909–10.
The late 13th-century chancel has a modern three-light east window with 14th-century inner jambs; in the north wall an original two-light window, much restored, a small doorway and two square lockers; in the south wall a two-light window and a low side window, both of the early 14th century and an original piscina with trefoiled head. The chancel arch is of the 15th century and still retains the marks where the rood loft went. The roof is modern, but has three very rough beams, probably 17th century.
The 13th-century nave has arcades of four bays each; the two middle arches on the north and the three eastern on the south are plainer and slightly earlier than the others. The columns are circular with simply moulded capitals and bases, except the middle column on the south which has a capital carved with stiff-leaf foliage. The upper door of the rood stairs remains in the north-east corner. The clearstory has three late 15th-century three-light windows on each side; the walls are largely built of old material, and in the north-east window is part of a sepulchral slab with head of an effigy in bold relief. The roof is modern and very poor.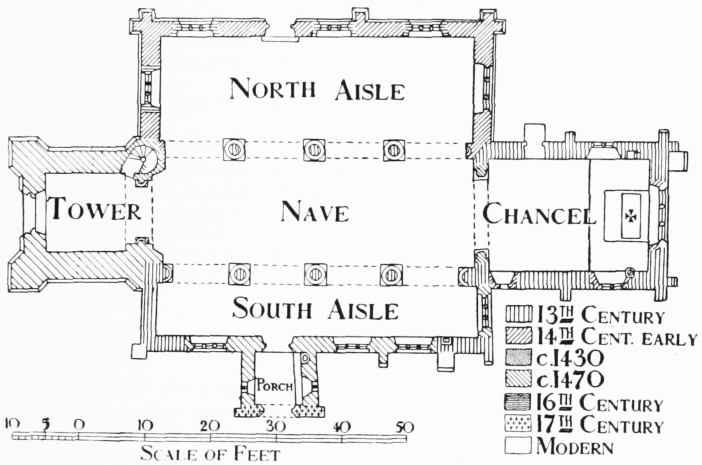 The early 14th-century north aisle has an original three-light east window with modernised head. In the north wall are three early 16th-century three-lights, an original door, and the inner jambs, etc., of two original windows. The west wall has an early 16th-century three-light window, with small fragments of old glass. In the eastern respond of the north arcade are the mutilated remains of a small piscina of uncertain date. (fn. 68) The roof is modern, but incorporates one 15th-century ridge timber, and another timber inscribed B.W. + Y. 1830.
The late 13th-century south aisle, partly rebuilt, circa 1470, has a late 15th-century three-light east window with some old glass quarries; in the south wall three similar windows and a doorway, and a small piscina, probably of the 13th century.
The late 15th-century west tower has a lofty tower arch of two orders, the lower resting on engaged shafts with moulded capitals and bases. The west door has moulded jambs and a pointed arch, and over it is a three-light window; above this is a two-light window; and the belfry windows are of two lights with moulded jambs and arches. The lower part of a parapet with angle pinnacles remains, and the tower is covered by a low pyramidal tile roof probably of late date. The lower stage has the springing stones of a vault carried on four boldly carved corbels, one of a man putting out his tongue and holding his beard, another a woman in horned head-dress. There are also some large carved gargoyles on the outside of the tower. On the south-west buttress is an incised sundial, properly designed for its westerly aspect.
The south porch has a rebuilt outer archway, largely of 17th-century material. The side walls each have a small square-headed two-light window. In the north-east angle is a modern stoup in an ancient recess.
The 13th-century font has a heavy octagonal bowl supported on a large circular central and eight smaller shafts, all with moulded capitals and bases.
There are four bells, inscribed: (1) ✠ Omnia fianet ad gloriam Dei, 1626. (2) Remember the pore and nede. (3) Robt. Taylor, St. Neots, founder, 1797. Robt. Bond, churchwarden. (4) Tobias Norris cast me, 1635, John Dodson, Vicar, I. Webster, T. Clarke, C.W. The first by Haulsey, the second by Newcome.
There are monuments: in the chancel, to Edward Danns, d. 1810, and Rose his wife, d. 1794; and floor slabs to Richard, fourth son of Sir Richard Stone, d. 1658; and Elizabeth, daughter of the said Sir Richard Stone, d. 1660. In the nave, a floor slab with indent of a man in armour and inscription plate, evidently of Henry Torkington, (fn. 69) d. 1549; in the north aisle, to John Torkington, son of Lawrence John Torkington, d. 1861; Lawrence John Torkington, d. 1874; Mary Ann (Walker), wife of Lawrence John Torkington, d. 1892; and Lawrence John, her grandson, son of Charles Torkington, d. 1903; and a large matrix of a cross with marginal inscription, figure of a man in armour, two wives and two daughters, 14th century reused in 16th century for William de Stukeley; (fn. 70) in south porch, part of a 14th-century slab with inscription in Lombardic letters '… . e la Noke gis … l alme e-.' (fn. 71)
In the north aisle is a 14th-century carved stone, perhaps part of a pinnacle, now made up as a stoup.
Many fragments of 13th-century coffin-lids, several with the double-omega ornament, and other stones of the 12th and subsequent centuries are built into the walls.
The registers are as follows: (i) Baptisms, marriages and burials, 1 Jan. 1569 to 29 Sep. 1644; (ii) the same, 10 March 1645 to 24 Dec. 1776; marriages end 17 Oct. 1754; (iii) baptisms and burials, 17 Nov. 1776 to 17 Nov. 1812; (iv) the official marriage book, 7 Nov. 1754 to 25 Nov. 1811; the usual modern books.
The church plate consists of: A silver cup inscribed 'The Towne of Greate Stukeley' and hall-marked for 1624–5; a cover-paten belonging to it, inscribed 'There was added unto the old cupp twelve ounces by Mistris Alce Stone'; the hall mark is not clear, but appears to be for 1624–5; the stem of the paten inscribed 'In Honorem Christi,' has become detached and stuck into the base of the cup; a silver-gilt chalice with engraved inscription, '✠ Hic est filius meus dilectus', modern French make, 1924 or 1925; a silver-gilt paten, French make, same date; a silver-gilt ciborium, hall-marked for 1923–4; a pewter plate.
ADVOWSON
The Domesday Survey records the existence of a church at Stukeley. (fn. 72) It is not clear when the church was actually granted to the prior and convent of St. Mary, Huntingdon, but the grant, both of the church and of a piece of land called Gunnilda's virgate, was confirmed to the priory by Henry I and succeeding kings. (fn. 73)
In 1542 Richard Williams alias Cromwell kt., received a grant of the late Priory's possessions in Stukeley, (fn. 74) and the Cromwells leased the rectory from time to time. (fn. 75) About 1650 it was sold by Sir Oliver Williams alias Cromwell to John Stone (fn. 76) and was afterwards held by the lords of Camoys Manor (q.v.). The advowson of the vicarage appears to have been retained by the Crown when the grant of the rectory was made. It was granted by Queen Mary in 1558 (fn. 77) to Trinity Hall, Cambridge, by which it was held until about 1884, about which date it was purchased by Mrs. Ashton, who apparently sold it almost at once to Mr. John Ellison. It was conveyed to the Society for the Maintenance of the Faith on 31 October 1884, and this Society is still the patron.
CHARITY
Town Land. This property comprises two closes of pasture land known as Sapley Close and Clay Pits Close, containing respectively 5 acres 3 roods, and 3 acres 10 poles, which were set out in lieu of land formerly appropriated to the repairs of the parish church.
The land is let by the churchwardens and the rent, amounting to about £16 per annum, is carried to the churchwardens' account.