Pages 255-256
A History of the County of Huntingdon: Volume 2. Originally published by Victoria County History, London, 1932.
This free content was digitised by double rekeying. All rights reserved.
THE HUNDRED OF TOSELAND
CONTAINING THE PARISHES OF
ABBOTSLEY
HEMINGFORD ABBOTS
ST. NEOTS
BUCKDEN
HEMINGFORD GREY
SOUTHOE
DIDDINGTON
HILTON
GREAT STAUGHTON
EYNESBURY
MIDLOE
TETWORTH
FEN STANTON
OFFORD CLUNY
TOSELAND
GREAT GRANSDEN
OFFORD DARCY
WARESLEY
GODMANCHESTER
GREAT PAXTON
YELLING
HAIL WESTON
LITTLE PAXTON
Toseland Hundred, at the time of the Domesday Survey (1086), was returned as 214 hides, and, with the exception of Godmanchester, which in the return of 1086 was included in Leightonstone Hundred, and Papworth, which is now included in Cambridgeshire, the extent was the same as it is to-day. Some of the names mentioned above do not appear in the Survey, but their areas were included with those of other parishes; thus Abbotsley was probably part of Eynesbury, as was also St. Neots; Hilton was included in Fen Stanton, and Midloe probably in Great Staughton; Tetworth was covered by Everton, and the parish of Toseland appears in the 12th century as a berewick of Great Paxton. (fn. 1)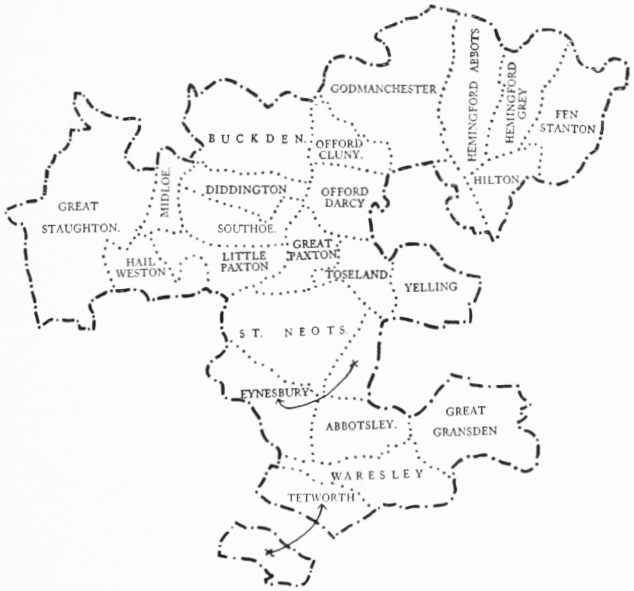 The name Toseland is Scandinavian in origin and is possibly connected with the old Norse word 'lunde,' meaning a grove, perhaps a sacred grove or small wood, the first syllable bearing some resemblance to the name of the Danish Earl Toglos or Toli, who was killed at the battle of Tempsford (921). (fn. 2)
The hundred belonged to the king, and in 1279 its value was returned as 4 marks. (fn. 3) It may be assumed that the court of the hundred was originally held in the parish of Toseland (q.v.) from the 'Moot' stone in the churchyard there, but in 1651 it was held every three weeks at Spaldwick. (fn. 4) In 1279 there were comparatively few suitors.
In 1628–9 the hundred was leased by Charles I to the Earl of Manchester for a term of 31 years, at a yearly rent of 22s. 9d., being part of £2 17s. 9d., but by 1651 the value had increased to £12 13s. 1d. A fresh lease was granted to the Earl of Manchester in March, 1661, (fn. 5) for a further term of 31 years, at a rent of 50s. 9d., together with the Hundred of Leightonstone, and all privileges and advantages thereto belonging, including the office of bailiff of both hundreds. In 1691 Charles Earl of Manchester petitioned for a renewal of the grant under the same conditions as that made to his grandfather. The matter was referred to the Treasury, (fn. 6) but no evidence of the request being granted has been found. The profits from the hundred have now been lost, and any rights belonging to the hundred are apparently still in the crown.