Pages 302-304
A History of the County of Huntingdon: Volume 2. Originally published by Victoria County History, London, 1932.
This free content was digitised by double rekeying. All rights reserved.
HAIL WESTON
Heilweston (xii cent.) Hailweston, Halewestan, (xiij cent.).
The parish of Hail Weston contains 1,583 acres. The subsoil is Oxford Clay. About two-thirds of the land is arable and the remainder grass, with about 53 acres of woodland. The river Kym, anciently known as the Hail or Hayle, from which the parish derives its name, (fn. 1) forms the northern and eastern boundary of the parish. There was an ancient bridge over the river, which is mentioned in 1377. It was standing in 1798, when it was built of stone with four arches, but the parapet was ruinous. (fn. 2) The present bridge is modern. There are two springs, which were reputed to have medicinal qualities, but perhaps derive more fame from the poem by Michael Drayton, entitled the 'Holy Wells of Hailweston.' The springs were used for medicinal purposes in the 16th and 17th centuries, (fn. 3) but later fell into disuse. In 1844 they were sold and are now used by the Hail Weston Springs Co., aerated water manufacturers.
The village lies on the north side of the road from St. Neots to Kimbolton. The church is at the south-east end of the village, which contains several half-timber houses and cottages of the 17th century. The nearest railway station is at St. Neots, three miles away, on the London and North Eastern Railway.
A few Neolithic implements have been found, (fn. 4) but greater importance is attached to a bronze statuette of the Romano-British period which was found a few years before 1824. (fn. 5)
The parish has always been closely connected with that of Southoe, and though the civil parishes are now separated, ecclesiastically they are still united. The population in 1921 was 265.
MANORS
In the time of Edward the Confessor the manor of HAIL WESTON was held by two men, named Saxi and Uluin Chit. (fn. 6) Although Uluin was a man of Earl Harold, his manor was in no way subordinate to the Earl's great manor of Kimbolton. (fn. 7) In 1086, Robert son of Fafiton had succeeded them. (fn. 8) He seems to have been succeeded by his son Eustace (fn. 9) and grandson Aubyn. (fn. 10) In the 13th century, the manor apparently formed part of the Honour of Mortimer, (fn. 11) and in 1230 and 1242 Roger de Quincy, Earl of Winchester, held it as a mesne tenant of the Honour. (fn. 12) Before 1279, his daughters and heirs, Margaret, Countess of Ferrers, and Ellen, widow of Alan la Zouche, held their shares in demesne, so that the further sub-infeudation of the manor seems to have come to an end. (fn. 13) As at Eynesbury, (fn. 14) the Countess obtained two-thirds of the manor, (fn. 15) which apparently followed the descent of the manor of Eynesbury Ferrers, (fn. 16) until 1617, when the latter manor was sold by Sir William Dyer. (fn. 17) He retained the manor of Hail Weston, for which his son Sir Lewis Dyer, bart., compounded after its sequestration under the Commonwealth and was in possession of it in 1659. (fn. 18) After Sir Lewis's death in 1669, (fn. 19) it passed to William Dyer, (fn. 20) probably a nephew. Richard Dyer sold it to Henry Carter in 1699. (fn. 21) Carter became bankrupt and the manor of Hail Weston was sold in 1715 to Sir William Scawen, kt., (fn. 22) who resold it in 1720 to Richard Houlditch. (fn. 23) He, in the same year, sold it to William Astell. (fn. 24) In 1723 it was in the hands of the South Sea Company. Before 1730 it had come into the possession of Sarah, Duchess of Marlborough, at whose death in 1744 it passed to her grandson John Spencer, created Earl Spencer in 1765, who was holding in 1780. (fn. 25) He was succeeded at his death in 1783 by his son George John, second Earl Spencer, who before 1803 had sold the manor to John Pyne. It had passed to the Rev. Hele Selby Hele in 1811, then to John Hyde in 1814 and to Lawrence Reynolds in 1819. The trustees of Lawrence Reynolds were holding in 1841 and Edward Reynolds of Little Paxton in 1885. His son Edward died in 1893 and was succeeded by his son Capt. Edward Reynolds. After his death Mrs. Irene Larsen and Miss Gwendolene Reynolds, sisters of Edward Reynolds, sold the manor in 1920 to Mr. Robert Holmes Edleston, F.S.A., the present owner. (fn. 26)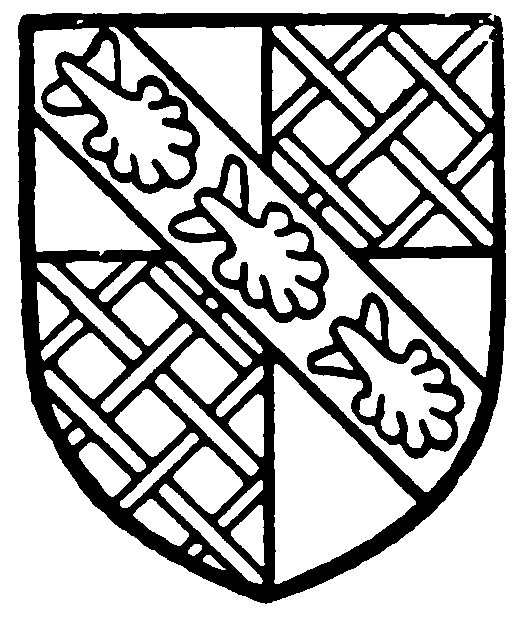 The manor of Hail Weston seems to have been held in the 12th century by sub-tenants as two-thirds of a knight's fee. (fn. 27) Whether they had any connection with Robert son of Fafiton and his descendants or whether they were enfeoffed by the de Quincys does not appear. Probably the first sub-tenant was Robert de Broy. (fn. 28) Two sons are mentioned in one of his charters, (fn. 29) but he seems to have been succeeded by William de Auno, presumably his son-in-law, since William's daughter Agnes calls him her grandfather. (fn. 30) She married first Hugh de Ardres and secondly Robert de St. George, (fn. 31) the latter of whom had died before 1219. She had a son named John, (fn. 32) but in 1219 she granted lands here to William de St. George, (fn. 33) probably a grandson of Robert de St. George, but not of Agnes. (fn. 34) He was holding it in 1230 (fn. 35) and 1242–3, (fn. 36) but died before 1244–5, (fn. 37) when his four sisters, Aubrey de Windlingbury or Launcelin, Agnes wife of William Grafham or Brampton, Felicia de Buckworth and Cecilia de Soke were his heirs. (fn. 38) Their descendants can be traced amongst the tenants of the Countess Ferrers and Ellen la Zouche in 1279, but they do not seem to have held the manor of Hail Weston, which apparently had escheated to their overlords. (fn. 39)
The third part of the manor held by Ellen la Zouche passed with the manor of Eynesbury Bulkeley to her son Oliver la Zouche and ultimately to Sir James Dyer, (fn. 40) who had purchased the other two-thirds of the manor. Thus this manor became merged in the chief manor (q.v.).
HARVEY'S MANOR
HARVEY'S MANOR in Hail Weston was held in the 16th century of Lord Ferrers of Chartley and Robert Bulkeley, the lords of the two parts of Hail Weston manor. (fn. 41) In 1521–2, Sir George Harvey, kt., died seised of Harvey's manor and left it by will to Gerard, son of Margaret Smarte. (fn. 42) No relationship is stated, but possibly the devisee was an illegitimate son of Harvey, whose heir was his daughter, Elizabeth wife of Edward Wauton. (fn. 43) In 1554, Gerard Harvey alias Smarte settled the manor on himself and his wife Anne and their heirs. (fn. 44) In 1589 and 1590 a John Harvey conveyed a considerable quantity of land in different lots in Hail Weston to Richard Thodye, Richard Tayleffere, Thomas Dove and William Barcocke. (fn. 45) Probably if this ever was a manor it became at this date split up and fell into desuetude. It does not appear to be identical with a manor of Hail Weston, which, with a view of frankpledge was sold in 1638 by Nicholas grandson of Nicholas Luke to John Rawlins and Richard Weaver. (fn. 46)
Two other portions of land in Hail Weston appear in Domesday Book. In the time of the Confessor, one and a half hides of land were held with sac and soc by Aelget, first of Earl Tosti and afterwards of Earl Waltheof. (fn. 47) In 1086 they had passed to Eustace the Sheriff, but were claimed by Waltheof's widow, Judith. (fn. 48) Another half-hide was held by Godwin and also passed to Eustace. (fn. 49) The countess does not seem to have succeeded in her claim to Aelget's land and apparently both holdings passed to Eustace's successors the Lovetots. (fn. 50) The land seems to have been held as part of their manor of Suthoe Lovetot and not to have formed a separate manor. (fn. 51)
The Priories of St. Neots, (fn. 52) St. Mary's, Huntingdon, (fn. 53) Hinchinbroke, (fn. 54) and Stonley, (fn. 55) all obtained grants of land in Hail Weston, and were in possession of tenements there at the time of the Dissolution.
William de St. George granted a windmill to the Priory of St. Neots in the early part of the 13th century. (fn. 56) His heirs in 1245 quitclaimed all their right in the windmill to the Priory. (fn. 57) In 1324, the windmill was ruinous and of no value, (fn. 58) but it was evidently rebuilt or repaired and was in the hands of the priory at its dissolution. (fn. 59)
CHURCH
The Church of ST. NICHOLAS consists of a chancel (19½ ft. by 22¾ ft.), nave (40¼ ft. by 22¾ ft.), timber west tower (12 ft. by 10¼ ft.), and a modern south porch. The walls are of pebble rubble with stone dressings and the roof is covered with tiles.
The church, which is a chapelry to Southoe, appears to have been originally built in the 13th century, the greater part of the east wall being rebuilt at the end of the 15th century and the south wall of the nave in the 16th century, at which latter date the tower was built. The church was completely restored in 1884, when a north porch was pulled down and the present south porch built.
The late 13th-century chancel (fn. 60) has a late 15th-century three-light east window, much restored, the east wall having been rebuilt from the sill-line upwards at this date. The north wall has an original lancet window; and the south wall has a much-restored late 15th-century three-light, a modern doorway incorporating a few 13th-century stones, and an original double piscina much restored and without a drain. The buttresses at the two eastern angles have lions carved on the top slopes.
The late 13th-century nave has in the north wall a two-light and a three-light window, both modern, but evidently copied from an early 16th and late 15th-century window respectively, and a modern doorway. In the south wall are an early 16th-century three-light, a modern three-light, and an early 16th-century doorway. In the west wall is an early 16th-century doorway into the tower, and a modern single-light on each side of it. Both nave and chancel are under one roof, which is largely modern, but has a few late 15th-century timbers, particularly the eastern tie-beam of the nave which is carved with a flowing ornament. The modern south porch is of timber.
The 16th-century west tower is timber framed, and has large spurs at the corners; the bell chamber slightly overhangs the lower part, and is surmounted by a modern pyramidal roof. It was entirely taken down in 1884, and re-erected on a stone base, previous to which it had an ordinary span-roof, and the whole was covered with rough weather-boarding which has now given place to oak shingles.
The late 13th-century font is a plain octagon on an octagonal stem and a square base, and shows some signs of having been coloured.
There are three bells, inscribed (1) Christopher Graie made me, 1655; (2) Feare God and obeai the Quene, 1589; (3) John Taylor & Co., Founders, Loughborough, 1884. The treble bell is a very rough casting; the second is by Watts. The old tenor is said to have weighed 8 cwt. 1 qr. 25 lb. (fn. 61) There were three bells in 1709. (fn. 62)
Between the chancel and the nave is the lower part of a 15th-century oak screen, much restored. There are eight early 16th-century benches with carved poppy-heads in the nave. (fn. 63) The early 17th-century communion table has turned legs, and rails carved with arabesque pattern, and lying loose in the tower is a piece of panelling of a contemporary date.
There is a War Memorial, 1914–1918, and the east window is in memory of the wife of Henry Shadforth, d. 1913.
The registers are as follows: i. Baptisms, marriages and burials, 1563–4; to 24 Aug. 1644; (ii) the same, 13 Oct. 1653 to 16 March 1704–5; iii. the same, 26 March 1708 to 31 Dec. 1812; marriages end 13 Oct. 1756; the entries from 1757 to 1790 have been copied from the transcripts in the Archidiaconal Registry; (iv) the official marriage book, 16 Dec. 1754 to 7 Oct. 1812.
The church plate consists of: A silver cup, paten and silver-mounted glass flagon, all inscribed, 'Hail Weston Church on its restoration, 1884,' hall-marked for 1885–6. In 1907 a pewter chalice was purchased from Hail Weston by the Cambridge Museum. (fn. 64)
ADVOWSON
The church or chapel of St. Nicholas (fn. 65) at Hail Weston has always been annexed to the church of Southoe, from its first mention in 1222 to the present day. (fn. 66) Separate provision for the maintenance of divine service was made, probably at the instance of Bishop Hugh de Welles (1209–1235), when the rector of Southoe in 1222 presented Simon de Eynesbury to the vicarage of Hail Weston, with the consent of Nigel de Lovetot, the patron of the church of Southoe. (fn. 67) No tithes, however, seem to have been assigned to the vicar, but all altar dues of the chapel, excepting burials and whatever else was due from a chapel to its mother church. (fn. 68) The provision of a separate priest at Hail Weston was continued after the church at Southoe was granted to the Priory of St. Mary, Huntingdon, and a vicarage instituted. (fn. 69) In 1534, the vicar of Southoe, besides presumably allowing the same altar dues as in 1222, paid an annual stipend from his vicarage of £5 6s. 8d. to his curate at Hail Weston. (fn. 70)
Two parts of the tithes of his land in Weston were granted in the 12th century by Albin Fafiton to the Priory of St. Neots. (fn. 71)
At the time of the Dissolution of the Chantries, five rods of arable land, of the yearly value of 8d. had been granted for the maintenance of a light in the chapel. (fn. 72)
The Baptist chapel at Hail Weston is said to be the oldest in Huntingdonshire, having been founded in 1757. It has a small endowment.
There are no charities.