Pages 318-319
A History of the County of Huntingdon: Volume 2. Originally published by Victoria County History, London, 1932.
This free content was digitised by double rekeying. All rights reserved.
MIDLOE
Middelhoo, Mydelhoo (xii-xvi cent.); Medlowe (xvi cent.).
This little parish, covering nearly 881 acres, was formerly extra-parochial, and is still reputed to be so for ecclesiastical purposes. The land rises from the river Kym on the south-west and the Diddington Brook on the north-east and the parish is crossed by a small stream running into the Ouse. The soil is clay, growing wheat, oats and beans, and the land is mostly arable, only about a third being pasture with some 27 acres of woodland at Midloe Wood, Honey Hill Plantation and Hangman's Spinney. The nearest railway station is at St. Neots, about four miles away to the south-east.
There is neither a church nor a village; the population, which in 1921 numbered 33, being scattered in farmhouses and labourers' cottages. Midloe Grange, a short distance from the southern boundary, apparently marks the site of the grange of Warden Abbey, mentioned in the 12th century. The present house was probably built by Robert Payne, of St. Neots, about 1590. He, his son, Sir Robert Payne, and grandson, another Robert, are described as of Midloe and doubtless lived here. The house is timber framed and plastered, with a tiled roof. It consists of a central block and two wings. The southern wing, which formerly projected, has been under-built and the northern wing was lengthened on the west side in the 18th century. The house was surrounded by a moat, the east side of which has been filled in.
Other farms are Highfield Farm, where Midloe narrows to a mere strip between Staughton and Diddington; and Redhill Farm, near Redhill Bridge, on the northern boundary.
MANOR
The first reference to MIDLOE, showing it was then included among the possessions of Ramsey Abbey, occurs in a charter of Walter, Abbot of Ramsey, granting it to the monks of St. Mary de Sartis, or Warden Abbey (founded in 1135), at a rent of 3 stones (petras) of wax yearly on Palm Sunday. (fn. 1) Although Abbot Walter is said to have alienated the property without consent of the Abbey of Ramsey, (fn. 2) it remained with the Abbot and Convent of Warden. King Stephen gave to it arable land called Ravensho, and Nariot de Wylebi other arable land called Mulsho, which his overlord, Robert de Brus, confirmed to them. (fn. 3) Henry II confirmed to them their grange at Midloe, and refers to Ravensho as his own gift in pure and perpetual alms. (fn. 4) King Richard in 1198 confirmed to the monks this grange and all the cultura called Midloe which covered 100 acres by the king's perch. (fn. 5) In 1208 the monks of Warden owed 60 marks for having confirmation of their grange at Midloe and permission to assart the woods there and at Perry according to the king's [John's] charter. (fn. 6) In 1252 Henry III gave them licence to enclose or assart the wood of Midloe within the king's forest, and convert it into a park. (fn. 7)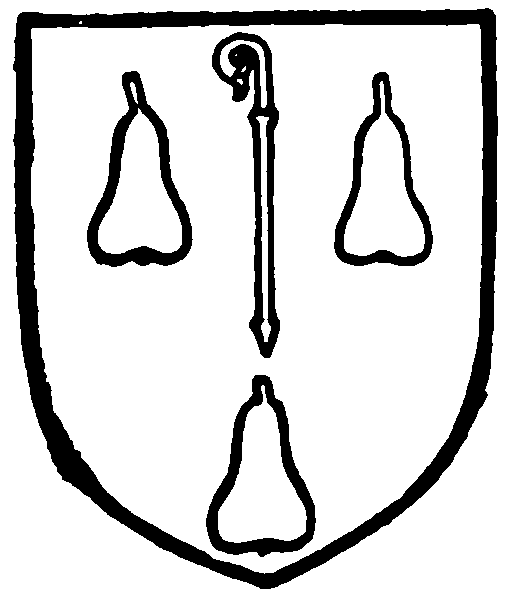 In 1279 the monastery held the manor of Midloe of the Abbey of Ramsey for a rent of 3 'petras' of wax, and in the manor was a wood of a league in circuit. (fn. 8)
In 1520 the Abbot and Convent of Warden leased the manor and grange, with the pasture called Mulsoe in Midloe, for 60 years to Robert Hatley of Midloe, yeoman, and William his son. (fn. 9) The reversion in fee of the lease of the manor and pasture was in 1538 granted to John Worthe. (fn. 10) John Worthe immediately sold his interest to John Gostwyke, (fn. 11) who in the following year received licence to alienate the property to Oliver Leader and his wife Frances, (fn. 12) to whom they were forthwith conveyed by the said John Gostwyke and his wife Joan. (fn. 13)
With Staughton (q.v.) the manor passed from the Leaders to Thomas Baldwin of Lymington in Hampshire, the uncle and heir of Lady Frances Leader, who survived her husband and died in 1557. (fn. 14) Thomas Baldwyn seems to have made a grant in 1558 of the manor and grange at a rent of £16 to Francis Kelleway, who then leased the same to him for 99 years at a rent of £16 13s. 4d. Thomas Baldwyn died at Clerkenwell in 1560, (fn. 15) and in 1567 a conveyance of the manor, watermill, lands, and rent in Midloe and Mulsoe was made to Sir Henry Darcy, kt., by Francis Kellewey and his wife Anne with warranty against the heirs of Dame Francis Leader, (fn. 16) The manor was later the subject of Chancery proceedings to which Sir William Kellewey (Keyleway) of Richborough and Dame Frances his wife and William Kelleway were parties. (fn. 17) This suit was apparently concerned with the lease of the manor. In 1590 the manor was conveyed by Sir Henry Darcy and his wife Katherine, Katherine Darcy their daughter, John Darcy, John Dorrington, and John Bedell to Robert Payne, of St. Neots. (fn. 18) The title seems still, however, to have been in dispute, and Chancery proceedings were instituted by Robert Payne against Thomas Pagett to recover the deeds of the manor lately purchased by him from Sir Henry Darcy. (fn. 19) A further conveyance was made in 1594 by John Baldwyn (fn. 20) to Robert Payne, who as Robert Payne of Midloe, gent., died at Midloe in 1603, leaving a son and heir Robert. (fn. 21) Sir Robert Payne, kt., who lived at the manor house, and was described as of Midloe in the Visitation of 1613, and his son and heir Robert (aged nine at the time of the Visitation) were dealing with the manor in 1629. (fn. 22) They had parted with it before 1634, in which year Sir Martin Lumley, kt., citizen and alderman of London, died in the parish of St. Peter, Westcheap, London, seised of the manor and of a messuage called Mulshoe, and left a son and heir Martin. (fn. 23) In 1641 Martin Lumley and his wife Mary conveyed the manor, grange, watermill, etc., to Abraham Burrell, who died in 1657, leaving four daughters as his coheirs. (fn. 24)
In 1768 the manor was being dealt with by Henry Galley, D.D., and his wife Elizabeth. (fn. 25) The manor afterwards followed the descent of the Staughton manor of Gaynes Hall (q.v.) and was held by Captain William Duberly, who died in 1888. It is now held by his brother, James Grey Duberly.
There are no charities for this parish.