Pages 322-327
A History of the County of Huntingdon: Volume 2. Originally published by Victoria County History, London, 1932.
This free content was digitised by double rekeying. All rights reserved.
OFFORD DARCY
Opeford, Upford, Upperfordia (xi cent.); Ufford, Ufforde Deneys, Daneys, Danes or Dacy (xiii-xvi cent.); Offord Dacye alias Daynes (xvii cent.)
The parish lies low, the land in the west along the banks of the Ouse being liable to floods, but it rises to about 160 ft. in the east. Its area is 1,854 acres of land and 12 of land covered by water. The soil is gravel and clay, and the subsoil clay. The chief crops grown are wheat, barley, turnips and beans. Among the place names found are Alcroft, Parloe, Stonyland. (fn. 1)
The village is on the road from St. Neots to Godmanchester, about three miles from the latter place. It forms almost one continuous village with Offord Cluny on the east side of the river Ouse. The church stands on the west side of the village, separated from the river by the railway line. A little to the southwest of the church is the Manor House, a brick building with tiled roof. It was built by Richard Naylor (fn. 2) shortly after he purchased the property in 1606, and is referred to as his 'newly built edifice' in a settlement of 1608. (fn. 3) The east front was rebuilt in the 18th century, and the west front has been partly refaced. The house contains good panelling, staircases and fireplaces. Over the stone fireplace in the hall are two painted shields of arms of Richard Naylor impaling the arms of his two wives Elizabeth Lovel and Katherine Hearne. To the north of the church are the Rectory House, the Rectory Farm and the Horseshoe Inn, an interesting timber-framed house with an overhanging gable to its northern wing, supported on brackets. On a beam of this gable is the date 1626. To the south-east of the village is Manor Farm, a 17th-century house with an 18th-century addition on the south side. It is now two tenements. Near by is a homestead moat which probably marks the site of the new grange destroyed about 1236–7. (fn. 4)
In the south-east angle of the parish is Cottons Farm, with a second Cottons Farm to the west of it, close to the southern boundary.
Closes or pastures called Great Cottons (240 a.), Little Cottons (28 a.) and Hedges were included in the sale of the manor (q.v.) to Richard Naylor in 1606, as also 3 little almshouses or cottages built upon the waste and let by the churchwardens of Offord Darcy for the common benefit of the inhabitants. (fn. 5) Parts of Cottons, held of the king as of his honour of Huntingdon, were held in 1609 by John Bellay (fn. 6) (who also held Hedges), in 1618 by William Hewitt, (fn. 7) and in 1622 by John King. (fn. 8) There are now two Cotton Farms existing.
Cottons is a name of long continuance in the parish, first appearing probably as Cotes. Near the Cottons is Ford's Farm, and about a mile away to the west, Tithe Farm and Bullens Farm. Another outlying farm is Top Farm, in the north-east of the parish, with Purlieu Spinney and Barn to the east of it.
MANORS
In the time of Edward the Confessor OFFORD (assessed at 3 hides) was held by Norman. It passed probably to Waltheof Earl of Huntingdon, and at the time of the Domesday Survey (1086) the Countess Judith, Waltheof's widow, held it. (fn. 9) The overlordship passed with the earldom and honour of Huntingdon, and was settled for a time on the Morevilles, constables of Scotland. An inquiry was held in 1199 on behalf of Roland de Galloway, whose wife Ellen was daughter of Richard de Moreville, whether Richard had forfeited for his adherence to 'the young king' Henry, son of Henry II. (fn. 10) Alan, son of Roland and Ellen, was pardoned a debt regarding this inquiry in 1213. (fn. 11) On the division of the lands of the honour in 1237, Offord fell to the share of Isabella, wife of Robert de Brus and sister of Margaret the second wife of Alan de Galloway. (fn. 12)
The tenant of the manor under the Countess Judith in 1086 was Hugh, who may have represented Norman, the pre-Conquest holder. Their descendants seem to have adopted the name of the parish. William de Offord appears in 1114–30; (fn. 13) Robert de Upford or Hofford had the advowson of the church, and his daughter Emma married William le Daneys or Dacus, (fn. 14) to whom she brought the manor and advowson. William le Daneys and Emma had two daughters, Isabella (who married firstly Richard de Haselbewe, and secondly Hugh de Kingesdon or Ringkesdune), and Maud, who married Robert Grimbald. (fn. 15) Their daughter Isabella Grimbald married Richard Pauncefot. (fn. 16) William le Daneys, however, in 1241 granted to John le Daneys, probably his brother, a knight's fee, being all the lands in Offord which had formerly belonged to him and Emma his wife. (fn. 17) John le Daneys seems to have died in the same year, and the manor was delivered to Philippa, his widow, who was holding in 1242–3. (fn. 18) John and Philippa had two daughters, Ella who married William de Bolevill, and Joan or Juliana who apparently died unmarried in 1245. (fn. 19) On the death of Ella before 1259 without issue, there was much litigation as to the ownership of the manor. Brice le Daneys claimed to be heir as the son of William, son of William, son of Richard le Daneys, brother of John le Daneys, father of Ella. (fn. 20) William le Daneys, probably the father of Brice, claimed in 1261 4 carucates except a virgate in Offord against Robert de Hereford and Richard Pauncefot and Isabella his wife. (fn. 21) Robert de Hereford was probably the third husband of Isabella, daughter of William le Daneys, or possibly the husband of her daughter. In the same year he conveyed these 4 carucates less a virgate to William Daneys. (fn. 22) In 1279 Sir John de Offord and Isabella, his wife, held the manor and advowson of Robert de Brus, (fn. 23) Isabella being probably one of the coheirs of Ella de Bolevill, possibly Isabella formerly the wife of Richard Pauncefot. In 1306 all the parties combined in conveying the manor to Walter de Langton, Bishop of Coventry, and conveyances were made to him by Robert son of Roger de Hereford, Roger de Hereford and Isabella widow of Robert de Hereford. (fn. 24)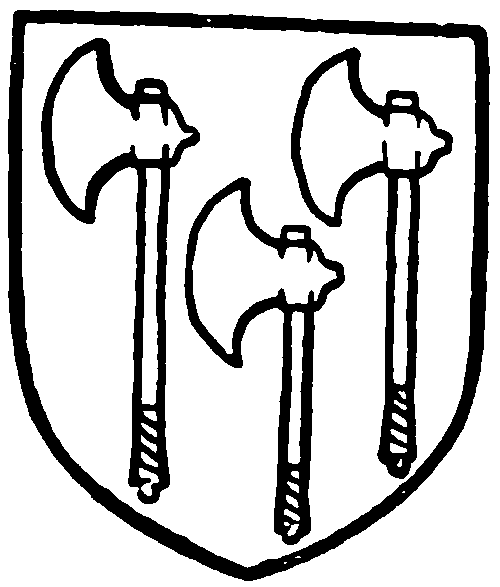 The bishop received a grant of free warren in that year and in 1307, and was holding the manor in 1316. (fn. 25) He had agreed to pay out of the issues of the manor £24 yearly to Isabella de Hereford. In 1315 she married Peter le Mareschall, when the rentcharge was confirmed with the addition of a yearly render of 2 robes for Peter worth 20s. each, and another for Isabella worth 40s. The bishop was succeeded in 1321 by his nephew, Edmund Peverel, son of his sister Alice and Sir Robert Peverel. (fn. 26) Edmund died in 1331, leaving a year-old son John, (fn. 27) when the king committed the manor during the minority of the heir to Master John de Offord, one of the king's clerks, but on the discovery that the manor was held of the honour of Huntingdon, the royal mandate was withdrawn and the custody of the manor was granted by the executors of Eleanor de Brus to the same Master John de Offord, described as canon of St. Paul's, rendering a rent to Alice, daughter of Eleanor and her second husband, Sir Richard Waleys, and what was due as dower to Edmund's widow Alice. (fn. 28) In 1340 John de Offord was reappointed by the crown and obtained a grant of free warren in the demesne lands of the manor in 1348. (fn. 29) He leased the manor to Thomas Moyne and Lawrence de Pabenham, and died in 1349. John Peverel, still a minor, died later in the same year, leaving a widow Isabella, also a minor, who had dower rights in the advowson and probably in the manor. His heir was his sister Margaret, aged eighteen, the wife of William de la Pole the younger. (fn. 30) John Peverel had agreed to lease his lands to Sir John de Lisle of Rougemont and others, and in 1349 to 1355 Lisle released all rights to the Peverel lands to Margaret and William de la Pole. (fn. 31) John, son of William and Margaret de la Pole, married Joan, only child of John Lord Cobham, and a rent of £20 out of the manor of Offord Darcy formed a part of the marriage settlement in 1362. (fn. 32)
John de la Pole's daughter and heiress Joan, suo jure Baroness Cobham (d. 1434), and her second husband, Sir Reynold Braybrooke, were dealing with the reversion of the manor in 1403. (fn. 33) Joan was married five times, and after a release of rights in 1424, (fn. 34) a settlement of the manor had been made in 1428, (fn. 35) upon her and her last husband, Sir John Harpenden, kt., for the lives of both, with remainder to her daughter Joan and her husband, Sir Thomas Brooke, and her issue. In 1438 (fn. 36) Thomas Brooke and his wife Joan conveyed the manor and advowson to William Babthorp, Robert Large, citizen and mercer of London, William Soper, Esq., John Chirche [or Church], citizen and mercer of London, and his wife Isobel, and Thomas Staunton, citizen and mercer of London, (fn. 37) to whom and the heirs and assigns of John Chirche, the manor and advowson were released by Robert Oliver in 1440. (fn. 38) John Chirche presented in 1446, and was dealing with the manor and advowson with his wife Isobel and Thomas Staunton (who was Isobel's brother) in 1457–8. (fn. 39) Thomas Staunton died seised of them in 1478, when his heir was his grandnephew Edmund Chirche, the son of his sister Isobel's son Richard, aged 22 years. (fn. 40) From Edmund Chirche, who presented in 1479, the presentations show that the advowson, and presumably therefore the manor, had passed to the Sussex family of the Shelleys before 1485, when John Shelley of Clapham, Sussex, presented. (fn. 41) In 1524 John Shelley conveyed the manor and advowson to his son William, serjeant-atlaw, and his wife Alice. (fn. 42) Sir William Shelley, kt., presented in 1533 and 1542, and as William Shelley, Justice of the King's Bench, was dealing with land in Offord Darcy with John, his son and heir, in 1544–5, (fn. 43) and died in 1548. (fn. 44) His son John, of Michelgrove in Sussex, died in 1551, (fn. 45) leaving as his heir his son William. The latter in 1576 conveyed the manor and advowson, free fishing in the water of Offord, and view of frankpledge to his brother John. (fn. 46) Their mother, re-married to Sir John Guildford, kt., presented in 1558 and 1571, and probably held the manor in dower with the advowson. William Shelley, whose estates were confiscated in 1580, (fn. 47) died childless. (fn. 48) His brother, John Shelley of Michelgrove, died seised of the manor and advowson in 1592, and left as his heir a six-year-old son, another John. (fn. 49) This boy had barely attained his majority, although already married to his wife Jane, when in 1605 he conveyed the manor and advowson to Thomas Boulton and William Vintner in trust for its sale, which took place next year to Richard Naylor, of Godmanchester, (fn. 50) various parcels of the manor being then sold to other purchasers. Richard Naylor (or Nailour), of the Inner Temple, was the son of William Naylor of London, Registrar, and one of the six clerks of the Chancery. (fn. 51) He died in 1616, leaving a son William, a minor, (fn. 52) who had livery of the manor in 1622, (fn. 53) and a younger son Richard. After the death of William in 1643 the manor was again in the hands of a minor, William's son and heir Richard, aged 19½, (fn. 54) who with this uncle Richard was dealing with the manor and advowson in 1646. (fn. 55) In 1678 Richard Naylor conveyed the manor and advowson to Richard Naylor, junior, and to Robert Pullen. (fn. 56) The presentation was made in 1694 by William Naylor. Sarah, daughter of William Naylor, married George Blundell of Brampton and the Naylor estates passed to their son Francis Blundell, who took the name of Naylor. As Francis Naylor he made a conveyance of the manor in 1732. (fn. 57) With his wife Mary and William Naylor, he was dealing with it again in 1756. (fn. 58) In 1773 William Naylor Blundell (late William Naylor) of Offord Darcy, son and heir of Francis Naylor, deceased, made a conveyance of the manor and advowson for the purpose of barring entail. (fn. 59) He presented in 1791 and died at Offord Darcy in 1794. (fn. 60) The next owner of the manor seems to have been the Rev. Charles Greene of Offord Darcy (d. 1803), rector of Hemingford Abbots, husband of Anne, youngest daughter of Francis Blundell alias Naylor, and the father of Charlotte Matilda Greene, whose guardian, the Hon. Charlotte Montagu, another daughter of Francis Blundell, was returned as lady of the manor in 1806, (fn. 61) and with whom she was dealing with it in 1807. (fn. 62) Charlotte Matilda Greene married George Thornhill of Diddington Hall in 1809. (fn. 63) He presented in 1814 and was succeeded in the manor at his death in 1852 by his son, another George, who died in 1875, and was followed by his son Arthur John Thornhill of Diddington (d. 1930), whose nephew Noel Thornhill is now lord of the manor.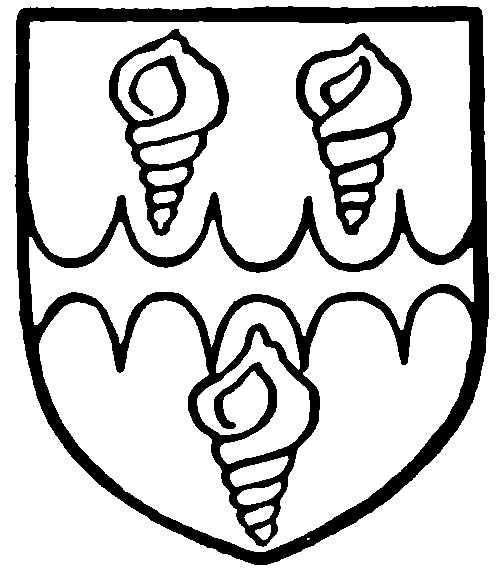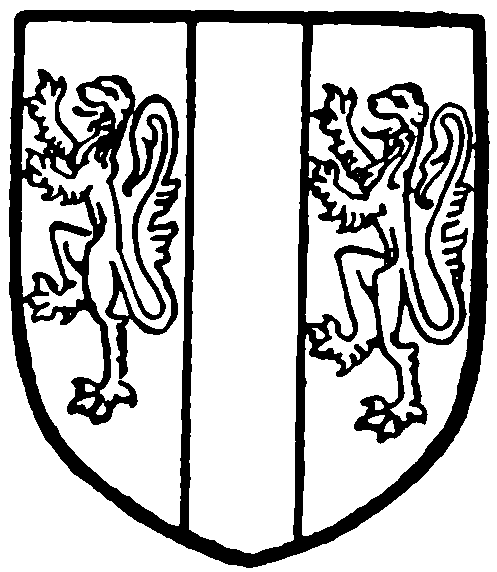 Between 1017 and 1034 Ædric Bishop of Dorchester gave the Abbot of Ramsey lands in Offord as an atonement, it was said, for cracking a bell while a boy at school at Ramsey Abbey, (fn. 64) which subsequently became known apparently as BROUGHTONS MANOR. In 1086 the abbey held 4 hides in Offord. (fn. 65) Much of Ædric's endowment was lost and in the early part of the 12th century half a hide in Offord was recovered from Walter But, (fn. 66) and a little later Abbot Walter (1133–60) without the assent of the monastery granted to Robert son of Hugh de Worcester 5 hides in Offord. (fn. 67) This appears later as 4 hides which were held of the barony of Ramsey by foreign service and a rent of 20s. (fn. 68) Apparently this property came to Ralf de Worcester, who agreed in 1194 to convey 3 hides to William le Daneys, (fn. 69) said to be his uncle. (fn. 70) Ralf probably died soon after, and the conveyance was made by Hugh, his son, in 1199. (fn. 71) The Worcesters retained, however, some lands held by them under the Daneys, as in 1218 William le Daneys made a grant to Ralph de Bray for his homage and service of all the land belonging to Ralf de Worcester in Offord which was of the fee of the Abbey of Ramsey, and in 1236 Ralf de Bray claimed against Ralf de Worcester 2 carucates of land less 20 acres and ½ virgate in Offord. (fn. 72) After the death of Ralf de Bray a suit was brought in 1236–7 by his daughter and heir, Maud de Bray, against the son of William le Daneys, (fn. 73) John, whom she charged with carrying off or destroying property to the value of 100 marks belonging to the estate at Offord which she had inherited from her father, and of which John le Daneys had the custody. John le Daneys claimed that it had escheated to himself at the death of Ralf who, he said, held for life only. Maud claimed that it was hers, as her father had died in seisin, having done homage to William, father of John le Daneys, under charter which it was commanded should be fetched from its safe keeping in the abbey of Lavendon. The list of assets damaged or removed includes a new grange with 12 posts and 2 granaries, a new windmill, a fishpond stocked with fish, a solarium for manor-house with porch, chambers, presses, windows, tables, wardrobes, etc., indicating an establishment of considerable extent, with buildings which he may have transported to a site preferred by him for his own occupation in the original Daneys part of the fee. (fn. 74)
Maud de Bray seems to have married William de Ardern, who demised a messuage and 2 carucates in Offord Darcy to Master Roger de Ravelingham, and in 1271 Ravelingham conveyed that or a like holding there to William son of Ralf de Worcester and Alice his wife. (fn. 75) In 1279 William de Broughton was holding a manor, with a common fishery, in Offord Darcy of the Abbot of Ramsey, (fn. 76) and in 1286 Maud, widow of William de Ardern, brought an action against William de Broughton and Alice his wife as to two parts of a messuage and 2 carucates of land which they had received from Roger de Ravelingham. (fn. 77) The matter seems to have been settled by Roger confirming the two parts to William and Alice (fn. 78) and William and Alice granting the remaining third part to Maud, evidently as dower. (fn. 79) The manor appears to have passed to the Warrens. Robert Warren was described as of Offord in 1364 and 1375–6 he and his wife Katherine, described as of Offord, settled lands in Graffham. (fn. 80) In 1378–9 Broughtons manor in Offord Darcy was conveyed by Thomas Eston and Margaret his wife to Robert Warren possibly as a settlement. (fn. 81) It probably passed ultimately, like the Warrens' other property in Offord Darcy, to the Shelleys.
Three hides in Offord which in the time of the Confessor had been held by Aluin the sheriff were entered in the Domesday Survey (1086) among the lands of Eustace the sheriff, under whom they were held by Odo, their value having fallen from 40s. to 12s. (fn. 82) These three hides were probably what were later known as the manor of MOYNES or PABENHAMS and formed the third of two parts of a knight's fee in Offord, entered in 1242–3 as held by William le Moyne of the barony of Lovetoft, (fn. 83) which barony in 1166 represented what was left of the fee of Eustace in Hunts. William le Moyne's Offord property must have been included in the three-quarters of a fee in Graffham, Offord, Hemingford Turbervill and Thirning held by Beringar le Moyne of the honour of Lovetoft. The honour of Lovetoft was acquired before 1261–2 by Richard de Clare, Earl of Gloucester and Hertford, from Nigel de Amundeville, one of the Lovetoft co-heirs who had held in chief. (fn. 84) The overlordship descended to the Earls of Stafford and Dukes of Buckingham. (fn. 85)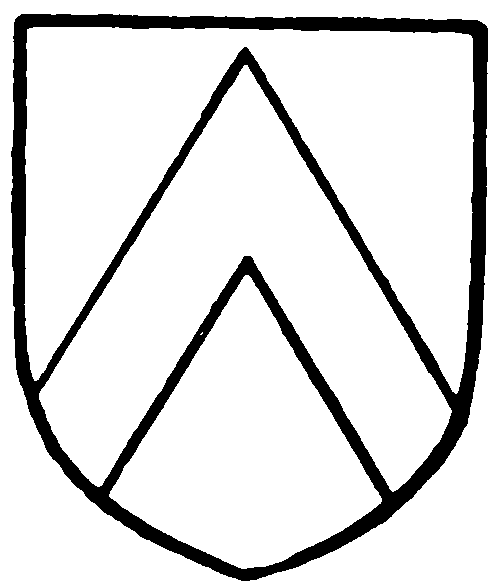 The William le Moyne entered in 1242–3 may have been the William le Moyne who with his son William made a grant of lands in Offord to Sawtrey Abbey which was confirmed by Reginald le Moyne, (fn. 86) probably the Reginald le Moyne who in 1231–2 levied a fine of 12 acres in Offord with Elena, daughter of William le Daneys. (fn. 87) William le Moyne of Offord, bailiff of the hundred, is mentioned in an inquisition concerning the county boundary in 1244. (fn. 88)
Robert grandson of William le Moyne, son of William, to whom Robert de Wyvill and his wife Katherine conveyed a messuage and a hide of land in 1261, (fn. 89) is entered in 1279 as holding a manor and garden and 156 acres of arable land in Offord by homage and foreign service. (fn. 90) In 1294–5 Robert le Moyne conveyed to Andrew le Moyne, apparently his brother, one-third of a messuage and 1 carucate of land in Offord Darcy, which Joan, widow of Robert le Moyne the elder, and probably mother of Robert and Andrew, held in dower. (fn. 91) In 1302 Robert and Andrew le Moyne put in a claim to a messuage and two parts of a carucate of land in Offord Darcy which William de Lutlington conveyed to Richard de Sutho and Agnes his wife. (fn. 92) Richard de Sutho was dealing with land in Offord Darcy in 1314, (fn. 93) but before 1360 Sir Laurence de Pabenham or Pavenham had an interest there (fn. 94) and in 1363 he was owing rent there. (fn. 95)
Sir Laurence Pabenham died in 1398 seised of a manor in Offord Darcy described as held of the Earl of Stafford, and leaving a nine-year-old son and heir John. (fn. 96) A manor called 'Pebenhams' in Offord Darcy and Cluny was held in 1418 at his death by Sir Thomas Aylesbury, kt., the second husband of Katherine, daughter of Laurence de Pabenham. (fn. 97) The half-fee in Offord Daneys which the Offords had held then passed into the possession of the Warrens and was in 1428 in the hands of Edmund Waryn or Warren, (fn. 98) who appears as of Offord Darcy in a grant of 1438. (fn. 99) Either this Edmund Warren or a descendant, in 1472–3 was holding, with his wife Margaret, a manor of Offord Darcy, which he then conveyed to Thomas Hunt and others. (fn. 100) This must have been the manor of Pabenhams alias Moynes Manor in Offord Darcy and Cluny held by Thomas Hunt, gent., and his wife Alice, and sold by them in 1522 to William Shelley, serjeant-atlaw, (fn. 101) owner of the principal manor, with which it was henceforth held.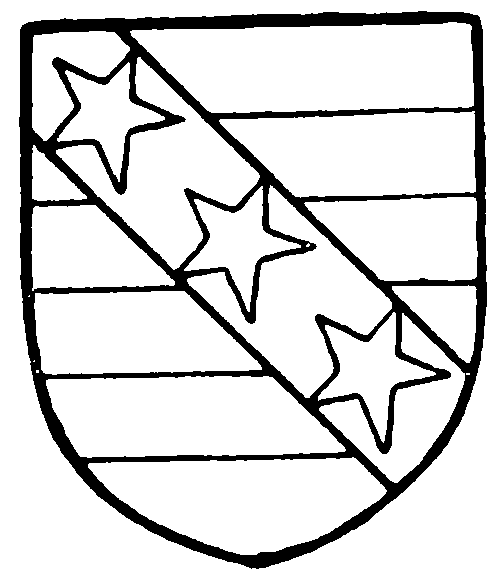 CHURCH
The Church of ST. PETER consists of a chancel (30 ft. by 13¾ ft.), nave (52 ft. by 16¼ ft.), north aisle (9½ ft. wide), south aisle (14¾ ft. wide), west tower (10 ft. by 10 ft.) and south porch. The walls are of rubble with stone dressings, and the roofs are covered with tiles and slates. The church is not mentioned in the Domesday Survey (1086), but by 1130 a small church consisting of a chancel, nave of two bays and north aisle existed here, and shortly afterwards this was lengthened by the addition of a western bay. The chancel was rebuilt soon after 1265, and about 1300 a south aisle with its arcade and a south porch were added. At the end of the 14th century the western tower and spire were erected, and a hundred years later the north aisle was rebuilt and a clearstory added to the nave. The spire was rebuilt in 1860. (fn. 102)
The late 13th-century chancel has a three-light east window of c. 1500, on each side of which is a 13thcentury carved head. The north wall has an original single-light and a two-light window of c. 1500. The south wall has two windows similar to those on the north, an original doorway and an original double piscina with a trefoiled head and a smaller trefoiled opening above it. In the south-west window are fragments of 15th-century glass. The chancel arch, c. 1500, is two centred and rests on semi-octagonal attached shafts with moulded caps and bases; under it is the tracery head of a 14th-century screen.
The nave has a north arcade of three bays, the two eastern of c. 1130, having semi-circular arches of one order, with a roll moulding on the side next the nave, resting on square piers with angle shafts having small cushion caps, and similar responds. The western bay is slightly later and the angle-shafts of the responds have no caps; at the extreme east end is a small modern archway.
The south arcade, c. 1300, is also of three bays with two-centred arches of two chamfered orders, resting on columns composed of four filleted shafts with moulded caps and bases, and similar responds.
The late 15th century-clearstory has three twolight windows on the north and four on the south.
The roof is modern, but the jacklegs rest on stone corbels, some of which appear to be of c. 1500. The level of the earlier roof may be seen at the north-west and south-west corners, outside.
The late 15th-century north aisle has a three-light east window with a four-centred head; the north wall has three similar two-lights and a doorway; and the west wall a similar two-light. In the south-east corner, east of the arcade, is a 12th-century roundheaded recess which has been pierced with a modern opening into the nave.
The south aisle, c. 1300, has an original three-light east window but with a modern head; the south wall has three similar two-lights and a doorway. In the splay of the south-east window is a reset 13th-century angle piscina with marble shaft; the sill of the window forms two graduated seats.
The west wall has a two-light window. Under the modern parapet is a 14th-century string-course with ball flowers and a running stem.
The roof is modern, but the jacklegs rest on 15thcentury carved corbels.
The late 14th-century tower has a two-centred tower arch of two moulded orders on semi-circular attached shafts with moulded caps and bases. There is no west doorway but a three-light west window. In the next stage the north, south and west walls have a small quatrefoil, and the belfry windows are twolights. The tower has clasping buttresses up to the belfry level, and is finished with an embattled parapet, behind which rises an octagonal spire with rolls at the angles and two tiers of spire lights, the lower on the cardinal faces. The spire was badly rebuilt in 1860. (fn. 103)
The 14th-century south porch has an outer archway of two chamfered orders dying on to simple responds. There is a two-light window in each of the side walls, that on the east being formed of a single stone. The gable is surmounted by a fine original cross.
The font is modern.
There are three bells, inscribed (1) Christopher Gray made me, I.G.R.P. 1676; (2) Merorem mestis letis sic leta sonabo, 1618; (3) Cum cano busta mori cum pvlpita vivere disce, 1620. The letters on the second bell are partly Lombardic and partly ordinary capitals. The third bell is by William Haulsey. (fn. 104)
There is a 17th-century table in the north aisle, with simple turned legs, and a 17th-century chest in the south aisle.
There are two brasses (1) fixed on the wall of the south aisle, to Sir Lawrence Pabenham, 1400, and Elizabeth (Engeyne) 1377 and Joan (Dawbeney), consisting of the upper parts of a knight and two wives, with inscription plate; the matrix (with fulllength indents) remained in the tower until comparatively recent years; (2) on floor of nave, Dr. William Taylard, Rector, 1532, kneeling figure of an ecclesiastic in academic costume, and indent of inscription plate, shield, etc. (fn. 105) Outside the porch is the indent of an inscription plate. (fn. 106) Fixed against the north wall is a stone slab, c. 1370, with figures of a civilian and wife in low relief, their feet resting on dragons. It originally lay on an altar tomb under an arch in the south wall.
In the churchyard is a rough stone trough (5¾ ft. by 3¼ ft.) of uncertain origin.
There are the following monuments: In the chancel, to the Rev. Jeremiah Jackson, rector, d. 1828, and Frances his wife, d. 1809; the Rev. W. Thornhill, rector, d. 1872; the Rev. Henry L'Estrange Ewen, rector, d. 1889; and floor slabs to the Rev. William Deane, rector, d. 1722; Mary, daughter of Francis and Mary Naylour, d. 1723; Marie, wife of the Rev. William Deane, d. 1749; Sarah, daughter of the Rev. George Naylour, rector, d. 1778; Jane, relict of Willie Jackson, d. 1844, and Mary Anne, her daughter, d. 1835. In nave, John Ford, d. 1892. In north aisle, floor slab to Thomas Walker, d. 1847. In south aisle, to Richard Naylour, d. 1616, and two wives Elizabeth (Lovell) and Katherine (Herne); Mrs. Sarah Priestley, daughter of William Naylour, d. 1727; and a War Memorial Window (1918). In tower, floor slab to William Naylour Blundell, d. 1794.
The registers are as follows: (i) Baptisms and burials, 11 Nov. 1697 to 25 Dec. 1774, and marriages, — 1698 to 27 Jan. 1751–2; (fn. 107) (ii) baptisms and burials, 22 Jan. 1775 to 20 Dec. 1812; (iii) the official marriage book, 31 March 1755 to 16 Oct. 1611.
The church plate consists of: A small silver cup inscribed 'FOR THE TOWNE OF OFORDE DAERSSY. 1569.' No date letter. A silver coverpaten which fits the cup but is apparently of later date. No marks.
ADVOWSON
The advowson was possibly granted by Eustace the sheriff to the Priory of Huntingdon when he founded that priory in the 11th century. Before the end of the 12th century it had been acquired by Robert de Offord (fn. 108) and a vicarage was ordained probably before the prior of Huntingdon parted with it. (fn. 109) In 1199 there was a dispute between the prior and William le Daneys, who had married Robert de Offord's daughter. (fn. 110) The matter terminated by the prior conveying the church in 1200 to William le Daneys. (fn. 111) From this date the advowson has been held by the lords of the chief manor of Offord Darcy (q.v.).
The church was valued c. 1291 (fn. 112) and in 1428 (fn. 113) at £5 6s. 8d. yearly after deduction of a pension of 50s. to the Priory of Huntingdon. The rectory, valued at £18 3s. 8d. yearly in 1535, (fn. 114) was in 1568 the subject of proceedings in the Court of Requests (John Monson of Offord Darcy v. James Wynne, gent., of Whitchurch, co. Salop). (fn. 115)
CHARITIES
The following charities comprise the Consolidated Charities and are now regulated by a scheme of the Charity Commissioners dated 14 November 1913:—
(1) The charity of John Bowyer founded by will proved at Peterborough on 6 June 1867 the endowment of which consists of £319 3s. 2½ per cent. Consols with the Official Trustees producing £7 19s. 4d. yearly in dividends.
(2) The charity known as The Blacksmith's Shop. This consists of the blacksmith shop in Offord Darcy, with the site and appurtenances, and is let for £2 12s. a year.
(3) The charity known as The Offord Cluny Common Money. The endowment of this charity consists of a sum of £25 6s. Consols in the High Court of Justice producing 12s. 6d. annually in dividends.
(4) Thompson's Close. This charity consists of a rentcharge of 6s. 8d. per annum issuing out of Thompson's Close in Offord Darcy till 1927 in the occupation of the Rev. J. Oliver. (fn. 116)