Pages 332-337
A History of the County of Huntingdon: Volume 2. Originally published by Victoria County History, London, 1932.
This free content was digitised by double rekeying. All rights reserved.
The parish of Little Paxton contains 1,521 acres of land. The subsoil is chiefly Oxford clay and the soil clay, the principal crops being wheat and barley. The river Ouse forms the southern and eastern boundaries of the parish, and the Kym the western. The latter is crossed at Hail Bridge by the Bedford and Huntingdon road. At Wrayhouse Farm there is a ferry to Great Paxton. The village lies to the east of the Huntingdon Road, about two miles from the town and railway station of St. Neots. Paxton Hall, at the south end of the village, is a mid-18th-century house, but has remains of earlier work, both in its walls and fittings. Near to it is Paxton Park, where the Pointer family lived in the 18th century. It passed by marriage to the Standleys, and was sold, with other property, to Lord Overstone. It passed later to Lord Esmé Gordon, who rebuilt the house. Meagre Farm, in the northwest of the parish, near Little Paxton Wood, is a 17th-century timber-framed house. In 1885 there were paper mills on the Ouse, belonging to Messrs. Towgood, Mr. Alfred Towgood living at Riversfield; they are now owned by the St. Neots Paper Mill Co.
The parish was inclosed by Act of Parliament in 1811–12. (fn. 2)
John Papworth (1775–1847), an architect much employed in the general rebuilding of houses in London and the country in the early 19th century, was a grandson of William Hedding, of Little Paxton. On his retirement, in 1847, he settled in the parish, but died very shortly afterwards. (fn. 3)
MANORS
LITTLE PAXTON is not mentioned by name in Domesday, but was included under the heading of Paxton, to which were attached three beriwicks. (fn. 4) They had all been in the possession of Edward the Confessor, and Little Paxton in 1086 had come, with Great Paxton and Toseland, into the possession of the Countess Judith. (fn. 5) It afterwards formed part of the Honour of Huntingdon. (fn. 6) On the division of the lands of the Honour in 1237 the greater part of Little Paxton was assigned to Isabella, the wife of Robert de Brus, and the remainder to Devorgilla, the wife of John Balliol. (fn. 7) The overlordship of the latter portion, after the forfeiture of the Balliol lands, seems to have been granted by Edward I, about 1303, to John of Brittany, (fn. 8) who granted it to Mary, Countess of Pembroke. (fn. 9)
The history of the manors in Little Paxton is difficult to trace, owing to the subdivision of already small manors, the break-up of the Honour of Huntingdon, and its escheat into the hands of the king. There seem to have been many free tenants, apparently owing no suit to a manor, but only to the court of the Honour of Huntingdon or similar courts. (fn. 10)
The manor of LITTLE PAXTON can only be definitely traced back to the early 15th century, but it seems possible that it may be identified with the holding of Richard Bassingham, a military tenant of the Earl of Huntingdon, in 1230. (fn. 11) In 1279, it seems to have been held of Robert de Brus as a quarter of a knight's fee, by William de Stanton. (fn. 12) In 1309, Alexander de Crokedaik died seised of 100s. rents of assize in Paxton and Keyston, which he held of Stanton as a quarter of a fee, but these rents do not appear amongst the possessions of his heir. (fn. 13) The mention of Keyston suggests the identification of this fee with the manor held by Sir Robert Ferrers of Chartley at his death in 1413, (fn. 14) since he also held the manor of Keyston. His manor of Little Paxton followed the descent of the manor of Eynesbury Ferrers (fn. 15) (q.v.) until 1646, when Sir Ludovic Dyer sold it to Henry Pickering, who was created a baronet in 1661. (fn. 16) In 1703 his son, Sir Henry Pickering, sold it to John Bacon, a London merchant. (fn. 17) Thomas Bacon and his wife Elizabeth were the owners between 1707 and 1719. (fn. 18) The manor seems to have passed with that of Southoe (q.v.) from the Bacons to John Standley, who, with his wife and Peter Standley, was dealing with Southoe in 1739, and died in 1761. (fn. 19) Henry Pointer Standley is mentioned in 1784, and died in 1812. (fn. 20) He was apparently succeeded by another Henry Pointer Standley, who died in 1844. (fn. 21) The executors of H. P. Standley sold the manor, about 1845, to Lord Overstone, or possibly to his father Lewis Loyd, the banker. In 1885 Sir Robert Loyd-Lindsay (d. 1901), afterwards Lord Wantage, who married Lord Overstone's daughter and heir, was lord of the manor. (fn. 22) Lady Wantage died in 1920, after whose death Paxton Park was sold to Mr. Harold Boardman, who has there a boys' school. The manorial rights are apparently fallen into desuetude.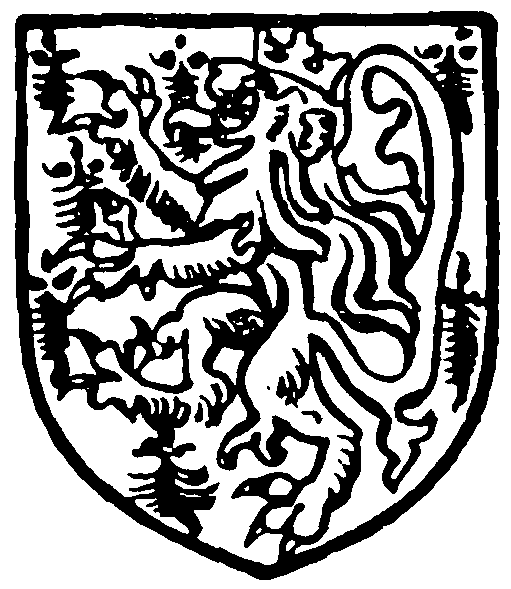 The manor of LITTLE PAXTON or MOYNES MANOR may be identified with the land held as half a knight's fee of the Earl of Huntingdon and afterwards of Robert de Brus. (fn. 23) In 1203, Roger de Trehamton unsuccessfully brought an assize of mort d'ancester against Earl David, (fn. 24) but presumably the half-fee had escheated to the earl and he had granted it to Philip le Moyne, who in 1202 was his seneschal. (fn. 25) In 1224, the land of John le Moyne was in the king's hands, (fn. 26) but in 1228 lvo, son of Philip le Moyne, was the tenant. (fn. 27) Gilbert le Moyne, nephew of lvo, succeeded before 1241, when he granted half his holding to sub-tenants. (fn. 28) In 1243 he seems to have granted the moiety, which he had retained in demesne, to Philip le Moyne, (fn. 29) who in the following year also described himself as the nephew and heir of Ivo. (fn. 30) In 1279 and 1286 Geoffrey le Moyne was tenant of the manor, (fn. 31) but was succeeded probably before 1303 by Robert le Moyne. (fn. 32) The latter was living in 1328, (fn. 33) but in 1337 it seems to have been held by his widow Emma. (fn. 34) For 150 years this moiety of Moynes manor cannot be traced. Before 1507 it had come into the possession of Edward Stanley, (fn. 35) who was created Lord Monteagle in 1514. (fn. 36) At his death in 1523 his possessions in Little Paxton are not described as a manor, (fn. 37) but in 1544 his son and heir Thomas was overlord of the other moiety of Moynes manor (fn. 38) (q.v.). Afterwards his holding came into the king's hands and various free tenants seem to have held it. Thus Richard Ashcroft died seised in 1628 of the capital messuage and certain lands which he had bought from — Hatley, (fn. 39) and was succeeded by his son, another Richard. (fn. 40) The Ashcrofts held it as late as 1690. In 1693 it was sold to Robert Throckmorton of Stirtloe (d. 1699). In 1719 Bromsall Throckmorton, his son, sold it to Thomas Petty, who in 1720 sold it to the Hon. George Maudaunt, who died in 1728. The representatives sold it in 1736 to Richard Reynolds, Bishop of Lincoln, who transferred it to his son George Reynolds, Arch deacon of Lincoln. (fn. 41) The archdeacon died in 1769 (fn. 42) and was succeeded by his son Richard (d. 1814). His nephew Laurence was the next owner, and he was succeeded by his son Edward (d. 1885) and his grandson Edward (d. c. 1893) and his great grandson Edward (d. 1919). The estate was sold in 1920 to Mr. R. F. Aubrey and in the following year was again sold in lots. (fn. 43)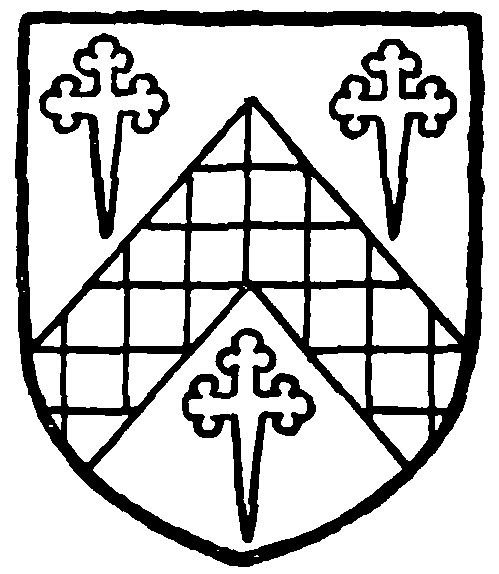 The other moiety of Moynes manor was granted in 1241 by Gilbert le Moyne to Robert Luvet, Roger le Mire of Bedford and his wife Rose, and William Daules and his wife Juliana. (fn. 44) It seems probable that Robert Luvet obtained possession of the whole moiety, as he certainly did of two parts of it. (fn. 45) He was presumably identical with Robert Hereford, who died seised of land in Little Paxton before 1271, when his son Roger was a minor. (fn. 46) The latter, in 1279, was the mesne tenant of a considerable part of Geoffrey le Moyne's half-fee. (fn. 47) Roger gave the moiety of the manor to his son Robert, (fn. 48) who married Juliana de Crokedaik, (fn. 49) and they presumably enfeoffed her brother Alexander, who died seised of it, held of Roger de Hereford, before 1309. (fn. 50) It passed to Alexander's nephew and heir John, son of John de Crokedaik (fn. 51) (aged 3 years), but on the death of the younger John in 1323, leaving no children, the moiety of Moynes manor passed to the descendants of his two aunts Juliana and Christine de Crokedaik. (fn. 52) John Hereford, son and heir of Juliana and Robert Hereford, now succeeded to one share, while Christine was represented by the descendants of her three daughters. (fn. 53) They, like the Crokedaiks, all belonged to Westmorland and Cumberland, (fn. 54) and it seems probable that in the partition of the Crokedaik lands John Hereford obtained by agreement the whole of this southern property. He died about 1342, when his son Reginald was a minor. (fn. 55) On the death of Reginald his sister Eleanor seems to have inherited the moiety of the manor. (fn. 56) Her first husband's name was Raghton or Roughton, (fn. 57) but before 1380 she was the wife of John Brown. (fn. 58) She was succeeded by her grandson John or Christopher Raghton, who died in 1410, his heir being his father's sister Katherine, the wife of John Asplion. (fn. 59) Katherine died seised in 1436, and her heir was her daughter Katherine, the wife of Thomas Manningham. (fn. 60) In 1474 John Manningham, presumably their son, was outlawed, and the moiety was granted by Edward IV to Anthony Grey of Ruthin. (fn. 61) The following year, however, the Manninghams recovered it, (fn. 62) and in 1502 William Manningham sold it to Isabella Manningham, widow. (fn. 63) It seems probable that she sold it to Edmund, Lord Grey de Wilton, and that it may be identified with the manor of Little Paxton which he sold in 1507 to Sir Robert Throckmorton. (fn. 64) It followed the descent of the manor of Toseland, until after the death of Sir Walter Luke in 1544. (fn. 65) Sir Walter was succeeded by his son Nicholas, (fn. 66) who previous to his death in 1563 (fn. 67) seems to have given it to his younger son Walter, who was the tenant in 1608. (fn. 68) It passed to his second son Nicholas, who died seised in 1623. (fn. 69) His son and heir, another Nicholas, (fn. 70) sold it in 1643 to William Hedding. (fn. 71) In 1724 it was apparently in the ownership of William Hedding and his wife Elizabeth, and Robert Pattison and his wife Mary, but it seemed to be the inheritance of the two wives. (fn. 72) William Hedding died in 1729 leaving a son William (d. 1783) and three daughters, Mary (Chesterfield), Sarah (Papworth) and Ann (Cole). (fn. 73) The manorial rights appear to have been lost, but the Heddings are found holding lands in Little Paxton in the early part of the 19th century, (fn. 74) but no manorial rights apparently survive.
Another manor of Little Paxton belonged to the pourparty which passed to Devorgilla Balliol. (fn. 75) The first tenant of this part of Little Paxton who can be traced was Robert de la Mare, holding in 1230 (fn. 76) and 1242. (fn. 77) He was succeeded by his son Hugh and grandson Richard. (fn. 78) The latter held a considerable portion of Devorgilla's pourparty in 1279, but only as a mesne tenant between Gilbert de Neville and various free tenants holding in demesne. (fn. 79) He is mentioned again in 1309, as overlord of onefortieth part of a knight's fee held by Alexander de Crokedaik. (fn. 80) The manor, however, may be identified, not with this holding, but with that of William Lengleys, kt., who married Alexander's widow. (fn. 81) Her dower reverted to John de Crokedaik's heirs, (fn. 82) but Lengleys died seised in 1344 of, inter alia, one messuage and 40 acres of land in Little Paxton and 40 acres in Great Paxton, all held of the Countess of Pembroke. (fn. 83) His son William died seised in 1369, (fn. 84) but his holding followed a settlement made in 1343 (fn. 85) and passed to William, son of Ralph Restwold and Juliana, daughter of William Lengleys, senior. In the latter part of the 15th century the manor was held by Robert Restwold, whose nephew and heir Richard sold it to John Hutton in 1501. (fn. 86) John Hutton died in that year and left the manor to his brother Thomas Hutton, clk., who had advanced the purchase money. (fn. 87) On the death of Thomas in 1506, it passed to his nephew Thomas, (fn. 88) to whom John Selyard and William Lambkyn (fn. 89) paid £140 for the manor and appurtenances in 1531, presumably in completion of a sale made previously to St. John's College, Cambridge. (fn. 90) The College at the end of the 19th century sold the Manor Farm to Mr. C. Heading, from whom it was purchased by Mr. William Bowles, the present owner. The manorial rights are now apparently lost.
In 1286, Devorgilla Balliol claimed to hold a view of frankpledge, gallows and tumbrel in right of her pourparty of Little Paxton. (fn. 91)
Sir Edmund Ferrers of Chartley, kt., and his successors in the manor of Little Paxton (q.v.) held a view of frankpledge, which is mentioned as late as 1697. (fn. 92)
A free fishery was appurtenant to the same manor in 1617, (fn. 93) and is mentioned in 1719. (fn. 94) Another free fishery is mentioned in 1544 as appurtenant to the moiety of Moynes manor bought by Sir Walter Luke. (fn. 95) King Malcolm of Scotland gave three mills and a croft of land in frankalmoin to the Abbey of Sawtry and two mills to hold by the same service to the Priory of St. Neots. (fn. 96)
The manor or reputed manor (fn. 97) of MAUGRE is first mentioned in 1279, (fn. 98) as an inclosure held of William de la Haye, by Margaret, Countess of Ferrers and her sister Elena la Zouche. It presumably formed part of the grant of land in Eynesbury made in the 11th century to Saher de Quincy. (fn. 99) The tenants in 1279 were two of the three co-heirs of Roger de Quincy, Earl of Winchester (fn. 100) and the manor of Maugre followed the same division as Eynesbury, the Countess holding two-thirds and her sister onethird. (fn. 101) The larger part of Maugre followed the descent of the manor of Eynesbury Ferrers (fn. 102) and was sold with it in 1570–1 by Walter, Viscount Hereford to Sir James Dyer, chief justice of the Queen's Bench. (fn. 103) Similarly the smaller part of Maugre followed the descent of the manor of Eynesbury Bulkeley. (fn. 104) It was also sold in 1566 by William Bulkeley to Sir James Dyer. (fn. 105) Sir William Dyer sold the whole manor of Maugre in 1617 (fn. 106) to Sir Oliver Luke, together with the manor of Little Paxton. It remained in the ownership of the lord of Little Paxton manor (fn. 107) as late as 1719. (fn. 108) Meagre Farm in Little Paxton was sold in 1888 by the Ecclesiastical Commissioners. (fn. 109)
PARK
A park had been inclosed before 1328 by Robert le Moyne, (fn. 110) but no mention of it is made amongst the lands held by Lord Monteagle in 1523. (fn. 111)
CHURCH
The Church of ST. JAMES consists of a chancel (21¾ ft. by 13¾ ft.), nave (47½ ft. by 19¾ ft.), south aisle (7½ ft. wide), west tower (10¼ ft by 10¾ ft.), and modern North Porch. The walls are of pebble rubble mixed with iron stone, and with stone dressings; the anglequoins of the belfry are chiefly of ironstone. The roofs are covered with tiles and slates.
The church is not mentioned in the Domesday Survey (1086), but a stone church was standing here towards the end of the 12th century, of which considerable parts of the chancel walls remain, together with the reset south door of the church. The chan cel arch has been rebuilt at a later date, and new windows were inserted in the chancel during the 14th century. About 1400 the tower was built, and the south aisle with its arcade about 1500. The north wall is said to have been knocked down in the Civil Wars, but was rebuilt or much modified in 1849 when the church was completely restored, the arcade rebuilt, the south aisle much modernised, and the south porch pulled down. The present north porch was built a few years later. The chancel was restored in 1890.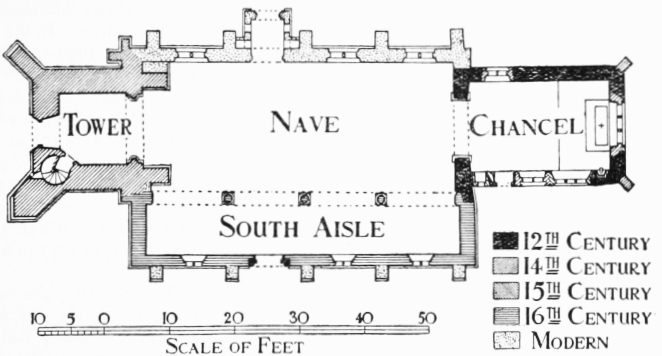 The mid 12th-century chancel has a modern threelight east window copied from the earlier window of the late 14th century, the rear-jambs and arch of which remain; on each side are the jambs, splays and part of the heads of two of the original group of three windows. South of it is a 13th-century bracket. The north wall has one late 14th-century two-light window near the western end. The south wall has a 15th-century square-headed three-light of clunch, a late 14th-century two-light, a 15th-century low-side window now filled with fragments of ancient glass, a 12th-century doorway reset with 14th-century shouldered corbels and a lintol. These windows and doorway cut into the original windows, of which parts of the jambs and heads of two remain. There is also a small 13th-century piscina with projecting bowl. The chancel arch is pointed, of one plain order, evidently rebuilt, resting on late 12th-century responds with angle shafts and a chamfered impost moulding. (fn. 112) There are 14th-century diagonal buttresses at the north-east and south-east angles. The roof is modern.
The nave has a rebuilt north wall (1849) with three modern two-light windows and a modern arch to the porch. Built into the wall on the outside are some 12th-century stones consisting of drums of small columns, billet ornament, etc. At the north-west corner two buttresses of c. 1400 remain. (fn. 113) The 14th-century north door has now been rebuilt as an outer doorway to the porch.
The south arcade, c. 1500, rebuilt in 1849, has three segmental pointed arches of two chamfered orders resting on octagonal columns and plain chamfered responds and corbels with carved knots. The roof is modern. In the gable above the chancel arch is a painted board with the date 1610, but with the royal arms of the Hanoverian dynasty.
The south aisle, c. 1500, but largely reconstructed in 1849, has no east or west window. The south wall has three double-lancets practically all modern, and a reset mid 12th-century doorway with a semicircular arch of one square order inclosing a carved tympanum with a large cross within a circle in the middle, a human figure holding a cross on the left, and three quaint animals probably intended for sheep and a wolf; the jambs have attached shafts with crude attempts at volute capitals, and moulded imposts.
The west tower, c. 1400, has a tower arch of two chamfered orders on semi-octagonal attached shafts with moulded capitals and bases; on the south respond, 'Dn. Roberti Drive' has been scratched in black-letter script. The west doorway and the threelight window above it are largely modern. The second stage has a small single-light window in the south and west walls; and the belfry windows are two-lights, that on the west with a much-altered head and that on the south has lost its head entirely. The tower has a diagonal buttress at the north-west corner and a large semi-octagonal stair-turret at the southwest, and is finished with an embattled parapet.
The modern north porch was built as a recess for a harmonium, the 14th-century north doorway being reset in its north wall.
The 13th-century font is a plain octagon standing on a square central and three octagonal shafts. It has a 17th-century oak cover repaired with deal.
There are four bells, inscribed (1) Sonoro sono meo sono Deo, 1610; (2) Will. Hedding, chw. 1713; (3) God save the King, 1669. W.H. R.C.; (4) Robt. Taylor, St. Neots, fecit, 1791. Henry Poynter Standley, C: Warden. The first bell is by Richard Holdfield; the second probably by Newman; and the third by Tobias Norris III.
There are the following monuments: In the chancel to Anthony Reynolds, and Louisa his wife, . . . .; Margaret (Reynolds) widow of the Rev. Henry Sweeting, d. 1918; and floor slabs to Abraham Burrell, of Midloe, d. 1657, and Bevercots Cornwallis, d. 1693; the Rev. Dr. George Reynolds, d. 1769; Elizabeth (Thompson) his wife, d. 1784; Major George Reynolds, d. 1798; Richard Reynolds, d. 1814; and Lawrence Reynolds, d. 1839, Mary his wife, d. 1839, George their son, d. 1855, and four other children. In the nave, South African War tablet; and floor slab to Sarah, wife of Isaac Nicholson, d. 1811; Matthew Towgood, d. 1850, and four of his children. In the south aisle, to Robert Throckmorton, d. 1698–9; floor slab to Susanna (Throckmorton) wife of the Rev. George Rutherforth, d. 1710, and Susannah their daughter, d. 1710; (fn. 114) and window to Sarah Hedding, d. 1875.
The registers are as follows: (i) Baptisms, marriages and burials, 5 April 1656 to 14 Jan. 1749; (ii) the same, 27 March 1751 to 22 Feb. 1801; marriages end 30 October 1753; (iii) baptisms and burials, 12 Jan. 1801 to 6 Dec. 1812; (iv) the official marriage book, 22 April 1757 to 2 Dec. 1812; the usual modern books.
The church plate consists of: A silver cup and cover paten, the cup inscribed '✠ FOR THE TOWNE OF LYTEL PAXSON,' and the paten inscribed '1569': no hall-marks; a silver plate inscribed 'The Gift of the Honourable and Rnd. George Mordaunt to the Parish of Little Paxton, 1727' and on back '17 ou. 11 wt.': hall-marked for 1685–6; a silver paten (a mere disc) inscribed 'Given by E. A. Sweeting, Easter 1915,' and hall-marked for 1914–15.
ADVOWSON
Little Paxton is a chapelry belonging to the church of Great Paxton. (fn. 115) It is mentioned in 1274, at the institution of the vicarage of Great Paxton. (fn. 116) Before 1279, the free-tenants of Little Paxton gave 30 acres of their demesne lands to the mother church, in order to found a chantry in the chapel to provide for the administration of all sacraments, etc., only burials being reserved to the rector. (fn. 117)
CHARITIES
Town or Church Lands. This property, the origin of which is unknown, originally consisted of two ozier holts, containing 4 a. 35 p., and an allotment of 19 a. 2 r. 35 p. awarded on an inclosure in 1812 in lieu of a house, close and certain parcels of open field land. The ozier beds were sold in 1920 under the authority of the Charity Commissioners and the proceeds invested in the purchase of £272 15s. 5d. 5 per cent. War Stock with the Official Trustees which, together with the 19 a. 2 r. 35 p. of land, now form the endowment of the charity. The income of the charity, amounting to about £33 per annum, is carried to the churchwardens' account. The charity is now regulated by a scheme of the said Commissioners dated 24th September, 1920, under the provisions of which the vicar and churchwardens were appointed trustees of the charity.
Widows' Dole. The yearly sum of 2s. 9d., being a customary payment made by the lessee of lands belonging to the dean and chapter of Lincoln, is received by the vicar and churchwardens and distributed among poor widows.