Pages 217-222
A History of the County of Huntingdon: Volume 3. Originally published by Victoria County History, London, 1936.
This free content was digitised by double rekeying. All rights reserved.
STIBBINGTON or SIBSON cum STIBBINGTON
Stebintone (xi cent.); Stybyngton (xiv cent.); Stepington (xvi cent.); Sibestune, Sybeston (xi–xii cent.); Sybston (xvi cent.); Walmesford (xiii cent.); Wanesford (xvi cent.).
Stibbington parish is situated in the extreme north-west of Huntingdonshire, and is separated from Northamptonshire by the River Nene, which flows round the northern half of the parish. The area is 1,515 acres of land and 27 of water. The parish is low-lying and is liable to floods on the banks of the Nene, but reaches about 140 ft. above Ordnance datum in the south. Of this area, it is difficult to know which is Stibbington and which Sibson. Judging, however, by the position of Sibson Manor House, with the reputed site of the church on the other side of the road, and the site of the village stocks which remained until quite recent years, we may, perhaps, assume that Sibson was the eastern and south-eastern part of the parish. The soil is rich loam, with a subsoil of gravel and clay, and produces wheat, barley and beans. A coarse but durable stone is quarried in the neighbourhood. There is an old quarry at the western end of the railway tunnel, while to the south of Stibbington House is Ship End Pits Quarry, with an adjoining quay. A strip of land along the northwest boundary is called Wansford. It is not clear whether the county boundary has been altered, or whether the district, owing to its proximity to the bridge which carries the Great North Road over the Nene at this point, and which is known as Wansford Bridge, came to bear the same designation. The present bridge, which is half in Huntingdonshire and half in Northamptonshire, dates from the 16th century and replaced an older bridge. In 1221 a remission of ten days' penance was granted to all those crossing the bridge who gave alms for its repair, but these were to be for the benefit of the township of Wansford only. (fn. 1) The existing seven arches in Northamptonshire were erected in 1577, and the next three, in Huntingdonshire, were built in 1672–4, after destruction caused by ice floods. These, with one built in 1795, adjoining on the south, span the main stream. There is another and smaller arch which may also date from 1795. (fn. 2) Wansford Station, on the Northampton and Peterborough branch of the London Midland and Scottish Railway, is about half a mile to the south of Stibbington church.
The village of Stibbington, about 6½ miles from Peterborough, lies on the Oundle Road, which joins the Great North Road near Wansford Bridge. The church stands about a quarter of a mile east of the Great North Road near the ford to Sutton. Stibbington Hall, near the church, is an unspoilt 17th-century house which evidently replaced an earlier building, parts of which are incorporated in it. The Rectory House, south of the church, is a long, rectangular building dating from the 16th-17th centuries and incorporates some 15th-century building material. Stibbington House, (fn. 3) adjoining the site of the papermill, was evidently the miller's house, probably enlarged and improved; it lies between the Oundle Road and the Nene. Stibbington Manor Farm, on the south-west side of the road near Sibson Manor House, was built about 1625, but has modern additions. Immediately south of the bridge is the Haycock, a fine old house which has been both an inn and a private mansion. It was probably built early in the 17th century, though it was remodelled later. There are some 17th-century cottages about 200 yds. south of the bridge. Sibson Manor House, of the same date, is about three-quarters of a mile south-east of the church, and is a small rectangular building with a modern wing at the back. In the garden there are fragments of 15th-century stone work, which may have belonged to an earlier house or to Sibson Church, which is said to have stood opposite, on the other side of the road. The sites of some Roman houses belonging to the Roman settlement already described, (fn. 4) lie to the south of the station and in the vicinity of the school and of Ship End Pits Quarry.
Manors
Sibson with Stibbington had been equally divided before the Conquest between Ulf, predecessor of Count Eustace of Boulogne, and the Abbey of Thorney; the holding of each consisted of 2½ hides in Sibson, with half the church and half the mill, and 5 virgates of land in Stibbington, where another church was attached to the Abbey of Thorney's property. There appears to be no existing clue as to why this arrangement had been made. (fn. 5)
The manor of COUNT EUSTACE OF BOULOGNE remained attached to the Honour of Boulogne, which escheated to the Crown on the death in captivity of Reginald, Count of Boulogne, who was taken prisoner in France in 1214. (fn. 6)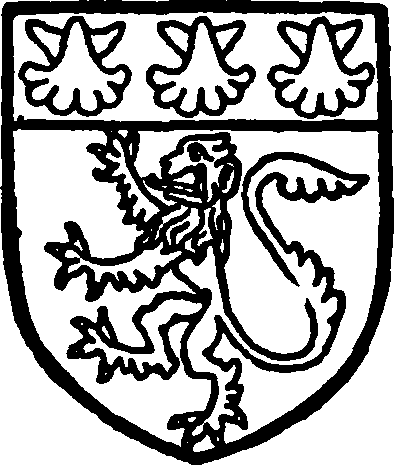 Lunen was the tenant in 1086, but the manor passed to the de Merc family. Henry de Merc was dealing with the advowson between 1147 and 1167 and was succeeded by his son Eustace. (fn. 7) John de Merc was holding two knights' fees in Walmesford, Sibson and Stibbington in 1211–12. (fn. 8) He was succeeded by William de Merc, who owed scutage in 1217, (fn. 9) the service due apparently having been reduced to that of one knight's fee. Walter de Merc was dealing with lands and a moiety of two mills in Sibson, Stibbington and Wansford in 1219. (fn. 10) John de Merc was holding two hides in 1286, (fn. 11) and it may have been he, or a son of the same name, who appeared in a plea of trespass in 1322. (fn. 12) He was succeeded by Nicholas St. Medard or de Merc, who was living in 1324. (fn. 13) He appears to have used the alternative name, and it is suggested that his mother was a daughter of John de Merc who had married a St. Medard of Thornhaugh (Northants). (fn. 14) Nicholas died in 1327, when his heir was his son John de St. Medard or Semark (St. Mark), who only survived him till 1332. He left a son Nicholas who died in 1349, leaving two sons, John who died without issue in 1362, and Nicholas who succeeded his brother and died in 1409. (fn. 15) His son Thomas Semark was holding the manor in 1428, (fn. 16) as a quarter of a knight's fee, and was still living in 1451. Anne, probably his granddaughter, presented to the church in 1496, (fn. 17) with her second husband (Sir) David Phillip; she had previously married William Sapcote, and on her death in 1510 (fn. 18) was succeeded by her son Guy Sapcote, whose daughter and heiress Anne married firstly Sir John Broughton of Toddington (Beds) and Chenies (Bucks). (fn. 19) She was a widow in 1522, when her tenement was known as the 'Balneshowse' so called from ancient times. (fn. 20) She then became the wife of Sir Richard Jerningham, and in 1526 married as her third husband Sir John Russell, created Earl of Bedford. Their son, Francis Russell, second Earl of Bedford, settled the manor, among others, on the marriage of his fourth son, William, with Elizabeth, daughter and heir of Henry Long, in 1583. (fn. 21) William, who had been made Lord Deputy of Ireland in 1584, was created Baron Russell of Thornhaugh in 1603, and died in 1613. His son Francis succeeded as the fourth Earl of Bedford, in 1627, (fn. 22) and the manor was held by his descendants (fn. 23) until it was acquired in 1904 by Earl Fitzwilliam, the present owner.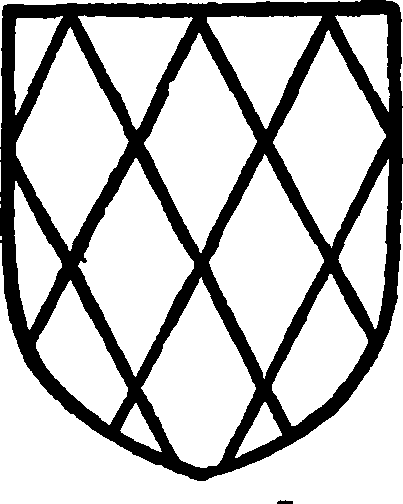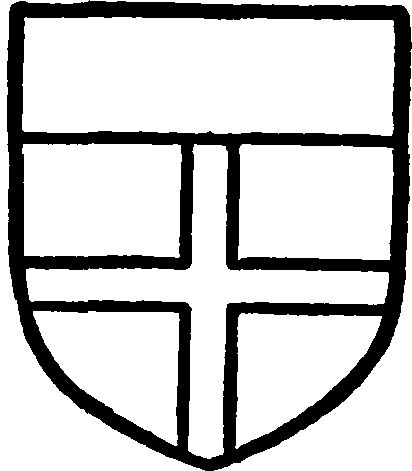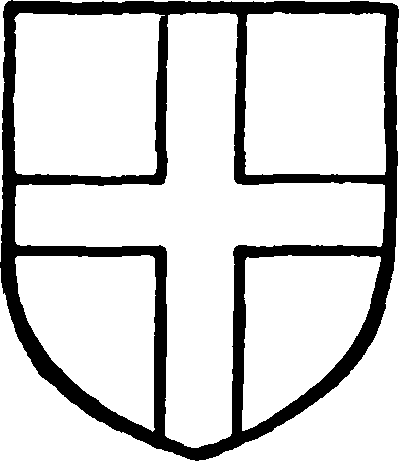 A so-called manor in Sibson may be identified with a hide and a half, and half a virgate of land, which William de Merc gave in perpetual alms to the KNIGHTS TEMPLARS, who in 1276 claimed assize of bread and ale, and had, it was then stated, withdrawn suit from their land in Sibson for the last 30 years. (fn. 24) In 1279, their fee contained the same amount of land, of which 2 virgates 13½ acres and 1 rood was held in demesne; they had 1 messuage, with a court and garden containing 1 acre, 3½ acres of meadow, 1½ acres of pasture and a fishery in the Nene from Stibbington to Newton Mill pond. (fn. 25) On the dissolution of the Templars, it passed to the Knights Hospitallers and was held of the Preceptory of Temple Bruer. (fn. 26) After the Dissolution of the Monasteries, the capital messuage and other lands were granted in fee to William Romesdon of Longley, Yorks, in 1546, (fn. 27) including a rent of 40s. from the lands of John, Lord Russell. It afterwards passed to Adam Smythe, who died seised in 1587, (fn. 28) leaving a son Robert, who was granted livery of his lands in 1589. (fn. 29) He granted a lease of 58 years for a peppercorn rent to Thomas Cropley in 1601, (fn. 30) but eventually sold the manor to Sir Robert Beville in 1609, (fn. 31) though he evidently retained certain tenements of which he died seised in 1628, (fn. 32) and with which Benjamin Smythe and his wife Jane were dealing in 1633. (fn. 33) The manor was apparently acquired from Sir Robert Beville either by William Kirkham or his son Walter, who was dealing with it in 1617, (fn. 34) and died seised in 1636, leaving as his heir his cousin Robert, son of his father's only brother, Thomas. (fn. 35) William Kirkham alias Piccard settled the manor on John Hatfield and his wife Elizabeth, probably William's daughter, in 1652, (fn. 36) and in 1659 they joined with him and his wife Bridget in selling the property to William Earl of Bedford. (fn. 37)
No tenant is mentioned in 1086 in connection with the manor belonging to the ABBEY OF THORNEY, which then held one hide in demesne. (fn. 38) The 2½ hides in Sibson and 5 virgates in Stibbington were confirmed to them in 1162 by Pope Alexander III, with the tithe of one carucate in Sibson, and the tithe of Roger [de Stibbington]. (fn. 39)
In 1279 the abbey held a hide and a virgate in demesne, and their half share of the mill was recorded, but no mention is made of the share of the church. (fn. 40) The abbot claimed view of frankpledge, and waif in 1286 in Newton, with its members of Sibson, Stibbington and Wansford from ancient times. (fn. 41) The abbey continued to hold the manor till the Dissolution, and it then appears to have been granted to the Earls of Bedford and merged in the chief manor, as Francis Russell, the second Earl, was seised of the manors belonging to the late dissolved Monastery of Thorney, including Sibson and Stibbington. (fn. 42)
Geoffrey de Haddon was the chief of the Abbot of Thorney's free tenants in Sibson in 1279. He held one hide and paid rent of 6s. and service to the abbot, doing suit at the Hundred of Norman Cross every three weeks and at the abbot's court at Yaxley. (fn. 43) There is apparently no further reference to the family after 1305, when John de Haddon was holding lands in Haddon (q.v.).
Besides the above-mentioned manor, the Abbey of Thorney held 5 virgates of land in the Boulogne manor which had been granted by Eustace of Boulogne to a certain Adam, son of —, who enfeoffed the abbey with them. In 1279 they were held of the abbey at an annual rent of £4, by Gerard de Gravele, who had a capital messuage and six acres of meadow. His holding seems to have been a small sub-manor as he held a court for his tenants. (fn. 44)
In addition to the manors of Count Eustace and Thorney Abbey, there were two hides in Stibbington which were recorded in the Domesday Survey under Northamptonshire. (fn. 45) This holding, which afterwards became known as the MANOR OF STIBBINGTON AND WANSFORD, belonged in 1086 to Richard Engaine, when the value had risen from 2s. to 20s. One plough was held in demesne and the villeins and bordars had another; there was a mill rendering 8s. Richard's son Viel or Vitalis Engaine married the daughter of William de Lizures, and their younger son, Fulk, took his mother's name. He inherited the manor with the Honour of Benefield (Northants) and died before 1185, when the property was inherited by his son Hugh (d. 1207), whose daughter Alice married Nicholas de Bassingbourne. (fn. 46) The manor continued to be held of the Benefield (q.v.) fee by the Bassingbournes, and afterwards by the Earls of Warwick. (fn. 47) There are conflicting statements as to the overlordship in the 17th century. The manor was said to be held of the Earl of Warwick in 1620, (fn. 48) but this is probably a mistake, as the tenure was not known in 1603, (fn. 49) and the overlordship had apparently been acquired by the second Earl of Bedford, whose son William, Lord Russell, died seised in 1614. (fn. 50) According to Bridges, the Duke of Bedford was lord in 1711, (fn. 51) but in 1807 the lordship was claimed by William Walcott, (fn. 52) according to the Inclosure Act. It has presumably since followed the descent of Sibson.
No sub-tenant is mentioned in 1086, but the de Folksworth family were holding in the 13th century when John de Folksworth held one-sixth of a knight's fee in Stibbington and Wansford in 1243. (fn. 53) John de Folksworth was assessed for a quarter fee in 1284. (fn. 54) Another John, probably his son, settled two parts of the manor, subject to the dower of his mother, Eleanor, on his wife Maud in 1333, with reversion to his brothers Thomas, his heir, Henry and William. (fn. 55) William was dealing with land in Stibbington in 1348, (fn. 56) and Richard, presumably his son, was living in 1388. (fn. 57) Early in the 15th century Nicholas de Folksworth was assessed for one knight's fee, (fn. 58) but the descent during this century is not clear. John de Folksworth died in 1517, leaving a son Richard, aged 48, (fn. 59) who in his will dated 1524 directed that he should be buried in the chapel of Our Lady on the north side of the parish church. He was succeeded by his grandsons John, son of his daughter Euphemia, wife of Ralph Cotton, and Leonard, son of Susanna and William Stubbs. (fn. 60) Ralph Cotton's will, proved in 1537, mentions his father-in-law, Richard de Folksworth, and contains similar instructions as to his burial. (fn. 61) The manor of Stibbington was sold by John Cotton to Sir Robert Beville (d. 1602) in 1560, (fn. 62) and it was purchased from his son, Sir Robert, by Peter Edwards, who died in 1619 having left the property, including 2 water-mills and a fulling-mill, to his wife Joan for her life. His son John was then aged 15. (fn. 63) Joan married John Hangar soon afterwards, and was living at Stibbington in 1620. (fn. 64)
In 1185, the Knights Templars held a virgate of land in Stibbington, given them by Roger Engaine, of Yardley Hastings (Northants). (fn. 65)
An inquisition as to the waters belonging to the Abbey of Peterborough from Wansford Bridge to Normansland in 1276 supplies an account of the fisheries held by various lords in this parish at that date, and in Water Newton, (fn. 66) i.e., from Wansford Bridge to the Bridge Mill, the lord of St. Medard and the lord of Stibbington; from the Bridge Mill to Huntingdon Holme, the Almoner of Peterborough and lord of Stibbington; from Huntingdon Holme to Newton Dam, the Almoner of Peterborough and the Abbot of Thorney; from Letheholm to the Bar of Newton Dam, the fishery of the Templars by reason of their tenure in Sibson with one boat with the Abbey of Peterborough; from Sibson Dam to Newton Dam, the fishery of the Abbey of Thorney and the Almoner of Peterborough and the Templars; from Newton Bar to Newton Mill the several fishery of the Abbot of Thorney; and from Newton Mill to Billing Brook, the fishery of the Abbeys of Peterborough and Thorney in common. (fn. 67)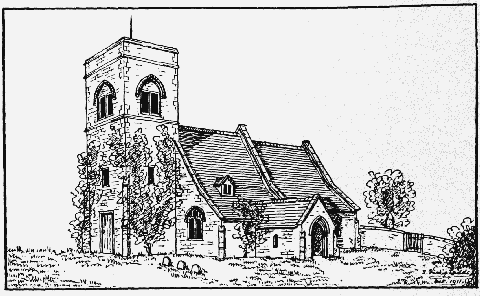 Church
The church of ST. JOHN THE BAPTIST (fn. 68) consists of a chancel (32¼ ft. by 14½ ft.), with vestry (13 ft. by 9½ ft.) and organ chamber (12 ft. by 4¾ ft.) on the north, nave (35¼ ft. by 17 ft.), north aisle (36¼ ft. by 11 ft.), with northern annexe (15 ft. by 14¼ ft.), south aisle (35¼ ft. by 11 ft.), and south porch. The walls are of rubble with stone dressings, and the roofs are covered with stone-slates.
The church and that formerly at Sibson are both mentioned in the Domesday Survey (1086), but apparently the church was rebuilt in stone as a chancel and aisleless nave in the middle of the 12th century, and the nave of this period remains. About 1180 a north aisle was added. About 1240 the chancel was rebuilt on a larger scale, with its axis farther to the south, and some twenty years later a south aisle was added to the nave. A west tower was added, probably in the 15th century. In 1848–49 the west tower was pulled down, the two aisles rebuilt, and the vestry, organ chamber and porch were built, a timber bell-cot being added to the nave roof.
The 13th-century chancel has two lancet windows in the east wall with a buttress between them and a quatrefoiled window in the gable. The north wall has a modern doorway to the vestry, having a re-used segmental head; part of a blocked doorway farther east; and a modern arch to the organ chamber. The south wall has three two-light windows of c. 1330, with flowing tracery in two-centred heads; a blocked low-side window; and an original doorway. (fn. 69) The mid 12th-century chancel arch has a semicircular arch of two square orders, the inner one having a semicircular roll on its soffit; the responds are plain, but under the roll of the arch are attached semicircular shafts with scalloped capitals and moulded bases.
The modern vestry has a square-headed two-light window in the north wall, and a plain doorway in the east wall. The modern organ chamber is a mere recess; on the north side of it is a small coal store.
The nave has a north arcade, of c. 1180, of two bays having semicircular arches of two square orders on a circular column with scalloped capital, cruciform abacus, and moulded base, and similar attached halfcolumns to the responds. The 13th-century south arcade is of three bays having two-centred arches of two chamfered orders on octagonal columns with moulded capitals and bases and similar attached halfcolumns to the responds. In the west wall is a doorway of c. 1180, having a semicircular arch of three orders, the two outer with large rolls on the angles and the inner one plain; below the latter is a tympanum ornamented with a sunk lozenge pattern, and supported on a modern lintel; the arch is surrounded by a broad band of billet ornament and a plain label; the jambs have two detached shafts on each side, with scalloped capitals and moulded bases. Above the doorway is a modern two-light window.
The modern north aisle (fn. 70) has a three-light window in the east wall, one two-light and one single-light window in the north wall and a two-light window in the west wall. A large pointed arch in the north wall opens into the northern annexe.
The modern northern annexe has a two-light window in its east and west walls, a stair-turret to the gallery, and a plain doorway in the north wall. There is a large gallery supported on iron columns in this annexe.
The modern south aisle has a three-light window in its east wall; two two-light windows and a doorway in its south wall; and a two-light window in the west wall.
The west tower, now destroyed, had low diagonal buttresses at the north-west and south-west angles, and was finished with a plain parapet. The west doorway, and a small light in three walls of the stage above, were merely rectangular openings of very late date. The belfry windows, apparently two-lights with two-centred heads, had been almost destroyed. It must have become so weak and dilapidated that it was unsafe to take it down, so it was demolished with a charge of gunpowder fired with a fuse. (fn. 71)
The modern south porch has a two-centred outer arch of two continuous chamfered orders. The old porch was very similar, and probably of 15th-century date.
The early 13th-century font has an octagonal bowl with an incised semicircular arch on each side, standing on a circular central column without capital or base and eight smaller circular shafts with irregular octagonal capitals and bases, all on an octagonal chamfered base stone.
The 17th-century Communion table has turned legs and plain rails. There is a plain 16th-century chest in the vestry. A fragment of a stone effigy of a priest lies loose in the chancel; and there are also several 12th and 13th century carved stones.
There are two bells, both inscribed: C. & G. Mears Founders London presented by Francis Duke of Bedford m d c c c x l i x when the nave and aisles of this church were rebuilt. In 1707 there were three bells; (fn. 72) two were sold in 1848–49, and a third, which was inscribed 'Joseph Eayre fecit 1767 Mr. Holdich rector John Harreson churchwarden,' remained in the rectory coach-house as late as 1899. (fn. 73)
In the chancel is a small rectangular brass plate to the Rev. John Hanger, S.T.P., Rector, d. 1638.
Other monuments are: in the chancel, to the Rev. Jeffery Holdich, Rector, d. 1780, and Mary his wife, d. 1796; the Rev. William Wing, Rector, d. 1831, and his son, the Rev. William Wing, Rector, d. 1867; Richard Newcomb, d. 1851; Henry Buckle Leeds, d. 1868, and Arthur Leeds, d. 1871; floor slabs to the Rev. Giles Aleyn, S.T.D., Rector, d. 1678; Sarah (Holdich) wife of Abraham de Rippe, d. 1749; the Rev. Jeffery Holdich, d. 1780; and glass windows to Grace Bailey (n.d.); and Thomas and Elizabeth Percival, 1899. In the vestry, to Charlotte wife of Captain John Cochet, R.N., d. 1804, and John Robert Cochet, their infant son, d. 1803. In the nave, to John Franklin, d. 1703; John Swann, d. 1797, and Mary his widow, d. 1798; the Rev. James Swann, d. 1798; War Memorial, 1914–18. In the north aisle, to Mary (Bonfield) wife of William Stredder, of Boston, d. 1815, and Rebecca their infant daughter; and Thomas Smith, d. 1836. In the south aisle, to Captain John Wright, R.N., d. 1785; Elizabeth Hamerton, d. 1804, and Thomas infant son of Charles and Elizabeth Hamerton; James Cunnington, d. 1817, and Elizabeth his widow, d. 1844.
The registers are as follows: (i) baptisms, marriages and burials, 4 October 1595 to 21 February 1705/6 (ii) the same, 26 March 1706 to 27 February 1793, marriages end 26 December 1753; (iii) marriages, 2 March 1755 to 24 October 1780; (iv) marriages, 15 January 1782 to 25 November 1812; (v) baptisms and burials, 10 February 1793 to 7 December 1812.
The church plate consists of: a late 16th-century silver cup partly gilt, with deep bowl and short stem, engraved with beasts, etc.—fox, squirrel, stag, hound, bird and rabbit, no date letter; a silver chalice, partly gilt, inscribed 'a.m.d.c. Sua manu fecit et dono dedit Bache Cunard Stibbington m c m x x i i' hall-marked for 1921–2; a plated cup with embossed bowl; a silver cover-paten inscribed 'Thornhaugh to Stibbington, 1908,' hall-mark of the Sheffield office for 1908–9; a silver standing paten inscribed 'The gift of Giles Aleyn,' and with his arms, Argent, a cross potent purpure, hall-marked for 1667–8; a silver salver inscribed 'The gift of Giles Aleyn, D.D.' and with his arms, Argent, a cross potent vert, and crest, a lion rampant holding a shield, hall-marked for 1667–8 (?); a silver flagon inscribed 'The guyft of Gyles Aleyn,' and with arms as on the salver, but no crest, hall-marked for 1659–60; (fn. 74) a mother-of-pearl baptismal shell with a silver mount inscribed 'a.m.d.g. Stibbington. From the children of the Sunday School, 1927,' hall-marked for 1926–7.
Advowsons
The church of Sibson, mentioned in the Domesday Survey as belonging in equal shares to Count Eustace of Boulogne and the Abbey of Thorney, must have disappeared at a comparatively early date. It does not seem to be mentioned after the 12th century, during which Henry de Merc quitclaimed his share to the abbey. This was confirmed by his son Eustace, together with the gift of the tithes of two virgates of land, and of his demesnes, for the poor of the Hospital of Thorney. (fn. 75) There is no mention of the church in 1279, (fn. 76) though it may have survived for a while as a chapelry. A free chapel is mentioned at Stibbington in a chantry roll of 1549, to which belonged an acre of land worth 12d. yearly, and goods worth £2. (fn. 77) The Smythes who held the Temple Bruer lands included in their property a piece of land called 'Waste Chapel,' which was possibly the site of the church. (fn. 78)
The church at Stibbington was attached at the time of the Domesday Survey to the lands of the Abbey of Thorney, (fn. 79) which held the advowson until the Dissolution. The advowson appears in the 15th century to have been granted, probably for one turn only, to Anne Semark and her second husband, David Phillip, who presented to the rectory in 1496. (fn. 80) In 1501 and 1507 the abbot made the presentation, (fn. 81) but apparently again sold the next presentation, since in 1537 Sir John Russell, afterwards 1st Earl of Bedford, presented (fn. 82) before he had acquired any of the Thorney possessions. In 1557 the patron was his countess Anne. (fn. 83) In 1558, King Philip and Queen Mary presented, possibly after the death of Anne in the spring of 1558/9 (fn. 84) In 1572 Adam Smythe, who held the Templars' manor, presented, presumably for one turn only, since in 1589 (fn. 85) the Crown again presented and the advowson does not appear to have been alienated in fee till it was granted by Queen Elizabeth to Thomas Kerry, a clerk of the Privy Seal. (fn. 86) In his will, made in 1607, though he disposed of a manor in Somerset granted at the same time, no mention is made of the advowson. (fn. 87) In 1640 it was granted by Charles I to William Boughton, at the nomination of Richard Deane, Richard Greene, Mary Cheney, and Susan Henshawe. (fn. 88) The advowson is mentioned in the marriage settlement of Sir William Russell in 1583, (fn. 89) but it does not appear to have been in the possession of his father, Francis, 2nd Earl of Bedford, at the time. (fn. 90) Before 1678, however, it had come into the possession of William, the fifth Earl and first Duke of Bedford. It followed the descent of his manor (fn. 91) and now belongs to Earl Fitzwilliam.
The church was valued at £12 in 1291 and in 1428, when the Abbot of Thorney received an annual pension of 13s. 4d., and the almoner there one of £1. (fn. 92) At the Dissolution it was valued at £9, when the pension of 13s. 4d. was still paid to the Abbot of Thorney. (fn. 93) Adam Smythe, who presented to the rectory in 1572, (fn. 94) held a pension of 10s. from the rectory. (fn. 95) In 1693 a moiety of a pension out of the rectory of Stibbington was conveyed by George Goode and his wife Katherine to Sarah Gore. (fn. 96) Tithes were commuted in 1807.
Charity
Poor's Fund.—This charity consists of the following legacies left for the benefit of the poor of the parish: 1601, John Philip, £2; 1602, Margaret Philip, £2; 1616, Abel Smith, B.D. (Rector), £10; Samuel Smith, £5; 1626, William Edwards, £5; 1638, John Hanger, B.D. (Rector), £12 10s.; William Beville, esq., £5; 1639, Christopher Wells, £5; 1640, Sir Robert Beville, knt., £4; 1667, Captain George Aleyn, £10; John Edwards, £50; 1669, John Balderton, £2; 1670, Peter Edwards, £50; 1678, Giles Aleyn, D.D. (Rector), £37 10s.—total, £200. The endowment now consists of £310 19s. 7d. Consols with the Official Trustees, and the dividends are distributed to the poor in coal.