Pages 92-96
A History of the County of Huntingdon: Volume 3. Originally published by Victoria County History, London, 1936.
This free content was digitised by double rekeying. All rights reserved.
MOLESWORTH
Molesworde (xi cent.); Mulesworth, Mullesworthe (xii cent.).
Molesworth occupies a long, narrow strip of land about 4½ miles in length from north to south, and varies in width from a little over a mile to half a mile or less. For a short distance its northern boundary touches Northamptonshire. The parish covers 1,787 acres of clay land, the greater part of which is pasture. A brook flows from west to east through the middle of the parish and the land, which is undulating, rises from it to 255 ft. above the Ordnance datum both to the north and south.
The village is in the middle of the parish, on the southern slope of the hill leading down to the brook. It stands a little to the north of the main road from Huntingdon to Thrapston, along a branch road to Oundle, which at the north end of the village has a return back to the main road. The church is at the west end of the village, with the Rectory House to the south of it and Yew Tree Farm, a late 17th-century timber-framed house with modern additions, to the north-east. The Manor House is on the west side of the road to Oundle, and on the opposite side of the road is Spring Hill Farm, an early 17th-century timber-framed house, which takes its name from some springs rising here. South of Spring Hill Farm is another house originally built in the early part of the 17th century, but much altered and rebuilt. Chainbridge Lane leads southward to Hunt's Close Farm, crossing the brook by a bridge called Chain Bridge.
Kimbolton Station is about three and a half miles south-east of the village.
Manor
Four hides in MOLESWORTH were held in 1066 by Norman, possibly a thegn of Earl Waltheof, but by 1086 they had passed to Waltheof's widow, the Countess Judith. (fn. 1) The manor, a dependency of Caldecote, (fn. 2) became part of the honour of Huntingdon, and on the partition of the honour in 1237, on the death of John Le Scot, (fn. 3) the overlordship went with the Brus pourparty (fn. 4) until forfeited after the death of Robert de Brus the elder in 1304. (fn. 5) It was apparently granted with Caldecote to Hugh le Despenser in 1324 (fn. 6) and afterwards to Edmund de Woodstock, Earl of Kent, who was seised on his execution in 1330. (fn. 7) It continued to be held of the manor of Caldecote (fn. 8) (q.v.).
The subtenancy in 1086 was held of the Countess Judith by Eustace the Sheriff. (fn. 9) From him it seems to have passed early in the 12th century to Walter L'Engleis, and by the marriage of his sister with Walter (?) de Lindsey (Lindesei) it descended in that family. (fn. 10) Walter apparently had a son Walter de Lindsey of Earlstown in Lauderdale, who granted the church of Earlstown to the Abbey of Kelso for the soul of Walter, his uncle, about 1159. (fn. 11) His brother William, son of Walter de Lindsey I, between 1156 and 1166 bestowed on Chicksand Priory (Beds), for the health of his father and for the souls of his mother and of Walter L'Engleis, 160 acres in Molesworth and common of pasture for twenty score sheep and 24 beasts. (fn. 12) The grant was attested by the donor's father, Walter, and this and other grants in Molesworth made by William de Lindsey and Walter, his brother, were confirmed to Chicksand by Henry II between 1163 and 1166. (fn. 13) Walter appears to have succeeded his brother William about 1165, when he paid £20 for the right of his lands in Cambridgeshire and Huntingdonshire. (fn. 14) Richard de Lindsey, said by Dr. Farrer to be Walter's successor, may have been his son, who was succeeded by a brother Walter, as in 1201 Walter warranted the charter which Richard had made to Crowland Abbey. Walter attested an agreement in 1213, but in 1216 the lands late of Walter de Lindsey in Molesworth were committed to Roger de Millers, presumably during the minority of the heir. Sir Walter de Lindsey, knt., probably, from the dates, son and heir of the last named Walter, presented to the church of Molesworth in 1220, when he would have reached his majority. He seems to have died before 1230, before which year William de Lindsey, who, again it would appear from the dates, was a brother of Sir Walter, married Alice, sister and later co-heir of William de Lancaster, Baron of Kendal. In 1232 William de Lindsey brought an action against William, son of Hamel, as to half a hide, less 5 acres, of land in Molesworth and in 1235 presented to the church. (fn. 15) He was holding half a fee in Molesworth in 1242–3 of Isabella de Brus of the honour of Huntingdon. (fn. 16) William died before 1250, when the lands of his son and heir, Walter, were taken into the king's hands. (fn. 17) Walter, while still a minor aged 16, was returned as co-heir of his uncle William de Lancaster, Baron of Kendal, in 1246. (fn. 18) He was heavily burdened with the debts of his uncle, William de Lancaster, and died in 1271, leaving William, his son and heir, aged 21 years, (fn. 19) and a widow Christiana, who held dower in 1282. (fn. 20) William married in 1266 Ada, daughter of John de Balliol, and died in 1282, leaving a daughter, Christiana, wife of Ingram de Gynes. (fn. 21) William seems to have settled Molesworth on his brother, Gilbert de Lindsey, who in 1279 is said to have held the manor of William de Lindsey for the rent of a pair of gilt spurs or 6d., and he of William de Brus by foreign service, and he of Robert de Brus. (fn. 22) In 1286, however, Ada, widow of William de Lindsey, claimed dower. (fn. 23) In the same year Gilbert de Lindsey failed to justify a claim to view of frankpledge and other liberties in the manor, which was thereupon taken into the king's hands, but replevied in 1289. (fn. 24) In 1319 complaint was made by Gilbert de Lindsey, presumably son of the former Gilbert, as to an assault upon him and his men by a multitude of persons at Molesworth. (fn. 25) Probably the younger Gilbert settled the manor on his sister Margaret, the wife of Simon de Drayton, for life. Simon de Drayton and John his son, with others, were accused of killing John de Overton Longueville at Holborn (Midd.), and were pardoned in 1339. Apparently the matter was raised again in 1342, when the king confirmed the pardon. (fn. 26) Simon de Drayton died in 1357, when the manor was said to be held of Christiana de Lindsey by the rent of one gilt spur. (fn. 27) Margaret died in the following year, when the manor was returned as held of William de Lindsey. (fn. 28) Both these returns as to the superior lord are clearly out of date. On the death of Margaret the manor reverted to the daughters and heirs of Gilbert de Lindsey, or their representatives, namely his daughter, Christiana, who had married her first cousin, John de Drayton, son of Simon de Drayton and Margaret, and Thomas Dacre, son of his other daughter, Isabel. (fn. 29) Christiana sold her moiety of the manor and advowson in 1360 to Simon Simeon of Gosberkirk (Lincs), (fn. 30) who with his wife Elizabeth (daughter of Sir Gilbert de Neville) settled the manor in 1377 and in 1386, (fn. 31) and died without issue in 1387. (fn. 32) His widow Elizabeth married in the following year John, Lord la Warre, when the manor was settled on them. (fn. 33) Elizabeth died in 1393 and Lord la Warre in 1398, seised of half the manor, leaving his brother Thomas, a priest, his heir. (fn. 34) Thomas, Lord la Warre, died in 1427, when Reginald West, nephew of the half blood, was his next heir and John Griffin, Lord Latimer, was his heir general. (fn. 35) The half manor of Molesworth, however, was subject to numerous settlements, the effect of which is not clear, and its descent after the death of John, Lord la Warre, is obscure. (fn. 36) In 1428 the whole manor was held by Roger Hunt, who then had the half fee which Robert de Brus formerly held. (fn. 37)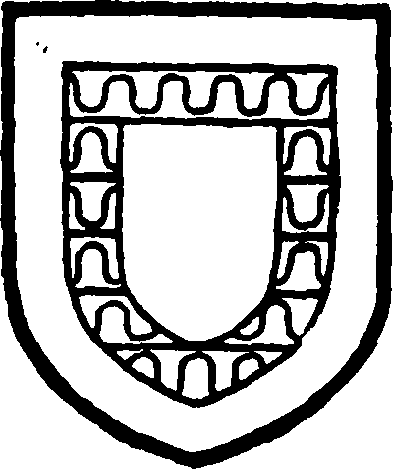 The Dacre moiety of the manor and advowson was conveyed as half the manor of Molesworth called 'Lyndseys' in 1407 to John Randolf, chaplain, (fn. 38) but by 1428 the two moieties were held by Roger Hunt. (fn. 39)
The whole manor and advowson had passed before 1465 from Roger Hunt to Sir Richard Wydville, knt., and his wife Jaquetta, Duchess of Bedford, and was conveyed by them to Agnes Forster, widow [of Stephen Forster of London], and others in that year. (fn. 40) Agnes Forster presented to the church in 1475 and in 1484. (fn. 41) By her will she left Molesworth to her son, John, and his heirs with remainder to Robert Morton and Agnes his wife (daughter of testatrix) and their heirs and further remainder to Alice and Agnes, daughters of Robert Forster, another son of the testatrix. (fn. 42) Robert Morton and Agnes his wife had apparently come into possession of the manor before 1506 and 1507, when Agnes Morton presented to the church. It was probably their son Robert (fn. 43) who presented in 1524 and came to an agreement with the rector as to the glebe, (fn. 44) and it was he, or his son Robert, who was referred to as lord of the manor in 1534, 1545 and 1550. (fn. 45) George, son of the third Robert Morton, was holding the manor in 1570 and as George Morton of Boughton Mallard (Kent) presented to the church in 1572. (fn. 46) He was evidently in pecuniary difficulties and in 1571 conveyed the manor and advowson, evidently as security for a loan, to William Playfere and Ralph Bestoke. (fn. 47) On 13 May 1574 he, with Mary his wife, mortgaged the manor and advowson for £2,000 to William Farren or Farrant of Molesworth. (fn. 48) A week later he conveyed the manor, apparently subject to this encumbrance, to Nicholas Welle, who died on 1 July 1587 leaving six infant daughters—namely, Margaret, Frances, Mary, Bridget, Alice and Elizabeth. (fn. 49) In 1583 William Bedell and Elizabeth his wife, William Androwe and Alice his wife, William Wurlyche and Margery his wife, and Thomas Carter and Jane his wife conveyed four parts of a messuage, barn, garden, orchard, 24 acres of land, 2 acres of meadow and 2 acres of pasture in Molesworth, divided into five parts, to Matthew Stevens. (fn. 50) On 19 September 1587 Matthew Stevens died seised of a quarter of the manor held of William Farren which in 1579 William Farren had given to Alice Carter, widow, for life with remainder to Henry Carter and his heirs. (fn. 51) Matthew left a son Thomas. Possibly William Farren foreclosed on his mortgage; at all events, he came into the possession of the whole manor and advowson and is returned as having died seised of them in 1585, having in 1578 settled his interest in the manor and right of patronage as to one-third on his son and heir, Oliver, on his marriage with Frances, daughter of Francis Dayrell of Lamport (Bucks), and two-thirds on his wife Bridget with remainders successively to his sons Oliver, Thomas, John, Francis, Lawrence and their heirs male. (fn. 52)
Oliver Farren was dealing with the manor and advowson in 1598 (fn. 53) and 1601, (fn. 54) and in 1602 with his wife Frances, son and heir William, and William Becke and his wife Margaret, conveyed them to William Bedell and his son and heir Silvester. (fn. 55) William Bedell settled them in 1604 upon his son, Silvester, in tail male on his marriage with Anne, eldest daughter of James Pickering of Titchmarsh (Northants). At the death of William Bedell in 1612 they descended to Silvester, (fn. 56) who died seised of the manor, chief messuage, and advowson in 1630. (fn. 57) His son and successor, William Bedell, conveyed them in the same year to Francis Say, (fn. 58) who with Elizabeth, his wife, was dealing with them in 1641. (fn. 59) By Alexander Say, their son, and his wife, Elizabeth, the manor was sold in 1655 to Thomas Weekly, citizen and grocer of London, and his wife, Mercy, for £2,365. (fn. 60) A settlement of the manor was made in 1681 by Thomas Weekly, senior, and John Weekly to Thomas Weekly, junior, (fn. 61) who was holding the manor in 1702. (fn. 62) By 1709, however, it had passed to Sydney Pickering, (fn. 63) a member of the family of Pickering of Titchmarsh (Northants) (q.v.), being son of Sydney Pickering, second son of the first baronet. (fn. 64) In 1764 the manor was held by Frances Byrd, widow, and Dorothy or Elizabeth Pickering, spinster, the two sisters and co-heirs of Sir Edward Pickering of Titchmarsh, bart., who had died unmarried in 1749, and who was the grandson of Sir John, the eldest son of the first baronet. In 1764 the two sisters joined in conveying the manor to Edward Dickenson of St. Clement Danes, London. (fn. 65) In 1784 the manor was sold by John Bramston of Oundle and Charles Butler of Lincoln's Inn to William Peere Williams of Clapton (Northants) (eldest son of the Rev. Frederick Williams, D.D., who was the third son of William Peere Williams, formerly of Gray's Inn, barrister), by whom in that year a conveyance of it barring entail was made. (fn. 66) Admiral William Peere Williams was dealing with it in 1789, with his wife Henrietta, (fn. 67) and was lord at the inclosure of about 1,000 acres in 1799. (fn. 68) He took the name of Freeman in 1822 and died in 1832 at the age of 90. He was succeeded by his youngest son, William Peere Williams Freeman. By 1855 the manor had passed to Benjamin Welstead, of Kimbolton, who died in 1858. His son, John Richards Welstead, died in 1873 and was succeeded by Edward Leonard Welstead, of Kimbolton, (fn. 69) who in 1912 put the property up for auction. It was acquired by William Bowyer of Buckden, to whom Thomas T. Bowyer has now succeeded.
Lands and tenements in Molesworth were in 1367 granted by William Dulay of Great Paxton to John Carpenter, parson, and others, evidently feoffees, (fn. 70) by whom, as the manor called DULAYS MANOR, they were in 1398 quitclaimed to Thomas Pegure, Robert Huntingdon of Catworth, and others. (fn. 71)
A family of de Molesworth owned land in the parish, and Walter de Molesworth, sheriff of Buckinghamshire and Bedfordshire, and holder of many offices in Huntingdonshire, (fn. 72) was granted licence to have an oratory in his 'manor' of Molesworth, distant from the parish church, in 1292, (fn. 73) and was dealing with lands and rents in Molesworth and Catworth (q.v.) in 1286 and 1312. (fn. 74) He died in 1318 leaving two daughters, and his Molesworth property descended with his holding in Thurning (q.v.).
In 1324 Richard, son of Hugh de Molesworth, granted a chief messuage and a carucate of land in Molesworth to Adam Grymbaud, of Winwick, who was holding with his wife Isolda in 1333. (fn. 75)
Church
The church of ST. PETER consists of a chancel (28¾ ft. by 16¼ ft.), nave (36¼ ft. by 19 ft.), west tower (7 ft. by 7 ft.), and modern south porch. The walls are of rubble partly coursed and mixed with large stones, and with stone dressings, and the roofs are covered with tiles and lead.
The church is not mentioned in the Domesday Survey (1086). Several 12th-century stones preserved in the church seem to indicate a stone church of this period, but the earliest work in situ is the chancel of c. 1275. The nave was rebuilt towards the end of the 15th century, and the tower was added early in the next century. The church was restored in 1884–5, when it is said that the chancel was taken down and rebuilt because its orientation differed from that of the nave. The south porch was rebuilt in 1890; and the tower and west wall of the nave were underpinned in 1931.
The features of the chancel are of c. 1275. The east window is of three graduated lights with plate-tracery under a two-centred head; the jambs have small angle-shafts with moulded capitals, and the rear-jambs have similar angle-shafts. On the north side of the window a late 13th-century carved head has been built into the wall. Also northward of the window is a rectangular locker. The side walls are both divided into three bays by wall arcading having twocentred arches of one chamfered order carried on continuous jambs, except that between the first and second arches a moulded corbel takes the place of the jambs. Below the arches are stone seats along the wall. Under each of the two eastern arches on either side is a window of three lancets under a continuous label, those on the south side slightly graduated. In the western bay of the north wall is a single lancet; and in that of the south wall is a square-headed low-side window, and a doorway with a two-centred head of two continuous hollow-chamfered orders. In the south-east angle is a piscina formed of a square projecting stone with a circular basin, found built into a buttress in 1885 and refixed here. The chancel arch is two-centred, of two chamfered orders, the inner order carried on semicircular attached shafts with moulded capitals and bases. The roof is modern.
The 15th-century nave has in each of the side walls two three-light windows with depressed four-centred heads, the inner splays of the easternmost windows being carried down to form seats. In the western bay of the north wall is a blocked doorway with a depressed four-centred head, and simple continuous chamfered jambs; and in that of the south wall is a late 13thcentury doorway with a two-centred head of one chamfered order on plain jambs each with one attached shaft; the eastern shaft has a capital carved with stiffleaf foliage, and the western a moulded capital, and both have moulded bases. The nave was probably one bay longer, for there was until recently a straight joint at the south-west angle and the plaster on the inner face of the south wall was continued through almost to the outer face of the west wall, and the foundations of the wall were found running westward. The side buttresses are continued up as shallow pilasters to the underside of the parapets, which are of rubble and finished with a plain coping; at the north-east angle a base, perhaps for a pinnacle, has been fitted with a modern cross, now broken. The early 16th-century oak roof has moulded tie beams, purlins and ridges, but no jack-legs. The spandrel-pieces above the middle beam have three crosses cut on them, one on the east and two on the west.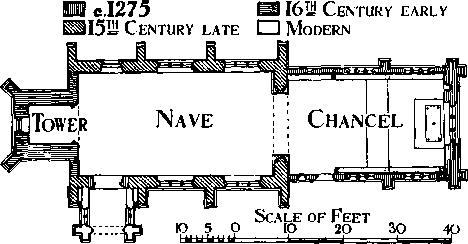 The early 16th-century tower has a two-centred tower arch of two simply moulded orders, the inner order resting on semicircular attached shafts with moulded capitals and bases. The west window is a cinquefoiled single-light. The belfry windows, on three sides only, are cinquefoiled single-lights; and the east wall of the belfry has a small doorway on to the nave roof. The tower, which is very low, has diagonal buttresses at the north-west and southwest angles and is finished with an embattled parapet.
The modern south porch (1890) has a two-centred arch of two moulded orders, the inner order carried on semicircular attached shafts with moulded capitals and bases. The gable above is divided into seven niches with cinquefoiled heads; in the central niche is a figure of St. Peter. The side walls each have a two-light window with simple tracery in a square head. The old porch appears to have been a mean structure of two plain walls with a simple tiled roof. (fn. 76)
The modern font has an octagonal bowl on a stem composed of a group of four large and four small engaged shafts with moulded capitals and bases. An early 18th-century font of Renaissance design remains in the churchyard and has a shallow octagonal bowl and octagonal baluster-shaped stem and base.
There are three bells, inscribed: (1) G. Mears & Co. Founders London 1861. L. F. Clarkson Rector. [on waist:] Thomas Pashler churchwarden. (2) Thomas N Norris made me 1636. (3) Oliver Pashler churchwarden 1710. The third bell is by Henry Penn of Peterborough. A sanctus bell was sold in 1549. (fn. 77) There were three bells in 1709. (fn. 78) The treble bell was recast and all three bells rehung in a new frame by Geo. Mears & Co. in 1861.
In 1851 there was a screen across the chancel arch and a few old seats. (fn. 79) A small fragment of the lower part of the screen with two panels of tracery of early 15th-century date was lying loose in the church within recent years. The seats have all gone.
The early 18th-century oak Communion table has turned legs and moulded rails. The contemporary oak pulpit is hexagonal with bolection moulded panels, moulded cornice, and a modern stone base.
Preserved in the church are several old stones, including: pieces of 12th-century shafts with spiral ornament; pieces of star-ornament; and a fragment of a cushion capital; a 13th-century base; and pieces of 14th-century window tracery. In the churchyard is a 13th-century coffin found in the foundations of the north-west corner of the nave in 1931.
There are two wall paintings of c. 1500 in the nave: (1) on the north wall, representing St. Christopher (fn. 80) and two coats of arms, (a) a chevron between three pheons, an annulet for difference; (b) quarterly: 1 and 4, on a fesse three roundels; 2 and 3, as (a); (2) on the south wall, representing St. Anthony.
Near the centre of the nave floor is an early 14thcentury tapering marble slab, much cracked and worn, with matrix of marginal inscription in Lombardic capitals: '.m . . . . . [: f]emme [: de :] g [il] l [:] de [:m]olesworthe: gist: [ici: d] ev . . . . . m . [ei] t [merci].' (fn. 81) A similar stone covered by the pulpit is said to commemorate Alianore, mother of Walter de Molesworth. (fn. 82)
There are the following monuments: in the chancel, to the Rev. Henry Arthur Penzer, rector, d. 1929. In the tower, to the Rev. William Ellis, rector, d. 1821, and Ann, his daughter, d. 1809; Catherine Ellis, d. 1824, Charles Thomas Ellis, d. 1829, daughter and son of the late Rev. Wm. Ellis, Mary, another daughter, wife of the Rev. Ottiwell Tennant, d. 1834, Sarah, another daughter, d. 1843, and the Rev. Ottiwell Tennant, rector of Upton, d. 1863; and a glass window as War Memorial 1914–18.
The registers are as follows: (i) baptisms, marriages and burials 4 May 1564 to 15 February 1706/7—there is a gap from 1669 to 1686; (ii) the same 19 April 1707 to 10 September 1748; (iii) the same 26 March 1748 (fn. 83) to 25 September 1812, marriages end 5 November 1753; (iv) marriages 12 May 1754 to 5 May 1810 (really to 1813).
The church plate consists of: a silver cup with two bands of Elizabethan ornament, and hall-marked for 1569–70; a cover paten for the same, inscribed '+ 1569 +,' and hall-marked as the cup; a silver paten, hall-marked for 1873–4; a silver-mounted glass cruet, hall-marked for 1874–5, and another hallmarked for 1899–1900; and a pewter alms-dish with rose and crown on back.
Advowson
The advowson, from the earliest date of which we have record, seems to have passed with the ownership of the manor. Walter de Lindsey presented in 1220 and the subsequent lords of the manor presented until the end of the 16th century. (fn. 84) During the time the manor and advowson were held in moieties by the Lindsey co-heirs, the right of patronage was exercised by Simon Simeon and the la Warres. (fn. 85) Roger Hunt, who held the whole manor, presented in 1449 and the advowson continued with the owners of the manor. (fn. 86) Francis Say and Elizabeth his wife settled the manor and advowson in 1641, (fn. 87) but after this date the conveyances and settlements by the lords of the manor cease to include the advowson. In 1667 the Crown presented, after which the advowson was held by the Richards family. Thomas Richards of Rushden presented Edmund Richards in 1681; Thomas Richards and George Wilkinson presented in 1694; John Richards of Molesworth in 1700, and in 1707 he presented Robert Richards; and in 1711 Henry Richards of Higham Ferrers presented John Richards. (fn. 88) In 1713 John Richards, clerk, and Henrietta Maria, his wife, and others conveyed the advowson to William Leete and Richard Smith, (fn. 89) possibly on behalf of the Archbishop of York, as we find the Archbishop of York exercised the right of patronage at the next vacancy in 1739. (fn. 90) The archbishops held the advowson until 1859, when the patronage was transferred to the Bishops of Chester, who still hold it. (fn. 91)
Charity
Edward Pickering, by will dated 30 March 1697, bequeathed £200, the income derived therefrom to be applied for the benefit of the poor of the parish. This sum was laid out in the purchase of land in the parish, in lieu of which, on the inclosure in 1799, an allotment of between 29 and 30 acres was awarded. The land is now let in allotments and the rents, amounting to about £18 per annum, distributed to poor parishioners in money. The charity is administered by the rector.