Pages 329-335
A History of the County of Lancaster: Volume 4. Originally published by Victoria County History, London, 1911.
This free content was digitised by double rekeying. All rights reserved.
STRETFORD
Stretford, 1212. Trafford, 1212.
This large township, (fn. 1) lying between the Irwell and Cornbrook on the north and the Mersey on the south, occupies the south-west corner of the parish and contains 3,255 acres. (fn. 2) The surface is comparatively level, though it slopes to the Mersey. Stretford proper lies in the south, taking its name from an ancient ford over the Mersey, also called Crosford. The north-eastern portion is called Trafford or Old Trafford; a ford over the Irwell is said to have been near it. Longford lies on the eastern border. The population in 1901 was 30,436.
The principal road is that on the line of the old Roman road from Chester to Manchester, and crosses the Mersey by a bridge at the point where the ford was. (fn. 3) From Stretford village roads go east and west to Fallowfield and to Urmston. Old Trafford has to some extent become urban, and there are many streets of houses on the border of Hulme. In this part of the township are the Botanical Gardens, opened in 1831, and the Lancashire cricket ground, with several other cricket and football grounds. Pomona Gardens formerly occupied land at the junction of the Cornbrook and the Irwell.
Henshaw's Blind Asylum at Old Trafford was established in 1837. A deaf and dumb school, which originated in 1823, found a home adjacent to it in 1837.
The Cheshire Lines Committee's Manchester and Liverpool line crosses the northern portion of the township, (fn. 4) with a station called Trafford Park, and has an older line south to Stockport; (fn. 5) there is a large goods yard near the northern boundary, close to which, on the Irwell, are docks and jetties of the Ship Canal; also a corn elevator and various large warehouses and works. The London and NorthWestern Company's Manchester South Junction and Altrincham Railway (fn. 6) passes through the centre with stations at Old Trafford, the cricket ground, and Stretford. The Bridgewater Canal also passes through the centre and north of the township, after crossing the Mersey from Cheshire by Barfoot Bridge.
In 1666 there were in Stretford 117 hearths to be taxed; the principal house was that of Sir Cecil Trafford with twenty-four. (fn. 7) A century ago it was famous as a fat pig market, some six hundred animals being killed weekly for Manchester. (fn. 8) There was a paper-mill at Old Trafford in 1765. Weaving was formerly one of the chief industries.
The wakes were held at the beginning of October.
A stone celt, Roman remains, and a hoard of Anglo-Saxon coins have been found. (fn. 9) The cross (fn. 10) was taken down about 1840; the stocks, which were near the cross, had been removed about 1825. The Great Stone—now inclosed by a railing—lies in Old Trafford beside the Chester road; it has two cavities. (fn. 11)
A local board was formed in 1868, (fn. 12) and its offices were built in 1888; it has become an urban district council of eighteen members, elected from six wards— Stretford, Longford, Trafford, Talbot, Cornbrook, and Clifford. There are a public hall, free libraries, and other institutions. There is a recreation-ground at Old Trafford. At Stretford are a cemetery, opened in 1885, and a sewage-farm. Gas-works were erected in 1852.
Stretford gives its name to one of the parliamentary divisions of the county.
John Holker, who established factories in France, was born at Stretford in 1719. (fn. 13) Edward Painter, pugilist, was also a native; 1784–1852. (fn. 14) A distinguished resident was John Eglington Bailey, the antiquary, author of a life of Thomas Fuller; he died there in 1888. (fn. 15)
An exhibition of art treasures held at Old Trafford in 1857 was opened by Queen Victoria. The Royal Jubilee Exhibition of 1887 was held there.
MANORS
In this township there were anciently two manors, both held in thegnage of the king in chief as of his manor of Salford. The principal was in 1212 STRETFORD, rated as one plough-land and held by Hamon de Mascy by the service of a judge; (fn. 16) the other was TRAFFORD, held by Henry de Trafford by a rent of 5s. yearly. (fn. 17) Under Mascy a moiety of the former was held by Hugh de Stretford, who performed the service of the judge; and a fourth part was held by the abovenamed Henry de Trafford, who paid 4s. a year. (fn. 18) About 1250 another Hamon de Mascy gave the whole of Stretford to his daughter Margery, (fn. 19) who afterwards granted Stretford to Richard de Trafford. (fn. 20) The moiety of the manor held by Hugh de Stretford in 1212 does not occur subsequently in the records. (fn. 21) The Trafford family thus acquired the whole of Stretford and Trafford, and the two manors have descended together. The principal residence remained at the latter place until about 1720, when Trafford Park in Whittleswick was chosen. (fn. 22) Manor courts continued to be held until 1872. (fn. 23)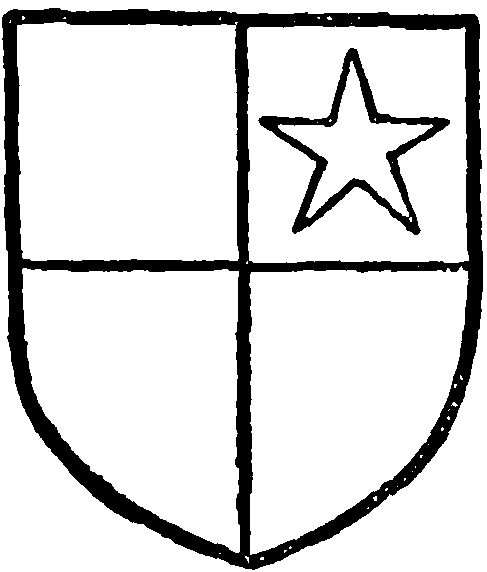 The pedigree of the lords can be traced at least to the early part of the 12th century. (fn. 24) Hamon de Mascy before 1190 gave Wolfetnote and his heirs to Ralph son of Randulf and to Robert his son for 4 marks. (fn. 25) This was afterwards confirmed to Robert son of Ralph. (fn. 26) A further grant was made to Henry son of Robert of an oxgang of Hamon de Mascy's demesne m Ashley, previously held by Uctred, it being a fourth part of the whole vill. (fn. 27) Henry, surnamed 'de Stratford,' agreed in 1205 to pay 40s. as relief for the half plough-land he held in Trafford. (fn. 28) In 1212, as above shown, he held Trafford of the king and a fourth of Stretford of Hamon de Mascy. He died in 1221, when his son and heir Richard paid 20s. for relief of the land held of the king. (fn. 29)
Apart from his acquisition of Stretford little is known of Richard de Trafford, (fn. 30) whose son Henry in 1278 agreed to a partition of the family estates, taking as his share eight oxgangs of land, &c., in Stretford, Chorlton-upon-Medlock, and Withington. (fn. 31) Six years later Henry obtained a charter of free warren for his manors of Trafford and Stretford. (fn. 32) He was succeeded by his son Henry before 1292, in which year the younger Henry had a dispute with his brother Richard. (fn. 33) Henry de Trafford in 1302 contributed to the aid as holding part of a knight's fee in Harwood near Bolton, (fn. 34) and five years afterwards he made a settlement of the manor of Clifton. (fn. 35) In the Parliament of 1312 he was a knight of the shire. (fn. 36) In 1324 Henry de Trafford had the king's leave to settle his manors of Trafford and Stretford upon Henry son of John son of Henry and his heirs; (fn. 37) and in the following year accordingly this was done. (fn. 38) In 1334 Sir Henry de Trafford acquired John Grelley's lands in Chorlton-upon-Medlock. (fn. 39)
Soon after this probably he was succeeded by his grandson Henry, also a knight, (fn. 40) who died between 1373 (fn. 41) and 1376, leaving a son Henry under age. (fn. 42) The younger Henry died in 1395, holding the manor of Trafford and vill of Stretford, together with two-thirds of a third part of the manor of Edgeworth, and leaving a son and heir Henry, six years of age. (fn. 43) This son died in 1408, the manors going to his brother Edmund, (fn. 44) known as the Alchemist, from his having procured a licence from the king in 1446 authorizing him to transmute metals. (fn. 45) Sir Edmund, at Eccles in 1411, married Alice daughter and co-heir of Sir William Venables of Bollin, and thus acquired a considerable estate in Cheshire, which descended in the Trafford family for many generations. (fn. 46)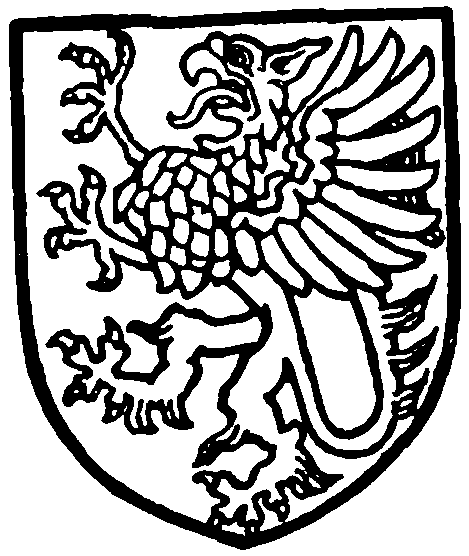 Sir Edmund died in 1458 (fn. 47) leaving a son Sir John, (fn. 48) who was regularly succeeded by five generations of Edmunds. (fn. 49) In the latter half of the 16th century the fortunes of the family began to decline; several estates were sold, (fn. 50) and Sir Edmund the fourth, having conformed to the Established religion, appears to have attempted, and with some success, to acquire fresh wealth by an active prosecution of the recusants. (fn. 51) As sheriff he was specially zealous against them. He also arranged the marriage of his son Edmund with Margaret daughter and co-heir of John Booth of Barton, (fn. 52) and though the son afterwards disinherited the children of this marriage, the Trafford share of the Barton estates has descended like Trafford to the issue of a second marriage—with Mildred daughter of Thomas Cecil, first Earl of Exeter. (fn. 53)
Cecil Trafford, the eldest son of this union, was made a knight at Hoghton Tower in 1617. (fn. 54) He was at first, like his grandfather, a Protestant and a persecutor, but afterwards, about 1632, embraced the faith he had attempted to destroy. (fn. 55) In 1638, accordingly, the king seized a third of his estates and granted them on lease to farmers. (fn. 56) Siding with the king on the outbreak of the Civil War, he was seized and imprisoned by the other party and his estates were sequestered. (fn. 57) His sons appear to have gone abroad, as they are mentioned as present at Rome and Douay. (fn. 58) In 1653 Sir Cecil begged leave to contract under the Recusants Act for the sequestered two-thirds of his estates. (fn. 59)
Sir Cecil died in 1672, (fn. 60) his eldest son Edmund (fn. 61) died twenty years later, and was followed by a brother Humphrey, who was accused of participation in the fictitious plot of 1694, (fn. 62) and sympathized with the rising of 1715. (fn. 63) He was succeeded by his son (fn. 64) and grandson, each named Humphrey. The last of these died in 1779 and left Trafford to his relative John Trafford of Croston, (fn. 65) who died in 1815. During this time, owing to the laws concerning religion all public employments had been closed against the Traffords, who had therefore to dwell quietly on their estates. John Trafford, indeed, raised a troop of volunteers in 1804; (fn. 66) and his son Thomas Joseph, high sheriff in 1834, was created a baronet in 1841, at which time he altered the surname to De Trafford. Dying in 1852 he was succeeded by his son, Sir Humphrey de Trafford, who in turn was in 1886 succeeded by his son Sir Humphrey Francis de Trafford, the present lord of Trafford and Stretford, twenty-fourth in descent from the Ranulf or Randle who heads the pedigree.
The Turf Moss estate and Longford House belonged to the Mosleys. (fn. 67) The latter was acquired by the Walkers, (fn. 68) and in 1855 was purchased by John Rylands, who rebuilt the house. He is commemo rated by the John Rylands Library in Manchester, founded by his widow. (fn. 69)
From a survey of the tithes made in 1649 it appears that there were in Stretford Manor twenty-four whole seats, or holdings. The tithe corn in 1643 had filled three bays and the greater part of a fourth; it was mostly oats and barley. (fn. 70)
The land tax returns of 1796 show that John Trafford was then the principal landowner, he paying more than one-third of the tax; the remainder of the land seems to have been much divided. (fn. 71)
CHURCH
The earliest record of the chapel of Stretford is in a lease of 1413, in which land is described as lying next to the chapel. (fn. 72) Rather more than a century later a chantry was founded in it by Sir Edmund Trafford, for the souls of his ancestors. (fn. 73) At the confiscation in 1547–8 the rental of the chantry was only 44s.; the chapel had a chalice and two vestments. (fn. 74) Service appears to have been maintained in this chapel even after the Elizabethan changes, for in 1563 William Hodgkinson was 'curate of Stretford,' (fn. 75) and seems to have remained there until 1586; he was in 1581 censured for keeping an alehouse. (fn. 76) The names of many curates are on record, (fn. 77) but except during the Commonwealth period there was no adequate provision for them, there being neither residence nor endowment. (fn. 78) At the beginning of the 18th century the 'settled maintenance' was only 11s. 2d., (fn. 79) but some further endowments and contributions were secured, the chapel was rebuilt in 1718, (fn. 80) and from about that time the succession of curates and rectors appears to be unbroken. In 1842 the present church of St. Matthew was consecrated; (fn. 81) it was enlarged in 1861. A district had been assigned in 1839. (fn. 82) The Dean and Canons of Manchester present to the benefice.
The following is a list of the recent curates and incumbents (fn. 83) :—
| | |
| --- | --- |
| | |
| 1716 | Samuel Bolton, M.A. (Brasenose College, Oxf.) |
| 1717 | Roger Masterson |
| 1718 | Robert Armitstead, B.A. (Magdalen Hall, Oxf.) |
| 1721 | John Jackson, M.A. |
| 1741 | John Baldwin, M.A. |
| 1747 | John Baxter, (fn. 84) B.A. |
| 1766 | William Stopford, (fn. 85) B.A. (Brasenose College, Oxf.) |
| 1778 | Thomas Seddon (fn. 86) |
| 1796 | Thomas Gaskell |
| 1818 | Robinson Elsdale, (fn. 87) D.D. (Corpus Christi College, Oxf.) |
| 1850 | Joseph Clarke, (fn. 88) M.A. (St. John's College, Camb.) |
| 1860 | William Edward Brendon |
| 1864 | Thomas Daniel Cox Morse (fn. 89) |
| 1868 | Dudley Hart, M.A. (T.C.D.) |
| 1903 | James Peter Rountree, M.A. (T.C.D.) |
St. Bride's, Old Trafford, consecrated in 1878, is in the patronage of trustees; (fn. 90) All Saints, 1885, is in the Bishop of Manchester's gift. At Old Trafford there are also St. Thomas's, the chapel of the Blind Asylum, (fn. 91) and St. Hilda's, consecrated in 1904, with the districts of St. Cuthbert and St. John, not yet having permanent churches; the Crown and the Bishop of Manchester present alternately to these benefices; and also to the new district of St. Peter, Stretford.
There was in 1718 only a private school, without endowment. Soon afterwards the township shared in the benefaction of Ann Hinde. (fn. 92)
The Wesleyan Methodists and the Primitive Methodists each have churches at Stretford and Old Trafford; and the Independent Methodists have one at the former place. (fn. 93) The Baptists also have a church at Stretford. The Congregationalists have churches at Stretford and Old Trafford (fn. 94); in the latter part of the township there is also a Welsh Congregational chapel.
The Unitarian Free church, begun in Moss Side in 1887, has from 1901 had its place of worship within Stretford township.
Although from the time of Sir Cecil Trafford, the chief resident family, as well as some minor ones, professed the ancient faith, (fn. 95) no chapel was erected in the township (fn. 96) until 1859, when a temporary one was opened. This was followed by St. Anne's in 1863; it was consecrated in 1867. (fn. 97) St. Alphonsus's, Brooks' Bar, was opened in 1904. (fn. 98)