Pages 363-376
A History of the County of Lancaster: Volume 4. Originally published by Victoria County History, London, 1911.
This free content was digitised by double rekeying. All rights reserved.
BARTON
Barton, 1195; there is no variation to record.
Barton, usually called Barton-upon-Irwell to distinguish it from other places of the name, has a length of 7 miles from the north-eastern end, at which the parish church of Eccles is situated, to the Glazebrook, which forms the south-western boundary. The greater part of it lies on the northern side of the Irwell, but there is on the south bank a considerable area, forming the modern township of Davyhulme. The Manchester Ship Canal, opened in 1894, has replaced the Irwell for the existing boundaries. The central and southern parts of the township lie upon the pebble beds of the New Red Sandstone; Trafford Park, Barton, Patricroft, and Monton on the Upper Mottled Beds and Winton on the Permian rocks and Coal Measures. Round the parish church the town of Eccles has grown up, and is now a borough; the limits include the village of Barton, a mile to the south-west, with the hamlets of Peel Green and Patricroft to the west, and Winton, (fn. 1) Monton, and Chorlton Fold on the northern boundary. Ellesmere Park is in the north-east corner.
The greater part of the area to the south-west of Barton village was formerly part of Chat Moss, but on the bank of the Irwell, about a mile north of its junction with the Mersey, the village of Irwellham, now Irlam, managed to exist; and in the south-west corner, between the Mersey and Glazebrook, was Cadishead, with Great and Little Woolden to the north-west on the banks of the Glazebrook. Barton Moss and Irlam are the names of the modern townships which have resulted from the subdivision of the ancient Barton. The village of Irlam includes Higher and Lower Irlam and Jenny's Green.
The Davyhulme portion was crossed from east to west by a small brook, a tributary of the Irwell, the confluence marking the boundary between Barton and Flixton. Hulme or Davyhulme proper, and Moorside are on the south side of this brook, with Calderbank to the west, and Lostock in the eastern corner. On the north bank of the brook Bent Lanes occupied an area formed by a bend of the Irwell, now almost obliterated by the canal; Crofts Bank, Wilderspool, Dumplington, and Bromyhurst, going northwards, occupy the centre, and Trafford Park, formerly Wickleswick or Whittleswick, lies in the north-eastern portion, between Stretford and Eccles Church.
The area of the whole is 10,622 acres, (fn. 2) or nearly half the parish. Numerous changes of boundaries have been made within the last twenty years. (fn. 3) The surface is generally level, varying in the main between 50 ft. and 90 ft. above the sea, but there is lower ground in the south, along the Irwell, Mersey, and Glazebrook. The population in 1901 numbered 40,169, including 34,369 in Eccles, 234 in Barton Moss, 4,335 in Irlam, and 1,231 in Davyhulme.
The principal road is the highway from Manchester to Warrington, passing through Eccles, Irlam, and Cadishead. A road from Pendleton joins at Eccles, and others branch off in various directions, the chief being that through Worsley to Astley and Tyldesley. The London and North Western Company's line from Manchester to Liverpool (1830) crosses the northern part of the township, with stations at Eccles, Patricroft, and Barton Moss. From Eccles a branch to Bolton and Wigan goes north-west, with a station at Monton Green, and a single line branch goes northeast to Clifton. The Cheshire Lines Committee's Railway from Manchester to Liverpool passes through the southern corner, with a station at Irlam; near this it is joined by the line from Stockport, on which is the station of Cadishead. The pioneer Bridgewater Canal between Worsley and Manchester, formed in 1758, passes south through the village of Barton; the old-time wonder of the aqueduct carrying it over the Irwell (fn. 4) has been succeeded by the swing bridge by which it crosses the Manchester Ship Canal. The latter great waterway, as above stated, has in this parish practically replaced the Irwell; it has two sets of locks within the township, known as Barton and Irlam Locks. At Barton the road is carried over it by a swing bridge. At Irlam there is a ferry, and another crosses from Davyhulme to Boysnope, where formerly was a small bridge. There was formerly a ford and later a ferry to Whittleswick from the Warth, south of Eccles Church.
While agriculture is the chief industry of the Davyhulme and reclaimed Chat Moss district, Eccles and Barton have long been centres of the cotton manufacture. Fustian cutting is carried on at Cadishead. At Patricroft an extensive ironworks was founded in 1836 by the celebrated engineer, James Nasmyth, whose hammer is represented on the arms of the borough of Eccles.
The Eccles Wakes, abolished in 1877, were very popular; bear-baiting, cock-fighting, and other sports were held. (fn. 5) 'Eccles cakes' have long been famous. The close of the marling time was formerly marked by a 'guising.' (fn. 6)
A company of volunteers was raised at Eccles in 1797. (fn. 7)
For local government Barton, Eccles, Winton, and Monton obtained a local board in 1854. (fn. 8) In 1892 this area was constituted a municipal borough. The remainder of the ancient township of Barton was at the same time divided into three: Barton Moss, including Foxhill and Boysnope; Irlam, including Cadishead; and Davyhulme, including all to the south-east of the Manchester Ship Canal. Minor changes of boundaries were made in 1896. Irlam since 1894 has had an urban district council of twelve members; the other new townships have parish councils.
The Eccles Town Hall, built in 1881, is on the site of the old cock-pit.
At Patricroft are a hospital and a home for children. There also is the workhouse; the new building was opened in 1894. Newlands cemetery was formed in 1879. The Salford Corporation has a sanatorium in Eccles New Road.
The inclosure award for Cadishead Moss, with plan, is at Preston.
The shaft of a Saxon cross was found near Eccles Church in making the Ship Canal. (fn. 9) A later cross was at Barton Old Hall. (fn. 10) During the cutting of the Ship Canal a canoe and a hollowed log were discovered. (fn. 11) A causeway has been traced, probably mediaeval.
The hearth tax return of 1666 shows that Barton proper had 101 hearths liable; the principal houses were those of George Legh, with fourteen; Thomas Sorocold, thirteen, and John Barlow, six. Davyhulme had seventy-eight, no house having more than four hearths; Irlam thirty-seven, Mr. Lathom's, with six, being the largest dwelling; Cadishead, twentyeight, Thomas Holcroft having eleven; Eccles and Monton eighty-two, John Valentine's house having eleven, and Thomas Minshull's eight. (fn. 12)
There are a large number of interesting field names, among them the following: Lower Irlam— Eaves, Morley Croft, Bosses, Poos, Sparth, Summer ley (in strips); Jenny Green—Balshaw Fields; Boysnope—Stocky Dole, Parr Round Field, Pipers Field; Foxhill—Wall Congre, Hare Horn Meadow; New Hall—Stick Ings, Patch Ings, Broad Eyes, Street, Bagoletine, How Lane Head; Barton Village—Neckars, Scythy Field, Hoasefield, Acker Meadow; Barton Lane—Crossfields; Barton Bridge—Laster, Warth, Boatfield; Dumplington—Wall Congre, Stopes, Warcock Hill; Bromyhurst—Shoe Broad, Orkot, Cockleney (Great, Old, Greens); Bent Lanes—Shoe Broad; Davyhulme—Alder Forest; Croft's Bank—Cercicile, White Laches, Knows Corn Hill.
Dr. John Hewitt, born at Eccles in 1614, became chaplain to Charles I, and was executed in 1658 for taking part in a plot for the restoration of Charles II. (fn. 13) Richard Martinscroft, mathematician, 1586–1667, is said to have been a native of Eccles. (fn. 14) Barton Booth, a tragedian, is said to have been born at Barton in 1681. (fn. 15) William Tong, Presbyterian divine, was born at Eccles or Worsley in 1662; he ministered in London till his death in 1727. (fn. 16) John Johnson, Baptist minister, was born at Lostock in 1706; he died in 1791. (fn. 17) William Hill, a writer on mnemonics, who died in 1881, was another notability. (fn. 18) Joseph Wolstenholme, a mathematician of distinction, fellow of St. John's College, Cambridge, and professor at the Indian Engineering College, Cooper's Hill, was born at Eccles in 1829. He died in 1891. (fn. 19)
MANORS
Under the lords of Manchester the great manor or fee of BARTON was held by a family using the local surname. In its full extent the fee extended over the greater part of the parishes of Eccles and Deane, and as the family held also the manor of Worsley with Hulton of the king in thegnage, the only townships exempt from their lordship were Pendlebury, Pendleton, and Clifton in the east, and Rumworth and Horwich in the north. (fn. 20) Originally the Barton fee appears to have been accounted as that of two knights, but, probably by division among co-heirs, a knight's fee and a half only was held in 1212 by Gilbert de Notton in right of his wife, Edith daughter of Matthew son of Leysing de Barton. (fn. 21) Of Edith's father and grandfather nothing is certainly known. (fn. 22) She was one of four daughters and co-heirs, and by her first husband, known as Augustine de Barton, (fn. 23) she had a son John, who died young, and a daughter Cecily, who married William, a son of Gilbert de Notton by a former wife, (fn. 24) and carried to him the manor of Barton, and also in right of her father that of Breightmet.
Gilbert, the eldest son of William and Cecily, was a minor in 1220 at the death of his grandmother Edith, but had livery of his lands two years later; (fn. 25) he adopted Barton as a surname, and was made a knight. He fell into the hands of Aaron, the Jew of York, (fn. 26) and parted with large portions of his lands, (fn. 27) and finally sold his great lordship to Robert Grelley his feudal superior. (fn. 28) This sale was confirmed by his son John. (fn. 29) Gilbert retained or regained the manor of Barton, but this was given to his daughter Agnes, (fn. 30) perhaps in view of her marriage with a Grelley, (fn. 31) and her daughter and heir Loretta by marriage with John del Booth, about 1292, carried it into a family which, as Booth of Barton, retained it for 300 years.
John de Barton, the son of Gilbert, retained lands in the township which his descendants enjoyed for some generations; occasionally they laid a claim to the manor. (fn. 32)
By 1282 the manor was in the hands of the lord of Manchester, and it was surveyed with the estates of Robert Grelley, who died in that year. (fn. 33) In 1320–2 Barton proper seems to have reckoned as half a knight's fee, or eight oxgangs of land. (fn. 34)
Of the Booth family only a brief sketch can be given. Loretta, the heiress of Barton, was perhaps still unmarried in June 1292; (fn. 35) but about this time, if not earlier, John del Booth or Booths married her. (fn. 36) He was succeeded by his son Robert; (fn. 37) in or before 1343 Robert was followed by his son Thomas del Booth, (fn. 38) who died, apparently by violence, (fn. 39) in 1368, having directed his body to be buried before the altar of St. Katherine in Eccles Church. (fn. 40) His eldest son John succeeded, and lived until September 1422; he had a numerous offspring, of whom Sir Thomas, the eldest son, succeeded him; Sir Robert married Douce daughter and co-heir of Sir William Venables of Bollin in Cheshire, and became ancestor of the Booths of Dunham Massey, Earls of Warrington; Roger, a third son, was ancestor of the Booths of Mollington; William and Lawrence, other sons, became respectively Archbishop of York and Bishop of Durham. (fn. 41) John del Booth died seised of the manor of Barton, with various messuages and lands in Barton and Manchester, all held of Thomas La Warre in socage by the service of 1d. yearly, and worth £60 a year. Thomas his son and heir was over forty years of age. (fn. 42)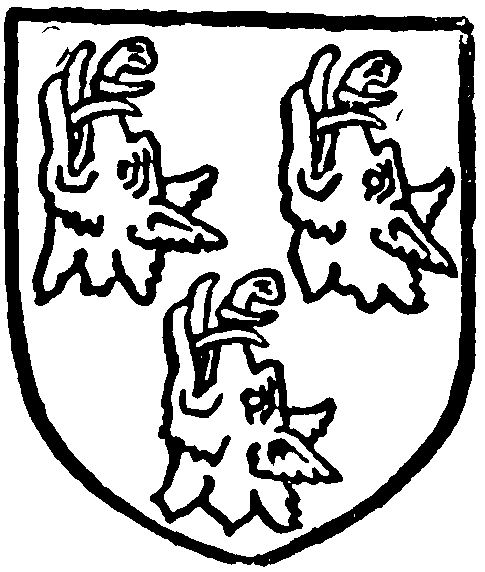 The new lord of Barton, who became a knight, was succeeded by his son Thomas (fn. 43) and his grandson Robert. The last-named left a son and heir, Sir John Booth, (fn. 44) slain at Flodden in 1513; (fn. 45) his son and heir John, then about twenty-three years of age, died in December 1526, leaving as heir an infant son John, (fn. 46) who died in 1552, (fn. 47) and whose son John, then ten years of age, died in 1576, leaving four daughters as co-heirs—Margaret, who in 1564 was contracted to marry Edmund Trafford; Anne, who married George Legh of East Hall in High Legh, she being his second wife; Katherine, who died in 1582 unmarried; and Dorothy, who married John Molyneux, a younger son of Sir Richard Molyneux of Sefton. (fn. 48)
Edmund Trafford at first claimed the whole estate, in right of his wife as eldest sister; but in 1586 a division was agreed upon, by which the manor of Barton and a moiety of the lands went to him, the other moiety being divided between Anne and Dorothy. The portion of the former of these included Barton Hall, and descended to two George Leghs, son and grandson of Anne; the younger George died in 1674, and his sister Elizabeth being unmarried, the estate went by his will to his cousin, Richard Legh of High Legh, descended from the first-named George Legh by his first wife. (fn. 49)
Barton Old Hall was described in 1836 as a 'brick edifice with two gables in front, a projecting wing, and mullioned windows.' (fn. 50) It was demolished in 1879, but for many years previously had been used as a farm-house.
The issue of Margaret and Edmund Trafford were for some reason passed over by the husband, the manor of Barton and the estate there being bestowed upon Cecil, his son by a second marriage; it has descended like Stretford. (fn. 51) Courts leet and baron continued to be held until about 1872. (fn. 52)
The vill of Eccles (fn. 53) is named in 13th-century charters; it appears to have been largely in the hands of the monks of Whalley, being a rectory manor. (fn. 54) Possibly MONKS' HALL, standing on higher ground a quarter of a mile to the north-west of the church, took its name from them. (fn. 55) In 1632 Christopher Anderton of Lostock, as impropriator of the rectory, sold Monks' Hall to Ellis Hey. (fn. 56) The Hey family were of some continuance in the neighbourhood, and a pedigree was recorded in 1664. (fn. 57) In the Civil War they experienced the displeasure of the Parliamentary authorities for aiding the king's forces. (fn. 58) After the Restoration the hall became the place of worship for a Nonconformist congregation. (fn. 59) By the end of the 17th century it had been acquired by the Willises of Halsnead near Prescot. (fn. 60)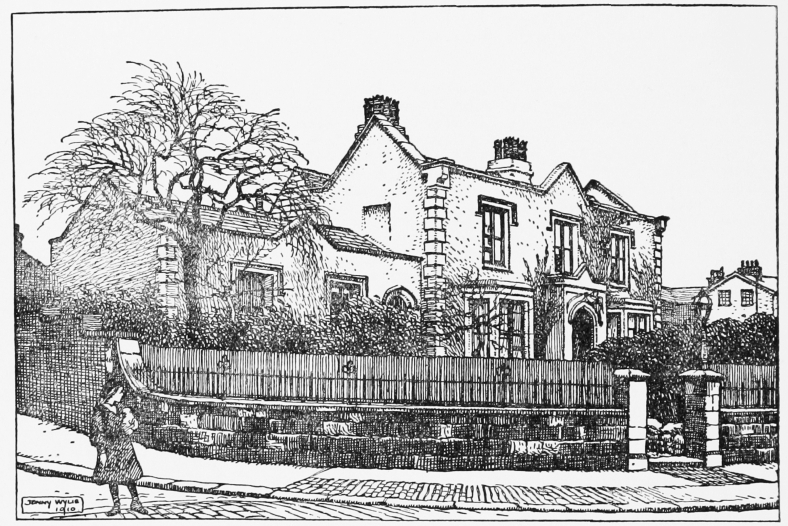 Monks' Hall was described in 1836 as a 'venerable wood and plaster fabric now a farm-house.' Of this timber building, however, only a portion remains at the back of the present house, and a picturesque black and white half-timber end facing the garden on the east side has been spoiled by the insertion of a large bay window on the ground floor. A stone wing, now entirely modernized, has been added, probably in the 17th century, in front of the old timber building; it is covered with rough-cast, and has little or nothing to distinguish it from an ordinary modern villa, except that the roofs are covered with stone slates. The building has long ceased to be used as a farm-house, and is now a private residence. (fn. 61) A stone with the inscription, 'Mrs. Helen Willis, relict of Martin Willis, gent. deceased, me aedificavit,' (fn. 62) is said to have been in the older part of the house or in a barn adjoining, but no trace of it can now be found.
Opposite the hall was formerly an orchard, the remains of which existed until recently, where, in August 1864, while laying a new street, an earthen vessel was discovered containing about 6,000 silver pennies, chiefly of the reigns of Henry I, II, and III, several of John, and a few of William I of Scotland. The coins were claimed as treasure trove by the Duchy of Lancaster, but selections were presented to the British Museum and to several museums in Lancashire. (fn. 63)
BENTCLIFFE
BENTCLIFFE was another mansion-house in Eccles, lying to the south-east of the church, on the border of Pendleton; it was for a long period the residence of the Valentine family, who died out in the 18th century. They were originally of Flixton. (fn. 64) Richard Valentine died in July 1556, leaving a son Thomas, only three years of age. The capital messuage of Bentcliffe was held of the heir of William the Clerk in socage by rendering a pound of incense to the church of Eccles, this rent identifying it with the estate granted by William the Clerk to his brother John about 1250. (fn. 65) Land in Barton was held of the heir of Agnes daughter of Gilbert de Barton by the rent of a gillyflower, and messuages, &c., in Little Houghton and Haslehurst in Worsley of the lord of Worsley, by a pair of white gloves or 1d. yearly. (fn. 66)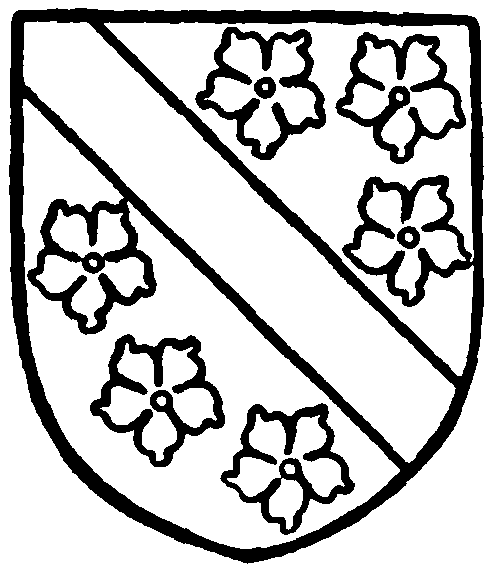 Thomas Valentine was succeeded by his son John and grandson John. (fn. 67) The younger John's estate was sequestered by the Parliamentary authorities, because when he was high constable of the hundred of Salford in 1644, Prince Rupert, advancing into Lancashire, lodged at Bentcliffe, and ordered its owner to send out warrants for provisions for the prince's army; this he did, 'being in great fear and terror,' but nothing was actually secured for the troops. As soon as Prince Rupert had departed, the garrison at Manchester sent for John Valentine, and under threat of imprisonment and loss of his estates, he was ordered to bring in £20 in money and £10 worth of provisions; and this was performed. In spite of this ready compliance a Parliamentary Committee ordered sequestration, and he redeemed his estate in 1651 by the payment of £255 4s. 9d. (fn. 68)
BOROUGH
A charter of incorporation was granted to ECCLES in 1892, (fn. 69) and a grant of the commission of the peace was made two years later, (fn. 70) armorial bearings following soon afterwards. A new council chamber and police courts were opened in 1899. The town is provided with parks, library, (fn. 71) baths, sewage works, cemetery, electricity station, fire station, tramways, (fn. 72) and other conveniences under public control. The area within the borough, in addition to Eccles proper, includes Patricroft, Monton, Winton, and Barton village; it is divided into six wards, each with an alderman and three councillors, viz. Northeast or Monton and Park, East Central or Eccles, South-east or Irwell, West Central or Patricroft, West or Winton, and South-west or Barton. (fn. 73) Gas and water are supplied by the corporations of Salford and Manchester respectively.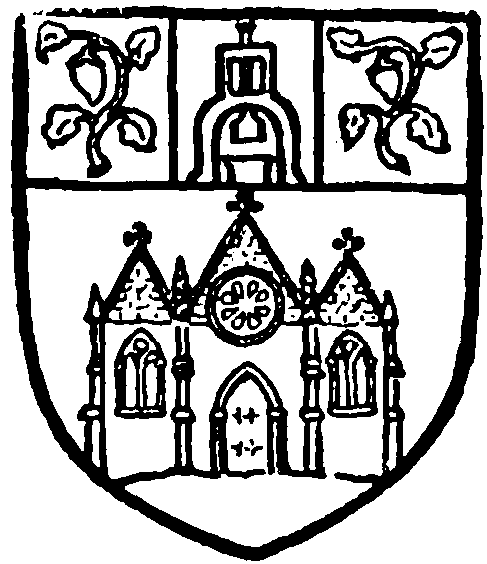 MONTON
MONTON (fn. 74) was the manor of the monks of Whalley, being held of the king in socage as 2 oxgangs of land, by a rent of 6s. (fn. 75) The tenure of the abbots appears to have been quite uneventful. (fn. 76) After the suppression (fn. 77) it was in 1540 granted to Sir Alexander Radcliffe of Ordsall. (fn. 78) In 1612 it was sold to Roger Downes of Wardley. (fn. 79) The Slack is an ancient name in the locality. (fn. 80)
WINTON
WINTON (fn. 81) gave a name to the chief residents. (fn. 82) This family seems to have been succeeded by the Wydales or Wedalls, who continued here till the 16th century. (fn. 83) NEWHAM, apparently represented by the more recent Newhall, was in the neighbourhood. (fn. 84) BOYSNOPE, anciently Boylesnape, is several times mentioned in the charters. (fn. 85) The name has practically become obsolete, but there is a Boysnope Wharf on the Ship Canal.
IRLAM
IRLAM (fn. 86) was early divided among several tenants. (fn. 87) From one family, which adopted the local surname, (fn. 88) the Hultons of Hulton acquired a holding (fn. 89) which descended to the Farnworth stock, and apparently to an Irlam branch. (fn. 90) The surname Irlam is found in the district down to the 18th century. (fn. 91) About the 16th century the Lathoms of Irlam appear; they were the principal local family for about two centuries, holding, according to one inquisition, a third part of the manor, and they had another estate at Hawthorn, near Wilmslow, on the Cheshire side of the Mersey. (fn. 92) At the end of the 18th century Irlam Hall was owned by John Greaves, a wealthy merchant, partner with Sir Robert Peel as a banker, and it descended in his family till 1866. (fn. 93) Baines noted in 1836 that the hall was used as a farm-house, and was of Elizabeth's time, containing a principal beam of massive size, the largest, probably, in the county.
CADISHEAD
CADISHEAD (fn. 94) was in the 12th century held of the king by serjeanty of carpentry, one Edwin being the tenant. Afterwards Sweyn had it, and in 1212 it was held in thegnage by Gilbert de Notton, in right of his wife Edith de Barton, by a rent of 4s. (fn. 95) In 1222 there were two under-tenants, Geoffrey de Dutton and Alexander de Cadishead, each apparently paying 2s. yearly. (fn. 96) Before this date Edith de Barton had granted to the monks of Stanlaw the land which Alexander held of her, they paying the king the customary rent of 2s. (fn. 97) Afterwards 'the land of Cadishead' was granted to the monks by William de Ferrers, with the assent of Agnes his wife, at a rent of 6s. 8d. a year; (fn. 98) this rent he released about 1240, after the death of his son's wife Sibyl, and the monks held in frankalmoign. (fn. 99) In the sheriff's compotus of 1348 the 4s. thegnage rent was still found charged against the Abbot of Whalley, but on the abbot's producing the second charter of William de Ferrers, showing that he held in alms, the 4s. was deleted. WOOLDEN appears as Vulueden in 1299. In 1331 John son of John de Woolden made an agreement with Adam son of Thomas de Holcroft respecting land by the Glazebrook. (fn. 100) On the suppression of the abbey, Cadishead, with Great and Little Woolden, was granted to Sir Thomas Holcroft, (fn. 101) but appears to have been transferred by him to the Holcrofts of Holcroft. Like Holcroft Hall it was in 1619 in the possession of Ralph Calveley of Saighton, near Chester, being held of the king in chief by the fortieth part of a knight's fee. (fn. 102) In the 18th century it was held by the Poole family, (fn. 103) and was afterwards sold to the Bridgewater Trustees.
DAVYHULME
DAVYHULME (fn. 104) was a portion of the original Barton fee. It gave the surname of Hulme to a family, or probably two distinct families, who held lands of the Bartons and their successors in title, the lords of Manchester. (fn. 105) But little is known of them, though they continued to hold lands here till the 18th century. (fn. 106) Inquisitions were taken in 1600 and 1641. (fn. 107) They acquired the adjacent manor of Urmston. (fn. 108) The hall was purchased by William Allen, banker, of Manchester, who became bankrupt in 1788, when Davyhulme was sold to Henry Norris, a Manchester merchant, who died in 1819. His daughter Mary conveyed it in marriage in 1809 to Robert Josias Jackson Harris, of Uley, Gloucestershire, who adopted the surname of Norreys, and died in 1844; their son Robert Henry Norreys resided in the hall till his death in 1887. The hall was afterwards demolished and the grounds are used as golf links. (fn. 109) The house was entirely of brick, the only signs of antiquity being some old beams, perhaps belonging to a former house. In front of the house was a sundial made at Manchester in 1809. Other families formerly connected with Davyhulme were the Byroms of Salford (fn. 110) and the Bents. (fn. 111)
BROMYHURST
BROMYHURST became the seat of a branch of the Barton family, (fn. 112) and of another surnamed Mey, who also were known as 'de Bromyhurst.' (fn. 113) In 1322 the lord of Manchester had 120 acres of wood or moor there. (fn. 114)
DUMPLINGTON,
DUMPLINGTON, which formerly included the modern hamlet of Crofts Bank, was with Cockney in Bromyhurst in 1225 demised by Sir Robert Grelley to Cecily daughter of Iorwerth de Hulton (fn. 115) for six years. Four years afterwards Siegrith de Dumplington released to Robert Grelley her right in 40 acres in Dumplington. (fn. 116) John son of Thomas de Booth held the place in 1401. (fn. 117) The lords of Manchester had a wood in Lostock. (fn. 118)
WHITTLESWICK
WHITTLESWICK (fn. 119) was from an early date regarded as a manor, (fn. 120) being held by the Pendlebury family. (fn. 121) From Roger de Pendlebury it passed to his son Ellis, (fn. 122) and then to a younger son William, who enfeoffed Adam de Prestwich. (fn. 123) Henry, the son of Adam, had a daughter Katherine, who married John son of Robert de Bold. Their son Geoffrey forfeited his lands for treason, having taken part in the Hotspur rebellion of 1403; (fn. 124) but Whittleswick was afterwards restored, and Agnes daughter of Nicholas son of Geoffrey de Bold had livery in 1442–3. She married Hugh, a son of Sir Geoffrey Massey, (fn. 125) and the manor continued in their family for nearly two centuries, (fn. 126) descending to Dorothy daughter of Thomas Massey and wife of Thomas Liversage of Wheelock, who in 1632 sold it to Sir Cecil Trafford. (fn. 127) It has since descended like Stretford, and was till recently the chief residence of the Trafford family, taking the name of Trafford Park from them. They appear to have resided here from the beginning of the 18th century. (fn. 128)
Trafford Hall was originally erected in the middle of the 16th century, but the modern classic building was built in 1762 by John Trafford, who is said to have removed the front of the older building for this purpose. The brick gabled wing on the north-west is supposed to belong to the original house, but is probably a later refacing and rebuilding. In James's view (1825) the four lower gables next to the house only are shown, the building farther north apparently having been erected since that date. The 18th-century mansion is a plain stuccoed two-story classic building with four engaged columns and pediment in the front or south elevation. A modern stuccoed wing runs northward on the east side of the house, parallel with the brick wing already mentioned. The house is now used as the head quarters of the Manchester Golf Club.
The Barton landowners contributing to the subsidy of 1622 were—Thomas Charnock, George Legh, Katherine Brereton, Dorothy Liversage, Ralph Ainsworth, — Hope, Richard Worsley, John Valentine, Edmund Lathom, James Crompton, and John Bent. (fn. 129)
The Sorocolds of Barton recorded a pedigree in 1665. (fn. 130)
The land tax returns of 1797 preserved at Preston provide a long list of landowners, arranged under these divisions:—Barton with Winton, Eccles, Monton, and Swinton; farther side of water, including Urmston and Davyhulme; Irlam and Cadishead. The principal estates were those of the Duke of Bridgewater, John Trafford, — Willis, — Lee, William Turner, John Page, Henry Norris, and Robert Barker. (fn. 131)
The parish church has been described above. In recent times a number of new churches have been consecrated to the service of the established religion. At Eccles, St. Andrew's was built in 1879, (fn. 132) and at Barton, St. Catherine's, built in 1843, (fn. 133) was enlarged in 1893; the patronage of these churches is vested in five trustees. At Patricroft is Christ Church, built in 1868; (fn. 134) the Bishop of Manchester is patron; under it is St. Michael's Mission-room, Monton. At Winton is St. Mary Magdalen's. St. John the Baptist's, Irlam, (fn. 135) was built in 1866, and has a mission-room at Cadishead; the patronage is in the hands of five trustees. To St. Mary the Virgin's, Davyhulme, (fn. 136) built in 1890, the Bishop of Manchester and Mr. J. B. Norreys Entwisle present alternately.
The Presbyterian Church of England has a congregation at Eccles, founded in 1902.
The Wesleyans originated with the preaching of Wesley himself, who appeared at Davyhulme in 1747. They now have churches at Barton, Barton Moss, Monton, Cadishead and Davyhulme, Eccles, Patricroft and Irlam; (fn. 137) the Primitive Methodists at Eccles, Barton, and Davyhulme; the United Free Methodists at Eccles, Winton, and Patricroft; and the New Connexion at Eccles.
The Baptists have a church at Eccles.
The Congregationalists at Patricroft and Eccles trace their rise to the preaching begun in 1796 in a barn at the former place; a chapel was erected in 1800, and a church formed four years later. A new and larger chapel was built in 1870. Efforts were made in 1810 and later to establish services in Eccles, but failed; a fresh start was made in 1857, and the present church, an offshoot of Hope Chapel, Salford, was opened in 1860. (fn. 138) At Cadishead services were begun in a small shed in 1875; the present school chapel was opened in 1883. (fn. 139)
The Society of Friends have a meeting-place at Eccles. (fn. 140)
There is an interesting Unitarian Church at Monton. Edmund Jones, the vicar of Eccles, ejected in 1662, continued to preach in the neighbourhood. A Nonconformist congregation also met at Monks' Hall for some time; but in 1697 a chapel was built at Monton. The building was in 1715 wrecked by a 'Church and King' mob, led by Thomas Siddall, the Manchester Jacobite, but it was repaired by the Government. (fn. 141) The congregation numbered 612, of whom 29 were county voters. (fn. 142) It was rebuilt in 1802, and replaced by the present church in 1875. The usual change of doctrine took place during the 18th century, and before 1800 Unitarianism was 'boldly preached.' (fn. 143)
Roman Catholics (fn. 144) have All Saints' Church, Barton; the mission was founded in 1798, having before been served from Trafford Park, and the present church was erected in 1868; (fn. 145) also St. Mary's school chapel at Eccles, opened in 1879, and St. Theresa's, Irlam, which became a separate mission in 1900. An iron church, St. Anthony's, was opened at Trafford Park in 1904. In 1827 the old chapel at the Park was pulled down and rebuilt in Dumplington; but it does not appear to have remained long in use.