Pages 404-406
A History of the County of Lancaster: Volume 4. Originally published by Victoria County History, London, 1911.
This free content was digitised by double rekeying. All rights reserved.
CLIFTON
Clifton, 1184; Cliffton, 1278.
This township stretches along the Irwell for some two miles and a half, having a breadth south-westward from the river of three-quarters of a mile. Its area is 1,194½ acres. (fn. 1) The highest land, over 300 ft. above sea level, lies at the western end, near the Worsley boundary, and is moss land. The population in 1901 numbered 2,944. The main road from Manchester to Bolton passes through the township, and along it the village of Clifton has sprung up. The Lancashire and Yorkshire Company's railway between the same places also runs through it near the Irwell, and has two stations near the east and west ends, named Clifton and Dixon Fold. Worsley Fold is a hamlet to the east of Clifton village. The Manchester and Bolton Canal passes through part of Clifton, crossing the Irwell. A strip of the New Red Sandstone formation is traceable up to Ringley. All the rest of the township lies upon the Coal Measures.
There are several collieries in the township.
There were in 1666 forty-nine hearths liable to the tax. The largest dwellings were those of Elizabeth Holland and Daniel Gaskell, with six hearths each. (fn. 2)
The township is now governed by a parish council.
An urn or 'incense cup' with ashes, &c. was discovered here. (fn. 3)
Robert Ainsworth, the lexicographer, was born at Woodgate in 1660. He kept a school at Bolton, but removed to London, teaching at Bethnal Green and Hackney. His Latin Dictionary was published in 1736; and he wrote some smaller works. He died in 1743 and was buried at Poplar. (fn. 4)
MANOR
The earliest record of CLIFTON by name is that in the Pipe Roll of 1183–4, the sheriff giving account of 8s., the issues of Clifton, which had belonged to Hugh Putrell, outlawed; (fn. 5) in the following half-year 4s. was received. (fn. 6) Hugh was probably pardoned, for a few years later Richard, 'the heir of Clifton,' son of Hugh the Hunter, made grants to Cockersand Abbey. (fn. 7) 'The heir of Richard de Clifton' paid half a mark to the scutage in 1205–6. (fn. 8) He was probably the Robert de Clifton who in 1212 held four oxgangs in Clifton of the king in chief by a rent of 8s.; at this time Roger Gernet held three of the oxgangs of Robert by 8s., thus discharging the service due from the whole. (fn. 9) Hugh son of Robert was in possession in 1246, (fn. 10) and seems to have left a family of daughters—Ellen, Alice, and Margery being named in 1276–8. (fn. 11)
About this time the manor passed to the Traffords, apparently by Alice's marriage, (fn. 12) and descended in this family for half a century or more. (fn. 13) In 1346 William son of Thurstan de Holland and Roger son of Richard de Tyldesley held one plough-land in Clifton by a rent of 8s. (fn. 14) Shortly afterwards William de Holland had possession of the whole. (fn. 15) He was succeeded by his son Otes, (fn. 16) and by another Otes living about 1440. (fn. 17) This last had a son and heir William, who died in 1498, and his son Ralph being childless Clifton passed to a cousin, William Holland son of Thomas son of Otes. (fn. 18) The new lord, or perhaps another William, died in 1521 or 1522, (fn. 19) leaving, among others, sons named Thomas and John. The elder's heir was his daughter Eleanor, (fn. 20) who married Ralph Slade, and retained the manor till her death in 1613. (fn. 21) It then went to John Holland's grandson Thomas, (fn. 22) whose estates were sequestered by the Parliamentary authorities during the Civil War for his own delinquency and that of his son William, who had served with the king's forces at Lathom and elsewhere. (fn. 23)
The Holland family do not appear to have been able to overcome their losses. The manor was sold a number of times. (fn. 24) It afterwards came into possession of the Heathcotes, Captain Justinian Heathcote EdwardsHeathcote being the lord of it. (fn. 25) The hall was sold to Lawrence Gaskell in 1652, and was his family's chief residence for some generations. It has descended regularly to the present owner, the Rt. Hon. Charles G. Milnes Gaskell of Thornes House, near Wakefield. (fn. 26) About 1800 Ellis Fletcher, coal proprietor, acquired an estate in Clifton; he was succeeded by his son Jacob, whose daughter, Mrs. Wynne Corrie, is the present owner. (fn. 27) In 1786 Sir John Heathcote owned nearly twothirds of Clifton, Daniel Gaskell having the remainder. (fn. 28)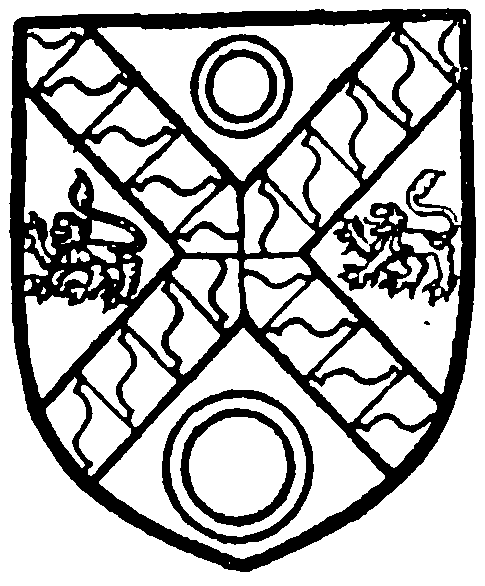 Clifton Hall stands close to the Clifton railway station and is a red brick house of plain 18thcentury type. During its occupation as a private asylum in the 19th century it underwent considerable alterations. About 1825 Benjamin Heywood, one of the founders of Heywood's Bank, lived here.
St. Anne's was built in 1874 for the Established Church; Mrs. Wynne Corrie is patron. (fn. 29) It has a mission chapel—St. Thomas's.