Pages 224-229
A History of the County of Lancaster: Volume 6. Originally published by Victoria County History, London, 1911.
This free content was digitised by double rekeying. All rights reserved.
COPPULL
Cophull, Cophulle, 1277; Copphull, 1351; Copthull, 1374; Coppull, 1444.
This township has the River Yarrow for part of its northern boundary, the southern being formed by the Buckow Brook, which divides Coppull from Langtree and Worthington. Chisnall lies in the extreme western corner and Birkacre in the northern, while Blainscough lies between them. The area is 2,280 acres. (fn. 1) As the name indicates, the rising ground in the centre is the main feature; it attains over 300 ft.; on the northern slope, called Chapel Hillock, is the small village. To the north-west of it is Springfield. The population in 1901 was 2,940. (fn. 2)
The principal road is that from Wigan to Preston, going north through the western portion of the township; several cross roads go east from it. The Wigan and Chorley road is on the eastern side. The London and North Western Company's Wigan and Preston line runs northwards through the centre, and has a station called Coppull, a little north of the village; there are several mineral branch lines serving the collieries in the township.
The soil is clayey with subsoil stone; wheat, barley and oats are grown.
The hearth tax return of 1666 gives a total of 121 hearths charged. The largest houses were those of Thomas Worthington, with fourteen hearths, Edward Dicconson ten, and Edward Chisnall eight. Next to this came William Crook's with five. (fn. 3)
Roger Haydock, a zealous Quaker who was twice imprisoned at Lancaster, was born at Coppull in 1644 and died at Penketh, near Warrington, in 1696. (fn. 4) The other celebrities of the township are two of the Worthingtons of Blainscough, one a Jesuit, the other a Dominican, and Edward Chisnall.
The township is governed by a parish council.
There was anciently a cross in Kirk Lane. (fn. 5) 'Watling Street' is named in an early Burscough charter.
Manors
This township was originally a part of Worthington, (fn. 6) and continued to be held of the lords of the latter, but a manor of COPPULL was granted to a family which assumed the local name. Richard lord of Coppull (fn. 7) was one of the early benefactors of Burscough Priory, granting land called Perburn. (fn. 8) But little is known of the family, (fn. 9) which retained possession until the time of Edward IV, when the manor was purchased by Sir Thomas Stanley, (fn. 10) and descended with Lathom (fn. 11) for more than a century. In 1600 William Earl of Derby sold it to Edward Rigby of Burgh in Duxbury, (fn. 12) in whose family it remained for some time. (fn. 13) In 1755 it was in the possession of a family named Livesey, (fn. 14) and was in 1820 sold to John Hodson of Ellerbeck in Duxbury, (fn. 15) and has in the same way as that estate descended to the trustees of the late Lord Cardwell, who are said to be lords of the manor of Coppull. (fn. 16)
A younger branch of the Coppull family ended in co-heiresses (fn. 17) —Isabel, who married William Nightingale, (fn. 18) and Cecily, who married John de Charnock of the Bank in Charnock. (fn. 19)
CHISNALL (fn. 20) was held by the Chisnall family from an early time. Roger and John de Chisnall are mentioned in 1277, (fn. 21) and in 1292 the latter recovered land in Worthington. (fn. 22) Roger de Chisnall and Margaret his wife in 1347 settled a messuage and land on Roger son of Roger and Alice his wife, with remainders to Robert, John and Thomas, brothers of the younger Roger. (fn. 23) For a century and a half there is little record of the family, (fn. 24) but John Chisnall, who died in 1525, was found to hold messuages and lands in Coppull and Worthington partly of the Earl of Derby by a rent of 2s. 2d. and partly of Richard Worthington by a rent of 2s.; his son and heir Thomas was only fifteen years old. (fn. 25) A settlement was made in 1554 (fn. 26) and a pedigree recorded in 1567, (fn. 27) Thomas Chisnall being still alive.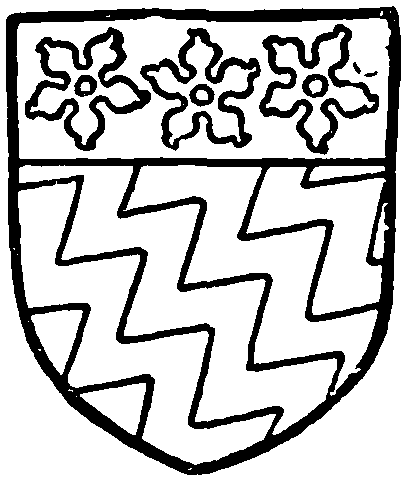 His son Edward succeeded before 1600, (fn. 28) and by his marriage with Margaret Worthington secured an estate in Shevington. (fn. 29) Their son Edward took a distinguished part in the first defence of Lathom House in 1644, and afterwards fought at Marston Moor. His estates were of course sequestered by the Parliamentary authorities, and he compounded for them. (fn. 30) Afterwards he turned to controversy, producing in 1653 his Catholike History in defence of 'the Reformed Church of England.' (fn. 31) He died 5 March 1653–4, (fn. 32) and was succeeded by his son Sir Edward Chisnall, who represented Wigan in 1688–9 as a Whig and Preston in 1690 as a Tory. (fn. 33) His daughter and eventual heir married Stephen Ham merton of Hellifield Peel in Yorkshire, and the estate descended for some time in the family. (fn. 34)
BLAINSCOUGH gave a surname to one of the local families, (fn. 35) but the principal estate was that of the Worthingtons, probably a branch of the manorial family settling there early in the 14th century. (fn. 36)
Richard Worthington of Blainscough died in December 1526 holding messuages and lands in Coppull of Edward Earl of Derby in socage by the rent of a pair of white gloves yearly, or 1d., and others in the same place of Richard Worthington of Worthington by a rent of 2s. He also held lands in Brindle and Turton. Peter, his son and heir, was twelve years old. (fn. 37) Peter died in 1578 owning a somewhat increased estate; the lands in Coppull were held of the Earl of Derby by a rent of 2s. 9d. and a pair of gloves, and of Edward Worthington by a rent of 2s. (fn. 38) Richard, the son and heir, was forty years of age; he died in 1590, leaving a son Thomas, twenty-three years old. (fn. 39)
After a temporary conformity on the accession of Elizabeth the family became distinguished by a resolute adherence to Roman Catholicism. Thomas Worthington, son of Peter, educated at Oxford (fn. 40) and then at Douay, came on the English mission in 1578, thus arousing his father's opposition. He was betrayed (fn. 41) and sent to the Tower in 1584, and banished the following year. In 1599 he became president of Douay and caused a disturbance by his subservience to the Jesuits. He went to Rome, but returned to England in 1616 and died at Biddulph in 1626, having just previously entered the Society of Jesus. (fn. 42) The adventures of his four nephews, who fell into the hands of Bishop Chadderton, but afterwards made their way abroad, provide an interesting story. (fn. 43)
One of them was the heir of Blainscough, Thomas Worthington, who married a niece of Cardinal Allen. He found it advisable to take refuge abroad, and died an exile at Louvain in 1619. (fn. 44) His son and heir William, also a convicted recusant, (fn. 45) adhered to the king's cause in the Civil War, and lost his estate for the time, it being sequestered. (fn. 46) A pedigree was recorded in 1664, (fn. 47) but the family fell into an obscurity easily accounted for by this outline of their story. (fn. 48) Blainscough was sold to Richard Holt of Wigan in 1732, (fn. 49) and in 1836 was the property of George Case of Liverpool. (fn. 50)
The Torbocks at one time claimed a lordship in Coppull, (fn. 51) and among others connected with the township were the families of Nevill, (fn. 52) Prescot, (fn. 53) Ugnall, (fn. 54) Wetshaw, (fn. 55) Perburn (fn. 56) and Haydock. (fn. 57) Birkacre was in the 13th century granted to William de Worthington. (fn. 58) In more recent times it belonged to the Chadwicks. (fn. 59) Lands in Coppull were also held by neighbouring landowners, as appears from the inquisitions. (fn. 60)
The subsidy roll of 1542–3 shows the following landowners in Coppull and Worthington: Richard and Peter Worthington, Thomas Chisnall and the wife of John Chisnall (fn. 61); the roll of 1564 has Thomas and Peter Worthington, Thomas Chisnall and Andrew Ugnall. (fn. 62) Several 'Papists' registered small estates in 1717. (fn. 63) In 1783 the principal landowners were James Hammerton, Jane Person, Edward Chadwick (double assessed), Samuel Crook and Edward Holt. (fn. 64)
Church
A chapel certainly existed at Coppull before the Reformation, (fn. 65) but it was afterwards allowed to fall into ruin. (fn. 66) In 1654 a new one was built by William Crook, the inhabitants repaying him most of the cost. (fn. 67) On the restoration of episcopacy and the Prayer-book in 1660 the chapel appears to have been served from the parish church, but after a time the trustees or the survivor made an effort to secure it for the Presbyterian worship. (fn. 68) The chapel was on account of these feuds closed in 1715, but soon afterwards secured for the Church of England. A grant from Queen Anne's Bounty was obtained in 1716 (fn. 69) and a perpetual curate appointed. The chapel was rebuilt in 1758 and replaced by the present church in 1861. There is no dedication. The rector of Standish is now patron. A district was assigned in 1842. (fn. 70)
The following is a list of the curates and vicars:—
1688
Thomas Walkden (fn. 71)
1705
Thomas Ingham (fn. 72)
1733
George Hargreaves (fn. 73)
1763
Benjamin Cooper, B.A. (fn. 74)
1763
Richard Dewhurst, B.A.
1793
Joseph Taylor (fn. 75)
1839
Henry Worsley Jackson
1855
J. G. Hollingworth, B.A. (Exeter Coll., Oxf.)
1906
George Tomlinson, B.A. (Dur.)
The Wesleyan Methodists have a church, as have also the Primitive Methodists.
There was formerly a meeting of the Society of Friends, (fn. 76) perhaps the original of that in Langtree.