Pages 252-257
A History of the County of Lancaster: Volume 6. Originally published by Victoria County History, London, 1911.
This free content was digitised by double rekeying. All rights reserved.
SALESBURY
Salebiri, Saleburi, Salesbyry, xiii–xv cent.; Sailebury, xv–xvi cent.; Salisbury, xvii cent.
This is a rural township on the left bank of the River Ribble, from which the land rises to an elevation of 475 ft. above the ordnance datum on Hazle Moor, a spur of the more distant Wilpshire Moor. For some distance Dinckley Brook forms the eastern boundary, whilst a tributary stream called Park Brook flows through the centre of the township between Bolton Hall and Copterd Hall. The subsoil consists of the Millstone Grit, except over a small area near Dinckley Brook and around Loveley Hall, where the Yoredale rocks occur; the soil is of clay and marl. The land is entirely under grass; there is a fair amount of woodland on the brows above the Ribble, near Salesbury Hall, and in the ravines. (fn. 1) The area of the township is 1,215 acres, and in 1901 the population numbered 217 persons. (fn. 2) The main road from Preston to Clitheroe passes through the township, and is intersected by the high road from Blackburn to Ribchester. The nearest railway station is at Wilpshire.
The Roman road leading from Ribchester to Ilkley traverses the township near to Salesbury Hall.
Thomas Talbot, son of the lord of Salesbury, was a clerk in the Record Office in the Tower in the time of Elizabeth, and won distinction as a genealogist. (fn. 3)
Manor
The tenure of this manor was by thegnage and the yearly service of 5s., the ratable area being one plough-land. The first thegn of Salesbury upon record was Ulfkil, living in the time of Stephen and Henry II, who was the father of Gilbert and Waldeve. Between the two brothers the township appears to have been equally divided, but Waldeve held his lands of Gilbert, who is variously styled as of Salesbury or of 'Heley,' the latter being the name of one of the village fields. As Gilbert son of Ulfkil he, with the consent of his heir and his homagers, gave to Sawley land in Elresbaru and Uchtrede's Greave to obtain sepulture for himself and wife at the abbey church; he also confirmed his brother's gifts to the same house. (fn. 4) His son Adam de Heley, son of Gilbert de Salesbury, gave all the dead wood in his woodland lying between Heley Brook and Weteley Brook and all the iron ore within his land of Salesbury. (fn. 5) Gilbert and Hugh, sons of Adam de Heley, were also benefactors to Sawley. (fn. 6) Before 1241 Gilbert acquired lands from his cousin Richard son of Ralph, who had no male heir, (fn. 7) and was living in 1257, when he and his brother Hugh served as jurors. John eldest son of Gilbert was the last of his line, and in 1288 gave his messuage with 3 oxgangs of land to Hugh de Clitheroe, whose father had married the heiress of the younger line of the family of Salesbury. (fn. 8)
Returning to Waldeve son of Ulfkil de Salesbury, who appears to have had half the township, we find him giving to the monks of Sawley in the latter part of the 12th century, with the assent of Gilbert his lord and Ralph his heir, a parcel of land, iron ore and dead wood for charcoal, and such necessary help in his wood as would suffice and as pertained to 1⅓ oxgangs of his land in Salesbury. Ralph son of Waldeve confirmed and gave the monks other lands here 'to the help of their church and edifices' at Sawley. (fn. 9) Richard son of Ralph added gifts of land in places called Haselene Holth, the Mere, Huctrede's Greave, Claifurlang, the Kar by the riddings of Robert son of Adam, Ribbi and Award, Foxhole Clough, 4 acres in the field between Salesbury and Dinckley, the Suere, and near the riddings of Henry Kigelepeni and Siward son of Gilbert. (fn. 10) Before 1241 he gave part of his lands to his cousin Gilbert, as already related, and a few years earlier gave the whole half of one-sixth part of the town to William the clerk of Clayton, with the yearly service of 5d. to the chief lord. (fn. 11) He probably died in 1240, for in that year the justices in eyre awarded seisin of the fourth part of the township to his daughters Agnes and Avice in a suit against their cousin Hugh son of Ranulf. (fn. 12) A few years later Edmund de Lacy, constable of Chester, purchased 1 oxgang of land from these ladies, which he granted to Hugh son of Ranulf de Salesbury, with the service of 18s. per annum. (fn. 13)
Ranulf, younger brother of Richard de Salesbury, was the father of Hugh, who increased his estates in the township by marriage with Margery sister and heir of Hugh de Heley. (fn. 14) He was living in 1268, when his cousins Agnes and Avice were demanding from him a tenement here, perhaps that which they had sold to Edmund de Lacy. (fn. 15) He had issue five daughters: Cecily, who became the wife of Hugh de Clitheroe about 1265; Dionisia, often called Diana, who married Thomas 'le Someter' son of William de Hulton, by whom she had issue a son Adam, who died young; Matilda died young; Agnes and Alice, who do not appear to have married. (fn. 16)
Those who bore the name of Clitheroe during the reigns of Henry III and Edward I formed a very numerous clan around Clitheroe. Karnwath Bussel of Clitheroe had a numerous progeny, of whom Ralph was probably the father of Hugh de Clitheroe, the husband of Cecily de Salesbury. (fn. 17) Hugh died in or before 1272, leaving issue Hugh, who acquired a considerable estate in Clitheroe and Salesbury. (fn. 18) In 1296 he purchased from Thomas de Hulton and his wife Dionisia their estate in the manor, and in 1311, as Hugh de Salesbury, was returned as holding the manors of Salesbury and Little Pendleton in thegnage. (fn. 19) He was succeeded by his son Roger, who had a grant of free warren here in 1312, but lost his life the year following in a fray. He was succeeded by his brother Adam, (fn. 20) who had apparently accompanied his father to Ireland in the year 1303. He was one of the four persons appointed in 1323 to be keepers of the peace in the county. (fn. 21) In 1327–8, as 'chivaler,' he instituted proceedings against eighteen freeholders in Salesbury and Dutton for felling and carrying away his trees growing there. (fn. 22) In 1332 he carried away Robert de Clitheroe's live stock and chattels from the manorhouse of Bailey and refused to restore them. An appeal to the king resulted in an order for an extent of Adam's lands to be made and the half awarded to Robert, to whom a debt incurred in 1316 was due from Adam, which he had failed to repay. (fn. 23) He was living in 1337, when he was arraigned with many of the county gentry for trespass in the free chases of Queen Isabella of Pendle and Rossendale. (fn. 24) He died soon after, leaving issue by his wife Cecily (who survived him) Robert and Hugh.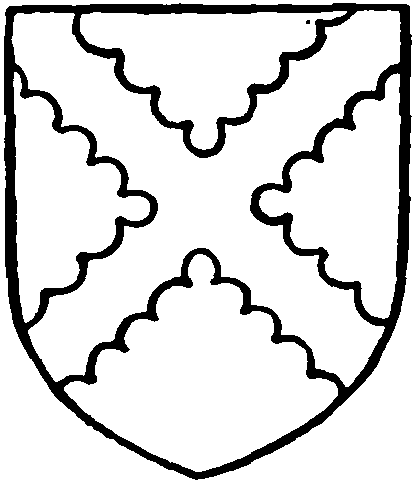 In 1342 Robert de Clitheroe paid 13s. 4d. for the thegnage estate, formerly Thomas de Hulton's, in this town. (fn. 25) He had been married to Sibyl daughter of Richard de Hodleston, in 1331, made a settlement of his estates in 1340, and died before December 1343, when his feoffees delivered two-thirds of the manor and other estates to his son Robert and onethird to his widow. (fn. 26) The marriage of Robert de Clitheroe was acquired by Adam de Hoghton, who married him to his sister Sibyl, relict of William de Bold. The issue of the marriage was an only daughter Sibyl, upon whom her father settled his manor and estates in 1362, and married her to Richard son of John de Radcliffe of Ordsall. (fn. 27) In 1371 he and his wife had licence for an oratory at Salesbury. He died in 1375, and his son-in-law Radcliffe in 1380, leaving issue Joan de Radcliffe, born about 1379. (fn. 28) Sibyl widow of Richard de Radcliffe afterwards married Richard Mauleverer of Beamsley, and after his death without issue by her married for her third husband, in 1386, Roger de Fulthorpe, kt., a judge of Common Pleas, who was attainted of treason in 1388 and exiled to Ireland, where he died in 1392, leaving issue by a former marriage only. (fn. 29)
Joan de Radcliffe, who was heir to the manor after her mother's death in 1414, married Henry de Hoghton of Leagram, kt., second son of Adam de Hoghton of Hoghton, kt. He joined with his wife in 1422 in vesting the manors of Salesbury and Clayton-le-Dale in trustees for settlement upon their issue with remainder to the heirs male of Richard de Hoghton, natural son of Sir Henry, frustrating the intent of the settlement of 1340 and disinheriting the right heirs of Robert de Clitheroe the elder, (fn. 30) represented by John Talbot, whom Dodsworth has identified as son of William younger brother of Thomas Talbot of Bashall.
In 1425 Richard son of Henry de Hoghton, kt., of Leagram, became bound in the chancery at Lancaster to John son of William Talbot in 1,000 marks to abide the award of John Stanley and William Harrington, kts., touching the estates late of Sibyl relict of Richard Radcliffe. The award has not been preserved, but appears to have allotted to Richard de Hoghton lands forming part of this estate worth £20 per annum. The settlement did not long continue acceptable to the Talbots, by whom several attempts were made, with the assistance of friends, to intimidate the Hoghtons and eject them from the share of the Clitheroe estates of which they had been placed in possession by the award of 1425. In 1440 the sheriff was directed to summon before the justices at Lancaster twenty-four men of the view of frankpledge of Salesbury, Clayton, Wilpshire, Dinckley, Oswaldtwistle and Dutton to recognize if John Talbot and John his son on 1 April 1438 gathered round them a number of armed men, entered the manors of Salesbury and Clayton belonging to Richard de Hoghton, esq., and forcibly occupied his lands in the places named. (fn. 31)
As a result of arbitration in 1449 this manor and appendant estates were awarded to John Talbot in right of Isabella his wife, daughter and co-heir of Richard fourth son of Robert de Clitheroe the elder, and to Henry son of Richard de Hoghton were awarded the manor of Little Pendleton and lands in various places. (fn. 32) John Talbot died a few weeks after the date of the award seised of the manor and appurtenant estates. His son, known as 'little John Talbot,' had been concerned with his father, three younger brothers and seven neighbours, in 1447, in raiding the live stock of Richard de Hoghton at Little Pendleton. (fn. 33) After the place of concealment of Henry VI at Waddington in July 1465 had been divulged by William Cantelowe, an Abingdon monk, John Talbot, as a connexion of the king's protector, Sir John Tempest of Bracewell, kt., made a virtue of necessity and obtained as a reward for surrendering the king an annuity of 20 marks and the conversion of the socage rent of 37s. 7d. yearly for this manor into a render of a white rose at Midsummer. (fn. 34)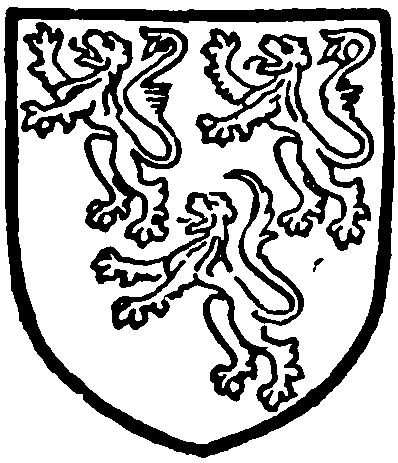 John Talbot was knighted in Scotland in July 1482, succeeded his father in or before 1484, and died in 1511. (fn. 35) His son, known as 'long John Talbot,' passed his estates to trustees in 1514, to make a sufficient estate to his wife Isabel daughter of Richard Towneley of Towneley, kt., of the manor of Dinckley, and to make provision for his younger sons, and died 17 August 1515. John his son, aged fourteen at his father's death, is described by Benalt in the heraldic visitation of 1533 as 'a verrey gentle esquir and worthy to be taken payne for.' (fn. 36)
John Talbot, third in descent from the last-named, succeeded his grandfather at the age of seven years in 1589. He was knighted by James I in 1617 at Lathom House (fn. 37) and in 1642 was appointed one of the collectors in this hundred of the subsidy granted 17 Charles I for the payment of forces and provision of ammunition for the safeguard of the county. In January 1643 he was suspected of attempting to entice to Salesbury some of the chief Parliamentarians of the neighbourhood of Manchester with a view to effect their capture. The plot was discovered and a force of 300 men a few days later attacked Sir John's horse stationed at Salesbury, slew some of them, drove others into the Ribble, where they were drowned, captured others and pillaged the hall. A month later his son George Talbot narrowly escaped capture at the storming of Preston by Col. Seaton's forces from Manchester. (fn. 38) Sir John surrendered to the Parliamentarians in December 1645 and in August 1646 compounded for his delinquency by a fine of £444, representing the sixth part of the value of his estate in fee. He and his son joined the king with the Earl of Derby at Worcester in 1651, and in consequence his Lancashire estates were sold by the Treason trustees in 1654 to Adam Bolton, gent., for £710, whilst his son as John Talbot of Dinckley compounded by paying a fine of £335, representing a third part of the value of his estate. (fn. 39) Sir John died intestate in 1659.
John Talbot, his son and heir, born in 1608, was the last male representative of his line and died in 1677, leaving Dorothy his daughter and heir. She married the following year Edward Warren of Poynton in Cheshire, and carried the manor and estates into that family. (fn. 40) Their grandson George Warren was M.P. for Lancaster 1758–80 and 1786– 96, created K.B. in 1761 and died in 1801, leaving an only daughter Elizabeth Harriet, married in 1777 to Thomas James seventh and last Viscount Bulkeley, who died without issue in 1822. His widow, the Dowager Viscountess Bulkeley, by will in 1826 constituted as her heir her cousin George Fleming Leicester son of John Fleming Leicester first Baron De Tabley, who, attaining his full age in 1832, took by royal licence the name of Warren in lieu of that of Leicester in accordance with his cousin's will. In 1866 he sold the manor with an estate extending to 887 acres in this township and other estates in Clayton, Dinckley and Osbaldeston to Henry Ward of Blackburn for £140,000. This was acquired by the Duke of Somerset about 1894.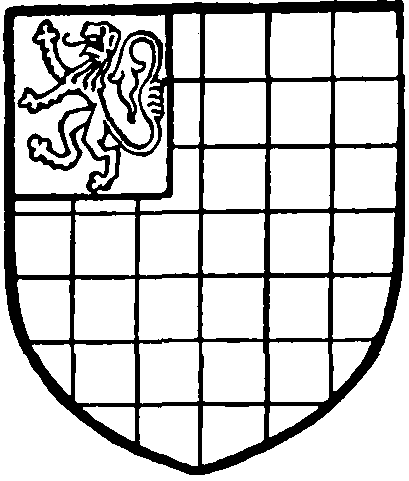 SALESBURY HALL stood in a low situation 300 yds. to the south-west of an acute bend in the course of the River Ribble known as Sale Wheel, where there is a deep pool, once a several fishery of the lords of Clitheroe, (fn. 41) and is said to have been a quadrangular house built in the reign of Queen Elizabeth, but no record of its exact character seems to have been kept and only a fragment now remains. An account of the building written in 1877 (fn. 42) describes the south and west wings as then standing though detached. (fn. 43) The west wing had been curtailed at its north end and its front wall had been restored in dressed stonework, but it retained a wide depressed arch, no doubt formerly the entrance to the courtyard, but then blocked up. A sketch (fn. 44) of the building in 1834 shows the west wing at that date to have had pretty much the appearance of a two-story cottage with square sash windows and a gable at each end north and south, the only ancient features remaining being the archway already mentioned, which was at the north end, and two low stone buttresses. On the north side a building in ruins is shown, but this had probably been removed before 1877. The interior of the west wing had a series of rooms on the upper floor reached by a long corridor and partitioned with oak panelling, but all the lower rooms had been modernized. Some traces of a moat were at that time said to have existed, and on the north side were fragments of a massive rubble wall which may have belonged to the original structure. The west wing was pulled down in 1883 when the present house, known as Salesbury Hall, was erected. The south wing, or a portion of it, however, still remains between the road and the modern building and is used as a stable. It is 47 ft. in length and 15 ft. wide with a stone slated roof and timber gable at the east end, one side of it built in stone directly facing the high road. The north side towards the house is built of stone to a height of 9 ft., above which it is of timber and plaster with a cove under the eaves. The framing is filled in with straight and diagonal pieces, and there are two large wooden windows, now built up, these details probably indicating the chief characteristics of the original building.
A Roman altar from Ribchester dedicated to Apollo was at one time built into one of the walls of Salesbury Hall, butwas removed by Dr. Whitaker, who at his death bequeathed it to St. John's College, Cambridge.
There was formerly a deer park here from which Sir Ralph Assheton had venison in 1676 by the gift of John Talbot, esq. The eastern boundary is still indicated by a tenement known as Fence Gate, where the road from Dinckley Bridge enters the township. Further to the north is another tenement called Cob Oak.
LOVELEY HALL (Luffeley, 1473). For five centuries this estate was held by the families of Bolton and Parker. In 1246 Robert de Bolton had lands in Salesbury and Clayton. He was the father of Richard, who had issue by Cecily his second wife Nicholas, to whom in 1316 Dionisia relict of Thomas de Hulton confirmed the estate formerly held by his father Richard de Bolton. (fn. 45) His successor Richard by his wife Emota had John, upon whom lands in Salesbury and Wilpshire were settled in 1365, father of Richard, who died without issue, and Adam, who succeeded his brother about 1387, and by his wife Katharine had issue Richard. In 1393 Richard son of Adam Bolton married Matilda daughter of John del Meles of Preston. (fn. 46) He appears to have had brothers, Geoffrey, who died before 1406, and Roger, who married Cecily daughter of William le Wainwright. Roger Bolton, yeoman, was amerced in 1447 for taking part with John Talbot and his son in various assaults and trespasses upon Richard Hoghton of Leagram. (fn. 47) About 1460 Robert Bolton gave puture to the sheriff at 'Lovelay,' and was probably the father of Richard Bolton, who was described as of Loveley in 1473. John Bolton son of Richard was the last of the line, and passed his estates to trustees in 1508 for settlement upon his daughter Elizabeth and her then husband John son of John Singleton of Chingle Hall, esq. (fn. 48)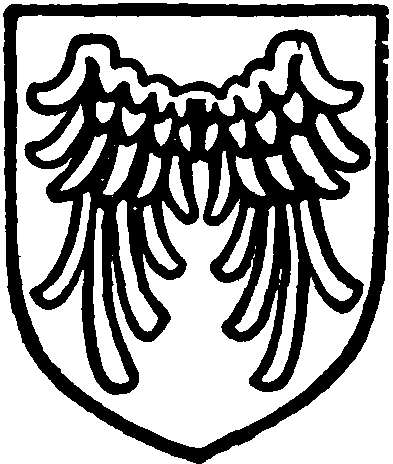 Some twenty-eight years later one Richard Bolton forcibly entered the messuage of Loveley, claiming the estate against the rightful owner James Halsall, who held it in right of his wife Elizabeth, who is obviously the daughter and heir of John Bolton. (fn. 49) A younger branch of the family continued to own lands at Bolton Hall and Copthurst in this township until the 18th century. (fn. 50) The above-named Elizabeth had married as her first husband one Hugh Parker of Salesbury, (fn. 51) and their son Richard Parker, gent., succeeded and held the estate temp. Elizabeth, (fn. 52) dying in 1592. John his successor died seised in 1607, (fn. 53) whose son Richard and grandson John held the estate during the greater part of the 17th century. John Parker's estates of Loveley and Hollowhead were sequestrated for his delinquency and sold by the Treason trustees in 1654. (fn. 54) John Parker son of the last-named John was assessed to hearth tax in 1666 upon four hearths and died in 1692. In 1711 another John Parker sold Loveley to Edmund Winder of Clayton-le-Dale, whose brother Robert and son John were concerned. This son, John Winder, gent., held the estate in 1735, as appears from his initials and the date upon the easing-pipes on the front of the house. He was succeeded by his son Edmund Winder of Loveley, who in 1757 sold the estate to Piers Starkie of Huntroyde (fn. 55); it is now the property of Mr. Edmund Arthur Le Gendre Starkie.
Loveley Hall is a two-story stone-built house with stone slated roofs, erected probably in the first half of the 17th century, but very much altered about a hundred years later and again in the latter half of the 19th century. The original plan was H-shaped, but many of the external features of the building were changed about the year 1735, when the front assumed more or less of its present aspect. The mullioned windows in the upper floor were then done away with, square sash windows inserted, and a plain straight parapet, the top forming a moulded cornice ornamented with classic vases, was added, the gables being similarly ornamented with vase terminations. Two welldesigned spout heads with the date 1735 and the initials of John Winder and his wife between the windows in the recessed portion of the front give a good deal of 18th-century character to the elevation, which, however, retains its mullioned and transomed windows on the ground floor. In 1874 further changes took place, when a porch was built in front of the central square-headed doorway, a bay window going up both stories was added on the front of the east wing, and the building was extended further eastward by the addition of another gable to the front. At the same time the interior was almost wholly renovated, and now preserves little or nothing of its early appearance. A large one-story bay window was also added on the west side, and extensions were made at the back, two new gables being built out from the recessed portion in front of the end wings. The fireplace at the east end of the hall is 10 ft. wide, with a stone arch 6 ft. 6 in. high, on which is carved the date 1712. The fireplace, however, is now lined with modern tiles, and the fittings of the hall and other rooms on the ground floor, which is only 8 ft. high, are generally of the revived Gothic style prevalent at the time the work was carried out.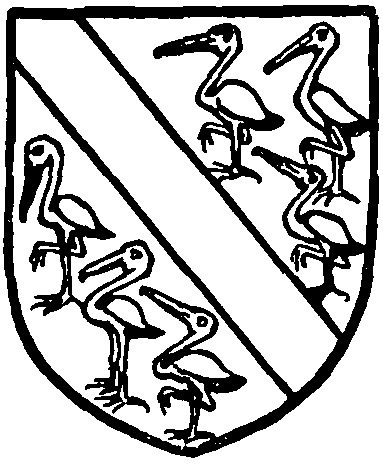 An octagonal stone sundial on the lawn in front of the house bears the date 1668 together with the initials C.H. and R.S. and a blank shield on the shaft. The same date also occurs on the plate. The shaft is similar in design to one at Huntroyde.
BOLTON HALL stands in a low and sheltered situation to the north of the high road on the left bank of the small stream called the Park Brook, and is a two-story farm-house with low mullioned windows and stone slated overhanging roof. The walling is of rough stone with squared quoins at the angles, and all the windows have hood moulds and diamond-shaped lead lights. The front elevation is about 60 ft. in length, and the projecting porch, the roof of which is a continuation of that of the house, is considerably out of the centre, there being a window of five lights on one side and two windows of seven and five lights respectively on the other. The porch is an open one with a stone seat on each side, and over the four-centred arch is the date 1655 with the initials L B M.
In 1592 the following persons were presented and amerced for absence from church: Nicholas Bolton, gent.; Adam Bolton, yeoman; Lancelot Bolton, yeoman; Nathaniel Lee, yeoman; Adam Bolton, yeoman, and Jane his wife; Anna Carden and Cicely Shorrock, Richard Asshe, smith, and Rosamund wife of Thomas Southworth, esq. (fn. 56)
The oratory and portable altar mentioned in 1406–8 do not seem to have led to the building of any public chapel.
The ecclesiastical parish of St. Peter, Salesbury, was formed in 1842 as a district chapelry of Salesbury, Wilpshire, Osbaldeston (since taken out), Clayton-leDale and Dinckley townships. (fn. 57) The parochial chapel of St. Peter was built in 1806 and consecrated the year following. (fn. 58) In 1882 the present church was erected upon the site of the old. The registers date from 1807. The living is a vicarage in the gift of the vicar of Blackburn. Adjoining the church are National schools erected in 1848, enlarged in 1894 and again in 1899.