Pages 313-319
A History of the County of Lancaster: Volume 6. Originally published by Victoria County History, London, 1911.
This free content was digitised by double rekeying. All rights reserved.
BALDERSTON
Baldeston, Balderston, 1246; Baldreston, xiii-xv cent. Balderstone is a common modern spelling.
The township of Balderston lies in the Ribble valley, having for its northern boundary the serpentine course of that river. Mellor Brook, called after uniting with another stream Bezza Brook, flows through the southern part of the township. From 50 ft. above the ordnance datum at the River Ribble the land rises towards the south-east to an elevation of 350 ft. at the Bay Horse Inn on the main road leading from Whalley to Preston which skirts the township and for some distance forms its southern boundary. Here the subsoil consists of the Yoredale Rocks, which soon give place to the Millstone Grit. The area is 1,807½ acres, of which 44 are inland water, and the population in 1901 numbered 456 persons, mainly engaged in agriculture. The land is mostly meadow and pasture, the soil being somewhat clayey. There is a considerable area of wood-land by the Ribble and in the ravines through which the Bezza and Mellor Brooks flow. (fn. 1) The nearest railway station is Wilpshire on the Hellifield and Blackburn branch of the Lancashire and Yorkshire Railway, but Blackburn, distant 4½ miles, is the more convenient station. There was recently a ferry here. (fn. 2)
Myerscough is a hamlet in the township.
There is a parish council.
This township was originally rated as 2 oxgangs of land, paying 6s. for a fifteenth out of £37 1s. 7d. levied on the hundred exclusive of the forests. (fn. 3) Names of inclosures, probably made from the abundant woodlands, which occur in the 13th century were Monkfal, Micklefal and Horsfal. (fn. 4) In a demise of Le Milneriding, lying by Boseburn Brook, made in 1336, licence was given to make a mill-dam there. (fn. 5)
Manor
BALDERSTON and Osbaldeston were anciently held as one manor of the honor of Clitheroe in thegnage by the yearly service of 6s. and one sore sparrow hawk or 2s. (fn. 6) Hugh, living about the middle of the 12th century, was the father of Ailsi, who gave Sunderland Holme to the monks of Sawley about the end of the reign of Henry II. (fn. 7) He gave Balderston early in the reign of John to his second son William, who was afterwards styled 'de Balderston,' to hold of Ailsi and his heirs by the render of a pair of spurs, 2s. for forinsec service and a sore hawk at the Feast of St. Giles, (fn. 8) which services were afterwards commuted to 4s. 3d. per annum. Thus the descent of the mesne lordship follows that of the manor of Osbaldeston. In 1224 William de Balderston leased land here, which had been held by Alan son of Uld, to his brother John son of Ailsi for a term of six years from Martinmas next after the overthrow of Bedford Castle. (fn. 9) In 1246 he was one of the jurors from Blackburn Hundred summoned to a special county court. (fn. 10) Richard son of William succeeded his father shortly before 1256 when he obtained an acknowledgement from his mesne lord, Thomas de Osbaldeston, touching the services by which he held his free tenement here, that is 2 oxgangs of land, of Thomas, who agreed to acquit him of all services due to Edmund de Lacy, the chief lord. (fn. 11)
From his uncle John son of Ailsi Richard acquired land here called Crapot, from Hugh son of John de Balderston in 1256 land called Knoutescroft and from Robert son of Adam de Sunderland lands in Sunderland. (fn. 12) In 1271 he made an agreement with the Abbot of Sawley about inclosures of the wastes belonging to Sunderland, that each should retain the inclosures hitherto made, that Richard should inclose 10 acres of Birlegh and remove his tenants and houses from Lebbelay and La Moncfal. (fn. 13) By his wife Agnes he had issue William and Simon, locally called de Birley, besides other children. His son and successor William in 1277 resigned to Sawley all right of pasturage in the monks' woods and inclosed pastures in Sunderland, and gave them the right to erect a water-mill, to take hawks nesting in their several woods and the honey found there. (fn. 14) In 1292, on the strength of the agreement as to services due for Balderston made in 1256, he sued Adam de Osbaldeston, his mesne lord, to acquit him of the service demanded by Henry de Lacy Earl of Lincoln, viz. puture for his serjeant with a horse when on duty in the wapentake to summon, attach and distrain, and for finding a 'wytnesseman' to testify to such acts. William was non-suited upon the finding of a jury that the earl and his bailiffs took puture from and admitted to the office of witnessman none but those resident in the wapentake. (fn. 15) William de Balderston died about the year 1312, Richard his son being his executor. (fn. 16)
Simon de Balderston brother of William was a man of some note. In 1303–4 he was seneschal of Blackburnshire, in 1305 receiver of the county, (fn. 17) and afterwards parson of Heversham, co. Westmorland. After the rebellion of Earl Thomas of Lancaster he held various posts in connexion with the administration of the earl's forfeited estates, and appointed his nephew Richard de Balderston his attorney to collect the farms of this hundred. (fn. 18) He had grants of land from the Crown in various places in Yorkshire and acquired several estates in that county, notably the manor of Rogerthorpe, near Badsworth. (fn. 19)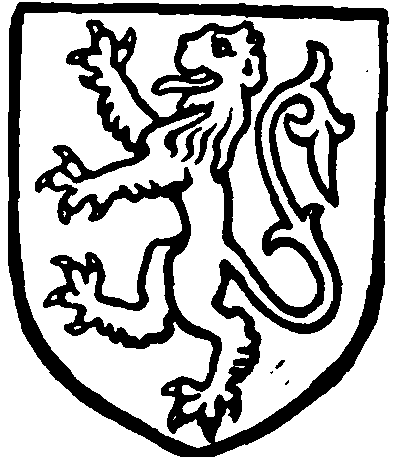 Richard de Balderston, who succeeded William his father about 1312, was appointed one of the keepers of the peace in this hundred in 1323, and the year following, as holding lands to the yearly value of £15, was summoned to attend the Great Council at Westminster. (fn. 20) In 1327 he was a commissioner of array in this hundred in connexion with the Scottish campaign. (fn. 21) In 1333 Thomas son of Adam de Osbaldeston covenanted with him that he should hold the manor of Balderston of Thomas in socage by homage and fealty and the yearly service of 4s. 3d., Thomas reserving the advowson of the grange of Sunderland. Later in the year he recovered damages against Thomas, who had seized one of his horses in a place called Longhurst, unjustly claiming a yearly service of 5s., a sparrow-hawk and a pair of spurs. (fn. 22) He married Alice, possibly daughter of Alexander de Cuerdale, junior, by whom he had issue a son John and daughter Katherine, married in 1336 to Gilbert son of John son of Gilbert de la Legh. He died in or shortly before 1339. (fn. 23)
John de Balderston married Roesia, said to have been daughter and heir of Thomas de Roos of Manningham, co. York. (fn. 24) In 1347 he settled his estates in Balderston and Cuerdale upon himself and Roesia his wife for their lives with remainder to their issue, (fn. 25) and died soon after, leaving two young sons Richard and William in ward of their mother Roesia, who married for her second husband William de Scargill of Thorpe Stapleton, co. York. (fn. 26) In 1361 Richard son of John de Balderston held this manor of the lord of Osbaldeston by the service of 4s. 3d. yearly. (fn. 27) He probably attained his majority towards the end of 1369, and seems to have taken up arms at an early age, for in 1372 he is described as 'chivaler' in a demise made to him by Thomas de Southworth, chr., of the manor of Follyhall, co. York. (fn. 28) He had licence in 1374 for an oratory at Balderston for three years. (fn. 29) In the account of the aid levied in 1378 he was returned as holding with Richard de Greenacres, chr., and Thomas Banastre of Osbaldeston half a knight's fee in Balderston, Osbaldeston and Thornley with Wheatley. (fn. 30) He married Agnes and died about the end of the year 1382. (fn. 31)
William son and heir of Sir Richard was aged about nine years at his father's death and was in ward of Agnes his mother, then Lady Savile. (fn. 32) Before 1400 he married Constance only daughter of Edward Banastre and heir to her grandfather Sir Thomas Banastre, K.G., by which match he greatly augmented the family estates and wealth. (fn. 33) Like several of his predecessors he died at a youthful age. On 21 August 1405 at Thorpe, preparatory to setting forth to take part in the expedition against Glendower and the French, who had lately landed in Wales, he made his will, desiring to be buried in the church of Badsworth, near the tomb of his wife Constance. Apparently he perished in the campaign, for his will was proved towards the end of the year. (fn. 34) In 1621 Dodsworth noted his tomb in the quire of Badsworth Church bearing a lion rampant and an imperfect inscription. (fn. 35) Richard his son proved his age in 1422 and had livery of his estates. (fn. 36) In 1431 he was returned as holding half the manor of Claughton by knight's service, (fn. 37) and in 1444–5 as holding half of a knight's fee here and in other places. (fn. 38) He married Joan daughter of Sir James Harrington of Wolfage, kt., by whom he had issue William his heir and Richard, who died without issue, and three daughters, Elizabeth the wife of John Osbaldeston, Ellen the wife of Thomas Radcliffe of Winmarleigh and Isabel the wife of Sir William Atherton, kt. (fn. 39) Richard Balderston, esq., died 20 December 1456. (fn. 40)
William Balderston was aged about twenty-nine years at his father's death, whom he only survived about six years, dying early in 1462. (fn. 41) By his first wife Elizabeth daughter of Peter Gerard he had no issue; by his second wife Margaret daughter of William Stanley he had issue Joan, who married first Sir Ralph Langton, kt. (d. before 1462), and secondly Sir John Pilkington, kt., and Isabel, who married Robert Harrington of Hornby. (fn. 42) Margaret afterwards married Robert Singleton. (fn. 43)
From this time the manor of Balderston and other possessions of William Balderston were held jointly by Sir John de Pilkington, kt., and Joan his wife in her right, and by Robert Harrington of Hornby, esq. (afterwards knight), and Isabel his wife in her right. Sir John Pilkington and Joan had a son Edward, who died under age. (fn. 44) After the death of Sir John in 1479 (fn. 45) his widow took the widows' habit in the priory of Nun Monkton in 1488, where she was buried. Her will bears date 2 January 1497–8, (fn. 46) by which she bequeathed her moiety of the manor and other Balderston estates to James Harrington, parson of Badsworth, the son of her sister Isabel by Sir Robert Harrington of Hornby, kt., for life, with remainder to Thomas Talbot of Bashall son and heir of Edmund Talbot, esq., and Jane his wife, daughter and co-heir of Sir Robert Harrington of Hornby, kt., and sister of James Harrington; in default of heirs the remainder to be to Richard Radcliffe and Ellen his wife, sister of William de Balderston and testator's aunt, and to Richard son and heir of John Osbaldeston and Elizabeth his wife, another sister of William Osbaldeston. (fn. 47)
James Harrington succeeded to one moiety of the Balderston estates after the death of his parents, but in 1487 he was attainted of treason by Act of Parliament, when this moiety escheated to the Crown and was given two years later to Thomas Stanley first Earl of Derby. (fn. 48) It would appear that some sort of friendship must have grown up afterwards between the earl and Harrington, for in 1496 Dame Joan Pilkington and the earl, as joint possessors of the Balderston estates, presented Harrington to the church of Badsworth. (fn. 49) In 1503 he petitioned Parliament to reverse the attainder and obtained the king's letters patent of pardon. (fn. 50) Subsequently he lodged a complaint in the Duchy Chamber against the Earl of Derby, who appears to have obtained the other moiety of the estates after Joan Pilkington's death in 1498. Commissioners were appointed to examine his case and gave an award in his favour, so that he recovered the moiety to which he was entitled under his aunt's will. (fn. 51) He seems to have made an attempt to obtain possession of the other moiety, notwithstanding a clause in the Act of reversal of his attainder that the Earl of Derby's possession of half the Balderston estates should not be thereby prejudiced, by a pretended sale to his kinsman Edmund Dudley, esq. (fn. 52) However that may have been, the attempt was unsuccessful, as in any case it must have been, for Dudley was attainted of treason 25 July 1509 and executed 17 August 1510. (fn. 53)
After the death of James Harrington in 1512 (fn. 54) the manor descended with the other estates of the Earl of Derby, of Radcliffe of Winmarleigh and of Osbaldeston of Osbaldeston. (fn. 55) William Radcliffe died in 1561 without male issue, whereupon his portion of the Balderston estates descended to his sister of the half-blood Anne, who married Sir Gilbert Gerard, master of the Rolls. In 1565 a partition of the whole Balderston estate was made between Edward Earl of Derby, Gilbert Gerard, esq., and John Osbaldeston, by which this manor was divided equally between the two last-named. (fn. 56) By fine in 1596 Sir Thomas Gerard, kt., and Anne his mother passed the manor and various lands and tenements here to William Greenvile, gent., with a view to a sale. (fn. 57) Part of it with a free rent of 15d. per annum was acquired before 1598 by John Braddyll of Portfield, esq., who died in 1616 holding a small estate here of Sir Edward Osbaldeston, kt. (fn. 58); other portions were acquired by the predecessors in title of Thomas Sallom and Robert Shaw, who respectively held here in 1650 small estates which paid wapentake rents of 6d. and 3d. respectively. (fn. 59) As regards therefore this half of the manor, it descended with other members of the Braddyll estate. The other moiety of the manor was held by the Osbaldeston family together with the mesne lordship of the manor.
It does not appear that any lordship is now claimed. Captain J. H. Feilden of Witton is one of the chief landowners by inheritance from his grandfather Joseph Feilden, who purchased in 1818. (fn. 60)
SUNDERLAND.—Before 1172 Ailsi son of Hugh lord of Balderston and Osbaldeston gave Sunderlandesholm to the monks of Sawley. (fn. 61) Its boundaries lay between Sunderland Brook and Ribble unto Clippende-esche-cloh and along the wood beyond Langhirst-ker unto Smalelei Brook, thence by the western boundary of Smalelei unto Sandiford. He also gave them land and woodland towards Osbaldeston upon the bank of Ribble from the upper end of the hanging bridge unto Ribble in one direction and past oak trees marked with crosses to the nearest 'cloh' (clough) falling into Sunderland Brook in the other, with common rights, liberty to fish in Ribble and for their swine to fatten in his woodlands. For this they gave him 40 marks and a charger, and agreed to give him at his obsequies a service equal to that of a monk, and if he should desire to take the cowl, to admit him whether he be rich or poor, in sickness or in health. (fn. 62) Early in the 13th century the monks exchanged Sunderland with Adam son of Ailsi, called 'de Sunderland' or 'de Winkedley,' and his wife Christiana daughter of Ughtred de Paythorne, for lands in Scosthrop, Paythorne and Rimington in Craven, co. York. (fn. 63) Later Adam gave to his son Robert a plot of land here called Lebbeley, which he afterwards sold to Richard de Balderston, and the monks of Sawley acquired again the residue of Sunderland from Adam and continued to hold it as before the exchange. (fn. 64)
After the suppression of Sawley Abbey the grange of Sunderland was granted to Sir Arthur Darcy, kt. (fn. 65) In 1540 Darcy conveyed it by fine to Sir Alexander Osbaldeston, kt., who settled it with lands in Balderston and Osbaldeston upon his second son Richard Osbaldeston. (fn. 66) In 1551 there was a dispute between the lastnamed and John Osbaldeston touching lands and commons with their boundaries in Sunderland and Osbaldeston. (fn. 67) Richard Osbaldeston died in 1556 (fn. 68) seised of this estate, Alexander his son and heir being aged about eleven years. (fn. 69) This Alexander rebuilt Sunderland Hall or Grange in 1596, (fn. 70) and died two years later. His brother Edward married Margaret daughter of John Molyneux, and was living at Sefton in 1599. He was the first of the line of Osbaldeston of Hunmanby, co. York., where he died in 1639. (fn. 71)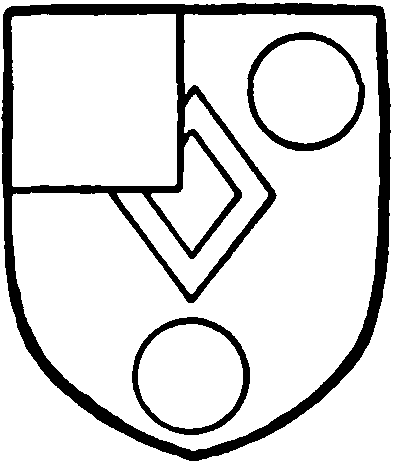 Alexander Osbaldeston, the fourth in descent from the last-named Alexander, (fn. 72) married first Isabel Brockholes of Claughton, and in 1706 Lettice relict of Thomas Ainsworth of Pleasington, registered his estate as a 'Papist' in 1716, (fn. 73) and died in 1729. (fn. 74) His grandson Alexander was the last of the line in possession, for the estate was in 1756 alienated to Piers Starkie of Huntroyde, (fn. 75) ancestor of Major Edmund Arthur Le Gendre Starkie, the present owner.
Sunderland Hall is a modern farm-house, built in 1856, a short distance to the west of the site of the old hall, on the bank of the Ribble, at the north-east corner of the township. Built into the wall of the new house is a stone with the initials (fn. 76) A R and the date 1596, the year in which the original structure was built.
In the composition re tithes made in 1333 between the Abbots of Whalley and Sawley these fields are named: Dobberydyng, Monke-flattes, Rammes-holm, Le Pughull (Pightle), Le Faceby-Stubbyng, Le Blakewel-holm.
Lebley was described as a hamlet in 1668. (fn. 77)
SMALLEY.—In Easter term, 1328, Richard de Balderston sued William de Smallegh, Cecily his wife, Alan and William his sons, Alice, Avina, Annabel and Agnes his daughters for breaking into his close in Balderston, felling wood, and carrying away the young of his sparrow-hawks nesting there. (fn. 78) William de Smalley was a contributor to the subsidy levied here in 1332. (fn. 79) The custody of William son and heir of William Smalley was claimed by William de Scargill, chr., in 1364, from Cecily the relict of William Smalley of Balderston. (fn. 80) Thomas Smalley of Balderston was sued for a debt in 1445. (fn. 81)
Roger Smalley was the only person who was assessed upon lands here to the subsidy collected in 1524. (fn. 82) Mr. Abram gives a short account of the family. (fn. 83) Roger Smalley, gent., was a freeholder in 1600, and died in 1633. He left a son Robert, who sold the reversion of his estate here, in 1650, (fn. 84) to Ralph Livesey of Livesey, gent., whose name appears in the wapentake survey made in 1662 as holding Smalley tenement for 6d. yearly service. (fn. 85) It descended with the other estates of this family.
John Osbaldeston and Roger Smalley were assessed to the subsidy collected in 1626 upon lands, and twenty-one persons paid 8d. each as 'non-communicants.' (fn. 86)
Alexander and John Osbaldeston and John Brooke were returned in 1666 as owning three hearths each out of forty-one in the whole township. (fn. 87)
In 1787 the principal landowners were John Calvert —owning nearly one-fourth of the township—Le Gendre Starkie, Richard Cross and Thomas Winckley. (fn. 88)
Among the names of twenty-one husbandmen and labourers who paid the poll tax in 1379 were Thomas de Birlay, William de Balderston, Jordan del Hakkyng and William de Smallay. (fn. 89)
Church
The church of ST. LEONARD is a modern Gothic building standing close to the site of the 16th-century chapel. This chapel had become a 'complete ruin' by 1851, in which year (April) it is said not to have been in use for upwards of fifteen months. It had been restored or added to in 1755 and 1818, and was probably substantially of those dates, as it was described at the time of its demolition as 'a plain edifice of brick.' The foundation-stone of the new church, which consists of chancel, nave and vestry, was laid in July 1852. (fn. 90) A tower and spire were added in 1907.
Advowson
The chapel is of uncertain foundation. It was not regularly served before 1646, having no endowment. In that year £40 was provided by the county committee for Mr. James Shaw, who had been approved by the committee of divines at Bolton earlier in the year. (fn. 91) He left before 1650, when the commissioners reported that the chapel was 4 miles distant from the parish church, and was then without minister or endowment, although eighty families should resort to it. (fn. 92) In 1683 the chapel was reported to be in ruins; next year the vicar of Blackburn, answering the inquiries of Archbishop Sancroft, made a similar report, adding that the inhabitants would build their chapel, which was not reparable, and would give yearly for life, being only tenants for life, thirty-three fifteens—that is, £20; Mr. Osbaldeston, the lord of the manor, refused to do more than what his tenants promised. In 1689 the chapel was again reported to be 'very ruinous and long time discontinued from exercise of any holy offices . . . overgrowne with briers and thornes and requires a rebuilding.' Bishop Gastrell reported in 1717 that the endowment was £5 from land in Thornley, purchased by Archbishop Sancroft, and £2 from the rector, which was divided among the curates of other chapels, who in turn served this chapel on the first Sunday in each month; the inhabitants of Balderston, Osbaldeston and part of Mellor resorted to it. (fn. 93) In 1742, and again in 1755–6, benefactions and grants from Queen Anne's Bounty formed the nucleus of an endowment which was worth £125 in 1835. The net value is now stated to be £300. (fn. 94) A district was assigned to it in 1842. (fn. 95) Only an incomplete list of incumbents, who are presented by the vicar of Blackburn, can be given:
1646
James Shaw
1700
Geoffrey Rishton, B.A. (fn. 96) (Brasenose Coll., Oxf.)
1720
John Folds
1732
Thomas Knowles, M.A. (Glas.)
Thomas Winder
1737
Thomas Hunter (fn. 97)
1755
Thomas Cooper, B.A.
1799
William Lutener
1816
Thomas Exton
1839
William Hartley
1859
Robert Atherton Rawstorne, M.A. (fn. 98) (Brasenose Coll., Oxf.)
1897
John Arthur Rushton, M.A. (Emmanuel Coll., Camb.)
1907
William Thomason
A chapel at Mellor Brook, erected in 1824 for the Independent Connexion, (fn. 99) was purchased in 1833 by members of the Church of England, and, with some intermission between 1859 and 1869, has since been used for the purpose of divine service on Sundays or as a mission room, and as a public elementary school on weekdays. It is known as St. Saviour's Chapel.
In a dispute in 1567 touching the tithe corn and hay growing upon the demesne lands of the manor, between Gilbert Gerard, attorney-general, and Anne his wife and John Osbaldeston of Osbaldeston upon the one part, and William Farington of Haldley, farmer of the rectory and parsonage of Blackburn, on the other, they were awarded by arbitrators to Gerard and Osbaldeston. (fn. 100)
In 1767 there were eighty-two 'Papists' resident in the chapelry. (fn. 101)
Charities
About 1686 Margaret Radcliffe gave a parcel of land and two cottages in Carr Lane for poor housekeepers. In 1716 Michael Waterhouse bequeathed by will 10s. charged upon his messuage called Waterhouse tenement. Other donations made between 1733 and 1766 were employed about 1799 to rebuild the cottages in Carr Lane.
The charity has a net income of £5 to £8, which is distributed on 21 December, by the vicar and churchwardens, in flannel, calico or blankets; more recently in clothing also.