Pages 344-348
A History of the County of Lancaster: Volume 6. Originally published by Victoria County History, London, 1911.
This free content was digitised by double rekeying. All rights reserved.
RISHTON
Ruyston, Ryston, xiii cent.; Russhton, Rysshton, xiv cent.; Rissheton, xv-xvi cent.
The township lies on the eastern side of the ancient parish of Blackburn on low moorland, sloping eastward down to Norden Brook and on a ridge lying between that brook and the River Hyndburn on the east. The highest ground is on the north-west, where an elevation of 785 ft. above the ordance datum is reached on Rishton Height, the lowest on the north-east at the confluence of Norden Brook with the River Hyndburn, where the elevation falls below 250 ft.
The subsoil consists of the Coal Measures; the soil varies from peat and sand to clay.
The land is almost entirely under permanent grass, much of which is benty. There are patches of woodland on the banks of the Hyndburn and near the canal reservoir. (fn. 1) The area of the township is 2,982 acres, and the population in 1901 numbered 7,031 persons. (fn. 2) The high road from Blackburn to Burnley, with a branch road from Rishton to Great Harwood, intersects the township, that from Blackburn to Accrington touches the southern boundary. The Liverpool, Blackburn and Accrington line of the Lancashire and Yorkshire Railway Company passes on the south side of the town of Rishton with a station, and leaves the township on the east by a high viaduct over Aspen Valley. The same company's Great Harwood loop passes through the northern part. The Leeds and Liverpool Canal enters the township on the southwest over Knuzden Brook and circling northward round the moorland issues at the south-eastern angle above Aspen Valley viaduct. There is a large reservoir on Rishton Moor for the supply of water to the canal, fed by streams issuing from Cowhill Moss and Whitebirk Moss.
A local board was constituted here in 1882, under the provisions of the Local Government Act, but by the Act of 1894 the civil parish is governed by an urban district council. The town of Rishton stands on both sides of the Leeds and Liverpool Canal and on the main road from Blackburn to Burnley. In and near it are extensive cotton spinning and weaving mills, a paper-mill, colliery, brewery, brick works and fireclay works. There are large quarries at Cunliffe, Close Brow, and near Dunkenhalgh. Holt stands to the north-east of Rishton and Tottleworth is further north. There are two political clubs at Rishton.
Nicholas Rishton, clerk, was an official of note in the time of Richard II and Henry IV and V. He was a prebendary of Salisbury and had other benefices. He died in 1413. (fn. 3)
Manor
The manor of RISHTON was in the time of Henry III or earlier held by Robert de Praers, who gave it in free marriage with Margery his sister to Gilbert son of Henry de Blackburn, (fn. 4) and in 1242 this Gilbert was stated to hold the tenth part of a knight's fee there of the heir of the Earl of Lincoln; it belonged to the dower of the countess. (fn. 5) Gilbert was outlawed in 1255–6 for the death of William de Meluer (Mellor). (fn. 6) In 1258 Edmund de Lacy held Rishton, in which were 16 oxgangs of land; of these Henry de Rishton held 4, rendering 4s. a year and paying scutage and castle ward. In each of the other 12 oxgangs there were 12 acres of land. Richard de Cowhill had 40 acres, paying ½ mark yearly; Richard de Tottleworth the same; two men (unnamed) had Side Beet, paying 1 mark; Richard de Cunliffe, 6 acres for 2s.; two small cottagers paid 2s., and there was a mill worth 20s. (fn. 7) Henry de Rishton was living in 1281, when he and Gilbert his son were engaged in various disputes. (fn. 8)
Earlier than this, in 1278, Gilbert de Rishton had acknowledged the right of one Adam de Rishton to the manor, but it was agreed that Gilbert should hold it for life, with reversion to Adam and his heirs. Henry de Lacy Earl of Lincoln put in his claim. (fn. 9) It appears that Adam was illegitimate, (fn. 10) and on his death the earl took possession and granted the whole manor of Rishton with all appurtenances as fully as Adam de Rishton, bastard, had held it, to Edmund Talbot and Joan his wife and the issue of Edmund. (fn. 11) These Talbots were seated at Bashall in Craven. Edmund, who obtained a charter of free warren for Rishton in 1310, (fn. 12) did not long enjoy the manor, afterwards known as the Holt, for in 1311 his widow Joan held the two plough-lands in Rishton of the Earl of Lincoln by the fourth part of a knight's fee, the yearly rent of 1s. and suit of court. (fn. 13) There were two children of the marriage, John and Thomas, of whom the former died without issue and the latter succeeded. (fn. 14) Joan, however, married John son of Richard de Radcliffe, (fn. 15) and as late as 1361 John de Radcliffe was holding the tenth part of a knight's fee in Rishton of the Duke of Lancaster. (fn. 16)
Meantime the legitimate heirs of Gilbert de Rishton, seated at Ponthalgh in Church, were making frequent claims to the manor. In 1329 Robert son of Gilbert claimed it against John and Joan de Radcliffe, (fn. 17) John's son Richard being afterwards added as defendant, (fn. 18) and in 1331 Gilbert son of Robert son of Gilbert de Rishton continued the claim, relating the grant by Robert de Praers above recorded. (fn. 19) The defendants, saying that they held for Joan's life only, called Thomas son of Edmund Talbot to warrant. (fn. 20) Robert de Rishton, as son of the Gilbert of 1331, renewed the claim in 1356, (fn. 21) at which time the Duke of Lancaster also claimed it against the Radcliffes, (fn. 22) and in 1359 against Edmund son of Thomas Talbot. (fn. 23) This Edmund, who became a knight, was succeeded by a son Sir Thomas, who in 1378 enfeoffed Alan de Catterall and Isabel his wife and their issue of land there. (fn. 24) The manor and lands were taken into the king's hands in 1415, Sir Thomas Talbot being outlawed for debt, but Alan de Catterall's interest was allowed. (fn. 25) Sir Thomas afterwards incurred a further outlawry for treason and felony, having taken part in Sir John Oldcastle's conspiracy, (fn. 26) and in 1417 the Rishton claim appears to have been allowed. (fn. 27) Sir Edmund Talbot, son of Sir Thomas, afterwards recovered his right, but had various suits concerning it (fn. 28); in one of these, in 1449, the descent of the manor is narrated fully. (fn. 29)
Sir Edmund appears to have resided at the Holt, for in 1457 the Bishop of Lichfield granted him a licence for his oratory there. (fn. 30) Sir Edmund was also lord of Lower Darwen, in the account of which an outline of the later descents has been given. Sir Edmund died in 1462, (fn. 31) and in 1478 Richard Rishton of Ponthalgh and Ralph his son renewed their claim to the manor against Thomas Talbot of Bashall. (fn. 32) They failed, for Sir Thomas died early in 1500 holding the manor of Rishton of the king as duke by the tenth part of a knight's fee and 9d. rent. (fn. 33) It descended to Sir Thomas Talbot, who died in 1558 holding the manor and the messuage called the Holt in Rishton. (fn. 34) His grandson Thomas, in conjunction with his wife Elizabeth, in 1581 sold the estate to Sir Thomas Walmsley. (fn. 35) Sir Thomas died in 1612 holding the manor of Rishton of the king as duke by the fourth part of a knight's fee. His estate has since descended with Dunkenhalgh in Clayton-leMoors. Richard Walmsley obtained from Charles II in 1662 a confirmation of the grant of free warren in Rishton. (fn. 36) The present lord of the manor and almost sole landowner is Mr. G. E. A. H. Petre.
Though the Rishtons of Ponthalgh in Church, as above related, failed in their attempt to regain the principal manor, they had an estate there. The line of descent has been recorded as far as the Roger Rishton who succeeded his brother Richard in 1425; apart from the manor which he claimed he had held a messuage and lands in Rishton of the king as Duke of Lancaster. (fn. 37) The estate descended to Ralph Rishton of Ponthalgh, who died in 1527 holding two messuages, &c., in Rishton of the king. (fn. 38) William Rishton of Ponthalgh died in 1589 holding 40 acres of land called Knuzden and other lands in the township, (fn. 39) and Ralph his son also held land there in 1625. (fn. 40) Yet it appears that part at least of their estate had been sold to Serjeant Walmsley in 1585. (fn. 41)
A branch of this family resided at MICKLEHEY, which was no doubt part of the Ponthalgh estate. James Rishton (1590) and his son Edward (1630) were governors of Blackburn Grammar School. (fn. 42) Ralph Rishton, who entered the English college at Rome in 1632, aged twenty, gave some particulars of his family. He was 'son of James and Katherine Rishton of Micklehey in Rishton, near Blackburn. On his father's side his relatives were non-Catholics, but on his mother's Catholics. . . . He had two brothers, Edward and John, and two sisters, Frances and Anne. He made his humanity studies at Blackburn. He was always a Catholic, and it was his desire and resolve to live the life of a religious.' He was ordained priest in 1637 and left for England, having 'behaved admirably during his whole stay in the College.' (fn. 43) Edward Rishton in 1653 desired to compound for lands demised to him by William Rishton of Ponthalgh for the lives of his wife Elizabeth and son James. (fn. 44) It was stated that Micklehey had been forfeited by Edward Rishton and Katherine his mother, and sold under the Act of 1652. (fn. 45)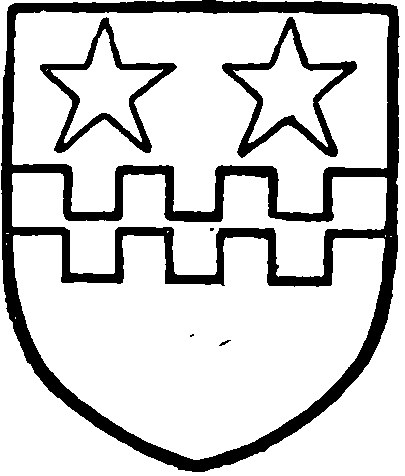 A fourth part of the manor, later known as RISHTON HALL, was long held by the family of Rishton of Dunkenhalgh in Clayton-le-Moors. (fn. 46) The ancestor of them, Richard de Rishton, occurs as witness to charters about 1300, together with Robert de Rishton. (fn. 47) In 1320 Richard granted his son Henry a fourth part of the manor. (fn. 48) A later Henry in 1371 acquired the moiety of an oxgang of land in Rishton. (fn. 49) A hundred years later Henry Rishton held Rishton Hall with an oxgang of land on Cockeyside and Cowhill, and made a settlement in 1471 on the marriage of his son Nicholas with Margaret daughter of John Radcliffe. (fn. 50) The son died in 1508 and his wife in 1528, when their son Richard was over forty-six years old. Rishton was held of the king as of his duchy by the fortieth part of a knight's fee. (fn. 51) At the death of Richard in 1530 the estate was called a fourth part of the manor, and was held of the king by the sixteenth part of a knight's fee and 3d. rent. (fn. 52) The estate descended (fn. 53) to a grandson Ralph, who before 1582 sold his estate in Rishton to Thomas Walmsley, serjeant-at-law. (fn. 54)
Thomas Walmsley the elder died in 1584 holding two messuages in Rishton called CUNLIFFE and various properties in Whittle and other townships, but the tenures are not recorded. (fn. 55) His son, the abovenamed Serjeant Thomas Walmsley, was then fortysix years of age, and as above stated purchased the manor of Rishton and other lands there. Sir Thomas died in 1612 holding the manor of Rishton of the king as duke by the fourth part of a knight's fee. (fn. 56)
COWHILL (fn. 57) and Side Beet have little of interest to record. The former was in the 17th century and later owned by a family named Hindle or Hindley, one of whom came into notice as vicar of Ribchester, ejected during the Commonwealth time. (fn. 58) Side Beet was owned by the Liveseys of Rishton in the 16th century. (fn. 59)
TOTTLEWORTH is first mentioned in a grant made early in the 13th century by Maud de Praers to Uctred son of Roger de Rishton; her gift included three-fourths of the place, the bounds going from Oakenholt syke through Tottleworth lache on the west side of Bentley, and thence by Norden Brook and Hyndburn to the starting-place. (fn. 60) A rent of half a mark of silver was to be paid. The descendants of the new owner probably assumed the local name, for in 1258 Richard de Tottleworth held 40 acres of land in Rishton of the lord of Clitheroe, paying half a mark yearly. (fn. 61) The estate descended to an Anabil daughter of John de Tottleworth, (fn. 62) who about 1290 sold to William de Hesketh. (fn. 63) The estate continued to descend in the family of Hesketh of Rufford and Great Harwood. Robert Hesketh died in 1490 holding his land in Tottleworth of Edmund Talbot by a rent of 6s. 8d. (fn. 64) The Robert who died in 1620 held messuage, land, &c., there of Thomas Walmsley in socage; they were part of the jointure of Jane his wife, afterwards wife of Sir Richard Hoghton. (fn. 65) The Heskeths retained an estate there till a century ago. It is now the property of Mr. Petre.
The hearth tax return of 1666 records two houses with four hearths and smaller dwellings; the total number of hearths was eighty-three. (fn. 66)
The land tax return of 1787 shows that Lord Petre was the chief holder, paying £32 out of £36; Mr. Hesketh paid most of the remainder. (fn. 67)
The chapel of the manor-house at Holt appears to have been a private oratory. (fn. 68) Part of it was still standing in 1611. (fn. 69)
In connexion with the Church of England, SS. Peter and Paul's was built in 1873–4, (fn. 70) an ecclesiastical parish being formed for it at the same time. (fn. 71) The vicars are presented by a body of five trustees. (fn. 72) There is a mission-room called St. Andrew's. A party of seceders built a school-chapel in 1876, (fn. 73) but they have died out.
Methodism was introduced as early as 1805, but became extinct. It was revived about 1852, and the Wesleyan chapel built in 1862 has since been enlarged. The United Free Methodists have had a chapel since 1875 and the Primitive Methodists since 1876. (fn. 74)
The Congregationalists opened a mission-room in 1876 and built a church in 1883. This is an offshoot of the Great Harwood Church. (fn. 75)
The Roman Catholic mission was commenced (fn. 76) in 1886, and ten years later the school-chapel of St. Charles was opened.