Pages 373-375
A History of the County of Lancaster: Volume 6. Originally published by Victoria County History, London, 1911.
This free content was digitised by double rekeying. All rights reserved.
WORSTON
Wrtheston, 1241; Wrthiston, 1258; Wurtheston, Wurston, 1301–2.
This township occupies part of the north-western slope of Pendle Hill, the altitudes varying from about 350 ft. to 1,650 ft. above sea level; and on the northern boundary there rises another hill to a height of 725 ft. The hamlet of Worston is near the western end; Angram Green lies to the southeast, and Worsaw End to the north-east. With an area of 1,090 acres there was in 1901 a population of 95.
Through Worston hamlet passes a road from Chatburn to Whalley. The land is mostly in pasture. The soil is clay, overlying rock.
There is a parish meeting.
In 1584 it was presented at the wapentake court that there were no stocks at Worston.
The hearth tax return of 1666 shows that there were thirty-two hearths liable; there were four houses having as many as three hearths. (fn. 1)
Manor
Like Chatburn WORSTON was part of the demesne of the honor of Clitheroe, and the halmote courts were held together for Pendleton, Worston and Chatburn. (fn. 2) The township was assessed as two plough-lands, (fn. 3) and at one time more than half seems to have been in the hands of free tenants. In 1241 John de Lacy had rents of 33s. 3d., a pair of gloves, and two harriers' collars from Worston (fn. 4); and the details given in 1258 show that Sir Robert de Chester held one plough-land rendering the pair of gloves, Wyot (or Guy) de Worston held half an oxgang of land rendering the two collars, and one Thomas held an oxgang paying 18d.; the rest (6 oxgangs) was held by seven other men, who paid 35s. 6d. in all. (fn. 5) Sir Robert's moiety probably reverted to the lord at his death, for in 1311 Henry de Lacy held 13 oxgangs of lands in demesne, each oxgang rendering 2s. a year, while eight free tenants, including Adam son of Wyot and Hugh son of Thomas, held 7 oxgangs of land and 18 acres; the total value was 91s. 6d. (fn. 6) The water-mill was then worth 13s. 4d. a year. (fn. 7)
By 1322 the tenures had in some cases been changed, for there were five free tenants, each holding an oxgang of land by the ninety-sixth part of a knight's fee. (fn. 8) Accounts rendered in 1324 show that the net value of the manor was £8 4s. 6½d.; rents came to £4 6s. 11½d., Adam Wyot gave his two collars, the demesne rendered £2 6s. 9½d., the watermill £1 8s. 10d., fines for entry, 4s.; and perquisites of the halmote, 11s. 11d.; while the outgoings included 13s. for two new wheels for the mill and other repairs. (fn. 9)
In a complaint as to the possession of a piece of land called Moor Butts, at the southern end of 'Worston Greyne,' in 1566, the defendant prayed 'for an inquiry by his country, viz. by twenty-four customary tenants of the queen's majesty of the old hold.' (fn. 10)
The hall having fallen almost entirely to decay was pulled down, and a small house built with the materials on its site. (fn. 11) This building has the appearance of three cottages thrown into one, with a projecting one-storied porch in front, (fn. 12) in which are built three stones with large shields said to have come from Sawley Abbey. The first bears a lion rampant, the second is quarterly France and England, and the third bears three luces. (fn. 13) Part of the front and side wall of what appears to have been a small forecourt remain, with a narrow gateway, in the head of which the date 1577 and the initials of Richard Greenacres, the builder of the house, may still be traced.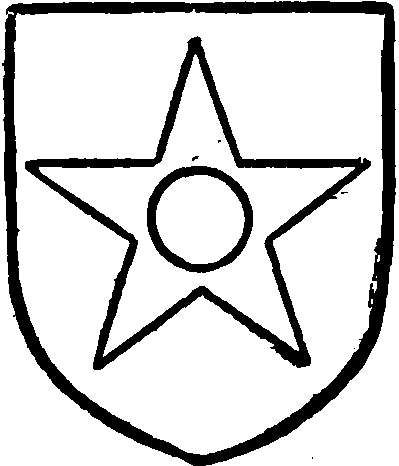 Much of the land being copyhold, as it still remains, there is little to be recorded of the tenants, though some of the tenements are noticed (fn. 14) in pleadings and inquisitions. The Greenacres family was of long standing there. (fn. 15) John Greenacres and John Taylor are named as the landowners in the Subsidy Roll of 1524 and the widow of John Greenacres in 1543. (fn. 16) Richard Greenacres died in 1578 holding a capital messuage in Worston, 30 acres of land, &c., of the queen as of her manor of Clitheroe in socage by a rent of 7s. 8d. His son John having died a few days earlier, the heir was Richard son of John, aged sixteen. (fn. 17) Richard Greenacres was a freeholder in 1600. (fn. 18) The estate descended to Assheton of Downham. The Shireburnes, (fn. 19) Tempests, (fn. 20) Kings, (fn. 21) and other tenants of 'oxgang land' are traceable through the court rolls. (fn. 22) Worston also occurs as a surname. (fn. 23) The abbeys of Sawley (fn. 24) and Whalley (fn. 25) had lands in Worston.
The land tax return of 1787 gives Thomas Dawson and Thomas York as chief owners.
There is a mission room in this township in connexion with Christ Church, Chatburn.