Pages 417-423
A History of the County of Lancaster: Volume 6. Originally published by Victoria County History, London, 1911.
This free content was digitised by double rekeying. All rights reserved.
CLAYTON-LE-MOORS
Cleyton, 1242; Clayton, 1292.
This township lies to the north of Accrington, from which it is separated by a piece of Altham, and is bounded on the west and north-west by Hyndburn Brook, towards which the surface in general slopes down from the south-east side, where the land is about 550 ft. above sea level. The area is 1,059 acres, including 21 of inland water, and the population in 1901 numbered 8,153. The principal roads are those from Blackburn east to Padiham and from Accrington north to Whalley. At their crossing is the place called Henfield or Enfield, now urban in character, from which streets of houses extend in a north-west direction through Oakenshaw towards the mills and works on the Hyndburn. To the north-east and south-west of this urban district are the rural portions, in which stand Clayton Hall and Dunkenhalgh respectively; each of them is surrounded by a park. Sparth is on the Whalley road, at the east side of Oakenshaw. There was formerly a race-course to the south of Henfield.
A local board was formed in 1863, (fn. 1) and this became an urban district council in 1894; it has twelve members. There are recreation grounds and public baths, a mechanics' institute with a library, also Conservative, Liberal and working men's clubs.
Calico printing works, (fn. 2) cotton factories, soap works, corn-mills, brick and tile works and engineering works afford employment to the inhabitants. The land is heavy, with clay subsoil; there are 828 acres in permanent grass and 68 in woods and plantations. (fn. 3) A sea-coal mine is mentioned in the 1376 deed of partition. All the north end of the township has been worked for coal, and, though some of the mines are exhausted, coal is still obtained here.
Edward Rishton, probably a younger son of the Dunkenhalgh family, was born about 1550. Educated at Oxford, where he graduated in 1572, he renounced Protestantism and went over to Douay and the English College at Rome, being ordained and sent on the English mission in 1580. He was arrested very quickly, and condemned to death for treason, but reprieved, and after an imprisonment in the Tower was exiled in 1585. He died of the plague in that year. He published Sander's account of the Anglican Schism, with a continuation. (fn. 4)
John Harper, born at Dunkenhalgh in 1809, attained some distinction as an architect, and was the friend of Etty and Stanfield. He died at Naples in 1842. (fn. 5)
'Nick of Dungnow' was a local notability of a different kind. (fn. 6)
Manor
CLAYTON-LE-MOORS formed part of Henry de Lacy's feoffment to Hugh son of Leofwine, lord of Altham, as noticed in the account of that place; it was rated as one plough-land, and the service due was the eighth part of a knight's fee. The superior lordship descended like Altham.
The inferior lordship of the manor, or tenure in demesne, descended from Hugh son of Leofwine to his younger son Henry de Clayton, sometimes called Henry the Clerk of Clayton and sometimes Henry parson of Altham. Early in the 13th century he acquired from his brothers Alan and Thomas their estates in the manor, each consisting of 2 oxgangs of land. Thomas, who seems to have been a priest, held of Henry de Elland 2 other oxgangs, which he gave to Gilbert de Lacy of Cromwellbotham, near Elland, co. York., who gave them to the priory of Pontefract in or about 1192. (fn. 7) Henry de Clayton afterwards gave to John Fitton 2 oxgangs of land which he held of him in Great Harwood in exchange for land there lying between the old mill-stream and the brook near Gamelsgate, and between Hyndburn Water and the ditch which ran from the old millstream through the town field to a great stone lying in the bed of the brook near Gamelsgate. (fn. 8) He was succeeded about 1220 by his son Henry, who was also clerk or parson of Altham. From Hugh son of Richard de Altham he obtained a confirmation of the grant to his father made by Alan de Altham, and from Uctred son of Hugh son of David of 1 oxgang of land in Clayton in exchange for other specified lands, now forming part of the hamlet of Henfield. (fn. 9) Early in 1243 he was a juror on the inquest of the Gascon scutage, in which he was returned as holding Clayton for the eighth part of a knight's fee. He was succeeded after 1262 by his son Henry, to whom William son of Richard de Altham, as superior lord, confirmed 8 oxgangs of land in Clayton and 6 oxgangs in Wiswell. (fn. 10) The same persons made an agreement in 1277 to make no more inclosures from the wastes in their respective manors without mutual consent, but certain ridges in the Quitacres in Clayton belonging to the oxgangs in that town were assured to Henry de Clayton. (fn. 11)
Thomas de Clayton, brother of Henry, was the first grantee of Oakenshaw. William, another brother, had lands adjoining the River Calder, in the northern part of the township, from both his father and brother Henry. (fn. 12)
John de Clayton succeeded his father Henry shortly after 1292, when he was suing him for a tenement here, and was a juror on the inquest after the death of the Earl of Lincoln in 1311. Lands near Merelache were released to him in 1317 as lord of Clayton. (fn. 13) Two years before he had settled half the manor and mill upon his son Henry and Matilda his wife. (fn. 14) Henry succeeded his father before 1332, in which year he was the principal contributor to the subsidy; two years later he covenanted with William de Hesketh for the construction of Hesketh's weir and pool of Martholme Mill upon Henry's land called Oldemon Ridding in Clayton and the millstream through his land in Great Harwood for 12d. rent and the right to be hopper free and to grind his grain there without giving multure. He was returned as holding Clayton in 1346 and 1355 for the eighth part of a knight's fee, and in 1356 passed his manor to feoffees for settlement. (fn. 15) In 1360 William de Hesketh claimed damages against Henry de Clayton, Adam de Grimshagh and others for lowering the weir of his mill on Hyndburn in Great Harwood and Clayton, but was non-suited because his ancestors had removed that mill to another site in Harwood which plaintiff had abandoned in favour of the original site. (fn. 16) Henry died in or about 1361 without legitimate male issue, when Adam de Grimshagh of Eccleshill and Henry de Rishton of Rishton succeeded to the inheritance in right of their respective wives Cecily and Margaret, daughters and co-heirs of Henry de Clayton. (fn. 17)
Adam de Grimshagh died about 1361, when his Eccleshill estate passed to his son Henry. In 1376, when Henry had attained his majority, a partition of the manor was made between him and Henry de Rishton and his wife Margaret, by which he acquired the hall of Clayton with the greater part of the demesne lands, whilst Rishton obtained the land to the south-west of Clayton Hall, towards Oakenshaw and Henfield, Ringstonhalgh up to Dunkenhalgh, and the land adjoining the old course of the Calder between Mergelache Clough and the boundary of Altham. (fn. 18) The descent of Rishton's part of the manor follows that of Dunkenhalgh, which is given below.
Henry de Grimshagh married Joan daughter of Henry de Shuttleworth; by her he had Robert, whose marriage to Joan daughter and heir of John del Hacking of Aighton was contracted about Midsummer 1390, whilst Robert was still unborn. (fn. 19) Henry Grimshagh died before Michaelmas 1429, when his widow Joan released half the manor and her dower lands to her son Robert. Early in 1442 half the manor with lands in Worsthorne and Preston, and the site of the old messuage of Grimshagh in Eccleshill, were settled upon Robert Grimshagh for life with remainder to his eldest son Henry. Robert died a few days later, and his son Henry, having contracted a marriage with Isabel daughter of Richard Rishton, probably of Dunkenhalgh, settled upon her his estates with the exception of Grimshagh. (fn. 20) Henry Grimshagh was living in 1468. Henry his son was implicated in the death of Robert Bynns of Altham, and in 1466 compounded with Bynns' widow for 10 marks that she would never 'sue againe Henry sonne of Henry Grimishagh or any other that were with him the day that Robert Bynnes toke his death's wound.' In 1482, described as of Hacking in Aighton, he had a dispute with his brother Nicholas touching lands given to the latter for life by their father. (fn. 21) In 1489 the 'warth' on the west side of the Hyndburn, above Martholme Mill, of which the ownership had long been in dispute between him and Robert Hesketh of Great Harwood, was adjudged to Henry by arbitrators, inasmuch as it was proved by the evidence of ancient men that the old course of the Hyndburn had been on the west side of the 'warth.' (fn. 22) He married Alice daughter of John Tempest of Bracewell, kt., (fn. 23) and died 1507, as returned by an inquest taken at the halmote of Accrington, Thomas being found to be his son and heir. (fn. 24)
Thomas Grimshagh married Margaret daughter and co-heiress of Elizabeth daughter of John Harrington of Hornby, kt., by John Stanley of Melling. (fn. 25) On 16 August 1513, being evidently about to set out to take part in the Scottish war which culminated in the battle of Flodden Field, he made his will providing portions for his three daughters and for his son, if an expected child should be such. (fn. 26) Happily he returned in safety, was assessed to the subsidy of 1524 upon £4 yearly value of land, and lived until the end of 1539, having two years before contracted for the marriage of his son Richard to Elizabeth daughter of John Cudworth of Werneth, gent. (fn. 27)
Richard Grimshaw—the family name had now assumed this form—was assessed to the subsidy of 1543 upon £4 yearly value of land, and in 1554 purchased from John Moore of Kirkdale the latter's estate in Eccleshill. He died in 1575, leaving John his son and heir, aged twenty-four years, (fn. 28) who acquired a further estate by his marriage to Mary daughter and co-heir of Thomas Catterall of Catterall and Little Mitton. John Grimshaw died in 1587, leaving Nicholas his son and heir, aged thirteen years. (fn. 29) Nicholas married Ellen daughter of Robert Rushworth of Riddlesden, near Keighley, co. York. He was assessed to the subsidy of 1599 upon lands of the yearly value of £3 6s. 8d., and in 1626 paid double assessment on £3 10s. value as a convicted recusant, his wife being also charged upon that conviction. (fn. 30) Three or four years later he compounded for twothirds of his sequestered estate, (fn. 31) paying £20 a year fine. John Grimshaw succeeded Nicholas his father in 1641, and the year following leased to Nicholas Townley of Royle and Henry Townley for a term of eighteen years the mines of coal on his demesne lands or lands let to tenants in Clayton for the maintenance and education of his two younger sons. (fn. 32) His own and his mother's estates were sequestered for their recusancy, and two-thirds leased in 1652 to a Preston linen-draper. The valuable coal mines upon the estates in Eccleshill and Clayton brought in a considerable revenue, but the county commissioners were extremely backward in making allowances to the lessees for permanent and needful outlays to maintain the mines in working order. (fn. 33) John Grimshaw married in 1626 Anne daughter and co-heir of Abraham Colthurst of Burnley, and at his death in 1662 was succeeded by his eldest son Richard, who entered his pedigree at Dugdale's visitation in 1665. (fn. 34) Richard Grimshaw married Elizabeth daughter of Stephen Tempest of Broughton in Craven, by whom he had issue an only daughter Susanna, who married Ralph son of Nicholas Shuttleworth of Clitheroe, esq. Mrs. Shuttleworth died in 1727, her Jacobite husband having been attainted of treason 24 July 1716. (fn. 35)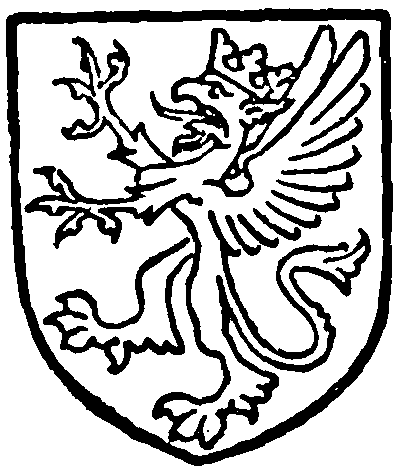 Richard Grimshaw, who was buried at Altham on 26 February 1696, was succeeded in the ownership of the Clayton estate by his nephew and nearest male heir, John Grimshaw son of Richard's brother John by Jennet daughter and co-heiress of Robert Cunliffe of Sparth. The new owner died between 1707 and 1718, and the estate, then heavily encumbered, went to his brother Nicholas Grimshaw, who died in 1718 without issue. John had mortgaged his interest to R. Clayton of Adlington, who in 1718 assigned the mortgage to John Heywood of Urmston, brother-inlaw of John and Nicholas Grimshaw, having married their sister Mary Anne. Their daughter and heiress Rebecca Heywood (d. 1772) married in 1715 or 1716 Richard Lomax of Pilsworth and Burnshaw (d. 1771). The eldest son of this union, James Lomax, succeeded, and on his death in 1792 was followed by his son Richard Grimshaw Lomax, who died in 1837. He had several sons, (fn. 36) of whom John (d. 1849) and James (d. 1886) held the estates of Clayton and Great Harwood in succession, and dying without issue were followed by their brother Thomas's representatives, viz. Mrs. Helen Trappes and Mrs. Helen Mary Maxima Howell (née Segar), daughter and granddaughter of Thomas Grimshaw, who are joint owners. (fn. 37) Mrs. Trappes in 1891 assumed the additional name of Lomax by royal licence.
No courts are held and no court rolls are known to exist.
Clayton Hall is a plain classic building erected in 1772. (fn. 38)
DUNKENHALGH (Dunkaneshalghe, 1285).— This mesne manor, occupying the south-western part of the township, was an ancient infeudation of one of the early lords of Altham, of whom it was held by a quit-rent of 10d. per annum. William de Dunkanshalgh occurs in 1285 with Adam de Church son of Roger de Dunkanshalgh. (fn. 39) It does not appear how the estate came to the Rishton family. Richard de Rishton, who was living from about 1280 to 1320, was probably a younger son of Henry de Rishton, who held a fourth part of the manor of Rishton at the death of Edmund de Lacy in 1258. In 1320 Richard made a settlement of the fourth part of the manor of Rishton, which included the hall of Rishton, upon his son Henry, (fn. 40) who was assessed to the subsidy of 1332 in Rishton and had issue Richard. In 1340 Richard and Joan his wife were enjoying a rentcharge upon Henry's lands in Rishton. In 1376 Richard is described as of Dunkenhalgh in the deed of partition of the manor of Clayton. (fn. 41) Richard de Rishton, his eldest son, occurs at this time and was described in the poll tax roll of 1379 as of Rishton, esq. Richard Rishton appears to have married the heiress of the Holts of Holts Place in Studley, co. Warw., for in 1414 Richard son of Richard Rishton was placed in possession of Holts Place and the appurtenant estate. (fn. 42) He probably died without issue, for his estates descended to his kinsmen of Clayton.
Henry de Rishton, who married the co-heiress of Clayton, (fn. 43) was probably a younger brother of Richard, owner of Dunkenhalgh in 1376. He was living in 1404. (fn. 44) His son Henry by his will in 1427 desired to be buried under his father's tomb in Blackburn Church, giving small sums to the vicar and chaplains to pray for him. He left 6s. 8d. to a bridge at the Hyndburn. Children named Richard, John, Nicholas and Ellen are mentioned. (fn. 45) His widow Margaret was living in 1449. Richard Rishton was described as of Studley in 1453, when he was put in possession of his lands in Rishton, Clayton and Church in this county and of lands in Studley in Warwickshire, (fn. 46) in the latter case as heir to his kinsman. By Margaret his wife he had issue Henry, for whom he contracted a marriage in 1448 to Agnes daughter of Richard Shireburne the younger. Henry Rishton joined with his father in 1466 in granting a lease of Holts Place in Studley. (fn. 47) As heir to his uncle Nicholas Rishton, who had obtained the estate of Richard Winckley in Catterall known as Winckley's Place, he and his wife Agnes in 1449 demised that messuage to his grandmother for her residence and maintenance. He was father of Nicholas of Dunkenhalgh, whom he married in 1471 to Margaret daughter of John Radcliffe of Peasfurlong. (fn. 48)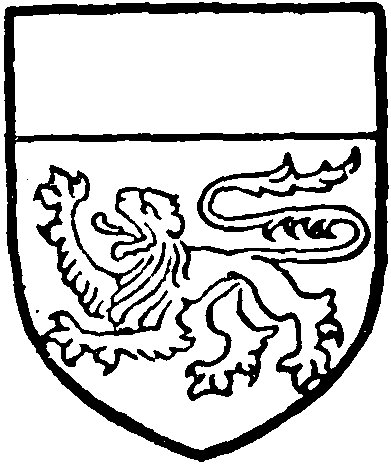 Nicholas Rishton joined Thomas Hesketh, esq., in 1491 in an agreement with the lords of Great Harwood touching the boundary between the undivided commons of Rishton and Harwood. He died in 1508 and Richard his son succeeded to the family estates, which are fully described in the inquest taken after his father's death. (fn. 49) Richard (fn. 50) married Anne daughter of John Talbot of Salesbury, kt., was assessed in Clayton to the subsidy levied in 1523 upon £8 yearly value in lands and died in 1530, leaving numerous issue. Henry his son, aged twentythree years, married Ellen daughter of John Butler of Rawcliffe. (fn. 51) He alienated the estates in Studley, co. Warw., vested his manor of Dunkenhalgh in trustees and made provision for his brothers and relatives out of his estates. The arms were recorded by the heralds in 1533. (fn. 52) Henry Rishton died in 1549, leaving issue, besides his younger son 'Degre' and seven daughters, John his heir, who entered his pedigree at Flower's visitation in 1567. (fn. 53) Early in 1556 John Rishton had alienated his manor of Dunkenhalgh to Ralph Rishton of Ponthalgh, who settled it in 1561 with other estates upon his eldest legitimate son with remainder to his brother William Rishton of Lincoln's Inn, subject to a life estate for the benefit of their father, Roger Rishton. (fn. 54)
Soon afterwards it came into the hands of Thomas Walmesley, serjeant-at-law, who in 1582 complained that William Rishton was detaining certain deeds concerning Rishton Manor, the capital messuage of Dunkenhalgh, and lands occupied therewith in Clayton-le-Moors, Church, and Rishton, sometime the inheritance of John Rishton deceased. (fn. 55) William Rishton relied on the settlement of 1561 and stated that after it Ralph had sold to Walmesley and died without male issue. (fn. 56) Walmesley alleged that the deed of 1561 was a forgery, that Ralph Rishton had left two sons, Roger and William, living in 1582 and that his own title was derived from Ralph Rishton by an arrangement earlier than the alleged deed of 1561. (fn. 57)
The Walmesleys of Showley and Dunkenhalgh no doubt sprang from the parent stock originally settled at Walmersley in the parish of Bury. A branch of the family was settled in Tockholes during the latter part of the 14th century and continued there until the 18th century. (fn. 58) The name was common among the yeoman class in Amounderness after the 16th century. Thomas 'Walmersley,' the first of Showley in Clayton-le-Dale, was assessed in that township to the subsidy of 1523–4 upon goods. Thomas his son married Margaret daughter of Thomas Livesey of Sidebight, or Sidebeet, in Rishton, by whom he had a large family. (fn. 59) He was reported in 1575 as a recusant and obstinate. He died in 1584. (fn. 60) Thomas Walmesley, his eldest son, was born in 1537, commenced his legal studies at Barnard's Inn or Staple Inn, was called to the Bar as of Lincoln's Inn in 1567, bencher in 1574, serjeant-at-law in 1580, junior M.P. for the county in 1589 and was constituted a judge of the Common Pleas in the same year. He was thus a conformist in religion. On the accession of James I he was reappointed to the office and was made a knight in the garden at Whitehall in 1603 before the king's coronation. He differed from the majority of the judges on the question of the 'Post nati,' that is, whether those born in Scotland after the Union of the two crowns were naturalized in England. In 1606 before the committees of both Houses he alone of eleven judges present dissented on the main question. When the case was argued in the Exchequer Chamber in 1608 he and another judge (probably Thomas Foster) dissented from the opinion of the majority and caused Lord Ellesmere to say that 'two Thomases doubted.' (fn. 61) During the twenty-five years that he continued a judge of the Common Pleas he went all the circuits of England except that of Norfolk and Suffolk. No evidence has been adduced in proof of the allegation that he amassed a great fortune by rapacity in the practice of the law. The charge may have been the invention of those who opposed him in political and religious opinions. The bulk of his fortune and estate appears to have been derived from the successful pursuit of his profession and by fortunate investments in land and mortgages rather than, as it has been frequently alleged, from his marriage to the heiress of the not very considerable Shuttleworth of Hacking in Billington. (fn. 62) During his lifetime Sir Thomas purchased, in addition to the Rishton estates in Rishton, Dunkenhalgh, Clayton-le-Moors and Church, half the manors of Samlesbury, Lower Darwen and Billington and the Cunliffe estates in Billington, Wilpshire and Dinckley. In Yorkshire he acquired in 1595 the manors of Selby, Thorpe, Brayton, Stainer, Friston and Hillam, which he settled upon his son at marriage. (fn. 63) Sir Thomas married Anne daughter and heir of Robert Shuttleworth of Hacking, (fn. 64) and dying in 1612 was buried in his chapel on the south side of the quire in Blackburn Church. The magnificent monument erected to his memory was demolished by the Parliamentary soldiery in 1644.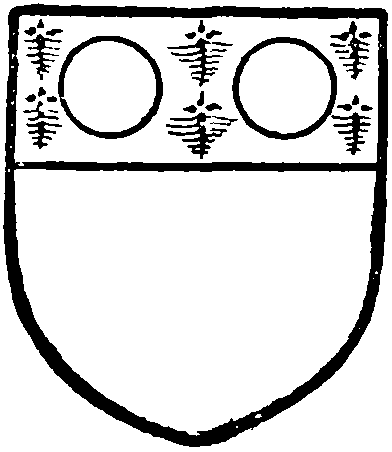 An only son Thomas, aged thirty-eight at his father's death, succeeded, having been twice married: first to Eleanor daughter of John Danvers of Dauntsey in Wilts., kt., and Elizabeth his wife, daughter and co-heir of George Lord Latimer, by whom he had issue Thomas his heir; and secondly in 1604 to Mary daughter of Thomas Hoghton of Hoghton, by whom he had Charles of Stainer Hall, near Selby. Thomas Walmesley lived at Cowthorpe, co. York., where his first wife was buried in 1601, but he died at Dunkenhalgh in 1642. Thomas his son received knighthood at Lord Gerard's mansion of Ashton Hall in 1617 during King James' visit to Lancashire. He sat in the Parliament of 1621 for the borough of Clitheroe and in that of 1625 for the county. (fn. 65) At that time, therefore, he was a conformist, but by 1632 he had become a recusant and then compounded for the sequestered two-thirds of his estates by a fine of £13 6s. 8d. a year. (fn. 66) His wife was Juliana daughter of Richard Molyneux of Sefton, kt. She survived her husband and died at Cowthorpe in 1668. Sir Thomas, who predeceased his father, held at his death in 1636 a considerable part of the family estates in Lancashire and Yorkshire. (fn. 67)
Richard eldest surviving son of Sir Thomas was a minor at his grandfather's death in 1642. Some Parliamentary forces under Captain Assheton occupied Dunkenhalgh the night before the engagement at Whalley in April 1643. It was again visited by soldiers under Lambert's command in 1659 when the muniment room was rifled of its contents. (fn. 68) Though Richard Walmesley was under age during the battle time of the Civil War, his estates appear to have been sequestered for religion as soon as he came of age, about 1651. In that year inquiry was made as to the discovery of the personal estate of Thomas Walmesley, left to his grandchildren, who were 'all educated in Popery.' (fn. 69) A report was made that the county committee had seized Richard's estate, but could not tender him the oath of abjuration because he was abroad. He had taken the precaution to grant his estates to Lady Lucas, a relative, in May 1651, and, as he had never actually been convicted of recusancy, the validity of the grant was admitted and the sequestration discharged. (fn. 70) His mother, Dame Julian, then requested discharge of her son's goods; he was absent abroad by licence of the Council of State. Time was then allowed him to return, but it was intimated that he must abjure his religion if he wished to recover his property. (fn. 71)
Richard Walmesley recorded a pedigree in 1664, his son Thomas being then six years old. (fn. 72) He died in 1679 and was succeeded by a younger son, Bartholomew, who died in 1701. (fn. 73) His son Francis dying without issue, the whole estate went to a surviving sister Catherine, who married Robert seventh Lord Petre and after his death in 1713 Charles Lord Stourton. She had no children except a son by the first marriage. She died in 1788, and Dunkenhalgh and other Lancashire estates went according to her will to her grandson Lord Petre's younger son, George William Petre, born in 1766, (fn. 74) from whom they descended regularly to Mr. George Ernest Augustus Henry Petre, who was born in 1860 and succeeded his father, the late Sir George Glynn Petre, in 1905. (fn. 75) Mr. Petre is lord of the manors of Rishton and Billington.
DUNKENHALGH HALL is situated at the southwest corner of the township on slightly rising ground above the Hyndburn Brook, which forms the boundary of the park on the west side. In 1799 Dr. Whitaker wrote: 'The house of Dunkenhalgh, with the stables and offices, nearly surrounds a large quadrangle, with an arched and embattled gateway. From the style and appearance great part of the building must have been erected by Sir Thomas Walmesley, the judge, but the south and part of the west side are of much higher antiquity.' (fn. 76) In the following year, however, the greater part of the house, which seems to have been in a ruinous state, was pulled down and shortly afterwards rebuilt (fn. 77) in the castellated Gothic style of the period, the present elevations dating from that time. There is therefore very little ancient work to be seen in the building, though no doubt much of the old walling was incorporated in the restored structure. The plan probably follows more or less that of the original house, which seems to have been of the usual type of central hall and projecting wings, but the internal arrangements and fittings are almost wholly modernized and the hall divided up. The building is of two stories, its principal front facing north, and is approached directly from the road between Clayton and Rishton through a gate-house and avenue of lime trees. The gate-house is apparently of 17th-century date, but has been restored and the south front to the house faced with cement. It is built of coursed ashlar blocks, and is of two stories with battlemented parapet and mullioned and transomed windows, one at each side of the opening of two lights, and two of three lights each, above. The gate-house is about 38 ft. in length and 18 ft. from front to back, the gateway, which has a semicircular arch, being 10 ft. wide. The elevation is similar on both sides, and is divided at about half its height by a string course. There is a projecting chimney at each end, and the roof is flat. Over the archway facing the road is a shield of six pieces, the first two of which, however, are obliterated, and on the south side facing the hall a blank panel.
The north front of the hall, which is about 58 ft. in length with slightly projecting wings, is faced with coursed ashlar blocks and has mullioned and transomed windows, those to the recessed middle part being of wood, and the detail is all thin and poor. On the west or garden side, which is about 44 ft. long, the elevation is faced with cement, and has as its principal feature a garden entrance porch carried up in two octagonal turrets above the roof. The house proper lies to the north and west of a small irregular courtyard, (fn. 78) which is inclosed on its east and south sides by stables and offices, and is entered from the east end of the north front by a modern Gothic archway, but so much rebuilding has been done about the house that it is impossible to say how much of the structure follows the original plan. The south wing, which contains the kitchen and offices, is slightly swung round to the east, suggesting a reconstruction of an older building. The house contains some oak panelling and fittings brought from Hacking Hall, Billington, and has a handsome oak staircase with square newels and turned balusters, apparently of early 18th-century date.
In the garden on the south side is a rather elaborate undated facet-headed sundial, with cup-shaped dials on a circular stone pedestal, and further away on the same side a simpler dial, with plate but no gnomon, the square stone shaft of which bears the initials SMM and the date 1685. In another part of the gardens are a number of old stones, including fragments of the 17th-century house, a carved angel and shield panel taken from the gable of an old house in Billington, and two small stone corn-mills which were found in a sandpit at Rishton. (fn. 79)
Further Sparth, or Sparth House, was purchased from Ralph Rishton by Christopher Cunliffe in 1556, (fn. 80) and by him bequeathed to his son Robert in 1563. (fn. 81) Robert, who died in 1580, likewise bequeathed it to his son Christopher, (fn. 82) and Christopher dying in 1614 was found to hold his messuage in Clayton-le-Moors of Nathaniel Banastre of Altham in socage by 17/8d. rent; his son and heir Robert Cunliffe was eleven years old. (fn. 83) Administration of his estate was granted in 1672 to Elizabeth Cunliffe, his widow. He left sisters and co-heirs. Afterwards it was held by Turnley (1697) and Brooksbank. (fn. 84) Nearer Sparth, or Old Sparth, was acquired in 1669 by a family named Whalley, afterwards of Clerk Hill. (fn. 85) Both Sparths are now included in the Clayton Hall estate. Oakenshaw, another ancient freehold estate, was a century ago the property of Fort, Taylor & Co., calico printers (fn. 86); it now belongs to the trustees of the late Joseph Barnes.
Nicholas Duxbury in 1628 held a messuage in Clayton-le-Moors of the king as of his manor of East Greenwich. (fn. 87)
For the hearth tax of 1666 there were seventythree hearths liable, Richard Walmesley's house having thirty-one and Richard Grimshaw's nine. (fn. 88) The land tax of 1789 shows the principal owners to have been Lord Petre, James Lomax and John Brooksbank. (fn. 89)
An inclosure award was made in 1797, an Act having been passed in 1794.
In connexion with the Church of England, All Saints' was erected in 1840, a district being assigned to it at the same time. The patronage is vested in three trustees. There are mission rooms called St. James's and St. Michael's.
The Wesleyan Methodists had a chapel at Oakenshaw in 1830; the present church was built in 1862 and that of the Primitive Methodists in 1858; the former has also a mission room. The Baptists have had a place of worship since 1849—the present one was erected in 1888 (fn. 90); and the Swedenborgians have one called New Jerusalem, existing in 1870. Thomas Jollie of Wymondhouses had a meetingplace at Sparth in Clayton in 1689, but it does not seem to have been permanent. (fn. 91)
The Roman Catholic church of St. Mary, built in 1819, represents the 17th-century mission of Dunkenhalgh, (fn. 92) and has its registers, which begin in 1764. The mission at Clayton was first opened in 1810. Mass is said to have been celebrated at Sparth. Over the altar is a painting of the Presentation by one of the Caracci.