Pages 427-433
A History of the County of Lancaster: Volume 6. Originally published by Victoria County History, London, 1911.
This free content was digitised by double rekeying. All rights reserved.
HASLINGDEN
Heselingedon, 1241; Haselingden, Hessclindene, 1269.
The township of Haslingden spreads out from the triangular ground between the Irwell on the east and Musbury on the west; going north the surface rises, and the town of Haslingden lies in a valley some 700 ft. above sea level between hills which attain another 500 ft. The newer part of the town is built at the foot of the hill or on its lower slopes, the older part lying higher up to the east. Through the valley a small stream called the Swinnell flows south to join the Irwell. Another valley extends westward round Musbury; in it is the hamlet of Haslingden Grane, which has Broad Holden and Holden to the east. The area of the historical township is 4,341½ acres; that of the extended township or borough is 8,196 acres, including 104 of inland water. In 1901 the population of Haslingden proper numbered 16,327, but that of the borough was 18,543.
The town has been built upon the road leading up the valley from Bury and Holcombe to Accrington. Entering at the south end of the township this road proceeds north by Helmshore, Flax Moss and Rye Hill, and entering the town by the street called Deardengate it reaches the New Market Place, and thence goes north by Church Street, through Hudrake, Acre (by which is Carter Place) and Rising Bridge. Another more easterly road from Bury through Edenfield crosses the Irwell and enters the township at Ewood Bridge, and skirting the eastern boundary passes through Bentgate, where it is joined by the road from Rawtenstall and Bacup, to reach the town at Lane Side. Here it divides, the main portion going straight to the New Market Place and the New Road bending to the left to go round the town on the west side. A road from Blackburn through Haslingden Grane reaches the town from the south-west, passing through Waterfoot to join Deardengate, while a second road from Blackburn joins the Accrington Road at the north end of the town.
The Lancashire and Yorkshire Railway Company's line from Clifton to Accrington runs northward through the township, having stations at Helmshore and at Haslingden, opened in August 1848.
The story of the church makes it probable that one or more villages existed at Haslingden, on the edge of the forest country, from an early time, but practically nothing is known of them. Names of ancient crosses remain on the western side. (fn. 1)
Halfpenny tokens were issued at Haslingden by James Hargreaves in 1667 and John Lord in 1668. (fn. 2)
There was a race-course close to the town, but just outside the township within Crawshaw Booth. The races were discontinued before 1825. (fn. 3)
The woollen manufacture was formerly the chief one, but during last century cotton surpassed it; size works, engineering works, quarries and collieries are carried on also. (fn. 4) The agricultural land is almost entirely in pasture, the return showing 4,773 acres of permanent grass in the district, 13 acres of arable land and the same of woods and plantations. (fn. 5)
Dr. Aikin, writing in 1795, says:—
Haslingden has been greatly improved within the last twenty years, chiefly from the increase of the woollen manufacture, though much of the cotton trade has likewise been introduced within a few years, particularly the branch of making twist for warps, for which purpose alone several factories have been erected in its neighbourhood. . . . The people were (forty years since) chiefly employed by moneyed men at Rochdale; but now the trade is supported by capitals acquired on the spot by the industry and enterprising spirit of the manufacturers, who have erected inns for the entertainment of travellers, shops and handsome houses for their own residence. A square is lately planned here, and some capital houses are already built in it. . . . A number of mills for carding cotton and sheep's wool and spinning them into cotton twist and woollen yarn for the flannels made here, are erected upon the Swinnell. There is also a corn mill on the river, formerly belonging to the Holden family, now extinct. (fn. 6)
The principal buildings in the town include the court-house, formerly called the town hall, built in 1852, the public hall, Conservative and Liberal clubs. At Helmshore also are political clubs.
The Territorials are represented by part of a company of the 5th Battalion East Lancashire Regiment, originally formed in 1862 as the Haslingden Rifle Volunteers.
A weekly newspaper is published, called the Haslingden Guardian.
Manors
The lords of Clitheroe appear at first to have regarded HASLINGDEN as part of their demesne immediately dependent on Clitheroe itself, (fn. 7) though it is grouped with Colne in the compoti of 1296 and 1305. Rossendale was included in it. Later, however, it was a member of the manor of Accrington, (fn. 8) and, though sometimes named as a distinct manor, (fn. 9) the dependence on Accrington continues to the present time. In 1241 the annual value of Haslingden to the lord was estimated at £3 15s. 5d., (fn. 10) while in 1305 the rents received amounted to £4 6s. 8d.; 1s. more was paid for a new approvement of 3 acres, and the mill yielded 13s. 4d. (fn. 11) Somewhat different figures were recorded in 1311: tenants at will paid 61s. 1d. for 183¼ acres of land, the water-mill was worth 10s., and there were three free tenants, viz. Sir Robert de Holland for the Ewood, 5s.; Robert de Holden for 40 acres, 13s. 1½d.; and Adam de Holden for 60 acres, 2s. These rents were payable on St. Giles's Day. (fn. 12) The net amount of the rents in 1323 was £6 18s. 5d. (fn. 13)
Of the free tenancies EWOOD seems to have been held in 1269 by Hugh de Thewood, for Robert de Haslingden, outlawed for felony, then held of him a messuage and land by a rent of 12d. (fn. 14) In 1311, as shown above, it was held by Sir Robert de Holland, and probably afterwards he was made mesne lord between the other free tenants and the Earl of Lancaster, for, as will be seen later, the Holdens in the 16th and 17th centuries held of the owner of Ewood. Yet Ewood does not seem to have been called a manor, and the Hollands did not retain it. (fn. 15) Probably it became divided, and Ewood like Haslingden was used as a surname. (fn. 16) The story is very obscure, but the Andertons seem to have had an interest there in the 15th century, (fn. 17) and to have been succeeded by the Gartsides in the 16th (fn. 18) and the Gregorys in the 17th. Robert Gregory of Ewood died about 1625 holding his land of the king as of the castle of Clitheroe. The heir was a son Charles, aged eight. (fn. 19) Charles Gregory was a member of the Presbyterian Classis in 1646, (fn. 20) and in 1662 John Gregory paid the rent of 5s. due for Ewood. (fn. 21)
HOLDEN proper was no doubt the estate held by Adam de Holden in 1311. Henry de Lacy had in 1272 granted to Adam son of Robert de Holden land which William son of Keelin and William his son had held in Haslingden, and which had been forfeited by the hanging of William for felony; a rent of 2s. was to be paid at Pentecost and Martinmas. (fn. 22) It was perhaps the same Adam who was still living in 1311. About that time or earlier the feoffees granted to Robert son of Adam de Holden various lands in Haslingden, Habergham and Hundersfield, with remainder to Adam his son, who had married Alice daughter of William de Holland, and further remainders in default to Robert brother of Adam and Gilbert son of Robert de Holden. (fn. 23)
Adam de Holden occurs in various ways down to 1341. In 1334 he gave his lands in Duckworth to his son Robert, who had married Margaret daughter of Robert de Cunliffe, with remainders to Richard, Henry, John, Nicholas and other sons. (fn. 24) Adam's son Robert de Holden succeeded, (fn. 25) and was himself followed about 1387 by his son Adam. (fn. 26) To Adam Holden in 1412 the feoffees regranted the manor of Holden, with lands in Haslingden, Oswaldtwistle, &c., with remainder to his son Christopher. (fn. 27) Of this son little is known (fn. 28); he made a feoffment of his lands in 1440, (fn. 29) and had been succeeded by his son Ralph in 1446. (fn. 30) Ralph Holden in 1464 gave lands in Duckworth to his son Henry, who married Margery daughter of Thomas Hasington, (fn. 31) and in 1482 settled lands on Agnes daughter of Gilbert Langton, who was to marry Henry's son Thomas. (fn. 32)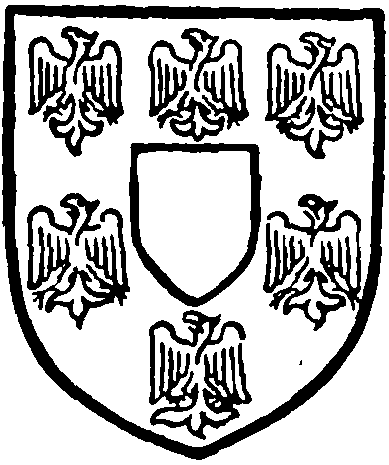 Gilbert the son of Thomas comes into view in 1508, (fn. 33) and is mentioned in various ways later. (fn. 34) His will, dated 28 December 1549, names Ralph his eldest son, and gives a third part of his goods to his son Adam and daughters Lettice and Alice, but 'Christopher my son shall have no child's part because I have spent so much upon him already, but 40s. to bring him into the country.' To Thomas Holden his grandson he gave an in-calf cow. The executors were his wife Grace and his son Thomas Holden, priest. (fn. 35) The will of Grace Holden the widow was made and proved in 1552; it also contained a bequest to the grandson Thomas, viz. two of her best ewes and lambs. (fn. 36)
Ralph Holden succeeded his father. He married Elizabeth Elston, (fn. 37) and at his death in 1571 was found to hold various messuages, &c., in Haslingden of Francis Gartside in socage by a rent of 20d.; also lands in Duckworth, Oswaldtwistle and Eccleshill. His heir, according to the jury, was a grandson Thomas son of Gilbert Holden, aged seventeen (fn. 38); but by a settlement made in 1566 Ralph was succeeded by a son Robert, who is called Robert Elston bastard son of Elizabeth Elston, otherwise called Robert Holden bastard son of Ralph Holden. (fn. 39) He appears as legitimate in the pedigree recorded in 1567, where other children are ignored (fn. 40); but Thomas Holden, described in 1579 as of Barnard's Inn, (fn. 41) laid claim to various parts of the inheritance. (fn. 42) An inquiry was made as to the tenure of Holden demesne and Todd Hall in 1584, when it was reported that they were copyhold. (fn. 43) Robert Holden, who was still living in 1619, (fn. 44) had a son Ralph, aged thirty-two in 1613, when he recorded a pedigree. (fn. 45)
The family adhered to the old religion, for Robert Holden is marked 'Papist' in the freeholders' list, 1600, (fn. 46) and his son Ralph was a recusant in 1629, about which time he compounded by an annual payment of £8 for the two-thirds of his estate liable to sequestration for his religion. (fn. 47) Ralph's son Robert, however, after taking offence at Fr. Arrowsmith's conduct concerning a dispensation for his marriage, became a Protestant. The circumstances of the quarrel, which ultimately led to the zealous missionary's arrest and execution, are thus related by a contemporary:—
Two in Lancashire had married together; the woman was not a Catholic, the man was. There was somewhat in the marriage for which they stood in need of a dispensation. Mr. Arrowsmith was employed in obtaining it. In the meantime the woman became Catholic. When the dispensation came Mr. Arrowsmith would not make use of it before the parties had separated for the space of fourteen days; which thing incensed them much against him, so that knowing the time when he was to return to their father's house where they lived, they secretly sent word to one Rawstorne, a justice of the peace, to come and apprehend a priest. The justice, not willing to bring his neighbour into danger, sent him word that he was to search his house; that by this means having intelligence he might convey away the priest. Which being done, the searchers according to custom busied themselves in looking, but could find nobody, so returned home. (fn. 48)
It is stated that Ralph Holden on that account gave the estate of Kelke to charitable uses, but was unable to divert Holden and Duckworth from his son. (fn. 49) Robert recorded a pedigree in 1665, (fn. 50) and died in 1677. The last male heir was Robert Holden, who died in 1792, but the descendants of his sister Elizabeth, by Henry Greenwood her husband, assumed the name. (fn. 51)
John Greenwood, the son of Henry and Elizabeth, left three sons, Henry, Ralph and William Holden, who divided the estates in 1853. The eldest had Reedley, while Holden was given to Ralph, who died in Ovampoland in 1861, leaving three daughters, Maria, Mary and Violet Mildred, who shared equally. A partition was made in 1899, by which Holden Hall was allotted to the eldest daughter, who married John Duckworth and died in 1905; the site of the house and part of the land was purchased by the Haslingden Corporation for the cemetery, and since Mrs. Duckworth's death the rest of her land has been sold. The other sisters or their heirs retain their portion of the estate. (fn. 52)
The above-mentioned Adam son of Gilbert Holden was founder of the line of Holden of Todd Hall. (fn. 53) In the king's halmote of his manor of Accrington, Gilbert in 1539 surrendered to trustees, for the use of his son Adam, a messuage called Todd Hall (Tode Hole) and 24 acres of customary land in Haslingden occupied by Alice widow of Christopher Holden; a rent of 8s. was to be paid to the king and another of 15s. to Gilbert. (fn. 54) The estate descended in the male line (fn. 55) till 1743, when it was sold by order of the Court of Chancery.
The estate held by Robert de Holden in 1311 was apparently BROAD HOLDEN, for in later times this is found to be held with Simonstone, which was in 1311 held by Robert de Holden. (fn. 56) It probably originated in a gift by Henry de Lacy Earl of Lincoln to Robert de Holden of all the lands in the vill of Haslingden which had belonged to Robert son of Gilbert de Holden, at 9s. 1d. rent. (fn. 57) It descended to the Nevills, for in 1520 Robert Nevill and Alice his wife held Broad Holden in Haslingden with the manor of Simonstone. (fn. 58) In 1584 John Hargreaves claimed against John Nevill and John Quipp his tenant. (fn. 59) In the same year a report was made that lands in Haslingden called Clough Houses, Broad Holden and Goodshaw Holden were 'concealed' lands, belonging to the Crown. (fn. 60)
The names of a few other tenants appear in the records. (fn. 61) Nicholas Duerden was plaintiff about 1555. (fn. 62) A little later Thomas Holden was admitted to the water-mill (fn. 63) which in 1662 was held by Robert Holden at a free rent of 5s. (fn. 64) The landowners named in the Subsidy Roll of 1600 were Robert Holden and Hugh Gartside (fn. 65); those in 1626 were Robert Holden, Andrew Holden, the heir of Robert Gregory and Richard Duerden. There were two non-communicants. (fn. 66) The chief houses in 1666 were those of Ralph Holden and Andrew Holden, having nine and seven hearths respectively. (fn. 67)
One of the worthies of the township is Oliver Ormerod, a younger son of Oliver Ormerod of Haslingden; he was born about 1580, educated at Emmanuel College, Cambridge, and wrote treatises against Puritans and Roman Catholics. (fn. 68) He died in 1626. The will of George Ormerod of Hudley (? Hud Hey) was in dispute in 1681. (fn. 69)
The history of Carter Place, a copyhold estate which probably took its name from its earlier tenants, (fn. 70) is of interest because it was the inheritance of Sir Andrew Chadwick, (fn. 71) a man who obtained a great fortune by obscure means and was knighted in 1710, (fn. 72) and about whose succession long-continued disputes were waged. (fn. 73) At his death in 1768 Carter Place went to a cousin Sarah Law, (fn. 74) whose son-in-law sold to James Turner in 1807. (fn. 75)
Inquiry as to common rights was ordered in 1547 (fn. 76) and later. (fn. 77)
A fair is mentioned in the time of Charles I. (fn. 78) There are now seven fairs. The market was formerly held on Wednesday, (fn. 79) but now on Saturday.
Borough
The government of the place in 1825 was thus described: 'The district is formed into six divisions called posts or stations, and the executive consists of a constable and six churchwardens. Each churchwarden is charged with the care of a station and is made responsible for its good order.' (fn. 80) The system appears to have been successful at the time. It was not till 1875 that a local board was formed. (fn. 81) The district ruled by it was extended in 1883 so as to include parts of Haslingden, Henheads, Higher and Lower Booths in the parish of Whalley, and also Musbury and part of Tottington in Bury. (fn. 82) In 1891 a charter of incorporation was granted, the council consisting of a mayor, six aldermen and eighteen councillors, chosen by six wards named Town, Acre, Syke, Helmshore, Holden and Grane. The borough area was consolidated into a single township, called Haslingden, in 1894. (fn. 83)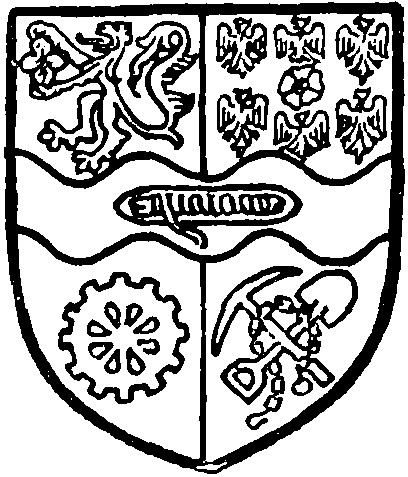 Gas is supplied by a private company formed in 1838 and incorporated in 1861. (fn. 84) The Haslingden and Rawtenstall Waterworks Company was founded about 1853, (fn. 85) and its undertaking was acquired by the Corporation of Bury in 1872 (fn. 86); there are reservoirs by Musbury. The sewerage of the whole district is regulated by the Haslingden, Rawtenstall and Bacup Outfall Sewerage Board, established in 1890 (fn. 87); the sewage is treated at Ewood Bridge. A park was opened in 1900 and a cemetery at Grane in 1903. The Haslingden Institute, (fn. 88) formed in 1861, was transformed into a public free library by a gift from Mr. Carnegie in 1905. The Technical School was opened in 1903.
Haslingden is the head of a poor law union; the workhouse is now at Pike Low in Oakenhead Wood.
To the county lay of 1624 Haslingden proper contributed 19s. 1½d. towards £100 raised by the hundred, the Haslingden part of Rossendale gave £2 16s. 5d., and the Newchurch part of the same £3 1s. 7d. (fn. 89)
Church
Haslingden was one of the chapels existing when Whalley was bestowed on the monks of Stanlaw, and in 1296 it was found that its tithes were worth 5 marks and the altarage 4 marks (fn. 90); the chaplain had a stipend of 4 marks, (fn. 91) and the chapel had an endowment of 1 oxgang of land. The church, which is now called St. James's, was rebuilt in the time of Henry VIII and again in 1780, after having fallen down. (fn. 92) There was no regularly founded chantry, (fn. 93) but in 1548 the names of two priests were recorded in the bishop's visitation list, and the same in 1554; later there was only one minister, the curate. (fn. 94) His fixed income was £4 a year out of the rectory of Whalley. (fn. 95) The Commonwealth Church Survey of 1650 fails to give any account of the income of Haslingden Chapel, but in 1717 it had £17 8s. 7¾d. a year, including £11 10s. out of the rectory, various fees and the Easter roll. There were six chapelwardens. (fn. 96) In 1719 George Hargreaves and others gave £200 to augment the endowment, (fn. 97) and with later increments the net value is now £368. (fn. 98) The vicars of Whalley formerly presented the curates, but about 1848 the Hulme Trustees acquired the patronage. The benefice is styled a vicarage. (fn. 99)
In the 16th century the north chapel was acquired by the Rawstornes of New Hall in Tottington. The south chapel belonged to the Holdens of Holden. (fn. 100) 'In 1857, during alterations, there were found in a cavity under the floor of the church where the altar anciently stood a skull and crossbones with traces of gilding upon them, and therefore believed to be the relics of St. James, the patron saint.' (fn. 101) A large 'plague stone,' with two holes in it, was found in the churchyard. The entries in the registers begin about 1620, but are only fragmentary until 1653. (fn. 102)
The following is a list of incumbents (fn. 103) :—
oc. 1539–71
Thomas Holden (fn. 104)
1597
John Butterworth (fn. 105)
1635
George Jackson (fn. 106)
1640
Robert Dewhurst (fn. 107)
1641
W. Waller (fn. 108)
1650
Robert Gilbody (fn. 109)
1652
James Smith (fn. 110)
1658
John Kippax, M.A. (fn. 111) (Clare Coll., Camb.)
1680
John Duckworth, M.A. (fn. 112) (St. John's Coll., Camb.)
1695
Thomas Fleming, M.A. (fn. 113) —Slater
1704
John Steele (fn. 114)
1706
John Stones, B.A. (fn. 115) (St. John's Coll., Camb.)
Archibald Young (fn. 116)
1716
Issac Place, B.A.
1739
John Holmes, B.A. (fn. 117) (Balliol Coll., Oxf.)
1764
John Wadsworth, B.A. (Trinity Coll., Camb.)
1779
Thomas Baldwin, M.A. (Peterhouse, Camb.)
1783
Wilfrid Troutbeck
1788
Edward Thelwall (fn. 118)
1813
James Quartley, M.A. (fn. 119)
1815
William Gray
1847
Nathaniel Morgan (fn. 120)
1849
Louis Henry Mordacque, M.A. (fn. 121) (Brasenose Coll., Oxf.)
1870
Theodore Percival Wilson, M.A. (fn. 122) (Brasenose Coll., Oxf.)
1874
Weldon Champneys, M.A. (fn. 123) (Brasenose Coll., Oxf.)
1892
Abraham Spencer, M.A. (fn. 124) (Brasenose Coll., Oxf.)
1906
Lewis Robbs, M.A. (fn. 125) (Brasenose Coll., Oxf.)
At an inquiry in 1561 it was reported that Carter Place had been held in trust to provide 'a chantry priest to do service at our Lady's altar at the church of Haslingden for ever.' (fn. 126)
At the south end of the township St. Thomas's, Helmshore, was built in 1851–2 (fn. 127); the Crown and the Bishop of Manchester present alternately. St. Stephen's, Grane, was built in 1867 and consecrated in 1883 (fn. 128); the Bishop of Manchester collates. The vicar of Haslingden presents to St. John the Evangelist's, Stone Fold, built in 1885–6, on the northern border, (fn. 129) and to St. Peter's, Laneside, 1893. (fn. 130) There is a mission room in connexion with St. James's.
The Free Church of England has a place of worship.
Methodism took root in the latter half of the 18th century. The burial of Methodists is recorded in the registers in 1751 and 1761. The original Wesleyan chapel was rebuilt in King Street in 1797, another was opened at Grane in 1815, and a third, now the largest, in Manchester Road in 1856. A Primitive Methodist chapel was opened in Grane Road in 1831; another was built in 1893 at Irwell Vale, to the north. The United Free Methodists also have a church, and the Inghamites once had a meeting-place. (fn. 131)
Nonconformity began with the Restoration. Quakers were presented at the Bishop of Chester's visitation in 1665, and other non-attenders in 1670. In 1689 Abraham Haworth's house was licensed as a Presbyterian meeting-place, (fn. 132) and Gastrell in 1717 records one for Independents, perhaps its outcome. (fn. 133) The cause may have failed, but by 1775 a meeting was held in a house in High Street; this was in 1787 replaced by a chapel in Deardengate, which in turn was succeeded by the Congregational church in Grane Road in 1856. (fn. 134)
The Baptists have three chapels. Trinity Church, in Blackburn Road, built in 1872, represents a cause originating in 1811, (fn. 135) and formerly (1816) having a chapel in Pleasant Street; another church, called Ebenezer, was built in 1845 and rebuilt in 1900. There is also a Particular Baptist chapel called Adullam.
The Swedenborgians have had a New Jerusalem church for about sixty years.
The Roman Catholic Mission was begun in 1854, mass being said for some time in a poor garret, until in 1859 the Church of the Immaculate Conception was opened.
A small sum for a schoolmaster was given in 1749. (fn. 136)
Charities
Inquiries into the charities were made in 1826 and 1899. The report of the latter, issued in 1900, includes a reprint of the earlier one, and affords the following details. The funds for education and church purposes produce £59 a year, and those for the poor £32 2s., distributed in kind. Benjamin Holden, rector of Staveley in Yorkshire, in 1716 bequeathed £50 and a contingent £50 for the poor, to be laid out at Christmas and Midsummer by the minister and churchwardens of Haslingden. Other benefactors increased the endowments, and in 1749 a total sum of £170 (fn. 137) was spent on buildings which were later used as workhouse and dwellings for the poor. For these the overseer in 1826 was to pay £7 4s. a year. The workhouse premises are let for £36, of which one-third is given to the poor in respect of the charities of Holden and others; doles of calico or flannel are distributed at Christmas time. (fn. 138) Rachael Clegg, widow, in 1879 left stock now producing £20 2s. yearly; the income was to be given quarterly in groceries and clothing to poor people over sixty years of age, (fn. 139) 'being Church people.' The vicars of Haslingden, Haslingden Grane, Stonefold and Laneside choose the recipients, who number thirty-eight, and receive 2s. 6d. each quarterly in goods.