Pages 437-441
A History of the County of Lancaster: Volume 6. Originally published by Victoria County History, London, 1911.
This free content was digitised by double rekeying. All rights reserved.
NEWCHURCH-IN-ROSSENDALE
Bacop, Dedequenclogh, Wolfhamdene, Tunstede, 1324.
Newchurch occupies a considerable part of the old forest of Rossendale, and still remains for the most part desolate hill country, in which heights of 1,340 ft. above sea level are attained; but a populous manufacturing district has sprung up all along the narrow valley of the Irwell, which bounds the township on the south, as well as along the cloughs extending north from this valley in the centre and east end of the township. The old divisions are Deadwenclough on the west, in which is Newchurch proper, Tunstead and Wolfenden Booth in the south, Wolfenden in the north and Bacup in the east. There are two small detached portions in the town of Rawtenstall to the west. The total area is 5,857½ acres, (fn. 1) and in 1901 the population numbered 26,845, about equally divided between the Bacup and Rawtenstall parts, viz. 13,443 in the former and 13,402 in the latter. (fn. 2)
The principal road is that from Bury, which leads east and north-east up the Irwell valley on the north bank of the river. It enters the township at Rawtenstall, and passes through Clough Fold, Waterfoot, Stacksteads, Bacup and Sharneyford into Todmorden. From Waterfoot, at the south end of the central clough above named, another main road leads north through Newchurch, Sagar Holme, Lumb, Water and Windy Bank to Burnley, Dean lying to the east of it; while from Bacup similarly a road leads north by Broad Clough and Weir towards Burnley. From Newchurch other roads go west to Rawtenstall and east to Stacksteads. The Lancashire and Yorkshire Railway Company's line from Bury to Bacup, opened to Newchurch in 1848 and to Bacup in 1852, also leads up the Irwell valley, sometimes on one side of the river and sometimes on the other; the stations are named Clough Fold, Waterfoot, Stacksteads and Bacup, the terminus. From Bacup there is also a line south to Rochdale, opened in 1881.
The town of Bacup, though mainly in Newchurch, extends across the Irwell into Rochdale, in which are the places called Greave, Tong, Thorn and Rockcliffe. The main street, Market Street, runs north and south on the west side of the river; the railway station stands at its south end, where the street turns to the west and is called Newchurch Road. At the north end the street is continued to Lane Head; but there is a western branch, now the Burnley Road, by Waterside and Holmes to Broad Clough, and an eastern branch, the Todmorden Road. The first resident magistrate, James Whittaker, qualified in 1824. (fn. 3) The Mechanics' Institution, opened in 1846 (fn. 4) has a library and reading room. There are Liberal and Conservative clubs and a theatre. A Co-operative Society was formed as early as 1847. At Stacksteads there are three clubs.
The woollen manufacture was formerly the chief industry, and there was some silk weaving, but since about 1770 the cotton manufacture has become the principal business. (fn. 5) There are minor trades—size works, slipper works, dye works, foundries, reed and heald manufactories, roperies, saw-mills and cornmills. Stone is extensively quarried, and at Deerplay, (fn. 6) on the northern border, and other places there are collieries. The soil is clayey, overlying rock, and the agricultural land is almost entirely in pasture; the returns show at Bacup 1½ acres of arable land, 3,929 in permanent grass and 6 of woods and plantations, and at Waterfoot no arable, 3,054 acres of pasture and 13 of wood (fn. 7); but part of the Waterfoot district is in other townships.
Fairs are held at Bacup in the week before Easter, Whit-Week and October, and at Newchurch on 29 April and at Midsummer.
There is a company of the 5th Battalion of the East Lancashire Regiment representing the Territorial force.
There are two newspapers, the Rossendale Express, published on Wednesday, and the Bacup Times on Saturday. (fn. 8)
Remains of ancient earthworks called the Dykes are visible at Broadclough. (fn. 9)
The old dungeon was at Bacup, (fn. 10) the pinfold at Clough Fold (fn. 11) and the soke mill at Wolfenden Booth. (fn. 12)
The district has produced several noteworthy men. Caleb Ashworth, D.D., was born at Clough Fold in 1722 and became a Baptist divine; he published works on Hebrew Grammar, Plane Trigonometry, &c., and died in 1775. (fn. 13) Another distinguished Baptist minister was James Hargreaves, born at Dean Head in 1768; he was secretary of the Peace Society, and wrote a life of the Rev. John Hirst; he died in 1845. (fn. 14) Lawrence Heyworth, merchant and reformer, was born at Greensnook in 1786. (fn. 15) William Hoyle, cotton spinner and temperance reformer, was born in Rossendale in 1831; he died in 1886. (fn. 16) Mary Harrison, a centenarian, who died in 1818, may also be mentioned. (fn. 17)
Forest
Newchurch, like the rest of Rossendale, was part of the forest of the lord of Clitheroe, and was never constituted a manor. Its name did not exist till after the demise of the land to copyholders in 1507, but vaccaries were established far earlier. (fn. 18) The stocks at Bacup, Deadwenclough, Wolfenden and Tunstead are recorded for 1323, (fn. 19) when each vaccary was let at farm for 26s. 8d. beyond the sustenance of the king's stock. (fn. 20) The survey of 1507 gives the following particulars: Deadwenclough, farmed lately at £6, now at £10 13s. 4d., to Jordan Bridge, James and Thomas Crawshaw and William Holt; Tunstead, lately at £3 16s. 8d., now at £5 6s. 8d., to John Pilling, Henry Dearden, Gilbert Kershaw and the wife of John Tattersall; Wolfenden, a large waste ground with a fair lodge, never set to farm, but reserved for the deer and for common for the king's tenants, now let to the tenants for £13 6s. 8d.; Wolfenden Booth, lately £6 (with Cowpe), now £4 1s. 7d., to John Heap, William and Nicholas Ashworth and Edmund Shaw, Cowpe being let separately for £5 13s. 4d.; Harley Head or Bacup Booth, lately £8 13s. 4d., now at £11, to Lawrence and Alexander Lord, John Whitacre and Christopher Tattersall. (fn. 21)
Later rentals show the principal tenants to have been (fn. 22) :—
Deadwenclough—1609, John Nuttall of Newhall Hey, William Heaton of Clough, Francis Bridge, John Nuttall of Clough (church land) and Alexander Haworth; 1662, Christopher Nuttall (church land), James Crawshaw and Adam Bridge.
Tunstead—1609, John Kershaw, John Tattersall, Anthony Nuttall and John Pilling; 1662, representatives of John Kershaw, John Pilling and Robert Ashworth (Nuttall).
Wolfenden—1609, Edward Rawstorne of Newhall, John Hargreaves and John Holt; 1662, representatives of Edward Rawstorne, George Hargreaves, John Holt and Peter Ormerod.
Wolfenden Booth—1609, Edmund Rawstorne of Lum and James Walton; 1662—Edward Rawstorne of Lum and representatives of James Walton.
Harley Head and Bacup—1609, James Lord alias Bolton, John Nuttall of Clough, James Whitaker, Lawrence Lord, John Tattersall alias True, Edmund Tattersall the elder; 1662—John Whitaker and James his brother, Christopher Nuttall, George Holt, James Lord and John Tattersall, Richard Heap and many others.
John Tattersall and John Pilling of Tunstead, John Lord of Bacup and James Whitaker of Broadclough were free tenants in 1621. (fn. 23)
John Kershaw of Wolfenden Booth, who died in 1701, was a benefactor of the township. (fn. 24)
Boroughs
The site of the chapel was probably the most central for the population at the time of its foundation, but the later rise of manufactures caused the Irwell valley to become the most populous part of the district, and here the borough of BACUP has been formed. A local board district was defined in 1861 (fn. 25); two years later the area was divided into wards and the local board was constituted. (fn. 26) The district was extended in 1876, (fn. 27) and in August 1882 the borough was incorporated, being governed by a mayor, six aldermen and eighteen councillors; there are six wards. (fn. 28) In 1894 the composite area was formed into a single township. (fn. 29) A police force was organized in 1887. Gas is supplied by a private company, (fn. 30) but the water supply is owned by the corporation (fn. 31); the Haslingden, Rawtenstall and Bacup Outfall Sewerage Board regulates the disposal of the sewage. The cemetery, opened in 1862, (fn. 32) is regulated by a burial board consisting of members of the council. There are recreation grounds and public baths and fire engine station. The town hall, built in 1857, is now the police office and courthouse, and the Mechanics' Institute has been converted into municipal offices. (fn. 33) A coat of arms was granted in 1883. A market is held on Wednesday and on Saturday; a market-house was opened in 1867. (fn. 34) A school board was formed in 1883. (fn. 35)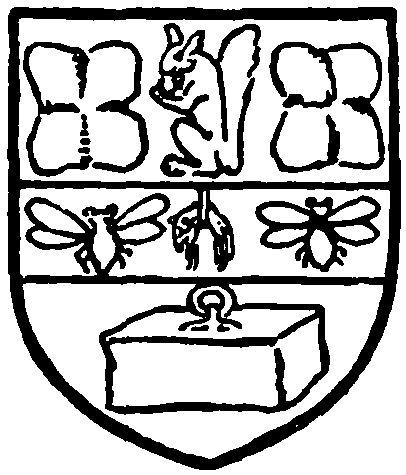 The remaining part of the old township of Newchurch has been included in the borough of Rawtenstall, (fn. 36) so that as a township it no longer exists. Some minor changes had taken place in boundaries under the Divided Parishes Act of 1882, detached parts of Newchurch and Lower Booths being absorbed within the areas in which they actually lay.
The Rossendale parliamentary division of the county, including Accrington, Haslingden, Rawtenstall and Bacup, has the last-named town as the place of election.
Church
The chapel of ALL SAINTS (fn. 37) in Rossendale was the first to be built in the district after its being disforested. It was erected by the inhabitants in or before 1511 on the slope of a hill called Seatnaze, (fn. 38) and gave the name of Newchurch to the place. (fn. 39) Of this chapel, as of some others, is told a story of the nightly removal of the materials from the position first chosen to that on which it was built. (fn. 40) Lettice Jackson, widow, in October 1511 surrendered land in the neighbourhood for the use of an honest priest to celebrate divine service in the chapel, (fn. 41) but this was not to come into effect till after the death of herself and her second husband Richard Whitworth. (fn. 42) The chapel was actually in use in 1515, (fn. 43) but is not mentioned in the chantry records. It was probably in danger from the spoliation of the time, for in 1550 the inhabitants sent a petition to the Crown setting forth the reasons for building and maintaining it, and desiring also that it might be made parochial and used for 'divine service and every thing and things which now be or hereafter shall be set forth by the king's highness . . . for the service of God and his highness,' and for 'christendom, matrimony, burial, and all other sacraments and ordinances of holiness,' or other uses, as ordered by the Crown. (fn. 44) The petition is supposed to have been granted, and the chapel received the new name of 'Our Saviour's.' (fn. 45) It is said to have been rebuilt in 1561, (fn. 46) and after enlargement in 1753 was rebuilt in 1825. (fn. 47)
There was no endowment. An attempt in 1607 to recover the lands of Lettice Jackson resulted in an order to surrender them to John Nuttall, who was to pay 20 marks a year to the then minister for life; afterwards £20 was to be given. (fn. 48) In 1650 it was said that the minister had nothing but what the inhabitants bestowed on him of their own accord. (fn. 49) A further attempt to gain possession of the lands was compromised in 1665, though the minister's title was established; but in 1717–26 judgements were obtained for the whole profits and arrears, (fn. 50) and thus the chapel became the best endowed in the district. (fn. 51) The net value is now stated to be £650 a year. (fn. 52) There were eight wardens in 1717. (fn. 53) The vicar of Whalley has retained the right of nominating the incumbents, (fn. 54) who are now styled rectors. (fn. 55) The following is a list:—
oc. 1515
James Roberts (fn. 56)
Edward Tattersall (fn. 57)
oc. 1521
Stephen Smith (fn. 58)
oc. 1532
George Gregory (fn. 59)
1548
Lawrence Ashworth (fn. 60)
oc. 1563
Richard Hitchen (fn. 61)
1592
James Kershaw (fn. 62)
1622
William Horrox
oc. 1646
Robert Dewhurst (fn. 63)
oc. 1660
Jonas Brown (fn. 64)
1662
Thomas Saunders, B.A. (fn. 65)
1695
Thomas Leigh, B.A. (fn. 66)
1726
John Welsh
1763
John Shorrock, M.A. (fn. 67) (Brasenose Coll.,Oxf.)
1803
Nicholas Rigbye Baldwin, M.A. (fn. 68) (Peter-house, Camb.)
1825
Philip Abbott (fn. 69)
1833
Edward Burrow, B.A.
1850
John Bartholomew Phillips, M.A. (All Souls', Oxf.)
1891
Herbert Bury, M.A. (fn. 70) (Lincoln Coll., Oxf.)
1896
John William Bennett, M.A. (Emmanuel Coll., Camb.)
1905
James Salmon Addison, M.A. (fn. 71) (Dur.)
More recent churches are St. Michael's, Lumb, 1848, (fn. 72) of which the patronage is vested in the Crown and the Bishop of Manchester alternately (fn. 73); St. James's, Waterfoot, 1865, three trustees (fn. 74); St. Anne's, Edgeside, 1885, five trustees; and St. John's, Cloughfold, 1890, Bishop of Manchester.
Methodism appeared in Rossendale as early as 1744, when William Darney, at the invitation of John Maden of Todmorden, visited it and preached at Heap Barn, near Bacup, and Miller's Barn, Waterfoot. Wesley preached in Rossendale in 1747. At Waterfoot a society was formed, but the first chapel was in Bacup. By 1766 a meeting-place had been secured at Newchurch, for Wesley preached there in that year. (fn. 75) The Wesleyan Methodists now have churches at Newchurch (1804), Whitewall Bottom, Cloughfold and Lumb (1861); the Primitive Methodists at Newchurch, Waterfoot (1873) and Cloughfold; and the United Free Methodists at Newchurch (1836), Lumb, Water and Hollin.
The Baptists are very largely represented in this district and of old standing. Their church at Cloughfold is traditionally said to have been formed in 1675. (fn. 76) One of its first pastors was William Mitchel (d. 1705), whose career as a preacher began in 1685, about which time he was arrested at Goodshaw Chapel. The congregation had become distinctively Baptist by 1700. A house was purchased for conversion into a chapel in 1705, and on its site the present Sion Chapel was built in 1838–9. To this congregation have been traced directly or indirectly the numerous Baptist congregations in the adjoining parts of Lancashire and Yorkshire. (fn. 77) Within this part of the township of Newchurch there are now five other Baptist churches—at Edgeside (1853), Lumb (1828), (fn. 78) Water (1881), Waterbarn (1847) and Waterfoot (1850–69).
The Society of Friends had the first Nonconformist meeting-place, their 'conventicle,' with its burialground (at Chapel Hill), being reported to the Bishop of Chester in 1670–1. (fn. 79) They still own the ground, but no meetings are held.
The Unitarians have a church called Bethlehem, first opened in 1808, and rebuilt about 1865, at Newchurch.
In the Bacup division of the township there are many other places of worship. For the Church of England St. John the Evangelist's was built in 1788 and rebuilt in 1882–3 (fn. 80); a district was assigned to it in 1843. (fn. 81) The Hulme Trustees are patrons. Before its erection the chapel built by the Baptists and others had been used for service, the incumbent of Goodshaw officiating every other Sunday. Holy Trinity, Tunstead, was opened in 1840, (fn. 82) and has a mission church called St. Luke's; the patronage is vested in five trustees. Christ Church, Todmorden Road, dates from 1854; trustees are patrons.
The first chapel of the Methodists was opened before 1761, when Wesley preached there to an overflowing congregation; he again visited it in 1766 and 1779. The Wesleyans now have six churches in Bacup and the outskirts, the Primitive Methodists three and the United Free Church two.
The Baptists had a share in the erection of a meeting-house in Bacup in 1692, (fn. 83) of which the celebrated Daniel Crossley was minister (fn. 84); but in 1744 they asked for subscriptions for a new one, because the former had been 'built jointly by Dissenters and those of the Established Church,' and the Church party had begun to claim the whole and wanted to have it consecrated. (fn. 85) There are now six Baptist churches in the place. (fn. 86)
The Congregationalists have a chapel, opened in 1851, (fn. 87) and the Salvation Army a barracks.
For Roman Catholics a mission was begun in 1852, and the present church of St. Mary, Bankside, was opened in 1857. St. Joseph's, Stacksteads, dates from 1892. St. Peter's, Newchurch, was also opened about 1892 as a chapel of ease to Stacksteads.
A school was founded at Wolfenden Booth by a gift from John Kershaw, who died in 1709. (fn. 88)
Charities
Apart from ecclesiastical and educational purposes there are endowments for the poor amounting to about £55 a year, and a further sum for pensions to the blind. Official inquiries were made in 1826 and 1899, and from the report issued in 1901 the following details are taken.
John Ormerod in 1757 built a workhouse for the poor, and £300 spent thereon was to be a trust fund for the poor attending divine service in Newchurch. The guardians paid £13 10s. as interest down to the passing of the Poor Law, after which they paid a rent down to 1870. The property was then sold for £145. This produces £4 5s. a year, which is distributed by the rector in sums of 2s. 6d. to 5s.
Frances Strong, widow, in 1856 left £1,000 for the poor of the hamlet of Deadwenclough. The gross income is £24 15s., and is distributed yearly on her birthday, 13 October, in doles of material for clothing, &c., valued at 4s. to 5s. Alice Martha Crabtree, widow, in 1875 left £450 net, producing £18 a year for a distribution to the poor by the churchwardens of Newchurch; it is given on Christmas Eve in doles of money, blankets, &c. She left a similar sum for the poor of St. James's district, Waterfoot; it was invested in consols, and produces £12 6s. 4d. a year, distributed in money doles.
Bathsheba Davenport, spinster, in 1887 left shares and chief rents, which now afford an income of £42 15s., charged for the present with a life annuity, to provide gifts of 5s. a week to blind people connected with chapels or churches in Cloughfold, Mill End, Newchurch and Waterfoot, and the Congregational chapel at Bacup.
Miles Ashworth in 1889 left £8,000 for public purposes at Bacup, available after his widow's death.