Pages 544-548
A History of the County of Lancaster: Volume 6. Originally published by Victoria County History, London, 1911.
This free content was digitised by double rekeying. All rights reserved.
FOULRIDGE
Florigg, Folerigg, 1275; Folering, 1302; Folerigge, 1311; Folrigg, 1322.
Bernesete, 1258.
Munkerode, 1296; Monkerode, 1332.
This township lies on the border of Yorkshire to the north of Colne. It consists of hilly country, the village of Foulridge being in a central depression, to the east of which Noyna Hill rises to a height of about 980 ft. above sea level, while to the west 786 ft. is attained at Pasture Head on the border of the county. To the east of the main part of the township there is a detached portion, apparently cut out from Colne, called Monkroyd and Barnside, which has an area of 855½ acres. The area of the whole township is 2,455 acres. (fn. 1) The soil is sand and loam, overlying grit. The land is mostly used for pasture, there being 2,323 acres of permanent grass, while only 1 acre is arable and 19 acres woods and plantations. (fn. 2) There is a stone quarry, and cotton-mills are worked in both parts of the township. The population in 1901 was 1,373.
The principal road leads north from Colne through Foulridge village by Acornley to Skipton in Yorkshire; the older road to Skipton turns off to the east at Foulridge. A minor road goes west and north to Hey. The road to Keighley from Colne passes through the Monkroyd portion of the township. The Midland Company's railway from Colne to Skipton traverses the main portion, and there is a station at Foulridge. The Leeds and Liverpool Canal also traverses it, being taken for more than a mile of the course through a tunnel constructed in 1792–6; there are several large reservoirs for feeding the canal, which has its highest point in this township. (fn. 3) Burwains and Ambwell are noteworthy housenames.
There is an ancient cross. (fn. 4)
The township is administered by a parish council.
Manor
FOULRIDGE, a member of the Lacys' Clitheroe lordship, was in 1242 held of the heir of the Earl of Lincoln by John de Crigleston by the service of the eighth part of a knight's fee; it belonged to the dower of the countess. (fn. 5) John de Pothou and Rosamund his wife held Foulridge in 1275, apparently in the wife's right, (fn. 6) and William son of John de Pothou asserted a claim to it through his mother. (fn. 7) In 1302 it was held by the same tenure by William de Pothou, (fn. 8) but in 1311 the said William was recorded to hold two plough-lands in Foulridge of Henry de Lacy by the fourth part of a knight's fee and suit at the court of Clitheroe. (fn. 9) In the same year Brian de Thornhill purchased the manor of Foulridge from William son of John de Pothou. (fn. 10) John de Thornhill died in 1322 holding of the king as of his lordship of Clitheroe a capital messuage in Foulridge, with 8 oxgangs of land demised to tenants at will, a water-mill, and various lands and rights, including 20s. rent from four free tenants; he held by homage and fealty and the service of the eighth part of a knight's fee. (fn. 11) His son and heir Brian, then twenty-three years of age, is mentioned soon afterwards as holding one plough-land in Foulridge for the eighth part of a knight's fee. (fn. 12) He was living and holding the same in 1355 (fn. 13) and 1361. (fn. 14)
By the marriage of his granddaughter Elizabeth to Henry Savile early in the 15th century (fn. 15) Foulridge passed to the Saviles already noticed in the account of Rochdale, and in 1445–6 their son Sir Thomas Savile held the eighth part of a knight's fee there. (fn. 16) Sir John Savile held the same about 1484. (fn. 17) A later Sir John died in 1505 holding the manor and other lands of the king as of his duchy of Lancaster by the eighth part of a knight's fee and rent; his heir was his son Henry, twenty-two years of age. (fn. 18) Foulridge was in 1551 included in the settlement on Robert Savile in the same way as Rochdale. (fn. 19) Robert appears to have sold many parcels of land in Foulridge, (fn. 20) and in 1573 he and his wife Anne were deforciants to a fine of the manor, with its messuages, lands, water-mill, rents and view of frankpledge. (fn. 21) This appears to have preceded a sale by which the manor was divided among the freeholders, as in later inquisitions a number of fractions are recorded, but the manor as a whole disappears. (fn. 22)
Some grants to Roger and John de Lacy are known. (fn. 23)
In 1329 John son of Peter del Scholefield granted to Philip the Parker of Foulridge his messuage and lands in the township. (fn. 24) Elizabeth Savile, lady of Thornhill, in 1412, in her widowhood, granted all her manor of Foulridge to Lawrence son of John Parker for his life at a rent of £10 13s. 4d. (fn. 25) Lawrence Parker in 1441 gave his lands, &c., in Foulridge, Colne, Pendle and Trawden to trustees, among these being his son Christopher. (fn. 26) Thomas Parker of Foulridge is named in 1495. (fn. 27) John Parker died in 1519 holding eight messuages, &c., in Foulridge of the heirs of John de Crigleston in socage; his heirs were two daughters, Margaret wife of James Catterall and Joan wife of John Rushworth, aged thirty and twenty-six respectively. (fn. 28) Henry Parker died in 1617 holding of the king as duke by knight's service messuages and lands in Foulridge, 2s. 1d. free rent belonging to the manor and issuing from the tenements of John Acornley, and a twelfth part of the mill and its profits, the marriages, reliefs, &c., and the waste. His heir was his grandson Alexander (son of Henry) Parker, aged sixteen years. (fn. 29)
The name of Acornley can be traced back to the time of Henry III, for in 1259 the royal escheator was ordered to inquire into a feoffment of 16 acres in Foulridge to Geoffrey the Harper, made by a certain Adam de Acornley, who was afterwards hanged for felony. (fn. 30) The Harper estate appears later. (fn. 31) James Acornley (here spelt Acranley) died in 1621 holding two messuages commonly called 'Acranley' and various lands of the heirs of Richard Thornhill in socage by a rent of 6s. His son and heir Thomas was twenty-eight years old. (fn. 32)
There are but few other names to record in this part of the township. (fn. 33) There were Townleys of Foulridge Hall in 1639–58, kinsmen of those of Royle and Greenfield in Colne. (fn. 34) The hall is now the property of Colonel Parker of Browsholme, who has a large estate in the township.
BARNSIDE or Barnsett was in 1258 granted by Edmund de Lacy to the monks of Pontefract. (fn. 35) On the suppression of monasteries this manor was in 1544 sold by the Crown to John Braddyll of Whalley, (fn. 36) and he in 1545 sold the same to Lawrence Townley and Henry his son. (fn. 37) Henry Townley died in 1616 holding the manor of Barnside of the king in chief by the 200th part of a knight's fee. (fn. 38) His son Lawrence, then forty years of age, died in 1623 holding similarly and leaving a son and heir Richard, aged twentysix. (fn. 39) Richard Townley died in 1630 holding the manor or capital messuage of Barnside by the same tenure as before, with messuages and lands in Barnside, Monkroyd, Foulridge, Colne and Trawden Forest; also parts of the manors of Goosnargh and Wrightington and messuages in Little Marsden. (fn. 40) His heirs were three sisters, but he had devised his estates (fn. 41) to a cousin, Richard Townley, (fn. 42) whose grandson Richard left a daughter and heir Margaret. (fn. 43) She in 1754 married John Clayton of Little Harwood, and Barnside descended to their son Colonel Thomas Clayton. (fn. 44) After his death in 1835 it was sold to Robert Halstead Hargreaves of Ardwick, and descended to his son. (fn. 45) The old house was abandoned as the residence of the family in the 18th century, (fn. 46) Carr Hall in Barrowford being preferred. It has since been demolished.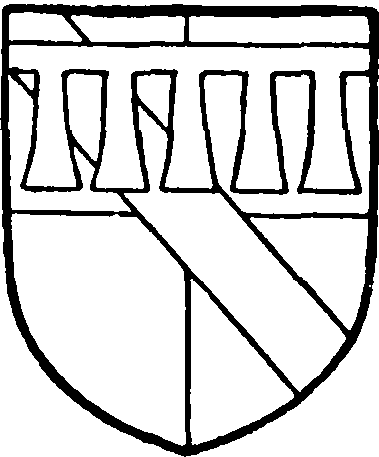 Roger de Lacy before 1211 granted to Alexander de Bamford 14 acres of land in Foulridge (called Sourby) and in Chorlesykehurst at a rent of 3s., (fn. 47) but the later descent does not appear.
In 1323–4 Adam Proctor of Colne gave the messuage called Monkroyd in Barnside to Richard his son and Joan his wife; the boundaries given mention 'Souribough' as the boundary between Monkroyd and Barnside. A service of 8s. a year was due to St. John's Priory, Pontefract, and some other service to Richard de Barnside. (fn. 48) In 1509 Richard Banastre obtained a messuage and land in Barnside from Percival Proctor and Grace his wife. (fn. 49) Hamerton seems to have followed. (fn. 50) In the 17th century Monkroyd was part of the Barnside estate.
A document of about the middle of the 17th century gives the following as the freeholders in Foulridge whose estates were worth at least £4 a year: Mr. Richard Townley, esq., £100; Mr. Ambrose Barcroft, gent., £40; and the following yeomen: Thomas Barcroft, £20; John Fairebank, John Hargreaves and John Holgate, £10 each; Henry Accrondley, Henry Boulton, Richard Hargreaves, James, Robert and Roger Hartley, Henry Pollard and John Spencer, £5 each. (fn. 51)
James Catterall was the only landowner contributing to the subsidy of 1524, (fn. 52) and Lawrence Townley in 1564 (fn. 53); in 1597 Henry Townley and Thomas Barcroft contributed, (fn. 54) and Richard Townley and Ambrose Barcroft in 1626. (fn. 55)
In Foulridge in 1666 there were in all 139 hearths liable to the tax. The largest house was that of James Smith, with ten hearths; Mrs. Townley's had seven, Thomas Barcroft's six and Robert Hartley's five. (fn. 56)
For members of the Church of England service was conducted in the schoolroom for some years, but in 1905 the church of St. Michael and All Angels was opened. The Bishop of Manchester collates.
The Wesleyan Methodists have had a chapel since 1824.
A building known as Foulridge Dandy Shop is supposed to have been built in 1666 as a Quaker meeting-house, with burial-ground attached. (fn. 57) The name indicates that the building was used in the early part of the 18th century as a textile manufactory.