Pages 91-96
A History of the County of Lancaster: Volume 6. Originally published by Victoria County History, London, 1911.
This free content was digitised by double rekeying. All rights reserved.
CROSTON
Croston, 1212, and generally; Croxton, 1237; Croxston, 1259.
The central township has an area of 2,361 acres, (fn. 1) and the population numbered 2,102 in 1901. The old course of the Douglas forms the western boundary, the straighter artificial course being within the township. The River Yarrow flows west to join the Douglas, and receives the Lostock brook coming from the north-east. The greater part of the surface is moss-land, below the 25 ft. level (fn. 2); the more habitable land, with the village and church, is chiefly in the north-east.
The principal road is that from Wrightington and Mawdesley going north-west through the village towards Bretherton and Hoole; a road to Rufford branches off to the west with bridges over the old and new courses of the Douglas, and another road goes east to Chorley. The Lancashire and Yorkshire Company's railway from Liverpool to Preston, formed in 1848–9, crosses the township and has a station called Croston at the north-west end of the village.
There are four bridges over the Yarrow, one of which, west of the church, is called Castle Bridge. Dob Cross lies on the northern boundary and Highfield in the north-east. Part of the market cross remains. (fn. 3)
The wake was held on the Sunday next to St. Michael's Day; it now begins on the Monday following this feast. Cattle fairs are held on the Monday before Ash-Wednesday and on the Monday after 12 October.
The curfew bell is rung from March to September.
Croston is governed by an urban district council of nine members. There is a police station, with court room.
In 1666 there were 113 hearths recorded for the tax. The principal house was that of John Trafford, with thirteen hearths; the rector's house had five. (fn. 4)
The commons were inclosed by an Act passed in 1724. (fn. 5)
The soil is mostly clay and peat. Wheat, oats and potatoes are grown, also quantities of fruit. There is a cotton factory, and bricks and tiles are made.
Manors
Ten plough-lands and 6 oxgangs of land in CROSTON were by Roger de Montbegon, lord of Hornby, given to John Malherbe his half-brother to be held by knights' service. (fn. 6) This knight's fee included not only the township of Croston, but Mawdesley, which went with it, Bispham, Chorley and Tarleton. John Malherbe dying without issue, Croston reverted to Sir Roger de Montbegon, who enfeoffed John de la Mare of this knight's fee. (fn. 7) William de la Mare followed. (fn. 8) By about 1300 the manor had descended to the two daughters and co-heirs of John de la Mare, whose relationship to William de la Mare is uncertain. (fn. 9) Their moieties for nearly six centuries descended in distinct lines, but have now been reunited.
Sir John le Fleming, of Wath in Yorkshire, who married Isabel, one of the sisters, made a settlement of the manor of Croston in 1318, the remainder, however, being to 'the right heirs of John.' (fn. 10) This moiety descended regularly (fn. 11) to William Fleming of Wath, who died about 1470, leaving two daughters as co-heirs, both named Elizabeth. (fn. 12) One Elizabeth married Richard Dalton, lord of the neighbouring manor of Bispham, and her fourth part of the manor of Croston descended like Bispham until 1558, when it was sold to Sir Thomas Hesketh of Rufford, who held the other fourth by inheritance. (fn. 13) The other Elizabeth had married his ancestor Thomas Hesketh, but though the marriage was annulled, and she united herself to one Thurstan Hall, Hesketh appears to have acquired the Lancashire part of her inheritance, including this fourth share of the manor. (fn. 14) From 1558 the reunited moiety descended in the same way as Rufford (fn. 15) until about 1800, when it was sold by Sir T. D. Hesketh to the Rev. Streynsham Master, rector of Croston, who in 1825 sold it to Thomas Norris of Howick Hall. (fn. 16) In 1874 the Norris trustees sold it to John Randolphus de Trafford, lord of the other moiety. (fn. 17)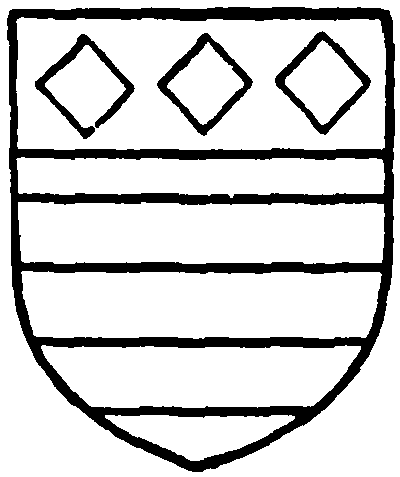 Isabel's sister Maud married William de Lea, and their grandson William (fn. 18) and Isolda his wife in 1372 made a settlement of their moiety of the manor of Croston and other lands. (fn. 19) Their daughter and heir Alice married Thomas Ashton, whose son Sir William Ashton was in possession in the first half of the 15th century. (fn. 20) The Ashtons and their successors the Traffords were for three centuries the chief resident family. Sir William Ashton son of Thomas in 1434–8 obtained a divorce from his wife Alice, daughter of John Lacy, (fn. 21) and was still living in 1466. (fn. 22) His son Thomas succeeded. (fn. 23) The same or possibly another Thomas Ashton (fn. 24) dying in 1496 left a son Thomas, a minor, as heir. The moiety of the manor of Croston and Mawdesley was held of Sir Edward Stanley (lord of Hornby), afterwards Lord Mounteagle. (fn. 25) The heir's wardship was granted by the king to William Smith, who afterwards transferred it to Hugh Ashton, a kinsman, and a man of some distinction. (fn. 26) Hugh afterwards sold the wardship to Ralph Standish. (fn. 27) The manor of Croston and other lands were in 1518 granted by the feoffees to Thomas son and heir of Thomas Ashton. (fn. 28)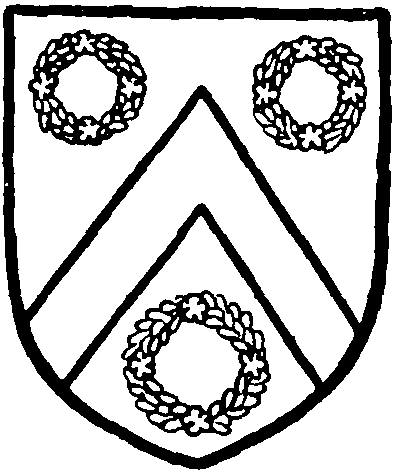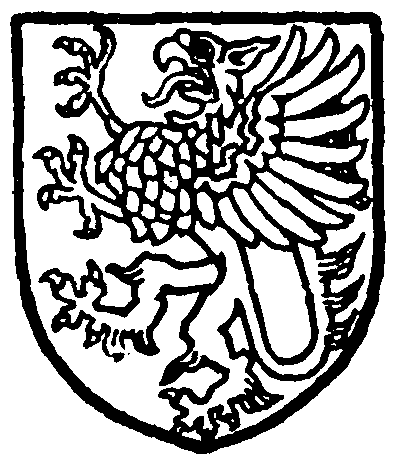 The younger Thomas enjoyed possession for a short time only, dying about 1528 and leaving a young son Richard as heir. The moiety of the manor of Croston and Mawdesley was held of Lord Mounteagle by the rent of half a pound of pepper. (fn. 29) Richard Ashton died in December 1582 holding the manor by the same service; the heir was his son Thomas, thirty-five years of age. (fn. 30) Thomas, who secured a grant of arms in 1588, (fn. 31) died in 1622, about six months after his eldest son Richard, and he was succeeded by Richard's son Thomas, seventeen years of age. (fn. 32) Again there was but a brief tenure, Thomas Ashton being succeeded in 1632 by his younger brother Richard. (fn. 33) The family seem for a time to have avoided conviction for recusancy, (fn. 34) but Thomas and Richard Ashton were avowed Roman Catholics, and Richard's estates were of course sequestered under the Commonwealth, he being charged with both recusancy and delinquency in spite of his assertion that he had 'lived peaceably at home during these troubles.' (fn. 35) John Ashton son of Thomas was also a 'delinquent,' and in 1650 his wife Bridget petitioned for a fifth part of the annuity due to him from Croston. (fn. 36)
Richard Ashton recorded a pedigree in 1664. (fn. 37) His heir was his daughter Anne, then wife of John, a younger son of Sir Cecil Trafford of Trafford. Their son John Trafford married Katherine daughter and heir of Thomas Culcheth, thus increasing the family inheritance. (fn. 38) In 1717 as a 'Papist' he registered his estates—moieties of the manors of Croston, Mawdesley, Pilling, &c.—entailed, with remainders to his sons Thomas and Humphrey, and subject to an annuity of £10 to his brother Richard. (fn. 39) Humphrey, the younger son named, eventually succeeded to the manor, and on his death in 1773 was followed by his son John, (fn. 40) who six years later succeeded also to the principal family manors of Trafford and Stretford, near Manchester. John's son, Sir Thomas Joseph de Trafford, who died in 1852, made a partition of the estates, by which Croston Manor became the property of his younger son John Randolphus de Trafford. As above stated, he purchased the other moiety of the manor in 1874, and thus became sole lord. He died in 1879, and was succeeded by his son, Mr. Sigismund Cathcart de Trafford, who resides at Croston Hall. A court leet is held annually. (fn. 41)
Croston Hall is a modern brick building which replaced one earlier house, if not more, on the same site.
In 1283 William de la Mare procured a charter for a weekly market at Croston on Wednesdays, and for a fair on the eve, day and morrow of St. Wilfrid; also free warren in his demesne lands in Croston, Mawdesley and Longton. (fn. 42) About the same time probably a borough was created, traces of which remained in the burgage tenure of certain messuages in the town. (fn. 43) As the Castle Place, Castle Hill and Castle Yard are named in 16th-century deeds, there may have been a castle there in earlier times. (fn. 44)
In addition to the lords of the manor other landowners appear in the pleadings and inquisitions. In 1564 Richard Ashton and Henry Croston, as landowners, contributed to the subsidy. (fn. 45) The Radcliffes and Bartons (fn. 46) of Smithills and Leghs (fn. 47) held probably as heirs of the Ulnes Walton family. Several families took a surname from the township, (fn. 48) but it is not possible to give a connected account of them. William Croston died in 1590 holding two messuages, lands, right of turbary, &c., in Croston and Mawdesley of Robert Hesketh by a rent of 8s. 4d.; also lands in Rainford and Bickerstaffe. His son Henry came of age in 1593. (fn. 49) The Knights Hospitallers (fn. 50) and the priory of Burscough had lands in Croston, (fn. 51) as also had Cockersand Abbey. (fn. 52)
The freeholders recorded in 1600 were Thomas Ashton, Henry Croston and John Banastre, (fn. 53) and in 1628 Thomas Ashton and William Croston were the landowners contributing to the subsidy, the latter being a convicted recusant. (fn. 54) Several of the people had their estates sequestered or confiscated under the Commonwealth for religious or political reasons. (fn. 55) In 1717 a number of 'Papists' registered estates. (fn. 56) In 1783 the principal owners were John Trafford, the heirs of Thomas Hesketh and Dr. Master, the rector. (fn. 57)
Finney is several times mentioned. (fn. 58)
The parish church has been described above.
There are Wesleyan and Primitive Methodist churches; the former dates from 1823. (fn. 59)
Nothing appears to be known of the provision for worship made by Roman Catholics after the Reformation (fn. 60); but in 1701 the Jesuits are found in charge of the Croston Mission, (fn. 61) and in 1750 the priest, who had a stipend of £14, reported fifty general confessions and 'customers' or worshippers numbering 170. (fn. 62) Later the mission appears to have been given up, but a private chapel was built at the hall in 1793, replaced by the present one, Holy Cross, in 1857.