Pages 457-458
A History of the County of Leicester: Volume 4, the City of Leicester. Originally published by Victoria County History, London, 1958.
This free content was digitised by double rekeying. All rights reserved.
THE SEALS, INSIGNIA, AND CORPORATE OFFICES OF LEICESTER
In 1258 the guild merchant bought a 'new' seal, which suggests that they had had one previously. (fn. 1) It is not clear whether this is the same as the seal of the community of Leicester, first mentioned in 1277. (fn. 2) The earliest surviving impression of that seal is attached to a document of 1343. It is circular, 2¾ in. in diameter, and bears a cinquefoil, surrounded by the legend, in lombardic lettering, sigillum communitatis leyrcestrie. (fn. 3) In some impressions it can be seen that the cinquefoil is covered with small rough marks, probably intended to indicate that the cinquefoil is ermine. (fn. 4) The matrix, which was said in 1511 to be of gilt copper, (fn. 5) remained in use until Charles I captured Leicester in 1645, when it was carried off by the Royalists. (fn. 6) In August 1645 a new common seal, similar to the old one, was ordered to be made. (fn. 7) It was of brass. (fn. 8) No impression is known. A new one was made in 1647–8. It closely resembled that lost in 1645, being circular, about 2½ in. in diameter, and bearing a cinquefoil, with a single conventional mark indicating ermine on each leaf of the cinquefoil. The legend, in humanistic lettering, reads sigillum communitatis burgi leicestrie. (fn. 9) By 1706 borough documents were being sealed with a wafer. (fn. 10) The seal in use in 1956 was that made for the reformed corporation in 1836. It is circular, about 2¼ in. in diameter, and bears a pierced ermine cinquefoil, with the legend in humanistic lettering, seal of the mayor aldermen and burgesses of leicester 1836.
A detached impression of a mayor's seal was exhibited to the Leicestershire Archaeological Society in 1873. It was circular, and bore, within a canopy, a seated figure of the Virgin holding the Child, in base a shield charged with a cinquefoil. This device was surrounded by the legend sigill' meioratus ville leycestrie. It was judged at the time of exhibition, perhaps wrongly, to be of Edward III's reign. (fn. 11) The first documentary reference to a mayor's seal occurs in 1420. (fn. 12) In 1511 the mayor's seal was of silver. (fn. 13) Like the common seal, it was carried off by the Royalists in 1645. (fn. 14) A new mayor's seal of silver was ordered to be made in August 1645. (fn. 15) It is probably the matrix of this seal that is now preserved in the Leicester City Museum. The seal is circular, with a diameter of 13/8 in., and shows the Virgin crowned, holding the Child in one hand, and a sceptre in the other. The legend, in humanistic lettering, reads sigillum stat' maio' burgi leicestri. This seal was in existence about 1815, when it was said to be in use for sealing statutes. (fn. 16) In 1873 it was said to have been long disused. (fn. 17) A circular seal, 5/8 in. in diameter, bearing a cinquefoil and surrounded by the legend burgus leycestriae was being used on documents of 1620–30 as a counter-seal to the common seal. (fn. 18) It was presumably the same as the seal described by Nichols about 1815 which was then being used for sealing capiases and letters, and was kept by the mayor for the time being. (fn. 19)
Besides the seals already described there were about 1815 two further seals belonging to the mayor and corporation, but it is not possible to give full descriptions of either of them. One bore a cinquefoil, and the legend sigillum statut' burgi leicestrie. It was then used for sealing statutes, and was kept by the clerk of the statutes. The other is said to have borne a cinquefoil surmounted by a casque and a dragon. It is probable that the device in this case was a cinquefoil surmounted by a casque bearing as a crest a wyvern, the crest of the borough. (fn. 20)
In 1378–9 a mace was purchased by the chamberlains of Leicester. (fn. 21) It is possible that this was the first mace that the borough possessed. (fn. 22) By 1531–2 there were also four lesser maces, of silver. (fn. 23) A 'night mace' is mentioned at the same date, (fn. 24) but nothing further is known about it, though it may be the same as the brazen mace mentioned in 1517–18. (fn. 25) An inventory of the town plate drawn up in 1551 lists only the great mace and the four lesser ones. (fn. 26) In 1585 it was decided that a new great mace should be bought, and that the old one should be retained. (fn. 27) The old mace was repaired in 1601, (fn. 28) but nothing further is known of it.
At the sack of Leicester in May 1645 the great mace was carried off by the king's forces, and later in the year a new one was purchased. (fn. 29) In 1649 the Common Hall decided that the great mace should be altered to conform with the pattern laid down by the House of Commons, (fn. 30) but in 1650 a new and considerably larger mace was bought, and the old one was apparently sold. (fn. 31) At the Restoration the great mace and the four small silver maces were altered, probably by having the royal arms affixed. (fn. 32)
In 1836 the great mace and the four lesser maces were sold by order of the reformed corporation. (fn. 33) The great mace was repurchased in 1856, and in 1956 was still in the possession of Leicester Corporation. (fn. 34) Two of the small maces have been regained by the corporation. (fn. 35)
In 1867 the corporation purchased a gold and enamelled chain, with a medallion bearing the town's arms, for the mayor's use. (fn. 36)
A list of aldermen who acted as chief magistrates of Leicester during the first half of the 13th century, of the mayors from 1250 to 1928, and of lord mayors from 1928 to 1935, is printed in the Roll of the Mayors of the Borough and the Lord Mayors of the City of Leicester, by Henry Hartopp. No complete list of town clerks has been published, but the names of such town clerks as are known for the period before 1688 are listed in the printed volumes of the Leicester Borough Records. (fn. 37) A list of town clerks up to 1807 is printed by Nichols. (fn. 38) This list is complete from 1577 onwards, but not for the period before that date. A list of town clerks for the years 1836–94 has been printed by Storey. (fn. 39)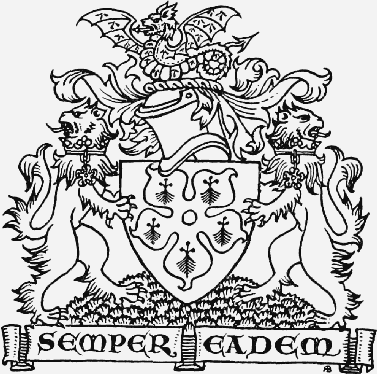 [Arms and crest recorded by the heralds, 1619; supporters granted 1926]