Pages 36-41
A History of the County of Middlesex: Volume 1, Physique, Archaeology, Domesday, Ecclesiastical Organization, the Jews, Religious Houses, Education of Working Classes To 1870, Private Education From Sixteenth Century. Originally published by Victoria County History, London, 1969.
This free content was digitised by double rekeying. All rights reserved.
THE BEAKER PERIOD
While the Neolithic cultures were flourishing, fresh bands of continental immigrants entered Britain. (fn. 1) These were the Beaker people, so named from their distinctive pottery. They evidently landed at various times and places on the south and east coasts, (fn. 2) whence they spread over most of the country, penetrating, and probably dominating, the Neolithic societies. (fn. 3) Beaker people ranged extraordinarily widely over the Continent, (fn. 4) but those who reached Britain seem to have come mainly from northwest Europe. (fn. 5)
About a dozen pieces of Beaker pottery and some of the objects normally associated with it have been found in Middlesex, mostly in the Thames to the west of London. The county has produced none of the graves or other structural remains with which beakers have often been found elsewhere, but the finds imply that some Beaker people lived in the area, mostly on the Thames-side gravels like the Neolithic inhabitants. (fn. 6) The Middlesex relics, which are all unassociated finds, tell us little about the Beaker people, and to gain some idea of their activities it is necessary to look at more informative discoveries elsewhere.
Most of our fragmentary knowledge of the Beaker people comes from their burials. Unlike the Neolithic settlers, they buried dead in individual graves, a practice which has remained ever since, in one form or another, the prevailing burial rite in this country. Most Beaker burials are inhumations, sometimes under round barrows, accompanied by a few grave goods, (fn. 7) and the combinations of objects of different materials found in such graves enable similar objects from Middlesex to be correlated better than those of any succeeding prehistoric period.
The Beaker people are further distinguished from the purely Neolithic societies because they introduced into Britain the use of metal artifacts. Knowledge of metalworking, first in copper, and later in bronze, had been spreading through Europe from its place of origin in the Near East while the British Neolithic pottery already described was in use, (fn. 8) but metal objects have never been found with that pottery. A very few primitive metal goods have, however, come from British Beaker burials. It is generally believed that the Beaker people did not themselves make these goods but imported them from Ireland and the Continent. They are therefore often regarded as a Neolithic rather than a Bronze-Age group, (fn. 9) but their transitional position in this respect is better recognized by regarding them as belonging to a chalcolithic phase, in which people basically at a stone age cultural level have begun to acquire a metal equipment. One copper knife of a type occasionally found with beakers has come from the Thames at Mortlake.
Other evidence from outside Middlesex shows that the Beaker people kept livestock (fn. 10) and cultivated flax and cereals, growing much more barley than wheat, in striking contrast to the Windmill Hill farmers. (fn. 11) They were perhaps the first inhabitants of Britain to use woven fabrics. (fn. 12) Archery played an important part in their lives. (fn. 13) Little is known of their dwelling-places; (fn. 14) but the wide diffusion of their pottery suggests a mobile and energetic people, and their grave goods indicate fairly extensive trading activities. (fn. 15)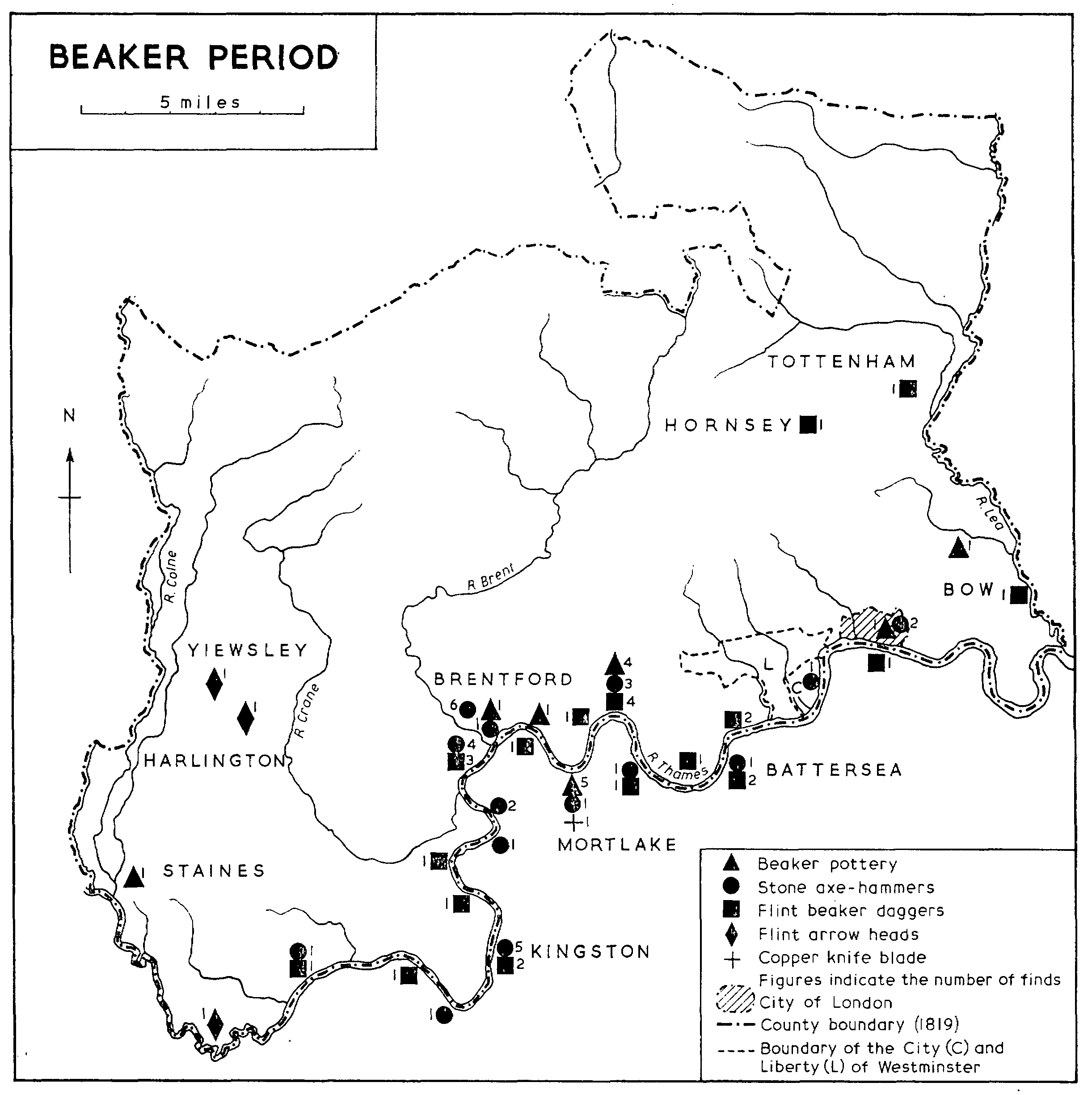 The most characteristic and extensively studied item in the Beaker people's equipment is their pottery. (fn. 16) Beaker pottery is flat-based and usually of good quality ware, sometimes polished on the outside and almost always decorated with impressed ornament in patterns (fn. 17) which may often have originated as copies of basketry and wooden vessels. (fn. 18) British beakers were classified in 1912 by Abercromby but this classification was modified later and in 1963 completely revised by Professor Stuart Piggott. (fn. 19) All the main types of beakers are represented in Middlesex. (fn. 20)
In Professor Piggott's classification, about 2000 B.C. (fn. 21) immigrants from the mainland of Europe introduced into Britain Cord-Zoned beakers (which Gordon Childe called B3) and later the Bell beakers (Abercromby's type B); the Barrel beakers (Abercromby's B2) were British derivations from them. (fn. 22) Migrants from the Low Countries to northern Britain introduced the Short-Necked beaker (Abercromby's type C) as well as variants of the Bell beaker. From the Short-Necked beakers were derived the LongNecked beakers. (fn. 23) These are sometimes associated with grave goods, like stone battleaxes, which on the Continent are later in date than the Bell-beaker culture. LongNecked beakers are therefore considered a local and late variant. Last of all come the Pot beakers and the Barbed-Wire beakers, coarse ware of local origin but similar to some continental patterns. (fn. 24)
Cord-Zoned beakers are only commonly to be found in north Britain but a fine one was dredged from the Thames near Mortlake. (fn. 25) Barrel beakers have also been dredged from the Thames, suggesting that their makers had nearby one of their main areas of settlement. A Barrel beaker was found in 1864 during the building of the French Hospital at Hackney. (fn. 26) Short-Necked beakers are common in northern Britain (fn. 27) but one was dredged from the Thames at Mortlake (fn. 28) on the same occasion as the Cord-Zoned beaker was found there, (fn. 29) as well as two beakers of a similar type. (fn. 30) Three LongNecked beakers have also been dredged from the Thames between Mortlake and Putney. (fn. 31)
The Middlesex side of the Thames has produced one of the densest concentrations of flint daggers in the country. (fn. 32) These are sometimes associated with Long-Necked beakers. The discrepancy between the daggers and the pottery finds may represent the difference between settlement and traffic along the river. (fn. 33) Stone battle-axes of the kind occasionally found in association with Long-Necked beakers have also been found in the Thames near Battersea, at Westminster, and possibly at Old England, Brentford. (fn. 34)
The Middlesex material does not suggest a large-scale occupation. Judging by the objects for which foreign parallels can be cited, the immediate continental sources of Middlesex Beaker people were mainly in the region extending from the Netherlands to North Germany and Scandinavia. (fn. 35) The rather high proportion of finger-nail ornament on the beakers may reflect the influence of a local Neolithic population.
Location/Ref.
HACKNEY
Site of new French Hospital (TQ. 358840): fragment of beaker; apparently B2; all-over decoration of single horizontal lines of horizontally applied fingernail impressions. (fn. 37)
B.M. 64.2.12.1
HAYES & HARLINGTON
Two-three tanged-and-barbed flint arrowheads.
L.M. 39.134 Hayes & Harl. Mus.
STAINES
Yeoveney (TQ. 024726): fragment of rusticated beaker. (fn. 38)
B.M.
SUNBURY-ON-THAMES
Shepperton: tanged-and-barbed flint arrowhead. (fn. 39)
Shepperton Pub. Libr.
TOTTENHAM
Flint dagger.
York Mus.
THAMES (BARNES)
Mortlake, perhaps S. bank: (fn. 40) beaker, B2. Crudely modelled; horizontal lines of impressions resembling twisted cord in upper part but broken into single disjointed units towards base. (fn. 41)
L.M. 28.37
Beaker, B3. Decorated with single horizontal lines of twisted-cord impressions. Reputedly found on same site and beneath same calcareous seam as necked beaker B.M. 1909.5.18.3 and Neolithic bowl B.M. 1909.6.25.1.
B.M. 1909.5.18.14 (fn. 42)
Beaker, C. Finely notched decoration of four zones of horizontal lines and short angled lines, upper zone including band of approx. vertical impressions. See also preceding beaker. (fn. 43)
B.M. 1909.5.18.13
Necked beaker, apparently A with some C influence. Notched decoration of zones of horizontal and vertical lines, enclosing panels of saltires round neck and open vandyke above base. (fn. 44)
L.M. A. 13471
Fragment of beaker base, probably C or A. Notched decoration of two bands of coarse lattice pattern with narrow plain zone between. (fn. 45)
L.M. A.13672
Fragment of large pot, with paired finger-nail impressions; probably beaker or Neolithic Mortlake ware. (fn. 46)
L.M. A. 10214
Mortlake: copper knife with central river hole in tang. (fn. 47)
L.M. A.10214
THAMES (BATTERSEA)
Stone axe-hammer; described as diorite; similar to A-beaker type. (fn. 48) Flint dagger; notched tang.
L.M. A. 14982
L.M. A. 13480
THAMES (BRENTFORD & CHISWICK)
Nr. Kew: simple neckless bowl of smooth hard ware; flattened base, flat-topped rim; ornamented all over outside and round inside of rim with barbed-wire style decoration, possibly produced by impressing on the pot a flint wrapped round with cord or sinew. This, and similar bowl from Thames at Putney,
B.M. 72.3.29.11
thought to belong to Peterborough Neolithic pottery family, but more recent opinion places them with the Beakers. (Also said to have come from Thames at Mortlake). (fn. 49)
Old England: beaker, A; fragmentary; roughly made. Covered with finger-nail impressions in horizontal lines, in places approximating to herring-bone pattern. (fn. 50)
L.M. Lay.P.16
Stone axe-hammers showing varying degrees of resemblance to A-beaker type.
Finding place unknown.
L.M. Lay.O.729, 0.731, 0.735, 0.739
THAMES (HAMMERSMITH)
Beaker, apparently badly-made B2 or biconical type. Decorated with paired finger-nail impressions arranged in roughly horizontal lines. (fn. 51)
L.M. Lay.P.15
Fragment of large vase of coarse ware; decorated all over exterior with finger-nail impressions in oblique vertical lines. Neolithic or BA. Possibly part of rough beaker. (fn. 52)
G.M. 4069
Fragment of large rusticated vessel. Possibly part of storage jar or beaker of late Neolithic affinities. (fn. 53)
L.M. A. 19481
? THAMES (POPLAR)
Flint implement, apparently dagger; clumsier and less well made than A-beaker type, but comparable to examples from N. Germany. (fn. 54) From 'ballast loaded
at Bow'.
L.M. Lay.O.55
THAMES (TWICKENHAM)
Tanged-and-barbed flint arrowhead. Possibly post-Beaker. (fn. 55)
L.M. 49.107/766
THAMES (WANDSWORTH)
Putney: simple bowl with barbed-wire decoration, less carefully executed than on similar bowl from Thames at Mortlake; (fn. 56) (Also said to have come from Thames at Barn Elms).
L.M. 50.10 (formerly Royal Scottish Mus.)
THAMES (WESTMINSTER)
Off Parliament Stairs: stone axe-hammer, A-beaker type. (fn. 57)
B.M. 56.7.1.1358
FINDING PLACE UNKNOWN? THAMES (KEW DISTRICT) (fn. 58)
Beaker, B2. Classic example. Notched decoration of bands of horizontal lines and herring-bone pattern, with traces of white inlay, a technique more common on continental than on British beakers. (fn. 60)
L.M. Lay.P.20 (fn. 59)
Beaker, A. Straight cordon round neck about one-third down, a feature thought to denote Dutch affinities. (fn. 61) Notched decoration, with white inlay of four zones of triangles within horizontal lines. Cross incised on exterior of base. (fn. 62)
L.M. Lay.P.19