Pages 64-74
A History of the County of Middlesex: Volume 1, Physique, Archaeology, Domesday, Ecclesiastical Organization, the Jews, Religious Houses, Education of Working Classes To 1870, Private Education From Sixteenth Century. Originally published by Victoria County History, London, 1969.
This free content was digitised by double rekeying. All rights reserved.
THE ROMANO-BRITISH PERIOD
Maps of Roman Britain, such as that produced by the Ordnance Survey, show no finds or settlements in Middlesex. Intensive fieldwork since 1956 has produced many items, listed in the gazetteer, but the distribution pattern remains thin and difficult to explain on evironmental grounds. However, the area was certainly in early contact with Roman London and it seems possible that, even earlier, Julius Caesar may have campaigned in the area. Extended discussion, however, has failed to establish with certainty the point at which Caesar crossed the Thames during the second invasion of 54 B.C. or that the line of his march lay through Middlesex. Various places between Westminster and Kingston have been suggested. (fn. 1) Stakes found in the Thames (fn. 2) and archaeological finds from all periods have caused several scholars to suggest Brentford as the most likely crossing (fn. 3) but this view is by no means widely accepted. The stakes may be parts of medieval fish traps.
Caesar then marched (fn. 4) possibly directly towards Hertfordshire to grapple with Cassivellaunus who had dismissed all his forces except about 4,000 chariots. (fn. 5) These were used to harry the Romans, darting from the shelter of the woods in which the Britons had hidden their families and cattle. The Roman cavalry were able to plunder and devastate the fields. All this implies that the territory through which Caesar passed was far from wild, desolate, or trackless. (fn. 6)
One may wonder at the nature of a landscape which enabled chariots to deploy in or near woods, and Caesar's observations are not easily correlated with known topographical details of early Middlesex. (fn. 7) The Trinobantes of Essex are known to have come to terms with the Romans and Caesar's troops were forbidden to harm them. (fn. 8) If this arrangement is to be interpreted as a means of safeguarding Caesar's right flank, the advance probably lay through eastern Middlesex, perhaps following the Lea. All that is certain is that, probably only a few days after crossing the Thames, Caesar defeated the Britons, perhaps somewhere near St. Albans (Verulamium). (fn. 9) Nothing further is known of the campaign.
The Romans under Aulus Plautius again crossed the Thames in A.D. 43 in advance of the Emperor Claudius. Subsequently the area later known as London was quickly Romanized. Recent modifications in the story of Roman London, such as the discovery of a fort in Cripplegate, or even the backdating of the Boudiccan revolt from A.D. 61 to A.D. 60, have, however, little effect on the present conception of Roman Middlesex set out below.
Roman occupation as shown on the map (which excludes the City of London and Westminster) indicates, first, east and west spreads from London (Londinium) consisting entirely of extramural burials. Roadside burials were customary, but inhumations do not necessarily imply the existence of a road. The 2nd- or 3rd-century burial at Hampstead, for example, might be better interpreted as being near a dwelling. Apart from the area outside the city the largest concentration of burials with some evidence of associated settlement is found around Enfield, perhaps chiefly on the west side of Ermine Street. Finds from this area, which include coins, pottery, lamps, and many other objects, cover virtually the entire Roman period. At Churchfield, Edmonton, evidence of a small settlement has been found and at Parkfield, Potters Bar, a kiln and settlement were excavated. There may have been a settlement at Acton, and near Old England there seems to have been a small complex of waterside huts. (fn. 10) Tiles and nails found in the Brentford reach of the Thames suggest more substantial buildings and may mark one of the larger settlements in south-west Middlesex. Staines, thought to be the Pontes of the Itinerarium Antonini Augusti (3rd century), which was 22 miles from London and clearly a crossing of the Thames, has not yielded many Roman remains, although the unexpected discovery in 1961 of Romano-British sherds at Yeoveney on the site of a Neolithic causewayed camp may indicate that much still awaits discovery. Excavations at Brockley Hill, Stanmore, have yielded evidence of continuous occupation from Belgic times until the 4th century A.D. Kilns were brought into use here between A.D. 70 and 80 and Brockley Hill is thought to be the Sulloniacae of the Antonine Itinerary and associated with the mortarium stamp of SULLONIAC found at Corbridge (Northumb.). (fn. 11) Mortaria stamps of the potters Matugenus and A. Terentius Ripanus have been found, suggesting that they worked here as well as in Lyons (?Lugudunum) where they are known to have had kilns. (fn. 12)
Reports of excavations at Brockley Hill suggest nearby ploughland, (fn. 13) and there is little doubt that the Romano-British site at Yeoveney and the settlement noted by S. S. Frere at Shepperton were agricultural. Little farming equipment has, however, survived. One coulter of unknown provenance but from a collection containing many Thames finds may be from the Middlesex stretch of the river. (fn. 14) Middlesex has in the past been the subject of research for evidence of centuriation. (fn. 15) Air photography has revealed striking evidence of this form of land division in Italy, (fn. 16) but similar photographs of Middlesex show no such patterns.
The Roman roads of Middlesex (fn. 17) are fairly well defined and their known or presumed courses are indicated on the distribution map. (fn. 18) In the east a road, of which the exact alignment is unknown after some distance from the City, ran from Aldgate towards Old Ford where it crossed the Lea at Iceland Wharf and proceeded to Colchester. (fn. 19) A road along this line is shown on a late-16th-century map. (fn. 20) The road from London to Dunmow (Essex) crossed the river near Lea Bridge. (fn. 21) Ermine Street ran northward from Bishopsgate through Shoreditch, Kingsland, Stoke Newington, Stamford Hill, Tottenham, Edmonton, and Enfield. Watling Street ran, possibly from Westminster to Marble Arch, along Edgware Road to Brockley Hill, and thence into Hertfordshire. (fn. 22) The road to Silchester (Hants) ran from Newgate along the approximate line of Oxford Street through Bayswater, Notting Hill, and Holland Park, down Goldhawk Road and across Turnham Green to Chiswick High Road and then to Brentford where it probably joined Akeman Street which followed the line of the Strand and passed through Kensington and Hammersmith to Chiswick. The road then ran through Hounslow and East Bedfont on its way to Staines where it crossed the Thames. There is reason to believe that all these roads were linked by a road, possibly of pre-Roman origin, which ran from Old Ford and by-passed London by way of Roman Road, Old Street, and Oxford Street and then joined the Silchester road. A road probably ran from the City through a postern gate on the south-east along the Highway towards Limehouse.
Another road is thought to have run northward from Laleham up the Colne valley to St. Albans; (fn. 23) it has been suggested that this route linked by a spur from Harefield to a road running on the other side of the Colne from Chorley Wood and Langley Park (Bucks.) to St. Albans. Other old roads and trackways on the Middlesex side of the Colne valley, particularly around Harefield, are possibly of Roman origin. A road excavated near Rickmansworth Station (Herts.) continued southward into Middlesex and probably ran through Ruislip parish.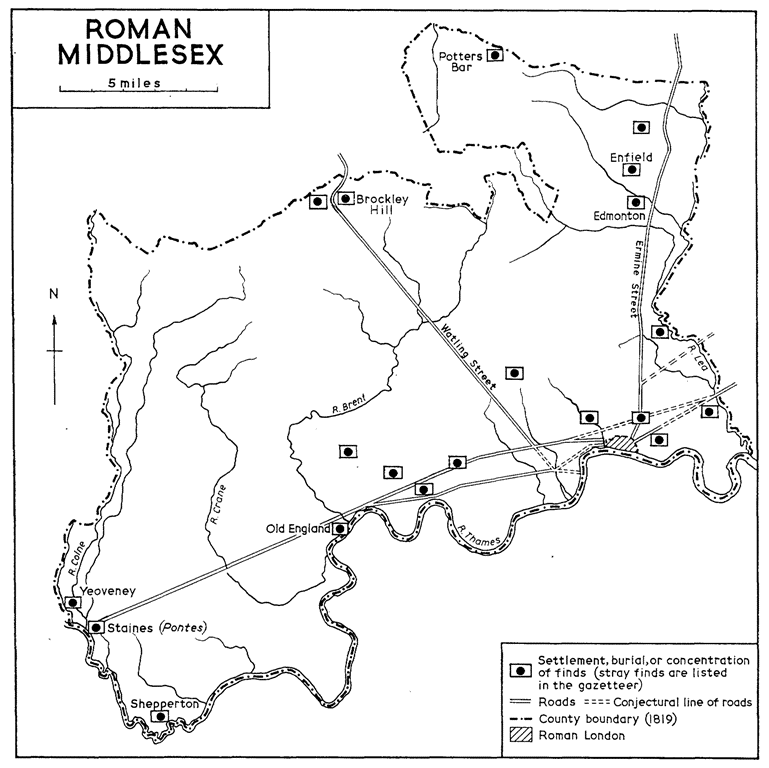 Stray pottery finds, particularly in south-west Middlesex, suggest further possible areas of occupation, and organized fieldwork here and elsewhere will probably expand considerably knowledge of Roman settlement in the county.
Location/Ref.
ACTON
'Acton Green' (centring on TQ. 209788): fragment of stamped tile of VIth Legion. (fn. 25)
Gunn.
Bedford House (centring on TQ. 21157894): four damaged 'Samian' sherds with whitish encrustation similar to that on material from the Thames. cent. A.D.c. 2nd
Gunn. T.853/1-4
Chaucer Road (centring on TQ. 20358037): Romano-British pottery found 1869 by A. H. Pitt-Rivers in surface soil. (fn. 26)
Unknown
'Springfield Estate' (centring on TQ. 201809): found 1899 seven similar coins (Vespasian to Severus) and handled lamp of Walters Type IV. Lamp possibly of 1st cent. A.D. onwards; coins at least 3rd cent. (fn. 27)
L.M. A.10016-22
BATTERSEA
Thames nr. Battersea Bridge (TQ. 270774 and up river): ten (fn. 28) pewter ingots of Syagrius with various Christian markings.
B.M. (6), L.M. (2), York Mus. (2)
BETHNAL GREEN
Corfield Street (TQ. 34828268): lead coffin in wood casing found 1862. (fn. 29)
B.M.
BRENTFORD & CHISWICK
Chiswick, Turnham Green: 'Nov. 1731 a labourer dug up an urn full of silver Roman coins . . .' (fn. 30)
Unknown
Thames, Brentford: iron axe-hammer. (fn. 31)
L.M. A.19538
Thames, 50 yds. west of Chiswick Ferry (TQ. 21707765): part of Roman quern found 1911 in river bed. (fn. 32)
Chiswick Church
Barnes, downstream from the railway bridge (approx. TQ. 215765): handleless flagon found 1872 off 'Jessop's Creek', Chiswick.
L.M. Lay.P.127
Thames, Brentford, off Old England: bronze brooch derivative of native trumpet type; with thin bow. 2nd cent. A.D. Found 1864.
L.M. Lay.O.1815
Sutton Court (centring on TQ. 203777): alleged Roman bath found 1905. (fn. 33)
Thames, Kew: bronze cheek-piece of legionary helmet. Probably 1st cent. A.D. (fn. 34)
B.M.
Thames, Brentford, Syon Reach: terracotta representation of theatrical mask. Thought to be 1st-2nd cent. A.D.
G.M.
Brentford (possibly Thames): three T-shaped Roman nails.
L.M. Lay.O.2008-10
Brentford, nr. The Ride and Ealing Park Gardens (TQ. 17147857) (fn. 35) : copper coin of Commodus.
L.M. Lay.
Chiswick, Strand-on-the-Green: Roman (?) key.
Unknown
Old England, mainly on Isleworth side of boundary (centring on TQ. 178769 approx.): (fn. 36) Sir Mortimer Wheeler found in 1928 remains of rectangular huts with wattle floors (possibly IA) as well as Roman tiles and pottery of 2nd cent. A.D. (fn. 37)
In 1955 Mr. I. N. Hume (fn. 38) examined several points along Syon Reach and recovered late (c. 4th cent. A.D.) Roman pottery as well as decorated flue-tiles, not necessarily of the same period. Traces of IA pottery in lower waterlogged levels.
L.M. 57.10
EALING
The Mount, site of reservoir made by Grand Junction Water Co. (centring on TQ. 19183204): six Romano-British cinerary urns and other pottery found 1880. (fn. 39) Material was in collection of J. A. Brown.
Unknown
Northolt, at the manor site by the church: five fragments of Roman tegulae were found built into walls. The material was thought to have been brough from another site since no Roman sherds were found. (fn. 40)
EDMONTON
45 Bridlington Road (TQ. 34679476): lamp of Walters Type IV (late 1st cent.onwards) found in garden after Second World War. (fn. 41)
Unknown
432 Church Street (TQ. 32829471): tettine or feeding-bottle of c. A.D. 100 found in modern filling during foundation work. (fn. 42) Skeleton of unknown date found next door at no. 434. (fn. 43)
Unknown
Churchfield (TQ. 33709425): during gravel working in 1929 pottery and roof and hypocaust tiles found in quantity, as well as a 'hipposandal', key, and horse bit. Coin hoard (A.D. 150-200) found between the sleeper beams of a hut. Excavations by Mr. G. R. Gillam and others in 1951 proved presence of small settlement of late 3rd-mid 4th cent. A.D. A second hut with latrine trench was noted. Further work in 1952 confirmed this dating. (fn. 44) Part of site now under playing field.
L.M. 28.137/4
7 Forest Road (TQ. 34909444): imitation as of Claudius found in garden in 1943. (fn. 45)
Unknown
421 Monmouth Road (TQ. 35259360): coin of Maximian (A.D. 286-305) found n garden. This was site of Moat House Farm. (fn. 46)
Unknown
Raglan School playing fields (TQ. 33459480 approx.): female skeleton found 1908 in Roman coffin of oolitic limestone from Peterborough region.
Edmonton Pub. Libr.
Glass bottle found with the burial. (fn. 47)
G.M.
Two flagons, one probably of 3rd cent., found 1912.
Forty Hall Mus. Enfield
St. David's Hospital, Silver Street (TQ. 32759245): traces of occupation-roof tiles, tesserae, combed pattern hypocaust tile-found 1959 in grounds of hospital nr. Pymmes Brook. Probably of period A.D. 60-150. (fn. 48)
Huxley School, Silver Street
Lamp (c. A.D. 70-120) of Walters Type IIIa dredged from Pymmes Brook in 1955. (fn. 49)
Huxley School, Silver Street
St. Edmund's Road (TQ. 34059470): coin of Gallienus (mid-3rd cent. A.D.) found nr. brook W. of railway line. (fn. 50)
Unknown
Trinity Av. (approx. TQ. 34009532): stone coffin noted before 1939. Details
lost.
Unknown
Amphora handle found 1956 at junction of Trinity Ave. and the Cambridge arterial road. (TQ. 34129526). (fn. 51)
Unknown
ENFIELD
Broomfield (TQ. 32909603): (fn. 52) signs of possible occupation noted at various times. In 1816 'Roman urns and coins were found in this gravel-pit and some skeletons'. (fn. 53)
Unknown
Carterhatch (or Caterhatch) Lane (approx. TQ. 342975): c. 70 Roman silver and bronze coins ploughed up in a field and sold in 1820. Probably of period A.D. 69-180, (fn. 54) with a few of early 3rd cent.
Unknown
Brigadier Hill (approx. TQ. 32309800): two copper coins of Maximian (A.D. 284-308) and Crispus (A.D. 317-26) dug up in 1910. (fn. 55)
Unknown
Burleigh Road (TQ. 33359613; TQ. 33349615 in O.S. recs.): lead coffin, decorated with scallop pattern, containing skeleton in lime found 1902. Nearby were two lead canisters holding burnt bones placed under a brick cist covered with flints. (fn. 56) Coffin may be first half of 3rd cent. A.D. (fn. 57)
Forty Hall Mus., Enfield
Cambridge Road (TQ. 33809486): aureus of Domitian picked up in Nov. 1956 on W. side of road. Considered to have been in circulation for a century before being lost. (fn. 58)
Fitzw.
Forty Hill, probably nr. Clock House (TQ. 33959849 approx.): Roman glass bottle found a few years before 1873 during excavations in grounds of one David Henry. (fn. 59) Puddingstone quern also found.
Unknown
Landseer Road (centring on TQ. 34079565): during road construction in 1902 evidence of occupation ranging from 1st to 4th cent. A.D. was uncovered. Mr. G. R. Gillam has analysed contemporary press and magazine reports. (fn. 60) Finds included 'Castor' and 'Samian' ware (including patera stamped M.D.C.C.A.), roofing and hypocaust tiles, brooches, tettine, flanged mortarium, quern fragments, iron knives, bronze statuette of Apollo (found c. ½ mile W.). Othermaterial included Samian bowl found in garden in Landseer Road.
Unknown
Lincoln Road (centring on TQ. 350957 approx.): coin of Hadrian (A.D. 117-38) found in garden in 1956. (fn. 61)
Unknown
Maiden Bridge, Forty Hill (TQ. 34308975; TQ. 34239877 in O.S. recs.): coin of Constantine (A.D. 306-37) found nr. brook in 1885. (fn. 62)
Unknown
Old Park Farm Moat, nr. W. bounds of first green on Enfield golf course (TQ.31409635): coin of Antoninus Pius. (fn. 63) Also an as, a brooch, and 'nondescript pieces of bronze; also a quern of pudding stone'.
Unknown
Ponders End: bronze 'trumpet' brooch of Collingwood type Rii, of northern affinities. 2nd and 3rd quarter of 2nd cent. A.D. (illustrated facing p. 74.)
L.M. C.995
River Lea, Ponders End: bronze brooch, rather like Polden Hill type of Camulodunum type IX (illustrated facing p. 74.) Bush Hill Park (centring on TQ. 38084575): Roman burial ground in garden of 'Ferndell' uncovered in 1893-4. (fn. 64) Mr. G. R. Gillam has analysed (fn. 65) 'Belgic' Forty Hall Mus., Enfield pottery and other finds, which included coin of Vespasian, and suggested a general date in second half of 1st cent. A.D.
L.M. A.7733
Trent Park (centring on TQ. 290975): four copper coins found 1859; one coin of Magnentius (A.D. 350-53), another of Constantine (A.D. 306-37).
Barnet Mus. (fn. 66)
Windmill Hill, now King George playing fields (centring on TQ. 34429692):fragments of coffin, urns, bones in one, 3 coins in another, ploughed up in Windmill Field in 1820. (fn. 67)
Unknown
FINSBURY
Rahere Street: carved stone head of a man found in 1936. (fn. 68)
G.M.
FULHAM
Thames, between Fulham and Putney: legionary sword with embossed bronze scabbard. (fn. 69)
B.M.
HACKNEY
Lower Clapton (within 100 ft. radius of TQ. 35508758 approx.): marble sarcophagus with inscription of 'late Empire' found 1867. Coin of Nero was found c. 1842 c. 100 yds. north. (fn. 70)
G.M.
Unknown
'Spring Field Lane at Upper Clapton' (centring on TQ. 346875): stone coffins found c. 1814 and in 1837. (fn. 71)
Unknown
HAMMERSMITH
Thames: simple bronze safety-pin brooch; Camulodunum type VI or Collingwood type B; 2nd-3rd quarter of 1st cent. A.D. (illustrated facing p. 74.)
L.M. A.28562
Thames: bronze 'knee-brooch' with semicircular plate. Probably 2nd-3rd cent. A.D. (fn. 72)
L.M. A23483
Goldhawk Road, W. of 'Queen of England Tavern' (TQ. 21967920): 'old Roman causeway' found during roadworks in 1834 10 ft. below surface with coins and 'small square tiles'. 'Roman traces' said to have been found E. of the pond and W. of the Metropolitan Railway Bridge. (fn. 73) Borough engineer declared in 1930's that no trace of a Roman road had been seen in recent works.
Black Lion Lane, nr. Thames (centring on TQ. 221785): coin of Trajan 4 ft. down in gravel found 1907. (fn. 74) Thames: bronze handle of clasp knife showing dog chasing hare. (fn. 75)
Unknown
L.M. A.10479
HAMPSTEAD
Nr. Well Walk or Gainsborough Gardens: cinerary urns found 1774. Included Form 27 (Drag.) Samian vessel. (fn. 76) Group has been dated to period A.D. 90-120.
Unknown
HAMPTON/KINGSTON
Thames off Kingston (TQ. 176695 approx.): 'poppy-head' beaker of 'Upchurch' type with vertical bands of barbotine dots found 1862. End of 1st to beginning of 2nd cent. A.D.
L.M. Lay.P.153
HANWELL
Cuckoo Hill, Hanwell Park: Roman coins and pottery found 1850. (fn. 77)
Unknown
HARROW
Great Stanmore Common: fifty coins (Constantine, Arcadius, Honorius, etc.) and other items found 1781. (fn. 78) Coins, if in authentic context, deposited in early 5th cent.
Unknown
Harrow Weald, in 'Money Dell' nr. Bentley Priory: Roman coins, including gold of Vespasian; nearby, in brickfield: cinerary urns and a lamp. (fn. 79)
Unknown
Priory Drive (approx. TQ. 15809335): brass coins of Tetricus (c. A.D. 237) and Constantine (A.D. 306-37). (fn. 80)
Unknown
Gordon Ave. (TQ. 16099161): fragments of Roman pottery found. (fn. 81)
Unknown
Harrow (TQ. 15319238): two Roman amphorae of 1st cent., one has MAR stamp, found 1948. (fn. 82)
B.M.
137A, Pinner Road (TQ. 14408820): thirteen Roman bronze coins of 1st cent. A.D. (including a sestertius of Vespasian) found in garden. (fn. 83)
Unknown
HENDON/HARROW
Brockley Hill, Stanmore, nr. the Orthopaedic Hospital and mainly E. of Elstree Road (Watling Street) (centring on TQ. 177938 approx.): several points in the vicinity have produced Roman finds. Excavations since 1937 have yielded evidence of both occupation and of a pottery industry. Pottery, apart from wasters from the kilns and their products such as jars, flagons, lids, bowls, includes imported 'Samian' ware and mortaria. Charcoal fragments of local oak and ash indicate the fuel used to fire the clay, which was also local. Shortage of birch remains thought to indicate that the cleared areas in the vicinity were cultivated. Kilns probably close to a road, but its precise course still uncertain. (fn. 84)
Church Farm Mus., Hendon
HENDON
Nr. Mill Hill: seven lamps and defaced coins found 1769. (fn. 85)
Unknown
Hendon Grove: pottery and bones. (fn. 86)
Unknown
Hendon (TQ. 22698937): jugs, pottery, and bricks. (fn. 87)
Church Farm Mus.
Hendon (TQ. 1798 9328): burials of 2nd cent. found 1953. (fn. 88)
HOLBORN
Corner of Endell Street and New Oxford Street (TQ. 301814 approx.): cylindrical lead cist found shortly before 1864 with bones and silver coins of Vespasian. (fn. 89)
Unknown
Drury Lane (partly in Westminster): stone (oolite) figure probably of Atys. (fn. 90)
B.M. 29.194
Gray's Inn Road: lattice-patterned urn and bones, probably A.D. 100-50, and biconical urn of c. A.D. 50-100. (fn. 91)
L.M.
Southampton Row: rusticated urn and bones. End of 1st cent. A.D. (fn. 92)
L.M.
Tavistock Square: 700 copper coins of Constantinian period (4th cent.) found by workmen in 1924. (fn. 93)
B.M.
Barter Street/Bloomsbury Court (TQ. 30358153): fragment of tombstone of G. Pomponius Valens discovered March 1961 in modern backfill of sewer trench. (fn. 94)
B.M. 1961.7-4.1
HORNSEY
Barrenger Road: coin (c. A.D. 312) of Constantine found in garden. (fn. 95)
Unknown
'104, Cranley Gardens, Muswell Hill': (fn. 96) hoard of 654 coins found 1928 in garden. Coins, a few Republican but mainly Empire, contained in globular pot. Latest dated coin is of A.D. 209.
B.M. 1928.10-19.1
Broken bronze ring, and silver spoon with a round bowl and pointed handle found in association.
B.M. 1928. 10-20.1.
'Grounds of the Priory, Shepherd's Hill Road': (fn. 97) coins of 3rd cent. (Probus and Caracalla) in pot, and 'bronze sword handle' found c. 1848-9.
Unknown
ISLEWORTH
Thames (?): bronze figurine of Minerva, 'provincial classical'. (fn. 98)
L.M.
ISLINGTON
Caledonian Road (?): two carved Roman grave or memorial stones found in 18th and 19th cents. (fn. 99) Finding places uncertain.
Unknown
KENSINGTON
Notting Hill (probably TQ. 24748049): Roman coffin with burial in 'lime' found 1841 in 'foundations for new buildings situated in Victoria Park, near the Hippodrome'. (fn. 100)
Unknown
POPLAR
Gawthorn Road area (centring on TQ. 371832): skeleton in stone coffin (oolite) and Roman vessels, one of which held bones of an infant, found in 1856. (fn. 101)
Unknown
Morville Street (TQ. 37118312): two stone coffins found c. 1868-70. One, with female in lime, probably contained a 'Castor' beaker. Against this were some large vessels containing bones. The other coffin contained two males and a female in lime. (fn. 102)
Unknown
Nr. Old Ford Station (probably TQ. 37148362): skeleton in stone coffin found by workmen in 1867. (fn. 103)
B.M. 1910.2.10.1
Old Ford: pot of bronze coins of Allectus found 1866. (fn. 104)
Unknown
Old Ford area, 'about 150 yards to the south of the old ford on the River at Stratford-le-Bow': a Roman lead sarcophagus burial, found in Oct. 1844. (fn. 105)
Unknown
Nr. Saxon Road and Coburn Road (centring on TQ. 368833): Roman burial in stone coffin found c. 1866 with pottery, some cinerary, a few feet away. Pottery probably 2nd-3rd cent. (fn. 106)
Unknown
POTTERS BAR
Parkfield (TQ. 25900145: kiln; TQ. 26800145: occupation area): site connected with a Roman works making bricks, roofing tiles, etc., excavated 1953-4. Probably abandoned at end of 1st cent. A.D. (fn. 107)
RUISLIP-NORTHWOOD
Ruislip (TQ. 09158760): remains of 'a building of apparently Romano-British origin . . . associated with fragments of pottery of this period'. (fn. 108)
ST. MARYLEBONE
Oxford Street (TQ. 28358111): twelve silver coins of Vespasian, Trajan, Hadrian, Antoninus Pius, Gratian, Valens, and Julian the Apostate found some years before 1846 'in digging the foundations of Gillow's upholstery warehouse'. (fn. 109)
Unknown
Baker Street (TQ. 27918205): Roman sherds found when Mrs. Siddons's house demolished in 1904. (fn. 110)
Unknown
SHOREDITCH
Queensbridge Road (TQ. 339839): 'Romano-British urns' found 1849. (fn. 111)
Unknown
STAINES
Staines (TQ. 03497157): 'In 1871, near the Angel Inn were found Roman coins, pottery, and a bronze sword, and in 1880, by the High Street, a bath and some tesserae.' (fn. 112)
Unknown
Rosefield Road (TQ. 04307170): 'three earthenware vessels 9 inches high' found 1931 in a garden. (fn. 113) Other Roman finds have been reported, (fn. 114) suggesting possible occupation.
Unknown
Laleham (TQ. 052691): coin, mid-4th cent. A.D., found 1950-60. (fn. 115)
Unknown
Laleham Burway: (fn. 116) two urns, possibly Roman, and what was possibly BA hoard found 1814 in south bank of Thames. (fn. 117)
Unknown
Wheatsheaf Lane, nr. 'Wheatsheaf and Pigeon' (TQ. 03547009): 'poppy' beaker of 2nd cent. and grey beaker and pottery fragments of 3rd-4th cent. A.D. (fn. 118)
Reading Mus.
STEPNEY
Little Alie Street (centring on TQ. 34058125): cremation burial group in urns found 1913. Probably mid-1st cent. A.D. (fn. 119)
L.M.
Great Alie Street (centring on TQ. 33908115): cremation burial group in pots found 1904. Probably 2nd cent. A.D. (fn. 120)
G.M. Cat. No. 345
Angle of Cable Street and Brodlove Lane (approx. TQ. 356809): stone coffin burial, one in lead coffin, and other Roman items found in 17th cent. (fn. 121)
Unknown
Back Church Lane, nr. Cable Street (TQ. 34208095 approx.): tombstone of soldier of XXth Legion found 1776. (fn. 122)
Unknown
(Old) Montague Street (centring on TQ. 343817): pinkish buff, two-handled, globular amphora (c. 2nd cent. A.D.) found 1887. (fn. 123)
Unknown
Haydon Square and Mansell Street (centring on TQ. 337810): ragstone sarcophagus found 1854 with lead coffin and burial in lime; also burial in lead canister, at least four urn burials (one with colour-coated ware) (fn. 124)
Unknown
L.M. A.20347
St. Clare Street, Minories (TQ. 33608100), about 5 ft. north-east of burial place of Anne Mowbray, Duchess of York: a cremation in a grey pot with red lid; found 11 Dec. 1964. Many other burials of this kind were found including a piece of painted wall plaster.
L.M. 65.8
SUNBURY
Shepperton: 'remains of Roman tessellated pavements have been found in this neighbourhood'. (fn. 125)
Unknown
Shepperton (TQ. 06206695): Romano-British pottery found 1943 in gravel. Probably of 2nd cent. A.D. 'The site will have been a peasant village.' (fn. 126)
Unknown
TOTTENHAM
18 Crawley Road (TQ. 32259017): decorated 'Samian' ware and worked flints found on surface. (fn. 127)
Walthamstow Mus.
Devonshire Hill School (TQ. 32259152): tetradrachm of Diocletian minted at Alexandria in A.D. 284 found in 1945. (fn. 128)
Unknown
UXBRIDGE
Harefield, at Breakspear on the land of J. A. Partridge: 'remains of Roman sepulchres' found c. 1818. (fn. 129)
Unknown
Cowley, St. Laurence Church (TQ. 05998205): 'Roman remains' found 1959. (fn. 130)
Unknown
Uxbridge (TQ. 06048831): base of 'Rhenish' ware pot and stamped flue tiles. (fn. 131)
Uxbridge Mus.
WEMBLEY
Kingsbury, St. Andrew's Church (and area centred on TQ. 20108644): 'incorporated in chancel-walls, some sections of Roman hypocaust flues'. (fn. 132) Roman bricks said to have been dug up beside Salmon Street.
WOOD GREEN
Alexandra Palace, grounds nr. pond (centring on TQ. 295903): coin (follis) of Diocletian (A.D. 284-305).
Bruce Cas. Mus., Tottenham