Pages 38-44
A History of the County of Middlesex: Volume 10, Hackney. Originally published by Victoria County History, London, 1995.
This free content was digitised by double rekeying. All rights reserved.
NEWINGTON AND STAMFORD HILL
NEWINGTON AND STAMFORD HILL consisted of those parts of Hackney which lay along the high road north of Shacklewell, on the east side of what became Stoke Newington High Street and on both sides where the road ascended from Hackney brook. Until the 19th century the area was called simply Newington and was grouped for assessments with Shacklewell, Kingsland, and Dalston. (fn. 1) Both Newington (fn. 2) and Sanford or Saundfordhill, probably named from the ford across the brook, were recorded in the 13th century; the spelling Stamford Hill is found from 1675. (fn. 3)
Although land at Stamford Hill was to be sold under a Londoner's will of 1394, (fn. 4) early building along the high road seems all to have been at the junction with Stoke Newington's Church Street. There were tradesmen and two inns on the west side of the high road in 1570, a wine tavern at Stamford Hill in 1600, (fn. 5) and buildings on the Hackney side of the high road, forming Newington Street, in the 1670s. (fn. 6) In Newington 23 houses were assessed in 1672, all of 5 hearths or less. (fn. 7) No select vestryman lived in Newington in 1729. (fn. 8) It nonetheless grew faster than other settlements along or near the high road in the mid 18th century: 16 residents paid poor rates in 1720, 35 in 1735, and 91 by 1761. (fn. 9)
East of the high road Hackney brook skirted the north side of Cockhanger green before turning south towards Hackney Downs. The green, later Stoke Newington common, apparently stretched almost to the high road before the inclosures of strips of waste, such as those authorized in 1711, which included a cottage and workshop, and in 1715, which lay near the Three Blackbirds inn. (fn. 10) On Stamford Hill the presence of brickearth may have led Francis Tyssen to lease 21 a. to the brickmaker Ralph Harwood in 1694. (fn. 11) Roadside waste was leased in 1706, when no building was to take place close to a particular existing house. (fn. 12) One of several strips at Stamford Hill included a cottage, beside a length of nearly 150 ft. (fn. 13) subleased in 1721 to a Hoxton brickmaker. (fn. 14)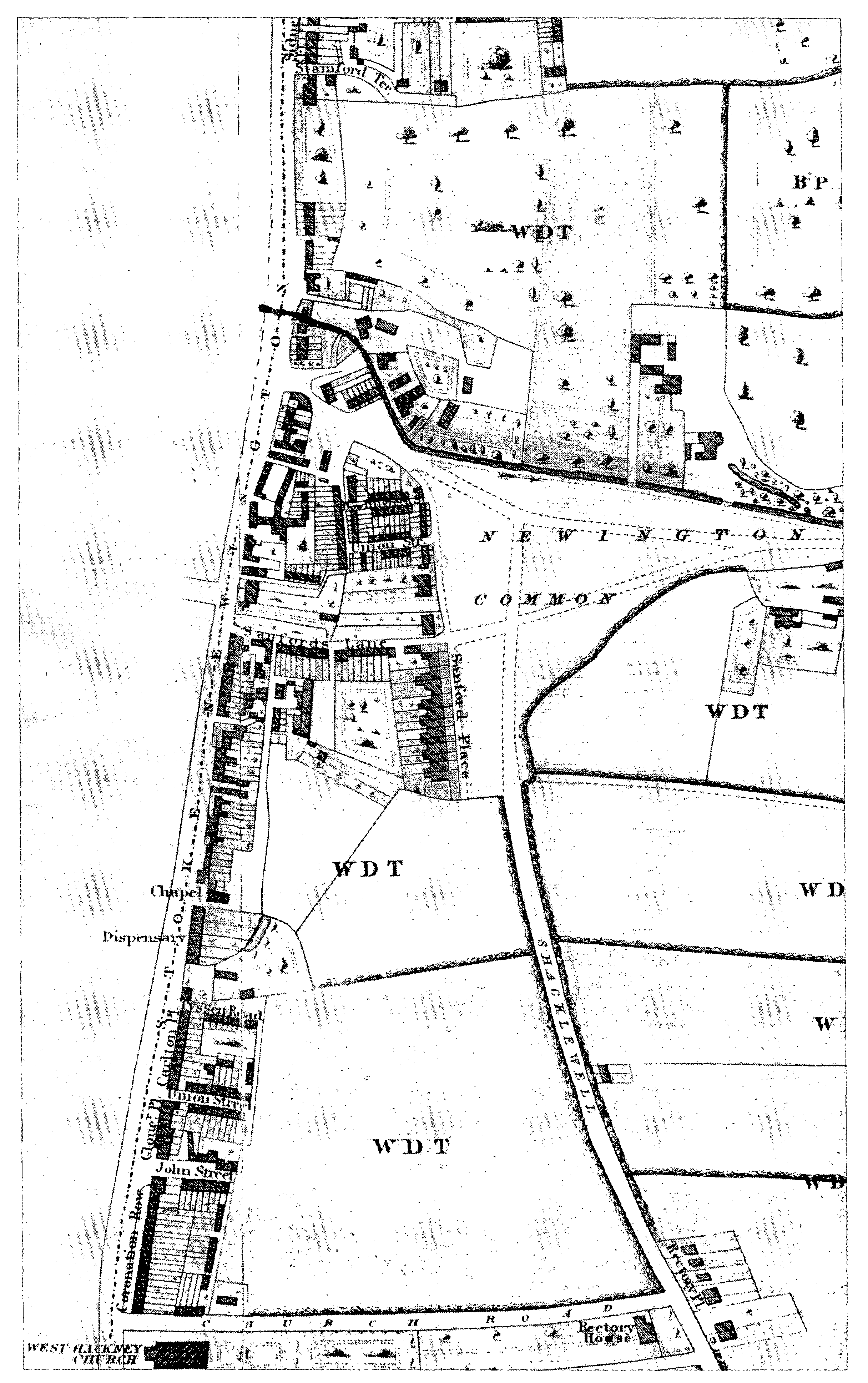 While building spread along the high road as an extension of Stoke Newington village, it also grew up at the top of Stamford Hill. A little to the north of the junction with the way across Clapton common, a tollgate was set up under the turnpike trust of 1713. (fn. 15) Gentleman's houses, not yet occupied, existed in 1740 on the east side of the high road, (fn. 16) where the Turnpike inn was named by 1750. (fn. 17) A gibbet at Stamford Hill displayed the remains of criminals executed at Tyburn in the 1740s; gibbet field in 1765 lay south of the road from Clapton common, behind Cedar House. (fn. 18)
By 1745 buildings lined both sides of the high road above and below the junction with Church Street. (fn. 19) On the east side they included the Coach and Horses and the Black Bull, both licensed by 1723. (fn. 20) Nearly opposite the junction a narrow way (later Sanford Lane) led to Cockhanger green, where the triangular common had been reduced almost to its modern dimensions. North of the lane another way to the common contained almshouses built by Thomas Cooke under a lease of 1740. (fn. 21) At least four houses stood north of the brook and the common. To the south-east there were only fields. The east side of the road up Stamford Hill had buildings between Stamford bridge at the foot and a point almost half way to the approach from Clapton common; they included the Bird Cage, licensed by 1732, (fn. 22) near a horseshoe-shaped pond. The west side had a solitary building almost half way up the slope, called Panter's Farm in 1765. Since both the Bird Cage near the foot and the Turnpike inn at the summit were described as in Stamford Hill, (fn. 23) it seems that Newington contained only the houses south of the brook.
Stamford Hill's elevation made it increasingly desirable. Cedar House, three-storeyed and with a portico, was built on the south corner of the road from Clapton common, (fn. 24) perhaps under a lease of 1760 to the brickmaker Thomas Upsdell. (fn. 25) Land nearby was leased in 1766; it abutted four new houses, one of them presumably Cedar House and another Warwick House. (fn. 26) They stood alone c. 1785, when the Turnpike marked the end of the more northerly group, which contained two large houses and five smaller ones. (fn. 27)
Dense development took place in and east of Stoke Newington High Street. By 1765 the Hackney side had shops for a carpenter, a blacksmith, and a wheelwright, 15 tenements in Webb's Yard opposite Church Street, and an inn beyond the brook, the Weaver's Arms, licensed by 1750. Behind the frontage a bowling green, leased to William Webb, bordered part of the common. (fn. 28) To the south Henry Sanford, the brewer, (fn. 29) in 1775 took on lease land along Sanford Lane, where he may already have had a brewhouse. He built, out of his own resources, 29 small houses forming Sanford Terrace and Place, which were to be sold under his will of 1795. (fn. 30)
Building continued at Newington: five other houses stood near the Bird Cage by c. 1785, four being north and one south of the pond. (fn. 31) Inclosures in 1793 included strips nearby (fn. 32) and beside Newington common, where the width of the brook was to be a uniform 10 ft.; (fn. 33) the pond was drained. More building leases for the east side of Stamford Hill were made in 1806, some of which were soon assigned to John Hindle. (fn. 34) The Rhodes family took leases of c. 25 a. between the high road and the north end of Shacklewell Lane (later Rectory Road) in 1806; Thomas and William Rhodes leased individual houses in the high road in 1817. (fn. 35) From c. 1821 (fn. 36) the south end of Stoke Newington High Street was marked by West Hackney church, (fn. 37) whence Church Road (later the west end of Evering Road and Manse Road) led through fields to its Rectory and Shacklewell Lane. Coronation Row and other terraces lined the high street, past the culs-desac of John and Union streets (later roads, respectively renamed Batley Road in 1909 and Hollar Road in 1937) and Tyssen Road. Sanford Lane, housing mainly tradesmen and labourers in 1821, led to the superior Sanford Place, which had some Jewish occupants; (fn. 38) crowded alleys and courts included Lawrence's Buildings south of the lane and Bowling Green Street with its offshoots to the north. More buildings clustered around the road leading to the north side of the common, where there were several gardeners. The east side of the street remained commercial beyond Stamford or Newington bridge to the Bird Cage, behind which c. 70 labourers or trades people were living by 1821.
The Bird Cage in 1829 (fn. 39) stood on the north corner of a built-up road called Birdcage Walk (later Chapel and from 1905 Windus Road), which continued as a footpath through fields to join the new Hill (from 1893 Oldhill) Street from Clapton. Higher up, Grove Lane (from 1938 Lampard Grove) and Grove Road or Place (from 1890 Lynmouth Road) also headed east to the bottom of Hill Street. No other offshoots, except a path along the line of Portland Avenue, led eastward below the junction with Upper Clapton Road leading from Clapton common. Both sides of the hill were lined with substantial houses. No ways led west, except to outbuildings in the long rear gardens. Houses at the top of Stamford Hill on the west side had grounds extending along the road; the only untouched sites were on the east side, where a reservoir was soon to be built on a field later bordered by Portland Avenue (fn. 40) and where Leg of Mutton pond filled the north angle with Upper Clapton Road. (fn. 41) A few tradespeople lived beyond the summit near the Turnpike and at the end of Bell's (later Bailey's) Lane, which led along the Tottenham boundary towards the Lea. (fn. 42)
Stamford Hill had many large and spacious houses; its name was borrowed for St. Thomas's church, known as Stamford Hill chapel, (fn. 43) and Stamford Grove East and West in neighbouring Clapton. (fn. 44) Eminent Jews had lived at Stamford Hill since the time of Moses Vita Montefiore (d. 1789). The richest were leaving by c. 1840, perhaps because of increasing road traffic or because they could live farther afield. (fn. 45) In 1850, however, four seats won praise for their landscaped grounds; they included Lion House, with 20 a. west of the summit, and Craven Lodge. (fn. 46)
Craven Lodge stood near the Stamford Hill end of the estate of John Craven (d. 1836), who inclosed waste around Leg of Mutton pond in 1806 (fn. 47) and was leased land on the south side of Upper Clapton Road in 1818. (fn. 48) His land stretched north to Bell's or Bailey's Lane (later Craven Park Road) and eastward to the Lea, where his son Arthur in 1846 bought land from Samuel Tyssen's executors. (fn. 49) Arthur Craven was followed by the philanthropist Samuel Morley (1809-86), after whose departure in 1870 Craven Lodge was left empty, while most of the 70-a. estate was probably sold piecemeal by Reuben Button. The early 19th-century house, of two storeys and five bays, stood behind the modern nos. 130-8 Clapton Common; it was demolished in 1904 (fn. 50) save for a round tower which survived beneath ivy in 1992. (fn. 51)
Building between c. 1830 and 1870 (fn. 52) was restricted chiefly to business premises along the high street and a little way up the east side of Stamford Hill (fn. 53) and to large houses farther north. Short streets filled the space between Stoke Newington High Street and the common, where a British school of 1838 and a Methodist chapel of 1861 were built near the almshouses. (fn. 54) In 1868 the common was otherwise bordered by fields and the grounds of Baden Farm and Thornbury Park to the north and of Elm Lodge to the south-east. The first two stood on c. 18 a. acquired in 1791 from Reston Gamage, son of Abraham Gamage, by Baden Powell; they were conveyed to Maria Powell in 1830 and mortgaged to W. G. T. Tyssen-Amhurst in 1862. (fn. 55) Housing did not yet extend from Clapton, although it was advancing along Brooke Street (from 1878 Northwold Road) and Fountayne Road had been planned. Stamford Terrace (from 1907 Belfast Road) led east to a brewery.
Land east of the high street and Stoke Newington common and on each side of Stamford Hill was made more valuable from 1872 by the opening of tramways and of the G.E.R.'s Enfield branch, with Stoke Newington station replacing Ibston Lodge near the foot of the hill and Stamford Hill station west of the summit. (fn. 56) The Tyssen estate accordingly made leases under which much of the high road frontage was rebuilt and terraced avenues were laid out around the open sides of the common, (fn. 57) itself bisected by the railway but preserved as an open space. (fn. 58)
Redevelopment continued along the high road, as in Shacklewell. Demolitions were planned to make way for shops between Tyssen Road and Union Street in 1882, in the high road and Tyssen Road in 1883, and between Union Street and Church Road in 1884, with houses in the new Leswin Street to the east. (fn. 59) In Stamford Hill shops and a public house were to be built near the railway station in 1877 and south of Grove Lane in 1889; workshops were permitted at the rear in 1888 and 1893. (fn. 60) Where Northwold Road met the high street, land was leased in 1879 for the artisans' flats called Gibson Buildings (later Gardens), (fn. 61) behind a site where the almshouses were reopened in 1889 after the school's enlargement. (fn. 62)
East of the high street and the common, long avenues were built towards Clapton. The chief were Evering and Brooke roads, Northwold Road (a renaming of Brooke Street) skirting the common, and, from the foot of Stamford Hill, Cazenove Road. Those and others were linked by many north-south roads parallel with Rectory Road (a renaming of the north end of Shacklewell Lane) and, farther north, with Fountayne Road. (fn. 63) Among builders granted leases were William Redmond for 26 houses in Rectory Road in 1876, Charles Baker for 15 in Maury Road and John Ware for 35 in Bayston and Darville roads in 1877, Charles Weeks for 48 in Cazenove Road in 1878, S. J. and W. J. Tucker for 39 in Reighton Road in 1880, and William Mattocks Dabbs for 68 in Kyverdale Road and 12 in Alkham Road in 1881. (fn. 64) Edward Withers was to build 45 houses in Benthal and Evering roads in 1877, 42 in Norcott Road in 1880, 77 in Brooke and Narford roads in 1882, and 50 in Alconbury Road in 1883. (fn. 65) Perhaps the biggest builder was William Osment, responsible for 21 houses in Evering Road in 1877, 46 in Fountayne Road in 1878, and 15 there, with 43 in Osbaldeston Road, in 1879. (fn. 66) By 1894 the isolated houses overlooking the common had gone and the last sites, in Geldeston and Durlston roads, were about to be filled with 116 houses by Osment. (fn. 67) Away from the high road there were only a few shops; in 1879 two were permitted at one end of Fountayne Road, where St. Michael's church (1884-5) was also built on the Tyssens' land. (fn. 68)
Terraces also spread northward across the slope in the triangle formed by Stamford Hill and Cazenove and Upper Clapton roads. William Osment was to build along Osbaldeston Road as far as Clapton in 1882, in Forburg Road in 1888, and in Chardmore Road, where 10 shops were permitted, in 1890. (fn. 69) The grounds behind Stamford Hill's villas in 1894 prevented building closer than Darenth Road, which had shops at its south end and where both Osment and Dabbs had been active in 1883-4. (fn. 70) The Congregational church of 1871 at the corner of Portland Avenue remained the only intrusion in the line of villas as far as Upper Clapton Road. (fn. 71) Not until 1905 could Osment start building on some of their gardens in Leweston Place. Shops built by James Edmondson were permitted at the corner of Clapton Common (a renaming of part of Upper Clapton Road) in 1909 and, with houses, were to replace some adjacent Stamford Hill villas in 1911. (fn. 72) North of the corner the immediate surroundings of Craven Lodge remained empty in 1894, although the old Turnpike tavern had made way c. 1870 for Ravensdale Road. Semidetached houses were built in Ravensdale Road and cramped rows in Olinda Road and Bailey's Lane. (fn. 73)
The land behind the west frontage of Stamford Hill, divided by the G.E.R. line, was similarly built up. Thomas James, who also built shops in the high road, was to provide substantial houses in Amhurst Park (sometimes called Amhurst Park Road) and the parallel Vartry Road in Tottenham from 1882 and 50 smaller houses in Bergholt Crescent and Cranwich Road in 1886. (fn. 74) Builders included W. J. and F. Collins in West Bank and in Dunsmure Road, which was to have shops, from 1884, (fn. 75) William Garside in Dunsmure Road from 1885, William Osment around Linthorpe Road from 1891, (fn. 76) and Withers and Dabbs. (fn. 77) Several houses, notably in Amhurst Park, were subleased to or built by Charles, Horace, or Chester Cheston, of the manorial steward's family. (fn. 78) By 1894 all the modern avenues existed except south of Dunsmure Road and between that road and Linthorpe Road, where gardens survived behind the older villas. New houses faced the hill higher up, together with the Skinners' girls' school of 1890. (fn. 79)
The most crowded area, north of Sanford Lane, benefited under leases from 1896 to Stoke Newington Improved Dwellings Syndicate, which was to provide houses over shops, workshops, and 14 three-storeyed blocks for artisans in and around the newly named Garnham Street. (fn. 80) Away from the high street the long tidy avenues near Stoke Newington common were c. 1910 considered superior to the roads of Shacklewell. 'Good middle-class' shops virtually continued the high street up Stamford Hill to Grove Lane, beyond which stretched villas in their gardens. Unremarkable terraces, mainly of red brick, filled most of the space behind both frontages. (fn. 81) The hill's last offshoot, Holmleigh (originally Homeleigh) Road, was so named from 1903. Two four-storeyed blocks of large flats, Stamford Hill Mansions, were built c. 1905-6 on the corners with Stamford Hill, with less imposing flats called Carlton Mansions in Holmleigh Road itself. On the summit Cedar House was demolished in 1908 and shopping parades created a new centre, at the crossroads formed by Amhurst Park and Clapton Common. (fn. 82)
In the period 1918-39, while Stoke Newington High Street acquired branches of national stores, the most striking changes took place along Stamford Hill. No. 122, north of Portland Avenue, made way for Portland Mansions in 1930-1. (fn. 83) South of Portland Avenue 11½ a. were bought for the L.C.C.'s Stamford Hill estate, for 516 flats in four- to six-storeyed blocks built in 1931-2 and from 1936. (fn. 84) Opposite its south end similar neo-Georgian blocks had been built by Charles Joseph for the Guinness trust in 1933-4. (fn. 85) A commercial garage stood immediately to the north, as from 1930 did Grey Green Coaches' station farther south. (fn. 86) The shopping centre at the summit assumed a more modern appearance with the opening of the Regent (later Odeon) cinema and an adjoining parade. (fn. 87) Flats at Regent Court (over shops) and Stamford Lodge were built in Amhurst Park, as was Cambridge Court in 1938-9 beyond the railway station. Meanwhile Jewish immigration, stimulated from the 1920s, led to the conversion of many houses into institutions (fn. 88) or to their use by professional men, especially doctors and dentists.
Piecemeal changes continued after 1945, involving the closure or enlargement of institutions and the provision of more flats. (fn. 89) Beyond the crossroads, where Stamford Hill dipped towards Tottenham, the four-storeyed ranges of the L.C.C.'s Hillside estate had been built by 1951. Much of Amhurst Park west of the station was rebuilt, with four- and five-storeyed flats by the Samuel Lewis trust, in scale with Cambridge Court, in 1953-4 and, between them, the L.C.C.'s six- and eleven-storeyed blocks of Joseph Court in 1962-3. Goodrich House was built farther west in 1964-5 and Stanton Court in 1979-80.
Jewish investment was most visible in Lubavitch House at the top of Stamford Hill, designed by David Stern and opened in two stages in 1968 and 1974. (fn. 90) Farther down, the road lost its chief landmark when the Congregational church made way for a library in 1966. Montefiore Court replaced the former Jewish school at no. 69 with flats between those of Stamford Hill Mansions and the Guinness trust in 1973-4. At the foot of the hill, Ockway House provided offices from 1964 and housed Hackney's directorate of education in 1992.
East of Stoke Newington High Street, the Tyssen estate in 1950 failed to obtain a change of zoning from residential to commercial for part of the most crowded area, between Northwold Road and Garnham Street and in Lawrence's Buildings. (fn. 91) Neighbouring streets, however, were cleared in the 1970s for Hackney's Smalley Road estate, low-rise and in keeping with Sanford Terrace to the east, renovated in 1974-5. (fn. 92) Houses along much of the north side of the common made way for Alkham Road's high-rise George Downing estate in 1965-6 and for Kyverdale Road's more modest Keates estate in 1971-2.
In the 1980s development included Safeways Stores' replacement of Stamford Hill Odeon by a red-brick supermarket and its provision at the foot of Stamford Hill of premises whose classical features were faintly imitated in those of the adjoining Currie Motors; a striking furniture showroom for M.F.I. was built almost opposite between Lynmouth Road and Lampard Grove.
The area remains commercial along Stoke Newington High Street, up the lower slope of Stamford Hill, and around its summit. The high street admits only north-bound traffic between Evering and Cazenove roads, but Stamford Hill is wider and, except by Montefiore Court, treelined. Multiple traffic lights and broad pavements create a busy but spacious crossroads at the top. An ornate three-storeyed shopping parade around the south-east corner contrasts with more recent buildings and is similar to rows of 1911-12 at Golders Green, (fn. 93) to which the resemblance is strengthened by many Jewish food shops.
The only survival of 18th-century settlement near the turnpike is the stock- and red-brick building of c. 1740 at nos. 266-8 Stamford Hill. Set back, and of three storeys and five bays, it has been divided and extended by shop fronts on the ground floor; brickwork appended to the north flank wall survives from the old Turnpike tavern, itself commemorated in a Victorian inn. (fn. 94) Stately mid 19th-century villas are represented by nos. 122, 124 (a youth club), and 126 Stamford Hill, each of two or three storeys over a basement and of a different coloured brick. A large late 18th-century pair of three storeys, attics under a mansard roof, and basements survives alone at nos. 51 and 53. (fn. 95)
Most of the streets behind the high road contain late Victorian or Edwardian terraces of stock or red brick, which have been dismissed, with slight exaggeration, as identical. (fn. 96) In the north-west part no. 50 Durley Road bears a plaque to Sir Ebenezer Howard (d. 1928), originator of the garden city movement. (fn. 97) Infilling or rebuilding away from the main roads has mainly been modest in scale, as in the flats of Beechwood Lodge and the additions to Orion hall in East Bank. Dunsmure Road retains its late 19th-century ranges of shops. To the south-east Stoke Newington common is well provided with plane trees (fn. 98) but marred by a railway cutting, a starting point for buses, and the shadow of a twelve-storeyed tower of the George Downing estate.
The west side of the common has 13 stockbrick houses, nos. 9-21 Sanford Terrace, no. 21 being built in 1788 as no. 1 Sanford Place. All were finished within two years, the earliest being nos. 18-21, which are of two storeys with attics and basements, whereas the others have three storeys and basements. Details, including fanlights and recessed doors between fluted pilasters, recall Henry Sanford's concern for uniformity and embellishment: he did not resort to speculative builders. (fn. 99) The row is extended by modern town houses built in imitation, Sanford Walk to the north and nos. 1-7 Sanford Terrace to the south.
Near its junction with the high street, Northwold Road is dignified by gates guarding the entrance to Gibson Gardens and by West Hackney almshouses. (fn. 100) Gibson Gardens, four-storeyed redand yellow-brick ranges designed by Davis & Emanuel and dated 1880, represent one of the last schemes of the Metropolitan Association for Improving the Dwellings of the Industrious Classes. (fn. 101)