Pages 59-65
A History of the County of Middlesex: Volume 10, Hackney. Originally published by Victoria County History, London, 1995.
This free content was digitised by double rekeying. All rights reserved.
GROVE STREET AND WELL STREET.
Until joined by 19th-century building, two small settlements lay at road junctions. The first was where Grove Street, on the way from Old Ford Lane in Bethnal Green, met a footpath running from the south-west and continuing north-east as Grove Street Lane to Hackney Wick; the second was where Grove Street, slightly east of the modern Lauriston Road, met the way, called Well Street, running from Mare Street to Homerton. (fn. 1) From the 16th until the 19th century the hamlets were normally assessed and administered together. (fn. 2) This account covers south-eastern Hackney, east of Mare Street and south of Wick Road.
The names of Grove Street and of the Shoreditch family's Grove House, so called in 1327, may have had a common origin in a grove stretching westward from the hamlet to Shore Road. (fn. 3) Richard atte Grove left a house with a curtilage in Grove Street in 1392. (fn. 4) Until the way from Old Ford Lane was improved to form Grove Road c. 1800, the settlement there consisted of Londoners' scattered seats and a few cottages. (fn. 5) Well Street, a busier route, presumably had a settlement by 1442, when common to the east was called Well Street field. (fn. 6) The moated site of the 'Pilgrim's house' to the west, on the north side of the street, may have had a house before the brick one was built. (fn. 7) Another moated house, on the south side, passed in 1658 from John Offley to his sons John and Thomas. It was occupied in 1664 by Sir John Gore and formed part of an estate of 14 houses and cottages in Well Street which was divided in 1686; the dwellings were decayed in 1695. (fn. 8) Well Street common in 1442 contained parcels which later passed to Henry Monger (d. by 1669), as did cottages in Grove Street recorded from 1516-17. (fn. 9) Later development around both hamlets was largely shaped by St. Thomas's hospital and the trustees of the Sir John Cass Foundation, and around Grove Street also by the Norris family. In the late 17th century the Norrises acquired a seat probably of the mid 16th. (fn. 10)
Mare Street, Grove Street, and Well Street were together represented by two chief pledges at the manor court in 1582. (fn. 11) From the 1650s Mare Street had its own chief pledge and Grove Street and Well Street were represented jointly under one or both of their names. (fn. 12) The two hamlets had 24 inhabitants who paid for church repairs in 1605, (fn. 13) and 26 assessed for hearth tax in 1664, when the largest house, Henry Monger's, had 18 hearths and 6 more houses stood empty. (fn. 14) Another resident was Nathaniel Barnardiston (d. 1680), of a prominent family with Dissenting sympathies. (fn. 15) In 1672 Grove Street had 16 assessed houses and Well Street 13. (fn. 16) Twelve residents of Grove Street paid poor rates in 1720 and 11 in 1735, 1761, and 1779, while those at Well Street increased from 15 to 24, 37, and 56. (fn. 17) Two of Hackney's select vestrymen lived in Grove Street in 1729 and 1740; one lived in Well Street in 1729 and 3 in 1740. (fn. 18)
Monger's almshouses, to which two cottages were annexed c. 1679, (fn. 19) slightly extended building from Well Street towards Grove Street. Towards Mare Street a house of six bays was built west of the Pilgrim's House; it was later held by the related De Kewer and Frampton families. (fn. 20) By 1745 a track led from the almshouses along the north side of the common towards Hackney Wick. (fn. 21) In Well Street the Green Dragon inn was recorded from 1724, the Cock, perhaps short-lived, in 1725, and the Two Black Boys from 1732. (fn. 22) In Grove Street the Three Colts stood across the street at the foot of the hamlet, a few yards south of the boundary. (fn. 23) Shore House (probably the former Grove House) was dilapidated in 1720, and by 1745 buildings called Water Gruel Row, on the east side of its approach road, housed labourers and market gardeners. There was little other building in the early 18th century. (fn. 24)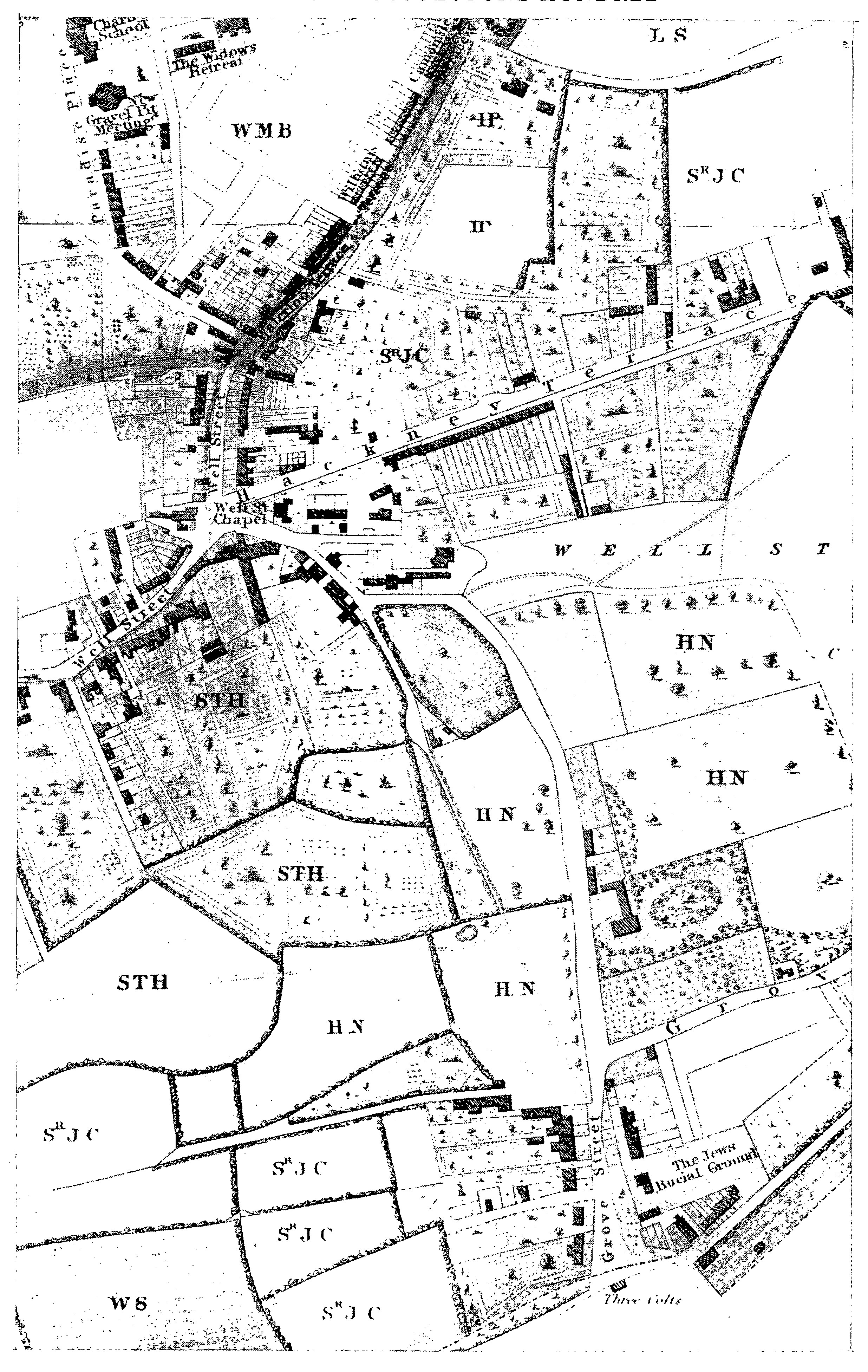 In 1768, on the demolition of Shore House, St. Thomas's hospital leased land east of the modern Shore Road, then called Shore Place, to Thomas Flight, a speculator. Flight put up three large houses fronting Well Street, a terrace of four or five along Shore Road, and a seat to the south-east later called Shore House; a few small houses were built south of his terrace in 1789. On the north side of Well Street a terrace of four was built in 1785 next to a semidetached pair. A nonconformist chapel of 1810-11 to the south and St. John's Anglican chapel of 1809-10 near a terrace in St. Thomas's Place were perhaps the only other nearby buildings until the 1840s, in contrast to development for the hospital farther north and beside Mare Street. (fn. 25)
In 1786 (fn. 26) the Cass estate leased c. 70 a. north of the common to William Gigney, a baker, who put up a short terrace at the corner of Well Street and a new way which he laid out to the Wick (later Cassland Road). A row called Nursery Place to the east and Grove Cottage (later the Limes) and another row to the north were built by sublessees. Gigney himself was commemorated by Baker's Row in Grove Street Lane, (fn. 27) later taken for workers at the silk mills. On land subleased to Thomas Sell on the south side of Cassland Road were built two large houses, replaced in the 1840s for the estate manager's Cassland House. An adjoining plot was taken in the 1790s for the house later called Terrace Lodge; to the south, Common House was built to face the common in 1787.
On Gigney's bankruptcy in 1790 part of his land was taken by James Jackson, a City linen draper and Sell's assignee. (fn. 28) Jackson's undertenants William Fellowes, John Shillitoe, and Thomas Pickering in 1792 sought monthly payments which after four years would entitle a subscriber to one of 18 houses, allotted by ballot. Both Fellowes and Shillitoe were already involved in a similar but much larger scheme in Pollard's Row, Bethnal Green. Their Hackney Terrace gave directly on Cassland Road, while back gardens led to a communal pleasure ground with a gate to the common. (fn. 29) A stable block was built to the east. With 10 houses finished by 1796 and all 18 occupied in 1801, the terrace antedated the first known development by a conventional building society, near Preston (Lanes.).
From 1800 Well Street had an Independent chapel at the corner of Cassland Road. (fn. 30) Farther west semidetached villas called Greenwood's Row had been built by 1811 (fn. 31) in a southern offshoot of Well Street later called Percy Street (from 1938 Kingshold Road). They were followed by terraces along the north-west side of Well Street, from Waterloo Terrace at the corner of West (from 1877 Elsdale) Street to where the road ran into Water Lane. (fn. 32) Well Street's c. 200 households in 1821 probably included some in West Street; a further 37, all working-class, were in Orchard Street, an offshoot of West Street, and 49, many of them genteel', in Hackney Terrace, which had given its name to the western half of Cassland Road. (fn. 33) By 1831 building stretched the length of Well Street, although single houses and garden ground survived on the east side at the Homerton end. Space on the west side between Well Street and Retreat Place was filled from the late 1830s by William Bradshaw's building of Margaret Street and its neighbours. (fn. 34)
Elsewhere growth was piecemeal. (fn. 35) In 1831 the houses of Hackney Terrace appeared incongruously urban, with open views to the north. Scattered houses lay along the road of that name farther east; beyond were others, in a stretch called Wick Street, which led to Hackney Bay and Silk Mill Row. Grove Street was still separated from Well Street, there being no roadside housing between Monger's almshouses and the Norrises' seat. By 1811 the hamlet had been extended by cottages called Providence Row on the east side of the street, between the parish boundary and a burial ground which had been laid out from 1788 by the Hambro synagogue. (fn. 36) They contributed to a total of 38 households in 1821. (fn. 37) Grove Street Lane contained, apart from Baker's Row, only a few buildings on the verge beside the common.
Building joined the two hamlets (fn. 38) not along the road called Grove Street but along a more direct footpath to the west. Land west of the path was leased in 1833 by Jane, widow of John Wowen, for a brewery, while land to the east was given in 1834 by H. H. Norris for a school. When Wowen's former estate south-west of the junction with Well Street was sold in 1843, the part between the footpath and Grove Street was taken as an island site for St. John of Jerusalem's church, (fn. 39) with houses to the north, and for building at the corner with Cassland Road. The brewery was bought outright and the Albion built next to it, soon followed by Hampden chapel. Hackney Theological Seminary was established on Wowen's land to the west. (fn. 40) Most of the neighbouring land was taken by John Parr (d. 1853), who in 1844 built his first houses where the path formed a western branch of Grove Street (later the north end of Lauriston Road). From 1850 Parr and his son Samuel filled the angle between Grove Street (Lauriston Road) and Well Street with Manor (from 1878 Holcroft) Road and its neighbours. A field south-west of Grove Street hamlet, acquired in 1841 by William Bradshaw, remained to be built over from 1845 as the north side of Morpeth Road and its offshoots, (fn. 41) where the Bradshaws retained 56 houses in 1927. (fn. 42)
The Crown's acquisition of land for Victoria Park, (fn. 43) opened in 1845 and absorbing the site of the old Three Colts, (fn. 44) stimulated building over the rest of south-eastern Hackney, although it prevented the southward extension of building from Grove Street, which it separated from Bethnal Green. The park was laid out mostly on fields of William Thompson but it also included land bought from the Cass trustees, St. Thomas's hospital, and the Sotheby family, whose estate straddled the boundary. The creation of the park soon led to the construction of Victoria Park Road from the south end of Mare Street into Grove Street Lane or Road (from 1878 the eastern section of Victoria Park Road). Belts of land immediately north of the park, both east and west of Grove Street, were reserved by the Crown. To the north comprehensive schemes were drawn up, further stimulated by the expiry of the leases to Gigney in 1847 and to Flight in 1848. Delay in building on the Crown estate and in providing approaches across the park, however, made it necessary to ensure access from other directions. (fn. 45)
Development for the Cass trustees, (fn. 46) who set up a Hackney estates committee in 1845, was largely decided by their surveyor George Wales, coiner of the name 'Cassland'. For St. Thomas's hospital, Henry Currey worked as surveyor from 1848. Agreements with landholders in Mare Street improved access, while exchanges which also involved the Norris family permitted the alignment of roads through all three estates. King Edward's Road, commemorating the hospital's benefactor, had been projected from the west in 1842; its eastern stretch was agreed in 1848. Shore Road and the Well Street end of St. Thomas's (from 1936 Ainsworth) Road were planned by 1850. (fn. 47) Comparatively large tracts, for nine or more double-fronted villas, were subleased by St. Thomas's, the first being to Charles Butters in 1848 south of Tudor Road. (fn. 48) Butters and from 1851 William Norris (unrelated to the landowning family) were the chief building contractors for the area around King Edward's Road in the 1850s and 1860s. Norris undertook to widen Well Street west of Shore Road in 1854. (fn. 49) In Victoria Park Road the Cass estate usually leased smaller plots between 1850 and 1862. South of King Edward's Road, behind Cambridge Lodge in Mare Street, cramped plots were allotted from 1855 by the St. Pancras, Marylebone and Paddington Freehold Land Society and slowly built up as Park (from 1877 Fremont) Street and the modern Warneford Street. (fn. 50)
Farther east change was slower, although in Grove Street an exchange with Monger's chanty allowed the building of nos. 1-7 Blenheim Cottages, followed by the reconstruction of the almshouses. North and east of the common, building on the Cass estate spread along Well Street to Kenton Road, where land was leased in 1848 to George Oldfield for a ropery, and also along Cassland Road, involving the demolition of cottages at Hackney Bay and Nursery Place. Houses towards Hackney Wick, such as those begun by Oldfield along Bentham Road in 1851, were inferior to those nearer the common, where the surveyor George Wales's father took the first large villa in Gascoyne Road in 1848. Building around the west end of Cassland Road included Cassland Crescent opposite Hackney Terrace; it was to be begun by John Clark of Grove Cottage, registrar to the Cass trustees, in 1854 and was sufficiently complete for railings to be ordered in 1858.
Building east of the Cass estate, in the triangle between Victoria Park and Cassland roads, provided a link with Hackney Wick. It began on 3 a. sold by the Mann family in 1854, where from 1856 houses were built by the Suburban Villa and Village Association, a short-lived society which may have chosen too crowded a locality for a suburban village. Immediately to the east small terraced houses were built in a road named after John James Homer, to whom J. R. Mills leased the land c. 1858. Houses on the Victoria Road frontage were built by a contractor for the sublessee Thomas Peet Glaskin, who was active in much of Hackney. They looked across the northern apex of Victoria Park (fn. 51) and were soon complemented on the east side by Cadogan Terrace, under construction on the Crown estate in 1870. (fn. 52)
Between the west end of Well Street and where Hackney village had reached Paragon Road, (fn. 53) much of the land south of the later Loddiges Road had been held by John De Kewer (d. 1818) and then by Dr. Algernon Frampton (d. 1842); (fn. 54) beyond, it was partly the freehold of Conrad Loddiges (fn. 55) but mostly the leasehold of his family from St. Thomas's hospital until 1856. Darnley, Devonshire (from 1938 Brenthouse), and Loddiges roads had been planned to run east from Mare Street in 1853, their lines being modified towards West (later Elsdale) Street in 1854. They were linked by Stanley Road (later part of Frampton Park Road) continuing south (fn. 56) to permit the development of the Framptons' estate, on which Charles Butters and T. P. Glaskin began building in partnership in 1856; the larger houses were in Frampton Park and Glaskin roads. Abel Pilgrim was among builders on the Loddigeses' land in 1857-8 and Butters in 1859. (fn. 57) No. 11 Loddiges Road was the birthplace of the engineer Herbert William Garratt (1864- 1913). (fn. 58)
Grove Street saw little building in the 1850s. (fn. 59) Westward development, however, had been foreseen in 1850, (fn. 60) and in 1862 Henry Norris achieved the realignment of Grove Street (from 1877 Lauriston Road) west of the church, leaving the stretch on the east side to be renamed Church Crescent in 1878. He also laid out the western half of his estate with Speldhurst and other roads between the east end of King Edward's Road and Victoria Park Road; they had been built up, with most of Grove Street, by 1865, chiefly by Hugh Eastman and, in partnership, Henry Bagge and Robert Morley. The eastern half, south-west of Well Street common, was taken for the French hospital opened in 1865 (fn. 61) and for Penshurst and neighbouring roads; the main builder was James Harman, who had completed the estate by 1867. On Cass land, south of the space at the intersection of Grove Street with Victoria Park Road, Rutland Road and its offshoots were built to the west from 1862 to 1865, followed by roads near the Jews' burial ground to the east; the neighbouring Lauriston Road frontage was finished in 1872. (fn. 62)
Towards Hackney Wick the space between Victoria Park and Cassland roads was filled after George Wales's departure in 1863. (fn. 63) Harrowgate Road was to be built up in 1863, by Bagge, and roads to the east in 1864, by John Wright, as far as the Suburban Villa and Village Association's Brookfield Road. From 1867 remaining sites were taken along the middle section of Cassland Road and in Bentham Road and others to the north, where most of the land had been market gardens. (fn. 64) The rest of Cassland Crescent was finished in 1865, when the parish vestry, as trustees of Poole's charity, made a building lease for the land between Well Street and Terrace Road on the west and Queen Anne Road.
Around the common, Gascoyne Road on the east was finished in 1870, Meynell Road on the north was occupied from 1877, a strip by Victoria Park Road on the south was taken for villas from 1891, and the lawn behind Hackney Terrace on the north-west was taken for Meynell Crescent from 1893. (fn. 65)
The last major phase of building was on the Crown's land bordering Victoria Park. Impressive villas had been planned in 1854 by James Pennethorne but, apart from keepers' lodges of 1857, construction on the Hackney side began only in 1860. Work had proceeded eastward along the south side of Victoria Park Road to the modern Skipworth Road by 1863 and was planned on the south side of Grove Street Lane in 1867, when St. Augustine's church was built farther east. Public agitation ensured that stretches on either side of the church were saved from building by their sale to the M.B.W. in 1872. A slightly longer stretch nearer Grove Street was taken for Cawley and Rockmead roads of 1873-4, where single rows faced the park, as they did from 1872 along the curves of Gore Road, where Christ Church had been built as a western counterpart to St. Augustine's. (fn. 66)
Victoria Park was said to have initiated a new town in southern Hackney in 1862, (fn. 67) when building was at its busiest and when the M.B.W.'s completion of Burdett Road improved access by way of Grove Road through Bethnal Green. (fn. 68) Mainly residential, the area in 1869 was served by shops along Well Street, many of them around the junction with Cassland Road. A smaller group existed in the Broadway, where Grove Street widened south of the intersection with Victoria Park Road and where from 1879 trams passed on their way to Cassland Road. (fn. 69) Subdivision of premises or conversions for industry were controlled more carefully by the Cass trustees than by St. Thomas's, which allowed a wholesale bootmaker's to open at no. 74 Well Street in 1884. Ten years later the Well Street neighbourhood had 17 leatherworking or allied factories. (fn. 70)
About 1890 the well-to-do occupied most of the roads facing the park and Well Street common, or lived nearby east of St. John's church around Penshurst Road, to the west in Victoria Park and King Edward's roads, to the north along all but the easternmost stretch of Cassland Road, and in Darnley Road. Mixed with the 'fairly comfortable' they also lived along Well Street, around Frampton Park, Shore, and St. Thomas's roads, and west of Lauriston Road. Gore Road, although facing the park, and the nearby Rutland Road were only 'fairly comfortable'. Wick Road and some older enclaves were less prosperous. The poor were restricted to Wetherell Road and Bradshaw's Morpeth Road near the park end of Grove Street, to Percy Road off Well Street, and Hedgers Grove and Homer Road near Hackney Wick; Victoria Grove off Morpeth Road and Palace Road, opposite Percy Road, were very poor. (fn. 71)
By the 1890s there was room for building only in the grounds of Well Street's older residences, (fn. 72) notably Common (later Grove) House behind Monger's almshouses, Terrace Lodge immediately to the west, Cassland House at the end of Hackney Terrace, and Grove Cottage (later the Limes) nearby at the corner of Terrace Road. Cassland House was leased for technical education from 1897 (fn. 73) and later replaced; Grove Cottage was taken for terraces in 1900. The other two were to survive until c. 1930. South Hackney county school was built in Cassland Road c. 1900 on the site of terraces of the 1860s between Bramshaw (formerly Brampton) and Bradstock (formerly Union) roads. (fn. 74)
Between the World Wars the district as a whole remained residential, except along Well Street and in offshoots near Mare Street such as Tudor Road. Elsewhere workshops were opened over a wide area, including Cassland, Wick, and Gascoyne roads by 1930, but were not concentrated. (fn. 75) Grove House and Terrace Lodge made way for Meynell Gardens after their purchase by Classic Estates, which also built Classic Mansions in Shore Road. (fn. 76) The Cass trustees objected to the L.C.C.'s proposed reduction of occupational density as more suitable for an outer suburb. They were reassured in 1937 that their estate as a whole would be zoned 'residential' rather than 'special residential' and that in principle they might build flats; the spread of shops and industry was restricted. (fn. 77)
Widening of Well Street west of Percy Road was planned in 1921. (fn. 78) The L.C.C. bought 3 a. between Well Street and King Edward's Road in 1926 for its Shore estate, finished in 1930, and 2½ a. to the south for the Kingshold estate, opened in 1932. (fn. 79) Smaller than some estates in northern Hackney, they had 184 and 140 dwellings respectively in 1938. (fn. 80) Templecombe Road, named in 1931, was built on a former nursery at the Kingshold estate's south- west corner and the private Sharon Gardens, named in 1934, on back gardens to the east. (fn. 81) Slum clearances were ordered in Lyme Grove, north of Loddiges Road, and in Wetherell Road in 1936-7. (fn. 82) The L.C.C.'s Banbury estate was built in 1936-7 with 203 dwellings on little more than 1 a. between Penshurst and Groombridge roads. (fn. 83)
Following widespread bomb damage in 1940, (fn. 84) redevelopment was most sweeping near Mare Street. After demolitions in King Edward's Road the Kingshold estate was extended by the opening of Weston House, Hackney's first postwar flats, in 1948. (fn. 85) North of Well Street, Glaskin and Palace roads were among those cleared on either side of Frampton Park Road, which survived with Loddiges Road as a way through the L.C.C.'s Frampton Park estate, begun in 1956, where blocks were up to 12 storeys. (fn. 86) The Gascoyne estate, started by 1949, extended south across the middle of Cassland Road to reach Well Street common. (fn. 87) The Parkside estate, with 152 dwellings, was built by Hackney M.B. in Rutland Road in the mid 1950s, as was Lauriston House in Lauriston Road. (fn. 88) There followed flats by the L.C.C. in Bentham Road and by the G.L.C. in Kenton Road. (fn. 89)
On the east side of Church Crescent, South Hackney Rectory and a Toe H hostel had been rebuilt by 1965 as Prideaux House, with Sundridge House to the south and the 12-storeyed Chelsfield Point on the Banbury estate by 1967. The Kingshold estate had also been extended by 1970: Wakelyn House and other flats were built across Shore Road, curtailed and renamed Clermont Road south of Tudor Road, and Thornhill Point and other flats were built across King Edward's Road, curtailed and renamed Moulins Road to the east. (fn. 90) Yorke, Rosenberg & Mardall were architects for the extensions to Kingshold and Shepheard & Epstein for later work on the Banbury estate. (fn. 91)
Later redevelopment, mainly private, took place near Victoria Park. The 9-a. strip between Wetherell and Victoria Park roads on the north and Rockmead and Cawley roads on the south, with much damaged property, was to be cleared in 1976 by the Guinness trust, which provided 197 dwellings in 22 low-rise blocks; Guinness and Iveagh closes were so named in 1983. (fn. 92) On the Crown estate a bombed section of Gore Road was filled in 1966-7. Christ Church and the west end of the road made way for Christchurch Square and St. Agnes and Pennethorne closes; all three had been named by 1979, although Wates was building in Pennethorne Close in 1985. (fn. 93) Houses were also put up behind Hampden chapel, where a site to the south between the chapel and Balcorne Street awaited redevelopment in 1992. Thornhill Point and its companion Halston Point, with 21 storeys the tallest buildings in the area, then stood empty and partly boarded up.
A conservation area was proposed in 1976 for the north side of Victoria Park. It embraced the rows facing the park, houses stretching north along Lauriston Road to the church, and others facing Well Street common and at the west end of Cassland Road. (fn. 94) Thereafter the common, always less ornamental than the park and neglected for c. 20 years, was improved by tree planting. (fn. 95)
Well Street remains busy but lacks impressive public buildings. Most of the shops are near Mare Street and between Valentine Road and Morning Lane; the middle stretch retains a few mid 19thcentury houses facing the Frampton Park estate. Near the west end nos. 23-5, Shuttleworth's hotel, is a four-storeyed pair built by 1785. (fn. 96)
The townscape to the south, despite much rebuilding, includes the spire of the Lauriston Road church. Beyond, Victorian terraces with some infilling define the edges of mature parkland in Victoria Park and, less clearly, of Well Street common. (fn. 97)
The former Hackney Terrace, begun in 1792, is numbered 20-54 (even), Cassland Road. 'The earliest of Hackney's few palace-front terraces and the most ambitious of its Georgian survivals', it is of stock brick, each house being of three bays and three storeys over a basement; a central pediment bears the arms of the architect William Fellowes with those of the other two promoters. Balconies were the only permitted additions to the austere street front, although the interiors are asymmetrical and the rear elevations, which still overlook long gardens, contain many bay windows. (fn. 98) Opposite the terrace a small garden shields the mid 19th-century pairs of Cassland Crescent. (fn. 99)
In Church Crescent nos. 1-7 of 1847-8 were probably designed by George Wales, who rebuilt Monger's almshouses immediately to the east. Nos. 1-3 form a composition in Tudor style, of stock brick with red-brick dressings, and nos. 4-7 are two pairs, in pinkish brick, with quasiclassical features; all are two-storeyed and were known as Blenheim Cottages. (fn. 100)
Meynell Gardens, laid out as a close in 1932 by A. Savill on the site of Common House, is an 'oasis of Hampstead Garden Suburb cottages'. Gascoyne House, three five-storeyed blocks built by 1952, has been seen as more imaginative than most of the L.C.C.'s designs. (fn. 101) The White Lodge, at the northern tip of Victoria Park, predates the park; it was probably built for a market gardener under an agreement of 1837. (fn. 102)