Pages 109-112
A History of the County of Middlesex: Volume 11, Stepney, Bethnal Green. Originally published by Victoria County History, London, 1998.
This free content was digitised by double rekeying. All rights reserved.
CAMBRIDGE HEATH
CAMBRIDGE HEATH was an area of gravel spanning the Hackney boundary, between marshland to the east and west which is included in the district described below. The heath was waste of Stepney manor and used as common pasture in 1275 when at least one 'ancient' house stood there. (fn. 1) John Slater, merchant tailor of London, was leased a piece of waste 24 rods by 11 rods on the west side of the heath, abutting Hackney Road to the north, for 99 years in 1587. (fn. 2) No building followed, as it did under similar leases of land farther south, and the lease had apparently lapsed by 1652. (fn. 3) There were no buildings on or near the heath on the Bethnal Green side of the boundary in 1703 or 1720. (fn. 4)
In 1722 the trustees of Parmiter's charity purchased 4½ a. of waste on the west side of Cambridge Road, on either side of Hackney Road. (fn. 5) One house had been built at each end of the estate by 1760, (fn. 6) three houses in all by 1775. (fn. 7) In 1724 waste on the west side adjoining the sewer was leased for 99 years to Thomas Thorne, a Bethnal Green carpenter who built a house there. (fn. 8) Several cottages had been built, probably by Thomas King, glazier and plumber of Hackney, on waste 20 p. by 24 p. on 'the sweep following the road' by 1729. (fn. 9) There was no building on the adjoining freehold and copyhold estates, although it was contemplated on Sotheby's land. (fn. 10)
More sustained activity began in 1786, when Parmiter's charity leased the whole estate to Wilmot, who built six houses and sold his term in 1790 to William Lovell, who built five more. In 1791 the trustees granted two leases to Lovell, one with 11 houses and five recently built by him, the other north of Hackney Road with 10 houses 'now building'. (fn. 11) By the late 1790s Howard's and Heath places and the Hare public house fronted Hackney and Cambridge roads (fn. 12) and by 1800 Cambridge Place formed the north-western boundary of the estate. (fn. 13) Between 1788 and 1791 applications were made to build 18 houses at Cambridge Heath; (fn. 14) although not in the names of Wilmot or Lovell, most were probably for building on their land. Five houses, however, built in 1788 by Lealand (Leland) were to the north and were claimed by the parish authorities of both Bethnal Green and Hackney. (fn. 15) In 1808 the southern portion of Parmiter's estate was leased to James Waddilove and William Causdell (Cansdell), builders of Hackney Road, for 77 years. They had constructed Suffolk Place and Felix Street by 1812 and Clare Street and Barossa and Felix places by 1819, when the estate was rated at more than £1,800 a year. (fn. 16)
Durham Place, fronting Hackney Road on the Rush Mead, was being built in 1789. (fn. 17) In 1792 roads were planned to the south: Elizabeth, Lausanne (Claremont), and Durham streets. Builders who took 99-year leases included James Nicoll from Marylebone and William Selby from Hanover Square (Westm.). (fn. 18) Three parcels were sold and five leases granted between 1793 and 1808. (fn. 19) Bond's Place had been built by 1810, under an agreement of 1807 with Benjamin Bond of Hackney. (fn. 20) Temple Street formed the eastern boundary of Rush Mead by 1821, (fn. 21) with houses on its west side by 1826. Building extended south with Catherine and Charles streets (fn. 22) by 1836, when there were 266 houses on the estate. (fn. 23)
Andrew Pritchard, 'tilemaker of Hackney Road' in 1789, (fn. 24) had interests in the area from the 1770s (fn. 25) and had bought Bullocks on the north side of Hackney Road by 1792 when he contracted with William Olley, a Woolwich bricklayer, to build houses in Hackney Road next to a factory. (fn. 26) The houses, called Matthew's Place, had been built by 1800. (fn. 27) Oxford House existed by 1808, (fn. 28) Ann's Place (later Pritchard's Road) forming the western boundary by 1819, (fn. 29) and the Oval, with 36 cottages and a chapel, on the eastern boundary by 1836. (fn. 30) Much of the estate, however, was occupied by a fishpond until the mid 19th century.
Chambers, the most northerly estate on the east side of Cambridge Road, was taken for building from 1802, when William Ditchman of Hackney Road was leased a strip on the west fronting Cambridge Road and another on the east. He built houses fronting the road by 1804, (fn. 31) Newmarket Terrace in Russia Lane in 1805, (fn. 32) and houses in new roads at the northern end of Cambridge Road, Norfolk or Martha and John (in Hackney) streets, soon afterwards. (fn. 33) John Scott, an Islington brickmaker, was let the central portion of the estate in 1808, building Prospect Place in Russia Lane and houses in a new road running north from it, called West Street and later Potter's Row after Thomas Potter, his sublessee. (fn. 34) Lark Row, at the eastern boundary of Chambers, had 10 houses by 1812. (fn. 35)
In 1807 the Leeds family agreed with Joseph Brown of Durham Place to develop the Cambridge Heath estate between Rush Mead and Parmiter's estate. In 1808 Brown engaged James Waddilove and William Causdell to build 30 houses. (fn. 36) They were employed at the same time on Parmiter's estate, with which a joint layout was apparently made. By 1812 Cambridge Circus existed on the eastern boundary of the Leeds's land (fn. 37) and by 1821 Hope and Minerva streets ran from Hackney Road to Old Bethnal Green Road, while other streets (Bellona or Matilda, Centre, and the extension from Parmiter's of Felix Street) existed in the south-east. Philadelphia and Minerva places faced Hackney Road and there was a continuous frontage on Old Bethnal Green Road, although most of the centre of the estate was still empty. About a third of the estate was available for building in 1831. (fn. 38)
On the eastern side of Cambridge Road, the 5-a. field belonging to Bishop's Hall was leased in 1811 to the London Society for Promoting Christianity among the Jews, which built the Episcopal Jews' chapel and associated buildings, called Palestine Place by 1836. (fn. 39) To the north and south were portions of Pyotts, that to the south developed in the 1790s as Patriot Square (fn. 40) and that to the north granted in 8o-year building leases between 1819 and 1824 to John Spencer, William Bradshaw, Samuel Ridge, and Joseph Whiltenbury. (fn. 41) Prospect Place or Row had been built fronting Russia Lane and Grosvenor Terrace fronting Cambridge Road by 1826, (fn. 42) and Gloucester Street between Cambridge Road and the north-south section of Russia Lane by 1836. (fn. 43)
There remained Sebright's estate, in the north-west. Aware of its 'increasing and improving neighbourhood', the trustees in 1813 obtained an Act to grant long building leases. (fn. 44) In 1821 they leased a large part north of Hackney Road to Joseph Teale of Shoreditch, (fn. 45) who was responsible for the building of Sebright Street by 1822, (fn. 46) Sebright Place, Gloucester Street and Place and Hill Street by 1826, (fn. 47) and Wolverley and Teale streets by 1836. By then there were some 250 houses on Sebrights north of Hackney Road. (fn. 48)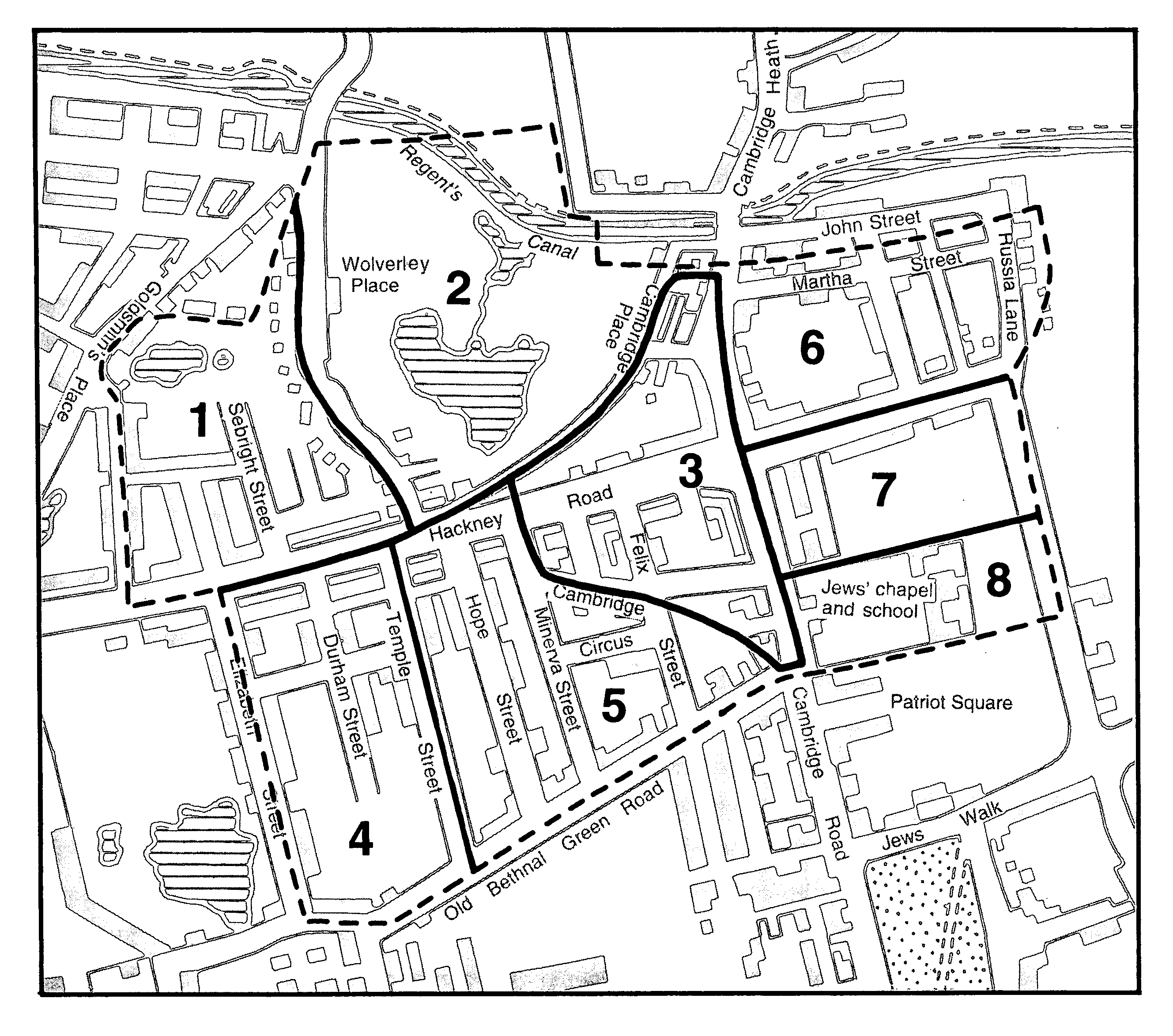 By 1836 there were 1,276 houses in the area, all but 231 on the west side of Cambridge Road. (fn. 49)