Pages 114-117
A History of the County of Middlesex: Volume 11, Stepney, Bethnal Green. Originally published by Victoria County History, London, 1998.
This free content was digitised by double rekeying. All rights reserved.
THE CENTRE: BETHNAL GREEN ROAD.
The area between the green and Dog Row on the east, Spitalfields and Shoreditch Side on the west, and Hackney Road and Cambridge Heath on the north remained farmland until the later 18th century. Its only house c. 1650 was one built by John Godowne at the north-west of Great Haresmarsh before 1646, (fn. 1) at the eastern end of Hare Street in 1703. (fn. 2) By 1687 another house with farm buildings in the westernmost of the two fields forming Turney Field estate was occupied by Anthony Wells, who made bricks there, possibly for the neighbouring Satchwell Rents. By 1696 3 ft. of topsoil had been stripped from the field and the house was in ruins, (fn. 3) although it may have been shown in the south-west corner of the field in 1703. (fn. 4)
One building stood in the centre of Willetts in 1703 (fn. 5) and three houses in the same field, possibly at its northern end, by 1713. (fn. 6) Godowne's house had become two by 1712. (fn. 7) Buildings in Saffron Close on the north side of Bethnal Green Road, in 1713 four boarded houses on the west side and four brick houses at its south-east corner, one the George inn, (fn. 8) apparently existed by 1703. (fn. 9) In 1746 the western houses were absorbed by the extensive Coates's Farm but the George and its neighbours formed a small settlement with a few buildings on the south side of the new Church Street (Bethnal Green Road), probably the Willett houses of 1713. (fn. 10)
The new east-west road was the chief stimulus to building. On Markhams in 1766 the Blissett family granted a 93-year lease of 9 a. south of Bethnal Green Road to David Wilmot, who was to spend £4,000 in four years. One of the first buildings was the Lord Camden public house; Camden Row fronted Bethnal Green Road and Wilmot Street ran south from it by 1770. (fn. 11) Among Wilmot's sublessees was John Price, a London plasterer who built 20 houses in Wilmot Street in 1771. (fn. 12) By 1777 there were 67 houses on the estate. (fn. 13)
In 1772 Philip James May, parish and vestry clerk, bought Saffron Close on behalf of David Wilmot. (fn. 14) From 1777 houses were built fronting Bethnal Green Road and behind in Wilmot Square and Grove. (fn. 15) A big house for Wilmot himself in the north, called Wilmot's Folly, (fn. 16) was possibly the 'house and other structure' built in 1787 in a new bowling green in Wilmot Square. (fn. 17) In 1808 it was known as the Abbey, (fn. 18) from which Abbey Place, in existence by 1806, (fn. 19) was named. In 1791 William Pollard of Islington built 16 houses in Saffron Close, (fn. 20) most presumably in Pollard Row (formerly May's Lane) at the western border of the estate. (fn. 21) A Southwark surveyor, William Fellowes, and a City plumber, John Shillitoe, initiated the main development on the estate, a plan for 90 houses in two sizes featuring grotesque animated keystones, financed by monthly subscription and leased to ballotted subscribers. The scheme, which was associated with the White Hart in Bethnal Green Road, was only partially successful and James Pollard, who presumably succeeded William, was bankrupt by 1798. (fn. 22) The ground was already mortgaged in the early 1790s when William Pollard granted leases to other builders, Thomas Harrison, brickmaker of St. Pancras, (fn. 23) and James Naish, carpenter of Shadwell. (fn. 24) Ann Street ran parallel with Bethnal Green Road by 1792 (fn. 25) and linked Pollard Row with Mary's Row, which formed the eastern border of the estate by 1794. (fn. 26) There were c. 200 houses on the estate by 1800. (fn. 27)
In 1788 much of Willetts (George and Gravel fields) south of Bethnal Green Road was divided into lots, most of which were leased for 99 years to John May Evans, a Surrey builder, and William Timmins, a local brickmaker. (fn. 28) They immediately built along the main road, (fn. 29) including Shepherd's Place or Row, (fn. 30) and in the streets running south from it, named from the estate's owners: White, Thomas, and Charles streets. (fn. 31) Houses 'in the back ground' (fn. 32) were probably in the narrow street parallel with Bethnal Green Road, called White's (fn. 33) or Thomas Passage (fn. 34) or Granby's Row. Abbey Street, at the west end of the development, existed as Benal Abbey Street in 1788. (fn. 35) Part of the land was still a brickfield in 1803. (fn. 36)
In 1794 Samuel Scott, owner of Thickness estate, had a house in a brickfield opposite a house in the Jewish burial ground at the southern end of the district, next to Ducking Pond Lane. (fn. 37) Three houses had been built there by 1801 when he had leased ground to Isaac Bird, coachmaster of Whitechapel. (fn. 38) By 1809, when he was 'builder' or 'brickmaster', Bird had built along North Street (formerly Ducking Pond Lane) and on a new side road, Pleasant Row. (fn. 39)
Building began on Jarvis's, the estate to the east, in 1812 when two parallel streets were planned to run the length of the estate from Three Colts Lane: Hinton Street, to join the northern part of Collingwood Street, and Tapp Street to the west. Westover (Temple) Street was to link them in the middle of the estate. Sir George Ivison Tapps in 1812 agreed with Edward Bumford, engraver of Islington, for building south of Temple Street (fn. 40) and thereafter granted several leases to Bumford and his brother (or son) John, who started from the south with Somerford Street and Trafalgar Place. Their sublessees William Miller and Richard Leavitt were the builders in Somerford Street. (fn. 41) Building had reached Temple Street by 1826 (fn. 42) and there were nearly 100 houses on the estate by 1836 (fn. 43) although half of it, east of Hinton Street, was still open.
In 1818 Bumford agreed with the Pope family for ground to the west, where he built Winchester (or Market) Street as an extension from Hare Street and Carlisle, Great Manchester, Nottingham, and Arundel (or Albion) streets running south from it. In 1825 the Popes agreed to grant the rest of the estate (Great Haresmarsh) to the south and west, Bumford to spend £7,000 on 56 houses with frontages of 14-21 ft. (fn. 44) Artillery (or Anglesea) Street was 'new intended' in 1826. (fn. 45) The southern and eastern parts of the estate were leased to George Selby, who in 1828-9 was involved with Edward Bumford, by then a 'surveyor', in leasing houses in Albion, Anglesea, Wellington (the southern extension of Nottingham Street), and Selby (at the southern border) streets. The whole area was called Waterloo Town. (fn. 46)
Building meanwhile continued on Willetts, extending southward in streets named after the White family and places associated with it: Hereford, by 1823, (fn. 47) and Derbyshire, Manchester (after 1864 Menotti), Cheshire, Sale (Ches.), Mapes (Willesden), Ramsey, and Hague, (fn. 48) all by 1826. (fn. 49) In 1836 there were 785 houses on the estate, all but 79 in the central area. (fn. 50)
In 1807 John Warde of Squerryes Court, Westerham (Kent) leased the whole of his Turney estate, 21 a. west of Saffron Close, to Daniel Gosset of Edmonton for 61 years. A few houses had been built fronting Bethnal Green Road between c. 1799 and 1807 (fn. 51) and Gosset had built another 10 in 1813 (fn. 52) and the parallel Ward's Row by 1812. (fn. 53) John Henry Berry, carpenter of Hackney, had been engaged by Gosset to build along Gibraltar Walk, the western boundary, by 1811; (fn. 54) houses fronted the eastern boundary, Pollard Row, by 1812 when Squirries Street, not yet named, also apparently existed. (fn. 55) Robert, William, and South (later Florida) streets had been added by 1826 (fn. 56) and King Street and Wellington Street (Row) in the north of the estate and Orange Street in the west by 1836. Gosset Street, the westward extension of King Street, probably existed as Daniel Street by 1836, when there were 486 houses on the estate. (fn. 57)
The remaining frontage on Bethnal Green Road belonged to Markhams or to Sebrights. Some houses may have been built on the northern portion of Markhams, fronting south on the main road, between c. 1799 and 1812 (fn. 58) but 1 Turney, 2 Saffron Close, 3 Willett, 4 Great Haresmarsh, 5 Acres Land, 6 Burgoyn 7 Sebright, 8 Markham, 9 Thickness, 10 Jarvis others, together with one of the streets running northward, Camden Street, were built after 1820 by William Miller of Bethnal Green Road. (fn. 59) By 1826 building was well advanced in Camden Street and the other new streets, Blisset (later New York) and Grove streets. (fn. 60) Cambridge Street had been added by 1836, when Markhams contained c. 143 houses north of Bethnal Green Road. (fn. 61)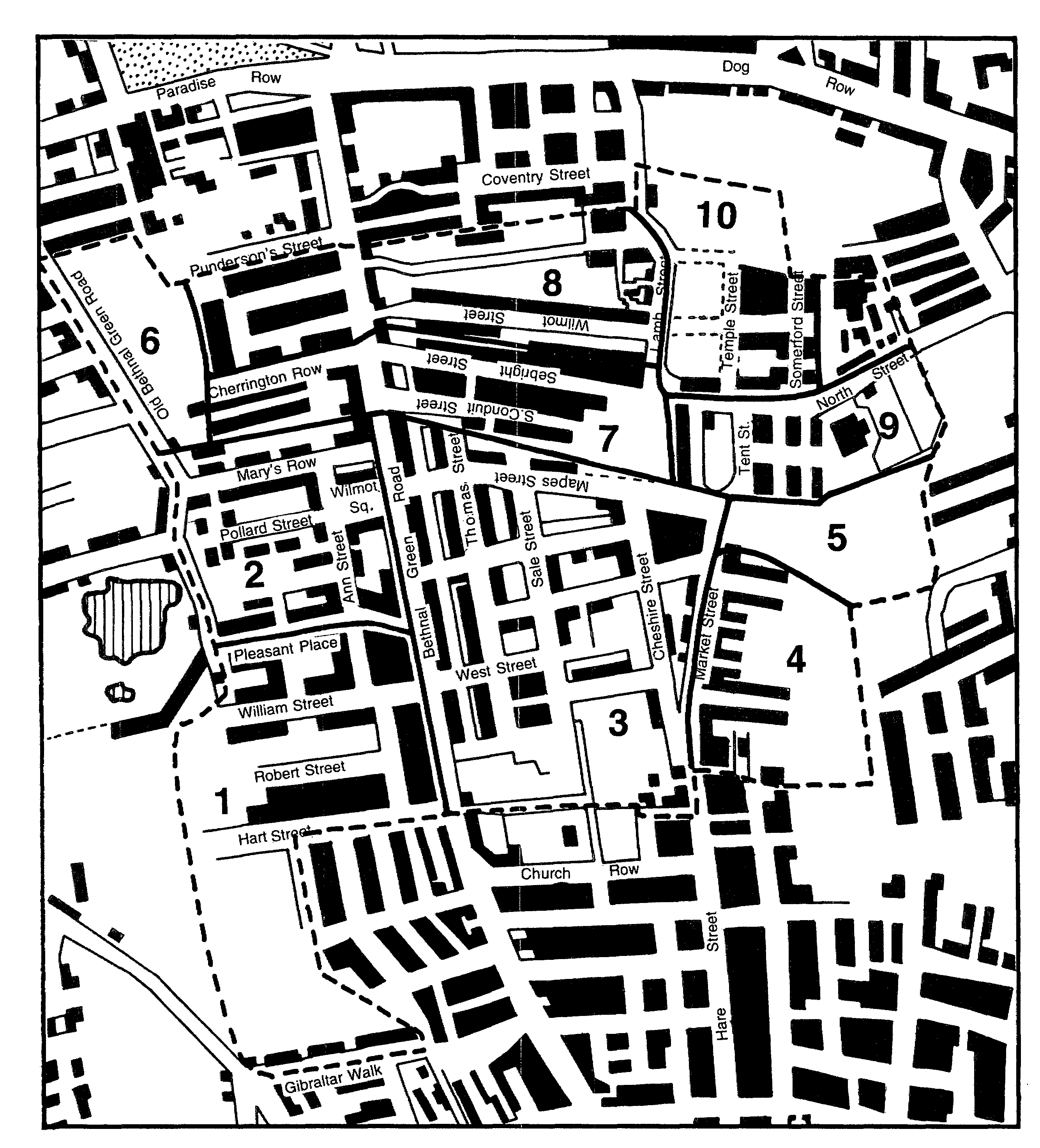 For the neighbouring Sebrights an Act to grant building leases was obtained in 1813. Apart from 10 a. at Cambridge Heath, the estate consisted of 3½ a. north and 8½ a. south of Bethnal Green Road. (fn. 62) Joseph Teale, who was largely responsible for building north of Hackney Road, was also the chief developer on both sides of Bethnal Green Road. On the 3½ a. William Hewitt, a local builder, had already built four houses fronting the main road and six in a new road, another Wolverley Street, by 1822, when Teale leased the ground to Seaman Ives of Norfolk Street, New Road, who financed the operation. (fn. 63) A parallel road, North Conduit Street, existed by 1823. (fn. 64) Teale had built 12 houses south of Bethnal Green Road by 1822 when he took a 99-year lease, with instructions to complete six more in Sebright Street and 22 in South Conduit Street by 1826. (fn. 65) He apparently exceeded the quota by 1826 and Teale Street existed at the south of the estate by 1829. (fn. 66) By 1836 Sebrights contained 90 houses north and 182 south of Bethnal Green Road. (fn. 67)
By 1836 there were 1,163 houses north of Bethnal Green Road and 1,976 to the south. (fn. 68) The only empty areas were the Burgoyn estate in the north, abutting Old Bethnal Green Road, and c.10 a. on the southern borders. (fn. 69)