Pages 120-126
A History of the County of Middlesex: Volume 11, Stepney, Bethnal Green. Originally published by Victoria County History, London, 1998.
This free content was digitised by double rekeying. All rights reserved.
BUILDING AND SOCIAL CONDITIONS FROM 1837 TO 1875. (fn. 1)
At Victoria's accession tradesmen's houses lined all the main roads in the west: Cambridge, Bethnal Green, and Hackney roads, Brick Lane, and Sclater Street. Similar houses occupied the Nag's Head Field settlement off Hackney Road and the eastern part of the green, Patriot Square, Jews' Walk, and Victoria Park Square. All other housing was classified as occupied by weavers and labourers. (fn. 2)
During the next 40 years building overwhelmed all the empty land and intensified on existing estates. Rebuilding was usually to a greater density. Between 1851 and 1859, for example, James Latham constructed 12 houses on the site of one at the corner of Swan and Great Bacon streets. (fn. 3) Railways, built in 1840 and 1872, (fn. 4) formed barriers between districts, helped to spread industry, and displaced people into already crowded streets and courts. Density rose from 6.3 persons a house in 1841 to 7.5 in 1871. (fn. 5) Life expectancy was low. Of 1,632 deaths in 1839, 1,258 (77 per cent) were of 'mechanics, servants, and labourers', who had an expectancy of 16 years, 273 of tradesmen, with an expectancy of 26, and 101 of gentry and professional people, with an expectancy of 45. (fn. 6) Huguenot influence was diluted by outsiders from other parts of London. Over 80 per cent of Bethnal Green's population in 1851 and 1861 had been born in London. (fn. 7) Although Bethnal Green was still the main silkweaving parish, the industry was in decline and weavers were under-employed. Occupations such as tailoring, furniture making, and costermongering replaced it but none was prosperous, sweated labour was prevalent, and the population was caught in a downward spiral of poverty. A modern analysis has placed Bethnal Green as the second poorest London parish in 1841, the poorest by 1871. (fn. 8)
From 1837 to 1842 inclusive 548 houses were built, the great majority classed as fourth-rate. (fn. 9) There were 11,983 houses in 1838, (fn. 10) 12,358 in 1841, 13,819 in 1851, 15,358 in 1861 and 16,430 in 1871. (fn. 11)
In 1837-8 waste was being covered by houses, (fn. 12) many of them in 1842 'more huts than houses, built in swamps, at a cheap rent', to be let for as much as possible to weekly tenants. (fn. 13) In the worst areas garden sheds became dwellings and gardens (recte allotments) became Gardens; George and Gale's Gardens west of Cambridge Road, where at least 21 houses were built between 1846 and 1854, were 'lamentable' in 1848. A similar process took place in Punderson's and Hollybush places and gardens and was beginning in Whisker's gardens near Bonner Lane. On Markhams north of Lamb Street (later part of Three Colts Lane), Lamb Gardens, Place, and Row consisted of narrow lanes and converted garden sheds. (fn. 14)
Buildings encroached on the grounds of larger, usually older, houses around the green. On its east side William South built Falcon Place between 1836 and 1842 (fn. 15) and White Hart Place was built near Sugar Loaf Walk by 1844. (fn. 16) South of Sugar Loaf Walk building continued in the existing places and squares and in Chester Street, which ran through the centre of the area by 1850 when James Catling of James Street was building there. (fn. 17) At the northern end of the green Peel Grove ran north from Old Ford Road by 1842, when one house was 'lately built' by Edward Blacktop, carpenter of Felix Street. (fn. 18)
The green continued to decline socially. In 1858 the incumbent of St. John's commented that soon there would be no residents of easy means left. (fn. 19) Institutions increasingly replaced them. In 1853 Henry Merceron leased out no. 21 Victoria Park Square as a store for the Queen's Own Light Infantry Regiment of the Tower Hamlets militia. The site stretched to Globe Street (fn. 20) and by the 1860s included a barracks. (fn. 21) Of Anthony Natt's houses on the north side of Old Ford Road, no. 12 (after 1875 no. 21) became a home for reformed prostitutes, run by the Guardian Society for the Preservation of Public Morals, in 1840 and no. 10 (after 1875 no. 17) housed the Maritime Penitent Female Refuge in 1842-3. (fn. 22)
In 1872 Bethnal Green Museum opened at the northern part of the green on part of the Poor's Lands. An iron structure nicknamed 'the Brompton Boilers', it had been built by C. D. Young & Co. in 1855-6 as the original museum in South Kensington. When replaced by permanent buildings in 1867 the iron structure was re-erected in Bethnal Green behind a brick facade with terracotta panels by James William Wild. The site had been purchased with the intention of diffusing 'a knowledge of science and art among the poorer classes' and for its first three years the museum housed the Wallace Collection. Later it specialized as a museum of childhood. (fn. 23)
At the southern end of the green there were additions to Bethnal House, the asylum; the Red House was extended in 1841, and the White House was rebuilt in 1843-4. (fn. 24) Factories existed by 1838 east of the asylum and west of the green, behind Paradise Row. (fn. 25) J.& J. Colman of Norwich acquired no. 7 Old Ford Road for a starch factory in 1860 (fn. 26) and later took over the neighbouring houses, building warehouses by the mid 1870s. (fn. 27) Other warehouses were built between 1871 and 1874 behind Victoria Park Square, Sugar Loaf Walk, Patriot Square, and Peel Grove.
Burgoyn's estate, 8½ a. fronting Old Bethnal Green Road west of the green, was nursery land in 1842, when the Church acquired the eastern 3½ a., primarily for St. Jude's church and school but with the roads later named St. Jude's Street and Place and Treadway Street already planned. (fn. 28) Houses were built from 1849 by Hallett of Abbey Street, J. Tully of Kingsland Road, and R. Borton of 103 Bethnal Green Road. (fn. 29) In 1845 the western portion was leased to Islip Odell, a building promoter, (fn. 30) but it was George Clarkson, a Pentonville surveyor and lessee from 1857, who developed it, employing William Riley of Hoxton to build Canrobert, Clarkson, and probably Middleton streets, (fn. 31) all completed by the mid 1860s. (fn. 32)
Another area empty in 1838 lay west of Dog Row. On Fullmore Close, Essex (later Buckhurst) and Bedford (by 1858 Newport) (fn. 33) streets existed by 1841. (fn. 34) Oxford Street joined Dog Row (Cambridge Road) to Essex Street by 1851. (fn. 35) Nearly 70 houses were built in Essex, Suffolk, and Norfolk streets between 1845 and 1854, mostly by James Lucas for Samuel Emsley. Lucas and Emsley were also involved in developing Jarvis's, the neighbouring estate to the west. Somerford Street was extended eastward as New Somerford Street by 1841, when a plot to the north was leased to Emsley, (fn. 36) and Cudworth and Barnsley streets were built there by 1851. (fn. 37) Between 1845 and 1855 well over 100 houses were added to the estate, 37 in Tapp Street and the rest in the new streets. Other builders were Hugh O'Donnell, Thomas Hatchell, and Flick, who was also active in 1855 in Lamb's Fields, notorious for its filthy ditch. There was smallscale building on neighbouring estates. Tolly, who worked on several, in 1845 was building in St. Andrew's Street on Sebrights, where by 1864 building was complete and South Conduit Street was renamed Viaduct Street. (fn. 38)
William Henry Teale, a Shoreditch auctioneer whose father had developed much of Sebrights, subleased the portion north of Hackney Road to Thomas Holland, an Essex builder, in 1842. (fn. 39) To the east John Preedy, William Simpson, and Henry Bradbury, all local builders, and Charles Southby Shaw, of Hackney, (fn. 40) were active on the Pritchards' estate, Bullocks, where between 1845 and 1855 some 15 houses were built in the existing Pritchard's Road (formerly Ann's Place) and the Oval, and over 100 in the new Emma Street, Marian Street and Square, Ada Place, and Wharf Road. The gasholders of the Imperial Gas Co. replaced the large pond in the centre of the estate, probably by 1856. (fn. 41)
South of Hackney Road on the southern part of Cambridge Heath estate, still open in 1838, (fn. 42) at least 25 houses were built between 1846 and 1854 and all frontages had been filled by the early 1860s. (fn. 43) On Sickle Penfield 24 houses were built in Warner Place, four in Adelphi Terrace in the north, and eight in Wellington Place in the south between 1845 and 1853. Around St. Peter's church, in the centre from 1840 with an adjoining school from 1851, 35 houses were built in St. Peter's Street, Terrace, Square, and Place between 1852 and 1855. Nelson Street, replacing a large pond, completed the development by 1865. (fn. 44) To the west Ion Square existed by 1845 on the portion of Milkhouse Bridge purchased by Pritchard, (fn. 45) with 38 new houses by 1848, (fn. 46) and 63 houses were built on the triangular plot between Ion Square and Birdcage Walk which had been conveyed in 1840 by Joel Emmanuel for almshouses. (fn. 47) On the rest of Milkhouse Bridge, behind the curve of Hackney Road, 18 houses were built in 1851-2 in Charles Street as it extended south to Crabtree Row and Birdcage Walk. Houses added to the Barnet Chancel estate completed building there by the mid 1840s; some, as on the adjoining Jesus Hospital estate, originated as summerhouses. (fn. 48) Barnet Grove crossed the centre of the hospital estate by 1845, with at least 31 houses by 1846. (fn. 49) The long narrow Willow Walk existed in the north, Bourne's or Baker's Arms Gardens in the east by 1848, (fn. 50) and Cross Street by 1851. (fn. 51) To the south over 80 houses were built, many by William Palfrey of Kingsland and a few by George Huxtable of Friar's Mount, on Turney estate between 1845 and 1855. Most were in Gosset Street, the new Daniel Street (fn. 52) running south from it, and Montague Street, the northern extension of Hope Town or Union Street (the whole after 1864 called Turin Street). (fn. 53)
More than 50 houses were built between 1845 and 1855 on each of three estates in the west, north of Church Street: Austens (mainly by Thomas Gadbury), (fn. 54) Fitches, and Tyssens. The only new road was Victoria Street on Austens but many houses were listed under previously built-up streets, like 36 in Virginia Row, denoting either replacements or courts behind. Later rebuilding on Tyssens by Samuel James, a local builder, produced nearly 150 houses between 1872 and 1875, mostly in Tyrrell, George, and Charlotte streets and in the new Thorold Street, constructed across Thorold Square in 1872. (fn. 55)
South of Church Street between 1845 and 1855 some 70 houses were built on Red Cow estate, 45 in Hare Marsh, and 56 in Willetts, mostly in Abbey and White streets, which had been extended southward to Cheshire Street by 1838. (fn. 56) By 1846 some 100 houses had been added to Great Haresmarsh (fn. 57) which, after the eastward extension of Weaver Street as a second Carter Street by 1848, was separated from the built-up Hare Marsh only by a goods shed. (fn. 58)
The most striking development was in the east on the two largest estates, Bishop's Hall and Broomfields. The Sotheby family in 1840 conveyed a site on the east side of the access lane to Bishop's Hall (Bonner Lane, later St. James's Road or Avenue) for a church, St. James the Less, (fn. 59) and soon surrendered land on the northwest of the estate for a workhouse. (fn. 60) Negotiations started in 1841 with the Commissioners of Woods, who were seeking land for a public park. (fn. 61) An Act of 1842 enabled them to purchase (fn. 62) and in 1844 the Sotheby family and the trustees of Robinson's charity agreed to sell. (fn. 63) Victoria Park, opened in 1845, consisted of 53 a. of Sothebys, that part of Bishop's Hall north of Old Ford Road and east of the Regent's canal, the whole of the Cass and Goosefields estates in Bethnal Green, and other estates in Hackney and Bow. The commissioners also purchased adjoining land south of Old Ford Road and the whole of Robinson's charity land, usually called Bonner's Fields, where they planned access roads to the park and spacious housing. Sotheby was left with some 12½ a. of Bishop's Hall west of the canal, bordering Bonner's Fields on the east and north. (fn. 64)
Sotheby and the commissioners' architect James Pennethorne drew up a joint plan for building north of Old Ford Road and west of the canal. Pennethorne was presumably responsible for the layout of four roads enclosing the square of Bonner's Fields: the existing Old Ford Road, Bishop's Road (from 1937 Bishop's Way), an eastern extension of Russia Lane, the existing Russia Lane, and in the east St. James's Road (from 1937 St. James's Avenue) along the lane to the manor house (which, with its attendant buildings, was demolished). The fields were quartered by Bonner Road, running north-west, and Approach Road (originally called Victoria Park Road), running north-east to enter the park. Pennethorne planned Approach Road as a grand way from the park across the green to join Cambridge and Bethnal Green roads near St. John's church but several submissions failed to gain approval and the road stopped at Old Ford Road. Sewardstone Road, wholly on Sotheby's land, ran parallel with the canal from Old Ford Road. (fn. 65) Additions by the mid 1850s included, in the south-east, Bandon Road, and, on Sotheby's land in the north-west, Waterloo and Albert roads, and on the commissioners' land in the south-west, Robinson Road. (fn. 66)
Sotheby leased plots at the north-west corner, on each side of Bonner Road, to William Drew and Edward Rayner in 1845, and adjoining plots to the east to William Bayst, a local butcher, and Walter Carson in 1846. (fn. 67) The Prince of Wales public house had been built on Drew's portion by 1848. (fn. 68) Much of Rayner's ground had passed by 1847 to George Furby, a Whitechapel ironmonger, who with Bayst employed Higgs, a builder from Bacon Street, in Bishop's and Bonner roads in the 1840s. Houses had also been built on Rayner's ground in Bonner Road and Russia Lane by 1847. (fn. 69) Single plots were sometimes taken. (fn. 70) A larger area, probably all the land east of St. James's Road, was taken by William Hosford, whose architects W. G. & E. Habershon may have been connected with Matthew Habershon, (fn. 71) a Bishop's Hall resident in 1842. (fn. 72) In the early 1850s houses were built in St. James's and Bandon roads; William Bowen, William Walsham, and John Abbott were among those who built Bedford Terrace in Old Ford Road. (fn. 73) By 1857 building on Sothebys estate consisted of the north side of Old Ford Road, the east side of St. James's Road to Bandon Road, a few houses north of the church, much of the north side and some of the south-west of Bishop's Road, and blocks in Russia Lane and Bonner Road. (fn. 74) In 1858-9 Ezekiel Wadley, a local builder, was working in Sewardstone Road (fn. 75) and Thomas Fleming from Mile End and Joseph Charles Morgan from Cambridge Heath were building in Brighton Terrace on the south side of Bishop's Road. (fn. 76) William Turner, a south Hackney builder, built Park House at the northern end of St. James's Road in 1858 (fn. 77) and Charles Terrace on the north side of Bishop's Road in 1861. (fn. 78) Building was complete on Sotheby's Bishop's Hall by the mid 1860s. (fn. 79) In 1868 the family of George Lansbury (1859- 1940) came to live in Albert Road; the future Labour leader attended St. James the Less National school, the Primitive Methodist chapel in Bonner Lane, and freethinkers' meetings in Victoria Park. (fn. 80)
The commissioners' estate was developed more slowly. Pennethorne in 1845 had proposed ornamental gardens west of St. James's Road, with detached houses around the entrance to the park. (fn. 81) The whole of Bonner's Fields was divided into 37 lots. (fn. 82) One, off Old Ford Road, was let in 1851 for workshops (fn. 83) and in 1853 five, on either side of Robinson Road, were to be leased to James Thomas Stephenson. (fn. 84) In 1855 the area conceived as gardens and later numbered lot 37 was leased for the London Chest hospital. Pennethorne's original plan was cancelled in early 1857. (fn. 85) His Tudor lodge for the park's superintendent was built by the main gate in 1845 (fn. 86) but terraces such as Arran Terrace were substituted for the other detached houses. Terraces by 1857 lined the southern side of Bishop's Road (Gore Terrace), Bonner Road (Denmark Terrace on the north and Prince's, Church, and Buckingham terraces on the south), the south side of Robinson Road (Barton Terrace), and the north side of Old Ford Road (Saunders and Albany terraces). (fn. 87) J. Saunders agreed to build four houses a year from 1866 to 1868 on two lots fronting Approach Road. (fn. 88) Wesleyans in 1867 acquired two lots at the northern junction of Approach and Bonner roads, where a chapel opened in 1868. (fn. 89) To the west, a lot comprising nos. 1-6 Denmark Terrace and workshops behind, which was leased with the adjoining plot on Sotheby's land by George Holgate in 1861-4 and 1868, was taken for the Methodist orphanage, which opened in 1871. (fn. 90) Congregationalists built a chapel at the south corner of Approach and Bonner roads in 1869 and the adjoining Victoria hall in 1870. (fn. 91) Parmiter's charity in 1871 bought plots to the south, and rear for its school, opened in 1887. (fn. 92)
John Robson, builder of Antill Road, built 9 houses in Bishop's Road and 10 in Approach Road between 1871 and 1874. As in other districts warehouses were built in the 1870s behind older frontages. Although by the 1850s roads (Gore Place or Road and Morpeth Road) were planned by the commissioners north of the park, linked to development in Hackney, (fn. 93) they were not built on until the 1870s; 53 houses were built in Gore Road between 1871 and 1875. The historian J. R. Green (d. 1883) lived successively in Approach Road and Bonner Road (Prince's Terrace) in 1865, when he became incumbent of St. Philip's, Stepney. (fn. 94)
South of the park, the commissioners had building land between Old Ford Road and Duckett's canal. Bisected by Grove Road, it had been taken from Pyotts and Broomfields. Pennethorne had planned an imposing entry to the park along Grove Road, with plots of 70-ft. frontage and mews to the east. Plots at the entrance were granted on long leases between 1858 and 1860; (fn. 95) a few houses were detached but most, built between c. 1865 and c. 1875, were terraced, Lansmere in the west and Victoria in the east. (fn. 96) Royal Victor Place ran behind the houses, next to Duckett's canal, by 1871 and houses and factories were soon built there.
Eastward, on the estate John Ridge inherited from his father in 1839, (fn. 97) terraces were built fronting northward on Old Ford Road from 1845: George's Place and Adelphi Terrace west of the junction with Bonner Lane, and Park Terrace to the east. (fn. 98) Abraham Keymer, landlord of the City of Paris, the only old building in the area, built some houses in 1850-1, (fn. 99) but most were put up by professional builders like Joseph Higgs, John Perry, John Litchfield, (fn. 100) and especially Robert Wright, who lived in Wharf Cottage, Park Terrace. (fn. 101) Building spread south in 1850-1 to Wellington (after 1879 Cyprus) Street and Place, west of Bonner Lane, to Cranbrook Street and Place by 1851, and Alma Road (formerly Street and Place) in the east from 1855. Wright was active in most streets, building double-fronted houses with windows running along the whole of the upper floor for weavers (fn. 102) who predominated in 1851. (fn. 103)
East of Ridge's estate a 10-a. field, originally Pyotts, from the 18th century was owned by the Sotheby family. (fn. 104) It was broken up by the Regent's and Duckett's canals and lost its northern part to the Commissioners of Woods. (fn. 105) The portion east of the Regent's canal was leased to the Gardner family which farmed it and built barges to carry bricks. (fn. 106) Gardner's wharf was built in 1854 and Gardner's Road by 1859, (fn. 107) when Sotheby leased ground north of Bridge (later Roman) Road to Samuel Charles Aubrey, a Hackney surveyor who built some houses before assigning the lease in 1860 to Joseph Ashwell (d. 1876). (fn. 108) Land to the north was leased to Henry Harrison, a Westminster contractor, in 1864 (fn. 109) and Ashwell and Wennington streets existed there by the mid 1860s, as did Havelock Hill and Nelson Place west of the canal. (fn. 110)
Broomfields covered the whole area east of Grove Road and south of Duckett's canal, that south of Roman Road between the Regent's canal and Grove Road, and a strip west of the canal. The only buildings before the creation of Victoria Park were John Gardner's farmhouse on the west side of Grove Road next Duckett's canal, King's Arms Row in Old Ford Road, a tollhouse, and the substantial Park House and Grove House on the south-east side of Grove Road, (fn. 111) occupied respectively in 1851 by a 'lady' and a brick merchant. (fn. 112) King's Arms Row was demolished when Old Ford Road was straightened in 1844. (fn. 113)
The owners of Broomfields, the Marsh family, chose to sell rather than lease. In the early 1850s the area west of Grove Road was divided into plots, the purchasers including William Palmer of Essex, Higgs, Tayler, and W. S. Bowen, who from 1852 built in Bridge and Grove roads, Totty, Lessada, and Palm streets. (fn. 114) Victoria works had been built on the west side of the Regent's canal by 1854 (fn. 115) and, south of Palm Street, Hamilton Road by the early 1860s (fn. 116) and Cordova Road in 1866. (fn. 117) Streets were laid out on Sixteen Acre field, east of Grove Road between Old Ford Road and Roman (originally Claremont and later Esmond) Road, by 1857, when it was to be sold to the Revd. George Townshend Driffield, rector of Bow, and others, presumably as trustees. They found difficulty in raising the money, the Marshes acting as mortgagees, and in 1865 conveyed the land to the London & Suburban Land & Building Co. (fn. 118) Thomas Rogers, a London solicitor, was involved from 1857 in building in Esmond, Kenilworth, Vivian (formerly Woodstock), Auckland (formerly Blenheim, from 1937 Zealand), Ellesmere, and Chisenhale roads. (fn. 119) Sydney Terrace on the east side of Grove Road was leased in 1864 to Henry Lawrence Hammack, surveyor, of Bow Road. The builders were probably James and Josiah Goodman. Adjoining side roads, Thoydon and Gernon roads, existed in 1864 (fn. 120) and were soon built up, as were Alma (later Maidhurst or Medhurst Road) and Shaftesbury terraces to the south. (fn. 121) By 1871 building had reached east to Medway Road, which crossed into Bow, and south to Antill Road, which had been driven westward from Bow to Grove Road. West of Grove Road the remaining space, north of the railway, was covered with Belhaven and Burnside streets. William Harris of Limehouse, William Willis of Antill Road, William Bruty, William Ward of Mile End, Noah Smith of Ellesmere Road, and the Goodmans of Twig Folly bridge between them built over 330 houses on Broomfields between 1871 and 1875, mainly in the new roads on the east and south borders of the estate and parish.
Meanwhile the state of London's East End, and of Bethnal Green in particular, had caught the national attention. In 1837 James Phillips Kay, the assistant Poor Law Commissioner, commented on the distress of the Spitalfields weavers, most of whom lived in Bethnal Green, and on their feeble physical condition. (fn. 122) In 1838 Dr. Southwood Smith, Benthamite and friend of Edwin Chadwick, reported on the link between the environment and disease, especially 'typhus' (probably typhoid or paratyphoid fever) allegedly caused by stagnant water, refuse, and leaking privies in Lamb's Fields and around Virginia Row. (fn. 123) A survey of the weaving districts in 1838 and published in 1840 (fn. 124) remarked that nowhere else in London were there so many low-rented houses, 93 per cent of Bethnal Green's total of 11,983 being rated at under £20; only 15 houses were rated at over £50 and 18 at £40-50. Most houses built since 1800 were twostoreyed with no foundations, small and damp, of the cheapest timber and half-burnt bricks with badly pitched roofs, 'erected by speculative builders of the most scampy class'. Landlords negotiated with the builders, 'frequently men of no property', and advanced materials in return for an exorbitant ground rent. Property was sold in summer, when defects were less visible, to purchasers or mortgagees who, when they found that ground rent, repairs, and taxes were greater than the rent obtained, abandoned it to the ground landlord. Unmade roads turned to mud or dust by builders' carts, lack of sewerage, and overcrowding, together with the unhealthy effects of the weaving industry, produced a stunted and sickly population.
Bishop Blomfield of London, who had served with Chadwick on the Poor Law Commission in the 1830s, (fn. 125) decided to concentrate new churches in Bethnal Green and in his appeal in 1839 alluded to the misery of its population, which included many driven out of other parts of London by 'improvements'. (fn. 126) According to one of the new incumbents, before the appeal as little was known in London's West End of 'this most destitute parish as the wilds of Australia or the islands of the South Seas'. (fn. 127) As a result of the bishop's sermons before the lord mayor and in wealthier parishes, Bethnal Green's problems were reported from 1839 in The Times, (fn. 128) the London City Mission Magazine, and other publications. Chadwick's report in 1842 reaffirmed the link between the environment and disease. (fn. 129) The incumbent of St. Philip's, the church serving the Nichol, quoted by Engels, in 1844 had found that conditions were far worse than in a northern industrial parish, that population density was 8.6 people to a (small) house, and that there were 1,400 houses in an area less than 400 yards square. (fn. 130)
The most detailed report on Bethnal Green was published in 1848 by Dr. Hector Gavin, (fn. 131) health inspector and lecturer at Charing Cross hospital, who hoped to enlist the rich in 'the great work of sanitary improvement and social amelioration'. He wrote before development around Victoria Park, when the 'most respectable' area was Hackney Road. The rest of the parish, including the area on either side of Green Street, was 'filthy', 'appalling', and 'disgusting'. The older districts bordering Spitalfields contained paved streets and larger houses but the former were broken up and the latter overcrowded. Elsewhere roads were unmade, often mere alleys, houses small and without foundations, subdivided and often around unpaved courts. An almost total lack of drainage and sewerage was made worse by the ponds formed by the excavation of brickearth. Pigs and cows in back yards, noxious trades like boiling tripe, melting tallow, or preparing cat's meat, and slaughter houses, dustheaps, and 'lakes of putrefying night soil' added to the filth. Henry Mayhew was then visiting Bethnal Green for the articles first published in the Morning Chronicle in 1851, which later became his great work. (fn. 132) He added descriptions of tailors, costermongers, shoemakers, dustmen, sawyers, carpenters, and cabinet makers to the already prolific literature on silkweavers. In 1861 John Hollingshead, special correspondent of the Morning Post, published Ragged London with detailed desriptions of Shoreditch Side and the Nichol, which had grown even more squalid in the last 20 years as old houses decayed and traditional trades became masks for thieves and prostitutes.
Reaction varied. Anglican and nonconformist clergy, with London City missioners active in Bethnal Green since 1838, were shocked chiefly by immorality, even if they did not assert as bluntly as the rector that it was the main cause of the prevailing misery. Many, especially in the 1840s, agreed with the bishop on the need for religion and education. The ten churches with their National schools, mostly Gothic buildings standing out among the wretched houses, offered both, while the clergy's articulate leadership compensated for the flight of the middle class. By 1858, however, it was clear that they had not found the panacea: the inhabitants of all districts were overwhelmingly 'labouring poor', and churchmen were pessimistic. (fn. 133)
Despite failing to move the landlords and parish authorities, Chadwick and Gavin stimulated individual philanthropy. It provided soup kitchens, orphanages, medical and other needs, co-ordinated after 1869 by the Charity Organisation Society, (fn. 134) and began to address the housing problem with plans to replace slums by model housing.
When Baroness Burdett-Coutts accepted Charles Dickens's suggestion of rebuilding an area of the East End, (fn. 135) he advised her in January 1852 to consult Southwood Smith. By March a site had been prepared at Nova Scotia Gardens, (fn. 136) north of Crabtree Row, described by Gavin as a space formed by the 'erasement' (probably to make room for St. Thomas's church) of a vast number of vile dwellings. (fn. 137) Dickens made Bethnal Green the home of Nancy in Oliver Twist (1838). Nova Scotia Gardens was probably the dust heap described in Our Mutual Friend (1864-5); when bought by the baroness in 1857, it was a 'huge mountain of refuse' with a row of small houses on one side and the new church and schools on the other. The total lack of drainage, the stench, and disease were vividly portrayed. (fn. 138) Dickens advised the building of large houses, to which services could be supplied. (fn. 139) Henry Darbishire, later architect to the Peabody Trust, designed the model dwellings which were called Columbia Square after the bishopric of British Columbia, founded by the baroness in 1857. The first of the four five-storeyed blocks set around a square opened in 1859 and the last in 1862. (fn. 140) In a vaguely Gothic but rather 'flat and monotonous' style, they provided some 180 sets of rooms, which housed more than 1,000 people by 1869, and a top storey with reading rooms and washing facilities. (fn. 141) In 1864 Darbishire began the magnificent Columbia Market buildings in the style of a French Gothic cathedral on 2 a. to the west. Opened in 1869, they included dwellings for shopkeepers. (fn. 142) The scheme involved Crabtree Row being widened and the new Westminster Street (later Baroness Road) driven from Queen's Place through Greengate Gardens to Hackney Road. (fn. 143) Alfred Ewin, a local builder, applied to build 18 houses there in 1871 and W. H. Hall erected Charlotte Buildings, between Nichol Row and Turville Street, for 140 people by 1872. (fn. 144)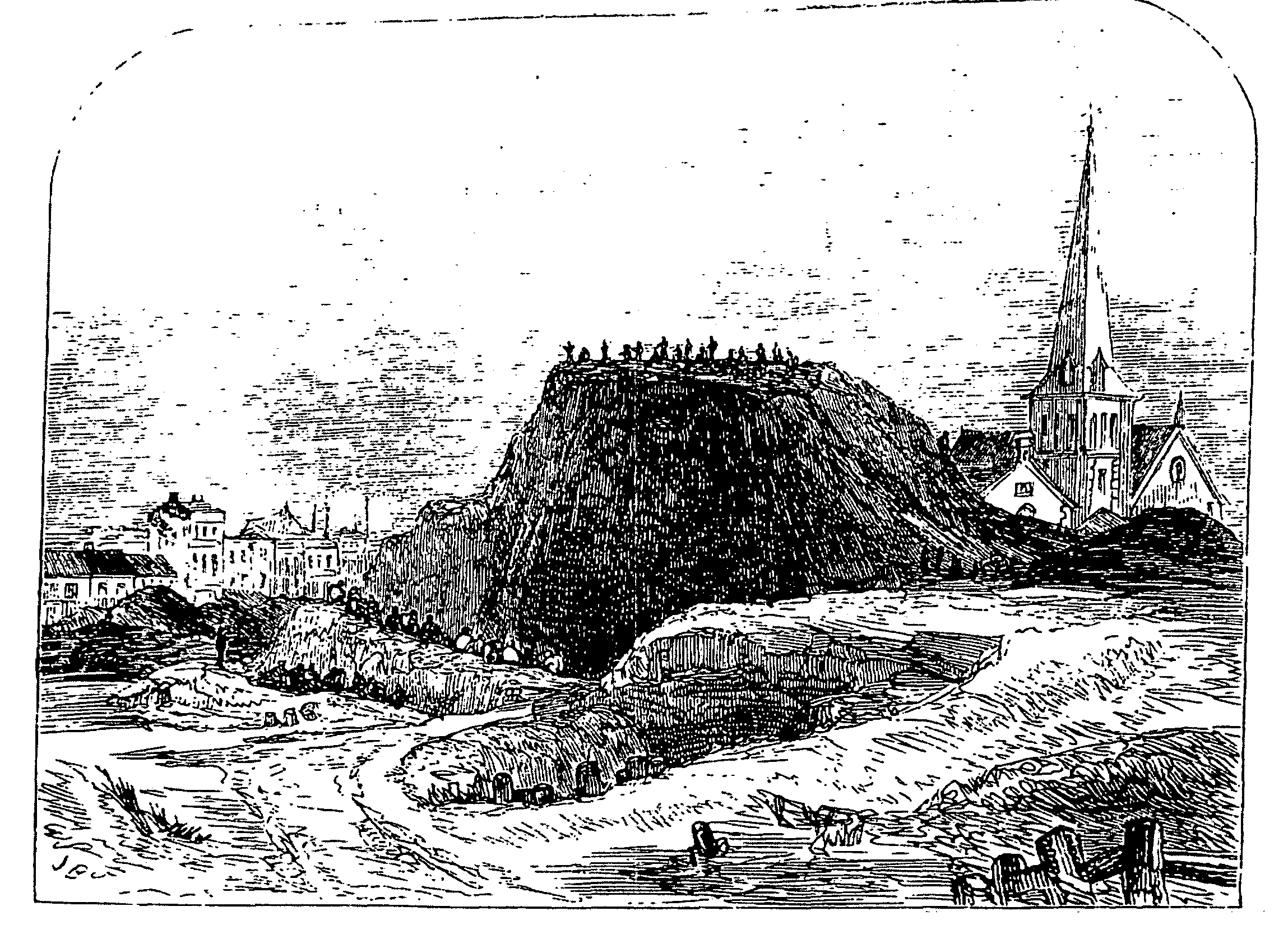 Companies, partly philanthropic and partly commercial, began building in the 1860s. (fn. 145) The Improved Industrial Dwellings Co., which had been founded by Sydney Waterlow in 1863, purchased the 9 a. of Markhams south of Bethnal Green Road in 1868. It replaced the old property with five-storeyed blocks in Wilmot Street and new streets, (fn. 146) Corfield (replacing the narrow Camden Gardens), Ainsley, and Finnis streets. The first blocks, in the north, opened in 1869. Homes for 72 families had been completed by 1871 and for another 130 by 1873 and 90 by 1875. The School Board for London purchased ½ a. between Wilmot and Finnis streets in 1873 and work began on 21 blocks (for 210 families) in the rest of Finnis Street in 1875 and on 12 blocks for 295 families in Corfield Road in 1878. The estate, later called Waterlow, complete by 1890 and the largest built by the company, was grim and canyon-like in appearance.
In 1868 the company acquired the 9-a. estate of the Barnet Jesus Hospital charity, where the alleys made way for terraces of 'breakfast-parlour houses', mostly two- but some four-storeyed, with back gardens, in streets named after visitors to the hospital: Baxendale, Wimbolt, Elwin, Durant, and Quilter. (fn. 147) In 1871 the company built five blocks called Leopold Buildings on the south side of Crabtree Row (later Columbia Road) for 112 families. (fn. 148)