Pages 19-52
A History of the County of Middlesex: Volume 11, Stepney, Bethnal Green. Originally published by Victoria County History, London, 1998.
This free content was digitised by double rekeying. All rights reserved.
MANORS AND ESTATES
The manor of STEBUNHEATH or STEPNEY devolved from the bishop of London's Domesday manor or vill of Stepney, which in 1066 and 1086 covered most of north and east Ossulstone, and was part of a larger block of land around London thought to have been the foundation grant of the see of London, probably acquired by the bishopric c. 604 and certainly before c. 1000. (fn. 1) The Domesday manor was assessed at 32 hides and included most of Stepney parish as constituted in the 13th century, Hackney, a small part of Shoreditch, and large parts of Islington, Hornsey, and Clerkenwell; the 14 hides held in demesne later formed the demesnes of Stepney, Hackney, Harringay, Muswell, and possibly Brownswood manors. (fn. 2) By 1086 the bishop, having acquired overlordship of a holding belonging to the canons of St. Paul's in 1066, had ten chief tenants and claimed, although unsuccessfully, the two remaining holdings in 'Stepney'. (fn. 3)
Of the Domesday tenants, Hugh de Berners held 5 hides in 1086, divided between Sired, canon of St. Paul's, and the canons as demesne in 1066 and identified as the Islington manors of Barnsbury and probably Canonbury; Hugh also held 1 virgate and a mill, probably at East Smithfield (parish of St. Botolph Aldgate), which Doding had held of the bishop in 1066. (fn. 4) Hugh also seems at one time to have held the 4 hides of Robert Fafiton claimed by the bishop, which have been identified with the Hackney manor of Kingshold, but may partly may have lain at Mile End. (fn. 5) The 5 hides held by the wife of Brien, part of the bishop's demesne in 1066, are thought to have included lands in Clerkenwell and Stepney granted to the priory of St. Mary, Clerkenwell, and to the Knights Hospitallers in the 12th century. (fn. 6) William de Ver's hide probably lay in Hackney where the estate paying Ver's fine at the view in 1384 was held by John Shoreditch. (fn. 7) William the chamberlain's 1 hide may have become the manor of Topsfield (Hornsey). (fn. 8) The 3 hides held by Robert son of Roscelin of the king, but claimed by the bishop, probably later formed part of the manor of Bromley. (fn. 9) The other Domesday estates held of the bishop have not yet been identified.
Other freehold estates were granted out of the manor in the 12th century. In the 1220s Bishop Eustace de Fauconberg recovered overlordship of several holdings including those of Ralph the clerk, Robert le Cutiller, Maurice of Harlow, canon of St. Paul's, and a mill held by Hugh le Fraunceys. (fn. 10)
In the 14th century the manors that had devolved out of the bishop's Domesday demesne and some Domesday and later tenants in chief paid sums towards the common fine of 64s. at the Stepney view of frankpledge: the bishop's manors of Stepney, Hackney, and Haringey, the priories of St. Mary, Clerkenwell, St. John of Jerusalem, St. Bartholomew, Smithfield, and the men of Islington (Barnsbury), of the rector of Hackney, of the dean of St. Paul's (Shadwell), of the estate once Richard Pomfret's, of William de Ver, of Daniel or Rumbolds (possibly Grumbold in Hackney and Cobhams or Rumbolds in Stepney), of John of Bedfont (manor of Poplar), and of Edmund Trentemars (manor of Bernes). (fn. 11)
In 1353 the bishop himself answered for only knight's fee in the vill of Stepney, (fn. 12) and by 1395 he had apparently been relieved of most services for his estate there. (fn. 13) The bishops held Stepney until 1550; grants of the manor by the Crown during vacancies of the see included one to the Treasurer, the bishop of Carlisle, in 1228. (fn. 14)
By the 14th century the bishop's demesne in Haringey was administered on its own. Stepney and Hackney, however, continued to share a manor house, were accounted for together until the 15th century, and were valued together until they acquired separate lords in the 1660s. The location of customary holdings, however, always distinguished between Stepney and Hackney by the 14th century, when Stepney manor included free and customary holdings in all the hamlets of Stepney parish and in Whitechapel parish, others in Shoreditch on both sides of Haliwellstreet (later Shoreditch High Street), (fn. 15) and freehold in East Smithfield. (fn. 16)
In 1550 Nicholas Ridley surrendered the manors of Stepney and Hackney to the king, who immediately granted them to the Lord Chamberlain Sir Thomas Wentworth, Baron Wentworth (d. 1551). The grant included the marshes of Stepney, waters, fishing, wastes, mills, and the liberties, including free warren and view of frankpledge, that the bishops had enjoyed. (fn. 17) The manors passed to Wentworth's son Thomas, Lord Wentworth (d. 1584), governor of Calais, who suffered forfeiture in 1558 but was restored in 1559 and protected by an Act against any claims of the bishop or the chapter of St. Paul's. (fn. 18) Stepney was conveyed to Lord Burghley, who may have held the courts, in 1581 on the marriage of Wentworth's eldest son William (d. 1582) to Burghley's daughter Elizabeth, but returned to the Wentworths on her death without children in 1583. (fn. 19)
Stepney and Hackney passed to the surviving son Henry, Lord Wentworth (d. 1593), and to his widow Anne for life. (fn. 20) In 1615 Anne and her second husband Sir William Pope, Bt., surrendered her interest to her son Thomas, Lord Wentworth, then aged 24. (fn. 21) He was created earl of Cleveland in 1626. (fn. 22)
Cleveland and his son Thomas, Lord Wentworth, were prominent at court and incurred heavy debts. (fn. 23) The earl began to secure loans on his estates in the 1620s, and in 1632 created mortgages by 99-year leases of Stepney manor to Richard Cartwright and of Hackney to Sir Thomas Trevor. In 1634 the leases were bought for Paul, Viscount Bayning (d. 1638), and to secure further loans Cleveland conveyed the reversion of both manors to Bayning's trustees Henry, Viscount Newarke (later marquess of Dorchester), and Sir Thomas Glemham. (fn. 24)
By the 1640s Cleveland's hope of clearing his debts through an advantageous marriage for his son had failed, (fn. 25) and the value of land he put up for sale was not enough to clear the mortgages and convey an unencumbered title. (fn. 26) In 1640 he sought an Act for the sale of all his estates, but a Bill, which received two readings in 1641, did not become law. (fn. 27) Meanwhile Bayning's trustees, Sir Thomas and Dr. Henry Glemham, were ordered to take possession of the manors, and they held the courts from 1641. The equity of redemption was reserved to Cleveland and his heirs. (fn. 28)
In 1643 Bayning's trustees sold the mortgage leases of Stepney and Hackney manors to Richard Walcot and Richard Wallop in trust for William Smyth (or Smith), of the Middle Temple, and others. (fn. 29) The trustees retained the reversion and apparently kept possession, since the Glemhams held a court in 1643 after the sale, (fn. 30) but Frances, Lady Weld, another of Cleveland's creditors, had gained possession by 1647, (fn. 31) and she was referred to as lady of the manor and held courts until 1652. (fn. 32)
In 1650 the estates of the royalist Cleveland and his son were sequestered. Bayning's trustees tried to compound for the reversion of the manors to recover their debt, but Lady Weld was initially left in possession. (fn. 33) In 1651 the Middlesex estates were sequestered from her for having disobeyed the Committee of Compounding regarding the accounts, although she was still collecting rents in 1652. William Northey was appointed to keep the courts on behalf of the committee, and by 1653 all the earl's estates had been let to his creditors, even though the interest on the debts greatly exceeded the revenues. (fn. 34) In 1651 Smyth and his partners mortgaged to Dr. Henry Glemham demesne in Hackney, the Dusthill in Limehouse, marshes in Poplar, and land in Bethnal Green near Shoreditch church in order to pay the balance owed for their purchase of the mortgage leases in 1643; presumably to help the partners sell land and so pay what they owed, Bayning's trustees conveyed to William Smyth's brother John the reversion of the manors bought from Cleveland in 1634. (fn. 35)
In 1653 William Smyth, Clement Oxenbridge, Edward Gittings, and William Potter sold the mortgage leases to Richard Blackwell, (fn. 36) who assigned back to them Hackney manor and parts of Stepney including the quitrents, wastes, most demesne in Bethnal Green, some wood and trees, and specified rents in hand, as security for payment of debts owed to Glemham, Smyth and others. (fn. 37) The trustees for sale of forfeited lands conveyed the equity of redemption and all Cleveland's other rights to John Smyth and Joseph Drew in trust for Blackwell, William Smyth, and Gittings, for the payment of Cleveland's debts. (fn. 38) William Northey held courts and managed the manors on behalf of the interested parties. (fn. 39)
In 1658 Oxenbridge and Potter assigned their interests to William Smyth and Gittings, (fn. 40) who with others were appointed as commissioners to sell the manors to pay Blackwell's debts, including that to the state. Blackwell assigned the mortgage leases for this purpose, and the commissioners made several sales of land. (fn. 41) In 1660 the Smyths, Gittings, Blackwell, and Drew sold to William Hobson and others both the reversion and the equity of redemption of Stepney manor, excluding land recently sold, the rectory and advowsons of Stepney and Whitechapel, and the offices of steward and bailiff. (fn. 42) Hobson was lord in 1660, (fn. 43) and his executors or trustees had possession in 1665. (fn. 44)
Cleveland regained his equity of redemption, and obtained two Private Acts in 1660 and 1661 for the sale of nearly all his lands in order to pay off his debts. (fn. 45) He was allowed seven years in which to redeem the mortgages. The Exchequer was to assess the debts, and in 1663 ordered that purchasers who had redeemed the mortgage leases and reversions on parcels of the manors should also pay to Cleveland 21 years' value for land and 13 years' for houses held in possession for his equity of redemption. (fn. 46) In 1664 Cleveland and his son authorized two Chancery masters to settle with some of their creditors, including William Robinson, who would not relinquish the manor house (Bishops Hall estate) in Bethnal Green until he had been reimbursed for mortgages he held on land in Hackney. (fn. 47)
The sale of Stepney and Hackney was hindered by new claimants to the manor, who had acquired Blackwell's debt to the state (now owed to the Crown), and in 1666 Cleveland obtained another Act to extend the time for the redemption of the mortgages by four years. (fn. 48)
In 1658 Cleveland settled on Philadelphia wife of his son Thomas, Lord Wentworth, an annual income secured by a lease to trustees of lands including Stepney manor. Thomas died in 1665 leaving a daughter, Henrietta Maria. (fn. 49) On Cleveland's death in 1667 control of his estates passed to Philadelphia and the equity of redemption to Henrietta Maria, de jure Baroness Wentworth. (fn. 50) William Smyth, created baronet in 1661, (fn. 51) had joined with Cleveland and Philadelphia in making conveyances, perhaps as principal creditor or as Philadelphia's lawyer or as joint guardian with the latter of Henrietta Maria. (fn. 52)
Philadelphia, having obtained a pension from the Crown in 1665, (fn. 53) redeemed some of the encumbrances on her jointure, presumably on Stepney manor, (fn. 54) but did not recover Hackney manor, which was settled in fee on the heirs of William Hobson in 1663. (fn. 55) The manors passed separately from 1669, when Hobson's executors conveyed the reversion of Stepney to Philadelphia's trustees, but as free and copyhold lands sold before 1659 were specifically excluded, the manor now contained hardly any demesne. Smyth and the other trustees for settling Blackwell's debts assigned the remainder of the mortgage lease of Stepney to Philadelphia. (fn. 56) From December 1669 courts were held in her name, sometimes with her daughter's or Smyth's. (fn. 57)
Philadelphia made further mortgages of Stepney between 1674 and 1683. In 1684 she assigned the estate to her daughter's trustees, reserving her own jointure, and her daughter settled Stepney manor on herself for life with remainder to her mother. (fn. 58) Henrietta Maria, mistress of James, duke of Monmouth, died unmarried in 1686. (fn. 59) Philadelphia retained Stepney manor, resisting claims to it by Cleveland's daughter Anne (d. 1697), wife of John, Baron Lovelace, and heir to the Wentworth barony. (fn. 60)
In 1695 Philadelphia sold the manor, still mortgaged and described as 4 messuages, 20 cottages, 200 a. of pasture, and all rights and royalties including common of pasture, views of frankpledge, courts leet and baron, and other franchises as before except fishing, with the advowsons of the churches of Stepney and Whitechapel, to trustees for William Herbert, known as Lord Montgomery. (fn. 61)
In 1710 Lord Montgomery sold Stepney to Windsor Sandys, who paid off the mortgages and was lord in 1715 and 1718. In 1720 Sandys held the manor in trust for John Eyre, who had inherited the lands of his brother Henry Eyre in 1719 and sold the manor in 1720 to John Wicker the younger, and a mortgagee. Wicker was lord with S. Blunt 17229 and alone 173154. (fn. 62) He or his son of the same name alienated the manor in 1754 to his brother-in-law George Colebrooke, (fn. 63) who inherited a baronetcy in 1761. (fn. 64)
Sir George Colebrooke was bankrupted in 1773; a settlement was made in 1775 of the manor, which consisted of the lordship, quitrents, perquisites of court and royalties, and the remaining waste from Mile End Road to the parish church. (fn. 65) Further settlements were made in 1777 and 1785 under the bankruptcy commission. (fn. 66) In 1791 settlement of all Sir George's estates in tail male provided for sales from the manor of Stepney to pay debts. (fn. 67) A limited grant seems to have been made, as by 1795 the beneficial interest in the lordship belonged to Jonathan Eade for the lifetime of Sir George. The reversion belonged to Colebrooke's eldest son George, who with Eade enfranchised copyholds in 1807 and 1809. (fn. 68)
George predeceased Sir George in 1809, having devised Stepney to those of his children who reached 21 years. Sir George Colebrooke's estates passed in 1809 to his next surviving son Sir James, but Stepney later passed to Belinda, George's only surviving child, and on her marriage to Sir Charles Joshua Smith in 1823 was settled on her husband, herself and their issue with remainder as devised in her will. (fn. 69) Under that will the manor passed to her uncle Henry Thomas Colebrooke (d. 1837), who left it to his son Thomas Edward Colebrooke (d. 1890), who inherited the baronetcy in 1838. Under a settlement of 1887 it passed to his son Sir Edward Arthur Colebrooke, (fn. 70) created Baron Colebrooke of Stebunheath (d. 1939), who left only female heirs, whereupon the barony became extinct. (fn. 71)
In 1926 the remaining copyholds were converted into freeholds under the Law of Property Act, 1922. They remained subject to such manorial incidents as quitrents, fines on change of ownership, and the lord's right to timber, until 1 January 1936. (fn. 72)
Manor house.
The manor house of Stepney and Hackney was one of the residences of the bishops of London. Bishop William dated a grant at Stepney in 1207, and Bishop Roger Niger died there in 1241. (fn. 73) After the death of Bishop Gravesend in 1303 his household at Stepney was kept on for a month, and 13 stablemen were employed for longer to look after 22 horses. (fn. 74) Bishop Baldock, Chancellor in 1307, sealed royal writs at Stepney (fn. 75) and left ornaments and books from his study there to St. Paul's in 1313. (fn. 76) The bishops' itineraries between 1306 and 1337 show that they regularly paid several visits a year. (fn. 77)
In 1336 52 a. of hay and grass were used for the bishop's horses when at Stepney, and although most of the demesne was farmed out between 1339 and 1362, meadow was retained to supply hay for the manor house. (fn. 78) Bishop Sudbury regularly stayed at Stepney between 1362 and 1375. (fn. 79) Thereafter, although officials' horses still received hay, it is not clear whether the bishop himself resided. (fn. 80) In 14089 the manor buildings were not let because they were reserved for his use, and hay was again provided, (fn. 81) but in 1418 the bishop was dispensed from maintaining residences in Middlesex other than his palace in London and manor house at Fulham. Stepney was used as before in 1424 (fn. 82) and a close near the house was partly occupied by the bishop's stock in 1439, but no hay was then supplied and the bishop's household apparently did not stay thereafter. (fn. 83)
Wages for a janitor and keeper of the manor house were paid for 23 weeks in 13623, possibly when the bishop or his officials were absent, (fn. 84) and by 1384 wages were paid to keepers for the whole year; (fn. 85) they managed the demesne and repaired the house. The post was confirmed by the bishop by 1439 (fn. 86) and a keeper was still employed in 1517. (fn. 87) A bailiff managed the farms by 1457 and his deputy accounted for the revenue of the manor. Bailiffs were prominent landowners: William Pecche in 14578, Thomas Raymond in 14589, John Norris in 14601, William Haydore in 14612, and William Chedworth in 14645. (fn. 88)
The manor house included a chapel by 1243. (fn. 89) An ambulatory between the lord's chamber and the clerks', the thatched stair to the solar, the chapel roof, and the gardener's house were repaired in 1336. The site also included separate thatched granges for barley, wheat, and rye. (fn. 90) Repairs in 1363 involved large supplies of lime, sand, and gravel from within the manor; tiling was done on the kitchen, the bakery, the bishop's chamber, a chamber outside the 'Breshour'(?) and one beyond the gate, and the long stable, and daubing and plastering were done to the hay grange. (fn. 91) A dovecot, great garden, and kitchen garden existed in 1383, when 3,000 reeds were bundled for thatching manorial buildings, the furnace or oven was mended, and a new window made for the steward's chamber. (fn. 92) In 1402 shinglers with scaffolding worked on the main hall, using shingles from the manor of Haringey; glass was bought for the chapel windows, and other work was done to the laundry, buttery, great door, and carriage house, besides daubing the walls of the lord's chambers. The kitchen had a well. (fn. 93) In 1416 the great stable roof was mended and the windows of the great chamber were given new glass. (fn. 94)
The manor house was called Bishopswood in 1465. (fn. 95) The woods nearby were Bishopshall woods in 1538, and the site was generally called Bishopshall (or Bishops Hall) in 1548 and thereafter; confusingly, that name was sometimes also applied to the manor. (fn. 96) The supposition in 1642 that the house had been inhabited by Edmund Bonner (bishop 153949 and 15539) (fn. 97) led to the site being called Bonner Hall in the late 18th and the 19th century, which name has survived in later streets. (fn. 98)
The house and manorial buildings with the office of keeper were included in leases of demesne to William Goddard for 30 years in 1538 and to Thomas Parsons alias Fairbrother for 80 years from 1568; the bishop reserved the right to reside for 3 months each year on giving Goddard 14 days' notice. (fn. 99) Goddard was reeve of the manors of Stepney and Hackney in 1539, (fn. 100) and although he lived mainly in Shoreditch he had goods and animals at Bishopshall at his death in 1548. (fn. 101) His widow had sold the lease by 1550 to Sir Ralph Warren, (fn. 102) who may have resided. The lease was later held by Thomas Wilson, brewer, and this or a sublease by 1582 by John Fuller, resident at his death in 1592 when his interest passed to his widow Jane, later wife of Sir Thomas Mansell. (fn. 103) In 1640 the earl of Cleveland claimed that the manor house was not unworthy of his rank. In 1642 Bishops Hall, with outbuildings and 3 a., had last been let to Sir Basil Brook, (fn. 104) but the parliamentary surveyors found it uninhabitable in 1652; built mostly of brick, it had only the walls standing with a little timber and tiles, the materials being valued at 104 after the expense of demolition. (fn. 105)
The Wentworths did not occupy the manor house, and of these later lords of the manor only Philadelphia, Lady Wentworth, and her daughter Henrietta Maria are known to have lived in Stepney. A copyhold capital messuage and 5 houses nearby were surrendered in 1679 by George Ayres apparently to trustees for Lady Wentworth. Referred to as her dwelling, it lay north-east of the parish church in the hamlet of Ratcliff, on the site of the later Durham Row. The 5 houses were demolished to create her garden, which adjoined the rectory grounds on the south. The house, possibly rebuilt, seems to have been on the north side of the site and was a substantial two-storeyed brick building with attics and a frontage of 10 bays, enclosed with a brick wall. (fn. 106) Evidently it was where the duke of Monmouth stayed with Philadelphia and Henrietta Maria in 1684. Both mother and daughter died there, the mother having 11 servants at her death besides goods, cattle, and grain. (fn. 107)
Sales of demesne.
Most of the demesne was sold in parcels by the earl of Cleveland and his creditors from the 1630s to 1660s, though the freehold of Lollesworth or Spitelhope (43 a.), leased to the hospital of St. Mary without Bishopsgate, was apparently sold between 1550 and the 1560s. (fn. 108) A messuage and several fields in the Isle of Dogs, sold to Sir Edward Yate, Bt., c. 1627, may have been the former manor of Pomfret which escheated to the lord in the 15th century. (fn. 109)
The freehold of four messuages, brickworks, a storehouse in the Shipyard with closes called the Shipyard and Dock, and six other messuages at Limehouse, occupied by John Graves, shipwright, and his tenants, was bought by William Graves in 1637. (fn. 110) The property lay beside the Dusthill, and there seems to have been confusion with the purchasers of the latter during the 1650s. (fn. 111)
The freehold of the Dusthill, divided into several tenements, with a mansion and ground called Shipyard or Hope, and 8 parcels of marsh in Poplar totalling 75 a., was sold to William Lambe, Clement Stoner, and Francis March in 1638 in trust for John March. Although March's heirs paid a fine to discharge sequestration on this property in 1653, (fn. 112) the mortgage on the manor still applied, and the Dusthill and marshland, occupied by Francis March, were still encumbered in 1660. (fn. 113) The Dusthill was not listed among lands excluded from sale in 1661, but its absence from later manorial records means it was almost certainly sold off in fee at that time. (fn. 114)
The freehold of part of 18 a. of demesne in Spitalfields south of Lollesworth, bounded by Wentworth Street, Petticoat or Artillery Lane, and Bell Lane, with 69 houses and appurtenances, including the Red Cock and the White Cock with a bowling alley, was sold in 1639 and 1640 to Henry Montagu, earl of Manchester. (fn. 115) In 1643 Edward, earl of Manchester, and George and Sidney Montagu gave a bond to pay off a small part of Cleveland's mortgage debt, (fn. 116) probably their purchase of the 1634 reversion of 43 a. of nursery, garden, and pasture lying east of Brick Lane and covering the southern half of the later Mile End New Town, and sold to James Ravenscroft by 1642. (fn. 117) On the same date William Smyth, Richard Wallop, and others conveyed all their interest in both the houses sold to Lord Manchester and the 43 a., presumably the 99-year mortgage term which they had bought earlier that year, to Edward Montagu of Boughton, William Montagu, and Maurice Tresham, for a nominal sum. (fn. 118) The Montagus' land was not included in Cleveland's sequestration since they had already bought his equity of redemption, and the Act of 1661 confirmed both parcels to George and Sidney Montagu. (fn. 119)
The freehold of the rest of the 18 a. south of Lollesworth, between Lord Manchester's purchase and Brick Lane, with 112 houses in Wentworth Street, Bell Lane, and Rose Lane, and tenter grounds for drying cloth, was sold to William Smyth in 1640, with 7 a. of demesne in Limehouse called Cordwains (originally customary land which had escheated in the 14th century), which included a ropeworks and new houses in Cordwell and Green Dragon alleys. Both parcels were subject to the 99-year mortgage lease. (fn. 120)
Seven closes totalling 62 a., including 14 a. dug for brickmaking, in the north part of Bishopsfields (between Shoreditch and Cambridge Heath Road), and 43 a. in the south part including a nursery, were sold to James Ravenscroft in 1640. (fn. 121) Ravenscroft apparently sold the 43 a. to the Montagues, and all of the rest to William Smyth in 1643. (fn. 122)
In 1641 Cleveland covenanted to convey unspecified land in Bishopsfields to William Smyth and Dr. Hugh Barker; (fn. 123) it was later shown to have included closes of 14 a. and 16 a. (fn. 124) Despite the sales to Ravenscroft, Smyth, and Barker, the closes in the northern part of Bishopsfields were included in the survey of Cleveland's manor in 1652, possibly because it was not clear which ones had been sold. (fn. 125)
Five closes of c. 60 a. in the north-west corner of the parish near Shoreditch church were included in a mortgage in 1651 to Henry Glemham by Smyth and Wallop. Not having been redeemed, the 99-year mortgage term and reversion in the closes was conveyed by Glemham to Charles Constable and Thomas Jennings in 1660. In 1663 the closes apparently belonged to Richard Blackwell and the 99-year mortgage lease was held by two of his creditors, Humphrey Blake and Clement Oxenbridge. (fn. 126) The land may be that of which the freehold was sold to Blake's successors in 1681, although this only amounted to c. 40 a. (fn. 127)
The equity of redemption of the manor house and its closes and woods totalling 93 a., known subsequently as the Bishop's Hall estate, was sold by the trustees for sale of forfeited lands in 1653, and bought for Mary, widow of Gen. Deane; she sold the equity in 1654 to William Robinson. (fn. 128) The estate was also subject to the 99-year mortgage lease and the reversion, as well as to a 21-year lease in possession from 1648; in 1652 William Smyth was said to have all three interests. (fn. 129) Later events are not clear, but in 1664 the Wentworths claimed that Robinson had received Bishop's Hall in satisfaction of a mortgage he had bought up on Hackney. (fn. 130)
The equity of redemption of land in Mile End leased to Hilary Mempris, who had bought the mortgage and reversion, was bought by his brother and heir Thomas, (fn. 131) and the equity of Sutlepen's (Sickle Pen-) fields and Six Acre Close were granted to Edmund Denton to pay a debt of Cleveland's, and conveyed to John Smyth. (fn. 132)
The equity of redemption of the rest of Stepney and Hackney was conveyed to John Smyth and Joseph Drew in trust for Richard Blackwell, William Smyth, and Edward Gittings. They, with their partners in the purchase of the mortgage leases, (fn. 133) thus made sales of demesne from 1654, mainly of small parcels of waste leased for 500 years in the 1580s, which went to the lessees or occupiers. (fn. 134) Further sales were made from 1658 by the commissioners enpowered to pay Blackwell's debts. (fn. 135)
The sales of the 99-year mortgage terms, the reversion, and Cleveland's equity, regained in 1660, in parcels of the demesne were confirmed after the Exchequer had decided the creditors' claims. Most of the sales were finally settled 166972 after several purchasers had sued for assurance that the equity of redemption of their parcels would be conveyed to them. (fn. 136) What little demesne remained after 1660 may have included Broomfields, 92 a. near the manor house, conveyed or confirmed by Philadelphia, Lady Wentworth, Smyth, and others in 1669. (fn. 137)
OTHER MANORS AND ESTATES.
William of Pontefract, the bishop of London's steward at Stortford in the 1180s90s, held knight's fee of the bishop in 1166. (fn. 138) Between 1163 and 1179 the rector complained that William had built a chapel on his estate in Stepney. (fn. 139) William witnessed a grant in Stepney marsh in 12045, (fn. 140) and may have died by 1216, when livery of his land was granted to Thomas Esturmy. (fn. 141) Thomas of St. Paul, who had claimed the knight's fee in Stepney, quitclaimed it in 1241 to Richard, son of William of Pontefract, and his heirs. (fn. 142) Sir Richard of Pontefract (also Pomfret) held the land in the 13th century, (fn. 143) and witnessed deeds to land in Stepney from the 1230s until c. 1260. (fn. 144) Men belonging to the land once of Richard of Pontefract paid 2s. at the view in 1349, which sum was thereafter owed by the tenement of Pomfret, (fn. 145) and the family gave its name to the manor of PONTEFRACT, POMFRET, or POUNTFREIT. In 1283 Alice of Pontefract, Sir Richard's daughter, granted a messuage and 2 a. in the fields of Stepney to Nicholas de Castello, to whom Ralph de Herun and his wife Joan, Alice's sister, granted a messuage and its appurtenances in Stepney. Other land of Sir Richard adjoined these properties. (fn. 146)
In 1302 Nicholas's son John de Castello (or John atte Castle) and his wife Joan granted and quitclaimed the manor of Pountfreit with its lands, liberties including reliefs, escheats, freemen and villeins, all appurtenances of the river ferry, together with the advowson of the chapel of Pountfreit and rents from East Greenwich, to Sir John Abel, royal servant and guardian of the queen's lands, (fn. 147) and Edward I visited Pomfret later that year. (fn. 148) Abel paid 300 for the manor, which was settled on the issue of Abel and his wife Margery. (fn. 149) However, Joan widow of John de Castello still held in her own right a messuage and 2 a. in the south marsh of Stepney, adjoining Abel's land, in 1311 when she granted and quitclaimed it to John son and heir of John Bacheler, citizen and fishmonger of London. (fn. 150) In 1303 Nicholas de Castello quitclaimed to Abel all right in 2s. 4d. annual rent paid by Richard son of Roger Waryn of Ketteringham from the tenements purchased from the Heruns and Alice of Pontefract, (fn. 151) and in 13056 John de Castello for himself, his wife, and his children acquitted Abel of the purchase money. (fn. 152) In 1322 Abel's manor of Pomfret on the Thames, held of the bishop for a knight's fee and consisting of garden, 80 a. of arable, a windmill, and 12 bond tenants, valued at 8 11s. 4d., passed to his daughters Joan, Margaret, and Catherine. (fn. 153) Catherine and her husband John Chicche in 1333 granted her third to Joan and her husband Sir William Vaughan, (fn. 154) who still held two-thirds in 1357. (fn. 155) Their son Sir Thomas Vaughan died in 1361 seized of the two thirds, now held of the bishop for service of 16d. a year and suit at Stortford, leaving an infant son Hamo. (fn. 156) The bishopric being vacant, the estate was let by the Crown for 53s. 4d. and in 1365 the king granted the wardship of Hamo to Richard of Sutton, (fn. 157) whose widow surrendered it in 1372, whereupon it was granted to Sir Thomas Vaughan's widow Alesia and her husband John Burton. (fn. 158) Sir Hamo Vaughan died in 1394 without issue, a daughter Eleanor having predeceased him. Pomfret presumably passed with West Tilbury (Essex) and Henshurst (Kent) to coheirs, who may have included his executors William Burton, Thomas Skinner, a kinsman, and Roger Bokelton. (fn. 159) Hamo's heirs owed 4s. 6d. and suit at Stepney c. 1400 for a manor called Pomfret in the marsh. (fn. 160)
After the death of Thomas Skinner of Shrewsbury, the two thirds passed by 1412 to Sir Baldwin Strange, Hugh Dorset, Richard Mitton, and Philip Bokelton as coheirs of Vaughan, though the manor was apparently in the possession of the holder of the remaining third, from whom Strange received 12s. 2d. rent. (fn. 161) Strange and Dorset each held a third of the two-thirds in right of their wives. Bokelton with his sisters Catherine and Margaret, the wife of Richard Mitton, shared another third of two-thirds. Margaret, widow of Sir Baldwin Strange, died seized of her portion in 1419, and although the see of London was not vacant, the king granted the wardship of her daughter and heir Elizabeth to John, duke of Bedford, who granted it to Maud, widow of Sir Roger Salvayn. Maud farmed the wardship to John Harpur and Hugh Dorset for rent which she granted in 1422 to John Thoralby and Thomas Holden. In 1431 Elizabeth, aged 14, was the wife of Robert Molyneux. (fn. 162) Dorset granted his portion after the death of his wife Joan to Harpur in 1435. (fn. 163) Shares of the remaining third of two- thirds passed in 1420 from Margaret, widow of Sir Richard Mitton, to her son William, and from Philip Bokelton to his sister Catherine, wife of John Falk of Hereford. The total value of the manor was given as 60s. and each moiety was 6s. 8d. (fn. 164) John and Catherine in 1423 conveyed their moiety of a third of two-thirds in trust for John Harpur, to whom their son Nicholas quitclaimed in 1437. (fn. 165) William Mitton conveyed his moiety in trust in 1436 and quitclaimed to Harpur in 1437. (fn. 166) In 1447, therefore, part of the two-thirds was held by Harpur and the other part by Elizabeth and Robert Molyneux. John Harpur of Rushall and his wife Eleanor settled their share on John's heirs in 1458. (fn. 167)
John Abel's third daughter Margaret (d. 1355), widow of Sir Walter Heryng, leased her third of Pomfret in 1342 to Thomas Lambard, citizen of London, for his lifetime, for a rent to Margaret and her heirs of 8 marks a year for the first 8 years, and 10 a year thereafter. (fn. 168) Margaret apparently released all her right in her portion to Lambard in 1344, (fn. 169) and on his death in 1361 it had been taken into the king's hands, (fn. 170) but Margaret's son and heir Raymond Heryng was apparently trying to recover the third from the Crown against his aunts in 1365. (fn. 171) Thomas Appleton held a third of Pomfret, presumably the Heryng third, in right of his wife Anne in 1412 when Sir Baldwin Strange gave him an acquittance for 12s. 2d. being Strange's share of the rent of the remaining two thirds. (fn. 172) Appleton was holding the third in 1422 when he let the ferry for 7 years, but in 1430 the estate was in the possession of William and Robert Aleyn, who with William Rotheley let the ferry again. (fn. 173) In 1436 William Aleyn and his wife Anne settled Pomfret with land in Essex on Robert Aleyn, with a warranty against the heirs of Anne. (fn. 174) This third was held by Richard and William Appulby for the use of Elizabeth Holden, widow of Thomas Holden, by 1443 when they granted it with the ferry to several feoffees including Robert Aleyn. Because of a suit between the Appulbys and John Filoll of Dorset, Elizabeth agreed with Filoll in 1444 to enfeoff those designated by Filoll and to deliver the deeds of her third of Pomfret to him, (fn. 175) but in her will shortly afterwards she left a payment from the property to Richard Appulby for life, after which her third of Pomfret together with the ferry and lands in Essex was then to be sold by her daughter Elizabeth, wife of Sir John Burcestre. (fn. 176)
The flooding of much of the Isle of Dogs in 1448 was attributed to neglect of the river walls on the south-west by the freeholder, John Harpur, presumably as part of Pomfret. (fn. 177) Several tenants of the bishop and of Poplar manor lost their holdings, still flooded in 1465, (fn. 178) and it is likely that all the tenants of Pomfret did so also. (fn. 179) The fact that the ferry belonged to one portion of the manor, and was described as running between that third and Greenwich, (fn. 180) suggests that the manor may have been physically divided by the 15th century. One or both portions may have escheated to the bishop as lord of Stepney, since in the early 17th century the ferry was part of the demesne of Stepney and let on the same terms as in the 15th century. (fn. 181) Pomfret may have formed part of the land let by the bishop after reclamation in the late 15th century; it probably included parcels near the chapel-house and the ferry which were acquired by Sir Edward Yate, Bt., from the lord of Stepney in the early 17th century. (fn. 182)
Between 1163 and 1187 Bishop Gilbert Foliot granted to his vassal RALPH THE CLERK, of Stepney, and his heirs the land that Ralph's father Elfsus (Aelfsus) had held, together with a quarter of the meadow called Sunewineshamme and 2 a. of assarted land west and south of a house which the bishop had granted to Ralph, and its appurtenances, for 9s. 1d. a year; Ralph was to defend the king for hide. (fn. 183) The grant was confirmed in 1196 1198. (fn. 184)
Grants of land were witnessed by Ralph in 12045 for Stepney marsh (fn. 185) and by his son Robert in 1216 for Walmarsh (Wapping-Stepney). Robert also confirmed a grant by his father of freehold land in Whitechapel or WappingStepney. (fn. 186) That some of Ralph's land lay in Wapping-Stepney and Shadwell was confirmed by the inclusion of a copy of the bishop's charter to Ralph in the cartulary of the manor of Shadwell. (fn. 187)
Bishop Eustace of Fauconberg's attempts from 1224 to recover land which had belonged to Bishop Gilbert included proceedings against eight tenants of Robert concerning a virgate, a messuage, and 44 a. in Stepney, and virgate in Hackney. Three Hackney tenants were required to answer, as Stepney and Hackney were considered to be in the same manor. (fn. 188) The land was eventually granted back to Robert's brother and heir Ralph in 1226 to hold of the bishop for 16s. 3d. and 1 lb. of cumin. (fn. 189) Robert's widow Maud claimed dower in 1224 from 50 a. in Stepney and 1 a. in Hackney, for which tenants who included Simon Blund and Terricus of Aldgate granted a third of their holdings. (fn. 190) By 12289 Martin of Pattishall, dean of St. Paul's, held 2 a. in Stepney from Ralph son of Ralph, for which he paid 12d. which was also granted to him; Walter son of Salomon of Stepney quitclaimed the 12d. to the dean. Ralph's quitclaim to Dean Geoffrey de Lucy (1231 41) of three houses and rent which had once belonged to Ralph's father, free of all services except that owed to the bishop, (fn. 191) was his family's last known connexion with Stepney.
BERNARD OF STEPNEY, who owed the king 10 marks in Middlesex and 15 marks in Essex in 1178 for the marriage of his daughter, (fn. 192) presumably held land in Stepney. In an exchange of 1200 Robert son of Bernard granted Henry of Bedfont Bernard's capital messuage, the vinery, land called winhiard (probably vineyard), and land in ten other fields, with the services totalling 30s. from five tenants including Maud daughter of Bernard, and the services and tenements of five other tenants including Walter son of Bernard; Henry paid 40s., and was to pay 6d. a year to Robert and his heirs. That estate became the manor of Poplar (q.v.). Robert received 80 a. from Henry and retained to his use the messuage that had belonged to Edmund son of Alfred, and 16 a. in seven parcels. (fn. 193)
Rodland the brother of Maud daughter of Bernard gave William de Clovilla 9 a. at Shadfliet (Schadflet) in Stepney marsh and held by Ralph of the marsh; by 1204 Maud received 4s. a year for the land, and in 12045 William granted the land to Brice of Shadwell (q.v.) for the 4s. to Maud and 4s. to himself. Between 1204 and 1221 William granted the 8s. rent to the canons of Holy Trinity Aldgate; they were to pay 4s. to the chief lord (Maud), who confirmed the grant between 1218 and 1221. (fn. 194) They also paid a quitrent from Shadfliet to Hamo of Bedfont. (fn. 195) There may have been a link between Bernard of Stepney and the later Bernard or Barnard family.
SALOMON OF STEPNEY witnessed charters of the bishop of London in 1141 1150 and of the abbot of Westminster in 1138 1157, and the bishop's confirmation to Ralph the clerk in 1196 1198, (fn. 196) and paid a relief of 10s. in the bishopric in 11878. (fn. 197) Salomon son of Walter of Stepney held a tenement and a virgate of land in Stepney from Lettice de Munteny, who granted his service to the priory of St. Mary, Clerkenwell, in 1193 1196. (fn. 198)
In 1203 Salomon claimed 10 a. in Stepney against Walter son of Adam, (fn. 199) and in 12045 Salomon and his son Daniel witnessed a grant for Stepney marsh. (fn. 200) Salomon also held land in Walmarsh (Wapping-Stepney), (fn. 201) and in 1219 Terricus of Aldgate and his brothers held 1 a. in Stepney from John son of Salomon. (fn. 202)
Salomon's daughter Catherine married Brice of Shadwell, who thereby may have obtained Shadwell mill. (fn. 203) In 1222 Brice's nephew and heir Benet of Maneton claimed that Catherine had only dower in the mill, while she and her husband Adam le Despenser claimed it as her inheritance from Salomon. Her brother Daniel stated that Brice had agreed, in default of issue by Catherine, that all the lands held in fee of Salomon would go to Salomon's heirs. When the allegation was disproved, Daniel surrendered his claim as Salomon's heir and quitclaimed Brice's estate to the bishop, who had bought it, in return for 10 a. of Brice's near Bethnal green, which later passed to the hospital of St. Mary without Bishopsgate. (fn. 204) Daniel also granted to Benet for 1 mark a year all the land that Edwyn passavant' had held of Salomon in the east marsh of Stepney, as Brice had held it, and all the meadow Daniel had in Careswyesham. (fn. 205)
Daniel granted to Holy Trinity Aldgate a quitrent of 2s. from a tenement held of him by Odo parmentarius in the vill of Stepney; it was quitclaimed to the canons in 1222 1230 by his sister Alice daughter of Salomon of Stepney, who added 2s. from a tenement which Odo held of her. (fn. 206) Alice also granted 10 a. in Golfreland, in Stepney or Hackney, to St. Mary without Bishopsgate. (fn. 207) Walter son of Salomon quitclaimed a rent granted to Dean Martin of Pattishall 1228 1229. (fn. 208)
Daniel's estates apparently passed to his sisters Alice, wife of John of Wittenham, and Martine(?), wife of Richard Grumbald, as they granted to Bishop Eustace (d. 1228) the 1 mark a year that had belonged to Daniel, 9 a. which the bishop had demised to him, two tenements on the north side of the bishop's woods in Stepney, and the land on the south side used for a road. (fn. 209) The men of Daniel's estate paid a fine of 2s. at the view in 1349. Since that fine was paid by the men of 'Danyels now Grymbaldes' in 1384, (fn. 210) some or all of the land of the Grumbald family may have been Salomon's, possibly including Grumbolds in Hackney and Cobhams or Rumbalds in Stepney. (fn. 211) Richard's son Walter Grumbald granted to Hugh son of Hugh Belebarbe his villein William of Aston and 13 a. for a service of 8s. a year; the land later passed to Adam Francis (Fraunceys) and became part of Hackney Wick manor. (fn. 212) Walter also granted all his land in Hackney and 5s. rent from Stepney to the hospital of St. Mary without Bishopsgate, to which in 1249 he quitclaimed 11 a. in Stepney and Hackney. (fn. 213)
Brice of Shadwell (also of Stepney and of Hecham) acquired in the late 12th century an estate known by 1261 as the manor of SHADWELL. (fn. 214) It included 12d. rent from land called the Linches (fn. 215) acquired from Robert le Messag'; meadow in Broadmead and Lochamme acquired from Reginald of Cornhill for mark a year; the rent and service owed by John son of Edrich from a virgate in the east marsh of Stepney, from Lettice de Munteny for 1 lb. of cumin a year; two 2 linches on the north side of Walmarsh, from St. Thomas a Becket's nephew Theobald of Helles for 2s. a year; Swetyngfeld and land in Summerleas from Angeline widow of Alexander of Stepney and her son Thomas and 2 a. in Summerleas, from Thomas son of Alexander of Stepney, both for 12d. a year; land on the Linches called Mayesling, from Adam son of Liefing (or Lyving) and from Salomon son of Siward, both for 12d.; and 2 a. in Woluresesland from William son of Eylwake for 12d. (fn. 216) From his father-in-law Brice may have acquired the mill at Shadwell, later claimed by Salomon's heirs, and possibly other land. (fn. 217)
Bishop Richard (1189 1198) confirmed to Brice, his sergeant, all acquisitions including the mill of Shadwell in the vill of Stepney, and granted to him 6 a. in a marsh called the Wylde (near Limehouse) and a. in the chief field called Northhyde (near Shoreditch church), paying 2s. 1d. a year for all services. Bishop William of Ste.-Mere-Eglise (1199 1224) also confirmed the lands. (fn. 218)
In 1200 Jeremy of Stepney or Stratford, son of Orgar, sued Brice as holder of 6 a. in Stepney. (fn. 219) Brice probably died by 1216 when the king granted livery of all his lands in Stepney to the value of 12 marks to Robert Turneboet'. (fn. 220) Shadwell passed to Brice's nephew Benet of Maneton, to whom the bishop confirmed it, reserving annual services of 4s. for virgate that had belonged to Reymund son of Aluric, beside four other rents of 2s. or less for land bought from Daniel heir of Lyving de fonte, Almanus son of Edward de Brok, and Salomon and Adam, and for 2 a. between land formerly Reymund's and the way to the bishop's field at Blithenhale (Bethnal Green). (fn. 221) Benet also received land from Daniel son of Salomon of Stepney, for 1 mark a year, and agreed with Brice's widow Catherine for her dower. William Dolund granted Benet 7 a. in the south marsh and William Picton's son Richard granted him all William's land sold in the court of Bishop William with the king's licence. (fn. 222)
Although Benet had established his claim to Shadwell mill, (fn. 223) he nonetheless quitclaimed it in 1223 to Daniel in return for which Daniel conveyed it to Bishop Eustace of Fauconberg (1221 1228), who was buying Brice's estate from Benet for 60 marks and who compensated Daniel. (fn. 224) The estate, with land and rent later acquired from Daniel's sisters and their husbands, (fn. 225) was left by the bishop in 1228 to the dean and chapter of St. Paul's, who were to pay 10 marks for various purposes. (fn. 226) In 1235 Richard of Hecham surrendered to them all his right, presumably as heir of Brice or Benet, in 60 a., a messuage, and a mill in Stepney. (fn. 227)
The dean and chapter continued to add to their estate. By 12289 Dean Martin of Pattishall had received 12d. rent from Ralph son of Ralph the clerk and his wife. In 1231 1241 Ralph son of Ralph quitclaimed further property to Dean Geoffrey de Lucy. (fn. 228) In 1244 Robert of Aleford (possibly Old Ford) granted 5 13s. 10d. rent and 16 a. in Stepney and Hackney, (fn. 229) which may have been included in the manor of Shadwell. Dean Henry de Cornhill (1243 1254) was granted 4d. annual rent by William Scot of Stratford from land that been Brice's, and 3s. rent by Pentecost son and heir of Alan the draper, owed for a tenement in Stepney called Blienhale (Bethnal Green), part of the dean's fee and formerly Brice's. (fn. 230) Dean Robert (possibly de Barton, 1257 1261) was quitclaimed 11s. a year from a tenement belonging to the manor of Shadwell, for a clove of garlic or a rose, by Walter Trentemars. Dean John de Chishull (1268 1274) was quitclaimed the rights of Adam Scray in a messuage and service in south marsh. (fn. 231)
Before 1285 Shadwell had 51 tenants holding by a money rent; they included Stephen Aswy, Ralph de Munchensy, Ralph Crepyn, the vicar of Stepney, the prioress of St. Helen's, and other freeholders in Stepney. Nothing was received from the farm of the mill. The manor had 40 a. of arable in Stepney marsh and 34 a. in the upper fields (near the church, the gate of the manor, the bishop's windmill and the chapel of Matfelon), 15 a. of meadow, some of it at Old Ford, and another 9 a. held by Walter son of Alan Cole for mark. (fn. 232)
The canons were exempted from purveyance from Shadwell in 1314 and 1316, and were granted free warren in their demesne there in 1316. (fn. 233) The dean was inhibited from holding a plea in his court when his tenants took a case to the king's court, presumably concerning free land. (fn. 234)
Edward I stayed at Shadwell in 1291, when the only recorded buildings were those of the manor house near the mill. (fn. 235) In 1334 the hall and adjoining chamber were worth nothing, windows, doors, stairs and solars had been removed, and the domestic offices and stable were in ruins. Other buildings were also decayed, as were the great grange next to the gate, the mill with its tidal ditches and Watergate, and the river defences. The manor had been farmed out to Richard, the bishop's beadle, for the term of the dean's life. (fn. 236)
In 1649 the dean and chapter's estate in Whitechapel, Stepney, and Hackney consisted of four houses on the north side of Whitechapel Street, 4 a. of meadow on the west side of Bethnal green, which had been arable in 1576, a nearby close of c. 4 a. of meadow, and two parcels in Hackney marsh totalling 9 a. (fn. 237) At Stratford Bow the dean held Brodow Mead containing 6 a. (fn. 238) In Shadwell the dean and chapter held 18 a. called Ropemakers field bordered by Ratcliff Highway, north by the later White Horse Lane, east by Cut Throat Lane, and west by Maiden Lane; Hilly Lynch south of Ratcliff Highway and west of Foxes Lane, with tenements; and part of Shadwell from Foxes Lane to Cock Hill and from Ratcliff Highway to the Thames, mostly built up. (fn. 239) Apparently they no longer had land in Limehouse or Poplar. A house west of the site of the mill had a cellar, four rooms on the ground floor, four on the first, and four garrets. It might have been a remnant of the manor house, being the only building with a garden and orchard; one of the larger of Shadwell's many inns is another possibility. The manor was mostly let on long leases to Thomas Neale. (fn. 240)
The Trentemars family held free land of the bishop in Stepney and Hackney in the 12th and 13th centuries, for which its tenants paid 12d. towards the common fine. The men of Edmund Trentemars still owed that sum in 1349 and 1384, but John Cornwaleys, who held most of the estate, paid it in 1405. (fn. 241) The Trentemars land passed in at least two parts during the 14th century.
The major part of the Trentemars estate formed the later reputed manor of BERNES or BARNES, the principal tenement and curtilage being called Bernes in 1395. It was held in the 12th century of the Cnihtenagild for a quitrent of 7s. 5d., which was granted to the priory of Holy Trinity Aldgate with the rest of the soke, and lay in the parish of St. Botolph Aldgate, stretching eastward from the Minories on the site of the later Goodman's Yard to join the Trentemars land held of the bishop in the parish of Whitechapel. (fn. 242) The family had another tenement in St. Botolph Aldgate, on the north side of Algatestreet, held of Holy Trinity, and one in East Smithfield in 1308 held of an unknown lord. (fn. 243) Osbert Trentemars paid the quitrent from the principal tenement in the 12th century. Later payers were Susan Trentemars, Geoffrey son of Susan, Walter Trentemars, and in 1307 Edmund Trentemars. (fn. 244) Geoffrey son of Osbert, possibly the same family, was granted 40 a. in Stepney by Andrew Plundit in 1198. (fn. 245)
The land in Whitechapel that adjoined the tenement in the Minories, probably the later Homefield, was held by Geoffrey son of Susan 1222 c. 1230, Geoffrey Trentemars 1222 1248, (fn. 246) and Walter Trentemars 1222 1248. (fn. 247) Walter witnessed deeds for Stepney until the 1260s. (fn. 248)
In 1248 St. Helen's priory obtained 6 a. in Stepney of the fee of the dean of St. Paul's, who held Shadwell, by a writ of novel disseisin against Walter Trentemars, (fn. 249) and this was probably the property held by St. Helen's at the Dissolution. (fn. 250) Walter Trentemars quitclaimed to Dean Robert (probably de Barton 1257 1261) a rent of 11s. from a tenement which had been included in Shadwell. (fn. 251)
In 1261 John le Waleys granted to Walter Trentemars 20 a. in Stepney, most likely the Trentemars family's later holding in Galeysfield or Waleysfield. (fn. 252) In 1263 Edmund son of Walter Trentemars was granted land and houses held by his father, and in 1303 Edmund son of Walter held the land adjoining the tenement. (fn. 253) Edmund Trentemars also held land east of Cambridge Road to the south of Bishopswood (near the boundary between Bethnal Green and Mile End), including Gyesfield. (fn. 254) In 1313 Edmund Trentemars, citizen, settled 7 a. in 'Gundesfield' (possibly Gyesfield) on his son Edmund. (fn. 255) After the elder Edmund's death his land near Old Ford and customary land including part of Gyesfield passed separately from Bernes, probably to the second Edmund, a younger son. (fn. 256)
Edmund senior's son and heir Walter was holding the land adjoining Bernes by 1315, (fn. 257) when he and his wife Lettice settled a carucate and 30s. rent in Stepney on themselves. (fn. 258) In 1320 Walter granted to Agnes, widow of Richard de Dunlegh of Southwark, property in St. Botolph Aldgate and Stepney, with the reversion of portions held for life by his mother Joan. (fn. 259) Shortly afterwards he granted to Simon of Abingdon, citizen and draper, and his heirs 12 a. in Gyesfield on the north side of the highway to Bishopsgrove, with the reversion of the adjoining 6 a. held as dower by Joan. In 1324 Simon's widow Eve, with her husband John of Causton, quitclaimed the 12 a. to Alice, Walter's daughter and heiress. (fn. 260) The land granted to Agnes Dunlegh also apparently returned to Trentemars; in 1328 Joan widow of Edmund Trentemars claimed 42 a. land and a third of a garden and 2 a. meadow in Stepney, and Beatrice Trentemars claimed 35s. 8d. rent in Stepney, all formerly granted to Agnes Dunlegh by Walter. (fn. 261)
Alice Trentemars and her husband William Haunsard in 1343 settled a messuage, 97 a., 4 rent in Stepney on themselves with remainder to William's father and namesake, (fn. 262) who granted his reversionary interest to his daughter Joan and her husband Henry Vanner, citizen and vintner. The estate comprised the tenement with adjoining curtilage in St. Botolph Aldgate, 40 a. in Homefield, 20 a. in Waleysfield, 20 a. in Gyesfield, 6 a. in Longmead, all arable, and 10 a. of meadow in Poplar and 2 a. at Old Ford on the Lea. (fn. 263) William Haunsard the younger died in 1349, leaving goods in the Trentemars tenement to his wife Alice, who probably married John Mokking by 1354. (fn. 264)
William Haunsard the elder had acquired 13 a. near the Crash mills in 1330 from Richard, son and heir of Richard of Gloucester, alderman, a kinsman of Walter Crepyn; (fn. 265) the mills lay on St. Botolph Aldgate's boundary with Whitechapel, a parish so narrow there that the land may have lain in either parish or in Stepney. In 1338 Haunsard or his son acquired a garden in the Minories on the north side of the Bernes tenement, (fn. 266) whose holder thereafter paid the quitrent to Holy Trinity. A messuage in Whitechapel, acquired in 1331 from Nicholas Eliot and his wife Margery, (fn. 267) may have been the one which Haunsard held north of Algatestreet. (fn. 268) He also acquired 18 a. in Collesfield in 1331 and 4a. in Old Ford called Bolemad in 1332, both from Edmund Crepyn, whose widow Mary in 1344 surrendered to Haunsard all her right in Crepyn's property in Stepney, Whitechapel and elsewhere. (fn. 269)
Haunsard granted Collesfield to John de Brendwood in 1340, and Bolemad to Joan and Henry Vanner in 1348. (fn. 270) He may also have granted the 22 a. in Stepney which the Vanners granted to Nicholas atte Wyke and John de Benyngfeld, feoffees for Adam Fraunceys, in 1352, as the property included 18 a. called 'Harinsardesfeld' (Haunsardsfield) next to Gyescroft. (fn. 271) The Vanners also granted 20 a. in Stepney to John Marreys. (fn. 272) After Vanner's death in 1354, John Mokkinge and his wife Alice settled the Bernes messuage with 98 a. and 4 rent in Stepney on Joan Vanner for life, with remainder to Vanner's son and namesake. (fn. 273) All the lands and rents in St. Botolph Aldgate, Old Ford, Poplar, and elsewhere in Stepney were similarly settled. (fn. 274) Joan paid the quitrent in 1356, as did her husband Thomas Cornwaleys of London in 1359. (fn. 275) Henry Vanner the younger, citizen and vintner, in 1368 granted them both a life interest in all the property in St. Botolph and Stepney which Joan held for life. (fn. 276) Although he held land in Stepney by marriage to Margery, daughter and coheiress of John Stodeye, (fn. 277) Bernes was still in his mother's possession when Henry made his will in 1395. He left the reversion of his mother's estate, described as the tenement 'le Bernes', with lands in Algatestreet and in Stepney, Whitechapel, and St. Botolph Aldgate, to his halfbrother John Cornwaleys and his issue, with remainders to his brother William Vanner or to Joan and her heirs. (fn. 278)
Vanner's will did not mention his copyholds of Stepney manor, which seem to have passed to John Cornwaleys and were probably included in the Bernes estate, since some field names were the same. John Cornwaleys c. 1390 held copyholds of 5 a., possibly north of Whitechapel Road, and 8 a. south of Whitechapel formerly of Thomas Cornwaleys, and owed a free rent of 33s. 2d. and suit of court at Stepney for Homefield, part of Bernes. (fn. 279) In 14012 c. 11 a. in Walmarsh (in Wapping) late of Henry Vanner were in the lord's hands after disagreement between William Vanner and John Cornwaleys, but by 14089 46 a. customary land of John had been confiscated for refusal to serve as beadle for Stepney. (fn. 280) In 1426 the bishop leased the arable for 100 years to Roger Pynchepole, whose lease was eventually assigned to Thomas Cornwaleys in 1464. (fn. 281)
In 1417 possession of Bernes was given to John Cornwaleys, citizen, (fn. 282) whose feoffees in 1430 settled the manor in St. Botolph, Stepney, and Whitechapel on him and his heirs. (fn. 283) In 1431 the prior of Holy Trinity brought an action against John, presumably to obtain the quitrent, (fn. 284) and between 1431 and 1443 Thomas Cornwaleys sued the tenant of Bernes for waste. (fn. 285)
When Bernes was leased by Thomas Cornwaleys for eleven years in 1472, it was described as a great messuage in St. Botolph, with Homefield of 50 a. in Stepney (recte Whitechapel) and tenements north and south of the great gate by the highway. (fn. 286) Thomas's son John settled Bernes on himself and his heirs in 1489. (fn. 287) Sir John Cornwallis paid the quitrent in 15389, when the occupant was a tenant. (fn. 288)
In 1560 Sir Thomas Cornwallis apparently conveyed the manor to William Bromefield, with eight messuages and eight cottages, with gardens, an orchard, a dovecot, 110 a., and 9s. rent and appurtenances in St. Botolph, Whitechapel, St. Katharine near London, and Stepney. (fn. 289) In 1594 Catherine Bromefield, widow, and William and Arthur Bromefield conveyed to Thomas Goodman the manor of Barnes with 54 messuages, 72 gardens, 20 cottages, 1 windmill, and 70 a. in St. Botolph Aldgate, Whitechapel, and Stepney. (fn. 290) Goodman died in 1606 seized of 11 tenements and 16 gardens in St. Botolph Bishopsgate, held of the king for 1/100th knight's service and valued at 3 a year, and a messuage, 22 tenements, 12 cottages, 5 stables, 1 mill, 45 gardens, and 42 a. pasture in St. Botolph Aldgate, Whitechapel, and Stepney, valued at 11 and held partly of the mayor and corporation of London for an annual quitrent of 9s. 5d., and partly of the manor of Stepney for service of 18s. 8d. In 1598 he had settled 9 tenements of the latter, valued at 40s., on his daughter Elizabeth, her husband Walter Halliley, and their eldest son, and in 1602 he had settled most of the rest on Mary Watts, wife of his son William Goodman, and their issue, and the remainder on himself and his wife Beatrice for life, with remainder to his son William. (fn. 291) Most of the estate was sold in 1628 by William Goodman and his wife Alice and Alan Carey and his wife Anne to Sir John Leman (d. 1632), (fn. 292) who settled 10 messuages, 40 cottages and 40 a. pasture called Goodman's Fields, described as part of the manor and capital messuage anciently called Barnes, on his nephew William Leman, citizen and fishmonger. (fn. 293) It was settled by William Leman the elder in 1655 on the marriage of his son William. (fn. 294)
The tenement called Bernes was a substantial building in 1472 with a great gate to the Minories, a dovecot, and a chamber over the hall with two rooms adjacent called 'les withdraughtes'. (fn. 295)
Another portion of the TRENTEMARS estate in Stepney probably descended through Edmund Trentemars the younger to augment the manor of Hackney Wick. In 1361 Edmund's widow Maud and her husband William de Gloucester of London, and John son and heir of Edmund Trentemars, leased 16 a. in parcels in Old Ford to Adam Fraunceys, to whom John shortly afterwards released the freehold. Fraunceys granted it with other land, including Hackney Wick, to feoffees, to whom John Trentemars quitclaimed in 1375, (fn. 296) apparently ending his family's connexion with Stepney.
Fraunceys in 1352 acquired Collesfield, which had passed from John de Brendwood to Michael Mynot in 1343 with land in Hackney and Tottenham, and then in 1347 to Walter Turk. (fn. 297) The major part of Fraunceys's estate came from the Belebarbe family. Hugh Belebarbe held land in Stepney c. 1200, and he or his son Hugh witnessed grants in Wapping, the Isle of Dogs, and by the Lea until the 1260s. Amongst other acquisitions was William of Aston, a villein, and 13 a. which Walter son of Richard Grumbald granted to Hugh son of Hugh Belebarbe to hold for 8s. a year. (fn. 298) Hugh was succeeded in the late 13th century by John and Robert Belebarbe. (fn. 299) In 1316 Robert Belebarbe the elder granted two messuages and 90 a. in Stepney and Hackney to Simon of Abingdon, which became part of the manor of Wick, (fn. 300) and 24 a. in Stepney to Walter Crepyn. (fn. 301)
Fraunceys also acquired lands of Robert Barnard, who had been granted the moiety of a messuage and 108 a. in Stepney in 1294 by John Westheye and his wife Aubrey, which included a messuage in Old Ford and were Aubrey's inheritance. Barnard's lands had passed by 1323 to his daughter and heir Agnes and by 1346 to Isabel wife of Roger Osekyn who conveyed them to Fraunceys in 1359. (fn. 302)
Fraunceys's feoffees granted all his lands with Hackney Wick to his widow Agnes, with successive remainders in tail to his children Maud and Adam. Maud married (as her third husband) John Montagu, earl of Salisbury, who was holding in her right in 1399 when his lands were forfeited and granted to his widow. (fn. 303) Agnes, succeeded by the countess of Salisbury, owed the bishop a service of 13s. 4d. and fealty for Brodesfield and Gyesfield, whose names suggest they had been part of the Trentemars lands, and 4s. 8d. for part of the tenement and land formerly of Agnes Bernard. Although listed with the free rents, they were later granted by copy. (fn. 304) All the land seems to have descended with Hackney Wick and was probably not distinguished in descriptions of that manor. Its history may explain why Wick was said to be held partly of the bishop in 1400.
Maud, countess of Salisbury, died in 1424 seized of 40 a. in Brodfield in Stepney, 18 a. in Gyesfield, and an annexed piece once Agnes Bernard's. Alice, countess of Salisbury, held it at her death but it was in the hands of the lord unclaimed in 1464. In 150910 Sir John Risley, lord of Hackney Wick, and Sir Henry Wyatt were admitted to the copyhold, possibly as feoffees. (fn. 305) As the copyhold was later held by the Bowyer family, it seems that it was sold by Margaret, countess of Salisbury, and her son with the manor in 1538 to William Bowyer, later lord mayor of London. (fn. 306)
Sir William Bowyer's will was proved in 1544, but years of litigation followed, apparently resolved in 1566 in favour of Francis, infant son of John Bowyer of Histon (Cambs.). However, land that was probably part of his copyhold was said to belong to the heirs of Thomas Bowyer in 1550, (fn. 307) and in 1564 a John Bowyer was admitted to copyholds which included 55 a. in Panfield, Bradfield, and Gyesfield, which he surrendered in 1569 to Edward Partridge of London. (fn. 308)
A Thomas Bowyer granted 11 a. called Poorefield in Stepney and Hackney to John Jones, citizen and girdler, in 1640. It passed to James Jones, administrator in 1664 of the goods of his deceased infant son, and he sold it to George Hockenhill. (fn. 309)
In 1673 Nicholas Cooke the elder of East Greenwich left to his daughter Elizabeth and her husband William Buckeridge with remainder to her son, three parcels containing 13 a. in the tenure of Richard Hopper, which seem to have been Gyesfield. He also left annuities from 28 a. at Mile End, where the land presumably passed to his son Nicholas Cooke. (fn. 310) In 1703 Buckeridge held 13 a. on the northern boundary of Mile End Old Town adjoining demesne of Stepney called Broomfields; Hopper had been holding the land adjoining the latter in 1652. (fn. 311) Gyesfield passed to the Corporation of the Sons of the Clergy by 1849. (fn. 312)
Two a. formerly part of Panfield or Bradfield were included in 45 a. in Stepney belonging to Thomas Gouge, clerk, and let in 1672 to John Preston, (fn. 313) who occupied 45 a. at the eastern end of Mile End Old Town belonging to Dr. 'Gouch' in 1703. (fn. 314) The Gouge estate derived partly from Elizabeth Culverwell, who in 1589 bequeathed to her daughter Elizabeth, wife of Thomas Gouge of Stratford Bow, two messuages in Stepney converted into one, and the Queen's Head at Mile End with 7 a. of free land; another daughter Cecilia, wife of Laurence Chaterton, was left seven other messuages in Stepney. (fn. 315) In 1661 Thomas Gouge, clerk, and his wife Anne settled 13 messuages, 17 gardens, 6 barns, and 70 a. in Stratford Bow on themselves and their sons William, Thomas, Edward, and Nicholas. (fn. 316) In 1849 c. 22 a. of the former Gouge estate in Mile End was still not built on and belonged to Sir Charles Morgan, Bt. (fn. 317)
The manor of HUSCARL derived from land probably by Roger Huscarl 1196 1198, when he witnessed the bishop of London's grant to Ralph the clerk. (fn. 318) Roger owed Robert son of Bernard a service of 12d., which was granted to Henry of Bedfont in 1200 as part of the later manor of Poplar, (fn. 319) and was involved in several actions regarding free land in Stepney. He claimed virgate and a messuage from Robert son of Terricus in 1200, warranted 5 a. which John son of Baldwin held of him in 1205, and claimed 7 a. in Walmarsh (Wapping) from Peter son of Oger in 1212. (fn. 320) In 1219 he was found not to have disseised William Blund and his wife Lettice of a free tenement (fn. 321) and reached agreement with Maud widow of Robert son of Chedric over her dower. (fn. 322)
In 1230 Roger's son William Huscarl claimed a. from Terricus of Aldgate, which Roger had claimed, but the land was found to belong to St. Paul's. (fn. 323) William also released to Gilbert son of Emma de la Milaunde (Mile End) and his heirs a messuage and 2 a., for 2s. a year, (fn. 324) and witnessed deeds until 1250. (fn. 325)
Ralph Huscarl witnessed a grant c. 1270, (fn. 326) received 6s. a year from Aline de Ba in 12734, and in 12789 held 16 marks of land in Stepney. (fn. 327) In 1290 Hugh of Cressingham, possibly a feoffee, settled land in Somerset and the manor of Stepney Huscarl on John Huscarl and his wife Alexandra, with remainder to their son Humphrey and his heirs. (fn. 328)
Humphrey Huscarl of Bruton (Som.) granted a messuage, 70 a. in Stepney and Hackney, 10s. rent, and the reversion of 5 a. held by John de Pulteney to Geoffrey Aleyn, citizen and fishmonger, and his wife Maud for life. (fn. 329) The property was among that settled in reversion by Humphrey in 1348 on his son and heir Nicholas and his issue, to be held for a red rose. (fn. 330) Nicholas in 1356 confirmed his father's grant to Maud and for twelve years after her death to her husband Thomas Gatyn. (fn. 331)
By c. 1380 the free tenement and land late of Humphrey Huscarl was held by Adam Chaungeour (Adam of St. Ives), merchant, of the bishop for 18s. 7d. and suit of court. (fn. 332) Adam also acquired the Mote in 1371 and other property in Stepney, (fn. 333) and by 1380 had granted 12 a. to John Hadley. (fn. 334) In 1393 his Stepney estate included a messuage called Huscarles with 81 a., two cottages next to it, a cottage and curtilage on the N. side of the churchyard, and, among other property, a messuage called the Mote with a garden and 46 a. in the marsh. Adam also had rents of assize from tenements in Stepney, besides small properties in Bromley, Hackney, and East Smithfield. (fn. 335) His heirs held 92 a. c. 1400, of which 45 a. were free, 33 a. including 5 a. late Thomas Gatyn's were claimed as free, and 12 a. were customary. He had also held a customary tenement and curtilage called (Ca?)tesplace paying a helpenny and smokepenny. (fn. 336)
Adam's estate in Stepney passed to John Seymour and his wife Joan, and by 14012 the customary land had escheated after unlicensed alienation. It included 52 a. of cotland and 34 a. of meadow, an allowance being made for free lands which could not be distrained upon and included 50 a. called Huscarles. (fn. 337) In 1407 William Waryn and his wife Joan, daughter of Nicholas HuscarPs brother Ralph, claimed the manor of Stepney Huskarl from the Seymours, apparently without success. (fn. 338)
In 1413 the manor was settled in trust by Walter Green and his wife Alice. (fn. 339) It is not clear which of the family's properties were part of Huscarls. Walter resided in Poplar in 1421 and acquired a messuage in Mile End from Ralph Holand in 1437. (fn. 340) The garden on the north side of Stepney churchyard that had belonged to Adam of St. Ives was Walter's in 1438. (fn. 341) He, or possibly his son Walter, married Elizabeth daughter of Robert Warner (d. 1439), (fn. 342) and Robert son of Walter later claimed that Warner had been seized of the manor of Poplar, probably meaning a free tenement held of that manor, which was conveyed to Walter Green and his heirs. (fn. 343) William Sellewood, cousin and heir of Humphrey Huscarl, quitclaimed all his right in Humphrey's lands in Stepney to Thomas and Walter Green and others in 1439. Eleanor Huscarl, daughter and heir of John, quitclaimed to other feoffees in 1444. (fn. 344)
In 1454 Walter Green held land in Churchfield on the east side of the highway to Stepney church (White Horse Street), perhaps part of Huscarl. (fn. 345) He also held the Mote formerly of Adam Chaungeour, which afterwards passed to Edmund Ratcliff. (fn. 346) Walter apparently died by 1460 1465, when his son Robert alleged dispossession of a feoffee by a freeholder of Poplar, (fn. 347) and Walter's widow Elizabeth died in 1473, followed soon after by Robert, whose widow Cecily married John Acton but died in 1480. The family held the manor of Cowley Peachey, which passed to Robert's son Edward and in 1493 to Edward's sister Cecily, wife of William Burbage. (fn. 348) In the 1490s Burbage and John Green owed rent of 12d. to the manor of Poplar for ground in Eastmarsh beside Leamouth. (fn. 349) Cecily Burbage, widow, was in default of suit of court in Poplar in 1497 (fn. 350) and seems to have married William Craythorn with whom she settled Cowley Peachey, including appurtenances in Stepney and Whitechapel, in trust in 1498. Craythorn was a member of the homage of Poplar in 1499. (fn. 351)
Some 16th-century transactions in Stepney and Poplar also concerned the Greens' estate. Lands were conveyed by William Green in 1539, by Robert Green in 1541 and, called Leymouth in Eastmarsh, in 1546, and by Roger Green in 1553. (fn. 352)
William COLE probably held land in Stepney in 1196 1198. (fn. 353) In 1206 Edmund son of Gerard of Old Ford quitclaimed to him his right in lands in the vill which Algar his (presumably Cole's) father had held of the bishop of London. (fn. 354) William witnessed grants in Stepney in the early 13th century, (fn. 355) and agreed with Brice of Stepney to lease Summerleas. (fn. 356)
In 1237 William de Blancmuster and Alice his wife granted a virgate in Stepney to Roger son of William Cole and his heirs, to hold of the chief lords as the grantors had done. (fn. 357) Roger witnessed grants in Stepney between c. 1218 and 1250, (fn. 358) including one in 1250 by Anketun or Asketin Cole, of unknown relationship. Soon after he became bishop of London in 1244, Fulk Basset confirmed to Roger Cole all the lands held of Fulk and his predecessors, seemingly referring to the Basset estates, henceforth to be held for a quitrent of 6s. 8d. (fn. 359)
In 1247 two tenants, Robert le Coner and Richard Aynolf, obtained confirmation of their land held from Asketin for annual quitrents. (fn. 360) In 1250 Asketin son of Robert Cole granted to Fulk Basset, for 80 marks, all his lands and rents in Stepney and Hackney. They were specified as on the Down between the land of Robert of Wick on the north and Old Ford on the south, arable called Onaker and 2 a. called Smythesfield, meadow in Bokkemad and meadows called Barnhamme and Rissemad, and five annual quitrents of money and one rent of a lb. of cumin. The meadow and most of the arable was by the Lea near Old Ford. There was no reference to the church in the grant, which was therefore probably to Fulk and his personal heirs, and may have been of land held of the Bassets. (fn. 361) Asketin also granted to the hospital of St. Thomas Acre a quitrent he received from it for a watercourse they held, probably at Wapping. (fn. 362) In 1275 Asketin's widow Eldreda claimed dower in a third of a messuage and 40 a. in Stepney from John de Bathonia, who held it of the Basset heiress Aline, daughter of Fulk's brother Philip and wife of Roger Bigod, earl of Norfolk (d. 1306). (fn. 363)
Alan Cole as a landholder in the 1260s witnessed grants in Walmarsh and along the Lea. (fn. 364) He was charged with making gold at Stepney but found innocent in 1269. (fn. 365) In 1285 Amice widow of Alan Cole claimed a messuage and 52 a. in Stepney as dower from William de Lude, prebendary of St. Paul's. (fn. 366) In the late 13th century Shadwell manor was said to include 9 a. once held by Walter son of Alan Cole, but the canons did not know where the land was. (fn. 367) Walter witnessed a grant in Stepney in 12878. (fn. 368)
Robert the grandson and heir of Asketin Cole stated in 1286 that he had been dispossessed of a free tenement which the bishop claimed to be held in villeinage. It was found that Asketin had died in possession, that Robert had held it for 16 years, and that the tenement was of the fee of Crevequer. (fn. 369) In 1289 Robert granted to Adam de Stratton, clerk, 1 a. in Stepney on the east bank of the Lea to hold for a rose. (fn. 370) Robert was hanged as a felon c. 1294 and c. 3 a. were delivered to Alexander Cole in 1295, as Robert had held them of him. (fn. 371) Collesfield and Colleshach may have been part of the family's estate: in the 14th century they became part of Hackney Wick, the deeds of which included the confirmation of Roger Cole's lands. (fn. 372)
A family called Hulles or Helles held land in Stepney in the 12th century, giving its name to the manor of HULLS or MILE END. Before 1216 Theobald of Helles granted two lynches that had belonged to Agnes, sister of St. Thomas Becket, to Brice of Stepney; they formed part of the manor of Shadwell (q.v.). (fn. 373) In 1225 Theobald's widow Alice claimed dower from 60 a. in Stepney, which she received from Theobald's son Thomas. (fn. 374) As Hulls lay next to Ashwyes manor in the 14th century, a plea by Stephen Aswy against Alan de Hull of Kent in 12734 may indicate a connexion between the two estates. (fn. 375)
In 1321 William, son of John of Helles of Kent, released all his right in lands in West Ham, Stepney, and London which John de Ramesey had demised to Richard of Hackney (de Hakeney), alderman, citizen and woolmonger (d. 1343). (fn. 376) In 1330 a messuage was said to have been held of Richard, who held the manor of Helles, since 1319. (fn. 377) Richard acquired a further 6 a. in Stepney in 1331. (fn. 378) His lands in London, probably including Stepney, passed to his wife Alice (d. 1349) for life, (fn. 379) and his eldest son Niel (Nigellus de Hakeney) settled the Stepney property on himself and his wife and their issue in 1349. It consisted of a messuage formerly of Robert le Forster in Stepney, with houses and gardens and 4 a. within its close, 69 a. divided between Basesfield on the east side of the messuage, Cloutesfield, and Hungerdown, in Stepney and Hackney, and 5 a. in Bernamesmede (or Barnhammesmead) next to Stratford Bow. (fn. 380)
Sir John Philpot (d. 1384), mayor of London, acquired some or all of Richard of Hackney's lands including Helles. A claim against Philpot's heir was made by Richard's daughter Isabel in 1390, (fn. 381) and Philpot held meadow in Old Ford that had formerly belonged to Niel of Hackney's heirs. (fn. 382) Sir John's estate at Mile End was known as Hulls, and Hakeneye hedge lay there along the footpath from Whitechapel to Stepney church in 1615. (fn. 383) In 1365 Sir John and his first wife Joan received custody of a messuage and land in Stepney and Hackney which had belonged to John Marreys the elder and been seized by the Crown for debt. (fn. 384) In 1373 they were quitclaimed a parcel on the north side of Hachestreet, which they had bought from Robert Greyland. (fn. 385) A grant of 1375 by Sir John at Hale and his wife Ellen of a messuage, 169 a., and rent in Stepney, Hackney, and Stratford Bow, may have marked the acquisition of Hulls. (fn. 386) Philpot may also have acquired some land in Stepney and Whitechapel, besides the manor of Hoxton and property in the City, through his third wife Margaret Birlingham, daughter and coheir of John Stodeye (d. 1376). (fn. 387)
Sir John Philpot or his heirs held freely from the bishop for quitrents the tenement and 60 a. called Hulls, 28 a. once of Robert de Bine(?), and 20 a. land once of Hugh Gilnest. He also held customary land in Galeysfield, south of Mile End Road, and to the south, and 6 a. of free land near Limehouse c. 1400. (fn. 388) All the estates passed to Philpot's widow for life; Hulls was then to pass to Sir John at Hale's son, John at Hale of Dorset, who was to marry Philpot's daughter Margaret. Stodeye's lands in the City were left to Margaret and her heirs, and Hoxton was left to Philpot's son Thomas, with remainder to another son Edward. (fn. 389) Philpot's widow Margaret married first John Fitznichol (d. 1391) and then Adam Bamme (d. 1397), mayor of London, (fn. 390) who exchanged 4 a. near Whitechapel Road with John Hadley, (fn. 391) and Margaret's lands in Stepney were valued at 13s. 4d. in 1412. (fn. 392) John and Margaret at Hale apparently had no issue, since the widowed Margaret granted Hale's Dorset estates in remainder to Sir John Philpot's heirs, and after Lady Philpot's death in 1431, the Philpot estates including Hulls passed to John, son of Sir John Philpot's son John (d. 1415). (fn. 393) In 1433 John exchanged the manor of Gillingham (Kent) with Richard son of Adam Bamme for the manor of Twyford, (fn. 394) and he may have been the John Philpot who died in 1484, seized of the manor of Mile End (Hulls) which he had settled on his son John (d. 1502); it was valued at 5 and held of the bishop of London for fealty and 17s. (fn. 395)
The manor passed to his son Sir Peter (d. 1540), who was granted livery in 1510. (fn. 396) He left it to his son Henry as his son and heir, with remainder to another son Thomas, but an inquisition in 1542 decided that Thomas was the heir, (fn. 397) and on the grounds of his lunacy the Crown seized the land, consisting of 6 a. at Limehouse in the tenure of Richard Driver, the manor of Mile End held by six tenants, and 15 a. next to Bethnal green in the tenure of John Moane. (fn. 398) It was later fraudulently claimed that Thomas had made a lease of a messuage and 52 a. at Mile End. (fn. 399) Henry died in 1567 leaving his brother Thomas as his heir, and the latter died in 1586 leaving a son Sir George (d. 1624). (fn. 400) By c. 1590 Henry Freeman and Henry Smyth were lessees to George at Mile End, (fn. 401) and in 1591 another tenant, Arthur Webster, left the lease of Hulls farm to his son-in-law Christopher Pate. (fn. 402) Pate was said (erroneously) to have been seized in fee of two messuages and 60 a. at Mile End green c. 1617, and the premises were held by George and Thomas Lawrence in 1621. (fn. 403)
Pate's lease probably included the manor house, as Sir George occupied a new house to the north-east. (fn. 404) When settled in 1607, the estate consisted of five messuages, one the capital messuage called Hulls otherwise Philpots, five gardens, 350 a., and 10s. rent in Hackney, Stepney, and Stratford Bow, 1 a. on the north and east sides of Hulls with a new capital messuage, and 20 smaller messuages and 60 a. in Mile End, Bethnal Green, Old Ford, Whitechapel, and Limehouse. (fn. 405) It passed from Sir George's son Sir John (d. c. 1637) to the latter's son Henry with some life interest to another son William. (fn. 406) Henry Philpot of Thruxton (Hants) sold Sir George's mansion with 1 a. on the south side of Mile End green to Nicholas Cooke, citizen and innholder, in 1637. (fn. 407)
Hercules King and his wife Mary granted to William Philpot in 1644 a third of a messuage and other property in Stepney, Hackney, and Old Ford, with warranty against the heirs of Mary, who was presumably holding it as dower. (fn. 408) Henry Philpot was fined as a royalist on lands which included the old Hulls manor house in 1644, when its value was abated because part of the farm had been taken to build a fort for the defence of London. (fn. 409) In 1647 the remainder of his fine was in the hands of Mr. Austen of Hoxton, who owed money to Philpot on the sale of his land. (fn. 410) Since Robert Austen of St. Martin-in-the-Fields in 1692 mortgaged the mansion house and farm called Hulls or Philpots with c. 65 a. in Stepney and Old Ford, (fn. 411) it seems his family bought most of Philpot's land in Stepney including Hulls. In 1703 Mr. Austen owned six parcels in Mile End Old Town south of Hulls totalling 48 a. (fn. 412)
The Philpots' connexion with Stepney seems to have ended in 1654 when Henry made con veyances of 17 messuages and 12 cottages and of six cottages nearby in Limehouse. (fn. 413) He also conveyed a smith's shop at Limehouse in reversion after the death of his brother William. (fn. 414)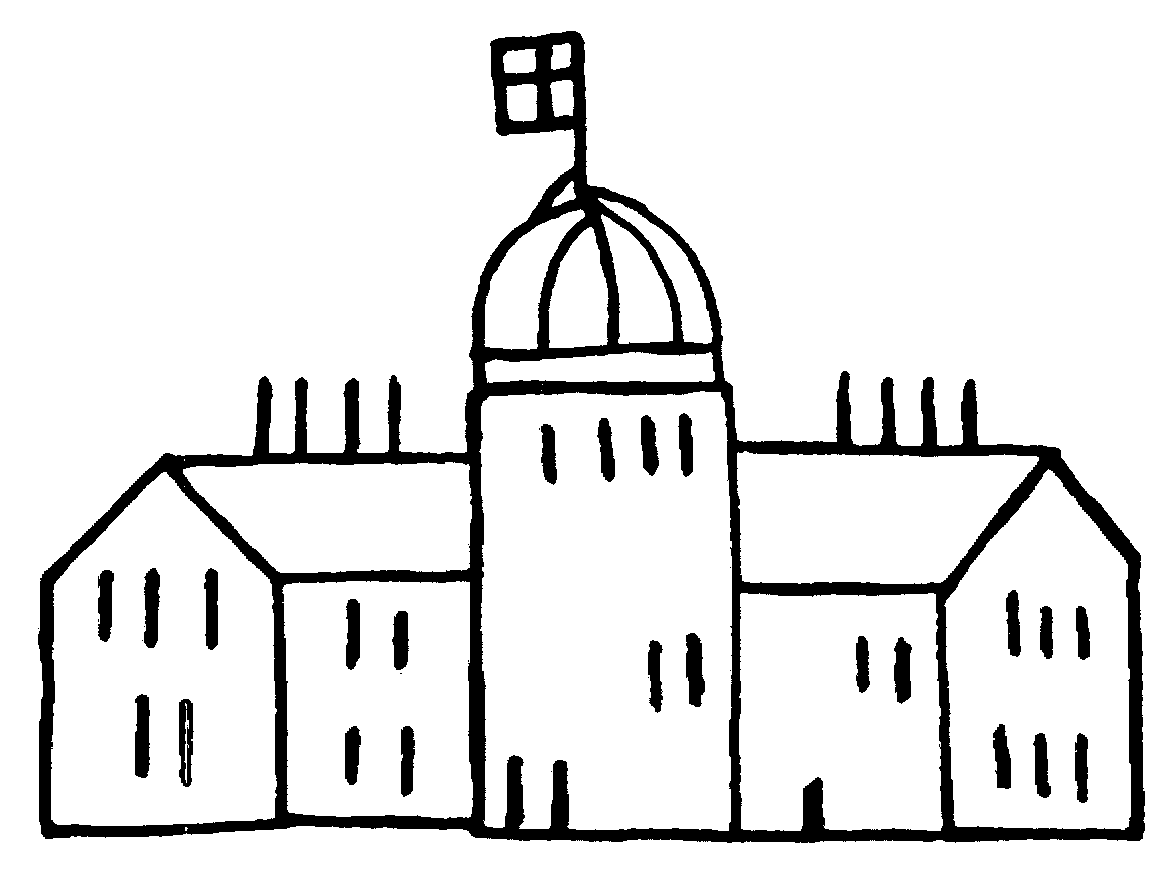 Sir George Philpot's new house was shown in 1615 as a substantial building with two wings and a central dome. In 1672 it included a great gate from the green, a hall with the throwsters' arms painted on the shutters by an owner in the 1650s, a cellar, two storeys with garrets, and gardens with fruit trees. (fn. 415)
John le Ghyepe or Yepe, also known as John le Waterlader, of East Smithfield, acquired 3 a. in Crepenne and Walmarsh, in Whitechapel and Wapping-Stepney, from Ralph the clerk, whose son Robert confirmed the grant before 1216. (fn. 416) The land was probably that conveyed by five separate holders in Landmarsh (in Walmarsh) and next to the stream called Cropet and lying between Hachestreet and the lower road. (fn. 417) Between 1222 and 1239 John conveyed to the priory of HOLY TRINITY ALDGATE land and buildings in the parish of St. Botolph Aldgate and the 3 a. in Stepney, reserving quitrents to the five grantors or their heirs, (fn. 418) two of whom confirmed John's gift. (fn. 419)
Holy Trinity also acquired, from William de Clovilla, before 1221 8s. rent which Brice of Stepney and Ralph his nephew (nepos) paid for Shadfliet in Stepney marsh; Maud daughter of Bernard confirmed the grant. (fn. 420) Between 1222 and 1243 Hamo of Bedfont granted the canons the annual quitrent of 12d. which they paid him for Shadfliet, in return for 1d. a year. (fn. 421) Between 1244 and 1250 John son of Robert de Tessunt (or Teffunt) granted them 10 a. in Stepney marsh, in return for 1d. a year, 10s. to the heirs of Alan le Baud, and the sheriff's aid; Christine de Monasterio, who held the land for life, paid them 10s. 1d. (fn. 422) This was probably the land once Christine Mainard's that Holy Trinity quitclaimed to Walter Trentemars and his heirs in 1261 1264. (fn. 423)
Between 1222 and 1250 Holy Trinity confirmed the sale to John Uvenus by Aubrey son of Baldwin of 2 a. held of it in Northcroft, thought to be in Stepney; John was to hold the land freely for 2s. a year and suit of court. (fn. 424) In 1310 Salomon de Ripple was paying 4s. a year to the priory for a messuage and 2 a. 1 r. next to the tenement of the chapel of St. Mary Matfelon outside Aldgate; (fn. 425) the quitrent of 4s. paid by John Stodeye c. 1374 seems to have been that property. (fn. 426)
Records of the priory's estate in St. Botolph Aldgate do not mention Stepney. Its land in Wapping and Whitechapel may have been managed with the manor of Bromley, which it held until the Dissolution. (fn. 427)
In the mid 13th century the hospital of ST. MARY WITHOUT BISHOPSGATE, whose precinct bordered the west side of Stepney, received 10 a. formerly part of Brice of Shadwell's estate which had been granted by Bishop Eustace de Fauconberg to Daniel of Stepney. It consisted of 8 a. next to the way from Colmrichehath (Cambridge Heath) towards Twentyacres and 1 a. in Bothelelcroft, all held by Daniel of the bishop for 1 lb. of incense or 3d. and later of the dean and chapter's manor of Shadwell. (fn. 428) The land was given to the hospital by Roger, vicar of Stepney; (fn. 429) it was probably the 10 a. quitclaimed to him by Richard of Hecham in 1235 (fn. 430) and possibly the 11 a. in Stepney and Hackney which Daniel of Stepney's nephew Walter Grumbald confirmed to the hospital in 1249. (fn. 431) In 13878 the two parcels lay west of the later Cambridge Heath Road and were held to farm for 16s. 4d. (fn. 432)
The hospital also acquired Snecockswell, east of its precinct in a demesne field called Lollesworth. The bishop granted the well in 1278, with licence to pipe the water to the infirmary and other offices. (fn. 433) Grants in Hackney, Stepney, and Shoreditch included 4 messuages and 24 a. from John Blanche and Nicholas of Shoreditch in 1349, (fn. 434) a messuage, 3 shops, and 28 a. from Robert Game in 1362, (fn. 435) and a messuage and 80 a. held of Stepney manor for 19s. 2d. a year, which Roger of Winchcomb and others were licensed to alienate in 1376. (fn. 436)
At the Dissolution the hospital's holdings included 2 a. in Bethnal Green leased to John Maxfield, probably the smaller part of Roger's grant, which passed with lands in Hackney to John Pope in 1545, (fn. 437) and a 9-a. close in the tenure of Thomas Nosterfield, which was accounted for with Burganes lands in Shoreditch and Hackney in 153940 and was probably sold with them to Sir Ralph Warren in 1544. (fn. 438) A barn, garden, and 3 a. on the north side of Cock Lane near Shoreditch, with land of William Holwaye on the north and west and land of Christopher Austen on the east, was let for 99 years in 1538. It was retained by the Crown and accounted for as part of Hickmans lands, with which the freehold was granted at fee farm to Thomas Emerson and William Bennett in 1607. (fn. 439) The freehold and reserved rent of the hospital's site, with the right to bring water from 'Simcock's' well, was granted to Stephen Vaughan, king's servant, and his wife Margery in 1542. (fn. 440)
A common fine paid at the view in 1349 by the men of John of Bedfont (fn. 441) was paid in 1405 and 1443 by men of the abbey of the Tower (St. Mary Graces), which held the manor of POPLAR. (fn. 442) In 14645 the fine for the abbey's tenement called Bedfonts was sixteen years in arrears. (fn. 443) The manor had probably been part of the estate of Bernard of Stepney, (fn. 444) whose son Robert in 1200 exchanged the capital messuage, vinery, lands, and money and other services with Henry of Bedfont. (fn. 445) In 1220 Henry of Bedfont's son Hamo acknowledged that one of the tenants, Robert son of Robert de Pinkeny, and his heirs held freely for 10s. a year; (fn. 446) presumably the other tenants of 1200 holding for a money service were also free. Hamo witnessed the confirmation by another tenant, Maud daughter of Bernard son of Robert, of her tenant's grant of Shadfliet to Holy Trinity Aldgate and by 1243 he had granted Holy Trinity the quitrent for that land. (fn. 447)
Hamo son of Hamo of Bedfont witnessed grants in Stepney in 1250 and in Wapping in the 1260s, in one case with Roger of Bedfont, and near the Lea. (fn. 448) Roger acquired land in Stepney through his wife Edith in 1270 and was involved in transactions there as late as 1289, (fn. 449) but the Poplar estate apparently passed to John of Bedfont, who in 1284 confirmed to Nicholas of Winchester and his heirs 70 a. and 60s. rent in Stepney. (fn. 450) Nicholas died by 1293 leaving most of his property to his son John, (fn. 451) who in 1313 confirmed a messuage and 74 a. in Stepney, Edmonton, and Hackney to Stephen of Abingdon, alderman; (fn. 452) Stephen held land in Poplar in 1328. (fn. 453)
The manor was held for life by Sir John Pulteney, mayor of London, in 1339, when it was granted to him and his heirs with other property by Sir Philip de Columber in return for 80 a year for life, of which 20 was to be drawn from Poplar. It is not clear how the two families, who had dealings over property in Kent, came to be connected with Poplar, (fn. 454) though Pulteney held a messuage and 50 a. in Stepney, confirmed to him in 1334 by Alan at Conduit. (fn. 455) Pulteney settled Poplar on himself, his wife Margaret, and their issue, (fn. 456) and in 1347 he granted it, with two watermills (the Crash mills) and 10 marks of rent in East Smithfield, to Humphrey de Bohun (d. 1361), earl of Hereford and Essex, for life on payment of one rose a year. The earl granted the property back for 80 a year (fn. 457) and at Pulteney's death in 1349 held only the mills and rent in East Smithfield; the issues of Poplar manor, held of the bishop and valued at 20, were granted to Margaret Pulteney. (fn. 458)
Between 1354 and 1358 the Black Prince stayed on the manor of Poplar, usually for a few days during the summer, and in 1358 he had planks of beech sent there. He also occupied Pulteney's Inn in the City from 1354 until 1359, when he ordered its surrender to Sir Nicholas Lovayne who had married Pulteney's widow. (fn. 459) Poplar was not among Pulteney's lands held by his widow in 1366, (fn. 460) so was probably surrendered to Pulteney's son.
Sir John's son and heir Sir William Pulteney was of age by 1362, when he and his wife Margaret settled the manor of Poplar with its three messuages, four tofts, watermills and fulling mill, 329 a., and rents, in Stepney, East Ham, Stratford, Edmonton, Hackney, Bromley, and Old Ford, on themselves and their issue with remainders to Guy Lovayne (probably father of Sir Nicholas). The Crash mills and the rent in East Smithfield were included as appurtenances of Poplar. (fn. 461)
The manor was among property leased by Sir William Pulteney and his wife Margaret to Sir Nicholas Lovayne in 1364 (fn. 462) and reverted to Guy Lovayne's heirs when Sir William died, leaving as heir his cousin Robert Owen alias Pulteney, in 1367. (fn. 463) Margaret Lovayne probably died soon afterwards, as Sir Nicholas married Margaret, daughter of John de Vere, earl of Oxford, and widow of Sir Henry Beaumont, between 1369 and 1375. (fn. 464) Poplar was settled with other property in 1374 on Sir Nicholas Lovayne, Sir John Pekbrugge and his wife Margaret, and others, to whom Robert Owen quitclaimed in 1375. (fn. 465) Apparently Sir William Pulteney's widow Margaret had married Pekbrugge, as in the 1380s they were holding Poplar for her lifetime. (fn. 466) In 1375 Sir Nicholas Lovayne died, dating his will at Poplar, and his widow Margaret married John, later Lord, Devereux (d. 1393). (fn. 467)
Margaret Pekbrugge's property was settled on her male issue shortly before her death in 1387, with remainders to Lord Devereux and his wife for the lifetime of Margaret Devereux, then to Sir Nicholas Lovayne's male heirs, or in default to William of Wykeham, bishop of Winchester, and Lovayne's other executors; (fn. 468) Devereux was holding the manor in 1390, when he was in Calais on the king's service. (fn. 469) The bishop of Winchester and others were licensed in 1395 to alienate the reversion of the manor of Poplar to the abbey of St. Mary Graces; in 1392 the manor had been valued at 20 and held of Stepney manor for 37s. and fealty, of Holy Trinity Aldgate of their manor of Bromley (Bromley Hall) for 12s. 2d., of the priory of St. Leonard's Stratford of their manor of Bromley for 6s. and suit of court, and for 12d. to John Hadley. (fn. 470) Margaret Devereux died in 1398, (fn. 471) and the abbey was in possession by 1405. (fn. 472) In 141819 Thomas Erneys alias Lefflete, a kinsman of Sir William Pulteney, released all his right to St. Mary Graces, (fn. 473) which retained the manor until 1538.
The abbey held a court for Poplar, which was managed separately from the Crash mills. (fn. 474) In 1454 there were at least 25 free and customary tenants, wholly or partially relieved of their rent because of flooding. In 1455 William Chedworth and William Marowe, freeholders with large estates in Stepney, bought two of the flooded holdings. (fn. 475) Free and customary holdings lay in Northstreet, Eaststreet in Poplar, Sandhill in the marsh, by Leamouth, Longmede, Stokswellstreet, Alstonesland, Bromleystreet, on the south side of Poplar High Street, near the Wylde and the Dusthill in Limehouse, and elsewhere. (fn. 476) The manor of Poplar was valued at 60 15s. 10d. in 1535, and the abbey paid quitrents to the bishop of London for the manor of Poplar and Lions Garden in East Smithfield, to the 'abbess' of Stratford for Bromley marsh, and to the manor of Bromley Hall for Bromley marsh. (fn. 477) Demesne in 1539 included a tenement in Poplar, and land in Poplar, the Isle of Dogs, Bromley, Balls Cross probably in Limehouse, near Bow Road and in Stratford Bow, Woolwich marsh (Kent), and 33 a. in the marshes of Old Ford, Hackney, Edmonton, and Bromley. Eleven customary tenants included Sir Thomas Spert and prominent Londoners. (fn. 478)
After the Dissolution the manor was retained by the Crown, being among the estates assigned to Charles I before his accession and later to the City of London as part of the Royal Contract Estates. Parcels of the demesnes were leased out for 21 years by Henry VIII to Thomas Jolles and others. In 1627 the rents of customary tenants amounted to 47s. 6d. and free rents to 36 15s. 10d. The copyhold was said to be of inheritance with arbitrary fines, but so many leases of the demesne had been granted in reversion that holdings in the demisable lands could not be identified. (fn. 479)
The manor house was presumably the residence of the Black Prince and Sir Nicholas Lovayne, and stood south of the later East India Dock Road east of Wade Street, approached by a lane from Poplar High Street. (fn. 480) It included a dovecot in 1513, (fn. 481) and was granted away separately from the lordship and the rest of the manor by the Crown, apparently before 1539. (fn. 482) The house and grounds were granted by the duke of Northumberland to William Carden, whose widow Bridget owned it in 1553, when it was occupied by a tenant. (fn. 483) In 1558 Bridget conveyed the manor house with six messuages, a dovecot, gardens, orchards, and 185 a. in Poplar, Stratford Bow, and Stepney, to Sir Francis Jobson, (fn. 484) apparently in trust as she later sold the property to John Hampton of London, who conveyed it to Thomas Fanshawe, Queen's Remembrancer. (fn. 485) In 1583 the estate was described as the site of the manor, with two messuages, two cottages, a dovecot, barns, gardens and an orchard, and 116 a. in Poplar, Stepney, and Stratford Bow, and in 1593 Fanshawe conveyed it to Edward Elliott and his heirs. (fn. 486) Elliott was succeeded in 1606 by his two daughters Elizabeth, widow of Sir Francis Cherry, and Alice, wife of Thomas Gerrard, (fn. 487) and in 1610 Sir Thomas Hunt and his wife Elizabeth, presumably Elizabeth Cherry or her heir, were given livery of a moiety of the manor site. (fn. 488) In 1620 Alice's son Edward Gerrard and Elizabeth Hunt, widow, conveyed the site to John Williams, goldsmith of London, possibly on behalf of his debtor David Bourne, who had paid Edward Gerrard 1,600 for it. (fn. 489)
The dean and chapter of St. Paul's granted their mills at Wapping with adjoining land and river walls, and the right to grind all the corn for their common bakehouse, to Terricus son of Edrich of Aldgate and his heirs in 1218, to hold freely for 5 marks. (fn. 490) In 1231 the chapter sued for arrears, but agreed that the mills should be held for 4 marks a year in return for surrendering the right to grind the chapter's corn. (fn. 491) Terricus then granted a moiety to his brother Adam, but by 1239 they had sold the property to the college or hospital of ST. THOMAS OF ACRE, the hospital to pay the rent to the chapter and 1 lb. of pepper to Terricus and his heirs. (fn. 492) In 1239 Terricus's widow Florence claimed a third of the mills as dower. (fn. 493)
In 1269 the hospital granted the mills and a way from Wapping to Stepney to Richard of Ewell in exchange for houses in Ironmonger Lane (City), Richard to pay the rent to the chapter for the mills and 18d. to the bishop for the way. After a dispute with the hospital, Richard in 12745 granted his tenement and mills and other appurtenances at Wapping for a chantry. His widow Aubrey recovered a third as dower and in 1286 his son Richard granted two thirds of the property, with the reversion of Aubrey's third, back to the hospital for the chantry. (fn. 494)
In the late 13th century William May, citizen and woolmonger, granted to the hospital 10 a. in Walmarsh, Wapping, in 5 parcels, to hold for 16d. a year, for which they paid him 21 lb. of silver. (fn. 495) The hospital also acquired 5 a. arable in Stratford Bow and 4 a. nearby in the parish of Bromley, (fn. 496) and other additions to their estate included grants by Asketin Cole of a quitrent which the hospital paid for a watercourse, by Walter Crepyn of a hope and wall in Walmarsh, and by Benet son of William of Aldgate of the 1 lb. of pepper owed to the heirs of Terricus. (fn. 497) In 1324 the hospital held 10 a. of the free land in Walmarsh granted by the bishop for the upkeep of the river wall when the area was drained. (fn. 498)
The estate passed to the Crown at the Dissolution. In the 1540s it consisted of a capital messuage with 6 a. called marshland and the mill house with wharf and dock, in Whitechapel, and several parcels of Thames wall between the dock and the common wall, all let to Robert Wyott in 1537 for 99 years, a house and land let to John Kydman, and a tenement and wharf let to William Furner or Fames; (fn. 499) both Wyott's and Kydman's holdings included a brewhouse in 1544. (fn. 500) In 1562 the freehold of Wyott's property was conveyed by John Stepkyn alias Typkyn to Thomas Smythe, (fn. 501) who died in 1575 seized of Wapping House, a mill house, 2 a. called the wharf and the dock, and 6a. of meadow, in Wapping, Stepney, and Whitechapel. (fn. 502)
The priory of ST. HELEN, Bishopsgate, claimed in 1230 to hold a moiety of Old Ford mill by charter of William le Blund of Stepney and his wife Lettice; the mill was the inheritance of Lettice. (fn. 503) In 1248 the priory obtained from Walter Trentemars 6 a. in Stepney belonging to the fee of the dean of St. Paul's (Shadwell manor), (fn. 504) and in the late 13th century the prioress paid a rent of 7s. 9d. to the dean's manor of Shadwell. (fn. 505) The priory also held 12 a. freehold in Haresmarsh of the bishop of London for a quitrent of 6s. in 1350. (fn. 506)
At the Dissolution the priory had a tenement, garden, 3 closes, and two other parcels, all in Whitechapel and apparently representing the 6 a. They had been leased in 1537 for 40 years and were granted in fee by the Crown to Rowland Goodman, citizen and fishmonger, in 1543; (fn. 507) a messuage, garden, and 4 a. passed to his son Thomas in 1545. (fn. 508) In 1619 the estate lay between property lining the south side of Whitechapel Street and land in the manor of Bernes. (fn. 509)
The 12 a. in Haresmarsh, leased in 1536 for 60 years, (fn. 510) was granted by the Crown in 1545 to John Pope, (fn. 511) who sold it to Richard Pelter, citizen and brewer (d. 1578), who left it to his daughter Blanche, wife of Morgan Richards, citizen and skinner, and her male heirs. (fn. 512) In 1615 William Richards of Hampshire sold the 12 a., called Great Haresmarsh, to Thomas Bate, citizen and armourer, (fn. 513) who by his will of 1615 left the land to his wife Jane and then to her son Francis Turvill and his heirs. After Bate's death Jane released her right to Turvill, who mortgaged the land and died in Spain without issue. Jane had married Thomas Lawes of Edmonton c. 1620, who redeemed the mortgage and took possession, concealing Turvill's death. Turvill's niece Susan and her husband John Godowne in 1647 brought an action against Sarah Richardson, widow of Charles Richardson to whom Lawes had made a conveyance, and her son Thomas. (fn. 514) The 12 a., occupied by Geoffrey Brown in 1645 when the chief lord was unknown, (fn. 515) were held by the Godownes in 1652. (fn. 516)
Ralph Eswy (Aswy, Ashwye) (d. 1247), mayor of London, probably held land in Stepney, as his son Thomas, prebendary of St. Paul's, confirmed the grant to Bishop Fulk Basset by another son Adrian of all his property there in 12501. (fn. 517) Sir Stephen Aswy, alderman and son of Ralph's son Ralph, in 12734 claimed services and arrears of rent from Alan de Hull for his free tenement and 75 a. in Stepney, (fn. 518) and in 1293 quitclaimed land in East Smithfield (St. Botolph Aldgate) which had belonged to his father Ralph. (fn. 519) He also owed a rent of 13s. 7d. to the manor of Shadwell in the late 13th century, probably for the estate later known as the manor of ASHWYES. (fn. 520)
Sir Stephen Ashwye apparently mortgaged all his estate in Stepney except his watermills to John de Triple, citizen, and Sir Geoffrey de Scrope and their heirs in 1324. (fn. 521) Henry, Lord Scrope of Masham, granted it in 1377 to John Hadley, citizen and pepperer (grocer), who made many acquisitions in Stepney, notably through his second wife Thomasia. (fn. 522) In 1380 Hadley and his first wife Margery granted a cottage next to his other land on the east side of a highway, probably Forbylane, (fn. 523) and in 1405 he leased a parcel on the south side of the highway from Forbylane to Poplar. (fn. 524)
By will of 1405 Hadley left his lands to Thomasia for life and then to their issue, and in default the manor of Ashwyes or Mile End to John Pecche, the son of his daughter Joan; presumably Hadley's two daughters were from his first marriage. (fn. 525) The lands were to be delivered to his heirs in 1410, although Ashwyes was not specified. (fn. 526) A dispute over Ashwyes between Sir John Pecche and Sir William Wolf, the husband of Hadley's daughter Catherine, was settled in 1429, (fn. 527) whereupon feoffees in 1431 vested it in the Wolfs for their lives with remainder to Pecche. (fn. 528)
Catherine Wolf died in 1446 seized inter alia of 17 messuages in Whitechapel held of the bishop and the dean and chapter (fn. 529) and valued at 20s. a year, which may have included the Ashwyes land held of Shadwell manor. All Hadley's estates passed to Sir John Pecche's son Sir William Pecche, who in 1459 sold his lands in Stepney except Ashwyes with its manor house, garden and curtilage, and its adjoining great field of 50 a. in Stepney and Whitechapel, which lay next to and between the lands of John Philpot on the east, and was bounded on the north by the highway, and on the south by Philpot's lands and the way from Whitechapel church to Ratcliff. (fn. 530) Ashwyes, with 25 messuages, 5 tofts, 30 gardens, and 52 a. in Stepney and Whitechapel, was vested in Sir Thomas Urswick and others, for unknown purposes, in 1471. (fn. 531)
The estate was apparently that called Red Lion farm from the 16th century. In 1567 the buildings included the Red Lion inn then owned or tenanted by John Brayne, citizen and grocer, who contracted for the erection of galleries, a stage and a turret in order to put on a play at the inn. (fn. 532)
The estate consisted of a messuage called the Red Lion and 26 a. in Whitechapel and Stepney when held by Humphrey Millward at his death in 1609. It passed to his son John, then in 1610 to John's sister Mary, wife of Thomas Hayes, and in 1612 was found to be held from the dean of St. Paul's of his manor of Shadwell for fealty and 13s. 4d. (fn. 533) Hayes' estate was shown in 1703 as c. 36 a. straddling the boundary of Whitechapel and Mile End Old Town, (fn. 534) but by 1713 it had passed in moieties to Ann and Katharine the daughters of Arthur Bailey. Both moieties were bought by the London Hospital, in 1755 and 1772 respectively. The Red Lion was almost certainly the site of the manor house, and stood on the south side of Mile End green, on the boundary between Stepney and Whitechapel. (fn. 535)
In the mid 13th century Fulk Basset, bishop of London, had land and rents in Stepney in his own right, possibly part of the Basset estates which he inherited in 1241. Part of the Stepney land was held by the Cole family (q.v.), and in 1250 a grant of land and rent was made to Fulk by Asketin Cole. At about the same time Fulk received lands and tenements in Stepney from Adrian Eswy (or Aswy), confirmed to Fulk and his heirs by Adrian's brother Thomas. (fn. 536) Fulk died in 1259 and the Basset estates passed to Sir Philip Basset, justiciar, and on his death in 1271 to his daughter Aline and her second husband Roger Bigod, earl of Norfolk. (fn. 537) Part of the Stepney land was held by Philip's niece Aline, wife of Henry de Ba or BATHONIA, judge of the Common Pleas, and in 1259 her son John de Bathonia conveyed 3 messuages, 62 a., 16s. 4d. rent and appurtenances in Finsbury and Stepney, with the manor of Uplambourn (Berks.), all part of Aline's estate, to Nicholas of Yattendon and his wife Alice for their lives, with remainder to John and his heirs. (fn. 538) Nicholas married Aline de Bathonia as her second husband, (fn. 539) and although Henry de Bathonia is said not to have died until 1260, (fn. 540) it seems likely that the grant was connected with this marriage. Aline died c. 1274 seized of a messuage and 27 a. in Stepney held of the bishop of London for 42d. p.a., a messuage and 2 a. land held of the heirs of her uncle Sir Philip Basset for 12d. p.a., 3 a. held of Ralph Huscarl for 6s. p.a., and rents of assize in Stepney, which passed to her heir Sir John de Bathonia. (fn. 541) The property has not been located, although land of John de Ba on the south side of a highway was recorded. (fn. 542) John died c. 1291, when 45 a. and rents from free tenants, all held of the bishop of London, passed to his daughter Joan, wife of John de Bohun. (fn. 543) Sir John Philpot c. 1380 held 28 a. land once of Robert de Bine (possibly Bohun), which was not part of Hulls, for the same amount of quitrent that Aline and John had owed to the bishop. (fn. 544)
Richard of EWELL, royal agent and alderman of London, (fn. 545) acquired land which included freehold in Wapping granted out by a bishop for the upkeep of the river wall when the land was drained. (fn. 546) The land lay near Wapping mills and the way from Wapping to Stepney, which Richard received by exchange with the hospital of St. Thomas of Acre in 1269. (fn. 547) Other acquisitions in the vill of Stepney and Hackney were from William son of William son of (?)Keynes and from Walter Tovy. In Walmarsh, Wapping, he acquired 7 a. once of William Leman and his son-in-law Sir Roger de Samford from John le Rous, and 4 a. in six parcels from Jordan, sergeant of St. Paul's. Richard also acquired from William May the meadow beside the Thames which May had been granted by Jordan (fn. 548) and in 1272 exchanged 7 a. with May for three parcels between Hachestreet and Shadwell street (later Ratcliff Highway). (fn. 549)
Richard died c. 1280 apparently leaving a widow Aubrey, since she recovered a third of the property which he had granted to St. Thomas of Acre for a chantry. Aubrey had married Ralph de Munchensy by 1283. (fn. 550) Richard's son and namesake confirmed the grant of the whole property to the hospital in 1286. (fn. 551)
The younger Richard, who was involved in a dispute over property in London in 1282 and served abroad in 1286, (fn. 552) apparently died before 1292, when Eleanor of Ewell made a grant of the Stepney property; (fn. 553) he was probably the Sir Richard of Ewell whose nuncupative will was enrolled in 1291, mentioning only property in the City. (fn. 554) Eleanor (d. 1349), who figured in several transactions from 1292 and was more likely the daughter of the elder Richard, shared the Ewell estates, in Stepney, Kelvedon (Essex), Ashwell (Herts.), and elsewhere with her sister Agnes, (fn. 555) wife of Sir John Neyrnuit of Fleet Marston (Bucks.), (fn. 556) and apparently with two other sisters, Maud, wife of Stephen of Cambridge, and Margery (d. 1305), wife of John Gisors (II) (d. 1296): (fn. 557) in the 14th century the Neyrnuit, Cambridge, and Gisors families all held parts of Ewell.
In 1292 Eleanor granted to her nephew Richard, son of John Neyrnuit, the reversion of a messuage, 120 a., and a mill in Stepney, held for life by Aubrey de Munchensy (d. 13078). (fn. 558) In 1332 Richard's brother Thomas granted two thirds of the property to his brother Sir John Neyrnuit the younger, (fn. 559) who in 1340 settled it on his sons John and Thomas. The other third may have been held by his brother William, since he apparently held a third of Ashwell. (fn. 560) Sir John's son, a third Sir John Neyrnuit, was alive in 1383 but died without issue and was eventually succeeded by the daughters of his brother Thomas, Margaret, wife of John Hervey of Thurleigh (Beds.), and Elizabeth, wife of John Hertishorne. (fn. 561) Sir John Neyrnuit owed the quitrent of 26s. 9d. and suit to Stepney manor for Ewell c. 1400, when holders or tenants of Ewell also held 64 a., mainly molond, in Stepney manor and shared with St. Mary Graces and St. Thomas of Acre 70 a. cotland in Walmarsh; an acre belonging to Ewell was inclosed into the cemetery of St. Mary Graces. (fn. 562) In 1471 John Hervey the elder granted the manor of Ewell called the Tilehouse and all his property in Stepney and neighbouring parishes to feoffees. (fn. 563) His interest may have passed to John Rooke, who in 1494 left his manor of Ewell alias the Tilehouse in the parish of Whitechapel to be sold, (fn. 564) since a John Rooke the elder had witnessed Hervey's grant.
In 1324 John Gisors, John Peyroun (possibly a misrendering of Neyrnuit), and Maud of Cambridge jointly held 32 a. of Walmarsh granted to freeholders, presumably part of Ewell's estate. (fn. 565) John Gisors, son of John and Margery, did not mention Stepney in his will in 1351, but a later settlement included a sixth of a messuage and 140 a. in Stepney, Hackney, and Shoreditch which had been his. (fn. 566) A moiety of the sixth was conveyed in 1378 by his granddaughter Margaret and her husband Sir William Burcestre, (fn. 567) to whom in 1385 the feoffees of another Gisors heir, Francus Nicole (d. 137980), quitclaimed all right in a sixth of the property. (fn. 568) In 1366 John, son of Stephen of Cambridge, licensed John Wendover to dig clay for tiles on land of the manor of Ewell; (fn. 569) Wendover was probably the man of that name who was a son-in-law and executor of John Gisors (III). (fn. 570) In 13834 the holder of the tenement late John Wendover's was in default of suit of court in Stepney. (fn. 571) No further trace of the Cambridge interest has been found.
Margaret Burcestre died in 1393 and Sir William in 1407, leaving a widow Margaret and son John, a minor; feoffees conveyed the reversion of Burcestre's moiety of the manor of Ewell to John in 1422. (fn. 572) In 1417 Tilehouse meadow, once of Sir William, lay near the Thames and land of St. Thomas of Acre and John Cornwaleys. (fn. 573) Ewell was settled on Sir John Burcestre in 1462 but soon afterwards conveyed to the use of John Lewknor, (fn. 574) whose widow Jane in 1472 quitclaimed her right to Roger Coppeley and others, presumably feoffees. (fn. 575)
A quitrent of 27s. 1d. from Tilehouse was paid to Lord Wentworth by John Stepkyn, and later by Thomas Pennington. In 1589 a barn called Tilehouse was said to have lain in Whitechapel, but no other details were known. Some land of the manor was distrained by Wentworth for 6s. 8d. quitrent due for Ewell, and other lands were let to the Smyth family by Pennington, whose son Thomas, of Chigwell, bought 28 a. from Stepkyn and in 1589 sued Stepkyn's widow and her husband William Chester. (fn. 576) In 1635 Thomas Pennington of Chigwell held land in Stepney leased in parcels for 107 10s. a year. (fn. 577)
Ralph CREPYN, also called Ralph of Aldgate, clerk in the service of the mayor of London, bought lands from John Baud between 1281 and 1286 including 14 a. in Hackney and 14 a. in Stepney in which Alice de Pinkeny had dower; in 1286 all Ralph's lands were taken temporarily into the king's hands. (fn. 578) In 1303 Ralph granted to his son Walter Crepyn or Walter of Gloucester, citizen, 2 messuages, 2 mills, 175 a., 30 a. of wood, and 4 marks rent in Stepney, Hackney, and elsewhere for 10 a year. (fn. 579) Walter also acquired in Stepney a messuage and shop from Robert de Lynton of Stratford Bow in 1314, a messuage, 5 shops, and 14 a. from Nicholas Meau in 1315, 24 a. from Robert Belebarbe the elder of Stepney in 1316, and 3 a. from Thomas le Moyne of Abingdon in 1318. (fn. 580) He witnessed a grant in Old Ford in 1322, (fn. 581) but by 1331 his land had passed through his son Ralph to Ralph's brother and heir Edmund Crepyn.
Edmund granted land in Collesfield to William Haunsard, probably the elder, in 1331 and released a rent in Hackney to John de Brendwood in 1341; both properties became part of the manor of Hackney Wick. (fn. 582) He also granted Bolemad, inherited from his brother, to William Haunsard in 1332 and his widow Mary quitclaimed all claim on Haunsard's acquisitions in 1344. (fn. 583) Edmund's estate was or included a manor, since he granted suit of court owed to him by John Morice for a tenement at Bethnal Green. (fn. 584)
A messuage in Stepney called the MOTE, with dovecots and other appurtenances, which had been held by Edmund, was quitclaimed in 1371 by Oliver son and heir of John son of Robert de Ingham to Adam of St. Ives. (fn. 585) In 1393 the Mote, with a garden and 46 a. in the marsh, was in ruins and the land was charged with the repair of a Thames wall, also decayed, and with a large rent to the chief lord. (fn. 586) It passed to John Seymour but had escheated to the bishop by 1402, when the quitrent for the land formerly of Edmund Crepyn was remitted. (fn. 587)
The Mote was acquired by Walter Green, with other lands of Adam, but may later have passed separately to Edmund Ratcliff and then Hugh Ratcliff, who in the 1490s held a piece of ground of that name for 1d. due to the manor of Poplar. Edmund Ratcliff also acquired other property in Poplar manor, (fn. 588) for which the quitrents of 9s. 6d. had been in arrears for 10 years in 1496. In 1513 Edmund's son Hugh and widow Alice were in default of suit of court. (fn. 589) Alice, daughter and coheir of Hugh Ratcliff (d. 1531), of the Middle Temple, married Ralph Shakerley and was succeeded by her daughter Anne (d. 1615), who married Sir Paul Tracy, Bt., and bore ten sons and ten daughters. (fn. 590) Seven of the sons were admitted in 1617 to copyhold in Stepney, which may have been part of the Ratcliff property and the Mote. It included 4 a. in Stratford field (Mile End Old Town), 6 a. called Balls Cross, later Ballscroft in Ratcliff (Limehouse hamlet), 2 tenements and a garden in Three Colt Street, Limehouse, and a cottage on the north side of Stepney churchyard (in Ratcliff). The tenements and cottage passed to one of the sons, Vicessimus, and then to his son Paul, who surrendered to John Jennings of Ratcliff in 1635. The 4 a. and 6 a. passed to George Tracy, citizen and mercer, the son of Paul, another of the sons, and then to George's sister Elizabeth, wife of John Geary, who was admitted in 1670. (fn. 591) The family had other property in Stepney, as in 1663 Paul's eldest surviving son and namesake was living at Mile End. (fn. 592)
Before 1285 Philip Lynde granted to John MORICE of Stepney 3 a. between a highway (possibly Cambridge Heath Road) and the bishop's wood, to hold freely for a quitrent of 3s. (fn. 593) In 12878 a messuage with houses on it and land in the vill, acquired from John son of Robert le Spenser, was granted by Morice to Robert of Kington, clerk, for life for 20s. a year, John retaining the right to share the dwelling with Robert. (fn. 594) Morice's grant of a messuage and 5 a. in Stepney to his son Walter was confirmed by another son John c. 1300. (fn. 595) Walter Morice acquired parcels in 1313 from John Cotekyn, in 1314 from Christine daughter of William May, and in 1322 from Robert son of Robert Gratefig. (fn. 596) In 1321 he was released by Gillian, widow of Henry Box, from any actions regarding her dower. (fn. 597) Walter also acquired land in Hackney. (fn. 598) An agreement which he made in 1332 with John of Stepney (de Stebbenheth) suggests that he may have married Margery, widow of another John of Stepney. (fn. 599)
Walter's brother John was probably the John Morice who had died by 1340, when Edmund Crepyn granted the 3s. 11d. quitrent and suit of court from Morice's tenement at Blithenhale (Bethnal Green) to John de Colewell, citizen and mercer. (fn. 600) Colewell had married Morice's widow Alice or Amice by 1347 when John Morice's son John surrendered his interest to them. (fn. 601) In 1351 Colewell's widow held property which was the inheritance of Margery wife of Richard de Waleton, which Richard and Margery granted to Thomas Morice with the rest of the estate; (fn. 602) Margery's title was unexplained.
Thomas, perhaps Walter's son, was a citizen of London by 1346. He paid rent in 1335 to Robert of Colebrook for land leased to Walter, in 1346 acquired a messuage, 3 shops, 3 a., and 3s. rent in Stepney from John, son of John Heved, (fn. 603) and in 1348 seems to have held meadow in Old Ford that had been John of Stepney's in 1332. (fn. 604) His estate in Stepney and Hackney was later known as the manor of COBHAMS or RUMBOLDS, and may have derived from the estate of Salomon of Stepney (q.v.). Thomas Morice (d. 1368) referred to his son Thomas of Cobham, possibly meaning son-in-law; (fn. 605) Reynold Cobham later referred to Thomas Morice as his grandfather. In 1369 Thomas of Cobham, of Rundale (Kent), and his wife Maud settled lands including 14 messuages, 186 a., 20s. rent in Stepney, Bromley, 'Hamme' (possibly W. Ham), and Hackney, and meadow in Stratford Langthorn (Essex), on themselves and their issue or the heirs of Maud. (fn. 606)
In 1388 Sir Thomas Cobham held land in Bethnal Green west of Cambridge Heath Road (fn. 607) and c. 1400 Sir John Cobham held over 20 parcels of customary land totalling 51 a., of which at least 14 a. had been Thomas Morice's. Among the quitrents owed to Stepney manor was 53s. 4d. for a tenement on the heath at Mile End, Whetecroft, and other lands, which was owed for Cobhams in 1446. (fn. 608)
In 1404 Reynold Cobham, possibly Sir John's brother, exchanged the land of his grandfather Thomas Morice with John Hadley and his wife Thomasia for land in Kent. (fn. 609) Hadley already held Ashwyes and acquired more land through Thomasia, coheiress of John Stodeye and an heir general of John Gisors. (fn. 610) Hadley held about 66 a. c. 1400, mostly free, near Whitechapel and Shadwell and in the Isle of Dogs; 22 a. in Whitechapel field formerly of Henry Vanner were probably the Stodeye land. An area east of Whitechapel church was later known as the garden of John Hadley. (fn. 611)
Hadley left his Middlesex lands to Thomasia for life and to any issue; in default Ashwyes was to remain to his grandson John Pecche and Cobhams to Giles Augentem. (fn. 612) In 1410 the estate included a manor called Cobhams in Stepney held by grant of Reynold Cobham and his wife Elizabeth, lands in Whitechapel once of John Stodeye, and others granted by Richard Litlington. Hadley's daughter Catherine, wife of William Winkfield or Wingfield, had obtained possession of part of his land. (fn. 613)
In 1415 the Wingfields granted a moiety of 40 messuages, 183 a., and rents in Stepney, Hackney, Stratford Langthorn, and Whitechapel to feoffees. (fn. 614) Catherine's second husband Sir William Wolf made an agreement with Sir John Pecche (fn. 615) and had land in the Isle of Dogs of an unspecified manor in 1434. (fn. 616) Catherine died in 1446, seized of the manor called Cobhams, held of the bishop of London and valued at 10 marks a year, and also of 17 messuages in Whitechapel, held of the bishop and of the dean and chapter of St. Paul's. Her heir Sir William Pecche, grandson of her sister Joan, (fn. 617) in 1459 confirmed the sale of all his Stepney property except Ashwyes to William Chedworth, (fn. 618) who as 'lord of the place of Stepenhyth' in 1451 had been granted an indult for a portable altar. (fn. 619) Chedworth may have been lessee of the manor house and in 14645 was bailiff of the manor. (fn. 620) His purchases included flooded freehold lands in the Isle of Dogs formerly of John Wotton in 1455, (fn. 621) the estate of Robert Clopton in Whitechapel, Stepney, and Hackney in 1460, (fn. 622) and a freehold messuage on the north side of Stepney churchyard in 1461. (fn. 623) He and his son William granted his Middlesex property to feoffees in 1462, receiving it back from another son John Chedworth, archdeacon of Lincoln, in 1470. (fn. 624)
In 1481 'Rumbolds or Cobhams' was conveyed as 4 messuages, 2 gardens, 280 a. and 30s. rent in Stepney and Hackney, with other land presumably the Clopton estate. (fn. 625) The elder William's wife Joan, jointly seized with him in all their lands, was empowered to sell by his will of 1482. In 1486 she left land to feoffees to provide sums for her daughters Elizabeth and Joan, and then to be conveyed to her surviving son Nicholas Chedworth and his heirs. Her dwelling house was to go to Nicholas for life, then to his sister Anne Crosby for life and Joan's heirs. (fn. 626) Nicholas was presented at Poplar manor court for hunting and hawking in 1481 and was in default for his tenement in 1497, but attended in 1499. (fn. 627) Trustees to whom Joan had surrendered Stepney copyholds (fn. 628) granted freeholds of 30 a. of land and 340 a. of marsh to lawyers probably acting for Nicholas. (fn. 629) The copyhold, however, was in the hands of the lord unclaimed in 1509, and Joan's daughters were admitted in 1510. (fn. 630)
Cobhams passed to Nicholas's three sisters or their heirs, Elizabeth, wife of John Audley, Margaret Carew, widow, and Thomas, son of Joan and William Marowe; Anne Crosby had probably died childless. When disputed with George Conghurst and his wife Margaret, widow of Nicholas Chedworth, between 1518 and 1529, Cobhams was held in trust for Elizabeth and Margaret and after their deaths and that of John Audley, it would remain to their heirs and those of Joan Marowe. (fn. 631)
Thomas Marowe's third share of Rumbolds passed in 1538 to his son Thomas and was merged in the Marowe estate. (fn. 632) Edward Saunders, his wife Margaret, and Thomas Carewe in 1554 conveyed a moiety of the manor to John Drayner; (fn. 633) the share, if only a third, was of an apparently reduced estate. Carewe also conveyed 20 a. in Stepney and Hackney to Edward and Richard Broke in 1556. (fn. 634) John Drayner or Dragoner of Hoxton (fn. 635) was a citizen and clothier when fined in 1561 for hedging and ditching Stebbenhithe close. (fn. 636) His son Thomas was probably in possession c. 1593. (fn. 637) Rumbolds and 14 a. used with the manor were settled in 1605 on Thomas Drayner, (fn. 638) who in 1615 held several contiguous fields from Mile End green south to the later Commercial Road. (fn. 639) In 1621 he died seized of the manor, held of the manor of Stepney and valued at 3, and of property in Hoxton where he lived. Rumbolds passed to his wife Margaret for life, and then, probably in 1634, to Elizabeth, daughter of his sister's son Sir Roger Halton. (fn. 640) The conveyance in 1686 of Rumbolds with 6 messuages, 2 barns, a stable, 5 gardens, and 22 a. to Arthur Bailey, was probably the sale by the Halton heirs. (fn. 641) In 1703 Bailey held fields of nearly 20 a. which Drayner had held in 1615, besides 16 a. north of Mile End Road; (fn. 642) he also acquired much other land in Mile End, Bethnal Green, Old Ford, Poplar, Limehouse, and Wapping-Stepney. By 1713 Rumbolds and the other land had passed to his daughter Katharine Bailey (d. 1727), wife of Thomas Heath, and then to her eldest son Bailey Heath (d. 1760). All the lands were sold in lots in 1772. (fn. 643)
John of Stepney (de STEBBENHETH), clerk, who acquired land in Stepney from 1317, may have been a kinsman of John of Stepney the younger (d. by 1326), himself the nephew of the prominent Londoner John of Stepney the elder (d. 12812). (fn. 644) John the clerk was granted parcels by John le Rede and by Andrew of Ludlow in 1317, by John de Taleworth in 1319 and 1324, (fn. 645) and by Agnes, widow of Robert Bernard, in 1322 and 1324. (fn. 646) A John of Stepney who made a grant in 1327 (fn. 647) may have been the man of that name who with his wife Catherine made an agreement in 1332 with Walter Morice regarding a messuage, 5 shops, 144 a., and 2s. rent in Stepney. John had granted two thirds of the property to Walter, who granted it back, together with 34 a. of his own land which Margery widow of John of Stepney held for life and which was to remain to John's son Edmund. (fn. 648) In 1352 Walter Turk and Thomas Morice held some of John of Stepney's land. (fn. 649) In 1368 Walter, son of John and grandson of John of Stepney and Catherine, quitclaimed land in Old Ford to William of Tuddenham, with all reversions to which John and Catherine had been entitled. (fn. 650)
Thomas, Lord WAKE (d. 1349), forfeited in 1330 a so-called manor in Stepney consisting of a messuage held of Richard of Hackney of the manor of Hulls and 17 a. held of the bishop of London, valued in all at 10s. Wake had leased it in 1319 to John of Eynsham, citizen and pelterer, to whom the Crown gave possession in 1330. (fn. 651) The freehold was restored to Wake, who also held land of the king, who licensed him in 1331 to exchange 24 a. with the bishop, (fn. 652) and he may have held additional customary land, as did later holders of his estate. In 1349 the capital mes suage and 20 a. freehold were all said to be held of the bishop. Wake's heir was his sister Margaret, countess of Kent, (fn. 653) although his widow Blanche received a tenement and land as dower in 1349, (fn. 654) which passed in 1381 to Margaret's daughter Joan, de jure countess of Kent and Baroness Wake, wife of Edward the Black Prince. (fn. 655)
Joan's eldest son Thomas Holland, earl of Kent (d. 1397), held the estate in 13834, before her death. (fn. 656) Apparently larger than Wake's holding, in 1397 it consisted of a messuage, toft, and 105 a. valued at 6, (fn. 657) which probably included customary land; c. 1400 it included 51 a. of molond (customary land), and at Mile End a tenement called Beneyns, a toft called Sherwood, and a free tenement once of Nicholas Heved. (fn. 658) The estate passed to Thomas Holland's son Thomas, earl of Kent and duke of Surrey, on whose execution in 1400 it was described in two groups of inquisitions. A messuage called MEWES place at Mile End, (fn. 659) granted in 1400 to the king's servant Louis Recoches, (fn. 660) seems to have been the principal building and may have been named from the Meau family recorded in Stepney between 1315 and 1346. A messuage, one hide and a bordell of hide and virgate in Stepney, with common of pasture for 60 pigs in the forest of Havering, held in chief by the service of a greyhound's leash, (fn. 661) resembled the estate that Roger the sheriff held of Robert Fafiton in 1086, (fn. 662) but since no estate of that size has been identified, the description was presumably formal. It denoted the 2 messuages, 92 a. at Mile End, and common of pasture for 60 pigs, which Kent had received from his mother and had granted to John Cassous in 1398.
Cassous, possibly in 1402, granted the lands at Mile End, which included Mewes with two gardens and 12 a., for 95 a year, to George Bennet and John Potter, citizens and cordwainers, who were pardoned in 1405 for having entered without licence; (fn. 663) Heved's tenement was also called Bennetts in 1582, when it was a copyhold. (fn. 664) Cassous died seized, but 10 a. called Mewesdown in the lord's hands had been let by 14389 to Sir John Robesard, (fn. 665) a customary tenant of Stepney in 1443. (fn. 666) Robesard granted his interest to Humphrey, duke of Gloucester, but in 1447 Cassous' son John was confirmed in possession of the estate which his father had received in 1398. (fn. 667) In 1451 he acquired a messuage and 28 a. from the heir of John Potter, (fn. 668) and in 1461 he granted the freehold Mewes to Sir James Pickering and his wife Margaret, (fn. 669) presumably with the copyhold since they held Beneyns and the other customary land that the earl of Kent had held c. 1400. Sir James and his wife died before 1503, when those copyholds passed in moieties to Christopher and Edward Pickering, Sir James's descendants by his first and second wives. On Edward's death in 1509 Christopher claimed that sons by the first wife should take precedence and was admitted to the whole property with James, Thomas, and William, his brothers. (fn. 670) The freehold evidently passed to him, as in 1517 Sir Christopher Pickering died seized of a messuage called Mewesdown and its land, valued at 30s. a year, leaving his infant daughter Anne as heir. (fn. 671) Anne married, as her second husband, Sir Henry Knevet (d. 1548) and in 1541 they held the copyhold Mewes tenement and 61 a. which they let for 21 years at 5 13s. 4d. Shortly after Knevet's death a Thomas Pickering and his two brothers, probably sons of Christopher's brother Thomas, claimed equal shares in the copyhold with Anne, and were apparently granted Mewes and 34 a. by the homage of Stepney. (fn. 672) Anne (d. 1582) and her third husband John Vaughan conveyed 15 a. freehold in Stepney to Thomas Pickering in 1550, possibly part of a settlement between them. (fn. 673) In 1562, however, the Vaughans claimed that Thomas Pickering had made conveyances of a freehold house, barn, stable, and 50 a. at Mile End which belonged to Anne. (fn. 674)
Thomas Pickering made a settlement of Beneyns and his other copyholds in 1582, and provided for the sale of most of his lands by will proved 1584. (fn. 675) By 1598, after the death of his widow Margaret, (fn. 676) the copyhold belonged to William Lee and the freehold Mewes to the navigator William Borough. On Borough's marriage to his second wife Jane, widow of Thomas, Lord Wentworth, in 1589, (fn. 677) Henry, Lord Wentworth, granted them a 500-year lease of 2 a. of waste between Borough's and Lee's lands on the north and Mile End Road. (fn. 678) In 1590 the Boroughs leased a parcel of the waste to Richard Lea for 450 years; it passed to Sir Stephen Powle and was the site of a mansion called the Gatehouse and other buildings belonging to the Pert family in 1625, and attached to a copyhold messuage, garden and orchard enfranchised by Powle in 1617. (fn. 679) The rest of the 2 a. belonged to the Mewes estate in 1652 under Borough's lease. (fn. 680) Borough settled his farm called Mewes or the White Horse on his widow for life. (fn. 681) His heir was his daughter Mary, wife of Adrian Moore, who owed a quitrent to Stepney for unspecified property in 1641. (fn. 682) Some or all of Pickering's estate belonged in 1642 to Margaret Perkins and William Clarke and his wife Elizabeth, who let to Thomas Grimley the inn called the White Horse otherwise the Mewes, Pond field, and four adjoining closes, including Mewesdown and some of the copyhold. (fn. 683) Grimley was still the occupier in 1652. (fn. 684) In 1654 Elizabeth Clarke's cousin and heir surrendered his right in the property to William Clarke's nominee. (fn. 685)
The White Horse and c. 51 a. of its land let to Grimley was purchased by Thomas Hodgkins, and settled in 1678 on Hodgkins's grandson Michael, passing to the latter's daughter Anne and her husband Edward Fenwick, and then to their son Michael. (fn. 686) In 1703 the White Horse was called the Three Colts, and the land to its north belonged to Perkins (12 a.) and Fenwick (45 a.) and was let to Edward Elderton. (fn. 687)
As Bennetts stood near Lord Kent's gate (Mewes tenement) c. 1400, (fn. 688) they probably shared one site in the 17th century. The White Horse in 1642 had a great hall with a cellar, a great parlour, five chambers, garrets, and domestic offices, besides a great barn and other outbuildings around a large courtyard. In 1728 a three-storeyed brick house stood on the south side of an ancient timber building with a back addition of brick; the timber building, containing the great hall, had itself been divided, and to the north were the outbuildings and courtyard with the water supply. (fn. 689) It is not clear whether Beneyns or Sherwood still descended with Mewes in the 17th century.
In 1349 Richard of Croydon, citizen, quitclaimed to Nicholas of Wick and his wife Idonea, and to one de Mordon, a messuage with houses on it, shops, lands, and rents in Whitechapel and Stepney. (fn. 690) Mordon was probably William de Mordon, executed in 1363, whose 11 a. in Stepney and 1 a. in Hackney had been held of the bishop of London and occupied since 1349 by Idonea, widow of Nicholas of Wick, who had married John Gosebourne. (fn. 691) Nicholas also bought 4 a. in Eastmarsh from Henry Vanner. (fn. 692) In 1362 Gosebourne made a settlement of 3 messuages and 11 a. freehold in Stepney, Bromley, and Whitechapel. (fn. 693) He held at least 86 a. of customary land by 1400, spread throughout the parish, besides several cottages in Algatestreet, and property at Stratford and Mile End, and paid part of the rent for land which John Hadley had bought from Henry Vanner. (fn. 694) He also rented escheated customary land in 13834 and 13956 and 25 a. of Stepney demesne in Southhyde in 13989 and 14012. (fn. 695)
Gosebourne's estate was bought by Robert CLOPTON, alderman of London, from John Burgoyne and others, who were involved in other sales to Robert Cristendom (below), possibly as feoffees of Sir Guy de Allesley. Lands and tenements in Whitechapel, Stepney, and Hackney, with 12 a. of wood in Berkingclay (Essex), had been conveyed for the use of Allesley's wife Agnes to Roger Hungarton and others, who demised some property to Cristendom and the rest in 1424 to Thomas Burgh and others, who were to pay Hungarton 20 a year for Agnes, by then a widow. (fn. 696) Thomas's brother John Burgh was sued for part of the 20 in 14323. (fn. 697) In 1428 the tenant of John, Richard, and Robert de Burgh was licensed to use towards repairs an old barn on the west side of Crommesplace with a garnarium annexed to it. (fn. 698) In 1436 John Burgh quitclaimed his right as Thomas's heir to Hungarton's other devisees, who sold the estate to Clopton. (fn. 699) In 1460 it was conveyed to Clopton's daughter Alice by his surviving feoffee Thomas Burgoyne, who by grant of Alice reserved to himself two tenements in Algatestreet, on the east side of the Minoresses' tenement. (fn. 700) Alice and her husband Henry Chichele in 1460 conveyed all the lands to William Chedworth, to whom Thomas Chichele, archdeacon of Canterbury, quitclaimed all his right. (fn. 701)
Chedworth, who held Cobhams and other property in Stepney, settled 10 messuages, a dovecot, 2 gardens, 160 a., and 2s. rent in Whitechapel, Stepney, and Hackney, and an acre of wood in Berkingclay in 1462 and again in 1481. (fn. 702) They passed to his widow Joan and then to her son Nicholas and to his sisters with Chedworth's other property. (fn. 703)
The amount of land granted to Robert Cristendom before 1424 is not known. In 14389 quitrents of 3s. 7d. in the manor of Stepney were deducted from rents due from him for 4 a. in Stratford Bow and an acre in Stratford field (in Mile End and Stratford), because the land was held of the dean of St. Paul's, probably of Shadwell manor. (fn. 704) It was presumably sold in accordance with Cristendom's will written before 1443. (fn. 705)
John STODEYE, citizen and vintner, had lands in Stepney, Whitechapel, and Hackney, perhaps partly acquired through his wife Joan, whose mother was an heir of John Gisors. (fn. 706) Having been granted a messuage and 16 a. in Whitechapel and Stepney by John Berland and his wife Margaret in 1358, (fn. 707) and 10 a. by John Chauser in 1363, (fn. 708) he bought the manor of Hoxton (in Shoreditch and Hackney) in 1372. (fn. 709) He also owed a quitrent to Holy Trinity Aldgate, (fn. 710) probably that owed by Salomon de Ripple in 1310. (fn. 711) By will dated 1376 Stodeye left the bulk of his property to be divided equally between his four daughters and their husbands: Idonea and Nicholas Brembre, Margaret and John Philpot, Margery and Henry Vanner, and Joan, who later married Thomas Goodlake. (fn. 712) Brembre's share was conveyed shortly before his execution in 1388 to his brothers-in-law, John Fitznichol and Henry Vanner; (fn. 713) Idonea apparently had no issue. Sir John Philpot, by a codicil to his will of 1381 proved in 1389, left his share of Stodeye's property in London to his daughter Margaret, and Hoxton to his son Thomas. (fn. 714) Vanner paid the quitrent to Holy Trinity (fn. 715) and settled his share in 1394. (fn. 716) His will of 1395 left Stodeye's property in Stepney, Whitechapel, and a City parish to his wife Margery and her heirs, while property in two other City parishes was left to Thomas and John Birlingham, Margaret Philpot's sons by an earlier marriage. (fn. 717) In 1404, however, feoffees granted half of the Birlinghams' share to Margaret Philpot and the other half to the daughters of Joan Goodlake: Thomasia wife of John Hadley, Margaret wife of John St. Jermyn, and Idonea wife of Thomas Grey. (fn. 718) Margery Vanner, whose land was not mentioned, may have died about that time, leaving her sisters as coheirs. It is not certain what part of Hadley's estate had been Stodeye's lands. Other lands may have been subsumed into Hulls and Ewell. (fn. 719)
In 1380 William Acton granted to William Badby 7 messuages, 3 tofts, a dovecot, and 142 a. in Stepney. (fn. 720) Richard Marlowe, citizen and ironmonger, paid quitrent to the bishop for a free tenement and 50 a. late of William Badby c. 1400, held lands in Stepney valued at 13 6s. 8d. in 1412, (fn. 721) and granted the manor of OLD FORD called Marlaw or Badby manor to feoffees in 1420. (fn. 722) By will proved in 1422 it was left to his wife Agnes and then to his son Thomas, with remainder to John Lenyng the younger. (fn. 723) Sir John Manningham, who resided in Old Ford before 1475, (fn. 724) settled the manor in 1493, as did William Manningham. It was described as 14 messuages and gardens, 8 tofts, and 372 a. including 2 a. wood in Old Ford, Stepney, Hackney, and Stratford Bow. (fn. 725) Sir John Shaa (d. 1503), one of the grantees, left the manor, valued at 20, to his wife Margaret and then his son Edmund, with remainders to his younger sons Reginald and Thomas. (fn. 726) Edmund Shaa having been declared a lunatic in 1527, (fn. 727) it was held in 1532 by Thomas. The manor was presumably the subject of grants by him in 1542 of messuages and land in Stepney and in Old Ford to Thomas, Lord Audley of Walden (d. 1544), the Lord Chancellor, (fn. 728) whose family held it in the 17th century. (fn. 729)
William MAROWE, mayor of London and perhaps son of Stephen Marowe of Stepney, (fn. 730) in 1455 bought a flooded freehold in the manor of Poplar from Robert Peny. (fn. 731) At his death c. 1465 he left his free and copyhold lands at Poplar and Limehouse to his wife Catherine and then to his eldest son William, (fn. 732) who was one of the lessees of Stepney marsh in 1488. (fn. 733) Richard Broke in 1486 conveyed to William Marowe and Thomas Marowe, probably his brother, a messuage in Poplar. (fn. 734) William, who in 1497 owed ten years' quitrent to Poplar for a. next to Leamouth, (fn. 735) increased his property in Stepney through marriage to Joan, daughter and coheir of William Chedworth. (fn. 736) In the 1490s his holdings in Poplar included freehold and leasehold of Chedworth's, 3 a. formerly of Robert Peny, ground leased by the abbey of St. Mary Graces to William's father, and a great messuage and other customary lands. (fn. 737)
William Marowe c. 1499 left an infant son Thomas as heir, having ordered the sale of all his wood unless it should disfigure his 'place of Poplar'. (fn. 738) In 1500 the a. at Leamouth was seized because Thomas had not been admitted; it lay in a 9-acre close belonging to Joan Marowe, widow, which may have been Chedworth's. (fn. 739) In 1501 all Marowe's property held of Poplar was seized, as it was held without licence, (fn. 740) but in 1513 it was held on behalf of Thomas, still a minor. (fn. 741)
Thomas Marowe joined with his mother's sisters between 1518 and 1529 to obtain the deeds of Cobhams from Nicholas Chedworth's widow. (fn. 742) He died in 1538 seized of a capital messuage at Poplar, two tenements with a wharf in the vill of Limehouse, and a third part of Rumbolds or Cobhams and other property, all held of Stepney manor and inherited by his son Thomas. (fn. 743) By 1545 the elder or younger Thomas had sold property to Roger Starky, citizen and mercer, including 17 a. of St. Katharine's marsh near the Tower of London. (fn. 744) A grant by Thomas Marowe and his wife Alice to John Warley of two messuages and 155 a. in 1553 may have been of Alice's inheritance. (fn. 745)
In 1466 Hugh Kingston conveyed a freehold messuage, garden, and 2 a. which had formerly belonged to Robert Sutton, citizen and draper, to John FENNE (d. 1474), merchant of the Staple of Calais, (fn. 746) who also acquired copyhold from Kingston and others (below). By will dated 1474 Fenne left his free and copyhold lands in Stepney and his dwelling in London to his wife Elizabeth and then to his son John, (fn. 747) but Fenne's four children were all under age and the two youngest, Hugh and Margaret, were in the guardianship of Elizabeth wife of William Stonor by 1477, and Elizabeth received rents from Stepney in 147677. (fn. 748) Several copyholds held by John and Hugh Fenne were surrendered by Hugh to Stonor's feoffees, but copyholds held solely by John Fenne, including a garden with 15 a. in crofts purchased from one Poole, and a cottage with a curtilage in Bethnal Green with 4 a. land, were to go to John's next heir. Arrangements were being made to let Stonor's place at Stepney to Lady Somerset. (fn. 749) John the younger, also later a merchant of the Staple of Calais, came of age in 1482 and in 1486 settled the property acquired from Kingston and a barn with an adjoining garden, which included a house called his great place at Stepney. (fn. 750) In 1495 John sold the barn and garden to Richard Algor, girdler of London, for 7. (fn. 751) Presumably it was the same John, son of John Fenne, who in 1497 surrendered copyholds to Henry Colet: 28 a. of arable in London field, of which 15 a. had once belonged to Hugh Kingston, and 15 a. of arable in two crofts abutting Mile End green. One Robert Fenne had surrendered 3 r. in London field to Colet in 1488. (fn. 752)
In 1516 John, as John Atfenne of Stepney, who also had a copyhold dwelling at Mile End, let his freehold called his great messuage or place, with orchard, garden and waters, to Thomas, Lord Darcy (d. 1537), and Sir George Darcy for 20 years. (fn. 753) Lord Darcy was resident in 1519, (fn. 754) was appointed with Sir John Neville to search for suspected persons in Stepney in 1519 and 1525, (fn. 755) and was still there in 1531 when fire damaged the house. (fn. 756) In 151819 Darcy's goods included hangings bought from the earl of Kent at Stepney. (fn. 757)
By will dated 1524 John Fenne left his lands and tenements at Stepney to his wife Anne and then to his son Hugh, who was to surrender to John's daughter Christian and her heirs his (copyhold) dwelling house with freehold ground enclosed on the moat side; if he did not, the great place was to go to Christian. (fn. 758) By 1529 she had married Thomas Hodgson and brought an action against Hugh, who confirmed his surrender of the copyhold messuage. (fn. 759) In 1525 he agreed to surrender to the Mercers' Company a strip on the west of its property. (fn. 760) Before 1549 overseers of the will of John Fenne, presumably his father, sold copyholds to William Billingsley; they later became the Mempris estate. (fn. 761)
Hugh's heir was his daughter Anne, wife of Henry Walter, who made a settlement in 1558 of their freehold messuage with four gardens, three orchards, and 8 a., (fn. 762) and a conveyance to John Brock in 1568. (fn. 763) Walter also held considerable copyhold. In 1637 Henry Walter, probably a descendant, settled on himself and his son Henry all his Stepney copyholds, which were valued at 80 in 1641. (fn. 764)
Reference to a moat suggests that the great place may have been on the south-west side of Stepney Green, where old sites with a common stream in front of them included King's John's Palace and Lord Morley's house, although the most likely was the property to the north-west, belonging to Richard Loxame in 1577, surrounded on three sides by copyhold granted to Colet by Fenne, (fn. 765) and which may have been the messuage conveyed to Brock. Fenne's land presumably included c. 11 a. west of the Mercers' Great Place, which were held by Walter in 1615 (fn. 766) and by Rolliston, with c. 23 a. north-east of Rogueswell common, in 1703. (fn. 767) Robert Rolliston was allowed to inclose waste in front of his dwelling house near Stepney church in 1654. (fn. 768)
Sir Henry Colet (d. 1505), mayor of London, (fn. 769) in 1482 acquired 3 a. of copyhold with buildings next to Stepney church. The land, in Curteysfield and without buildings when held by Robert Browning's heirs in 1410, was surrendered to John Crosse, citizen, in 1450, had a cottage on it when he settled it in 1471, and a cottage and curtilage in 1478. Colet received it from Thomas Foster and John Foster of London, possibly feoffees, and used it as a residence, later known as the Great Place. Between 1487 and 1497 he acquired, mainly from other Londoners, 10 cottages and 2 tenements in Clevestreet (later White Horse Street), Ratcliff, 6 cottages in Algatestreet, and 72 a. in various fields. The largest acquisition, south of Mile End Road, was from John, son of John Fenne. (fn. 770) Colet, who was buried in Stepney church, (fn. 771) was succeeded in the copyholds by his widow Christine and surviving son John (d. 1519), dean of St. Paul's. In 1518 they vested them in the MERCERS' COMPANY for the maintenance of St. Paul's school, which John had founded in 1512, the company to pay a fine to Stepney manor of 3 6s. 8d. for its entire holding every five years. (fn. 772) Christine occupied the house until her death in 1523. (fn. 773)
At John Colet's suggestion, the company in 1516 had bought copyholds from William Browne the elder, (fn. 774) including a house at the north-west corner of White Horse Street and the Back Lane to Whitechapel. (fn. 775) After arbitration, Thomas, Lord Wentworth, enfranchised the whole estate in 1570 in return for 200. (fn. 776) It remained with the Mercers into the 20th century and was developed for building by them. (fn. 777) A plan drawn for the Mercers in 1615, the earliest known map of Stepney, (fn. 778) shows boundaries that had changed little by 1703. (fn. 779) The largest block of land lay in Mile End Old Town from Mile End Road south to Commercial Road, separated from Colet's house and nearby property in Ratcliff by Cobhams manor. Another block, including most of the cottages, lined the east side of White Horse Street in Ratcliff and stretched into Limehouse hamlet. Further parcels lay in Wapping-Stepney and Shadwell, but the six tenements in Algatestreet (later Whitechapel High Street) were not shown.
Sir Henry Colet's residence lay south-west of the church and in Ratcliff. In the 16th century the Mercers described it as their great mansion place and in the 18th century it was called the Great Place, leading to suggestions that it had been a seat before Colet's time. (fn. 780) It is clear, however, that building on the site was first carried out under John Crosse's ownership between 1450 and 1471. (fn. 781) The Mercers took possession of the Great Place in 1523 and allowed Sir John Aleyn, mayor of London, to occupy it for life, in return for repairs and for finishing the altar in their chapel in Mercers' Hall. (fn. 782) They later leased two closes in Stepney to Aleyn, (fn. 783) who seems to have left by 1533 when Thomas Cromwell secured a 50-year lease of the mansion and a tenement and other land nearby. (fn. 784) Cromwell carried out building work, although reference in the 1790s to 'an ancient wooden mansion' indicated half-timbering rather than brick. (fn. 785) The lease was forfeited to the Crown in 1540 and granted in 1542 to Cromwell's nephew Sir Richard Williams, gentleman of the Privy Chamber, who had taken the surname Cromwell. (fn. 786) It was left in trust for Sir Richard's younger son Francis in 15445 (fn. 787) and evidently was sold, as John Harington paid the rent between 1550 and 1571 (fn. 788) and by 1577 had been succeeded by Simon Throckmorton. (fn. 789)
In 1325 John Cotekyn, citizen of London, held messuages and a garden on the south side of Mile End Road, just east of White Horse Lane. (fn. 790) One tenement passed to his daughter Alice and her husband John Mitcham, and then to William Mousbroun (Mucebron) in 1358 and to William Spir of Old Ford in 1363. Spir granted 4 shops and gardens there to John Wolward, smith, in 1364. (fn. 791) A messuage and garden on the east side of the tenement, belonging to John de Buntingford, carpenter, in 1342, passed to Alice daughter of Philip de Buntingford of London, carpenter, and her husband John Wellington in 1345, and then eventually to William Potter of Mile End and his wife Cecily. (fn. 792) They granted it to John Smyth of Mile End who in 1357 granted it to John Bogays, potter, of Mile End. (fn. 793) In 1359 William Potter granted to Bogays a plot of land with houses on it with a frontage of 25 ft. on Mile End Road and extending south for 7 virgates, which lay next to Bogays's messuage and was possibly part of the same property. (fn. 794) Bogays conveyed this plot to his son John and his issue in 1367, but by 1384 a messuage and garden, 3 shops and 1 a. land, all lying on the south side of Mile End Road, had passed to John's sister and heir Felicia. (fn. 795) In 1387 John Smyth's widow Margery quitclaimed her right in Smyth's property at Mile End to Felicia and her husband John Frebarn. (fn. 796)
The estate passed between feoffees, and by 1406 included another 1 a. acquired from John Gosebourne and his wife Margery. The beneficial owners after Frebarn are not clear but probably included John Bythewater, citizen and baker, who was granted the property in 1435. (fn. 797) In 1455 John Bythewater and his wife Joan granted the Bogays estate to Richard Pleystowe, citizen and cooper, and his feoffees, (fn. 798) and in 1475 Pleystowe sold it for 40 to John Pryour, citizen and cooper. (fn. 799) In 1480 Pryour and his feoffees demised the estate to Thomas Ewen and others as security for a loan of 50, (fn. 800) and in 1482 they sold it to Richard Algor or Algar, citizen and girdler. (fn. 801) In 1495 Algor bought from John Fenne a barn with a garden which lay on the W. and N. of his lands. (fn. 802)
In 1514 Richard's son and heir, James Algor, citizen and grocer, settled all his freehold estate at Mile End on himself and his wife Margaret and their issue, (fn. 803) but sold it for 140 in 1517, described as 3 messuages, with 3 gardens, and 3 a. at Mile End, to William White and William Gibbons, leathersellers of London, who immediately conveyed the estate to Sir John Neville (d. 1541) and others for the use of Henry VIII. (fn. 804) Neville was probably resident in Stepney when he was appointed to search for suspected persons there in 1519 and 1525, (fn. 805) and in 1523 the king granted the property, now a principal messuage with 3 other cottages, to Neville and his wife Elizabeth with remainder to their heirs, to hold for fealty and rent. (fn. 806) In 1557 Queen Mary gave the reserved rent to the refounded HOSPITAL OF THE SAVOY, (fn. 807) to which Francis Neville gave the estate in return for a 60 years' lease, (fn. 808) but he surrendered all his interest in 1560. The Master of the Savoy granted a 500-year lease to John Swift of London, who demolished a 'fair brick place' in order to sell the materials, (fn. 809) leased part of the property to William Hickes, a silkweaver, (fn. 810) and sold the main lease to William Lambe, citizen and cloth worker, in 1563. (fn. 811) Lambe assigned it in 1576 to the Corporation of London for the benefit of Christ's Hospital, to take effect after his death; 6 a year was to be paid to the Clothworkers' Company while the income from the property was 12 or more. (fn. 812)
Lambe and Christ's Hospital let the property in two parcels for 99 years in 1578. The great messuage, with an adjoining tenement on the west and two others on the east, and a close of ground of c. 2 a., were granted to John Smith, citizen and mercer, subject to underleases to Hickes and others. (fn. 813) Two messuages and gardens at Mile End were granted to William Tilley, citizen and clothworker. (fn. 814)
In 1586 the Savoy sought to dispossess Smith, alleging that Swift's lease had been granted without the consent of the chaplains, who had anyway made a 200-year lease in 1559 to Richard Berwick and Edward Cosen. (fn. 815) Christ's Hospital, the Clothworkers' Company, Lambe's executors, and the two tenants, Smith and the holder of Tilley's lease, agreed in 1588 to buy the 200-year lease making annual payments to the Savoy, which made a further claim in 1594, apparently because of non-payment. The surrender of the leases both of 1559 and 1578 was ordered in 1600 but apparently later forgotten by Christ's Hospital until 1733 and by the Clothworkers' Company until 1759. (fn. 816)
The hospital of the Savoy was dissolved in 1702, when its estate at Mile End passed to the Crown having been leased in 1692 to Mary Johnson, the tenant in 1707. (fn. 817) The property was shown in 1703 as Johnson's close, with the buildings along the highway to the west. (fn. 818) In 1734 William Pryor Johnson petitioned for a lease of 4 a. at Mile End which had passed to his late son Edward Johnson, governor of St. Helena (fn. 819) and presumably the 'Justice Johnson' who was said in 1735 to have formerly occupied the mansion house. By then the house had been neglected, as the inhabitants of Mile End Old Town asked for the removal of lewd persons who haunted it. (fn. 820) The Crown received no rent between 1728 and 1746, although from 1741 the executors of Mary Johnson were held responsible for payment.
In 1733 Christ's Hospital realized that it had received no rent from Mile End since 1599. (fn. 821) The mansion was a den of thieves, and the rest of the estate was inhabited by beggars; a corn chandler at Mile End received the rents and had stripped the great house of materials, while another man had built two houses and a coach house which his family occupied. The absence of the Crown's leaseholder seems to have allowed Christ's Hospital to obtain the rents from the subtenants. Overlooking the decree of 1600 and thinking that the estate was part of the first Savoy's lands granted to Christ's Hospital by Edward VI, the governors in 1736 persuaded the occupiers, presumably the 'lewd persons', to become their own tenants. The property consisted of the Magpie alehouse with an adjoining house and close, four neighbouring houses, garden ground, and the Great House, which had been sublet in two parts. Christ's Hospital, sued presumably by the Crown or its leaseholder, was advised in 1761 that it had no title from William Lambe. The Clothworkers' Company, having found a record of the 500-year lease which would have come into effect after the end of the 200year lease, approached Christ's Hospital in 1759 and presumably then learnt that its rights had ended in 1600.
The Crown leased the estate in 1752 to Robert Evans for 50 years. Mary Evans, who obtained a further lease, paid rent from c. 1779 and the Revd. Robert Evans from 1811 until 1816, (fn. 822) when the survey made then may have preceded a sale. The site then stretched for c. 500 ft. eastward from the Jews' hospital on the south side of Mile End Road; it contained three terraced houses between the hospital and a freehold house, both perhaps once part of the estate, and nos. 1 to 23 Crown Row; behind Crown Row were a nursery ground and the hospital garden. (fn. 823)
Elizabeth (d. 1591), widow of Robert, Baron Rich (d. 1581), was a copyholder in 1582, (fn. 824) probably as the daughter of George Baldry (d. c. 1539). (fn. 825) In 1595 her kinsman Edmund Style and son-in-law Thomas Cannock surrendered to her son Sir Edwin Rich a customary messuage, with appurtenances including a small grove (groveti), on Westheath at Mile End. Edwin surrendered it in 1596 to Isabel, dowager countess of Rutland (d. 1606), to remain to her grandson William Cecil, Lord Roos, or to William Borough if Roos should be under age. Borough's executor was admitted in 1606, (fn. 826) and William, Lord Roos (d. 1618), in 1611, but he surrendered it to his uncle Richard Cecil, who in 1612 surrendered it to Nicholas Diggons of Limehouse, mariner. (fn. 827) Diggons was a party to the copyholders' agreement with Lord Wentworth in 1617. (fn. 828) His son Joseph Diggons of Liss (Hants) paid the quitrent c. 1641 (fn. 829) and left his copyholds to CLARE HALL, Cambridge, which forfeited it on his death in 1658 because surrender to a corporation was not permitted. After a petition the property, described as a messuage, tenement, 2 new tenements, a garden, and 4 a., was granted to the college for a fine of 100, with licence to let for up to 99 years. (fn. 830)
The property passed to successive trustees of Clare Hall, and in 1721 contained a messuage, 10 tenements and land. (fn. 831) Adjoining parcels were added to the estate. On enfranchisement in 1857 it consisted of Clare Hall Row, Clare Hall Court, and Clare Hall Cottages, and land containing in all 7 a. at Stepney Green, which might profitably be let for building. (fn. 832) Part not built on in 1868 lay between Diggons Street and Oley Place. (fn. 833) The capital messuage was probably the mansion let as apartments in 1795, when the ceiling of an upper room, possibly once a gallery, had the coat of arms of Baldry impaling Ford. It may also have been the building called Agent Nurse's house in 1703. (fn. 834)
William Billingsley, citizen and haberdasher (d. c. 1553), bought from the overseers of the will of John Fenne a copyhold messuage and 2 tenements, a garden, an orchard, and 30 a. at Mile End. (fn. 835) He was confirmed in possession in 1549 but ordered to sell a piece of the orchard to Henry Barnes, who claimed Billingsley bought the property on his behalf. (fn. 836) The estate probably passed to William's youngest son Henry Billingsley, mayor of London, (fn. 837) who in 1578 was granted the trees in front of his property in Mile End. By 1652 that property consisted of freehold houses belonging to Hilary MEMPHIS, citizen and haberdasher; probably it had been enfranchised after 1617, although Mempris does not seem to have owned the 30 a. (fn. 838) He lived on Mile End green, but perhaps not on Billingsley's estate, as he had other property there. In 1630 he paid 1,500 for a capital messuage formerly occupied by Lord Morley (d. 1622) on the south-west side of the green, and other houses, one of them on the north side of Mile End Road next to the house later occupied by Mempris's brother; all had been enfranchised in 1621. (fn. 839)
Mempris also acquired 4 a. of copyhold in 1635, surrendered a tenement on Mile End green in 1636, and leased out a copyhold tenement with two garden plots in 1642. (fn. 840) Henry Clowes surrendered 4 a. on the north side of Mile End Road to him in 1642. (fn. 841) Mempris took a 99-year lease of three parcels of demesne totalling 12 a. on the north side of Mile End Road in 1638, acquiring the manorial mortgage term on those and 5 a. nearby called Longmead in 1643. The freehold of these parcels was conveyed to Isaac Mempris, son of Hillary's brother Thomas, and Longmead was bought from the trustees selling the Went worth's family right to the equity of redemption. (fn. 842) Hillary died in 1652 (fn. 843) and his brother Thomas inherited his freehold and was admitted in 1653 to the copyhold messuages at Mile End green. (fn. 844) Thomas died between 1655 and 1658 leaving most of his property to his wife Elizabeth and then all to be divided among his seven children. It comprised the mansion where he lived, with 5 or 6 neighbouring houses, at Mile End green, all copyhold, over 30 a. of freehold land, and freehold houses in Three Colt Yard (Three Colt Court in 1703), and elsewhere in Mile End, and others in London. (fn. 845)
Henry Barnes, citizen and grocer, after a dispute in 1549, obtained part of an orchard from William Billingsley. (fn. 846) At his death shortly after 1557, Barnes held a cottage and curtilage on the north side of Mile End Road, divided into two and called the EAST HOUSE, a garden with an entry underneath the gallery, a croft of c. 5 a., and other parcels at Mile End. By will dated 1557, that land was devised to Edward Barnes, who died without issue, and passed to Henry's surviving daughters Agnes, wife of Michael Wendover, and Elizabeth, wife of Thomas Baynard or Barnard. (fn. 847) Other property passed to Henry's son William, who in 1566 devised to his sisters lands in Uxbridge and elsewhere. (fn. 848) In 1568 Agnes and Elizabeth conveyed lands in West Middlesex and Stepney to William Pinchbeck, (fn. 849) who also acquired some or all of Barnes's copyhold and by 1582 for an unexplained cause had forfeited two customary cottages and curtilages recently made into three mansions on the west side of his East House.
Lord Wentworth settled the forfeited property for his wife Jane's dower. (fn. 850) In 1581 a copyhold tenement and a 5-a. close on the north side of Mile End Road had been vested in the same feoffees, (fn. 851) who included two of Jane's relatives; (fn. 852) that property, which became known by the sign of the SOLDIER, was probably also held on her behalf. In 1600, after the death of her second husband William Borough, Jane made a settlement of all her property, and in her will of 1608, when living in Stepney, she left her copyhold to her nephew John Harlstone and his wife Jane, who also held a lease of 3 a. at Mile End for Jane Wentworth's use. The will received probate in 1616. (fn. 853)
Robert Harlstone held houses and lands in Mile End valued at 40 c. 1641. (fn. 854) In 1642 he granted a copyhold messuage, orchard, gardens, three cottages, and close of 5 a. to Henry Clowes, who surrendered 4 a. to Hilary Mempris. (fn. 855) Clowes leased the orchard and garden in 1653 to George Higgins, gardener, who covenanted to build a house and surrender it after the 31-year lease with 200 good fruit trees. (fn. 856) In 1655 Clowes surrendered some of his copyhold to Elizabeth Cage, including that leased to Higgins and described as a tenement called by the sign of the Soldier with a cottage and orchard on the north side of Mile End Road. (fn. 857) A neighbouring copyhold was conveyed in 1656 to Thomas Manwaring. (fn. 858) Lessees of the Soldier sublet a plot to Sephardic Jews for a burial ground in 1657. After the death of Elizabeth Cage's son Cornelius, who had been admitted in 1669, the Jews bought the copyhold and were admitted in 1677, taking possession of the whole tenement when Higgins's lease expired in 1684; they let the buildings near the road and used all the rest for burials, securing enfranchisement in 1736. (fn. 859)