Pages 190-202
A History of the County of Middlesex: Volume 11, Stepney, Bethnal Green. Originally published by Victoria County History, London, 1998.
This free content was digitised by double rekeying. All rights reserved.
LOCAL GOVERNMENT
MANORIAL AND EARLY PARISH GOVERNMENT.
Bethnal Green lay wholly within the manor of Stepney of which it was a recognized locality by 1405. (fn. 1) A constable recorded for the hamlet from the beginning of the 17th century (fn. 2) had probably existed long before, together with a headborough, recorded from 1616. (fn. 3) By 1640 Bethnal Green had a constable, two headboroughs, and an aleconner. (fn. 4) The officers, elected at the October view of frankpledge, might be rejected at the sessions, as were an elected constable in 1615 (fn. 5) and a headborough in 1678. (fn. 6) A poundkeeper in 1642 (fn. 7) possibly looked after the manorial pound depicted at the southern tip of the hamlet in 1703. (fn. 8) In 1732 there were for Bethnal Green one constable and seven headboroughs. (fn. 9) The number of headboroughs increased to 14 and, by 1816, to 28. (fn. 10)
The vestry clerk's reference in 1816 to books from 1627 'when the parish became a parish' was erroneous (fn. 11) although Bethnal Green had some experience of a measure of self government before it became a parish in 1743. It had joint auditors with Mile End in 1586, (fn. 12) joint churchwardens in 1589, (fn. 13) and a joint churchwarden, sidesman, and three auditors in 1600. (fn. 14) Upper and lower churchwardens in 1656 (fn. 15) presumably foreshadowed churchwardens for each locality. In 1676 an order for the inhabitants of Bethnal Green to be taxed was addressed to the churchwardens and overseers of the poor. (fn. 16) Bethnal Green had its own overseer by 1677 (fn. 17) but William Malin, described as constable in 1684, (fn. 18) was 'gardianus' of Bethnal Green at a visitation in 1685. (fn. 19) Highway surveyors existed by 1654 (fn. 20) and there were two in 1671 and 1732. (fn. 21) A beadle was first mentioned in 1684. (fn. 22)
Officers' reimbursement was often ordered by the magistrates through the churchwarden, who might tax the inhabitants accordingly. (fn. 23) In 1684 Bethnal Green's constable, overseer, two headboroughs, and beadle refused to suppress conventicles and the beadle was set in the pillory. (fn. 24) The same beadle in 1690 was given the existing staff of office, surmounted by a medallion figuring the blind beggar of Bethnal Green and his dog. (fn. 25) Bethnal Green had its own scavenger by 1733. (fn. 26) The hamlet dealt with settlement disputes from the 1670s, (fn. 27) produced its own petition about the weavers' distress in 1697, (fn. 28) levied poor rates by 1728, and kept overseers' accounts by 1729. (fn. 29) It became a separate parish because of the need for a new church (fn. 30) rather than because it felt hampered by any connexion with Stepney.
PARISH GOVERNMENT FROM 1743 TO 1836.
In spite of opposition on financial grounds, (fn. 31) an Act in 1743 gave Bethnal Green its own church and vestry. Those who paid 4s. a month for poor relief qualified for the vestry, (fn. 32) from 1763 those renting at more than £15 a year. (fn. 33) The church was consecrated in 1746 (fn. 34) and minutes of vestry meetings were kept from 1747. (fn. 35) Meetings, normally in the vestry room at the church, were initially once a month, dwindling by the 1780s and 1800s to c. 10 a year but increasing by 1820 to 25. On 23 March 1787, 'not one vestryman came'. (fn. 36) By contrast in 1816 all public vestry meetings were said to have adjourned to the churchyard 'where the mob is' (fn. 37) and on 23 March 1818 over 1,000 attenders caused the meeting to be held in the church. (fn. 38)
Rowdy meetings were allegedly the reason (fn. 39) for the introduction of a select vestry under an Act of 1823. (fn. 40) The 100 vestrymen were to be the rector and parish officers, the 30 governors of the poor, and 60 resident householders rated at more than £15. The Act named the first 60; the resident male rated householders were to elect 10 replacements yearly. By 1830 c. 2,000 could vote, c. 600 having done so at the last election by ballot. (fn. 41) There were 30 meetings in 1830, with attendances of between 14 and 104 but averaging 38. (fn. 42)
The vestry was never the sole local authority. Trustees were set up by an Act of 1738 (fn. 43) with power to appoint surveyors, remove trees and gravel, and take tolls for certain roads. Cleaning, lighting, and watching, with powers to appoint scavengers and watchmen, direct the parish officers, and levy rates, were vested in another set of trustees under an Act of 1751. (fn. 44) The vestry could elect the trustees from those possessing a freehold or copyhold estate of £8 a year or leasehold estate of £12, or who were rateable at 2s. 6d. a month.
The Act of 1743 (fn. 45) named the archbishop of Canterbury, the bishop of London, the principal of Brasenose College, Oxford, the rector of Stepney, and prominent local figures (fn. 46) as trustees for building the church. They could co-opt their successors and could levy rates and choose two collectors from 12 nominees at the Easter vestry. In 1746 another 14 trustees were named and they were empowered to raise £1,000 by an additional rate to pay off debts contracted on poor relief. (fn. 47) Trustees for the poor were made permanent in 1763 by an Act (fn. 48) setting up 20 'substantial' persons as governors of the poor for the 'better disposition' of money raised from the poor rate. The full vestry still set the rate and nominated the governors at Easter. In 1784 it resolved that governors must be vestrymen of three years residence. (fn. 49) The governors, by then numbering 32, were retained in an Act regulating local government in 1813 (fn. 50) and in the Act of 1823, (fn. 51) whereby 30 were to be chosen from those men with property worth £80 a year. In 1830 c. 150- 200 people took part in the election (fn. 52) but none of the three governors elected as replacements in 1831 was resident. (fn. 53)
Elections took place at Easter of the trustees and most of the parish officers: a constable, two churchwardens (designated Upper and Renter), 'two or more overseers', (fn. 54) an aleconner until the office was discontinued in 1833, (fn. 55) an engineer by 1760, (fn. 56) and, from 1796, an inspector of slaughter houses, specified in 1800 as for horses. (fn. 57) The vestry elected two scavengers in 1748 (fn. 58) before the office became the perquisite of the lighting and watching trustees. It also drew up lists for the trustees for the poor to choose rate collectors and, at the September vestry, (fn. 59) for the justices to choose surveyors of the highway. Other offices, such as that of sexton or treasurer to the poor rate (fn. 60), were filled on vacancy although some, like that of beadle and vestry clerk (below), were in theory annual. (fn. 61) There were usually two beadles, upper and lower, whose salary was doubled to £8 in 1749 and who were paid £20 and £16 respectively in 1751. (fn. 62)
The Act of 1743 (fn. 63) provided for a parish clerk who was to be a member of the Company of Parish Clerks of London and pay the clerk of Stepney £12 a a year in compensation. The first was succeeded in 1749 by his son, (fn. 64) who was dismissed in 1762 for altering the baptismal register and was replaced by Philip James May, (fn. 65) 'as wet a dog as ever you smoked a pipe with', (fn. 66) who from 1767 to his death in 1789 was also vestry clerk. (fn. 67) The vestry in 1747 had appointed a vestry clerk at 40 guineas a year to keep the ledgers of the scavengers', church, and poor rates (fn. 68) and, presumably, the minutes. The salary was raised to £60 in 1774, (fn. 69) £300 in 1819, (fn. 70) and £400 by 1830. The last figure, business having increased, was intended to pay for two or three under-clerks and the rent of offices. (fn. 71) P. J. May was succeeded by James May who, in spite of Joseph Merceron's proposal in 1791 that the vestry clerk should be excused the poor rate, (fn. 72) gave evidence against Merceron in 1816. (fn. 73) At Easter 1820 the firm of May, Norton & May, whose most vigorous partner appears to have been James May the younger, was challenged over the provision of a vestry clerk, by Robert Brutton, Merceron's son-in- law. (fn. 74) Each faction claimed victory and for a year there were two vestry clerks and two sets of minutes (fn. 75) until the next election confirmed Brutton as clerk, an office he occupied until after 1857, (fn. 76) in spite of May's continuing challenges.
To deal with the growth of population, two rating divisions were formed by 1760, one for the densely populated west and south and one for the rest of the parish. (fn. 77) By 1803 there were four divisions, (fn. 78) by 1810 named Green, Church, Town, and Hackney Road. (fn. 79) They survived the creation in 1832 of 20 districts, each with a committee to visit the outdoor poor. (fn. 80) The divisions each had a rate collector and overseer from 1818. (fn. 81) Extra officers were appointed as needed, including an overseer in 1807 for business connected with the militia at £20 a year, (fn. 82) and a fifth surveyor in 1831 at £40 to assist four who were to act as police collectors on a poundage basis. (fn. 83) Committees of the vestry often assisted the overseers or dealt with particular problems: turnpikes in 1752, (fn. 84) a watchhouse in the churchyard in 1754, (fn. 85) church repairs in 1787, (fn. 86) the rating of new houses in 1788, (fn. 87) and the choice of a lecturer in 1792. (fn. 88)
One former headborough served as churchwarden and overseer from 1816 to 1818, (fn. 89) but many parishioners tried to avoid office. Fines for avoidance were laid down in 1754: 10 guineas for renter churchwarden, 8 for constable, 6 for overseer, 4 for headborough, 3 for upper churchwarden, and £21 for all elected offices. (fn. 90) New rates were made in 1800 when the fine to avoid all offices, including collectorships of the scavengers' and watching rates, was £31 10s. (fn. 91) Prosecutions of prospective headboroughs, whose office was particularly unpopular, illustrate the overlap between manorial and parish government: it was the vestry clerk who reported the default and the vestry which instituted the indictment for refusing to attend the court leet where headboroughs were sworn in. (fn. 92) Sextons were dismissed for misbehaviour, (fn. 93) which in the 1820s included collusion in graverobbing. (fn. 94) The churchwarden in 1788 signed only with a mark. (fn. 95) A collector of the rates was imprisoned for embezzlement in 1775, (fn. 96) another was dismissed in 1811, (fn. 97) and another absconded in 1832. (fn. 98)
The vestry was given power to appoint eight commissioners of the court of requests for Tower Hamlets, established by an Act of 1750. (fn. 99) They were more substantial than the parish officers, as were the various trustees and most committee members, and from 1751 included Ebenezer Mussell, (fn. 100) who dominated parish government until his death in 1764. (fn. 101) David Wilmot and James Merceron, a pawnbroker from Brick Lane, (fn. 102) were prominent on committees and trustees for twenty years. Wilmot was parish treasurer until 1787. (fn. 103) He was displaced by Joseph Merceron (fn. 104) (1764-1839, possibly James's son), (fn. 105) already head of a committee to receive church rates, (fn. 106) who initiated reform (fn. 107) and who may have inspired a campaign of 1788 in The Times and at the Michaelmas vestry against his predecessor and other leading vestrymen. (fn. 108) Merceron became a member of all the vestry committees, of other local bodies, (fn. 109) in 1795 a magistrate, (fn. 110) and a property owner, by 1834 one of the chief landlords in the parish, (fn. 111) with a large fortune perhaps attributable to his control of parish funds and public and private trusts. (fn. 112) In 1804 he resigned as treasurer when the vestry resolved to audit his accounts, particularly those for £12,165 voted by parliament in 1800 for relief of the parish, but resumed office after securing a vote of thanks. (fn. 113)
From 1811 (fn. 114) Merceron was in almost continuous conflict with the rector Joshua King until the latter's withdrawal from residence after 1823. (fn. 115) The quarrel, which split parish and vestry into two factions, was apparently started by Merceron's frustrating King's appointment as a J.P. (fn. 116) King successfully agitated for an Act of 1813 to increase the rector's salary and modify the management of the poor rates, but the attorney general dropped an indictment of Merceron for altering rate books. Following further agitation in 1814-17, and the publication in 1817 of a parliamentary report into metropolitan policing, King's party induced Laurence Gwynne, a resident magistrate, to bring proceedings against Merceron (fn. 117) which led to his conviction in 1818 of misappropriation of funds and of licensing public houses used for debauchery. (fn. 118) At Easter 1818 the vestry replaced Merceron as treasurer by the Bank of England and elected new parish officers and governors of the poor. (fn. 119) Thereafter King's relentless hostility to Merceron's supporters antagonized Gwynne and others. (fn. 120) Merceron's party made counter-allegations of corruption in 1819. (fn. 121) Continuing strife at vestry meetings, eventually leading to violence which in 1823 had to be suppressed by the reading of the Riot Act, (fn. 122) gave Merceron's party a pretext for an Act of 1823 to establish a select vestry. (fn. 123) After King's withdrawal Merceron was again chairing vestry committees in 1826 (fn. 124) and held other parish and local offices in 1827 × 1830 (fn. 125) but was not reinstated as a magistrate. (fn. 126)
Rates to 1836.
Although Robert Brutton considered that the change to a select vestry exchanged 'anarchy' for 'perfect tranquillity', (fn. 127) there were complaints that the select vestry withheld accounts from inspection and manipulated rate assessments. (fn. 128) As early as 1759 landholders had protested that they did not hold as much land as they were charged for. The vestry's promise to take measures (fn. 129) probably produced the surviving parish map of 1760. (fn. 130) To tackle evasion and especially the increasing numbers of tenemented houses which paid no rates, it was resolved in 1760 to charge poor rates on all occupiers of houses let at more than £6 a year. (fn. 131) For 1763 the poor rates were said to bring in £1,300-£1,400, 'much increased of late years', at a time when about a third of all houses were occupied by distressed weavers. (fn. 132) The Act of 1763 charged the owners rates ranging from a third of the rent of houses valued under £5 to three-quarters of houses valued at more than £15. (fn. 133) Despite relative prosperity after the passing of the Spitalfields Act of 1773, (fn. 134) rates were high, 5s. 6d. in the £ in 1777 and 1782 (fn. 135) and 6s. in 1786. (fn. 136) In the year ending Easter 1776 the poor rate raised £3,292, of which £2,825 was spent on the poor and £12 on the rent of the workhouse. (fn. 137) From 1783 to 1785 the average sum raised was £2,741 a year, of which £2,688 was spent on the poor and £26 on entertainment. (fn. 138) The figures suggest great exaggeration in a charge of extravagance. (fn. 139) By 1788 the rate was 5s. for houses rented at more than £20 (fn. 140) and 5s. remained usual until c. 1810, calculated to raise £4,500. (fn. 141)
In 1803 5s. was only nominal, since the rate could vary between 1s. 8d. and 5s. In the year ending Easter 1803 it raised £3,300, of which £3,154 was spent on the workhouse and £265 on out-relief; total expenditure was £3,484, illustrating Bethnal Green's accumulating debt. (fn. 142) The rapid growth of building allowed the yield to reach £9,029 in the year to Easter 1813, of which £6,675 was spent on the poor. (fn. 143) Grievances about rating were among the strongest motives for the Act of 1813. It was estimated that 769 houses were not assessed and defaulters averaged 2,300 a year, so that two-thirds of the inhabitants bore the whole burden of the poor. The Act therefore directed that landlords of tenements let at less than £14 a year or monthly or weekly should compound, the rent-taker being deemed the owner. (fn. 144) The result was to reduce the rate from 5s. 9d. to 2s. 6d. (fn. 145) and for 1813-14 to raise the yield to £13,626, of which £9,288 was spent on the poor. (fn. 146) Merceron was defended in 1817 on the grounds that the poverty of three-quarters of the population, the numbers in the workhouse, and the weekly expenditure on the outdoor poor made it a wonder that the rates and the parish's debt were not higher. (fn. 147) As treasurer and governors of the poor he and his supporters, the landlords of small tenements, were in turn accused of manipulating the rating system: (fn. 148) a reduction by £20 of the rates on Merceron's and his supporter William Platt's houses in 1819 was soon rescinded by the opposition. (fn. 149) When Merceron was ousted in 1818 a survey and new ledgers were ordered (fn. 150) and the annual rate raised £10,551. (fn. 151) As he regained control, the amount declined and the annual rate of 3s. 3d., levied quarterly, in 1820 (fn. 152) raised only £908 while the debt mounted. (fn. 153) By 1823 payments were badly in arrears. (fn. 154)
The amount raised was £9,085 in 1824, (fn. 155) when the repeal of the Spitalfields Acts led to more pauperization. (fn. 156) Higher assessments in 1827 and 1828 at £20,000 (fn. 157) raised only £14,246 and £15,766 (fn. 158) and as distress increased, the resources and sympathy of ratepayers decreased. In 1828 a vestry committee remarked that houses might be unequally rated or not rated at all. Its warning of more discord was met by the vestry's referral to another committee which included at least two of Merceron's supporters. (fn. 159) Demands during the year to see the accounts arose from a perception of mismanagement. (fn. 160) A report in 1829 recorded complaints by landlords of compounded houses about empty houses and bad tenants; it recommended rackrenting and that compounded houses should be rated at half to three-quarters of their annual value. (fn. 161) However great the need, it was felt that 1s. 3d. a quarter was the maximum that could be demanded. (fn. 162) By 1834 it was said that hardly one shopkeeper in five paid his rates and that two thirds of the tenements were owned by people who compounded and let them out monthly or weekly; if rates were increased, the owners would leave, as several had already done, leaving whole streets untenanted. (fn. 163) The vestry resorted to subscriptions, appeals to the government, (fn. 164) and borrowing, falling more deeply into debt until in September 1829 four treasurers resigned on the grounds of ill health. (fn. 165) Expenditure reached £22,428 in 1832 (fn. 166) and £25,046 in 1835. (fn. 167)
Poor relief to 1836.
The poor received indoor and outdoor relief from the parish until 1929, when responsibility passed to the L.C.C. There was a workhouse in Jorey's house on the east side of the green by 1751, when a churchwarden and overseer were directed to give the inmates bread each month. (fn. 168) In 1757 the vestry farmed them out at 2s. 4d. a head a week, allowing for a daily diet of 2 pints of beer and 1 lb. of bread together with 4 oz. of cheese, 2 oz. of butter, 7 oz. of meat or ¾ lb. of suet dumpling and broth or pottage. The contractor was to have the use of the workhouse, subject to inspection by a standing committee. (fn. 169) The arrangement ended in 1759 when the renter churchwarden was to pay both the workhouse and the casual poor, assisted by a committee. (fn. 170) Farming, at 2s. 5d. a head, began again in 1760, the contractor to teach the workhouse children to read. (fn. 171) The new contractor left in 1761 and the first contractor and his wife were employed as salaried master and mistress of the workhouse. (fn. 172)
The Act of 1763 empowered the new governors of the poor to raise £2,000 by annuities charged on the rates and to acquire property for a workhouse. The children were to be educated, the idle corrected, and the able bodied given work by master weavers. (fn. 173) A site was leased at the eastern end and on the south side of Hare Street, (fn. 174) where a new workhouse to hold 400 (fn. 175) was completed by the end of 1766. (fn. 176)
The food allowance was reduced in 1768 to 2 oz. of cheese or 1 oz. of butter and 14 oz. of bread. (fn. 177) In 1774 a local weaver, James Hill, was appointed master at a salary of £15 a year or £10 with 1s. 6d. in the £ from the labour of the poor; (fn. 178) in 1778 he was allowed 2s. in the £. (fn. 179) The governors reduced the allowance of his successor, Cordell, in 1782 to 1s. 6d., but were overruled by the vestry. (fn. 180) On Cordell's death in 1801 George Hopwood and his wife replaced him at a salary of £20 a year. (fn. 181)
In 1778 inability to open windows at the workhouse was prejudicial to health (fn. 182) and in 1782 only hogs for the benefit of the poor were to be kept there. (fn. 183) Inmates numbered 450 in 1795 (fn. 184) and nearly 500 in 1801. (fn. 185) An extension was built on the south side to house four sick wards in 1802. (fn. 186) Some 332 people were relieved in the workhouse in 1803. (fn. 187)
The master Thomas Nichols (d. 1820) was succeeded by his assistant James Martin (d. 1827), who was paid £30 a year and followed briefly by his widow. (fn. 188) In 1822 a vestry committee concluded that orphan boys, with the sanction of the governors, had been flogged, put on the treadwheel, and had half their heads shaved. (fn. 189) Mismanagement was alleged in 1823, particularly in the supply and consumption of goods. (fn. 190)
In 1826 increasing distress led to the acquisition of more of Great Haresmarsh behind the workhouse, containing a large brick house and outbuildings 'easily convertible to parish use'. (fn. 191) A new master was appointed in 1827, paid at 2s. in the £ on all work performed by paupers in and out of the workhouse. A committee suggested employment other than silkweaving for the inmates: the manufacture of sheeting and 'camblets' for those accustomed to weaving and shoemaking and slop work (fn. 192) for the others. (fn. 193) Some five months later there was satisfaction with the management of the workhouse, where an average of 807 inmates cost 3s. 6d. a head a week. (fn. 194) By 1831, however, familiar complaints were heard. Expenditure had reached 3s. 10d. in 1830 because of higher food prices and consumption. Income from labour had fallen, because of lack of work, low wages, and a 'degree of deception' practised on the master through the poundage system. (fn. 195) In 1833 Thomas Stevens offered to teach various crafts, including shoemaking and making workmen's apparel, but he had difficulty in making some of the paupers work. (fn. 196) Poundage was replaced by a salary for the master in 1834 because the inmates had little work. (fn. 197) Overcrowding was such that in October 1831 there were 99 boys to 14 beds, each bed accommodating six and the rest sleeping on the floor; children were dying from lack of air or disease caused by rubbish in the back yard. There were 1,044 inmates in February 1832, crowded 3-5 to a bed (fn. 198) and producing 'indecent scenes'. (fn. 199) In 1834 the 900 inmates each received 1 lb. or 14 oz. of bread, together with 'meat etc.', but £8,000 was owed to victuallers, who would no longer supply. Some infant poor were cared for in Edmonton and Ilford (Essex), by nurses supervised by the overseers and guardians for 4s. a week a head. (fn. 200)
Outdoor relief, in the form of weekly doles, fluctuated with the silk industry. In 1755 the parish officers were directed to enquire into lodging houses and illegal settlement (fn. 201) and in 1788 the decline of the industry was blamed for the high rates. (fn. 202) Distress was much worse by 1800, when parliament voted £12,165 to Bethnal Green, to be used mostly in weekly instalments. (fn. 203) The parish petitioned parliament against altering the Corn Laws in 1815 and against introducing income tax in 1816, pleading the state of the industry and that the measures threatened further suffering. (fn. 204) One of the complaints against Merceron in 1816 was that, as treasurer, he had compelled the overseers to use their own money or leave the poor unrelieved. (fn. 205)
After the repeal of the Spitalfields Acts there were proposals for petitioning the government and the committee of the houseless poor in 1826 (fn. 206) and the parish, in financial crisis by 1827, began to borrow on bonds. (fn. 207) National compassion for the weavers raised £30,000 by subscription in 1825-6 and £10,000 in 1829, whose recipients included casual applicants from elsewhere. (fn. 208) Five members of a committee set up in 1826 were to visit the applicants in each of the four parish divisions (fn. 209) and a visiting overseer was employed in 1829. (fn. 210) So many were the applicants, however, that an unemployed native silkweaver could not be distinguished from an outsider. By 1834 (fn. 211) 6,000-7,000 were receiving from 6d. to 1s. 6d. a week, many of them from Spitalfields or farther afield, attracted by cheap housing. In 1834 it was estimated that nonparishioners, an eighth of them Irish, formed a third of the applicants. Demands became more aggressive, it being common for gangs to besiege the shop of the overseer, usually a tradesman. By 1834 there was a core of about 150 young people of 'bad character, thieves and prostitutes', who demanded relief and spent it mostly on gin. Parochial attempts at control were undermined by magistrates who ordered relief indiscriminately. Attempts were made in 1828 to make the 'lazy and abandoned' break stones (fn. 212) but in 1832 numbers had to be restricted because they were too riotous. A site fronting White and Manchester streets was supplied by Thomas Stone in 1832 as a stone breaking yard, to supply to 'Mr. McAdam for roads', but it proved a loss to the parish. Poor physique made Bethnal Green's inhabitants unsuitable as labourers, while men who were given tools for a trade merely sold or pawned them before again demanding relief.
Claimants, an average of 2,500 a year, steadily increased from 1826 (fn. 213) and in January 1832 reached 6,000 in one week. (fn. 214) In that spring huge sums were said to be spent while thousands of paupers besieged the committee room and overseers' houses. (fn. 215) Although the amount paid to individuals was reduced, (fn. 216) growing numbers caused heavy expense to the parish. There was alarm that some people fraudulently obtained relief from each overseer but remedies such as payment by ticket were not adopted. (fn. 217) In the last full week of April 1836, 4,909 received outdoor relief. (fn. 218)
LOCAL GOVERNMENT FROM 1836 TO 1900.
From 1836, under the Poor Law Act of 1834, until 1929 (fn. 219) Bethnal Green was a poor law union, managed by a board of guardians, 20 in 1836, (fn. 220) 24 by 1875, (fn. 221) elected for the four wards. The board met weekly and employed a master and mistress of the workhouse and a board clerk, who in 1857 was Robert Brutton, also vestry clerk. (fn. 222) By 1875 its staff included an assistant clerk, a treasurer, three relieving and two assistant officers, a pay clerk, three vaccination officers, and six district medical officers. Workhouse staff also included a chaplain and medical officer and there were teachers, a chaplain, and a medical officer for children sent to Leytonstone (Essex). (fn. 223)
The board introduced the new system successfully, although there was jealousy between it and another authority, presumably the select vestry, which still levied the other rates. (fn. 224) Spending on the poor dropped to £9,126 in 1836 but in 1837 the guardians were criticized for failing to combat fraudulent dependency and the workhouse was found to be totally unfitted. (fn. 225) Recipients of outrelief dropped to 1,384 in April 1838. (fn. 226) The poor rate for 1840-1 was 2s. 9d. in the £ (fn. 227) and for 1840 total expenditure from the poor rate was £15,684, of which £10,368 was spent on relief. (fn. 228) Rates of 4s. 4d. raised £20,628 in 1843. (fn. 229) Expenditure rose to £16,415 in 1845, £24,217 in 1855 and £29,014 in 1857 with an increasing proportion, reaching 75 per cent, for relief. (fn. 230) At the end of 1867 there were 3,151 recipients of outdoor relief. (fn. 231) In that year a mass refusal in Bethnal Green to pay rates probably helped to change a system whereby the highest rates were paid in areas least able to afford them. The Metropolitan Poor Act transferred much of the expense to a common fund to which each union contributed according to its rateable value. (fn. 232) Relative prosperity during the 1870s deteriorated and by early 1883 there were 1,000 outdoor poor, 300 more than in the previous year. The vestry raised the rates to 6s. 4d. which included general and sewer rates beside 10d. a quarter poor rate. (fn. 233) Both outdoor and indoor relief reportedly doubled between 1878 and 1895. (fn. 234)
The workhouse had 800 inmates in November 1841, with some pauper children and old people accommodated in Norwood (Surr.) and Bromley (Kent). (fn. 235) A new workhouse for 1,014 was built on Sotheby land in the north of the parish by October 1842. (fn. 236) Vagrants remained a problem, 1,561 being admitted in 1848 and 1,620 in 1849. (fn. 237) There were 700 paupers, mostly former weavers, and a master and mistress and a schoolmaster and schoolmistress in the workhouse in 1851, (fn. 238) 762 inmates at Christmas 1852, and 1,082 in the new year. (fn. 239) In March 1866 there were 1,392 inmates, half of them sick. (fn. 240) During the year 180 children were sent to Mitcham (Surr.) (fn. 241) but from 1869 the workhouse school was in Leytonstone. (fn. 242) At the end of 1867 the workhouse was overcrowded by 200 and sick children were sent to Margate infirmary. (fn. 243) From 1868 to 1871 expenditure was authorized on a school, porter's lodge, and infirmary for 200 children, 438 men, and 88 women. (fn. 244) Building took place in 1871, when there were 2,200 inmates. (fn. 245) In 1875 the workhouse, with room for 1,500, was one of the largest in London; 909-1,086 were in residence at any one time. (fn. 246) Numbers rose to 1,254-1,522 from 1884 to 1886; that they were 'always more than the accommodation' suggests stricter standards of overcrowding than in 1875. (fn. 247) A declared aim of those who wanted to build on the green in 1889 was to erect a workhouse infirmary. (fn. 248) Additions were made to the workhouse in 1890, (fn. 249) an iron classroom was built in 1894, (fn. 250) committee rooms were altered in 1895, (fn. 251) and in 1897 a new infirmary was built in Cambridge Road. (fn. 252)
Criticized in 1837, the guardians installed a more abstemious regime in 1842. It was alleged that inmates were treated as prisoners, fed inadaquately, and beaten. (fn. 253) Inquiries were held in 1861, in response to a rape, and in 1863, 1864, 1866 and 1872, in response to deaths. (fn. 254) There was criticism of the workhouse school in 1869 and, by clergy, of the treatment of the poor in 1874. (fn. 255)
In 1843 an Act (fn. 256) set up a board of 60 commissioners for paving, lighting, and cleaning Bethnal Green and the parts of Old Cock Lane and York Street in Shoreditch. The commissioners, to be elected by those paying rents of £80, had to be resident and rated at more than £20, to serve for six years, and to elect their successors. They could levy rates and raise money by bonds, mortgages, and annuities, and supervised the clerks and officers, including scavengers of the previous trustees. Their clerk was Robert Brutton. (fn. 257) By 1852 the commissioners also employed a surveyor, a gas inspector and messenger and four collectors at a combined salary (including the clerk's) of just under £600 a year. In the year 1852-3 their income was £12,421 and expenditure £12,191 but they were already £30,450 in debt. (fn. 258)
Emphasis shifted from relieving the unemployed to such problems as sewerage, drainage, and housing. Inaction was in the interest of the governing class, mostly tradesmen or tenement owners, while the multiplicity of authorities also led to inefficiency. Reports of 1838 (fn. 259) and 1842 (fn. 260) blamed lack of effective government for the high incidence of illness. In 1848 Hector Gavin thanked the district health officers but castigated the authorities for neglect and for obstucting his investigation. (fn. 261) The confusion caused by overlapping authorities was illustrated in 1848 when filth beside the canal at Pritchard's Road, the alleged cause of typhus and many fevers, was blamed on the parish officers but the board of guardians was petitioned rather than the vestry or paving commissioners. (fn. 262) Dilatoriness in dealing with cholera in 1848 and 1849 provoked a special order from the General Board of Health but the guardians still took the minimum measures; the only recommendation adopted was the appointment of an inspector of nuisances. (fn. 263) When cholera returned during the 1850s the authorities 'promised everything but did nothing' (fn. 264) and tried to exclude from the post of medical officer of health all doctors who 'ran about stink hunting' and produced troublesome reports. (fn. 265)
The Metropolis Local Management Act, 1855, (fn. 266) set up the Metropolitan Board of Works to provide major sewers, drainage, and public works. Members were to be elected by the vestries every three years, with Bethnal Green initially electing one member. A parish vestry replaced the select vestry or the riotous open vestry and the paving, lighting, and watering trustees. Bethnal Green had 48 vestrymen, residents rated at more than £40 (9 each for East and North wards, 15 each for West and South Wards). (fn. 267) A third of them and the auditors were to be elected annually from the ratepayers, and the chairman, if not 'authorized by law or custom', was also to be elected. The vestry replaced the highway surveyors and the paving trustees, levied rates, and was responsible for parish sewerage and paving and compelling owners to provide house-drains and water closets. It was to publish reports, appoint medical officers, inspectors of nuisances and other officials, and execute the Nuisance Removals Acts.
A 'town hall' to serve both the vestry and the guardians had been begun in 1851 in Church Row, (fn. 268) with money borrowed for the purpose. (fn. 269) It was of brick with a stuccoed front and the vestry built a red-brick extension to the south in 1867. (fn. 270)
The new vestrymen resembled the old, in that their main aim was to keep down expenditure. Their staff was too small and badly supervised: in 1861 the enforcement of the Common Lodging Houses Act, to combat overcrowding, was dependent on the conscientiousness of local inspectors and was virtually ignored in Bethnal Green. (fn. 271) In 1863, following an outcry after deaths from contaminated water, a police report concluded that the tenements were neglected by their owners, who included several vestry members and who ought to provide proper sanitation. (fn. 272) The vestry then enlarged the nuisance removal committee, ordered that houses along the main sewer should be drained into it, and appointed a second inspector of nuisances. (fn. 273) A builder and surveyor from Hackney Road was made chief inspector of nuisances and new sewers were planned. (fn. 274) By 1864 the vestry employed 15 officers: the two inspectors of nuisances or sanitary inspectors, a clerk, a medical officer, a chief surveyor and a surveyor of the highways, a surveyors' clerk, an inspector of scavengers, a townhall keeper, a messenger, and five rate collectors. The collectors were paid a commission and the combined annual wages of the rest totalled £1,050. (fn. 275) The sewer rate in 1859, and the rates in general in 1865, were mortgaged. (fn. 276)
Acts to alleviate housing conditions were still largely ignored. The medical officer explained in 1867 that the Public Health Act of 1866 was unworkable because of high rents, scarcity of employment, and new taxes which had forced tenants to let out lodgings and thereby increased overcrowding. (fn. 277) The Torrens Act of 1868, which provided for the demolition of unfit houses on payment of compensation, similarly threatened more overcrowding. It was usually not enforced, as the medical officer reported in 1883, since vestries were largely composed of landlords. Neighbouring parishes like Hackney, by enforcing the legislation, merely displaced their own poor, who moved into Bethnal Green. (fn. 278) The vestry made no use of Acts in the 1870s and 1880s to facilitate slum clearance, maintaining, for example in 1883 that they were unnecessary (fn. 279) and that action could be taken when the long leases fell in; meanwhile leaseholders exploited the 'fag end of the lease' by subdividing. (fn. 280) The sanitary committee in 1883 declined to act over the old Nichol slums because, as one vestryman admitted, it seemed afraid of offending the owners. (fn. 281) At an inquiry ordered by the Home Secretary in 1887 Bethnal Green vestry was criticized for not applying the existing law, for an inadequate staff, and for acting only after complaints. The sanitary staff was much as it had been 20 years previously. Apart from pointing out such work as had been done (without mentioning that some, the reconstruction along Bethnal Green Road, was that of the M.B.W.), the vestrymen blamed the poor for their habits and, with more justification, stressed that theirs was a poor parish with high rates. Landlords rated at under £20 were allowed 25 per cent discount on the rates and of 18,493 rated houses 14,411 (78 per cent) qualified for the discount. (fn. 282)
Private charity tried to make up for the parish's weak response in the 1860s and 1870s, with the work of the denominations and of Baroness Burdett-Coutts and the beginnings of the model dwellings movement. (fn. 283) In 1868 the out-relief committee criticized a host of charitable organizations for destroying self-reliance and encouraging vagrants from outside. (fn. 284) More practical was the Employment and Relief Association, formed by gentry connected with Bethnal Green, which included Mrs. and Miss Merceron, to raise subscriptions to pay the unemployed for clearing the streets and stone breaking and to provide soup kitchens. (fn. 285) In 1869 the various charities were consolidated into the Bethnal Green Charity Organisation Society with an office in Bethnal Green Road, the rector as chairman, Sir T. F. Buxton, Bt., as treasurer, and a committee of local clergy. Welcomed as an intermediary by the guardians and supported by 11 organizations, 15 churches, and several chapels, the society raised subscriptions and dealt with individual cases, referring some to charities and others to the authorities. Although it lasted until 1948, (fn. 286) it could not cope with the rising poverty and its associated problems, nor could organizations of the 1880s like the university settlement movement. (fn. 287)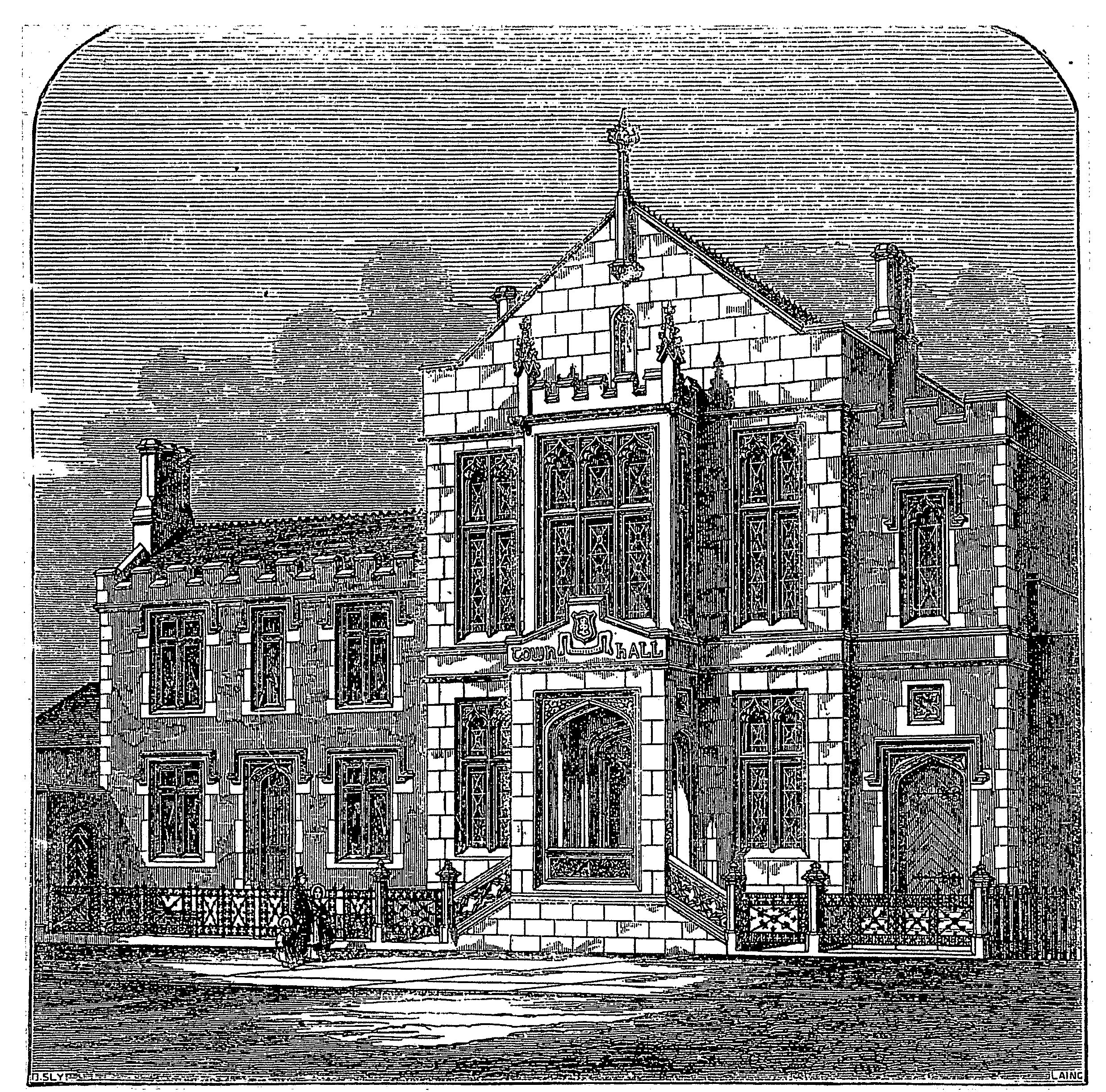 As early as 1834 the vestry clerk had seen salvation for Bethnal Green only in union with other parishes, not its immediate and almost equally poor neighbours but in the City and west London. (fn. 288) The Metropolitan Common Fund brought some resources from outside, for indoor relief. (fn. 289) A greater step was the replacement of the M.B.W. in 1888 by the L.C.C. and a consolidating Act in 1890 which enabled the latter to tackle large-scale slum clearance, beginning with the Nichol. (fn. 290) The Local Government Act, 1894, changed the qualifications of guardians and vestrymen, thereby weakening the landlord's grip. (fn. 291)
The parish still had four wards, governed by a vestry of 3 ex-officio and 57 elected members. (fn. 292) A former vestryman and guardian reported that they formed 'quite a different class' by 1898 but that, although they had inherited bad traditions and heavy arrears, they had appointed extra inspectors (by then five) and given them and the medical officer a freer hand. (fn. 293) The new guardians were praised for more careful administration, reducing the amount of out-relief. (fn. 294)
LOCAL GOVERNMENT FROM 1900 TO 1965.
In 1900 Bethnal Green became a metropolitan borough under the London Government Act, 1899. (fn. 295) It was divided into East and South wards with 9 councillors each, and West and North, with 6 each. (fn. 296) A fifth ward, Central, was created in 1952, when each ward was allotted 6 councillors. (fn. 297) The council was headed by a mayor and five aldermen. It assumed some of the powers of the L.C.C. and was financed from a general rate, levied and collected like the poor rate which it replaced, together with any 'sewer' or lighting rates.
There were nine council committees by 1902: (fn. 298) survey, finance, works, public health and housing, law and general purposes, baths and washhouses, electricity, assessment, and records, besides special committees for departments and scavenging and for dusting. The department of the town clerk (fn. 299) employed a deputy town clerk, an assistant, and a junior clerk; that of the borough treasurer, divided between rating and bookkeeping, employed three rating clerks and five collectors, two bookkeepers, and a general and junior clerk; that of the borough surveyor employed three clerks and a draughtsman; the public health department had a medical officer, (fn. 300) eleven sanitary inspectors, three clerks, and a general assistant. (fn. 301) There was also a hall keeper and a superintendent and matron at the public baths. Municipal employees totalled 52 clerical and 334 other staff by 1909. (fn. 302) By the 1920s the public health department included, besides the medical officer, analyst, and seven sanitary inspectors, two food inspectors, ten health visitors, a chief clerk, and eight assistants. Among its other staff were disinfectors, a mortuary keeper, and, on a temporary basis, six part-time medical officers and a midwife. (fn. 303) There were 11 sanitary inspectors and 13 women health visitors in 1934, (fn. 304) and 9 public health inspectors in the early 1960s. (fn. 305)
After the move in 1889 to replace the town hall was defeated, (fn. 306) the vestry and the M.B. remained in Church Row, except the public health department, which was at no. 2 Paradise Row. (fn. 307) In 1908 the council acquired a site on the corner of Cambridge Road and Patriot Square, where a new town hall, was opened in 1910. (fn. 308) Designed by Percy Robinson and W. Alban Jones to include a tower and statues by Henry Poole, it has been termed Early Renaissance (fn. 309) or flamboyant Edwardian Baroque (fn. 310) with a 'pompous facade'. (fn. 311) A 3-storeyed 'weakly neoclassical' extension was built to the east in 1936-9. (fn. 312)
There were council elections every three years. The municipal electorate was at first confined to those owning or occupying premises as a tenant, excluding lodgers, the young living with their parents, and women. It rose from 14.4 per cent of the population in 1901 to 33.7 per cent in 1919 and 38.8 per cent in 1928. (fn. 313) The turnout varied from 45.5 per cent in 1937 and 42 per cent in 1903 to 20.5 per cent in 1956 and 24.4 per cent in 1962. (fn. 314)
Progressives, mostly small tradesmen, were dominant from 1900 to 1919. (fn. 315) Only four councillors lived outside the borough in 1902, (fn. 316) when they included two surgeons, four publicans, two butchers, a printer, a painter, a chemist, a tobacconist, a grocer, a corndealer, a photographer, a dairyman, an oilman, a brick and tile merchant, a sawmiller, a bootmaker, and a fretcutter. (fn. 317) Some later called themselves Liberals, among them Garnham Edmonds of Edmonds & Mears tripe dressers, a councillor in 1902, (fn. 318) religious and social worker and for long chairman of the Liberal Association, mayor in 1907, (fn. 319) member of the L.C.C. 1910-22, (fn. 320) and M.P. in 1922. (fn. 321) Of more proletarian origin was W. J. Lewis, born near Boundary Street in 1868, employed aged eleven in the book trade, influenced by Oxford House, secretary of the University club debating society, a trade union organizer and Liberal election agent, mayor in 1913, (fn. 322) and resident as an adult in St. Peter Street, close to where he was born. (fn. 323) A.J.S. (Tom) Brooks (d. 1954), a chimney sweep who lived for 40 years in Brick Lane, was a vestryman for six years, Liberal councillor for 28, and thrice mayor. (fn. 324)
Ratepayers, organized into associations by the 1890s, (fn. 325) lost their early importance as local government ceased to rely solely on the rates (fn. 326) and as a wider franchise brought in radical Jewish workers who had become naturalized. (fn. 327) The overwhelmingly working-class electorate did not vote solidly for the Progressives or, later, the Labour party, as sectional interests favoured parties of the right whether Municipal Reformers, Conservatives, or Fascists. Some casual poor, who lived mainly by cadging, were said to support the Conservatives from whom they received gifts. (fn. 328) Conservatives championed public houses, whereas the Liberals closed several in 1911. (fn. 329) Tom Brooks favoured temperance and was responsible for removing the Sunday market from the northern part of Brick Lane. (fn. 330) Cabmen and costermongers, organized in the Costermongers' Union, opposed teetotalism, traffic regulations in 1902, and Sunday closing in 1905. (fn. 331) Sunday trading had a long tradition and had generally been tolerated in spite of protests, (fn. 332) although in 1888 the vestry had tried to stop it (fn. 333) and in 1906 the M.B. had achieved more success. (fn. 334) In 1911 a clause in the Shops Bill for the M.B. to allow Sunday morning trading dismayed its mainly Liberal opponents, among them the rector, the head of Oxford House, and the chairmen of the board of guardians and the Public Welfare Association. (fn. 335)
Socialists, in the first years of the 20th century part of the Progressive alliance, began to organize during its second decade (fn. 336) and triumphed with 24 seats to the Progressives' 6 in 1919. (fn. 337) From 1919 to 1928 Bethnal Green was governed by an alliance of Labour and Communists. Joe Vaughan, London's first Labour councillor, was elected in 1914, (fn. 338) thrice mayor of Bethnal Green (fn. 339) and a parliamentary candidate in 1922 when accused of flaunting himself as a Communist. (fn. 340) Samuel Elsbury campaigned to enforce trade unionism as part of a Communist strategy; (fn. 341) he and his wife were both councillors, as were several couples on both sides of the political spectrum throughout the 1920s and 1930s. (fn. 342)
The guardians retained prime responsibility for the poor until 1929. In 1902, they included five who lived outside the borough, two women, and the vicar of St. James the Less. They employed five clerks, a collector, a settlement officer, seven relieving officers, five district medical officers, vaccinators, and staff at the workhouse, the infirmary, and the schools in Leytonstone. (fn. 343) The board was generally controlled by the Progressives and followed a policy of refusing relief outside the workhouse. (fn. 344) The workhouse held 1,161 inmates and 39 officials in 1901. (fn. 345) The respective numbers of those relieved outside and inside the workhouse were 479 and 2,603 on 1 July 1904, 533 and 2,683 on 1 January 1905, (fn. 346) and 372 and 2,862 on 1 January 1915. (fn. 347) The victory of the Poplar councillors led to a sharp rise in able-bodied pauperism throughout East London in 1922, although Bethnal Green was one of the last areas to succumb 'to the general wave of Proletarianism'. (fn. 348) On January 1922 the figures for outdoor and indoor relief were 5,487 and 2,074 (fn. 349) and in 1929 they were 7,524 and 2,151. (fn. 350)
The increase in outdoor relief did not represent changes among the guardians, whose election did not follow the council's. In 1925 their moderation was contrasted with the left-wing council's extremism. The board was drawn from the three political parties and included social workers, clergy of several denominations, the president of the Jewish synagogue, and the head of Oxford House, (fn. 351) M. R. Seymour, a Municipal Reformer and mayor in 1927. (fn. 352) Another active clergyman was Stewart Headlam. (fn. 353)
The borough sent two representatives to the L.C.C.: (fn. 354) Progressives predominated from 1889 to 1925, Labour from 1925 to 1928, Liberals from 1928 to 1934, and Labour from 1934 to 1946; from 1946 to 1949 North East Bethnal Green was Labour and South West Liberal. From 1949 the whole borough sent three representatives, all Labour except for Sir Percy Harris, Bt., 1949- 52, a Liberal who had represented South West Bethnal Green 1907-34 and 1946-9.
The Labour-Communist coalition aroused the enmity both of the guardians and of the L.C.C. by calling for unrestricted out-relief (fn. 355) and by financial irresponsibility and political indiscipline, particularly angering Herbert Morrison, chairman of the Labour Party on the L.C.C. (fn. 356) Although the new Labour M.B. in 1919 had inherited a mechanization programme for street cleaning from its predecessors, it paid its remaining 75 casual labourers weekly instead of hourly, introduced holiday and sick pay, and in 1921 put many casual labourers on the permanent work force. (fn. 357) By 1923 the council was threatened with legal action by the London auditor for overspending on wages. (fn. 358) In 1925 and 1927 it refused to accept uniforms from workshops that had not been approved by the unions, (fn. 359) and in 1926 Elsbury demanded a minimum wage and trade union clauses in municipal contracts. (fn. 360) By 1928 'illegal payments' had reached £28,000, mostly for paying equal wages to women and extra for Sunday work. An attempted reduction in line with the auditor's demands, led to scenes reminiscent of Merceron's years, with public protests and the singing of the Red Flag. (fn. 361) There was more controversy over council housing, first introduced by the leftwing M.B., especially when a scheme was named after Lenin. (fn. 362) To refute charges of corruption, race discrimination, and maladministration, the M.B. called for a public inquiry in 1927 and a councillor resigned. (fn. 363)
Rating, among the highest in London at 15s. 8d. in the £ in 1925-6 and 17s. in 1928-9, was the main issue in 1928 when all 30 seats were lost to the Liberals and Progressives. (fn. 364) The Communists continued to make noisy protests (fn. 365) but when Labour regained all 30 seats in 1934 it did not include Vaughan, Elsbury, or any other Communist or Worker candidate. (fn. 366) Elsbury was back in 1937 under the label of Labour. (fn. 367) Labour won all borough council seats after 1934, although in 1937 it faced new opponents in the Fascists. Anti-alienism in the 20th century had favoured some Conservative parliamentary candidates but had not been embodied in a separate party. A branch of the British Union of Fascists opened in Bethnal Green and put up candidates in the 1937 L.C.C. and borough elections. (fn. 368) Revived as the Union Movement, it contested South ward in 1949, Central and East wards in 1956, and North ward in 1962. (fn. 369)
Unemployment and bad housing continued to preoccupy the M.B. throughout the 1930s, whatever its political complexion. In 1930 the council considered a scheme of sewer reconstruction to give work to 450 men (fn. 370) but by the beginning of 1931 some 5,000 men and 1,000 women were unemployed. (fn. 371) In 1933 it sought government help (fn. 372) and in 1936 it again considered sewer reconstruction for some 500 unemployed. (fn. 373) Clearance and rebuilding reemerged after 1945 as the M.B.'s most pressing problem. (fn. 374) Since Labour held every seat, any conflict was between various wards seeking priority for their own clearance. (fn. 375)
LOCAL GOVERNMENT AFTER 1965.
In 1965, under the London Government Act of 1963, Bethnal Green M.B. merged with Poplar and Stepney into Tower Hamlets L.B. (fn. 376) It retained its five wards, North, South, East, West, and Central, each with three councillors, (fn. 377) until 1978, when it was covered by the new wards of Weavers, St. Peters, and St. James and by parts of Holy Trinity, Grove, and Park. St. James and Park wards had two councillors each, the other wards three. (fn. 378) Government was by the mainstream Labour party but the average turnout in Bethnal Green wards in 1974 was less than 19.0 per cent, (fn. 379) revealing a public apathy which aided the rise both of the far Left and of the Liberals. (fn. 380) The Liberals won 7 seats, including all those for Park and Grove wards, in 1978, (fn. 381) 18 in 1982, and, as the Alliance (with the Social Democrats), gained control of Tower Hamlets council with 25 Liberal and 1 Social Democrat seats in 1986. (fn. 382) Tower Hamlets L.B. was then decentralized into seven neighbourhoods, governed by neighbourhood standing committees of ward councillors with their own resources. Most of Bethnal Green M.B. was contained in the neighbourhoods of Bethnal Green and Globe Town, with the eastern edge included in Bow neighbourhood. (fn. 383) The LiberalDemocrat alliance increased its lead to 30 seats in 1990 but lost control to Labour in 1994. (fn. 384)