Pages 102-106
A History of the County of Middlesex: Volume 12, Chelsea. Originally published by Victoria County History, London, 2004.
This free content was digitised by double rekeying. All rights reserved.
ARTISTS AND CHELSEA
The presence in Chelsea of many leading artists during much of the 19th and 20th centuries made up a large part of Chelsea's renown beyond its borders and its reputation as an artistic and bohemian colony. While artists in previous centuries were attracted to Chelsea to paint its riverside and houses, its artistic reputation was created through its position as one of a handful of places which saw a concentration of artists' studios when, in the 60 years prior to the First World War, over 1,300 domestic artists' studios were erected in London as a whole. Chelsea was favoured because at the time when the fashion for large and luxuriously fitted studios flourished, prompted by the rise of professionalism among artists, it had sites available for building at reasonable cost, while still being close to the West End and the picture-buying public. (fn. 1)
TURNER AND THE RIVERSIDE
Chelsea, like other villages around London, always had its share of artists living there, attracted by its charm and its cheapness compared with more fashionable areas near central London. The most famous of these was Joseph Mallord William Turner (1775-1851), but the fame he brought to Chelsea was posthumous, since hardly anyone knew he was living there. He kept his house and gallery in Queen Anne Street (St Marylebone), where he had lived since the end of the 18th century, but when his companion, Mrs Sophia Booth, moved to London in 1846, they looked for a house by the river and took a 21-year lease of no. 6 Davis's Place, at the western end of Chelsea's riverside. Turner spent most of his time there, concealing his private life from his friends and acquaintances; he was known in the neighbourhood as Mr or Admiral Booth. The house, 3-storeyed but only one bay wide, was one of a row of seven small cottages which stretched westwards from the King Arms public house. It had a small garden in front bounded by a low wooden fence, and Turner had the roof flattened and added a railing to make a balcony from which he could observe the river. (fn. 2) Their neighbours included a boat builder and shops selling beer, wine, and ginger beer, and across the road were steps down to the Thames foreshore. Turner died at this house in December 1851; it was later incorporated with its eastern neighbour into a larger house, now nos 118-119 Cheyne Walk. (fn. 3)
PRE-RAPHAELITES AND OTHERS, 1850-1880
While Joseph Turner was dying in 1851 in secrecy in a nondescript row at the west end of Cheyne Walk, a younger generation of artists was finding accommodation farther east. The 22-year-old William Holman Hunt (1827-1910), one of the Pre-Raphaelite Brotherhood, was living in 1851 at no. 5 Prospect Place, at the corner of Lawrence Street, (fn. 4) where he painted 'Light of the World' in 1854 in his 1st-floor studio facing the river. (fn. 5) Other artists along Chelsea's riverside in the 1850s and 60s included John Martin, the historical painter, at no. 4 Lindsey Row (part of Lindsey House) (fn. 6) from 1849 to 1853, while a better-known occupant of Lindsey House was James McNeill Whistler, who lived at no. 101 Cheyne Walk in 1863 and at no. 96 (no. 2 Lindsey Row), also part of Lindsey House, from 1866 to 1878. (fn. 7) At the eastern end of Cheyne Walk, William Dyce, RA, lived briefly at no. 4 Cheyne Walk 1846-7, succeeded later by Daniel Maclise, RA, from c. 1861 until his death in 1870. (fn. 8) Dante Gabriel Rossetti bought the lease of no. 16, Tudor or Queen's House, in 1862, giving him a dozen bedrooms and an acre of garden. He invited several relatives and friends to join him, some of whom accepted, and for a while his household included his brother William, and Algernon Swinburne. (fn. 9) Some friends of Rossetti sought their own accommodation in Chelsea, among them George Pryce Boyce (d. 1896), painter of topographical watercolours, who could afford to commission Philip Webb to design a house for him: West House was built 1869-70 on the south-east corner of the rectory grounds at the angle of Glebe Place, with a view down Cheyne Row to the river, and had an extended first floor with a studio; the dining room bay was added in 1876. After Boyce's death the house was tenanted by James Guthrie and E.A. Walton. Some garden-studios were also beginning to appear in Glebe Place: the sculptor Giovanni Fontana built one in 1865 on the east side of Glebe Place, behind King's Road, like Boyce an early vanguard of the main settlement. On the whole, artists were drawn to the older and more picturesque Chelsea village and riverside, but Sloane Street also had a number of artists and sculptors at work during this period, and in 1863 John Birnie Philip occupied the kitchen wing of Henry Holland's former mansion, The Pavilion, to sculpt the 99 figures for the Albert Memorial. In 1870 Birnie Philip moved his workshop to a villa in Manresa Road, and artists were also starting to move into Upper Church Street: Robert Hannah, the Scots historical painter, made large additions to no. 153. (fn. 10)
STUDIOS IN TITE STREET AND ELSEWHERE
The main period in the building of studio-houses, their styles as idiosyncratic and artistic as their occupants, began at the end of the 1870s, when sites for building along the newly-created Chelsea Embankment and Tite Street became available. (fn. 11) The riverfront property was too expensive for artists, though no. 7 was designed for the judge and amateur painter Sir Robert Collier, later 1st Baron Monkswell, by R. Phené Spiers, architectural master at the Royal Academy, and also included a flat with a proper studio for Collier's son John and his wife Marion Huxley, both professional painters. (fn. 12)
Around the corner in Tite Street, however, artists dominated. Having had some professional success, in 1877 Whistler took a site in Tite Street, later no. 35, backing onto the Royal Hospital's grounds, and asked E.W. Godwin to design a house which included a teaching atelier. The White House had the teaching studio within the huge Japanese-inspired gambrel roof, taller than the stark and asymmetrically composed façade, and a personal studio in one of the two floors below. The design proved quite unacceptable to the MBW, who threatened to withhold the lease unless changes were made. Parapets were raised, Queen Anne details in moulded brick added, and approval was obtained, but financial problems soon led Whistler to sell the house in 1879. (fn. 13)
Whistler's influence led several of his friends and admirers to move to Tite Street, (fn. 14) and many also commissioned Godwin despite the difficulty Whistler had had in getting the designs accepted. In 1878 Godwin designed Chelsea Lodge for the Hon. Archibald Stuart-Wortley, on a double site on the west side of Tite Street at the corner of Dilke Street, with two sets of principal rooms and studios so that Stuart-Wortley could share the house with his friend Carlo Pellegrini, a successful cartoonist who used the sobriquet Ape. The arrangement soon broke down and Chelsea Lodge was sold in 1879, to the Hon. Slingsby Bethell, an amateur painter who retained one of the studios. Edwin Abbey, RA, who owned the house from 1899 until his death in 1911, may have reunited the studios and added an extra window; (fn. 15) at a sale of the house in 1937 it had 2 large studios. (fn. 16) Frank Miles commissioned Godwin to design Keats House at no. 44, completed in 1880 after the designs of 1878, considered to be 30 years ahead of their time, were again unsurprisingly rejected by the MBW, and had to have additional Queen Anne-style decoration added. Miles moved there with his friend Oscar Wilde. (fn. 17)
After selling Chelsea Lodge, Stuart-Wortley had a second house built 1879-80 at no. 29 Tite Street, called Canwell House, in Queen Anne style with red and yellow brick; when he left in 1885 the house passed to Mary Grant, the sculptress, but was later sold to the adjacent Victoria Hospital. Between White and Canwell houses were two plots, nos 31-33: in 1880 a studio-house was built at no. 31 for Frank Dicey, and a block of studio-flats at no. 33, (fn. 18) both designed by Robert Edis. John Singer Sargent bought no. 31 in 1901, having lived in the ground floor flat at no. 33 since c. 1886, and he knocked through to connect up no. 31 and the flat. Plots opposite at nos 50 and 52 were bought by Mrs Anna Lea Merritt and John and Marion Collier: Mrs Merritt was an widowed American figure painter acquainted with the Colliers, and they asked Marion's brother-in-law Frederick Waller to design a pair of studio-houses in 1881-2. Mrs Merritt occupied no. 50 which she called The Cottage; no. 52 was called More House. (fn. 19)
A few studio-houses were built away from the main concentration. R. Norman Shaw designed a studiohouse 1882-4 for an irregular site at the corner of Walton Street and Lennox Gardens Mews for Edward and Florence Sherard Kennedy, 'Sunday painters' with private incomes. Called Walton House, it had separate studios for the couple, and also the Victorian arrangement which allowed models to reach separate changing rooms unseen. In 1883 J.P. Seddon designed a studio-house at no. 76 Elm Park Road for Paul Naftel and his wife and her family, several of whom were painters of some repute, and nos 74 and 78, also built c. 1884, were occupied by landscape painters. (fn. 20) In 1879 William Burges designed a pair of garden studios behind no. 28 Beaufort Street for Louise and Joe Jopling, both painters. After Joe died suddenly in 1884 Louise let one studio to Maria Zambaco, sculptress; the studios were later converted into a Roman Catholic chapel. (fn. 21) In 1892 Mortimer Menpes, Australian-born painter and etcher, engaged Arthur Mackmurdo to design a five-storeyed studio-house for him on a site at no. 25 Cadogan Gardens, for which Menpes obtained a vast quantity of interior fittings from Japan, (fn. 22) installed by 70 Japanese craftsmen. (fn. 23)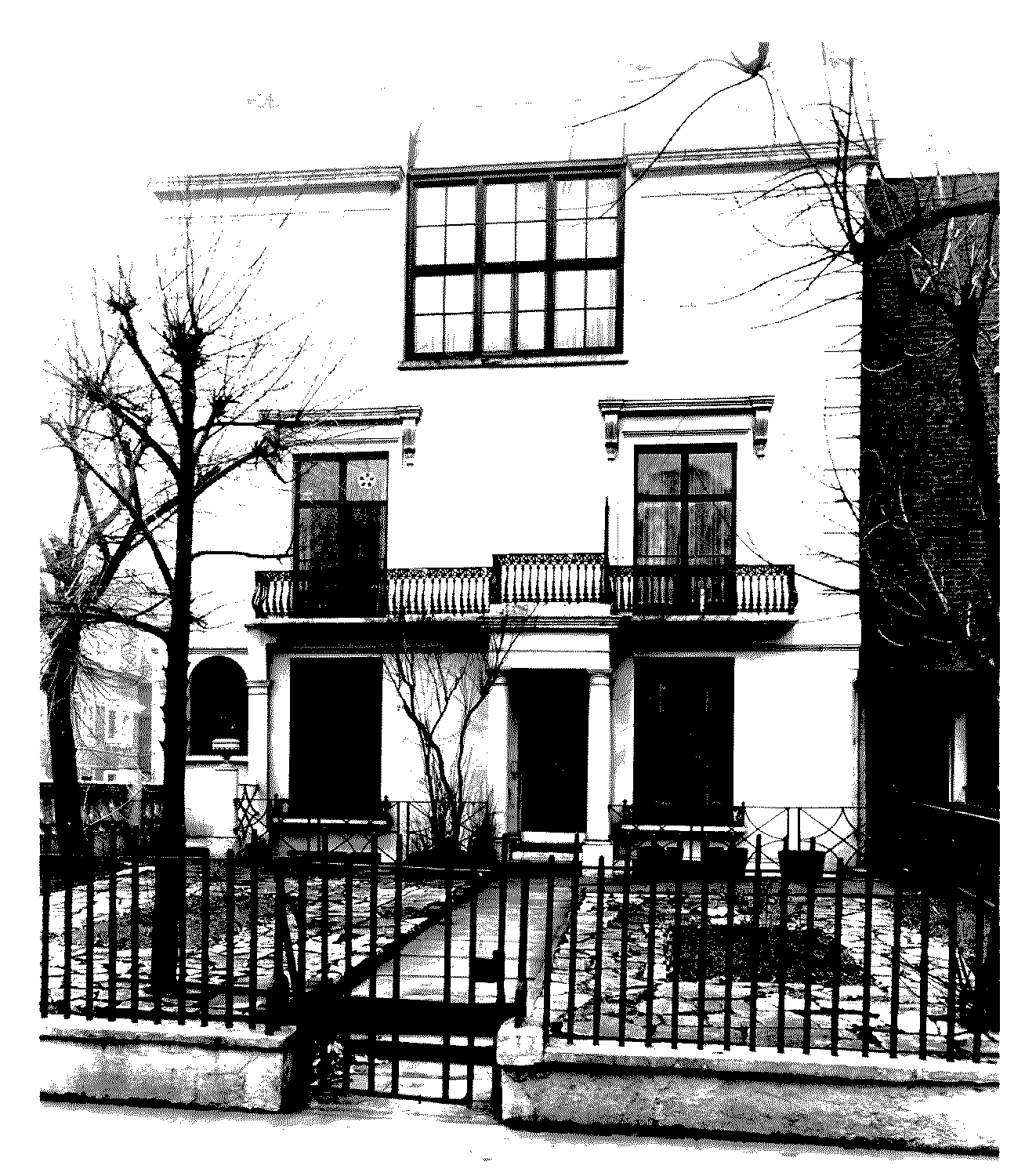 ARTISTS AT THE VALE AND UPPER CHURCH STREET
Individual artists' houses continued to be built on the remains of Chelsea Park, the last open ground in Chelsea to be built over, and the adjoining parts of Upper Church Street before and after the First World War. Until it was extended The Vale was a shady lane bordered by three or four houses. Whistler took no. 2 in 1886, where Messrs Ricketts and Shannon later started the Vale Press. No. 1 was acquired at same time by William and Evelyn de Morgan after their marriage, and when on trips abroad they let the cottage with its painting and craft room to Walter Sickert and his Chelsea Life School. Sculptor Thomas Stirling Lee built a studio for himself in the new Vale Avenue in 1910.
In the 1890s several artists also moved into Upper Church Street. No. 123 on the corner of Elm Park Road was built in 1894 for Felix Moscheles, and by 1901 the Chelsea Arts Club had moved into two old villas at nos 143-5. Evelyn and William de Morgan moved to nos 125-7 (nos 8-9 Bolton Place), Upper Church Street, where two terraced houses were adapted for them in 1909-10. Augustus John occupied Robert Hannah's at no. 153, until he moved to Mallord Street (below). (fn. 24)
The Vale was extended northwards c. 1909, with picturesquely grouped neo-Georgian houses along the west side. Mallord and Mulberry streets were added to link it with Upper Church Street, and several studios were built in this group of streets before and after the First World War. In Mallord Street no. 28 was designed 1913-14 like a Dutch cottage by Robert van t'Hoff for Augustus John, and Mallord House, designed by Ralph Knott, was built at the north-east corner in 1911 for Cecil Hunt. No. 22 Mulberry Walk and no. 113 Old Church Street were built as a double house with two studios for John DaCosta, children's portraitist. No. 117 Upper Church Street was designed by Halsey Ricardo in 1914-15, as a wedding present for his daughter Anna and her husband Charles Maresco Pearce, the painter of architectural subjects. (fn. 25)
At Little Chelsea an area on both sides of Fulham Road also developed an artistic element near the end of the 19th century. On the Chelsea side, a life class in Limerston Street had attracted 300 students within 4 years of its establishment in 1872, and later in the 1880s individuals began seeking artistic provision on the Gunter estates. Fred Brown, founder of the New English Art Club (fn. 26) and later Slade Professor, led several artists from Bolton Studios in Brompton (Kens.) to Netherton Grove. In due course the fashion for garden-studios affected the surrounding streets, Gunter Grove in particular. Following the lead of sculptor Alfred Drury, nearly every other property along its west side had a studio unit by end of the century. (fn. 27)
In the early 20th century a small group of studiohouses (destroyed in the Second World War) were designed by C.R. Ashbee in Cheyne Walk, in which he recreated the serendipitous atmosphere of the lost Chelsea riverside. He designed no. 37 Cheyne Walk for himself, his mother and sisters in 1893-4, nos 72-4 Cheyne Walk in 1896-8, nos 72-3 for two clients, and no. 74, a studio-house as a speculation which he and his bride moved into. Ashbee also restored and added a studio to nos 118-19 (no. 119 being Turner's house) for Max Balfour, and designed studio projects at no. 38 Cheyne Walk in 1898 for the still life painter, Miss Clara Christian, which had 3 studios in the house and the entrance to a 4th in the back garden, and no. 39 as a freehold family house speculation. For a few years before her death in 1906 Miss Christian was joined by (Dame) Ethel Walker, with whom she had shared studios in Pembroke Gardens and Tite Street. He also designed no. 75 in 1901-2 for Mrs William Hunt, an art collector, and no. 71 in 1912-13 for Mrs Adeline Trier, a flower painter. (fn. 28)
MASS-PRODUCED STUDIOS
More interesting socially than individual studio-houses were the mass produced studios, usually multiple units, often of several storeys and built to let. They occurred in London where the building of individual studio-houses drew newer or less successful artists to live nearby, so demand was strong in Chelsea, and by making studios available to artists of a wider income range it gave Chelsea the mass of artists that created its artistic profile. A three-tier, 15-unit block called Trafalgar Studios was the first of such multiple studios, built in 1878 in Manresa Road. E.W. Godwin drew up a proposal the same year for 30 studio-flats for an unspecified site, but did not find a backer, and for another multi-level scheme next to the White House in Tite Street, but the site was sold to Jackson & Graham, furnishers of Oxford Street, who in 1880 commissioned Robert Edis to design The Studios at no. 33 Tite Street, which had annual rents of c. £100. Whistler lived there 1881-5, John Singer Sargent, Charles Furse, and, later, Augustus John. Godwin also designed a tower of studio-flats in 1867, with 4 double-height floors with mezzanines, and a communal kitchen in the basement, but eventually sold the site and drawings to Denton, Son & North, who adapted and built it as Tower House, no. 46 Tite Street, in 1884-5. (fn. 29)
A number of small studio groups also sprang up just off King's Road, most probably prompted by the success of Trafalgar Studios: the builder there converted his own neighbouring villa into another set, Wentworth Studios (1885). Later activity remained localized, with the Manresa Road-Glebe Place area the prime location in Chelsea. In Glebe Place Conrad Dressler, sculptor, built the glass shacks of Cedar Studios (1885-6), and three more groups were built in Glebe Place, at nos 60-1, nos 64-5, and nos 52-9. Nos 60-1, known as Glebe Studios, were developed 1888-9 by the rector, who gave his son one of the first tenancies. This interesting development attracted Walter Sickert, William Rothenstein, and Ernest Shepard amongst others. (fn. 30) It was during the 1880s and 1890s that Chelsea secured its international name as the art centre of London. The presence of artists' studios led naturally to the teaching of art in Chelsea: although Whistler did not apparently have much success in Tite Street, (fn. 31) the Life classes held in Limerston Street and by Sickert encouraged others hold formal classes in Chelsea, and Chelsea School of Art, part of the polytechnic, opened in 1895. (fn. 32)
Multiple studios continued to be built there into the early 20th century, notably the Rossetti (1894) and King's House (1911) groups, but suitable sites were becoming scarcer and development more costly. (fn. 33) Nevertheless, in 1921 Chelsea's profile as the artists' centre in London was confirmed when the population census noted especially that Chelsea MB had the greatest concentration of male artists, at 9 per 1000 men; the next highest was Hampstead with 6 per 1000. (fn. 34) However, just as artistic endeavour was spreading from experts to beginners, Chelsea's position as the centre of artistic life in London was starting to be threatened. At the beginning of the 20th century many artists' studios were gradually acquired for other purposes, and artists were starting to find it hard to compete financially for property in Chelsea, a situation which became critical in the second half of the century, as studios were lost to developers and the artists left the area. (fn. 35)
In 1948 the Royal Academy presented a fountain placed in Sloane Square as a tribute to the great contribution of Chelsea to the artistic life of London. (fn. 36) In the same year the borough council asked the LCC to promote legislation enabling it to provide studios for artists, a unique inclusion in their Act. In 1939 there were 316 known studios in use, designed and built for the purpose: of those 47 had been destroyed and 42 made unfit for occupation, and by 1948 many others were used as private residences; only 76 were in reasonably good repair and used by working artists. (fn. 37) The LCC's General Powers Act of 1949 specifically conferred on Chelsea MB powers to build new studios and equip old ones. By 1953 the first municipal studios were completed, on the top storey of the Lucan estate in Lucan Place; they also planned 6 on the Cremorne Estate at World's End and others in Hortensia Road (3), Limerston Street (6), and Dovehouse Street (10). Studios were to be offered to those at head of the council's list of 180 artists needing accommodation. The recent migration of artists away from Chelsea, mostly priced out, was of serious local concern, and artists wrote to The Times urging other councils to follow the borough's example. (fn. 38)
In 1960 the council's finance committee urged the council to become modern patrons of the arts, because private patrons were disappearing. Although the council had built studios, they had not given much practical encouragement to artists, as they did not offer subsidies or reduced rents for the studios; the committee urged them to introduce an annual subsidy of £500 to be split between successful applicants. (fn. 39) Despite all attempts, however, Chelsea continued to lose its artistic element. A brief resurge in the early 1960s, when several of the newly fashionable photographers worked in Chelsea, continued to keep its bohemian reputation alive, but by the end of the 20th century young artists were congregating east and north-east of the City of London, where cheap warehouse accommodation was still available. Few of Chelsea's studio-houses were still inhabited by artists in 2003, when the Chelsea College of Art and Design was also about to leave the borough. (fn. 40)