Pages 217-233
A History of the County of Middlesex: Volume 12, Chelsea. Originally published by Victoria County History, London, 2004.
This free content was digitised by double rekeying. All rights reserved.
PUBLIC SERVICES
PUBLIC ORDER
In 1658 an assessment for erecting a cage was confirmed. (fn. 1) The cage, stocks, and ducking stool once stood in Lordship Yard (off Lawrence Street), part of the old manor house; by 1682 they had been moved to the riverside near the church, but constituted a public nuisance and were to be moved back. In 1705 Lord Cheyne was amerced for not maintaining them. (fn. 2) A suspected burglar, lodged at the headborough's house rather than in the cage near by, murdered a servant and escaped in 1754. (fn. 3) The cage, on the riverside opposite the old church, (fn. 4) still stood in 1816. (fn. 5)
A constable and a headborough were mentioned in the late 1740s; in 1762 theirs were certainly separate offices. From 1769 two headboroughs are sometimes recorded. (fn. 6) There were several constables by 1800, when their duties included preventing squibs and crackers being thrown on 5 November. (fn. 7) In 1802 several constables dispersed a mob assembled to watch two pitched battles on Chelsea common one Sunday. (fn. 8) From 1798 the duties of the two beadles, the second being for Hans Town, included preserving order and apprehending offenders. (fn. 9)
In 1728 the inhabitants offered a reward for information on robberies, (fn. 10) and in the 1750s raised subscriptions for the apprehension of highwaymen, footpads, burglars, and robbers. (fn. 11) In 1771 such a reward was offered after a notorious robbery at Elizabeth Hutchins's farmhouse in King's Road. (fn. 12) Rewards in 1793 aimed to prevent, as well as punish, offences. They were to be paid out of the church rate, (fn. 13) but in 1800, as a vestry considered them illegal, they were to be discontinued. However, in 1802 the churchwardens were again to reward the apprehension of offenders. (fn. 14) In 1833 the parochial committee offered a reward following a murder. (fn. 15)
In 1668 the inhabitants of Chelsea and St Martin-in-the-Fields were ordered jointly, as before, to keep constant watch at the Stone bridge for thieves. (fn. 16) In 1692 Chelsea was to set sufficient watches for the safety of inhabitants and travellers. (fn. 17) Two watchmen at Chelsea were almost killed in a housebreaking in 1706. (fn. 18) In 1712 inhabitants apparently obtained a watch at Little Chelsea, which was remote from those provided by Kensington and Chelsea. (fn. 19) At the Royal Hospital pensioners manned the guardhouses, preserved order, and closed the gates at night. They were assisted in 1810 by Bow Street officers. In 1715, at the request of Chelsea inhabitants, the Hospital was ordered to form a patrol of pensioners, who manned sentry boxes on the road to St James's. In 1783, to prevent robberies which were occurring at an alarming rate, their number was increased. The patrol ceased to function in the early 19th century. In 1781 the Hospital agreed to contribute towards watchmen for the road round Burton's Court. (fn. 20) Armed patrols on the roads from Ranelagh were advertised in 1769; these, and a guard at the back of the Royal Hospital, were paid for by the proprietors of the pleasure grounds, and comprised Hospital pensioners. (fn. 21) Although the inhabitants were in 1771 reportedly determined to procure an Act to settle a watch, (fn. 22) none was passed and ad hoc arrangements continued. In 1794 the vestry would only countenance an increase in tolls on the Hyde Park and Kensington turnpikes if the trustees would undertake to light and watch the parish's streets, but in the event proceeded no further, fearing additional expense. In 1798 the watchman of Lindsey Row (later part of Cheyne Walk), although armed with a sword, was assaulted by drunks, whom the vestry required to acknowledge their offence by a newspaper advertisement. (fn. 23) Private nightwatchmen on King's Road supplemented the day-time activities of the constables. (fn. 24) In 1809 inhabitants were not to illuminate their houses for George III's jubilee year, to avoid 'riot and disturbance'. The vestry resolved in 1811 to raise a subscription and form an association to prevent the many crimes against property and the person, (fn. 25) and in 1812 a committee duly proposed night patrols to supplement the regular watchmen. (fn. 26) The vestry opposed the inclusion of the parish in a Bill for regulating the nightly watch out of concern for the rates, and in 1816 considered it an inauspicious time for expensive innovation in parish government, including watching, resisting a proposal for further legislation. In 1817, in response to the disturbed state of the metropolis, the vestry solicited inhabitants' enrolment as special constables. (fn. 27)
In 1811 rooms for a watchman were to be built adjoining the chapel in the new burial ground, which had its own watchman; payments were made in 1819 for his pistols and his dog. A watchbox was made when the chapel was demolished in 1825. By 1828 there were two watchmen. (fn. 28) Watchboxes there remained in the 1830s. (fn. 29) In 1822 the appointment of a parish watchhouse keeper was allegedly unnecessary, as the beadles and constables had 'little or nothing to do'; apparently none was appointed. (fn. 30) In 1824 soldiers drinking in Hans Town caused an affray which 15 watchmen and two constables could not contain; help was summoned from Knightsbridge barracks. (fn. 31) At that period Kensington turnpike trust had arranged patrols on the Fulham Road for several years. (fn. 32) An Act of 1826 (fn. 33) empowered trustees to watch the newly-built districts of eastern Chelsea. In 1828 15 constables and 4 headboroughs were employed by day in Chelsea, with a serjeant of the watch and his assistant in charge of 30 watchmen by night; there were also 27 private patrolmen at night. One watchhouse accommodated the night watch. (fn. 34) Hans Town's Local Act empowered commissioners to appoint watchmen, (fn. 35) and in 1829 its streets were better watched than the old part of the parish where some inhabitants paid private watchmen. (fn. 36) In 1811 there was a watchhouse in Symons Street, still standing in 1852. (fn. 37)
Chelsea was part of the metropolitan police district under the Act of 1829 (fn. 38) but had no station, and one householder argued that the area (especially outside Hans Town), being close to London, would be vulnerable to criminals, since the only watchmen were private ones, of 'no use'. (fn. 39) In 1830 the vestry resolved to petition for a police establishment but wished it to be under parochial control. (fn. 40) From 1830 V Division served part of Chelsea, with a station in Milman's Street, (fn. 41) on the east side towards the river. (fn. 42) In 1852 new premises were built west of the junction with King's Road. (fn. 43) The station was rebuilt eastward from that structure (fn. 44) and opened in 1897. A new one, opened in Lucan Place in 1939, still in use in 2002. The King's Road premises were used as a community centre (fn. 45) but c. 1985 replaced by offices and shops. (fn. 46) Wray House (G. Mackenzie Trench, 1934-7) on Elystan Street contained 114 flats for policemen. Sold by the Metropolitan Police c. 1986, it was converted in 1989 to a residential development (Crown Lodge). (fn. 47) There was a police station in Walton Street by 1851. (fn. 48) The station was rebuilt c. 1895 by R. Norman Shaw, its yellow brick façade in a simple English Baroque style with a curved look-out on one angle. Although old-fashioned for its date, the brickwork shows the façade must be Shaw's. (fn. 49) It was closed as a station in the late 1950s, (fn. 50) but the building was still used by the police in 2002.
WATER SUPPLY
The Tudor manor house, Chelsea Place, (fn. 51) was supplied by a conduit installed by Henry VIII from springs on Kensington moor. Pipes to Gorges House were mentioned in 1624, and in 1652 Buckingham (later Beaufort) House was also served by the conduit. In 1685 the water was allegedly being diverted in Kensington before reaching Chelsea, reducing the supply, and between 1702 and 1721 the supply was subject to a dispute between the owner of the manor house, Lord Cheyne, and the Beaufort family. (fn. 52) A copy of a plan of the water system drawn up about that time shows the conduit crossing King's Road to a conduit house just inside the glebe's conduit close and then running south to the manor house and its stables and to the fountain in the great garden, whose water display was noted by John Evelyn in 1696. A branch ran west to outbuildings of Winchester House. The branch to Beaufort House ran from the conduit house to the stable yard and office, supplying Dovehouse Close and the gardens and ended at a tank beside Gorges House; it also supplied a pond at the corner of King's Road and Church Lane. (fn. 53) A pump by the King's Road burial ground was associated with the conduit, (fn. 54) and subterranean passages found near Cheyne Walk in 1939 were apparently also connected with this Tudor supply. (fn. 55) Beaufort House also had a high water tower on its wharf by the Thames in 1620 and a watercourse running from it, presumably to take river water. (fn. 56) The Royal Hospital had its own supply from the Thames, (fn. 57) and in Blacklands a pump was in use in 1653. (fn. 58)
An Act of 1722 allowed water to be taken from the Thames between the Royal Hospital and the Neat Houses (in Westminster) to supply Westminster and adjoining areas, and the Chelsea Waterworks Company, incorporated in 1723, was subsequently empowered to make reservoirs in St James's Park and Hyde Park; by 1726 St James's and Whitehall palaces were among the recipients. Despite its name, the company's works were actually just inside the boundary of St George Hanover Square, (fn. 59) and the company was not founded specifically to serve Chelsea, although the parish was among the areas supplied. The volume of water raised daily almost doubled between 1767 and 1809. (fn. 60) In 1829 a proposal to form a company to supply the parish with better terms than the Chelsea Waterworks came to nothing. (fn. 61) The company supplied 13,000 houses in 1835, (fn. 62) although at that period the company's service did not cover all of Chelsea itself. (fn. 63) In 1849 Chelsea vestry considered an association with other parishes to obtain a cheaper and purer supply, but nothing was done, perhaps because of the expense. (fn. 64) During the cholera crisis of the early 1850s the Chelsea company's supply was apparently among the safest. (fn. 65) By 1854 there were 8 public pumps in Hans Town and 15 in the rest of Chelsea. (fn. 66) By 1868 the company's district covered 6½ square miles, supplying nearly 27,000 houses in Chelsea, Knightsbridge, Belgravia, Pimlico, and other parts of Westminster, the smallest of the eight London companies. (fn. 67) In 1874 the company gave a constant supply to less than half a per cent of its houses, and in 1883 it remained the only metropolitan company not considering substituting constant for intermittent supply under an Act of 1871. In 1888 it had still not complied with the Act; consequently only 19 per cent of houses in its district were under constant service, presumably newly-built streets, the lowest proportion of any company. (fn. 68) Matters improved in the 1890s, however: 73 per cent under constant supply in 1895 had become 100 per cent by 1899. (fn. 69) The company was taken over by the Metropolitan Water Board in 1904, which continued to supply Chelsea from the Thames. (fn. 70) The Metropolitan Water Board was replaced by the metropolitan division of the Thames Water Authority in 1974, (fn. 71) and the industry was privatized under the Water Act, 1989. (fn. 72)
SEWERAGE
The two watercourses that formed Chelsea's eastern and western boundaries, the Westbourne, also known as the Ranelagh sewer at its southern end, and Counter's Creek, (fn. 73) were used as common sewers, the former mentioned in 1610 (fn. 74) and apparently 1651, (fn. 75) the latter c. 1635. (fn. 76) In 1770, in addition to Ranelagh and Counter's Creek, another open sewer ran eastward towards Ranelagh from Blacklands. (fn. 77) Before c. 1815 common sewers were supposed to convey surface water only, while cesspools were supposed to receive sewage. (fn. 78) The common sewers fell within the jurisdiction of the Westminster Commission of Sewers (WCS) from the early 17th century, although its activities were mainly confined to the city and its immediate environs. Its powers, despite consolidation by an Act of 1807, were limited. (fn. 79) The Ranelagh sewer was enlarged in 1817, (fn. 80) by which time this open sewer had become effectively a vast cesspit, (fn. 81) ten years later polluting the water supply taken by the Grand Junction Water Company from near its mouth in the Thames. The use of such open streams was a problem which constantly worsened with new building, including that north of Hyde Park. The Westbourne still essentially a followed its natural route, but as new housing on the Grosvenor and Lowndes estates on Chelsea's eastern border demanded effective sewerage, the builder Thomas Cubitt in the late 1820s altered the course of the Ranelagh sewer and covered its northern section. In 1846 inhabitants complained about the lower uncovered stretch, running east of Sloane Terrace and towards the Thames. (fn. 82)
Apart from Ranelagh and Counter's Creek, sewerage in Chelsea under the WCS was only partial. Most sewers, discharging into the Thames, ran north-south. (fn. 83) Manorial courts had some jurisdiction, with presentments for failure to clear ditches in 1543 (fn. 84) and in the late 17th and early 18th centuries. (fn. 85) Although the vestry sometimes concerned itself with sewerage many sewers were provided privately and piecemeal. In 1778 the building of Hans Town necessitated arrangements for drainage, achieved by intersection of a new sewer with the Ranelagh sewer; (fn. 86) in 1807 a common sewer ran along Sloane Street. (fn. 87) In 1782 standing water around the workhouse made it unpleasant in warm weather. In 1785 the ditch which received its foul water was to be replaced by a cesspool. (fn. 88) Drains and cesspools were constructed by inhabitants or proprietors at Turk's Row in 1794, Queen's Elm in 1799, and Riley Street in 1800. (fn. 89) The vestry was often reluctant to meet the expense, as in 1819 when the construction of a sewer draining the workhouse was deferred. Before 1822 the trustees of the burial ground and of the new church built sewers to the Thames, which also served the workhouse. (fn. 90) In 1824, however, the vestry resolved to drain roads on Chelsea common, and the following year proprietors could pay for their houses to be drained into the new sewer. Its construction necessitated 2,000 feet of new road at parish expense and 2,500 feet at the expense of the commissioners: it was presumably that sewer which benefited many inhabitants in 1826. (fn. 91) In 1840 the vestry considered helping landlords in the Keppel Street (now Sloane Avenue) neighbourhood to improve its poor drainage, although a minority opposed application of public funds to the improvement of private property. Provision of sewerage had to attempt to keep up with building. In 1841 the WCS ordered that no new streets be taken under parochial management unless proper sewerage was made, preferably when the roads were built, seeking to minimize public expense by placing responsibility upon builders. (fn. 92) Under Chelsea's Improvement Act (1845) its commissioners could construct sewers, while not interfering with the WCS's activities, (fn. 93) and addressed complaints about drainage. (fn. 94)
A single Metropolitan Commission of Sewers (MCS) succeeded the existing sewers commissions including Westminster in 1847. It lacked the power to re-plan London's main drainage, (fn. 95) but built some sewers in Chelsea between 1852 and 1855. (fn. 96) The inhabitants' wish in 1854 that the MCS cover the open portion of Ranelagh south of Sloane Square, given the cholera and fever in the poor neighbourhoods adjacent, (fn. 97) was fulfilled; (fn. 98) a new covered Counter's Creek sewer was also formed. (fn. 99) In 1855 the MBW succeeded the MCS, and it transformed metropolitan sewerage by building intercepting sewers to divert sewage away from the Thames to outfalls outside London. Its northern low-level sewer, the last section to be built, was housed in Chelsea Embankment (constructed 1871-4). Before its completion west London's sewage was discharged into the Thames via Counter's Creek, but the temporary pumping station near Cremorne in Chelsea, built c. 1864, was superseded by Grosvenor Road pumping station (St George Hanover Sq.) of 1875; (fn. 100) in 1877 the MBW conveyed the Cremorne site to Chelsea vestry as a wharf. (fn. 101) The MBW's failure to provide storm outlets was criticized, (fn. 102) and a storm relief sewer, for the existing Ranelagh main sewer, was added in 1883-5 and crossed the District underground railway at Sloane Square, (fn. 103) where the aqueduct above the platforms (fn. 104) survived in 2001. In 1896-7 inhabitants blamed effluvia in Cheyne Walk on the low-level sewer, described in 1891 as taxed beyond capacity by west London's increasing population. (fn. 105) The LCC, which succeeded the MBW, made alterations to London's main drainage, including building Lots Road pumping station in 1904 to prevent flooding when the Counter's Creek and low-level sewers could not discharge storm water into the Thames at high tide. The one-storey engine house, of red brick with terracotta dressings, has a symmetrical nine-bay façade with arched windows; (fn. 106) Station House adjacent, with similar features, is presumably contemporary. The pumping station passed from the LCC to the GLC. (fn. 107) It was used by Thames Water Utilities in 2000.
Under the Metropolis Local Management Act, 1855, (fn. 108) which transferred the main sewers to the MBW, responsibility for other sewers reverted to the vestry. In 1857 Chelsea had over 25 miles of covered sewer and 883 yards uncovered. Over a mile of streets were unsewered. Its drainage was said to be generally effective, many new sewers having been built in recent years. (fn. 109) Between 1856 and 1872 the vestry financed construction of over 2½ miles of sewers, in addition to almost 3½ miles made by other authorities. 'Very imperfect' cesspool drainage prevailing in 1856 was rare by 1872. (fn. 110)
MEDICAL SERVICES
Parish-based Provision to 1870
Payments were made by the parish for the pest house in 1666-7, and to Mr Edwin, surgeon, in 1669-70. (fn. 111) An apothecary and a physician for the workhouse were appointed in 1735. (fn. 112) Poor in the workhouse were attended in 1743-4 by half a dozen medical men, including Alexander Reid, whose medical practice included c.1764 two houses in Danvers Street for inoculating against smallpox; (fn. 113) his son Thomas Ranby Reid was appointed surgeon in his place at his death in 1789. (fn. 114) In 1766 the apothecaries resident in the parish were to work by rotation and receive six guineas quarterly. (fn. 115) In 1796 the apothecary, to be appointed for no more than two quarters, was to receive ten guineas quarterly for attendance at the workhouse at least three times weekly and on the sick poor. By 1806 two apothecaries, one for the old part of the town, the other for Hans Town, were each to receive 30 guineas annually and attend the workhouse in alternate months. Appointments were to be by six-month rotation. The surgeon's salary was increased from £20 to 30 guineas to reflect his increased duties. (fn. 116) For the same reason, in 1810 the apothecaries' and surgeon's salaries were again increased, in 1817 rising to 150 and 80 guineas respectively. Regulations were adopted concerning treatment of the sick poor. In 1819, after the death of T.R. Reid, the apothecaries' and surgeon's duties were united: two medical men were to be appointed half-yearly respectively from the west and east of the parish, with a reduced salary of 200 guineas. A procedure for complaints against them was instituted. (fn. 117) Before 1822 many parochial paupers were sent to the Chelsea dispensary. (fn. 118) At that date an attendant was appointed exclusively for the sick poor, but some householders criticized the appointment by the parochial committee without vestry approval and questioned the financial necessity and efficacy of the change. The vestry increased his salary to £200 in 1823, his labours having been underestimated, and to £210 in 1824, when he was named as Mr Gaskell. By 1828 it had increased by stages to £300. (fn. 119) By 1829 over 2,800 patients a year were attended. There were also nurses for sick paupers; payments were made to midwives. (fn. 120) In 1832 some inhabitants censured the committee's failure to prevent Gaskell engaging in private practice, said to have seriously affected the sick poor, and alleged that medical aid was restricted, even during the cholera outbreak; their opponents contrasted his satisfactory attendance with the previous system. The 270 paupers on the medical attendant's list in 1822 had almost doubled by 1832. (fn. 121) In 1833 four surgeons were proposed, each with a salary of £40, to attend the poorhouse daily by quarterly rotation; a dispenser, prohibited from private practice, was to have £40 and accommodation in the poorhouse. The midwives would attend as usual. Two medical and surgical attendants for the eastern division of the parish and two for the western were accordingly appointed. In 1834 the dispensary was abolished and the surgeons were to supply medicines and received an increased annual allowance of £280. Two men were appointed for the eastern districts (their salaries £50 annually), two for the western districts, and one for the workhouse (their salaries £60). An honorary physician was appointed for consultation in difficult cases. In 1835, when five medical attendants were again appointed, their duties were efficiently attended to. Their appointment in vestry was not recorded after 1837, (fn. 122) when Chelsea was included in Kensington poor law union, (fn. 123) but from 1840 three medical officers are documented. (fn. 124) In 1844 the sole medical practitioner at the workhouse complained of overwork. (fn. 125) Under the Metropolis Management Act, 1855, the vestry appointed a medical officer from 1856. (fn. 126)
Because of overcrowding at the workhouse, the vestry, fearing epidemics, resolved on a new building in 1778. Two women acted as nurses in its infirmary and another to the lying-in room in 1783. There was an insane ward. In 1788 the bad state of the infirmary necessitated new accommodation for the infirm poor, which was erected on garden ground near by. (fn. 127) An addition to the workhouse of 1792 included two rooms for insane men, and that of 1797 had accommodation for infirm women. (fn. 128) In 1807 the infirmary of 1788 was extended at either end, and a storey added. (fn. 129) In 1822 a committee warned of the danger of having no separate accommodation. Plans to enlarge the workhouse included a detached infirmary. (fn. 130) The 1822 extension included five rooms for insane women, and the new building of 1827 housed male and female sick and infirm, with a dispensary, to which application was by ticket. (fn. 131) In 1832 the workhouse housed c.150 sick and infirm paupers. (fn. 132)
In 1816 expenditure was recorded on lunatics, (fn. 133) evidently sent away, but by 1822 six people held at parish expense in a private asylum at Bethnal Green had been moved to the workhouse to reduce expense, although some parishioners still believed specialist care to be more effective. There were still lunatics at the workhouse in 1829. (fn. 134) In 1832 a parochial board of health sought to acquire or erect a cholera hospital or house of observation, but the vestry suggested using part of the workhouse recently vacated by lunatic paupers. (fn. 135) Expenditure of the parochial committee in the 1830s included the support of lunatics, payment to the asylum at Hanwell being mentioned, (fn. 136) and continued in 1838-9. Controversy over inclusion in Kensington union involved in 1839 the poor law commission's claim that Chelsea workhouse did not permit classification of paupers, including the sick and especially the infectious. The vestry counter-claimed that before the union there were separate wards for the aged, the sick, and imbeciles, of each sex. (fn. 137) In 1866 there was no detached infirmary and the sick, but not the aged and infirm, were mostly in dedicated wards. Fever, smallpox, and venereal cases were generally excluded; there were a few imbeciles distributed through the workhouse. About 140 inmates were on the books of the medical officer, some purely for dietary reasons. There were two paid nurses, besides pauper nurses. (fn. 138)
Chelsea Infirmary
A separate-site infirmary known as Chelsea infirmary or, increasingly, St Luke's was built north of Britten Street opposite the workhouse. The first block, by John Giles & Gough, was begun in 1872; to the south was an out-patients' department and dispensary. Another ward block was added in 1885 on Gale Street, by A. & C. Harston, and staff accommodation at the corner of Cale and Sydney streets by Lansdell & Harrison, in 1896. Extensions eastward from the original block towards Sydney Street, apparently of 1921, housed a reception block and additional accommodation. There was also accommodation for sick and infirm inmates in the workhouse. Both were taken over by the LCC in 1930. (fn. 139) In 1938 St Luke's hospital had 308 general medical and surgical beds and 82 special beds, including 60 for pulmonary tuberculosis; by 1945 only 230 beds were in use owing to bomb damage. (fn. 140) It became part of the NHS in 1948, (fn. 141) and 264 beds catered for the chronic sick in 1959. In 1971 it had 202 geriatric beds. (fn. 142) The hospital closed in the 1970s and was largely demolished, (fn. 143) although the dispensary of 1873 (fn. 144) on Britten Street survived in 2000. The site was taken over by the Royal Brompton. (fn. 145)
St Stephen's Hospital
The workhouse of St George's Union in Fulham Road, which included a large brick infirmary of 1876-8 and later additions, served only the poor of St George's union, and from 1913 of the City of Westminster union, until 1930; it was known as St Stephen's from 1924. It passed to the LCC in 1930 as a municipal hospital with 788 beds in 1931, and to the NHS in 1948. (fn. 146) In 1952 operating theatres replaced one of two Victorian ward blocks damaged by bombing. Workhouse buildings made way in 1965 for a three-storeyed out-patient department designed by Richard Mellor, and a new ward block was completed in 1971. (fn. 147) St Stephen's closed in 1989 and was demolished: four other hospitals - Westminster; Westminster Children's; West London, Hammersmith; and St Mary Abbot's, Kensington - were united on its site as the Chelsea and Westminster hospital, opened in 1993. Designed by Sheppard Robson the hospital was arranged around a large atrium the height of the building; the 580-bed district general and teaching hospital primarily served the City of Westminster, southern parts of RBKC, Hammersmith, Fulham, and northern Wandsworth. Until 1994 the hospital was run with Charing Cross, but the two were separated and Chelsea and Westminster Healthcare NHS Trust was formed. (fn. 148) The adjoining Kobler Centre, opened in 1988 for the treatment of AIDS and later named St Stephen's Centre, was the only part of St Stephen's buildings to survive. (fn. 149)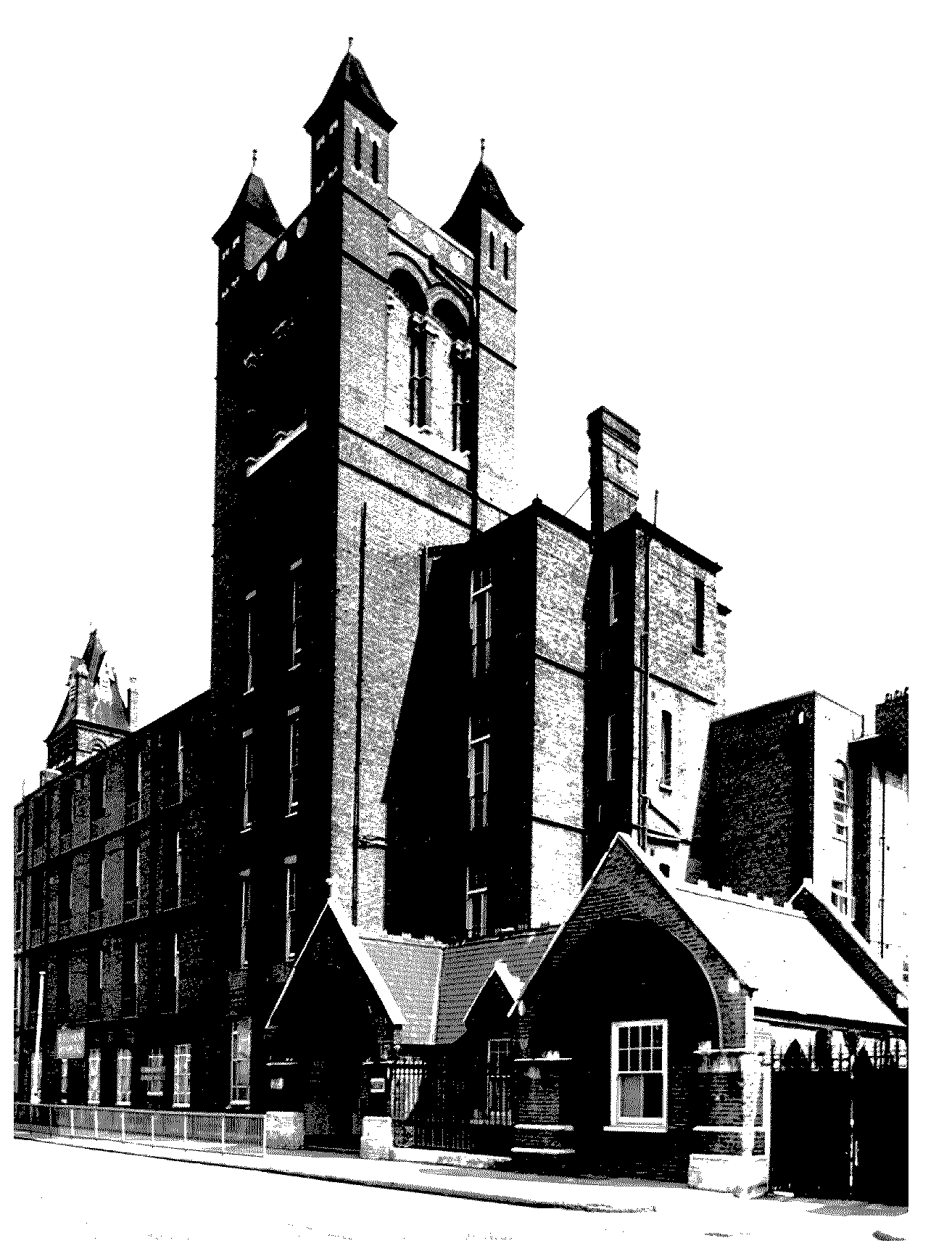 Other Local Medical Services
Medical services aside from hospitals included the Chelsea, Brompton, and Belgrave dispensary established on the south side of Sloane Square in 1812 to give medical and surgical aid to the poor, and assistance at lying-in; doctors served gratuitously. Supported by subscriptions and donations, the dispensary operated on a ticket system, although in 1832 cholera suspects were attended without a ticket. In 1848 visiting limits were extended beyond Church (later Old Church) Street, to include the whole parish. The earliest annual average of patients, fewer than 1,200, increased to over 6,000 by 1860, (fn. 150) and attendances exceeded 17,000 by 1892. (fn. 151) The Sloane Square premises, demolished in 1902, were replaced in 1903 by new premises at no. 1 Manor (later Chelsea Manor) Street. (fn. 152) Still voluntarily supported, the dispensary treated its members, not all from Chelsea, and those too poor to subscribe. (fn. 153) However, after standing empty for a time, (fn. 154) the premises were transferred in 1913 to the Tuberculosis (or Tuberculin) Dispensary League, for use primarily by Chelsea inhabitants. The dispensary, for early diagnosis and tuberculin treatment, reopened in 1914 and was still there in 1920, (fn. 155) but had closed by 1927. (fn. 156)
St George's Home, Milman's Street, formerly a receiving home for children, (fn. 157) was used from 1914 by the Metropolitan Asylums Board as a tuberculosis sanatorium for women. (fn. 158) It was transferred to the LCC in 1930 with 50 beds, (fn. 159) and became part of the NHS in 1948. (fn. 160) The LCC bought it back in 1956 for use as a hostel. It was demolished in the 1980s and replaced by housing by 1989. (fn. 161)
Chelsea Health Society was founded in 1911 to promote maternity and infant welfare and was supported by Chelsea MB from 1916. It was housed at no. 1a Manor (later Chelsea Manor) Street from 1922. New premises were opened in 1931 on a site given by Lord Melchett, the chairwoman's husband: the Violet Melchett Infant Welfare Centre housed the Society's clinics and offices, a Mothercraft Training Home, and Chelsea Day Nursery, established in 1915. The Centre, of brick with stone dressings by Buckland & Haywood, stretched between Flood and Chelsea Manor streets. From 1948 the Violet Melchett Centre was aided by the LCC, but was transferred from voluntary control to the RBKC in 1967. The clinic passed to the NHS in 1974, (fn. 162) and remained in use in 2000.
From 1927 the Chelsea Babies' Club at no. 35 Danvers Street offered, by subscription, to 'professional' parents the information provided by welfare centres to the working class. (fn. 163) It still operated in 1964 but had closed by 1970. (fn. 164)
Private and Specialist Medical Provision
Private medical provision existed by the mid 18th century, principally through the work of apothecaries and lunatic asylums. Around 1764 Alexander Reid and his partner Mr Peake, surgeons, administered smallpox inoculations at premises in Danvers Street. (fn. 165) No. 6 Cheyne Walk was occupied from 1765 by the notorious physician Dr Bartholomew Dominiceti, whose extensions to the rear housed medicinal baths for ladies and gentlemen. He became bankrupt in 1782 and left the parish. (fn. 166)
Michael Duffield maintained two private lunatic asylums at Little Chelsea, one of which in Chelsea parish occupied the mansion built by William Mart in Fulham Road; it was later demolished and replaced by Odell's Place. (fn. 167) One treated the critic Montague Bacon before his death in 1749. Alexander Cruden, author of a biblical concordance, complained of barbarous treatment by Duffield's nephew Peter Inskip in 1753. (fn. 168) An investigation of 1763 into detainments in madhouses examined a case at Turlington's house in Chelsea. (fn. 169) Benjamin Faulkner had a madhouse at Little Chelsea in 1789, uniquely run as a free house where the proprietor provided board, lodging, and attendants but patients saw their own physicians. The commentator on insanity G.M. Burrows kept a small madhouse in Chelsea between 1816 and 1823. (fn. 170) In 1830-1 the asylums in Chelsea were the Retreat in King's Road, licensed for 24 females; Blacklands House, for 30 males; and Hollywood House, (fn. 171) for 20 inmates; none housed paupers. (fn. 172) The Retreat, or Manor Cottage, was between Bramerton Street and Church Street. (fn. 173) Elm House asylum at Queen's Elm catered for ladies suffering milder forms of mental disease. (fn. 174) Chelsea's two private lunatic asylums in 1841 were presumably Elm House and Blacklands House, north of King's Road, named in 1861. Blacklands had 15 male inmates in 1871 and another asylum, presumably Elm House, housed 7 females. Only Blacklands was listed in 1881; (fn. 175) it was demolished in 1890, the asylum having removed to Tooting (Surrey). (fn. 176)
Several specialist hospitals in Chelsea served a wider population.
Royal Brompton. The Hospital for Consumption and Diseases of the Chest (the Brompton hospital) was started by Philip Rose, a Chelsea solicitor, in 1841 for tubercular patients usually excluded from general hospitals as incurable. In 1842 an out-patients' department opened in Westminster and an in-patients' at Manor House in Smith Street, Chelsea. (fn. 177) Admittance was by governor's or subscriber's recommendation, and patients came from London and beyond. A scheme to enlarge Manor House was superseded by the construction 1844-54 of a hospital north of Fulham Road (Kens.). From 1868 the hospital acquired houses, some of which were used for in-patients, south of Fulham Road in Chelsea, connected to the main building by a subway of 1872. These were replaced 1879-82 by the South Block, for out-patients and male in-patients, designed by T.H. Wyatt and completed by his son Matthew. The block, in Queen Anne style with a red-brick and terracotta façade, fronted Fulham Road with its wings extending behind, and added 137 beds to give the hospital over 300. A detached nurses' home of 1898-9 by E.T. Hall in South Parade had a long Free Renaissance front of red brick and stone. Saxon Snell & Phillips extended the South Block westward in matching style and added a floor in the roof of the nurses' home in 1935. In 1948 under the NHS the Brompton was united with the London Chest hospital (Bethnal Green) under one board of governors as a teaching hospital. Further alterations to the South Block by Saxon Snell & Phillips and finished by Adams, Holden, & Pearson, were completed in 1967. (fn. 178)
A plan of 1961 for several specialist hospitals on the site of St Luke's and Chelsea Women's hospital proved abortive (fn. 179) and after years of debate (fn. 180) the Brompton took over the site of St Luke's. St Wilfrid's convent in Cale Street was converted into a research centre in 1985, and a building by Watkins Gray International on the St Luke's site for the Brompton hospital and the National Heart hospital (Marylebone) opened in 1991, for treatment of and research into heart and lung disease. (fn. 181) The hospital became the Royal Brompton in 1991; (fn. 182) the Royal Brompton NHS Trust was formed in 1994, with 290 beds, and in 1998 merged with Harefield hospital (Uxbridge) to create the Royal Brompton and Harefield NHS Trust. (fn. 183) By 1999 the block north of Fulham Road had been converted to residential use, but the hospital retained the South Block, and had taken over the adjacent former fire station on South Parade by 2000. (fn. 184) After the construction of the Fulham Road hospital the Brompton's Manor House premises accommodated patients awaiting admission or convalescing; (fn. 185) in use in 1881 but not in 1891, (fn. 186) the site was built over before 1894. (fn. 187)
Free Cancer Hospital. The Free Cancer hospital, founded in 1851 by Dr William Marsden to treat poor sufferers with no admission ticket requirement and to encourage research, opened as a dispensary in Westminster and from 1852 accommodated in-patients at Hollywood House (or Lodge) north of Fulham Road (Kens.). Plans to extend that building were abandoned and a new hospital was built in Chelsea south of Fulham Road 1859-60, designed by David Mocatta of John Young & Sons. It opened in 1862, with wings apparently added 1881-3. It formed the nucleus of the enlarged hospital, by Alexander Graham in 1885, the new façade of red brick with stone mixing Jacobethan and Baroque elements. Further additions included the chapel (1889), (fn. 188) nurses' home (1904, demolished after 1951), southwards extension of the east wing (1911), radio-therapeutic department to the south-west (1912, enlarged 1914 and again subsequently), and pay wing on the west side (Granard House, 1932). A full third storey was added and the service towers modified by T.A. Pole c. 1930; the neo-Georgian wing to the south dated from a similar period. The Cancer Research Institute, founded in 1909, and its original premises opened in 1911, transferred in 1939 as the Chester Beatty Institute (later the Institute of Cancer Research) to the former women's hospital, later Freemasons' hospital, (fn. 189) on the south side of Fulham Road, which had been remodelled in 1938-9 by Henry Tanner in red brick and stone, retaining the six storeys but leaving little trace of the Renaissance-style façades. A further building to the east for the Institute replaced older buildings (some belonging to the Brompton Hospital) and was completed in 1999. Often known as the Cancer Hospital (Free), the hospital became the Royal Cancer hospital in 1936 and the Royal Marsden in 1954. (fn. 190) There were 100 beds in 1892 (fn. 191) and 156 (including 29 private) in 1938, when patients came from London and beyond. (fn. 192) The neighbouring Oratory school was adapted for non-patient purposes in the 1970s; (fn. 193) the Wallace wing on the west side of the site was perhaps a little earlier. A new hospital block to the rear was added by the George Trew Dunn Partnership 1990-2. (fn. 194) With its Sutton (Surrey) branch, the Royal Marsden was a teaching hospital under the NHS. (fn. 195) The Royal Marsden NHS Trust succeeded its Special Health Authority in 1994. (fn. 196)
Victoria Hospital. The Victoria Hospital for Sick Children was opened in Gough House at the junction of Tite Street and Royal Hospital Road in 1866, initially for out-patients but six in-patient beds opened in 1867, increased to 32 in 1868. Patients came mostly from Chelsea, but also from London and beyond; admission, for a wide range of complaints, was by letter. The hospital also had convalescent homes in Kent: at Margate from 1876 and at Broadstairs from 1891. Gough House, a seven-bay house of c.1707 in grounds overlooking the Thames, (fn. 197) was considerably altered 1875-6 by extensions and internal re-arrangement, and a single-storeyed isolation block was probably built then, certainly before 1879. A further block to the south by H. Saxon Snell & Sons, 1885-6, included an out-patients' department and accommodation for nurses, who previously had lived in nearby houses; a covered way connected the two buildings by 1893. The hospital absorbed St Gabriel's Hospital for Infants, Westminster (founded 1885), in 1890. An in-patients' block north of Gough House was opened in 1904, and alterations to Gough House itself, with another storey added and an entrance made in Tite Street, were complete by 1905, by which time there were over 100 beds. No. 29 Tite Street was converted for hospital use in 1922, increasing the number of beds to 138 and including a physiotherapy department. (fn. 198) Under the NHS Act the hospital became part of St George's Hospital Group. (fn. 199) The difficulty of modernizing Tite Street led to the transfer of its activities to St George's Tooting (Surrey) site, (fn. 200) and the hospital closed in 1964. (fn. 201) It was demolished in 1966 and the site sold to St Wilfrid's convent, so that the latter's Cale Street premises could be used for hospital development. (fn. 202)
Chelsea Hospital for Women. The Chelsea Hospital for Women, established by doctors Thomas Chambers and James Aveling in 1871, initially had eight beds in a house at no. 178 King's Road, and catered for gentlewomen in reduced circumstances, respectable poor women, and others. Patients paid a weekly fee, except the poorest supported by a subscriber's letter. In 1875 the hospital had 70 inpatients during the year and 3,235 outpatients, and the need to extend was hindered by lack of room in the neighbourhood. (fn. 203) Applications for admission exceeded capacity fivefold and a small hospital was built 1880-3 on a plot on the south side of Fulham Road beside the Jewish cemetery. Designed by J.T. Smith, it was faced in red brick with stone dressings and exuberant decorative elements, and provided 63 beds. It was the first hospital in London built especially for diseases specific to women, and it had a free ward and a Samaritan fund. (fn. 204) A convalescent home at St Leonards (Sussex) was completed in 1891. An appeal began in 1891 to build a larger hospital, led by Earl Cadogan: the hospital was at that time relieving 500 inpatients and 12,000 outpatients annually. (fn. 205) Improvements were made to the existing hospital including an enlarged operating theatre in 1899. (fn. 206) In 1911 Earl Cadogan offered a 1¼-acre site in Arthur (later Dovehouse) Street for a larger hospital, which was opened in 1916. (fn. 207) After the women's hospital left, the Fulham Road premises were used for the Freemasons' war hospital and masonic nursing home, (fn. 208) which continued after the war with 48 private beds in 1931, but was taken over in 1938 by the Chester Beatty Cancer Research Institute. (fn. 209)
The new women's hospital, at the south-eastern corner of Dovehouse and Cale streets, was designed by Keith D. Young, 1914-16, with a long front of red brick with stone dressings in a plain neo-Wren style. Unusually for its date, sanitary facilities were incorporated in the main building, not in annexes. The hospital provided 95 beds, of which 18 in 1925 were private. A small pathological block to the rear was later demolished. A nurses' home to the south, by Greenaway & Newberry after a competition, was completed in 1924, and in 1924-5 the hospital treated 823 inpatients and 2,199 outpatients. The wards were extended in 1933, and further extensions made in 1938-9 to the hospital, increasing the accommodation to 126, and nurses' home. (fn. 210) By 1945 more than half the patients were from outside London. (fn. 211) Under the NHS Act the Chelsea Hospital for Women shared a board of governors with Queen Charlotte's maternity hospital (Hammersmith) as a teaching hospital. (fn. 212) After the Second World War the hospital had a fertility clinic, treating women from all over London and elsewhere. (fn. 213) Two new wings, for research, opened in 1953. (fn. 214) The hospital had 84 beds in 1976. (fn. 215) In 1988 all the hospital's functions were transferred to the Queen Charlotte's site, (fn. 216) and in 1991 the Dovehouse Street building had been taken over by the Royal Brompton, (fn. 217) which in 2000 also occupied the nurses' home.
Cheyne Hospital. The Cheyne Hospital for Sick and Incurable Children (known from c. 1922 as the Cheyne Hospital for Children) (fn. 218) was founded in 1875 by Mr and Mrs Wickham Flower at no. 46 Cheyne Walk, expanding into no. 47, also owned by the Flowers, in 1876. Its patients, excluded from general hospitals, suffered chronic or incurable disease such as spinal and hip disorders, but sufferers from cancer, epilepsy, or mental derangement were not admitted; preference was given to subscribers' nominees. Parents were supposed to make a weekly contribution but from 1878 some endowed cots were free. There were 33 beds, but increasing demand led to the acquisition of nos 59-61 Cheyne Walk, part of a late 17th-century row of 5 houses called Prospect Place, which were demolished to make way for a six-bay hospital with 50 beds, of red and yellow brick in Queen Anne style by Beazley & Burrows, 1888-9. The remaining two houses of Prospect Place, nos 62-3 Cheyne Walk, were also acquired by the hospital in 1898 and 1900 and no. 62 served as a nurses' home. A convalescent home at St Nicholas at Wade (Kent) opened in 1910. The Cheyne hospital's pitched roof and part of the gable over the three centre bays were removed c. 1925 to provide a roof terrace for the treatment of rickets. The hospital, which treated inpatients only, had 67 beds in 1931. A three-storeyed nurses' home to the rear opened in 1939. The hospital was evacuated during the Second World War, and a day nursery was opened in the premises in 1944, impeding the return of the children's hospital, which found alternative accommodation at the Children's Hospital for the Treatment of Hip Diseases at Sevenoaks (Kent) in 1947, becoming part of the NHS in 1948. The day nursery continued in part of the Chelsea premises, but in 1955 the Cheyne Centre for Spastic Children was also opened in the building. A charitable creation, this was administered by the No. 4 (Chelsea) Group Hospital Management Committee although patients came from all over the south of England: its clinic and day nursery offered specialist treatment and research into cerebral palsy. (fn. 219) The Centre operated at Cheyne Walk until 1993, (fn. 220) but subsequently, as the Cheyne Child Development Service, it was housed by the Chelsea and Westminster hospital. (fn. 221) The Cheyne Walk building was sold in 1996 and altered into residential accommodation, (fn. 222) the façade surviving relatively unchanged.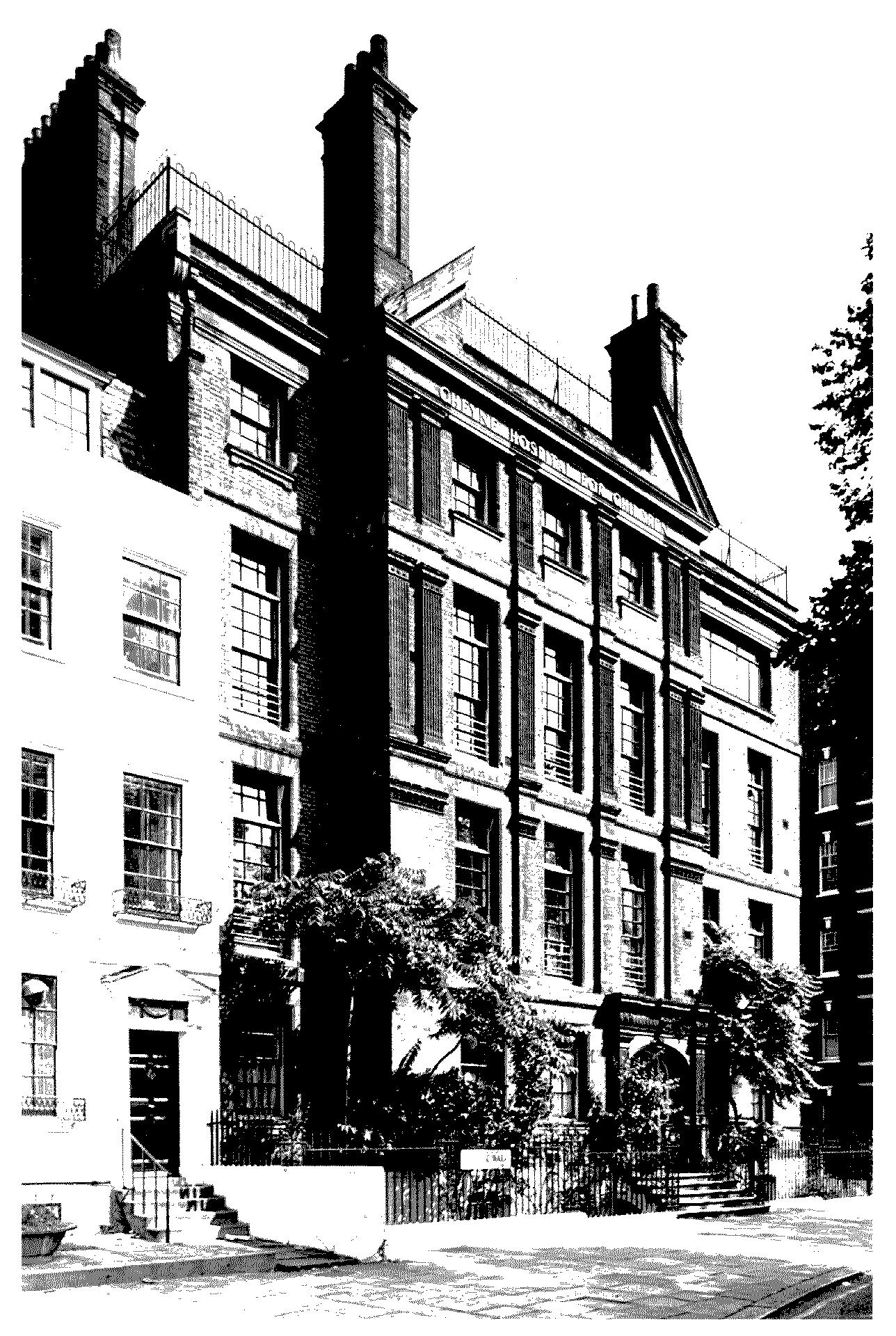 Ormond Maternity Home. St John's House, a religious community (but not one whose members took vows) which trained nurses, opened a maternity home at Cheyne Walk in 1877, listed at nearby Ashburnham Road in 1878. In 1880-1 St John's House purchased nos 38 and 40 Cheyne Walk. Its home had 11 patients in 1881. Dissension led to the formation of a new community in 1883, when the old community left Cheyne Walk for Battersea. The new Nursing Sisters of St John the Divine held nos 42, 44, and 46 Gunter Grove from 1883. This lying-in house had 12 beds in 1892; admission was free. The sisters left before 1901. (fn. 223) In 1937 the Ormond Maternity Home in Blantyre Street trained midwives and served in- and out-patients. (fn. 224)
BURIAL GROUNDS
Because of the small size of the churchyard, the vestry considered acquiring a new burial ground from at least 1726. In 1733 Sir Hans Sloane gave a site on the north side of King's Road adjoining the workhouse, consecrated in 1736. (fn. 225) In 1782 the vestry imposed fees to prevent so many strangers being buried in the parish. To prevent robberies in the 'exposed' ground, iron rails were to replace some of the wall in 1785, to give workhouse inmates a full view. With the increasing population, part of the workhouse garden adjoining the burial ground to the east was acquired from the owners of the manor and in use from 1790. (fn. 226) Although the vestry considered the burial ground sufficiently securely fenced not to lend its support in 1794 to a proposed Act for punishing grave robbers, (fn. 227) in 1799 bodies had 'frequently been stolen' and alterations to the walls were again ordered. (fn. 228) In 1797 the workhouse committee room was considered sufficient accommodation for the clergyman at the burial ground, (fn. 229) presumably for reading the funeral service. In 1807 the vestry considered adding more of the workhouse garden to the burial ground, but decided against it partly because of its limited size; the matter was then shelved because the erection of a new church with a burial ground was under consideration, and meanwhile the sexton was ordered to dig the graves as deep as possible. (fn. 230)
By 1810 both the churchyard and the burial ground were 'so full as to render decent interment no longer practicable' because of the growth in population, and an Act of 1810 appointed trustees to acquire and enclose an additional ground. (fn. 231) Four acres, rather than the three originally proposed, were acquired to meet the population growth, the rate of building being such that no central site would otherwise be available. The land, mostly acquired from the manorial estate, lay east of Robert (later Sydney) Street, then being laid out for building across former garden ground. It was enclosed and a small chapel for funeral services, designed by the trustees' surveyor Joseph Salway, was erected on the north side; it had Gothic doors, leaded windows, and a turret. The ground was consecrated in 1812, and burials began in 1813. Under an Act of 1819 a central plot, reserved when the burial ground was laid out, formed the site for St Luke's church, built 1820-4, dividing the burial ground into north and south sections; one huge grave in the north-eastern portion housed those buried at parish expense. (fn. 232) The funeral chapel was taken down in 1825. There were some problems and irregularities, and in 1832 Sunday afternoon funerals were discontinued to prevent disorderly persons making the grounds a place of resort. (fn. 233) The number of burials to c. 1832, over 600 annually, reflected the rapidly increasing population, although many belonged to adjoining parishes. The only people interred in the King's Road ground after 1812 already had relatives buried there. (fn. 234) In 1834 it was reported that the sexton's duties had for years been disgracefully executed, with mourners and clergymen sometimes detained until a grave could be dug. Frauds were perpetrated in charging for depths not dug, and ground was wasted by digging new graves instead of filling old ones; some treatment of the dead was 'too revolting' to be described. In 1835 most of the sexton's fees were transferred to the churchwardens, towards liquidating the debt on the burial ground. In 1838 an allegation that paupers' bodies from Kensington union dissected in anatomical schools did not receive Christian burial was denied. (fn. 235) Interments in the burial ground rose from 694 in 1846 to 1,156 in 1849, with 847 in 1852. Following legislation of 1852, burials were to cease in 1854 in the church vaults and, reserving existing rights, in the old and new churchyards and at King's Road. The vestry unsuccessfully countered that the burial ground, which had cost some £6,800 to purchase and lay out, had a further capacity of 30 years or more and posed no danger to public health, even during the cholera outbreak of 1849. In 1854 the vestry considered providing a new ground, but no scheme was endorsed. (fn. 236) In 1857 burials were wholly prohibited in the old churchyard and King's Road burial ground, and (excepting vaults and graves existing before 1852) in St Luke's churchyard. (fn. 237) Brompton cemetery (Kens.) was later used by the guardians for the parish poor, (fn. 238) and inhabitants of Chelsea were buried in Hanwell and Gunnersbury (Baling) cemeteries. (fn. 239)
Chelsea also contained burial grounds reserved for particular groups. The Royal Hospital's burial ground, just north-east of the Hospital buildings, was first used in 1692; it closed in 1855 under the 1852 Act, and the Hospital used a plot in Brompton cemetery until 1893, when it began using Brookwood cemetery (Woking, Surrey). (fn. 240) A burial ground for the Moravian church was opened on the stableyard of the demolished Beaufort House near the junction of Milman's Street with King's Road in 1751. (fn. 241) A cemetery in Cadogan Street belonging to the Roman Catholic chapel of 1812 was replaced by a mortuary chapel of 1845 which was incorporated in the church of 1877-8. (fn. 242) Known as All Souls' cemetery, burials were restricted from 1853 and were completely discontinued in 1858. (fn. 243) The Jews' burial ground near Queen's Elm in Fulham Road, purchased for the Westminster Synagogue in 1815, (fn. 244) was opened for subscribers in 1816. A small building at the entrance received corpses and housed the keeper, (fn. 245) but was demolished in the late 19th century. (fn. 246) The ground was closed in 1884, (fn. 247) and shops were built on the western side by 1895. (fn. 248) The ground was improved by the Metropolitan Public Gardens Association in 1898. (fn. 249)
STREET LIGHTING, GAS, AND ELECTRICITY
The Royal Hospital had its own lamplighter from 1691, and wrought-iron lamp standards of that period survive in the East and West Courts. By the early 19th century it had nearly 200 external oil lamps. Gas was laid on in 1823. (fn. 250) In the early 18th century patrols from the Royal Hospital on the dangerous roads from Chelsea carried lanterns on long poles. (fn. 251)
In 1752 three lamps by the churchyard were to be lit from Michaelmas to Lady Day to prevent accidents on the road and footway. (fn. 252) In 1771 the inhabitants reportedly hoped for an Act to have their streets lit, (fn. 253) but none was passed. (fn. 254) A committee was to negotiate with the commissioners of the turnpike roads about extra lighting and watching in 1790; the parishioners resolved to make no extra payment for lighting in 1794. (fn. 255) Ad hoc provision was made for different parts of the parish. In 1799 four lamp irons were to be erected at the King's Road burial ground, (fn. 256) but in the early 19th century King's Road itself was poorly lit by a few oil lamps. (fn. 257) Lamps were fixed along one side of Battersea Bridge in 1799. (fn. 258) From 1806 the Kensington turnpike trust lit Fulham Road as far west as Little Chelsea; in 1815 lamps were added westwards to the parish boundary. (fn. 259) The vestry did not wish to be incorporated in a Bill concerning watching and lighting in 1812, and similarly opposed a proposed Local Act in 1816. (fn. 260) Though a committee in 1822 recommended discontinuing the surveyors' expenditure on lamps in various parts, made for some years, considering it a 'very partial measure', the vestry resolved to continue. (fn. 261) The new burial ground had its own lighting, (fn. 262) and in 1822 the churchwardens were to light its lamps for half the year.
From 1824 the trustees substituted eight lamps lit by the Imperial Gas Light Company for the 'common lamps' despite the greater cost; two more were added to improve security in 1825. (fn. 263) Gas from Chelsea replaced oil in the Battersea Bridge lamps in 1824. (fn. 264) Apparently supplied by the Imperial, (fn. 265) other parts of the parish had gas street lights in 1825. Provision followed demand: the surveyors erected one in King's Road after complaints of drunks near the Royal Hospital. Innovations were reported in 1827: 30 gas lamps and 23 oil lamps, where gas could not be used, had been erected, over half the expense defrayed by voluntary contributions. However, the surveyors wanted the commissioners of woods, responsible for King's Road, (fn. 266) to light that road. In 1829 the surveyors welcomed the 'systematic plan' of lights being gradually introduced; each year was producing fresh subscribers from streets so far without lamps. (fn. 267) Kensington turnpike trust lit Cheyne Walk as well as Fulham Road. By 1829 the Imperial Gas Company had apparently extended its supply through Chelsea. (fn. 268) However, in 1833 a vestry committee bemoaned the lack of competition: it was forced to accept the company's terms, which included laying down mains where necessary. (fn. 269)
Hans Town, lit not by the vestry but by commissioners under its Act, (fn. 270) fared better than the old part of the parish. Lit with gas for some years before 1829, it presented in the evenings a 'most brilliant appearance'. (fn. 271) In 1834 the London Gas Light Company contracted with the commissioners to lay down mains and supply the streets. (fn. 272)
A committee regretted an increase of six gas lamps in the old part of the parish in 1832, as lighting consumed much of the highway rates, recommending that surveyors fund gas and oil lamps only where needed for public safety. (fn. 273) It was said that such use of the rate was illegal and that lighting the parish outside Hans Town, while undoubtedly necessary, must be by voluntary subscription pending an Act for lighting, (fn. 274) as it was unclear whether existing legislation could be adopted. The vestry wished to ascertain the cost of properly lighting the parish with gas, continuing the present lights meanwhile. (fn. 275) In 1833 it approved a proposal that 150 gas lamps light the old part of the parish, including the streets then unlit, by adding 84 lamps. Some of the parish was still lit by oil. The vestry voted funds to 12 inspectors to execute the provisions of new legislation; (fn. 276) by 1834 they had paid for 114 lamps, and for lighting 188, aiming to light for the whole year and erect additional lamps. Their priority was to light the thoroughfares, especially King's Road, and then the more frequented areas as funds might allow, attributing a decrease in empty houses to the better lighting. Additional lamps supplemented those of the metropolitan roads (fn. 277) at parish expense. A year later more than double the intended number of lamps had been put up, after numerous applications. In 1836 the inspectors had 208 lamps, (fn. 278) a number increased by continuing building. In 1841 the metropolitan roads commissioners, (fn. 279) because of their declining tolls, refused to light the parish's turnpikes, whereupon the Chelsea inspectors took over their 40 lamps. (fn. 280) In 1844, of 291 lamps, 15 were in Hans Town, funded by the inspectors despite being outside their district. The Imperial supplied lamps in the old part of the parish, but Hans Town was lit by a different company, presumably still the London, whose pipes in Chelsea were mentioned in 1845. (fn. 281)
A clause in the Chelsea Improvement Bill permitting commissioners to establish a municipal gas supply was successfully opposed by the Imperial: (fn. 282) the rights of the London and Imperial companies were reserved by the Act of 1845 which, as the powers of the existing inspectors seemed insufficient, empowered the improvement commissioners to light the streets, again excepting Hans Town. (fn. 283) The commissioners continued to add lamps, also lighting Kensal Green for which, as part of Chelsea parish, they were responsible. They regretfully accepted the Imperial's tender, claiming no alternative; its supply was subject to complaints. (fn. 284) The commissioners in 1846 allowed for lighting 342 lamps and for an annual increase in their number. (fn. 285) That year the board agreed to take on the ten lamps on the Lowndes estate in the north-eastern corner of Chelsea previously lit by trustees under an Act of 1826, (fn. 286) and supplied by the London Gas Company, which had 25 lamps in that area in 1847 and also had pipes in western Chelsea in 1846 and 1847. In 1847 the Chelsea commissioners vainly sought tenders from companies other than the Imperial, (fn. 287) and in 1850 the vestry sought a reduction in the high price of gas. No better terms were offered by the Imperial or the London, but the Western Company, which lit the adjoining St George Hanover Square at a lower rate, would supply a company formed by the parishioners. A committee was to consult with the improvement commissioners about erecting a gasworks, but the vestry voted down acquisition of the Lots for this purpose. (fn. 288) By 1854 the improvement commissioners had 474 public lamps for over nineteen miles of roads; the Hans Town commissioners, with four miles, had 174 lamps. (fn. 289)
The Metropolis Management Act, 1855, (fn. 290) restored responsibility for lighting to the vestry. Competition between companies, including that between the London and the Imperial in Chelsea, ended in the 1850s and under a territorial arrangement of 1860 Chelsea was served by the London Company. (fn. 291) The vestry, dissatisfied with the company's service, believed that lack of competition allowed no control over its supplier, but its desire to take over the supply went unfulfilled. (fn. 292) Between 1856 and 1872, 165 street lamps were erected. (fn. 293) In 1875 responsibility for Chelsea Embankment devolved on the vestry, but under an Act of 1876 the MBW undertook to light the river wall, with 65 lamps, and adjoining footway, on which ornamental lamps had also been erected. (fn. 294) The testing places of the Gas Light & Coke Company in 1878 included no. 1 Carlyle Square, still there in 1888. (fn. 295) In 1879 Chelsea's 967 lamps were supplied by the London Gas Company; the Gas Light & Coke Company lit 102 lamps at Kensal New Town. (fn. 296) The London Company was amalgamated in the Gas Light & Coke Company in 1883, (fn. 297) which subsequently supplied the borough. (fn. 298) In 1888 Oscar Wilde complained of imperfect lighting in Tite Street; the vestry thought it as well lit as other parts, which was 'not saying much' according to a local newspaper. (fn. 299)
In 1911 the borough's decision to award the street-lighting contract to a gas company was controversial in not allowing an equal tender by an electricity company. (fn. 300) In the mid 1930s the design of newly erected standards on Chelsea Embankment was criticized. However, the lamp posts of 1874 on the river wall, and elaborate commemorative standards cast at Coalbrookdale, survived. New lamps were also erected by the MB on other main streets. (fn. 301) In 1937 more than 1,560 gas lamps lit its 33 miles of roads. (fn. 302) Battersea Bridge was lit by electricity from 1951. (fn. 303) In the late 1950s the intention to replace standards of Victorian design with lamps lit more cheaply by electricity generated concern for the character of Chelsea's residential streets rather than for where traffic demanded improved lighting, but replacement was in progress in 1960. (fn. 304) By 1986, however, some reproduction lampposts (albeit not identical with those removed) had been erected, partly at the expense of residents. (fn. 305) In 1993 the RBKC was installing the 'Victorian' design in a rolling programme. (fn. 306)
In 1878 a representative sent to Paris to investigate electric lighting advised the vestry to await technical improvements. The distance between gas lamps then varied from 28 yards on the Embankment to 70 yards on King's Road. (fn. 307) In 1882 the experiments of a firm of engineers outside their King's Road premises provided the first display of electric lighting in the parish. (fn. 308) Various companies were subsequently empowered to supply electricity there. The Metropolitan (Brush) Electric Light and Power Company received authorization in 1883, (fn. 309) but nothing more was heard of it. The Chelsea Electricity Supply Company, with premises in Draycott Place, empowered to supply electricity in 1886, (fn. 310) commenced supply in 1889, in competition with the London Electric Supply Corporation, (fn. 311) authorized to supply Chelsea from 1889. (fn. 312) The Cadogan Electric Lighting Company started supplying Chelsea in 1888 but was taken over in 1890 by the New Cadogan and Belgrave Electric Supply Company (with premises at no. 91 Manor Street, later Chelsea Manor Street), permitted to supply electricity from 1891. In 1892 the name was changed to the St Luke Chelsea Electric Lighting Company but in 1893 the company was taken over by the more successful Chelsea Electricity Supply Company, (fn. 313) including the Manor Street site. Premises at no. 19 Cadogan Gardens were added c.1896 and Draycott Place went out of use soon after; the stations were subsequently at Manor Street and Cadogan Gardens, with offices at the latter. In 1896 the company outlined plans for extending supply, including the erection of substations, to meet the demand arising from the affluence of some districts and from rebuilding. A new generating station, designed by Alfred Roberts, was built 1896-1901 in Flood Street, a two-storeyed structure of brick with arched windows, with larger buildings behind. After 1928 electricity generated there was replaced by supply from the power stations of the London Power Company under an Act of 1925, and a 175-ft chimney shaft of 1905 was demolished; the station thereafter only handled current. (fn. 314) The Chelsea company also built a red-brick substation between Carlyle Square and Chelsea Square in 1897, by 1905 occupied by electrical carriage manufacturers and subsequently by motor car works. The building, derelict in 1992, (fn. 315) was demolished before 2000. The Cadogan Gardens building survived in 2001.
The Chelsea Electricity Supply Company served the whole MB, although the London Electricity Supply Corporation was authorized to supply there too. In 1937 the Chelsea company, with several others, was acquired by the Charing Cross Company, subsequently known as Central London Electricity. (fn. 316) At nationalization in 1948 the London Electricity Board (LEB) took over all undertakings in London (fn. 317) and later supplied the borough. (fn. 318) The Flood Street site was still in service in 1979, but only as a substation. (fn. 319) The Victorian buildings were demolished before 1992 (fn. 320) and were replaced by housing by 2000, but later structures on Alpha Place and Chelsea Manor Street, presumably erected by the LEB, survived. London Electricity plc replaced the LEB under the Electricity Act, 1989. (fn. 321)
Under the Gas Act, 1948, the assets of existing gas companies were vested in two boards, with Chelsea supplied by the North Thames Gas Board of the Gas Council, replaced in 1972 by the British Gas Corporation, itself privatized in 1986 as British Gas plc. Competition in gas supply was introduced nationally between 1996 and 1998. (fn. 322)
FIRE ENGINES
From its foundation into the 19th century the Royal Hospital had its own engines, (fn. 323) although in 1834 the parochial engine attended a fire there. (fn. 324) In 1748 the parish engine was out of repair, and was to be tested regularly, with 18 leather buckets to replace the old ones. (fn. 325) Sir Hans Sloane (d. 1753), the lord of the manor, donated a fire engine to the parish, and in 1750 or 1751 Andrew Millar gave a smaller engine and leather pipes. In 1755 a new engine house immediately east of the cage was to replace the existing one, which stood on the riverside opposite the old church. (fn. 326) The decayed parish engine was to be replaced in 1764. (fn. 327) In 1811 an engine was to be kept at the watchhouse in Symons Street, in Hans Town off Sloane Square, in addition to existing ones: a committee of the Hans Town commissioners chose an engine, larger than the one then kept in Hans Town, from Messrs Phillips and Hopwood. It was to be worked by 24 men, and with leather pipes and a crane-necked carriage it was estimated to cost about 100 guineas, to be defrayed from the church rate. The same year the workhouse on King's Road was chosen to house the small parochial engine, being near Queen's Elm, Little Chelsea, and the Common - parts of the parish then undergoing development. (fn. 328) In 1828 ladders were kept at the old church, Symons Street watch-house, and the workhouse. (fn. 329) Petyt School in Church Lane was later used as an engine house until it became too dilapidated. (fn. 330) From 1834 three engine keepers are recorded, and three engines explicitly mentioned in 1843. (fn. 331) In the late 1830s parish expenditure included repairs to engines, rewards to firemen, and salaries of engine keepers. (fn. 332) In 1864 the parish still had three engines and three attendants. (fn. 333)
Under the Fire Brigade Act, 1865, the MBW inherited stock and personnel from parishes in 1866 including, in Chelsea, premises in Sloane Square, which presumably became its temporary fire station in 1867 in Draycott Place, off Sloane Square. It subsequently opened permanent stations in Chelsea at South Parade (1868), Pavilion Road (1881), Basil Street (1907), and King's Road (1964). (fn. 334)
By 1868 a newly-built station at no. 18 South Parade was operational, and Draycott Place ceased to be used soon afterwards. In 1885 the MBW acquired the freehold of no. 18 South Parade and no. 19 adjoining, and were considering new buildings to accommodate the men, engines, and horses in one place. (fn. 335) The cramped station of 1867 passed to the LCC, which in 1891 also acquired no. 17, and a new station, begun in 1892, opened there in 1893; the decorated, gabled façade was of brick with stone and terracotta. (fn. 336) By 1938 it was considered out of date, (fn. 337) but its replacement, in King's Road, did not open until 1964, whereupon Brompton station, as the South Parade building was known, closed. (fn. 338) Representations of fire-fighting equipment on the facade survived in 2001, (fn. 339) when the building was used by the Royal Brompton hospital.
In 1879 the MBW proposed to build a station in Pavilion Road to serve the Sloane Street neighbourhood, and leased a site from Earl Cadogan in 1880 for a building with accommodation for two engines, seven firemen, and a coachman, which was in use in 1881. (fn. 340) It had closed by 1917, (fn. 341) probably as a result of the erection of Knightsbridge (below), though the building still survived in 2001. (fn. 342) Knightsbridge fire station was built in 1907 in Basil Street, (fn. 343) to replace a station in Relton Mews (Kens.), and was designed by the LCC architect W.E. Riley, in red brick with stone dressings in classical style.
A site for a replacement for the South Parade station was acquired in 1939 in King's Road, by the junction with Arthur (later Dovehouse) Street. (fn. 344) After the Second World War a Regency terrace there, King's Parade, was demolished by the LCC, (fn. 345) which in 1961 approved plans for the station. (fn. 346) It opened in 1964, and the Brompton station (South Parade) closed. (fn. 347) Basil Street and King's Road remained in use in 2000.
PUBLIC LIBRARIES
In 1887 the parish adopted the Public Libraries Acts, whereupon the town hall housed a temporary reading room. Earl Cadogan gave a site in Manresa Road where J.M. Brydon designed a symmetrical brick and stone structure of five bays with semi-circular Ionic porch, arched windows, and one-bay wings. It was opened in 1891. One reading room converted by Brydon to a gallery commemorating Queen Victoria's jubilee (1897), opened in 1899. An innovation from 1905 was a children's library, converted from the existing boys' reading room. The King's Road front of the old town hall was converted to house the library in 1978, and the Manresa Road building became part of Chelsea College. Chelsea vestry opened temporary library premises in Kensal Town in 1888 and built a library in Harrow Road designed by Karslake & Mortimer, 1890, which passed controversially to Paddington at boundary adjustments in 1900. A scheme of 1901 provided for its maintenance by that borough, which had not adopted the Public Libraries Acts. (fn. 348)
BATHS
In 1840 there were public and private hot and cold baths at the Manor House Bath Gardens in King's Road. (fn. 349) The Chelsea Swimming Bath Company constructed men's first- and second-class swimming baths and a ladies' swimming bath at no. 171 King's Road in 1877; the company was wound up in 1886. (fn. 350)
In 1890 Chelsea vestry sanctioned the purchase by the newly appointed commissioners for baths and washhouses of the site between King's Road and Manor (later Chelsea Manor) Street, partly occupied by those private baths, from the Cadogan estate. (fn. 351) In 1893 private baths for men and women were opened in King's Road, presumably by the commissioners. The baths closed in 1905 for rebuilding. (fn. 352) The scheme, drawn up in 1901, was for 100 private baths and 3 swimming baths; they also considered building public washhouses but that was dropped as additional land would be required. As built, however, the new baths, by Wills & Anderson with the engineer Alexander Macdonald, were smaller than planned, and facing only Manor Street so that the King's Road frontage could be used for extensions to the town hall. There were two swimming baths, for men and women, and male and female first- and second-class slipper baths, opened in 1907. The symmetrical 'Renaissance' front of red brick with stone decorations blended well with the town hall. Conversion to provide a sports centre in 1977 or 1978 left only one pool. (fn. 353)
The Chelsea commissioners identified a site for baths and washhouses for Kensal Town between Kensal Road and Wedlake Street in 1890. (fn. 354) The foundation stone was laid in 1896 and two swimming baths besides private baths for both sexes opened in 1898. (fn. 355)