Pages 1-3
A History of the County of Middlesex: Volume 8, Islington and Stoke Newington Parishes. Originally published by Victoria County History, London, 1985.
This free content was digitised by double rekeying. All rights reserved.
Introduction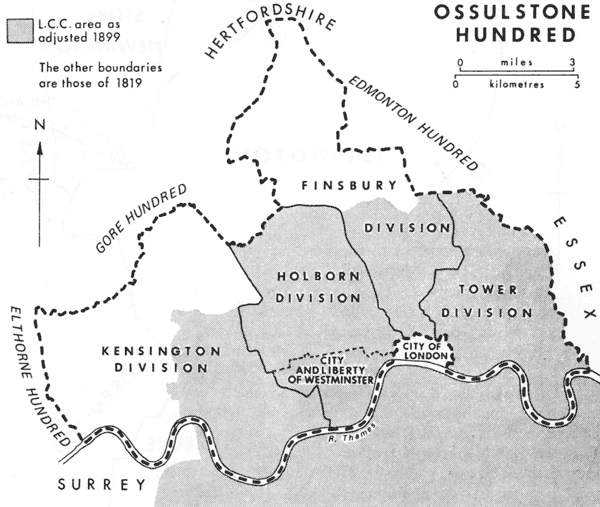 ISLINGTON, (fn. 1) whose high street lay at the first milestone from the City of London, was known in the 17th and 18th centuries as a salubrious pleasure resort, and by the last quarter of the 20th century parts of it had recaptured their mid 19th-century reputation for gentility. It has also been distinguished by ideological fervour, religious in the 19th century, political in the 20th. The parish stretched 5.2 km. north-west to south-east along the line of the Great North Road, and 3.6 km. across at its widest point. It was bounded by St. Pancras on the west, Hornsey on the north and north-east, Stoke Newington and Hackney on the east, Shoreditch on the south-east, and St. Luke's and Clerkenwell on the south. Its area was 3,033 a. in 1805 and 1848; (fn. 2) following the Metropolis Management Act, 1855, Islington became a civil metropolitan parish within the area of the Metropolitan Board of Works, with minor boundary changes bringing its area to 3,127 a. in 1861. Under the London Government Act, 1899, it became the metropolitan borough of Islington with 3,091 a., exchanging land with all the neighbouring parishes. (fn. 3) From 1965 it formed the major part of the London Borough of Islington, the remainder having been the metropolitan borough of Finsbury (parishes of Clerkenwell and St. Luke's, Old Street). Besides Islington town, part of which lies in Clerkenwell, the parish included hamlets at Upper and Lower Holloway, Ring Cross, Highbury, with most of Newington Green, and part of Kingsland.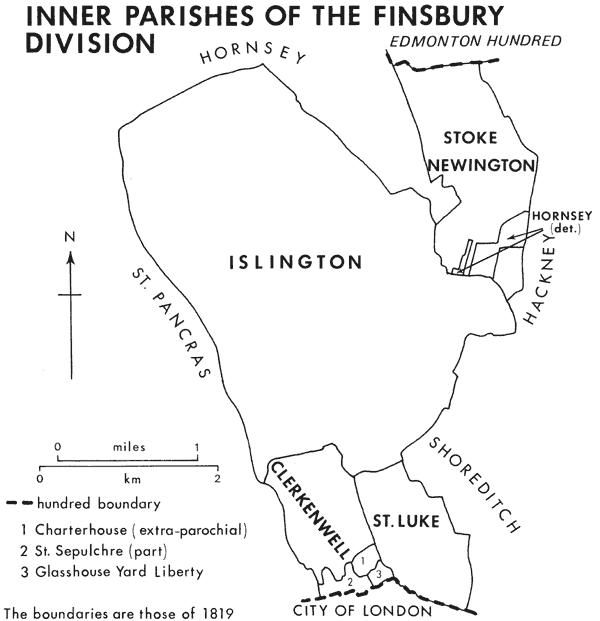 Islington lies mainly on London Clay, except for the extreme north part of the parish on Highgate hill and along Hornsey Lane which lies on Claygate Beds with Bagshot sand on the summit. (fn. 4) In most of the eastern and southern parts the clay is overlaid with river terrace gravels and brick-earth: Boyn Hill gravel covers the south-west quarter, Taplow gravel the south-east corner, where the brickearth has been removed, and brickearth most of the eastern side.
The parish rises from 20 m. in the south-east to 100 m. in the north-west, with noticeable inclines near Copenhagen fields and at Highbury, and Highgate hill climbs steeply to the ridge along which Hornsey Lane marks the northern boundary. Lanes marked the western and most of the north-eastern boundaries; the south and east boundaries were manorial ones.
Hackney brook rises at Holloway near Mercers Road, running south to cross Holloway Road near Tufnell Park Road and then continuing to Lowman Road, where it turns north-east and runs along Gillespie Road to leave the parish at Mountgrove Road. (fn. 5) In 1613 the New River was completed, meandering in and out of the parish at Blackstock Road and Green Lanes, and re-entering farther down Green Lanes to run south and south-east through Canonbury, under Essex Road in a culvert, along Colebrooke Row, and out of the parish near the junction of City Road and Goswell Road to the river head just south of the Angel. Where the river crossed Hackney brook and Gipsy Lane (later Mountgrove Road) it was carried 17 ft. above the brook and lane in a trough, constructed in 1618, and came to be known as the boarded river. The river remained open until the Colebrooke Row stretch was culverted in 1861, the stretch south of Green Lanes in 1868-70, and from Douglas Road to the Thatched House inn in 1892-3; in 1946 the river ended at Stoke Newington. Thereafter much of the course of the river in Islington became ornamental water. (fn. 6)