Pages 163-168
A History of the County of Middlesex: Volume 8, Islington and Stoke Newington Parishes. Originally published by Victoria County History, London, 1985.
This free content was digitised by double rekeying. All rights reserved.
The main medieval settlement grew up in Church Street around the church and stone manor house on the north side and parsonage and parish pond on the south, stretching eastward to the London road. There was some building in brick at the church and manor house in the 1560s by William Patten, but the parsonage, which he also repaired, was of timber, as were most of the houses. Fleetwood House, a large brick house, was built at the eastern end of the street probably in the 1630s. (fn. 57) Thomas Stock built five houses on the north side of Church Street at its junction with High Street before 1664, (fn. 58) and John Pride had recently built a house at the west end of Church Street by 1677. (fn. 59) In 1686 Andrew Yardley, a London lawyer, was permitted to pull down a house provided that he rebuilt it. (fn. 60) The replacement may have been the brick house, stable, and coach house on the south side of Church Street 'lately erected' in 1701 and later called Wentworth House, (fn. 61) of five bays and two storeys with attics and a steep roof. (fn. 62) In 1700 Abney House was built west of Fleetwood House. (fn. 63)
In the 1670s settlement was concentrated at the eastern end of Church Street. (fn. 64) The western end was built up mostly in the early 18th century, when the scattered timber cottages were replaced by brick houses singly and in terraces. In 1695, after the demolition of the old manor house, its site was leased for 99 years to John Knight, a London scrivener, who divided the ground and leased it, mostly to Timothy Mathews, a grocer, William Gardiner, tiler and bricklayer, Job Edwards, carpenter, and Christopher Bostock, glazier, all Londoners. Mathews leased his section, mostly to Edwards, who built the greater part of Church Row, nine houses in a terrace east of the churchyard. Although the eighth and ninth houses had datestones of 1706 and 1709 respectively they were referred to in 1696 and 1697 and probably all were completed by 1700. (fn. 65) Edwards, who had died by 1717, also built five houses between Church Row and Edward's Lane by 1710. (fn. 66) By 1717 Edward Newens, bricklayer of Stoke Newington, had built four brick houses on the site of one old house on the south side of Church Street, probably the terrace called Sisters Place after it was inherited by four sisters in 1813. (fn. 67)
The land upon which Newens built had formed part of the Pulteney estate which Henry Guy sold to John Drury (d. 1716) in 1700. (fn. 68) Drury's son Robert, who was shipwrecked off Madagascar in 1703 and not rescued until 1717, was probably the inspiration for Robinson Crusoe. (fn. 69) Daniel Defoe was living in a rented house on the north side of Church Street by 1709. (fn. 70) He moved, possibly by 1714, to the later no. 95 on the south side, which he rebuilt as a handsome three-storeyed house with a central block of three bays, pediment, and porch, flanked by single-bayed wings. There was a stable block and a large garden bounded on two sides by Hussey's and Pawnbroker's lanes. (fn. 71)
In 1721 Newens and Silvanus Horton, a London carpenter, took a lease of 3 a. of the Lloyd estate on the south side of Church Street, west of the glebe, (fn. 72) upon which they had built several houses by 1723. (fn. 73) Six had been built by 1734, (fn. 74) c. 12 by 1744, (fn. 75) and c. 15 by 1764 (fn. 76) in what by 1738 was named Paradise Row. (fn. 77) The houses were mostly three-storeyed and five-bayed (fn. 78) but Paradise House consisted of a three-bayed central portion with a pedimented porch, Corinthian pillars, and projecting wings. (fn. 79) One, formerly the home of John Zachary, a merchant, was advertised in 1755 as 'new and well built', paved with marble, with a large garden. (fn. 80)
Other 18th-century houses included Halstead House and the adjoining houses (nos. 199-203 odd in 1925), a five-bayed central block with two-bayed side wings, (fn. 81) and two large houses at the eastern end of Church Street, a three-storeyed square one lying back from the street west of Abney House (fn. 82) and Compton House opposite Abney House by 1814. (fn. 83) Thomas Rigby built four cottages on the south side of Church Street, at the eastern end, between 1788 and 1816 and eight were built at Falcon Court behind the inn between 1798 and 1816. (fn. 84) In 1822 Meshach Izzard, a local carpenter, was licensed to replace the five old houses next to the dilapidated Three Crowns with four larger ones. (fn. 85) Thomas Widdows, the Church Street builder, was accumulating property in the 1820s. (fn. 86) Newington Hall, a large, classical house, stood by 1829 at the western end of the street, beyond Paradise Row, with grounds backing on the New River. (fn. 87) Four houses built by Widdows fronting Church Street on the glebe soon after 1835 may be identified with the semi-detached pairs with Ionic porches known as Glebe Place. (fn. 88)
Widdows built four brick houses on the site of four old, probably timber ones, on the north side and another two on the south side of Church Street by 1840. (fn. 89) One house in Paradise Row had been 'lately built' as two houses by 1845 (fn. 90) and between 1827 and 1854 the old Falcon made way for a new inn and a house. (fn. 91) In 1856 nos. 5-7 Church Street were demolished as dangerous and their site was sold to an auctioneer. (fn. 92) At the western end of the street Park Crescent was built east of Glebe Place in the early 1850s (fn. 93) and in 1855-8 the timber rectory house was replaced by the handsome new church and parsonage. (fn. 94)
In 1841 Church Street was famed for its 'mansion-like residences' with their large gardens, many of which stretched into pleasure grounds and paddocks where the owners made their own hay and kept cows. (fn. 95) The residents were merchants and, attracted by the dissenting tradition, writers who in turn attracted others. (fn. 96) The inhabitants of Fleetwood House included two Turkey merchants, Sir Nathaniel Gould (d. 1728) and Thomas Cooke (d. 1752), a stock-broker, Henry Guinard, in 1766-9, and an exchange broker, Charles Rebotier, c. 1770. (fn. 97) Thomas Day (d. 1789), author of Sandford and Merton, spent his early childhood at nos. 109 and 111, then set behind wrought-iron gates and pillars topped with urns. (fn. 98) John Aikin (d. 1822), the writer, obliged to quit 'the close atmosphere of London', had settled by 1799 at the three-storeyed, three-bayed house on the north side of Church Street (no. 106, later called Abney House) which his daughter Lucy (d. 1864), herself a writer, called in 1806 'the white house at Newington'. (fn. 99) It had previously housed Adam Anderson (1679-1765), a trustee for establishing the colony of Georgia and historian of commerce, and Solomon de Medina, the Jewish merchant. (fn. 1) Opposite, at no. 113 from 1802 until her death in 1825, lived Aikin's sister Anna Letitia, a leading literary figure, and her husband the Revd. Rochemont Barbauld (d. 1808). Many writers visited the two houses in Church Street, (fn. 2) where Mrs. Barbauld's circle included the Eades at Abney House and the Rivaz family, (fn. 3) descendants of Huguenots who in 1848 occupied Hugonin House near the Falcon inn and another house opposite Fleetwood House. They were businessmen, Henry Rivaz being described in 1851 as a dealer in stocks and the railway, and prominent in local politics. (fn. 4) Pishey Thompson (d. 1862), author of a history of Boston, lived at no. 122, a two-storeyed ten-bayed house on the north side of Church Street. (fn. 5)
Most of the houses in Church Row had two storeys and attics, five bays, pedimented doorways, and decorative gate pillars. (fn. 6) No. 8 (later no. 168 Church Street) (fn. 7) was owned by Mrs. Lardeau, a widow whose young lodger John Howard (?1726-90), later the prison reformer, married her and in 1755 inherited her property. (fn. 8) In 1781-2 Church Row housed James Brown, (fn. 9) either the father (1709-88) or son (1750-1839). The elder James, merchant and author of a Persian dictionary, settled in Stoke Newington in 1734 and was buried in the church. The younger James, who wrote the account of the parish for the Bibliotheca Topographica Britannica in 1783, lived in Stoke Newington until 1799. (fn. 10) Benjamin D'Israeli (d. 1816), a London stockbroker and grandfather of the earl of Beaconsfield, lived at no. 7 (no. 170), where he was visited by literary men, including the publisher John Murray. (fn. 11) The same house was visited in the 1840s by Dickens and Thackeray when it housed Frederick Mullet Evans (d. 1870), proprietor of Punch (fn. 12) At the same time nos. 6 and 9 (respectively nos. 172 and 166 Church Street) were occupied by members of the Quaker Moline family, Sparks and Edward, who had helped to found the meeting house in 1829. Sparks's daughter Isabella (d. 1923) was active in running the invalid asylum in High Street. (fn. 13) Wynne Baxter (d. 1920) lived at no. 170 at least since 1883, followed by his son Francis William (d. 1932), the local historian, upon whose death the whole row, which was owned or held in trust by the Baxter family, was surrendered for demolition. (fn. 14)
Stoke Newington's main claim to notice during the 18th and 19th centuries was its Quaker community, made up of a few families, inter-connected by marriage, deeply concerned in philosophical and political issues, mostly deriving their wealth from the City and resident in Church Street, especially in Paradise Row. (fn. 15) Samuel Hoare the elder (d. 1796), a merchant of 'ample fortune', occupied Paradise House, the largest in the row, from 1775. (fn. 16) His son Samuel the younger (1751- 1825), the banker, lived in the row from 1785 until the damp of the New River induced him to leave Stoke Newington in 1790. The elder Samuel's second son Jonathan, a merchant and the black sheep of the family, occupied a 'late erected' house belonging to his father before 1792 and owned Grafton House, another house in the row, after 1819. (fn. 17) His sister Margaret married Joseph Woods, a London woollen merchant who by 1781-2 was living in another house in the row, probably Vincent House; their son Joseph (1776-1864) was the architect and botanist. (fn. 18) Woods and Samuel Hoare the younger campaigned to abolish slavery (fn. 19) and Paradise Row was often visited by fellow campaigners like William Wilberforce and his brother-in-law James Stephen (d. 1832), master in Chancery, whose father James (d. 1779) had come to Stoke Newington in 1774 to live in the Summerhouse on the north side of Church Street, described by the younger James c. 1820 as 'the first respectablelooking house on the right' from the London road. (fn. 20) Also present at the meetings against slavery was William Allen (1770-1843), founder of the chemical firm, promoter of the Lancasterian school movement and friend of princes, who retired to Stoke Newington in 1795 and lived at no. 135 Church Street, the home of his second wife Charlotte Hanbury (d. 1816) from their marriage in 1806 until 1827. After his marriage, the subject of a cartoon by Cruikshank, in that year to Grizell (d. 1835), the widowed daughter of Samuel Hoare, he moved to her home, Paradise House. (fn. 21) Allen's nephew and partner Cornelius Hanbury (d. 1869) lived at Warwick House in 1848 (fn. 22) and later at Stoneleigh House, both in Paradise Row, before leaving the parish 1857. Hanbury's son Cornelius married Sarah, daughter of Frederick Janson (d. 1832) of Lloyds, member of another prominent Quaker family, who followed Allen at no. 135 Church Street. (fn. 23) The younger Cornelius lived successively in three houses in Paradise Row; about 1863 he and his wife began attending Anglican services and their son was a supporter of St. Matthias's. (fn. 24) The Harrises, who lived east of the Red Lion in 1823 and moved to Stoke House in Paradise Row in 1837 were also Quakers, (fn. 25) as were the Listers, John, a wine merchant and his son Joseph Jackson (1786-1869), the microscopist, and sister Mary, who founded the invalid asylum in 1825 and owned Vincent House in Paradise Row by 1810. (fn. 26)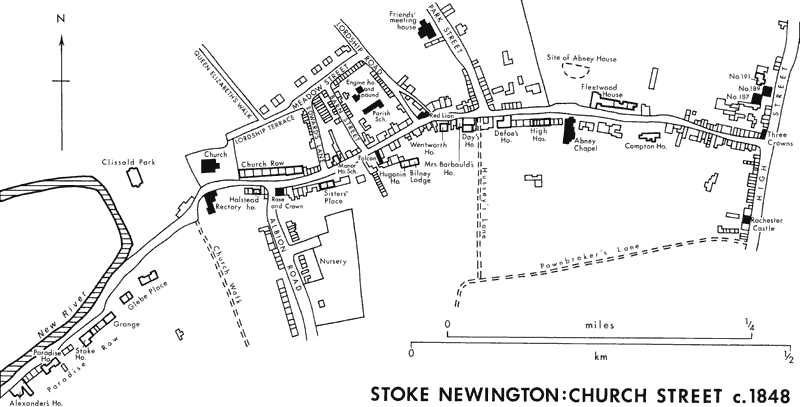 George William Alexander, a banker, lived in the westernmost house in Paradise Row, which was set in 3 a. bordered by the New River, facing Clissold Park. There in 1850 he was visited by Alphonse de Lamartine and in 1853 by Harriet Beecher Stowe, who wrote that his 'place is called Paradise' and looked on a beautiful park. (fn. 27) By 1870 Alexander had pulled down the old house, itself large, and replaced it with an even larger one, the Willows, later called Kennaway Hall. (fn. 28) Another inhabitant of Paradise Row was the poet Samuel Rogers's nephew Samuel Sharpe (1799- 1881), the Egyptologist, who spent much of his childhood at the Grange. (fn. 29) William Beck (d. 1907), a London surveyor and Quaker architect and historian, lived at no. 3 Glebe Place, east of Paradise Row. (fn. 30)
Boarding schools were kept in Church Street from the 18th century and by the 1830s and 1840s were a prominent feature. (fn. 31) During the same period shop fronts were fitted to the 18th-century houses, especially at the eastern end of the street. (fn. 32) One house in Paradise Row was used as a weaver's factory in 1813 (fn. 33) but the growth of industry in Church Street came later.
Church Street began to be transformed during the late 19th century, with terraces and shops replacing the large houses and with small-scale industry taking over the back rooms and gardens. Between 1872 and 1880 36 houses and shops replaced larger houses, besides old timber buildings like that taken down for Carter, Paterson & Co. in 1878 (fn. 34) and the forge and adjoining cottages and shops cleared for Church Street board school in 1892. (fn. 35) Where houses with extensive gardens were sold for building, side streets, usually of small terraced houses, replaced them. A Hackney builder bought no. 42 (later no. 43), on the south side of the street, in 1870. (fn. 36) Defoe's house and estate were sold in the 1860s, and by 1870 the house had been demolished and Defoe Road started, although only the assembly rooms had been built; (fn. 37) 53 terraced houses were built there in 1875-6. The Rose and Crown and its adjoining house were advertised in 1868 as having a frontage to Church Street for five or six houses. (fn. 38) When Fleetwood House was demolished in 1872, a contemporary complained that most of the old houses were disappearing. (fn. 39) Fleetwood Street, 16 small houses, replaced it in the same year.
The Laurels, square built and standing back from the road, residence in 1861 of a High Church banker, was sold in 1873 with 2 a. stretching southward from Church Street. It was thought that shops could front Church Street and some 35 houses similar to those on the adjacent Walford estate then being 'rapidly developed' could be built behind. (fn. 40) In 1874 the 2-a. estate adjoining it on the east, stretching south from no. 48, was put up for sale on similar terms. (fn. 41) The house, one of the so-called Manor Houses, an 18th-century five-bayed building behind fine iron gates, was demolished in 1875 and replaced by nos. 163-7 (odd) Church Street. (fn. 42) At the east end of Church Street three houses were built in 1874 and another seven in 1876 in Lancell Street on the site of Compton House. (fn. 43) On the north side, almost opposite, 16 houses were built in 1877, mostly by Alfred Capsey, in Summerhouse Road on the site of the house of that name. At the other end of Church Street 32 houses were built in 1876-7 in Statham Grove on the site of Newington Hall. (fn. 44) Wentworth House, dilapidated in 1849 but later repaired (fn. 45) and occupied by Joseph Janson, a banker who cultivated rare plants, had a narrow frontage to Church Street and 3 a. stretching southward; in 1882 the rector enfranchised the estate and in 1883 he made a building agreement with F. S. Hobson, the land agent, whereupon the house made way for Marton Road. (fn. 46) An 18th-century house called Manor House, standing back from the north side of Church Street, square and three-storeyed with a portico, whose owner c. 1860 had relinquished land for building Bouverie Road, was in 1886 (fn. 47) replaced by seven houses and shops. In 1891 the public library was built on the site of Job Edwards's early 18th-century houses. (fn. 48)
In 1881 Paradise Row still housed bankers, brokers, merchants, and manufacturers, although Paradise House had become a school. Elsewhere there was much division into tenements (fn. 49) and industry was growing. By 1914 there were 22 firms engaged in manufacture. (fn. 50) From the 1880s some of the houses became the homes of institutions like St. Mary's mission house and club at nos. 106 and 110 or political clubs at nos. 83, 91, and 179. (fn. 51) Rignold Mansions replaced nos. 120-4 (even) in 1925 (fn. 52) but there was little new building until the 1930s. Three of the group of four old houses east of Red Lion Lane, including John Aikin's house, were pulled down in 1931 after some years as shops and the site became part of Whitbread's bottling yard. (fn. 53)
Street widening caused a truncation of nos. 57, 73, and 93 and of Abney chapel in 1927. (fn. 54) The narrowness of the street at its junction with Albion Road prompted the authorities to acquire the freehold of nos. 197-205 (odd) in 1923 (fn. 55) although it was not until 1930 that the houses, decayed and including Halstead House (no.201), were demolished. The Rose and Crown, as part of the same operation, was rebuilt on the west side of Albion Road. The frontage of Church Row was pushed back but the 'magnificent and varied' gates, piers, and railings were re-erected on the new line. (fn. 56a) Church Row did not survive long, however, being bought in 1932 by the borough council which built the new town hall on the site in 1937. (fn. 57a) In 1930 a new building was erected at nos. 10-11 Paradise Row and Stoke House was converted into flats. In 1934 the stretch of Church Street between the church and Green Lanes was 'one of the most charming sites in London' but leases were falling in, one old house became a stonemason's yard, and another was about to make way for a factory. (fn. 58a) Factories and flats were being built on the south side in Shelford Place, and Warwick House had become a toy factory. (fn. 59a) In 1936 the L.C.C. built flats on the sites of Glebe Place, Paradise House, and other houses in Paradise Row. (fn. 60a) The westernmost houses in the row, Vincent and Warwick houses and Kennaway Hall, were replaced by L.C.C. flats (Garland and Taverner houses) c. 1953. (fn. 61a) In 1976 a council estate, Brett Close, transformed the frontage on Church Street between Red Lion Lane and Yoakley Road. (fn. 62a) Other new buildings included a rebuilt Abney chapel in 1957 and a fire station replacing a Victorian terrace on the site of Fleetwood House in 1977. (fn. 63a)
Church Street declined as a shopping centre until by the 1980s it was distinctly seedy, containing small-scale industry, dilapidated buildings, and sites cleared by demolition. In 1982, however, the entire street was declared a conservation area and several of the old houses, of which in 1983 (fn. 64a) a large number remains, were being restored, usually as flats. Only the gates and piers of Abney House survive from the 18th century on the north side of Church Street. On the south side nos. 9 and 11, three-storeyed buildings with 19th-century shop fronts, are of the 18th or early 19th century and the early 18th century respectively. To the west, nos. 75-9 (odd), an early 19th-century group of three storeys, with basements and dormers in yellow brick, are west of Abney chapel. The next four houses, nos. 81-7 (odd) were built in 1734 and known as the High Houses and later as Park Terrace; of buff brick with red-brick dressings and subsequently altered, they have four storeys, basements, and a carriage entrance in the centre. No. 83 was converted to flats in 1972 by Actel Housing Association. (fn. 65a) On either side of nos. 81-7 are early 19th-century terraces of yellow brick, of which no. 89 is very dilapidated. Buildings of the 1870s flank Defoe Road but nos. 105-17 (odd) are earlier, including the three-storeyed building, nos. 109 and 111, of buff brick with red-brick dressings, associated with Thomas Day, and no. 113, much altered since the 18th century, where Mrs. Barbauld lived. Bilney Lodge, no. 135, a three-storeyed yellow-brick building of five bays with pedimented doorcase, set back from the road, was rebuilt in 1769 by Henry Sanford and associated with the Hanburys, William Allen, and the Jansons and converted into flats in 1949. (fn. 66a) The adjoining no. 137, in the process of rehabilitation, is also 18thcentury. Opposite Edward's Lane and the library nos. 169-85 (odd), once Sisters Place, mostly behind later shop fronts, date from 1715 and include nos. 171 and 173, a red-brick building still used as a residence, with iron gates and piers with urns. (fn. 67a) Behind shop fronts, nos. 179 and 181 form a similar pair. Park Crescent (nos. 207-23 odd) between Church Walk and Clissold Road, was owned by the G.L.C. and converted into flats, its facade restored in 1968 by Hubert Bennett. The remnants of Paradise Row, nos. 235-43 (odd), survive and, although refronted, retain some 18th-century features. (fn. 68a) Terraces of Victorian houses and shops remain, especially at the eastern end of the street, the western end being dominated by blocks of flats. At the west end, however, is an ornate terrace (nos. 273-81 odd) dating from the 1870s, which, with similar houses behind, replaced Newington Hall.