Pages 178-184
A History of the County of Middlesex: Volume 8, Islington and Stoke Newington Parishes. Originally published by Victoria County History, London, 1985.
This free content was digitised by double rekeying. All rights reserved.
John Donnington (d. 1544), salter of London and member of a family which had connexions with London and Stoke Newington at least from the mid 15th century, (fn. 65) left his estates in Stoke Newington to his daughter, Margaret (d. 1561). Margaret's first husband Sir Thomas Kytson (d. 1540), mercer and sheriff of London, had a house and chapel in Stoke Newington, part of an estate held of the manor for 16s. 2d. a year. She afterwards married Sir Richard Long and, in 1548, John Bourchier, earl of Bath. (fn. 66) Kytson's estate was inherited by his son Thomas, and Margaret's jointly by Thomas and his half-brother Henry Long. In 1569 Thomas conveyed all his customary lands and tenements to Edward Tursett (or Turfett), longbow-stringmaker of London, to whom Richard Donnington quitclaimed all his rights in Stoke Newington in 1576. (fn. 67) By will proved 1590 Tursett divided his estates among his four sons John, George, Edward, and Stephen, who received land at Stamford Hill in Hackney; (fn. 68) George still had connexions with Stoke Newington in 1598 and his son was buried there in 1605. (fn. 69) In 1570, however, Kytson and Henry Long, as heirs of Margaret, herself described as heir of Thomas (recte John) Donnington, conveyed all their lands, which included some held from Stoke Newington manor for 2s. a year, to William Parker, draper of London, whose property in 1571 included a mansion house described as once Henry Long's. (fn. 70)
By will proved 1576 Parker, who was childless, left his capital messuage and other customary premises to his wife Agnes for life with remainder to William Parker of Coventry. (fn. 71) Within a year Agnes had remarried and in 1580 the younger Parker quitclaimed his rights in the property, identifiable from its borders as that held for most of the 17th century by the CORBETT family, to Agnes, her second husband, Humphrey Corbett (d. 1609) and his heir. (fn. 72) Agnes enjoyed the property, described in 1609 as a capital messuage and lands worth £100 a year, until her death at an unknown date, when it passed to Humphrey's nephew and heir, Rowland Corbett, (fn. 73) who was assessed for £5 on land in 1611-12. (fn. 74) In 1615 Humphrey Corbett, merchant of London, either Rowland's son or another nephew, was fined 20s. for the poor of Stoke Newington. (fn. 75) A Mr. Corbett had 20 a. in the parish in 1617 and 50 a. in 1639. (fn. 76) In 1638 Roger Corbett (d. 1639), another nephew, owned the estate, (fn. 77) which was held in 1657 by his son Edmund, merchant of London, when it totalled 21 a. Edmund (d. 1687) (fn. 78) mortgaged it to Mary Hobby, widow of London, who foreclosed in 1688, after Corbett's son Henry had been admitted. (fn. 79)
Mary Hobby (d. 1708) devised the estate to Humphrey Primatt (d. 1729), grocer of London, whence it descended to his sons Humphrey (d. 1740) and Nathaniel, a London chemist, who sold it in 1741 to Thomas Lingood, merchant of London. When Lingood became bankrupt in 1743 the estate was sold to James Ogilvie (d. 1757), whose widow Catherine married Rowland Johnson (d. 1773). It passed to Johnson's son William (d. 1790) and then to William's aunt Ann Nevill, who married William Carr (d. 1804) (fn. 80) as her second husband. Carr's daughter Martha had 23 a. of arable in 1813: (fn. 81) She enfranchised the estate in 1840 and by 1848 had leased it as brickfields to William Webb. (fn. 82)
There were several houses on John Donnington's estate (fn. 83) and Sir Thomas Kytson had a house and chapel in Stoke Newington. (fn. 84) In 1571 William Parker had two mansion houses: one he presumably lived in and the other 'once Henry Long', (fn. 85) one of them presumably the large house on the border of Hornsey detached in 1577. (fn. 86) Humphrey Corbett (d. 1609) had lived in a capital messuage, (fn. 87) which was owned by Edmund Corbett but empty when assessed for 7 hearths in 1664. (fn. 88) In 1693 Mary Hobby conveyed two houses to Edmund Corbett, who sold them in that year. (fn. 89) The conveyance included a footpath to the London road, which suggests that the houses probably joined the main estate, and one of the houses, once occupied by Ann Corbett and in 1693 apparently tenemented, could have been the mansion of 1577. Probably already dilapidated, it had gone by the 1740s. (fn. 90). There was no house on Martha Carr's estate in 1813 but cottages, probably for brickmakers, had been built by 1848. (fn. 91)
The PULTENEY estate, 60 a. in the southwest, (fn. 92) probably originated in the estate of John Stokker (d. 1502), who by will dated 1500 left two tenements in Newington Lane to William and Thomas Broughton and the rest of his copyhold in Stoke Newington to John Stokker Jekyll, his grandson in the care of his daughter Margaret and her husband William Jekyll. (fn. 93) John Stokker Jekyll (d. 1549) left his property, one great messuage, a cottage, and at least 32 a. in Stoke Newington, to his wife Anne for life with remainder to his brother Bartholomew, who disputed with Anne and her second husband Drew Barentyn. (fn. 94) Bartholomew, alive in 1559, (fn. 95) had been succeeded by 1569 by John Stokker Jekyll of London, perhaps his son, who in 1570 conveyed all his customary lands, three houses, and some 49 a. to Richard Heard. Heard, a London butcher (lanius), also acquired two houses, a cottage, and 10 a. at Newington Green from William Patten in the same year. (fn. 96) In 1577 Heard had a house and 28 a. of copyhold of Brownswood manor in Hornsey detached, the abutments of which show that he had land fronting the whole of the north side of Newington Green. (fn. 97) Heard (d. 1579) left his estate to his grandson Richard Heard, although his widow Alice, admitted to one third, (fn. 98) was apparently still in control in 1588-9 when she was assessed on £8 of goods. (fn. 99) Richard Heard had land in Brownswood manor in 1611 (fn. 1) and by will proved 1628 left all his estates in Stoke Newington, Hornsey, and Brownswood to his wife Elizabeth towards payment of his debts. (fn. 2)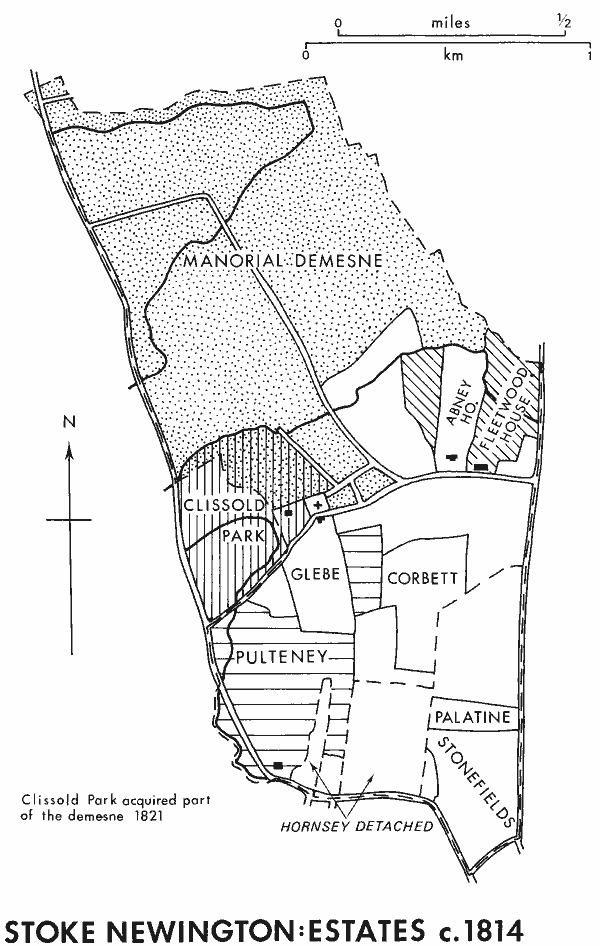 There is a gap in the evidence until 1677 when Henry Guy, M.P. and secretary of the Treasury, had property in Stoke Newington. (fn. 3) He died in 1711 seised of 60 a. which he left in trust for the heirs of Sir William Pulteney. (fn. 4) The beneficiaries were successively Sir William's grandson William Pulteney, created earl of Bath (d. 1764), presumably the earl's brother Harry (d. 1767), and Sir William's great-granddaughter Frances (d. 1782), wife of Sir William Pulteney (formerly Johnstone), whose daughter Henrietta Laura, created countess of Bath (d. 1808), was admitted to the estate in 1784. Henrietta's heirs were William Harry Vane, earl of Darlington, and John Paddy, descendants from Sir William Pulteney's daughter Anne. Paddy's share passed by will on his death in 1816 to John Brooks who in 1821, together with Darlington, sold the estate in lots for building and brickfields. (fn. 5)
There were at least two houses and a cottage at Newington Green on Richard Heard's Stoke Newington estate in the 1570s. (fn. 6) There was a farmhouse in Green Lanes by the mid 18th century (fn. 7) and there were three other houses on the estate at Newington Green by 1809. (fn. 8)
The PALATINE estate (fn. 9) was earlier called the parish lands or Gravelpit fields. The statement that it originated in a gift to the parish in John Stokker's will dated 1500 (fn. 10) is evidently wrong. (fn. 11) The parish had 3 a. of land and 1 a. of wood in 1548, (fn. 12) which it probably owned long before 1500. John Stokker Jekyll in 1565 quitclaimed his right in a croft called Clayditches or Littlestones, which he held by lease from the churchwardens. (fn. 13) In 1638 the parish successfully claimed against the lord, Sir Francis Popham, 5 a. of pasture on the west side of the London road, which the parish had held time out of mind until Popham's seizure of the rent in 1623, using all the rent, subject to a quitrent to the chapter of St. Paul's, for the repair, ornament, and 'necessary occasions' of the church. (fn. 14)
The parish lands were leased at £6 a year during the 17th century, the right to dig gravel being reserved. In 1685 the vestry complained that the rent had been spent 'promiscuously' with other money by the churchwardens and ordered that it should be used only for the church. (fn. 15) The rent was raised to £7 in 1687. (fn. 16) In 1709 the parish agreed to settle four Protestant families from the Rhine Palatinate and built houses for them in the parish field. (fn. 17) The estate was leased for 99 years in 1710 and mortgaged in 1717 to raise money to enlarge the church. (fn. 18) Annuities charged on the estate in 1806 (fn. 19) and 1816 were sold to raise money to repair the church and enlarge the churchyard. In 1809 a vestry committee rejected the surveyor's recommendation that the field should be leased for building. (fn. 20) The rent from existing houses, (fn. 21) however, under new leases from 1809, raised the income to some, £312 a year. (fn. 22) In 1824 the income was being illegally applied to the repair of the highways, in 1827 the estate was again used as security for a loan to pay church expenses, and in 1828 new trustees were admitted at the manor court at a cost of £1,000, secured by a further loan. (fn. 23)
A Scheme of 1859 directed that property was to be let for terms of less than 21 years, that building leases might be granted, and that income was to be used for the repair and ornament of the parish church, with any surplus invested in stock. (fn. 24) Following enfranchisement in 1873 roads and sewers were laid out, houses built, and the income from the estate raised from £378 in 1873 to £839 by 1888. (fn. 25)
Resentment was expressed in 1854, 1879, and 1888 by the daughter churches that the income was used exclusively for the mother church. (fn. 26) Under a Scheme of 1888 the trustees were to include representatives of the daughter churches and to raise £6,000 by mortgage to repay existing mortgages and build the spire of the new St. Mary's; payments thereafter were to include £75 a year to each of the district parishes. When Stoke Newington became a municipal borough in 1900, the Palatine estate was handed over to the ecclesiastical vestries. In 1909 St. Mary's received £142 which it spent on the church. (fn. 27) By a Scheme of 1962 £100 a year each was to be paid to the parishes of St. Andrew and of St. Faith with St. Matthias and All Saints, any residue to go to St. Mary's. The £100 was raised to £500 by a Scheme of 1980. The income rose to £2,601 by 1966, of which £47 came from ground rents of five houses in Palatine Road and the rest from investments. The rents had shrunk to £37 by 1981, when the total income was £13,556. (fn. 28)
Sir William Terry (d. 1626), a London draper and the most highly assessed man in Stoke Newington in 1611-12, (fn. 29) left his property to his son Thomas, (fn. 30) who had 65 a. there in 1639. (fn. 31) In 1648 Thomas sold some 60 a., mainly north of Church Street between the demesne and Stamford Hill, to Thomas Gower. Elizabeth Terry, spinster, and Judith, wife of Richard Lazenby, perhaps Thomas Terry's daughters and heirs, sold a house, barn, and two orchards in 1672 to Gower, who had acquired another tenement and appurtenances from Richard Gitters in 1667. (fn. 32) Gower, a London alderman who lived in Highgate, died in 1676 leaving a son Richard, also of Highgate, (fn. 33) who was succeeded in 1681 by his daughters Elizabeth, later wife of Edward Gold, a London merchant, and Anne, wife of William Rutland. In 1690 they sold the estate to Thomas Arnold and Thomas Gunston, a London merchant, who partitioned it between them in 1694. (fn. 34)
Gunston's portion, a house and 31 a., formed the core of the ABNEY HOUSE estate. He had bought a small estate in Stoke Newington in 1688 (fn. 35) and acquired adjoining property in 1698 as part of an adjustment of boundaries with the neighbouring Fleetwood House estate, (fn. 36) and he purchased the lease of the manor in 1699. (fn. 37) He died in 1700, having settled all his copyholds on his sister Mary, wife of Thomas Abney. (fn. 38) Trustees sold some 8 a. to Nathaniel Gould in 1723 and 1726. After the death of the Abneys' daughter Elizabeth in 1782 the rest of the estate was sold with the lease of the manor to Jonathan Eade, whose trustees sold the Abney House estate separately in 1814 to James William Freshfield, a London banker. (fn. 39) In 1838 Freshfield enfranchised the estate and sold it to Abney Park Cemetery Co. (fn. 40)
Thomas Gunston's estate included two substantial houses. One acquired from John and Thomas Harris in 1688, had been occupied by John Gould or Gold, a mercer, (fn. 41) and was assessed for seven hearths in 1674. (fn. 42) The other, acquired from Richard Gower's daughters in 1690, once occupied by Thomas Wells, a victualler, (fn. 43) who in 1664 was assessed for six hearths (fn. 44) may have belonged to Thomas Terry before 1629. (fn. 45) Both houses were probably demolished when Thomas Gunston began to build a mansion house on his copyhold estate to replace the old manor house, demolished c. 1695. The house, which was unfinished at his death in 1700, took its name from his successors. A red-brick building of seven bays and two storeys with basement and attics, set back from the road, it was described by Isaac Watts as 'solid and square'. A room contained panels with paintings of Ovid's Metamorphoses and Watts's paintings of flowers on the shutters and door. (fn. 46) Abney House remained the residence of the lessees of the manor until it was sold in 1814 to James William Freshfield, who lived there, when it was praised for the elegance of its interior. (fn. 47) It was rented by Wesleyans as the preparatory branch of their theological institute from 1839 to 1843 (fn. 48) when the house was demolished (fn. 49) and the site added to the cemetery.
Thomas Arnold conveyed his share of the Terry estate, comprising a house and 27 a., (fn. 50) to his son Thomas in 1696, and the younger Thomas (d. 1730) devised all his copyhold in Stoke Newington and Hornsey to his nephews Thomas King and David Lloyd. (fn. 51) King died in 1743 and his moiety passed to Edward King; King was succeeded in 1757 by his son John (fn. 52) who in 1789 sold his moiety of some 23 a. to Thomas Rigby. (fn. 53) In 1734 David Lloyd was succeeded in his moiety of Arnold's estate and in his moiety of Pride's (see below) by his sister Elizabeth Conway (d. 1768). On the death of Elizabeth's daughter Elizabeth in 1789 (fn. 54) her interest in some houses in Church Street was sold to Jonathan Hoare (fn. 55) and in other houses and land to William Horton and the rest of her estate, houses and some 23 a., to Rawson Aislabie, who sold it to Thomas Rigby. (fn. 56) The combined moieties were sold by Rigby's devisees in 1817 to John Watson, (fn. 57) who secured the estate's enfranchisement in 1820. (fn. 58)
John Pride (d. 1678) and his wife Martha (d. 1679) had 5 a. of copyhold south of Church Street and west of the glebe, together with le Copthall or the church house. The estate passed to Gilbert Dean, who conveyed it in 1681 to William Hurst. (fn. 59) In 1693 Hurst conveyed one moiety of it to Susanna (d. 1721), wife of Thomas Arnold the elder, with remainder to her grandson David Lloyd (d. 1734), with whose moiety of Arnold's estate (see above) it descended. Hurst conveyed the other moiety in 1693 to Susanna's son-in-law David Lloyd (d. 1700); (fn. 60) Lloyd was succeeded by his widow Elizabeth (d. 1723) and she by their eldest son Thomas, (fn. 61) who in 1727 conveyed his moiety to John Nicholson. (fn. 62) Nicholson conveyed it in 1744 to George Green (d. 1764), (fn. 63) whose son George's mortgagee Duncan Davidson (or Davison) foreclosed in 1785. (fn. 64a)
Jonathan Hoare, who as noted above bought part of the Conways' estate, also bought William Horton's share of that estate in 1790, (fn. 65a) an interest in houses and land north of Church Street from John King in 1789, (fn. 66a) and in the same year an interest in four houses which Henry Sanford had bought from Duncan Davidson in 1787. (fn. 67a) In addition Hoare had by 1796 acquired of the demesne of Brownswood manor in Hornsey 28 a. which in 1577 had been held as Millfield by Richard Bowland of Newington (fn. 68a) and 3 a. of copyhold of Brownswood, formerly the Conways'. (fn. 69a) Hoare, in financial difficulties, mortgaged what was later called CLISSOLD PARK to Robert Pryor, who foreclosed and whose executors sold it in 1800 to Thomas Gudgeon. (fn. 70a) Gudgeon, who from 1807 subleased some 10 1/2 a. of Stoke Newington demesne on the north and east of his existing estate, (fn. 71a) sold the estate to William Crawshay, (fn. 72a) who in 1813 held 4 a. of Stoke Newington copyhold and 57 a. of leasehold, presumably in both Hornsey and Stoke Newington. (fn. 73a) He held all Hoare's estate in Hornsey (fn. 74a) in 1821 when he enfranchised the copyhold and purchased 19 a. of Stoke Newington demesne. In 1835 the estate passed to his daughter Eliza, who married the curate Augustus Clissold, whose courtship Crawshay had opposed. After Clissold's death in 1882 the estate reverted to the Crawshay family and George Crawshay sold it in 1886 to the Ecclesiastical Commissioners, who sold it in 1889 to the M.B.W. for a public park. (fn. 75a)
The portion of the Terry estate allotted to Thomas Arnold in 1694 included a house, assessed for 7 hearths in 1674. (fn. 76a) By the mid 18th century there were several houses on the north side of Church Street west of the church, (fn. 77a) probably the four houses mentioned in 1723, which included one adjoining the churchyard and another lately built in an orchard. (fn. 78a) It was probably one of these that Hoare was licensed to pull down in 1789, (fn. 79a) the others being demolished by 1800 and in 1810. (fn. 80a) On the site vacated by demolition Jonathan Hoare's nephew Joseph Woods designed a seat for him, built by 1793 (fn. 81a) and part of the grounds was probably then converted into pleasure grounds. (fn. 82a) A barn, stable, and farmyard survived on the Hornsey demesne in 1800 but had been converted to a coach house and stables by 1821, when the entire estate had been turned over to parkland. (fn. 83a) The house was built with bricks made from clay dug at the northern end of the estate, forming hollows which were later made into lakes. Called Clissold House, it is of three storeys with five bays, flanked by one-bay wings, and has a Doric veranda on the main facade. (fn. 84a) In 1983 the lower floors were in use as a cafeteria and for washing and changing facilities. (fn. 85a)
FLEETWOOD HOUSE, (fn. 86a) in Church Street, east of Abney House, was probably built c. 1634 by Sir Edward Hartopp, Bt. (d. 1658), an active Parliamentarian. (fn. 87a) In 1664 his widow Mary (d. 1684) married Charles Fleetwood (d. 1692), the Cromwellian general and widower of Cromwell's daughter, Bridget (d. 1662). In 1695 Sir Edward's son, Sir John Hartopp, Bt. (d. 1722), settled the house on himself and his son-in-law Sir Nathaniel Gould (d. 1728), later governor of the Bank of England and M.P. (fn. 88a) In 1711, when his daughter Frances Gould died, Hartopp settled 8 a. in the same way. (fn. 89a) Gould enlarged the property with small purchases from his neighbours in 1712, 1723, and 1726, and in 1729 his daughter Elizabeth (d. 1763), wife of Thomas Cooke (d. 1752), a director of the Bank of England, was admitted to three houses and 18 1/2 a. (fn. 90a) Elizabeth was succeeded by her second cousin John Gould of Bloomsbury, (fn. 91a) who sold the estate in 1763 to George Perrott (d. 1780), baron of the Exchequer. Perrott's sister Mary, wife of the Revd. John Terrett, as tenant for life under his will and his nephew George Perrott as reversioner sold the estate in 1797 to John Robley in trust for his father John the beneficial owner. By 1813 (fn. 92a) the elder John's widow Ann was in possession, the estate having been left in trust for his nine children. The younger John died in 1822 and George Robley, one of the trustees, was admitted in 1824. In 1827 he sold Fleetwood House and 10 1/2 a. to the north and west to James William Freshfield and another 10 1/2 a. farther north to Thomas Maughan. Both parts of the estate were enfranchised in 1838 and most of Freshfield's portion, east and west of his Abney House estate, was conveyed with it to the Abney Park Cemetery Co. (fn. 93a) In 1848 John Freshfield possessed only the house and 1 a. (fn. 94a)
Fleetwood House was occupied until 1766 by the numerous members of the Hartopp and Fleetwood families, who intermarried and formed two households by 1673. (fn. 95a) Sir John Hartopp (d. 1722) spent much of his time there and in 1696 he engaged Isaac Watts as tutor to his son John, later the last baronet. In 1694 the house was described as formerly two, having been occupied by Smith Fleetwood and Nathaniel Gould respectively. (fn. 96a) In the early 18th century Gould built an adjoining house to the west. The older house was mainly occupied by Sarah Hartopp (d. 1766) and her husband Joseph Hurlock and then let out. It was a girls' school from c. 1772 until the 1820s. (fn. 97a) The Mercy family occupied it and about 1 a. of garden from the 1830s to 1872, first as a school and later as tenements for lodgers. (fn. 98a) The western, newer part of the house was occupied, after Gould's death in 1728, by Elizabeth Cooke until 1763 and by George Perrott in 1770. (fn. 99a) It was let in the 1780s (fn. 1a) but one of the Robley family lived there in 1813 and 1824 and possibly in 1791. (fn. 2a) A Quaker school opened there in 1824 (fn. 3a) but by 1838 the house was again in private occupation, by the St. Barbe family, (fn. 4a) which was still there in 1871, when Mary St. Barbe ran a small school. (fn. 5a)
Fleetwood House, (fn. 6a) probably built c. 1634, of red brick, had extensive panelling, a fine staircase, large casement windows, and a ceiling ornamented with coats of arms. It was assessed for 15 hearths in 1664 and 25 in 1674, (fn. 7a) probably after additions to accommodate the Fleetwood progeny. Shortly after 1766 the tenant Henry Guinard rebuilt the front of the older part in a Palladian style, which, together with the building erected by Gould early in the century, gave the whole house an 18th-century appearance, with three storeys, pediments, and some venetian windows, (fn. 8a) although 17th-century features remained inside. By 1872 when it was demolished Fleetwood House contained about 60 rooms and was subdivided into tenements. (fn. 9a) It made way for Fleetwood Street and nos. 64-78 Church Street, built with its materials. (fn. 10a) Some sections of plaster survived in 1983. (fn. 11a)
STONEFIELDS (fn. 12a) was a common field in 1460 (fn. 13a) but in 1638 and probably by 1617 was owned by Capt. Massey (d. 1649). (fn. 14a) In 1682 George Hooper died holding the estate, then 30 a. of closes and parcels of pasture, (fn. 15a) which were inherited by his son John (d. 1685) and then by his daughter Mary, who married William Twyford in 1686. (fn. 16a) Twyford (d. 1729) was succeeded by his daughters Elizabeth (d. 1763) and Mary (d. 1769), wife of Robert Young. Elizabeth left her portion by will to her sister Mary, after whose death it was divided between Mary Young (d. 1778), spinster, and Martha (d. 1780), wife of James Davison, apparently daughters of Mary and Robert. Their son Robert (d. 1790), who succeeded to his mother's portion in 1769 and later to his sisters', left the estate to his daughters Martha (d. 1803) and Mary. (fn. 17a) Mary succeeded to Martha's portion and in 1804 sold the whole estate to John Graham, auctioneer of Red Lion Square. (fn. 18a) In 1808 Graham sold the south-western portion of the estate, 9 a. to James Kibblewhite and another 6 a. to John Hindle. (fn. 19a) Graham (d. 1828) was succeeded by his son John Smith Graham (d. 1864), who was succeeded by his cousin Charles John Graham. (fn. 20a) Kibblewhite's portion, (fn. 21a) south of Graham's, descended on his death in 1853 to Robert Curling Cobb (d. 1866) and then to George Robert Green, Kibblewhite's great-nephew, who enfranchised it in 1881. Hindle, an auctioneer of Chancery Lane, whose portion lay between Cock and Castle Lane and Prospect Place, sold most of the land and houses facing Prospect Place to John Moore, chinaman of Holborn, in 1815 but still owned the rest in 1848. (fn. 22a)