Pages 9-19
A History of the County of Middlesex: Volume 8, Islington and Stoke Newington Parishes. Originally published by Victoria County History, London, 1985.
This free content was digitised by double rekeying. All rights reserved.
Growth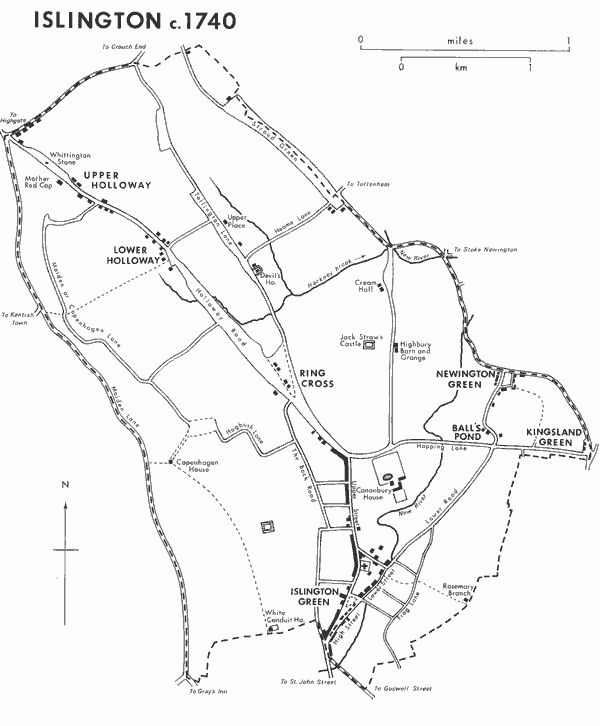 Neolithic implements have been found at Islington, besides Roman pottery and coins, (fn. 78) but the two Roman gravestones discovered in the 18th and 19th centuries were probably imports rather than evidence of settlement. (fn. 79) The moated site west of Barnsbury Square probably marks a medieval manor house and not a Roman camp as popularly believed. (fn. 80) Settlements at Islington and Tollington supplied two men each to man a ship c. 1000, (fn. 81) when they were called Gislandune, 'Gisla's hill or down', and Tollandune, 'Tolla's hill'. Gislandune gradually changed to Iseldon, which continued in use well into the 17th century. Forms approximating to Islington, recorded from 1464, were not common until the mid 16th century. (fn. 82) The settlements were on the estates of the bishop of London and the chapter of St. Paul's, who held most of the land before the Conquest. In 1086 there were 27 men enumerated on the Islington estates, and another 29 men on estates of the bishop that probably lay in Islington, including the Berners holding. (fn. 83) Islington and Tollington were members of the hundred in 1086, but Tollington was not listed later and probably ceased to be of any significance, (fn. 84) although it was still the location of a few tenements in the early 16th century. (fn. 85) The names of other settlements appeared only in the 13th and 14th centuries, relating to manors rather than hamlets: Bernersbury, Neweton Berewe or Hey-bury, and Canonesbury. (fn. 86)
Several moated sites indicate substantial medieval houses. Barnsbury manor house, by 1297 probably on the site west of Barnsbury Square, was not mentioned after 1388. (fn. 87) The site on the west side of Holloway Road, opposite Manor Gardens, part of the Barnsbury manor farm in the 18th century, originally belonged to a freeholder of Barnsbury manor. (fn. 88) The moated house belonging to the prior of the hospital of St. John of Jerusalem at Highbury had been built by 1338 but was destroyed in 1381. (fn. 89) A fourth moat existed in Tollington Lane just south of Heame Lane, which in 1611 was occupied by the Devil's house, formerly called Lower Place, and a copyhold tenement of the manor of Highbury. (fn. 90) Other substantial houses existed at Canonbury and at Cutlers, probably the site of Copenhagen House, by 1373. (fn. 91) Freehold messuages were changing hands in the late 13th century. (fn. 92) It is probable that customary tenements then existed on their 16th-century sites and that they were concentrated at road junctions as in the 18th century, at Upper and Lower Holloway, Ring Cross, Tollington Lane, and Newington Green, in addition to Islington High Street. One or two were probably inns serving the Great North Road, although no evidence exists for them before the 16th century.
In 1548 there were 440 communicants in Islington, (fn. 93) where the small village with its hamlets was known principally for its inns, which often harboured recusants and fugitives, and for fields which were used for illicit prayer meetings, counterfeiting coins, training militia, fighting duels, and archery and other sport. (fn. 94) Its proximity to London and Westminster, with rural surroundings, attracted rich and eminent residents. In the 15th century several citizens or their widows died in Islington. Thomas Cromwell lived at Canonbury in the 1530s, (fn. 95) Henry Percy, earl of Northumberland (d. 1537), lived at Newington Green 1536-7; (fn. 96) the countess of Lennox was writing from Islington in 1571, (fn. 97) and Edward, Lord Windsor, had left goods in the parish in 1576. (fn. 98) The town was also a convenient lodging for those who wanted to stay unobtrusively in touch with the court and parliament. (fn. 99) In the later 17th century it acquired popularity following the exploitation of Islington Spa (Clerkenwell), opposite Sadler's Wells, as a resort. Many visitors lodged in Islington itself, and during the 18th century the parish was one of those which became popular as a retreat from the metropolis. (fn. 1) Even Samuel Johnson recognized the benefit of Islington's air as part of his visits to the vicar, Mr. Strahan. (fn. 2)
The number of houses in Islington, estimated at 325 in 1708, (fn. 3) rose to 937 in 1732, (fn. 4) 1,060 in 1788, 1,200 in 1793, (fn. 5) and 1,745 in 1801 when the population was 10,212. (fn. 6) The late 18th century brought an increase in the range of services and trades in the town catering for the better-off, with II hairdressers, a Staffordshire-warehouse, a tea and muslin warehouse, a wine merchant, and a toy shop. (fn. 7) Terraces along the main roads and some streets behind them were built for middleclass residents, attracted by the air or the nearness of London, so that by 1819 Islington was said to be chiefly composed of the dwellings of retired citizens and others connected with the metropolis. It retained an air of antiquity, however, from its many old buildings: once the residences of prominent people, they had generally been converted into shops and inns. (fn. 8)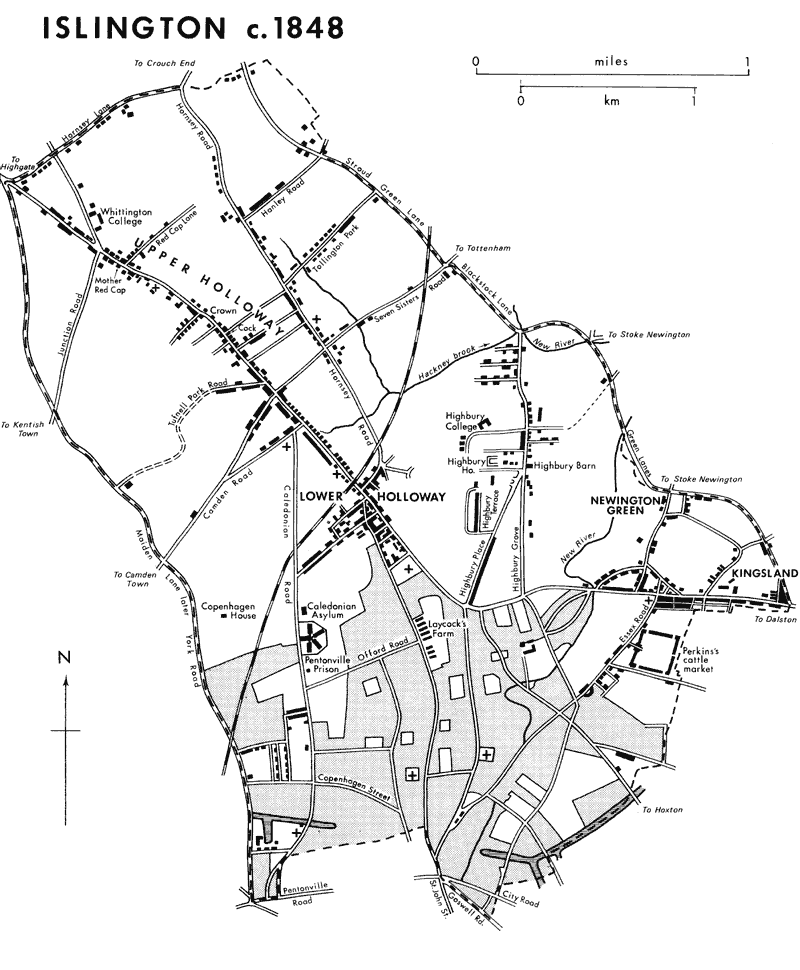 The 19th century saw a rapid but erratic spread of building to cover the entire parish. The increase in population was large up to the 1860s: the decades of heaviest increase were 1841-51 with 71 per cent, 1821-31 with 67 per cent, and 1851-61 with 63 per cent, and the other decades each had an increase of c. 49 per cent. After 1861 growth slowed considerably, to 38 per cent and 32 per cent respectively in the next two decades, and to 13 per cent and 5 per cent in the 1880s and 1890s. (fn. 9) The population growth was attributed solely to the increase in building in 1831. (fn. 10) The number of houses rose by 80 per cent between 1821 and 1831, 33 per cent between 1831 and 1841, 62 per cent between 1841 and 1851, and 50 per cent between 1851 and 1861. Although it still rose by 35 per cent in the next decade, it fell from 22 per cent in the 1870s to 9 and 1 per cent respectively in the last two decades of the century. (fn. 11)
The spread of building from the 1830s can be attributed to the introduction of omnibuses which allowed clerks and artisans to join merchants and professional men in living farther from their employment. (fn. 12) The decline of the southern half of Islington as a genteel suburb was as sudden as its rise, when better housing was built farther north at Highbury, Tollington Park, and Tufnell Park from the 1860s. Middle-class Jews settled in Barnsbury from c. 1840 but by the time that a synagogue was opened for them in 1868, migration had already turned towards Highbury. (fn. 13) The poor were also moving in, displaced by clearances, especially for railway yards at the termini; from Somers Town many very poor people settled in badly built streets near Tufnell Park, so reducing its attraction for the better-off. (fn. 14) In the 1890s the northern part of the parish began to lose its middle-class residents to outer Middlesex, and large houses fell into multioccupation. By 1903 Islington appeared 'dreary and depressing', with the largest population of all the London boroughs, very little open space, and above average overcrowding. Few well-to-do people remained, except in Highbury and Canonbury, and houses in spacious grounds had been replaced by crowded terraces to accommodate an influx of the working class. (fn. 15) The borough attracted a shifting population, especially in the south near King's Cross, Caledonian Road, and Upper Street.
By 1921 Islington's housing was less overcrowded than it had been in 1911, although nearly 20 per cent of its families still lived with more than two persons to a room. (fn. 16) In 1931 the housing stock served a different population than the one for which it had been built, as the table shows. Dwellings with 3 to 5 rooms included most of the municipal flats. Municipal housing, however, made little impact before the Second World War. The Revd. Donald Coggan, a curate in the mid 1930s, thought that Islington reflected a dismal decade, with drab streets and ill kept, overcrowded tenement buildings, where conditions were grim. (fn. 17)
Change was more rapid after the Second World War, when bombed sites could be used for new municipal housing, although it took time merely to replace the 3,200 houses destroyed in the war. (fn. 18) Between 1921 and 1939 the borough had built 1,682 homes and the L.C.C. 1,951. By 1958 the borough had built 3,378 homes since 1946 and by 1962 the L.C.C. had provided 2,834. Slum clearance was undertaken but in 1967 of the London boroughs Islington still had the most multi-occupied dwellings, representing 59 per cent of the total, and the most households, 77 per cent of the total number, lacking such basic amenities as their own stove, sink, bath, and W.C. It was London's most densely populated M.B. in 1951, being very short of public open space, and in 1968 its density at 70 persons per acre (including Finsbury) far exceeded its neighbours Hackney at 52 and Camden at 45. The borough council continued an intensive programme of clearance for new housing estates and reserved some of the land for open spaces, which increased from 60 a. in 1958 to 107 a. in 1971.
Dwellings with:
Percentage of total dwellings occupied by:
Percentage of dwellings
1 family
2 fams
3 or more fams.
9 rooms or more
18
12
18
70
6 to 8 rooms
51
17
40
43
3 to 5 rooms
25
77
19
4
1 to 2 rooms
6
99
1
-
Source: Census, 1931.

From the 1960s Islington, particularly the south part, was also changed by its revived popularity with middle-class families, which bought leasehold or freehold houses and rehabilitated them. The trend was intensified by estate agents and speculators, and in Canonbury and Barnsbury working-class tenants were forced or encouraged to leave desirable terraces. Conservation areas were formed and traffic schemes put into operation. (fn. 19) The subsequent rise in property values made it profitable to rehabilitate less favoured streets also. The council continued to clear for rehousing, however, until prolonged resistance to the clearance of part of Upper Holloway caused it to change to rehabilitation for the benefit of sitting tenants. (fn. 20) Financial constraints from the late 1970s also favoured rehabilitation.
The population was 10,212 in 1801 and rose steadily, to 22,417 in 1821, 37,316 in 1831, 95,329 in 1851, and 155,341 in 1861. Thereafter the rate of growth declined, and the population was 213,778 in 1871, 282,865 in 1881, 319,143 in 1891 and 335,238 in 1901. It fell to 327,403 in 1911, rose again slightly to 330,737 in 1921, but fell again to 321,795 in 1931, 235,632 in 1951, and 228,833 in 1961. In 1971, after reorganization as Islington L.B., the population of 16 wards was 228,384.
ISLINGTON TOWN. The earliest firm evidence for the main settlement is a sketch-map of c. 1590, showing rows of houses lining the wide main road. (fn. 21) From the junction of the roads from St. John's Street and Aldersgate, building on the west side, which lay in Clerkenwell parish up to the Back Road, was continuous as far as Islington green, apart from the junction with the Back Road, and on the east was continuous almost to the green with a few detached buildings beyond. On the south side of the green were a pond and the parish cage. Two buildings on the east side were inns, as were seven on the west side, including the southernmost building with a gateway beside it, probably the later Angel inn. The main road, later called Islington High Street, divided at the green, the western fork to Islington church and Holloway becoming known as Upper Street, the eastern fork leading behind the church to Newington becoming Lower Street and eventually Essex Road. (fn. 22)
Inns clearly contributed to Islington's growth: in 1553 there were 15 licensed victuallers in Islington, as distinct from Holloway. (fn. 23) Most of the inns and other buildings along the main roads were copyholds of Barnsbury, Highbury, Canonbury, and the Prebend manors; medieval buildings, called homestalls, therefore, had probably stood on those sites. (fn. 24) By 1601 the town included houses on the site of Hedgerow, in Upper Street, occupied by a collarmaker, a vintner, a glazier, a shoemaker, a tailor, a wheelwright, and a weaver. By 1630 the site had c. 11 houses, including the Nag's Head and Blackhorse inns, still the homes of trades- and craftsmen. (fn. 25) Some copyholds in Upper and Lower streets north of Islington green served Londoners and gentlemen as country houses and in the late 18th century appeared to have been built or improved in the 16th and early 17th centuries. One of the earliest known was the Fowlers' house, a copyhold of Canonbury manor on the north side of Cross Street (later nos. 40-2). Thomas Fowler, who married Alice Heron or Herne of Islington, died there in 1556, probably in the house where his descendants were living in 1588 and where stained glass included the arms of Fowler and of Heron. The timber framed and plaster house had first-floor plaster ceilings of 1595, with decoration similar to some at Canonbury House. At the end of the garden a small brick building, probably a summerhouse or porter's lodge known later as Queen Elizabeth's Lodge, bore the arms of Fowler, esquire, on one side and those of Sir Thomas Fowler, Bt., with the date 1655 on another. (fn. 26) A house where Sir Thomas Fisher, Bt., died in 1636 (fn. 27) was taxed on 30 hearths, the greatest number in the parish in 1662. (fn. 28) It was probably the house on the east side of Lower Street opposite Cross Street, copyhold of the Prebend manor, occupied by Sir Richard Fisher, in 1690, when the garden, enlarged to include the site of 2 cottages and parts of neighbouring holdings, stretched back to Frog Lane. Thought to date from the earlier 17th century and reputed in 1690 to have cost £4,000 to build, the house in the early 19th century was of brick, refaced in Roman cement, and contained the arms of the Fisher and Fowler baronetcies. Nearby were five other houses, let by Fisher. (fn. 29)
Between the churchyard and Lower Street a large copyhold house belonged to the Draper family in the early 17th century and was sold by Sir Thomas Draper, Bt., in 1662 to James Cardrow. In 1687 the house had a great hall and wainscotted rooms and shutters, some decorated in an earlier manner. There were a fishpond, gardens, and orchards, including house or priory garden, with a sun and moon dial on a pedestal and ornamental flower pots. (fn. 30)
Ward's or King John's Place in Lower Street, between Greenman's Lane and Paradise Place, was a large irregular timber framed and plaster building, with coats of arms carved and in stained glass. (fn. 31) Sir Robert Ducie, Bt. (d. 1634), lord mayor of London, may have lived there. The initials HD over the main entrance probably commemorated his youngest son Sir Hugh (d. c. 1678), whose son Sir William Ducie, Bt. (d. ?1691), also lived in Islington. (fn. 32) Another house of the early 17th century stood in Upper Street where Theberton Road later joined it; it was the residence of Sir John Miller by 1624 until 1639, and had windows with his arms, carved chimney pieces, and ornamented plaster ceilings. By 1725 it had become the Pied Bull inn. (fn. 33) Another, on the east side of Lower Street near Boon's Lane, was in the Prebend manor, and contained a chimney piece with the initials IM. It was a timber framed and plaster house of three projecting storeys, the central projection forming a porch and the entrance flanked by caryatids; the interior had panelled oak wainscotting and ornamented plaster ceilings. By 1725 it had become the Queen's Head inn. (fn. 34)
Several similar houses in Upper and Lower streets presumably had wealthy owners in the 16th and 17th centuries. By the late 17th century, however, such houses were being let, often as inns. The Fowlers' house was let with 6 a. by Sir Richard Fisher in 1673 to David Davies, who covenanted to build three substantial houses on the southern part of the grounds, probably fronting Lower Street. The houses were completed and Davies was also to rebuild the mansion if he should pull it down; he does not appear to have done so, although by the early 19th century it had been refronted in brick. (fn. 35) By 1690 the Fowlers' estate, on both sides of the eastern end of Cross Street, included in addition to the great house, a house and 3-a. field, the Dog and Partridge inn which probably became the Thatched House by 1765, (fn. 36) and c. 14 other houses and a barn. (fn. 37) In 1790 the great house was called Queen Elizabeth's House and had been divided into two, having formerly been a boarding school. (fn. 38) The Drapers' house was let from 1666 to a tenant, who sublet the north and south ends. The coach house, with stables, yard and orchard, was let separately in 1668 and walled off, and the coach house was turned into a double fronted house. (fn. 39) Ward's Place served several uses in the 18th century: Dr. Robert Poole's smallpox hospital by 1740, parish workhouse in 1758, a meeting place for seceders from Lower Street chapel in the 1760s, and at some time a soap factory, before being divided into separate tenements. (fn. 40)
While the larger houses lost their wealthy residents, the steady growth in middle-class houses began. Building was usually in short rows, often named after the builder or financer. A large old house in Upper Street on the southern corner of Cross Street was replaced by Rufford's Buildings in 1688, built by Nicholas Rufford who had already built another set of Rufford's Buildings in 1685 on the eastern side of High Street next to an inn later called the Blue Coat Boy. (fn. 41) The row of houses on the west side of Upper Street was known as the Hedgerow by 1668. Other rows by 1732 included Oddy's Buildings, Chad's Row, Yeates Row, and Pierpont's Buildings and Rents on the eastern side of High Street, where John Pierpont had acquired land in 1718. (fn. 42) Some detached houses were also built. The vicarage house near the Pied Bull was built or rebuilt in the late 17th century and another house built on its grounds. (fn. 43) Farther along Upper Street, north of Cut Throat Lane (later Barnsbury Street) was another detached house, built in 1716 and 1719 and occupied by Jacob Harvey in 1735. (fn. 44)
By 1735 the area of the town was closely built up along the main roads. (fn. 45) The west side of High Street, in Clerkenwell parish, and its continuation as Upper Street were almost completely built up to the lower end of Holloway Road, where Wells's Row stood approximately on the site of Highbury Corner. The row was probably built by John Wells, brickmaker, who was letting new houses there from 1722 (fn. 46) and had kilns on land to the west. The east side of High Street and its continuation as Lower Street were more open, with farm land around Pierponts Row, but Lower Street was almost filled as far as Greenman's Lane and building was beginning in the lanes running south-east. (fn. 47) Between Upper and Lower streets as far as Cross Street there were also many buildings along the main frontages, and facing the green on the north was a terrace called Old Paradise Row. On the east side of High Street south of the green stood some almshouses and another small group of houses, with a narrow passage between them and the fields behind. (fn. 48)
In the 18th century Islington's popularity as a resort was shown by the increased number of inns, many with skittle grounds, (fn. 49) and more houses were built for residents and tradesmen. Rosoman's Buildings, 13 houses facing the green and stretching from River Lane (later St. Peter's Street) southward, were built on land belonging to Thomas Rosoman of Clerkenwell between 1758 and 1768, mostly by himself. The Three Tuns inn at the corner of River Lane was replaced by Rosoman with four houses between 1764 and 1769. (fn. 50) In the same period part of the grounds of the Fowlers' house was built over. Thatched House Row was built on the Lower Street frontage between 1758 and 1762, and behind it Astey's Buildings and Pleasant Row were built facing each other across the New River by John Astey between c. 1761 and 1764. Houses were also being built on the south side of Cross Street by 1767, the first group being finished in 1771 and the remainder of the 17 houses occupied by 1779. Most were built by Benjamin Williams and John Davis, Islington carpenters, and have pedimented Doric doorcases, although nos. 23, 33, and 35 have later doorcases imitating those of the Adams in the Adelphi. (fn. 51) Five old timber houses at the Hedgerow were replaced by brick ones in 1779 by Thomas Nowell, who also took a lease of land behind and by 1785 had completed a row called Nowell's Buildings, fronting the Back Road. (fn. 52) Camden Street, leading south-east from the green, was being built between 1760 and 1768 on land leased by Thomas Rosoman to Brass Crosby, (fn. 53) and at the west end Cumberland Row was built from 1767 in the passage behind the buildings in High Street, (fn. 54) later called Camden Passage. A little to the south Pullins Row was built in the late 18th century on a field belonging to Pullin's dairy farm fronting High Street. By the 1790s buildings continued northward along Upper Street to Holloway Road on the west side and to Canonbury Lane on the east, and along Lower Street to the New River and the junction with Frog Lane. (fn. 55) In Upper Street opposite Cross Street, Dr. William Pitcairn (1711-91) started a botanical garden of c. 4 a. attached to his house; for a while after his death it contained many rare plants and trees. (fn. 56) The area between Upper and Lower streets was still largely open behind the main road frontages, part being St. Mary's churchyard and Jones's burial ground. (fn. 57) North of Cross Street the Tufnell family still had open ground near the Fowlers' house, for which building agreements were made by Robert Cannon in 1808 and, following Cannon's bankruptcy, by John Morgan in 1810. Much of the site, stretching north to Hawes Street, was built over by 1817, leaving the old house with some garden behind. (fn. 58)
Growth in the 19th century mainly took the form of rebuilding and changes in use. (fn. 59) Commercial premises increased to serve a rapidly rising population, and many of the old houses in Lower Street were replaced by rows of shops. Ward's Place was demolished c. 1800, the Queen's Head in 1829, and Fisher's House, to make way for Pickering Place and the houses behind, in 1845. The Fowlers' house, nos. 40-2 Cross Street, was demolished in 1850 and the site used for a Baptist chapel. (fn. 60) The galleried Angel inn at the corner of High Street and Pentonville Road was rebuilt in 1819 as a coaching hotel. Barnsbury Place in Upper Street had been built before 1811, on the garden of Harvey's house, and land behind was taken for the Church Missionary College, designed by William Brooks and built in 1824. (fn. 61) In 1837 the Literary and Scientific Institution, designed by Gough & Roumieu, was built in Wellington Street (later Almeida Road). (fn. 62) The strip of land on the east side of High Street south of Islington green, partially built on in the mid 18th century, was filled with more small houses and shops facing both High Street and Camden passage behind: Phelps Cottage was built in Pullins Row in 1838 and at the south end new buildings included a large one used as a bazaar and then by 1858 as an upholsterer's showroom. (fn. 63) A little southward the Philharmonic Hall (Grand theatre) was built in 1860. (fn. 64) On the opposite side of the main road the first part of the Agricultural Hall was opened in 1861 for the Royal Smithfield Show, on a site that stretched back to Liverpool Road. (fn. 65)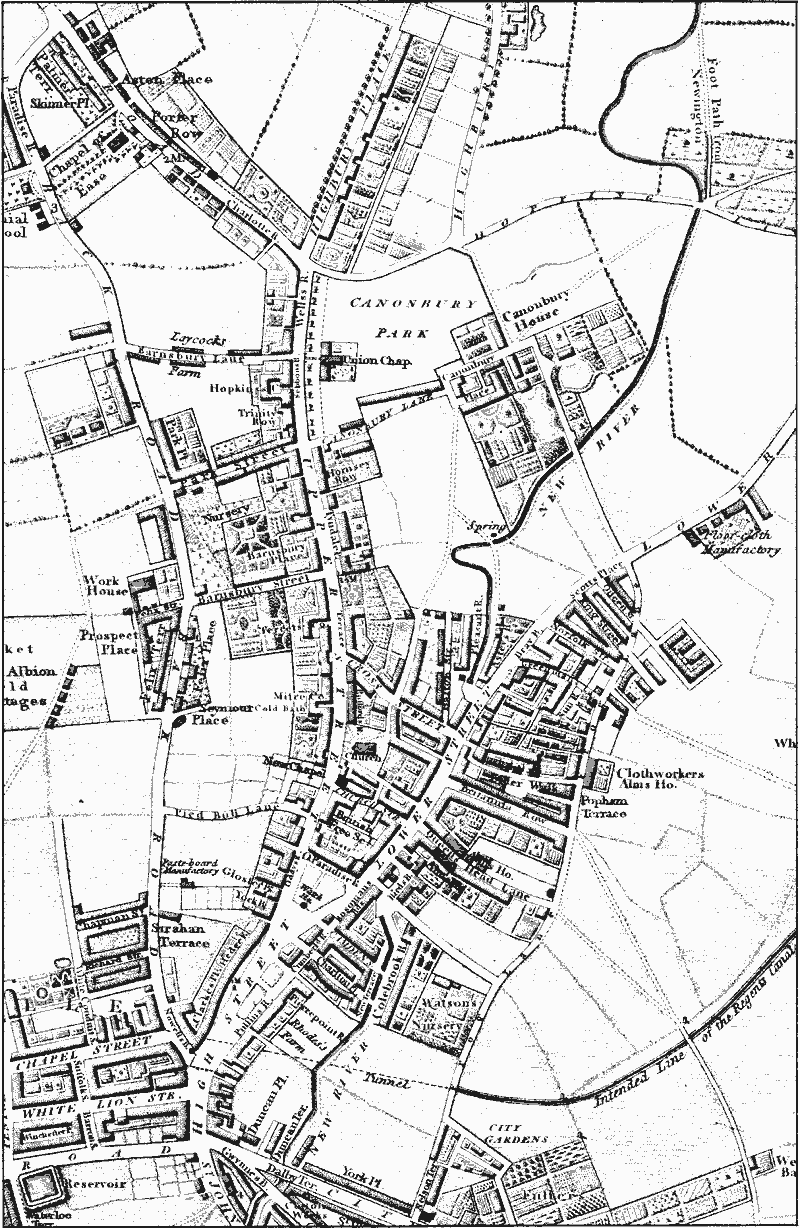 The provision of working-class housing brought major changes after 1860. By the 1840s the town's population was mainly poor, living in overcrowded and decaying courts and yards off the main roads. Many of the courts had been the yards attached to inns: Swan, George, Wheatsheaf, and Rose and Crown yards were some of them, mostly at the lower end of the town. Some houses in Swan Yard were lodging houses for tramps, with cellars used for sleeping in 1848; five years later they were still filthy, as were similar courts. (fn. 66) From 1865 efforts were made to replace the worst slums with working-class dwellings. The first block was by the Peabody Trust in Greenman's Lane (Greenman Street) in 1865, designed by H. A. Darbishire in a 'crushingly unattractive vaguely Italianate' style that became standard on its estates. (fn. 67) The medical officer for Islington visited the parish's 110 courts and alleys in 1874 and reported on three particularly bad areas: eight courts east of High Street between Duncan Street and City Road, including Swan Yard and Rose and Crown Court, with 78 houses unfit for habitation; Little Pierponts Row in Camden Passage between Duncan Street and Charlton Crescent, with 8 houses; and 25 courts and buildings east of Essex Road between Greenman Street and Britannia Row, with 219 houses. (fn. 68) In the third area Quinn's Buildings was built in Popham Street in 1876 apparently by a philanthropic body, (fn. 69) but all three districts were submitted to the M.B.W. under the Artisans' and Labourers' Dwelling Act, 1875, for clearance. (fn. 70)
The first scheme was for the south-east High Street area in 1877. It was to rehouse 515 people and 32 inhabitants of lodging houses, living on either side of the Philharmonic theatre in five blocks of four or five storeys accommodating at least 556 people in 138 tenements. In 1880 part of Blackhorse Yard and nos. 48 and 50 High Street were included in the scheme. (fn. 71) The sites were sold to the Improved Industrial Dwellings Co., whose ultimate accommodation for 798 on c. I a. (fn. 72) probably included the six-storeyed Myddelton Flats, built in 1882 beside the theatre. (fn. 73) The area off Essex Road followed in 1878, where 1,796 people were to be displaced from c. 250 houses over c. 5 a. between Britannia Row and the south side of Peabody Square (Greenman Street), 3,422 were to be housed, and a new street was to be formed in the line of Anglers Gardens; the site was sold to the Peabody trustees and others. (fn. 74) Both schemes were delayed by legal problems and the refusal of occupants in High Street to leave or pay rent, until government sanction was obtained to remove them. Many then moved to Elder Walk in the second area, where they again refused to recognize the M.B.W. as landlord. In 1881, however, the High Street site and the first part of the Essex Road site, Britannia Row, were cleared; the remainder was cleared in 1882. (fn. 75) The five parts of the Essex Road site were all sold by 1884, when building had begun over the whole area. (fn. 76) Edinburgh, Cornwall, and Queen's cottages, in Popham Street, were probably built by one of the bodies who bought the sites. They were designed by a Mr. Worley and built in 1889, a fortress-like block with turrets, where the interior courtyards had open staircases and galleries. (fn. 77) Ultimately there were on the High Street site four blocks near High Street and six near City Road, and on the Essex Road site there were five blocks for 510 people north of Dibden Street, fifteen between Dibden and Pickering streets for 556 people, four between Pickering and Popham streets for 2,000, and fourteen blocks between Popham Street and Britannia Row for 800. (fn. 78a)
Another important change was the widening of Upper Street, between the green and the Unitarian church on the east side and between Waterloo Terrace and Barnsbury Street on the west. Property on both sides was bought by the M.B.W. and cleared, including the weatherboarded Fox public house, by the green, Islington dispensary, and Islington chapel, which were all rebuilt farther back. Bodies were removed from the front part of the churchyard to Finchley cemetery, and new railings set up. Some artisans' houses were demolished, displacing 140 people, and a site was set aside in 1887 in Waterloo Terrace for flats to take 178. (fn. 79a) The widened Upper Street was reopened early in 1888 and the remaining land auctioned, in 17 plots between the green and Church Street and in 22 between Church Street and the vestry hall (Florence Street), and filled with substantial terraces of shops. Land adjoining the churchyard was sold for a new vicarage. (fn. 80a)
In 1892 the vestry was allowed to displace 190 people in Norfolk Square, which lay on the south side of Shepperton Street near Popham Road and covered 1/2 a.; the area had been considered unhealthy since 1880 but it was not considered practical to rebuild. (fn. 81a) Islington generally had little appeal to the middle class: the terraced houses in streets off the main roads were no longer in single-family occupation but let as rooms. When the impoverished author portrayed in New Grub Street, published in 1891, took a lodging off Upper Street, his fastidious wife could not be expected to join him there. (fn. 82a) Although Islington was not fashionable as a residence, High Street and Upper Street became a smart shopping area from the mid 19th century, rivalling Brompton Road, with many drapers, outfitters, and jewellers; in 1881 it was the 'classic ground' for trousseau shopping, and was particularly noted for underclothes. (fn. 83a) Most of the 18th century buildings along the Hedgerow and Upper Street were given imposing shop fronts (fn. 84a) and in 1899 the Angel inn was rebuilt as a hotel, designed by Eedle & Meyers in pale terracotta stone with a corner cupola; (fn. 85a) it became a Lyons cornerhouse restaurant from 1921 to 1959. (fn. 86a)
After the First World War more attempts were made to provide working-class housing. The Church Missionary Society sold its college in Upper Street in 1917 and the building was replaced with Suttons model dwellings, (fn. 87a) but most schemes were municipal and were concentrated between Upper Street and New North Road. (fn. 88a) Halton Mansions on the east side of Halton Road was the first state-aided scheme in Islington, built in 1922-3 with 168 flats in 3 fourstoreyed blocks. It was followed in 1926 by Tyndale Mansions with 102 flats, north and south of the new town hall, and in 1934 Wakelin House, 109 dwellings in a five-storeyed block, was built on the west side of Sebbon Street. A private estate was built in 1936-7 by the Compton Housing Association between Canonbury Road and Sable Street, with 153 dwellings in five-storeyed blocks, similar to council developments. The estate, Compton Flats, was later acquired by the council and renovated between 1967 and 1975.
After the Second World War, Canonbury Court was built in 1948 between Sebbon Street and Halton Road, blocking off Shillingford Street. The site of c. 4 a. had been acquired from the Northampton estate and 132 flats in 7 four-storeyed blocks were built. An additional block was built in Florence Street in 1960, and in 1967 the estate had 141 dwellings. Barratt House was built near Compton Flats in 1953 with 22 dwellings, and Hume Court in 1960 near Hawes Street with 36 dwellings. An area off High Street between Camden Passage and Colebrooke Row, known as Camden Walk, was replaced with 50 flats 1967-9 known as Colinsdale, and a smaller scheme in Queen's Head Street 1968-70 involved the rehabilitation of nos. 57-63 (odd) Queen's Head Street and nos. 13-15 Cruden Street, an L-shaped block of decayed terraced houses, to provide 5 houses, 2 flats, and 2 maisonettes. The council rehabilitated or rebuilt similar small groups of houses, and private schemes were also carried out. Major rebuilding was done behind the east side of Essex Road as part of the Popham Road estates. (fn. 89a) In 1983 houses in Melville Street were cleared, including the Essex Road frontage.
Large-scale changes were made to High Street in the early 1980s. Most of the buildings on the east side from Duncan Street almost to City Road, and including the Grand theatre and Myddelton Flats, with all the land behind east to the rear of Duncan Terrace, were cleared for a large office block. In 1983 some shops on the opposite side of the main road in the Hedgerow had been demolished for rebuilding, with Parkfield Street behind. Plans to demolish the old Lyons Corner House, which had been used as an annexe to City University after 1959, to make way for road improvements were resisted and after renovation the building became the London branch of the Co-operative Bank c. 1982. In 1983 shops at the south end of High Street were in poor condition and those remaining on the east side empty and due for demolition. North of the new office block however, some 18th-century houses remained near Duncan Street, nos. 80 and 84-94 High Street being mid 18th-century, as did Phelps Cottage of 1838. The rest of Camden Passage consisted of shops, many selling antiques for which it had become widely known. London Transport's former transformer station between Upper and High streets was converted into an antique mall c. 1980. Some houses on the site of Rosoman's Buildings at the corner of St. Peter's Street were rebuilt in their original style for private sale c. 1981. Two small modern town-house developments a little to the north in Essex Road were also private. Most of both Essex Road and Upper Street, however, was commercial, providing shopping, services, and take-away food for a working-class population and wine bars, expensive restaurants, and specialist shops for new middle-class residents and visitors.