Pages 226-233
A History of the County of Middlesex: Volume 9, Hampstead, Paddington. Originally published by Victoria County History, London, 1989.
This free content was digitised by double rekeying. All rights reserved.
MANORS AND OTHER ESTATES.
The monks of Westminster claimed to have been granted a small farm at Paddington in 959 and to have held 2 hides there in 1042. Although the early charters were spurious, (fn. 1) Paddington, Knightsbridge, and Westbourne were probably part of the abbey's ancient endowment and among the 13½ hides at Westminster attributed to it in Domesday Book. (fn. 2) Paddington presumably formed a separate estate by 1135x1152 when, with Fanton (Essex) and Claygate (Surr.), it supported the almoner of Westminster. (fn. 3) Before 1185 the abbot bought from Richard of Paddington and his brother William the whole tenement which they held in Paddington of his church. (fn. 4) The manor of PADDINGTON, so described c. 1266, (fn. 5) was treated with Knightsbridge as a single unit in a custumal of c. 1225. (fn. 6) Paddington, however, may have had its own courts or have been served by those for Westminster, whereas by the 14th century Knightsbridge formed a manor with Westbourne. (fn. 7) In 1647 and later Paddington was said to lie east of Westbourne stream, with a few outlying fields to the west. (fn. 8)
Paddington remained in the abbey's lordship until the Reformation. The almonry, to which the tenement of Richard and William of Paddington was assigned, later shared the issues with the abbey's new work, which took the bulk in 1535, and the Lady chapel. (fn. 9) After passing to the Crown the manor was granted in 1550 to the bishop of London, (fn. 10) whose successors held it until the Interregnum, when it was sold to Thomas Browne. (fn. 11) At the Restoration the bishop regained it and in 1868 his rights passed to the Ecclesiastical Commissioners. (fn. 12) His lands covered almost the entire eastern half of the parish, the exceptions being mainly around Paddington green. They also stretched across the Westbourne to include a field called Desboroughs north of Harrow Road, Upper and Lower Readings and other plots beyond Westbourne green, Hall field farther south reaching to Black Lion Lane, and separate fields abutting on the Uxbridge road. (fn. 13)
The manor was let at farm by 1422, when Edmund Bibbesworth was to pay a rent which had scarcely changed by 1514. Leases were made to Thomas Parnell, a London butcher, in 1489 for 21 years, to William Parnell in 1499 for 11 years, and to Thomas Kempe, sergeant of the refectory at Westminster, in 1514 for 40 years. (fn. 14) The lease had passed to Sir Edward, later Lord, North, by 1541, when the Crown acquired it from him. The Crown granted the lease to Sir Edward Baynton and in 1543, on Baynton's surrender, to Richard Reade, salter of London, whose term was extended for another 40 years in 1544. (fn. 15) Richard Reade died in 1550, when his beneficiaries included the children of the late John Browne, salter, who was probably his son-in-law. (fn. 16) Reade's widow Anne (d. 1558) was said to have conveyed her interest both to Robert Vaughan and, by will, to his brother-in-law Richard Browne, her grandson. Litigation arose after new leases were obtained from the bishop in 1595 on behalf of Matthew Smale, who, directly or through his mother Jane Parkinson, had already acquired Browne's interest, and in 1605 to Sir Fulk Greville, who asserted the right of Vaughan's assignee. (fn. 17) A lease for three lives was made in 1626 to Sir Rowland St. John (d. 1645), whose term expired with the death of his son Sir Oliver St. John, Bt., in 1662. (fn. 18)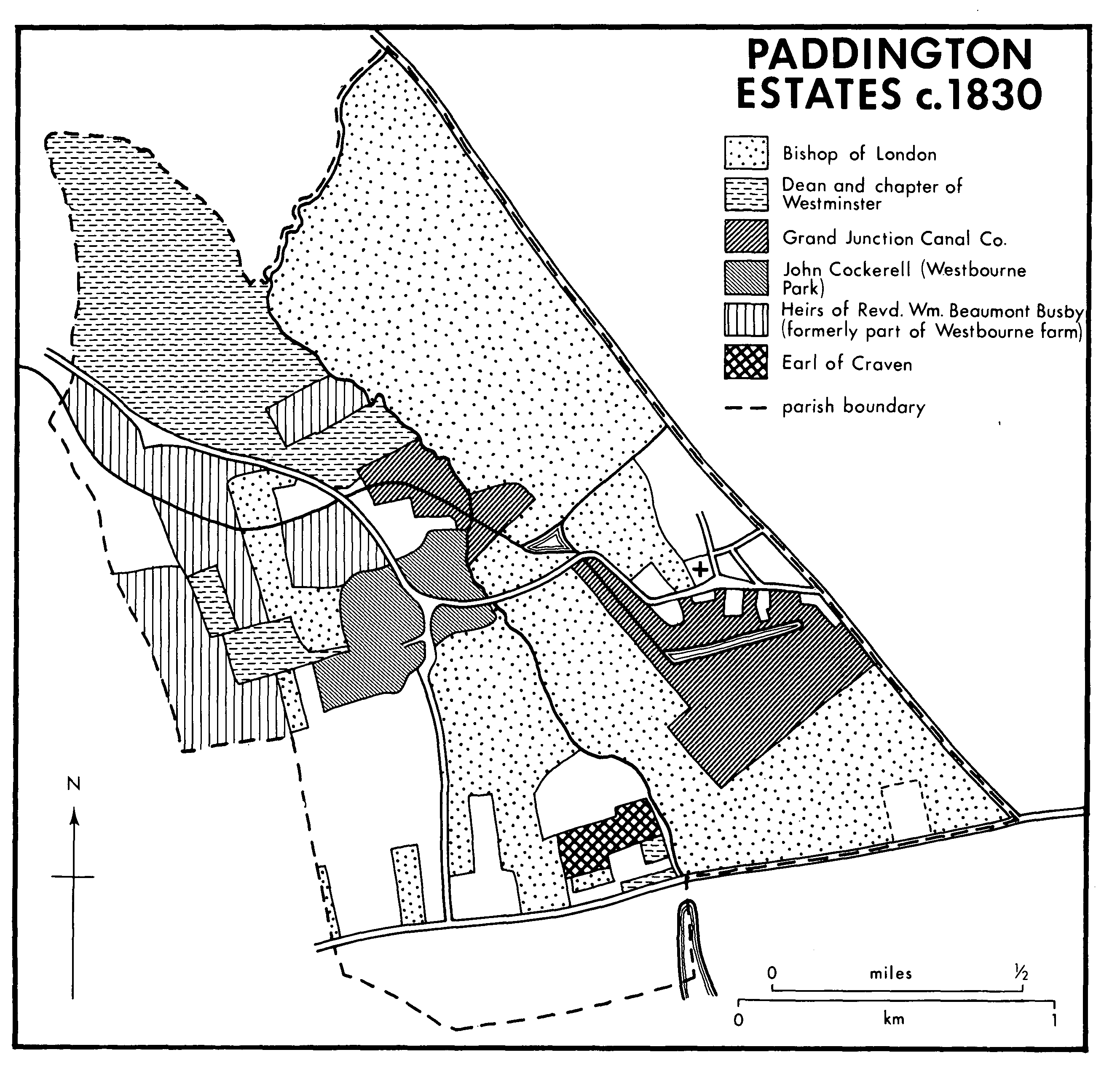 Bishop Gilbert Sheldon in 1662 made leases of the manor for three lives to the attorney-general Sir Geoffrey Palmer, Bt. After further transactions by the bishop's successor the manor was temporarily transferred back to Sheldon in 1668, when he was archbishop of Canterbury, and was leased by the bishop of London in 1678 to Sheldon's nephews Sir Joseph (d. 1681), a former lord mayor of London, and Daniel Sheldon (d. 1699). (fn. 19) On the death by 1721 of Daniel's son Gilbert the lease was renewed for Gilbert's sisters Judith and Mary. (fn. 20) Judith's son Paul Jodrell and Mary's son Sheldon Craddock in 1741 conveyed their freshly renewed term to Sir John Frederick, Bt. (d. 1755), of Hampton, (fn. 21) who was succeeded by his sons Sir John (d. 1757) and Sir Thomas (d. 1770). (fn. 22)
Sir Thomas Frederick's successors were his daughters Elizabeth and Selina, who in 1778 respectively married Sir John Morshead, Bt. (d. 1813) and Robert Thistlethwayte (d. 1802). (fn. 23) Both moieties were mortgaged in the 1780s, the lease having been vested in trustees. (fn. 24) In 1795 the bishop made a new lease to the trustees of the former lessees for 99 years, renewable after 50 years, in accordance with the recent Act to promote building on the bishop's estate. (fn. 25) Renewed by the bishop in 1845 (fn. 26) and by the Ecclesiastical Commissioners from 1895, the lease was converted into one for 2,000 years under the Law of Property Act, 1925, and was surrendered by the trustees to the Church Commissioners in 1953. (fn. 27)
From 1795 (fn. 28) the trustees of what came to be called the Paddington Estate paid modest sums for the traditional rent of the manor, for the curate's stipend, for compensation to the parish for waste lands, (fn. 29) and for the land tax; in return they took two thirds of the ground rents from new building, until in 1892 the Ecclesiastical Commissioners insisted that future ground rents should be divided equally. During the 19th century parts of the estate were subleased to the Grand Junction Canal Co., (fn. 30) the Grand Junction Water Works Co., and the G.W.R. Co. Alienations included the sale of c. 7 a. for the purchase of the City of London's conduit system under an Act of 1812, smaller sales to redeem the land tax, and grants of land for new churches. (fn. 31) In 1985 the Church Commissioners still had c. 4,500 lettings in Paddington, mostly on the Hyde Park estate but including some which they hoped to sell in Maida Vale. (fn. 32)
The beneficiaries of the trust established in 1795 (fn. 33) were Elizabeth Morshead (d. 1845), Selina Thistlethwayte (d. 1817), and their heirs. Their interests, affected by many family settlements, passed chiefly to the Thistlethwaytes. Selina's son Thomas Thistlethwayte of Southwick Park (Hants) was himself a trustee in 1845 and was entitled to seven eighths of the interests, estimated to be worth £430,000 as a capital sum, at his death in 1850. (fn. 34) In 1868 the rental of the Paddington Estate, including the third paid to the Ecclesiastical Commissioners, was £33,175. (fn. 35) Thomas Thistlethwayte's eldest son Thomas (d. 1900) and grandson Alexander Edward Thistlethwayte (d. 1915), of Southwick Park, between them held seven eighths in 1895, when, however, the trustees included Walter Morshead and the other beneficiaries Elizabeth's grandson Sir Warwick Morshead, Bt. (d. 1905), of Tregaddick (Cornw.) and his wife. A. E. Thistlethwayte's successive heirs, his brothers Capt. Arthur (d. 1924) and Lt.-Col. Evelyn William Thistlethwayte (d. 1944) both acted as trustees, as did the latter's nephew and heir F. H. P. Borthwick-Norton (d. 1950). (fn. 36)
The building called the manor house may have been the parsonage house (fn. 37) and was presumably the one occupied by Matthew Smale, (fn. 38) where he allowed the Lord Chief Justice Sir John Popham to stay c. 1582. (fn. 39) Apparently it was always subleased after Sir Rowland St. John's time. In 1647 when Sir Rowland's 624-a. estate, consisting mainly of the demesne lands and Paddington wood, had been divided among 16 undertenants, a 'capital messuage of three bay of building' was held with 6 a. and a further 40 a. by James Hall. It abutted on the churchyard, itself bordered on the east by a 'great house' occupied with a 4-a. close and a further 90 a. by a London brewer, Alderman John Bide. Sir Rowland St. John had lived in Bide's house, formerly occupied by Edward North; (fn. 40) it may have been the larger and newer building, as 17th- and 18th-century leases of the manor always specified both the capital messuage and North's house. (fn. 41) The 'great house' may have been occupied by Arthur Blyth, the third largest ratepayer in 1670 and an overseer from 1681 to 1683. (fn. 42) St. John's great house on Paddington green, with a barn of five bays, was subleased with over 100 a. in 1697 to Sarah Blyth for 16 years and in 1709 to her son Charles for 21 years. (fn. 43) It was mortgaged by Charles, whom Gilbert Sheldon accused of non-payment of rent, and in 1714 by Ralph Hide, clothworker of London. (fn. 44) Probably it was the 'manor house' or 'old house' of Manor House farm, held in 1742 and 1751 by William Godfrey. (fn. 45)
In 1810 the trustees of St. Mary's church, appointed under Acts of 1778 and 1793, (fn. 46) were empowered to buy 2 a., including the manor house, in order to enlarge the churchyard which lay to the south. (fn. 47) Part of the purchase money was advanced by John Parton, the vestry clerk, who from 1811 held the house with 1 a. as security and kept separate accounts of the rents. (fn. 48) Repairs were needed in 1813, including iron bars to strengthen the first floor, which was 'much pressed outwards'. The house was leased for seven years in 1813, to the painter Joshua Cristall, and annually from 1820. (fn. 49) After serving as a girls' school, it was suggested as a parsonage and as a watch house before the vestry finally ordered demolition in 1824. (fn. 50) Only timber and ornamental trees were to be preserved in 1825, when the site was added to the churchyard. (fn. 51) In a novel about the mid 18th century the haunted Manor House was described by Charles Oilier, himself a vestryman in 1820, as a plain, square, red-brick building, in a walled garden with elm trees. (fn. 52)
Paddington RECTORY was always leased with the manor from 1489, (fn. 53) the rent being payable separately to the sacrist of Westminster in 1514 (fn. 54) but included in the rent for the manor after the Reformation. (fn. 55) When subleased by Matthew Smale to John Chirme for eight years in 1591, the rectory estate included the churchyard, two tenements, two closes called Church fields, and a close called the Five Acres. (fn. 56) Smale later resumed the rectory and in 1604 compounded for an undertenant's tithes, for a term which was disputed. (fn. 57) Great Church field and Five Acres were held in 1644 by Elizabeth Kenwrick, (fn. 58) a widow who in 1647 lived in a house lately built by Edward Kenwrick. By 1647 the rectory had been subleased to John Lisle and consisted mainly of great and small tithes on all freehold land in the parish, of both Paddington and Westbourne manor, but not on the demesne lands the tithes of which had been demised to particular tenants. (fn. 59) John Lisle or a namesake was later churchwarden and, in 1670, the largest ratepayer. (fn. 60) Property in Paddington, previously leased to George Starkey, was released in 1712 by Thomas Lisle of Lambeth (Surr.), son of Thomas Lisle of Paddington (d. 1678). (fn. 61) In 1742 the rectory lands, which did not include Great or Little Church fields, amounted to c. 30 a., mostly at Westbourne green. (fn. 62) A 'new house' called Chirme's house at Westbourne green was mortgaged in 1714 by George Starkey, the house itself being in the possession of the Huguenot marquise de Gouvernet (d. 1722). (fn. 63) Mrs. Elizabeth Starkey paid the highest rates in the parish from 1721 to 1723 and Thomas Starkey was also a substantial ratepayer from 1725 until 1745. (fn. 64) All the tithes were commuted in 1844 for a rent charge of £154 11s. 5d., payable to the trustees of the Paddington Estate. (fn. 65) Chirme's house had been divided by 1758, when it was sold by John Starkey to William Pickering. (fn. 66) In 1771 it was sold, with other property, by Pickering's executors to Jukes Coulson and by 1801 it had been demolished, the site forming part of the grounds of Coulson's Westbourne Place. (fn. 67)
Lands in the west part of the parish belonged in the Middle Ages to Westminster abbey's manor of KNIGHTSBRIDGE WITH WESTBOURNE, most of which lay in Westminster. Although Westbourne tenants remained subject to courts at Knightsbridge, (fn. 68) lands in Westbourne were not named in late 15th-century leases of Knightsbridge manor. (fn. 69) The lordship of Knightsbridge with Westbourne was granted in 1542 to the short-lived see of Westminster, from which it passed to the dean and chapter of the collegiate church. (fn. 70) The manor was sold by parliamentary commissioners in 1650 to Thomas Evans, who in 1652 conveyed it to Sir George Stonhouse, beneficial lessee of the Westbourne estate described below, but it reverted to Westminster at the Restoration. (fn. 71) In 1821 Joseph Neeld (d. 1856), later of Grittleton Hall near Chippenham (Wilts.), (fn. 72) obtained a lease of Westminster's manorial rights, in order to inclose all the remaining waste. He also obtained a lease of the Westbourne estate, for three lives, in 1832 and again in 1850. (fn. 73) Neeld's proposals for building leases were treated with caution by the dean and chapter, who felt that the lessees of the bishop of London's estate had been treated too favourably. Arbitrators, appointed in 1859, in 1862 allotted 74 a. in a single block to Westminster and the same acreage in two blocks to trustees for Joseph's brother Sir John Neeld, Bt., whose lands were thereupon enfranchised and soon afterwards built over. (fn. 74)
The estate known in the 19th century as the manor of WESTBOURNE or WESTBOURNE GREEN (fn. 75) formed part of the abbey's lands in the parish. Abbot Walter of Wenlock (d. 1307) was found in 1316 to have acquired property without licence in Knightsbridge, Paddington, Westbourne, and Eye, the Westbourne lands totalling 26 a. and including 2 a. received from Maud Arnold. (fn. 76) By the time of Henry VIII the warden of the abbey's new work had been assigned much land in Westbourne, including Arnold's and William's fields north of Harrow Road and Knight's field to the south. (fn. 77) Together with all the lands in Paddington formerly devoted to the Lady chapel, they were leased for 99 years in 1542 to Sir Edward North. (fn. 78) Thereafter the estate consisted mainly of the three fields in Westbourne, 6 a. farther south in the common fields near the Uxbridge road, and five closes west of Arnold's field, formerly of St. Mary's chapel and known by 1669 as Ashgroves. They were leased in 1631 for three lives to George Stonhouse, (fn. 79) who in 1632 succeeded as Sir George Stonhouse, Bt., of Radley (Berks.). (fn. 80) Sir George (d. 1675) settled the lease on his third son James, (fn. 81) for whom and for whose heirs it was repeatedly renewed for lives. In 1725 the lessee was James's son Richard Stonhouse (d. 1776) of Tubney (Berks.) and in 1742 Richard's son James (d. 1795), (fn. 82) physician and divine, who later inherited the baronetcy, (fn. 83) and in 1796 the Revd. Timothy Stonhouse Vigor and George Vansittart were trustees for Sir James Stonhouse's son Sir Thomas (d. 1810). Their interest was conveyed in 1805 to the engineer John Braithwaite (d. 1818), who obtained a new lease in 1811. (fn. 84)
The Stonhouses probably always divided and subleased their estate: Ashgroves and William's field were subleased in 1634 and Ashgrove, (fn. 85) Ash field, and Knight's field were part of the large Westbourne Green farm in 1776. (fn. 86) No house was recorded in leases by Westminster until the early 19th century, when Westbourne Manor House stood north-east of Harrow Road and north of the Grand Junction canal, with William's field to the north-east. (fn. 87) There was, however, a building on or near that site by 1746. (fn. 88) John Braithwaite's residence in 1814, with two storeys and a steeply pitched roof, was perhaps of c. 1700; the main front was of five bays, with a single-storeyed extension of three bays, beyond which it was proposed to build new stables and offices. Extensive improvements were reported in 1815, including the inclosure and planting of ground between the house and Harrow Road and probably a tree-lined walk which ran from the rear alongside William's field to the Westbourne. (fn. 89) Braithwaite died at Westbourne Manor House, which his son John (1797-1870), also a noted engineer, (fn. 90) retained until c. 1840. Later tenants were William Charles Carbonell, a wine merchant, who held it with 14 a. in 1846, and from 1854 John, afterwards Sir John, Humphreys. The house probably survived in 1866 but had been replaced by the western end of Sutherland Avenue in 1867. (fn. 91)
The estate known c. 1800 as WESTBOURNE PLACE (fn. 92) and later as WESTBOURNE PARK (fn. 93) probably represented lands in Westbourne which had been left to Westminster abbey by Margaret Beaufort, countess of Richmond (d. 1509). (fn. 94) Her gift consisted of the Kensington manor of Notting Barns, which she had bought from feoffees who included Sir Reginald Bray and to which the Westbourne lands may have been added as the result of a separate purchase. Perhaps they were Stonyland and Herryland in Westbourne, sold to Bray in 1492 by Thomas and Robert Stillington, cousins and heirs of the Lord Chancellor Robert Stillington, bishop of Bath and Wells (d. 1491). (fn. 95) Westminster abbey leased lands in Westbourne and Chelsea detached, with Notting Barns manor, to Alderman Robert Fenrother, a goldsmith, who by will of 1524 (fn. 96) left them to his son-in-law Henry White, whose son Robert in 1543 was forced to exchange them with the Crown. Robert White's house and lands at Westbourne had been subleased to Thomas Dolte (fn. 97) and in 1554 were occupied by William Dolte. In that year, having been separated from Notting Barns which had gone to Sir William Paulet, the reversions were granted in fee to the queen's doctor Thomas Hughes. (fn. 98)
Alderman Benedict Barnham died in 1598, seised of a house called Westbourne and 70 a. in Paddington, Kensington, and Chelsea detached, held of the Crown by 1/40 knight's fee, and a further 66 a. there, of unknown tenure, including 40 a. occupied by William Lisle. (fn. 99) Of Barnham's five daughters Alice married Francis Bacon, Viscount St. Alban, and in 1626 John, later Sir John, Underhill, and Bridget, who married Sir William Soame of Thurlow (Suff.). (fn. 100) Westbourne farm in Paddington, Kensington, and Chelsea was the subject of a recovery executed by the Underhills on their marriage and was among the lands to which Underhill renounced all claim, in return for £400 a year, on separating from his wife in 1639. (fn. 101) Alice (d. 1650) apparently settled her interest on her nephew and executor Stephen Soame, who in his will proved in 1658 stated that she had left him a moiety. The lands may have been sold to meet bequests (fn. 102) but in 1673 were named in a claim by Underhill against Stephen's son William Soame (later a baronet, d. 1686) for the full payment of his annuity. (fn. 103) Their ownership in the late 17th century is obscure.
Elizabeth, widow of Thomas Allam of Westbourne green, and her children Jane and Thomas Allam mortgaged a capital messuage with 4 a. in 1715 to William Gilbert, by which time it had been divided from a brick house belonging to Catherine Whitcomb and her three half-sisters, the daughters of John Scudamore. (fn. 104) Jane Allam in 1730 conveyed her interest to Reginald Heber of the Middle Temple, (fn. 105) who had been resident from 1725 (fn. 106) and whose son Reginald, with William Gilbert's brother Edward, in 1742 conveyed the house in trust for the architect Isaac Ware (d. 1766). Ware sold it in 1764 to Sir William Yorke, Bt., (fn. 107) who in turn sold it in 1768 to Jukes Coulson, a London anchorsmith. (fn. 108) In 1771 Coulson also bought, from the son-in-law and daughter of William Pickering, Chirme's house at Westbourne green, with the nearby brick house called Mr. Scudamore's, which Pickering had bought from John Ewens in 1759 and which had been allotted in 1731 to Catherine Whitcomb by her half-sisters. (fn. 109) Westbourne Place was the seat of Coulson's widow in 1795 and was sold by his nephew and namesake in 1801 to the architect Samuel Pepys Cockerell (1753-1827), who died there. (fn. 110) Samuel's eldest son John held a compact estate west of the Westbourne stream, on either side of Harrow Road, in 1828. (fn. 111) As Westbourne Park or House the main residence was leased from c. 1829 to 1837 to Gen. Lord Hill (1772-1842), while John Cockerell lived at a smaller house to the east, Little Westbourne. Sir Charles Rushout Cockerell, Bt., Samuel's nephew, conveyed his interest in the estate in 1844 to John Pink, who already had started to build there. (fn. 112)
Isaac Ware rebuilt Westbourne Place and Coulson presumably demolished Chirme's and Scudamore's houses, both of which had gone by 1801. Allegedly incorporating materials from Lord Chesterfield's former London residence, (fn. 113) Ware's seat had a stuccoed entrance front of nine bays; three, between canted bows, rose above the cornice to form a third, attic, storey with a central pediment. (fn. 114) Coulson enlarged the house and laid out park-like grounds, to which Cockerell added from the waste. The pleasant situation was widely admired, (fn. 115) and during Lord Hill's tenancy visitors included William IV, Queen Adelaide, and the duke of Wellington. The house partially survived, a little south of the railway, in 1846 but its site had been covered by nos. 6-18 Westbourne Park Villas by 1847. (fn. 116)
Half of a large estate called WESTBURY or WESTBOURNE FARM, in Paddington, Kensington, and Chelsea detached, was held in 1724 by Thomas Folkes of Great Barton (Suff.), a lawyer. (fn. 117) Then or lately occupied by Mrs. Starkey, the moiety was settled on Folkes's only child Elizabeth (d. 1741), (fn. 118) who married the Speaker Sir Thomas Hanmer, Bt. (1677-1746), but eloped with Thomas Hervey (d. 1775). Elizabeth left Hervey her moiety of Westbourne farm, (fn. 119) which was included in marriage settlements for Capt. Thomas Hervey in 1774 and for his son William of Bodvel (Caern.) in 1802. (fn. 120) Folkes may have held the other moiety also, since in 1759 William and Henry Folkes conveyed it to Tomlinson Busby of Gray's Inn. (fn. 121) Lt.-Col. Tomlinson Busby secured a rent charge on Westbourne farm in 1803 and he and William Hervey jointly sold some land to S. P. Cockerell and another piece to John White, the tenants, in 1810. (fn. 122) Partition of the estate was regulated by an Act of 1816 for the Revd. William Beaumont Busby, dean of Rochester (d. 1820), and William Hervey. (fn. 123) Some 10 a. with a house east of Westbourne Park were sold by Hervey in 1817 to William Penney, varnish maker. (fn. 124) Busby's heirs retained a substantial estate in 1828, west of the village and south of Harrow Road. (fn. 125)
In the 18th century the farmhouse of Westbourne farm was divided. In 1803 it had been occupied by Jacob Simmons, tenant of Hervey's moiety, and by the marquess of Buckingham, (fn. 126) who had had a country retreat there in 1792. (fn. 127) From 1805 until 1817 the actress Sarah Siddons (1755-1831) also had a retreat at Westbourne Farm, described by her husband William as 'a thing so pretty and so small', where she received several famous visitors. (fn. 128) It was later called Desborough Cottage and finally Desborough House, (fn. 129) taking its name not from the Westbourne farm estate but from a neighbouring meadow called Derborough in 1647 and Desboroughs in 1742, leased by the bishop as part of the demesne of Paddington manor. (fn. 130) A sketch by the actor Charles James Mathews, who lived there with his wife Mme. Vestris from 1845 until c. 1849, showed a building with three gables facing Harrow Road. In 1856 it survived, south of the canal, but by 1861 it had been replaced by Cirencester and Woodchester streets. A few yards to the south Desborough Lodge, recently completed by Sarah Siddons's brother Charles Kemble, who soon moved nearer Paddington green, (fn. 131) was advertised with 4 a. in 1813. (fn. 132) Occupied with nearly 2 a. in 1846 by James Oliver, (fn. 133) it made way for Desborough Mews between 1855 and 1861. (fn. 134)
William Craven, Lord (later earl of) Craven (d. 1697), was a modest ratepayer in Paddington from 1670 to 1672. (fn. 135) In 1671 he rented land near Marshall Street, Westminster, to which he later added and which he settled in trust in 1687 for a pest house and burial ground to serve the parishes of St. Clement Danes, St. Martin-in-the-Fields, St. James, and St. Paul, Covent Garden. (fn. 136) The spread of building nearby impelled William, Lord Craven (d. 1739), in 1733 to buy two houses at Bayswater, forming an outlying parcel of Tyburn manor, with 6 a. and a further 3 a. in the common fields of Westbourne, from Jane, widow of Thomas Upton, and her son John Davis Upton. (fn. 137) Thomas Upton had bought the property in 1725 from Robert Pollard. (fn. 138) The pest house was moved there under an Act of 1734 (fn. 139) and existed as a long building with several enclosures, amid fields and well back from the Uxbridge road, in 1746. (fn. 140) Presumably it was no longer used as a pest house in 1795, when the CRAVEN estate was 'very pleasantly situated' on a slight eminence known as Craven Hill. (fn. 141) In 1811 Robert Shirley, Earl Ferrers (d. 1827), granted a lease of no. 3 Craven Hill, (fn. 142) presumably one of a terrace of 6 houses, varying in size, which in 1829 stood on the site of the pest house, east of a detached house and along the north side of a lane called Craven Hill. The estate then formed a rough rectangle, bisected by the lane which ran from behind Porchester Road (later Terrace) eastward almost to the Westbourne stream. (fn. 143) The vestry was told in 1833 that an outbreak of plague, rather than cholera, would be needed before the land could be claimed for charitable purposes. (fn. 144) Detached and terraced houses were built along both sides of Craven Hill, and in mews to the north, between 1840 and 1854. Leases were granted by William, earl of Craven (d. 1866) to several builders, (fn. 145) including Charles Claudius Cook for no. 23 in 1840, (fn. 146) and James Ponsford. (fn. 147)
The GRAND JUNCTION CANAL CO., whose negotiations were exempted from the restrictions of the bishop's building Act of 1795, (fn. 148) in 1798 took a lease until 1894 of c. 48 a. between Westbourne green and Edgware Road. The land consisted mainly of a strip along the canal but from North Wharf Road by the basin it stretched southward to the intended Grand Junction Street, (fn. 149) where 8 a. were subleased under an Act of 1812 to the new Grand Junction Waterworks Co. for a peppercorn rent. (fn. 150) The canal company, represented on the select vestry from 1825, shared the building up of Grand Junction Street with the bishop and his lessees. (fn. 151) More lands were acquired from the Paddington Estate, including 14 a. of Desboroughs, in 1825, when some parcels were exchanged. (fn. 152) The company had 81 a. in 1845 (fn. 153) and was granted a renewal of its lease for 99 years in 1846. (fn. 154) In the late 19th century a third of all its income came from rents from property in Paddington. (fn. 155)
A new term was secured in 1899 and converted to 2,000 years under the Law of Property Act, 1922. (fn. 156) Having purchased the Grand Union Canal Co. in 1894, (fn. 157) the Grand Junction Canal Co. with effect from 1929 transferred all its canal undertakings to the Regent's Canal and Dock Co., which was reconstituted as the Grand Union Canal Co. (fn. 158) Subleases were made to the new canal company of extensive property including most of North and South wharves, canalside sites in Harrow Road between Bishop's Road and Harrow Road bridges, and Amberley wharves. (fn. 159) The Grand Union Canal Co.'s title passed under the Transport Act, 1947, to the British Transport Commission and under the Transport Act, 1963, to the British Waterways Board. The freehold nos. 431 to 523A (odd) Harrow Road, along the canal, were sold in 1937 to the Artizans' and General Dwellings Co., which owned the neighbouring Queen's Park estate, houses farther east in Harrow Road were sold in 1966 to the G.L.C. for the Western Avenue extension, and part of Amberley wharves was also sold in 1969 to the G.L.C., whose interest passed in 1980 to Westminster council. In 1983 the British Waterways Board had agreed to sell c. 4 a. to the Department of Health and Social Security for an extension to St. Mary's hospital. The sale was to include nos. 6-16 South Wharf Road and access over the canal to North Wharf Road, leaving the British Waterways Board with c. 11 a. around the east end and along the north side of the basin, together with an option to buy the former Lock hospital in Harrow Road.
Land and buildings not used for the canal undertaking remained after 1929 with the renamed Grand Junction Co., which functioned as a property company. (fn. 160) While retaining its own name, it was taken over in 1972 by the Amalgamated Investment and Property Co., which went into liquidation in 1976. (fn. 161)
The Grand Junction Co.'s extensive Paddington holdings were reduced by sales, including those of houses in Shirland Road, Formosa Street, Amberley Road, and Abourne Street in 1956 and by the L.C.C.'s compulsory purchase in 1960 of property in North Wharf Road and between Delamere Terrace, Chichester Road, Westbourne Square, and Lord Hill's Road. (fn. 162) More houses in Formosa Street and Warwick Avenue, still held in 1965, had been sold by 1973. (fn. 163) The company nonetheless took leases of some of the British Waterways Board's premises for rebuilding, including land in Irongate Wharf (later Harbet) Road from 1970 and in North Wharf Road from 1971. In 1973 the Grand Junction Co.'s Paddington estate was mainly freehold and lay north of the canal basin or in blocks from Praed Street across St. Michael's and Star streets to Sussex Gardens, with an estimated capital value of £9,727,950, half that of all its properties. Major assets included new factories at nos. 55-6 North Wharf Road, on land leased from the British Waterways Board, the new London Metropole hotel, freehold but with access across leasehold ground in Harbet Road, the flats of Siddons House, at the corner of Harrow and Harbet roads, and of Cambridge Court, with shops beneath, in Edgware Road, and most of the houses which had been converted into hotels along the north side of Sussex Gardens. (fn. 164) The estate had been broken up and sold by 1984, (fn. 165) when the London Metropole was owned by Lonrho. (fn. 166)