Pages 153-154
A History of the County of Northampton: Volume 3. Originally published by Victoria County History, London, 1930.
This free content was digitised by double rekeying. All rights reserved.
THE HUNDRED OF HUXLOE
containing the parishes of; Great Addington; Little Addington; Aldwinkle All Saints; Aldwinkle St. Peter; Barnwell All Saints; Barton Seagrave; Burton Latimer; Cranford St. Andrew; Cranford St. John; Denford; Finedon; Grafton Underwood; Irthlingborough; Islip; Kettering; LIlford Cum Wigsthorpe; Lowick; Slipton; Sudborough; Twywell; Warkton; Woodford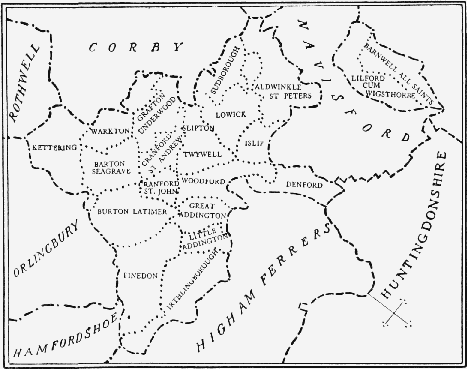 The Hundred of Huxloe is formed of the three ancient hundreds of Huxloe, Suthnaveslund and Northnaveslund, which were included in the eight hundreds, claimed by the Abbey of Peterborough, (fn. 1) and confirmed to it by Richard I. (fn. 2) In the 11th century Northamptonshire geld-roll Naveslund is said to have contained two hundreds (fn. 3); in Domesday Book Naveslund is mentioned without any qualification, (fn. 4) but in the 12th century survey of the county the names Suthnaveslund and Northnaveslund are used. (fn. 5) The former contained Irthlingborough, Great Addington and Little Addington, Woodford and Finedon; the latter, Cranford, Barton Seagrave, Warkton, Kettering, Grafton Underwood and Burton Latimer. (fn. 6) By 1316, however, these two hundreds were both included in Huxloe Hundred (fn. 7) and the names disappeared from use. In 1447, Henry VI granted various privileges to the Abbey of Peterborough, including the goods and chattels of felons and outlaws, etc., not only belonging to the men and tenants of the Abbey, but also of residents within the Hundred of Huxloe and other Hundreds; also all fines, ransoms, forfeitures, issues and amerciaments as well as fines for licence to agree in whatever court the judgment might have been given. (fn. 8) This was confirmed in 1462, and the charter also confirmed the grants by previous kings of deodands, wreck of sea, treasure trove, evasions and escapes, and other privileges. (fn. 9) In 1540–1, after the dissolution of the Abbey, Henry VIII granted Huxloe Hundred to Queen Katherine Howard for life, (fn. 10) but after her execution it remained in the Crown (fn. 11) until 1611, when James I granted it to John Eldred and George Whitmore. (fn. 12) Two years later they sold it to Sir Edward Montagu of Boughton, (fn. 13) whose descendant Ralph, Earl of Montagu, owned the Hundred in 1704. (fn. 14) A moiety of it appears to have been alienated before 1760, (fn. 15) but the remaining moiety passed by descent to George, Duke of Montagu, who held it in 1776. (fn. 16) From him it passed to his daughter and heir, Elizabeth, the wife of Henry, Duke of Buccleuch, (fn. 17) and the present Duke of Buccleuch is now lord of the Hundred. (fn. 18) The court was probably held at Huxloe Cross in Lowick parish (q.v.).