Pages 164-168
A History of the County of Northampton: Volume 3. Originally published by Victoria County History, London, 1930.
This free content was digitised by double rekeying. All rights reserved.
ALDWINKLE ALL SAINTS
Aldvincle (xi cent.); Aldwyncle, Audewinkle, Ardewinkle (xv cent.). The parish of Aldwinkle All Saints was united to that of Aldwinkle St. Peter by Order in Council of 29 November 1879. (fn. 1) The combined parishes contain 2,886 acres, the most of which is grassland, with a fair amount of wood around Lyveden. The parishes are bounded on the east by the River Nene, and on the south by its tributary Harper's Brook. From the low land near these streams the ground rises towards the north-west, where it reaches a height of nearly 290 ft. The soil is clay and gravel.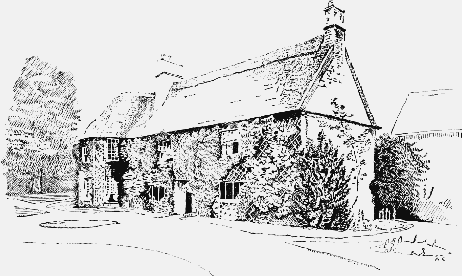 A road from Thorpe Waterville leads over the Nene and across the bridge, called Brancey Bridge, over Harper's Brook, to the village of Aldwinkle All Saints. The church lies on the south side of the road and the manor house, which was pulled down about 1826, adjoined the churchyard on the east. (fn. 2) The rectory house, the birthplace of John Dryden, the poet, is a plain but rather picturesque two story building of rubble and plaster with a thatched roof. It is, in part, of 16th century date, but the windows have been modernised and the house otherwise altered. The road continues through Aldwinkle St. Peter to Oundle. A branch from it goes to Lowick and another to the north to Lyveden where some of the woodland is in this parish. We have here mention in the 17th century of the Over and Great Assart, South Wood or South Hay, Lady Wood, Bradshaw Wood and Bareshanke Meadow (now Bearshank Wood). (fn. 3) Old Mill Bridge, carrying the road from Islip to Lowick over Harper's Brook, may mark the site of the manorial mill. Other place names are Cockermouth Closes, Great Laund, Old Laund and Old Park.
In 1651 the constables and third-boroughs presented seven recusants and declared that the village contained no ale house nor any Sabbath breakers, common drunkards or profane swearers; that it was well provided with churches in a state of repair; its highways and bridges were in good repair and there was provision for its poor. (fn. 4)
An Act for inclosing the common lands of Aldwinkle was obtained in 1772.
Manors
In 1086 Picot, Landric and Oger held of Guy de Reinbuedcurt 5 hides in Aldwinkle All Saints, which in King Edward's time had been held freely by Lefsi. (fn. 5) Richard, son of Guy de Reinbuedcurt, held in Aldwinkle 3 hides, less half a virgate, of the queen's fee. (fn. 6) His heir was his daughter Margery, who married Robert Foliot, lord of the barony of Wardon, (fn. 7) and the overlordship of half a knight's fee in Aldwinkle afterwards passed with this barony. (fn. 8)
The mesne tenant in 1242–3 was Henry de Aldwinkle, (fn. 9) probably father of Richard de Aldwinkle, son of Henry (fn. 10) and grandfather of Henry de Aldwinkle, who rendered 2s. 6d. a year to the barony of Wardon in 1280, (fn. 11) and held half a knight's fee in Aldwinkle in 1284. (fn. 12) This Henry had a son Richard de Aldwinkle, (fn. 13) who in 1313 helped to carry off the goods of Aymer de Valence in Aldwinkle St. Peter (fn. 14) (q.v.). and was a tenant by knight's service in Aldwinkle in 1316. (fn. 15) In 1351 Henry de Aldwinkle, probably Richard's son, conveyed the manor of Aldwinkle to Adam Bacoun, knight, (fn. 16) evidently as trustee, for John de Aldwinkle held there in 1376, (fn. 17) and lands were conveyed by Sir Simon Felbrigge and his wife Katherine, probably as trustees, to William Aldwinkle in 1434–5 (fn. 18). William de Aldwinkle died in 1463 leaving a widow who married William Chambre, founder of Chambre's chantry. (fn. 19) His heir was his kinsman Thomas Lenton (fn. 20) who died seised of the manor in 1504 leaving a son John, (fn. 21) who died in 1558. His grandson John son of Robert Lenton succeeded, and apparently settled the manor in 1582 (fn. 22) and again in 1583 (fn. 23) on his first wife Dorothy. She died in the following year and he married as his second wife Elizabeth Shepperde. In 1587 and again in 1593 he leased his messuage and lands in Aldwinkle to Robert Hatley and John Viccars. His son Simon was holding at the end of the 16th century, when he disputed his father's leases. (fn. 24)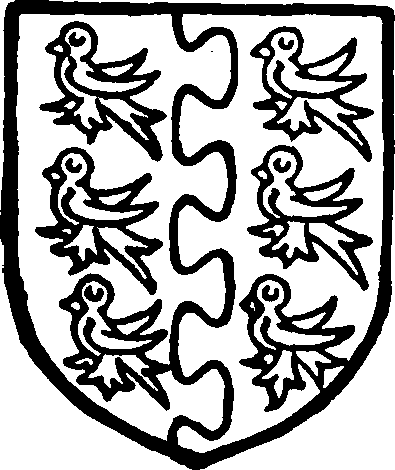 In 1613 (fn. 25) and 1616 (fn. 26) Simon Lenton conveyed the manor to Sir Oliver Luke of Woodend (Co. Beds) and Sir John Luke, probably in trust for Sir Oliver's sister Anne, wife of Sir Miles Fleetwood, (fn. 27) who dated a document from Aldwinkle in 1627 (fn. 28) and presented to the church in 1637. (fn. 29) He was Receiver of the Court of Wards, and had three eminent sons, William, a Royalist, George, who fought in the Swedish army under Gustavus Adolphus, and Charles, a wellknown Parliamentary officer. Sir Miles Fleetwood died in 1641 and was succeeded in his estates and office by his son William, also a knight, who was deprived of the Receivership of the Court of Wards by Parliament, the office being conferred in 1644 on his brother Charles. (fn. 30) In 1646 Sir William Fleetwood of Aldwinkle petitioned to compound for his delinquency in having attended the king, as his servant in ordinary, at Oxford and elsewhere. He was certified to be suffering from dropsy and annuities were payable to his brother Charles and his sister Anne. (fn. 31) Sir William and his wife Elizabeth conveyed the manor of Aldwinkle in 1650 to Richard Gorman and William Snowe, probably for purposes of settlement. (fn. 32)
In 1659 Nathaniel Whiting, minister of Aldwinkle All Saints, dedicated his 'Old Jacob's Altar newly repaired' to the three Fleetwood brothers. 'I am not ashamed, Right Worshipful,' he says in words particularly addressed to the eldest of them, 'to tell the world how ancient and affectionate a Maecenas you have been to me, that I received many encouragements from you when I was a student in the Universitie, how ready I have always found you to lay forth your power and interest for me, how freely and speedily you placed me at Aldwinkle, and how muche I have found the favour of a Patron and the affections of a friend (I might go higher) for the space of many yeares. . . .'
Sir William died in 1674 (fn. 33) and was succeeded by his son Miles, M.P. for Northampton county (1677–80), who died in 1688, leaving a son and heir William. (fn. 34) This William Fleetwood with his wife Elizabeth conveyed the manor of Aldwinkle All Saints and a free fishery to John Carpenter and William Whitwell in 1693, (fn. 35) probably for a settlement. Bridges states that William Fleetwood sold the manor to Elmes Spinkes, who was holding in 1723. (fn. 36) From Elmes Spinkes the manor and fishery seem to have passed to Elizabeth Spinkes, the wife of Col. Thomas Gwillim, of Old Court, aide-de-camp to General Wolfe, who was holding in 1754. (fn. 37) Their daughter Elizabeth Posthuma married Lt.-Col. John Graves Simcoe, (fn. 38) who was dealing with the property in 1784 and 1788. (fn. 39) The estate has been sold, but all manorial rights have apparently fallen into desuetude.
In 1242–3 half a knight's fee in Aldewinkle representing TITCHMARSH MANOR was said to be held of William de Ros of Hamelak. (fn. 40) Mentions of this overlordship recur until the 15th century. (fn. 41) In 1242–3 the demesne tenant of this half knight's fee was William de Mosca. (fn. 42) In 1284 he had been succeeded by William de la Zouche, (fn. 43) who was tenant of one knight's fee. In 1316 all or part of this holding had passed to Henry Titchmarsh, (fn. 44) and in 1346 to Gilbert Titchmarsh (fn. 45) In 1428 a fourth part of a knight's fee in Aldwinkle, held of the Lord of Ros and once in the tenure of Gilbert de Titchmarsh, was shared by William Aldwinkle, Henry Neville and John Travers. (fn. 46) The manor of Aldwinkle called 'Tychemersh Manor' was conveyed in 1427–8 by Robert Longe and his wife Anne to William Aldwinkle, William Armeston, John Beans, clerk, (fn. 47) and may afterwards have passed with the chief manor of Aldwinkle (q.v.).
Church
The church of ALL SAINTS consists of chancel 25 ft. 6 in. by 15 ft. 9 in. with vestry on the north and chapel on the south side, clearstoried nave of three bays 36 ft. 6 in. by 14 ft., north and south aisles, south porch, and west tower 11 ft. 6 in. square, all these measurements being internal. The north aisle is 8 ft. 6 in. wide and the south aisle 7 ft. 6 in., the width across nave and aisles being 34 ft. 8 in.
With the exception of the tower, which is faced with dressed stone, the church is built of rubble, plastered internally, and the chancel has a grey slated, eaved roof. The other roofs are leaded and of low pitch, behind battlemented parapets.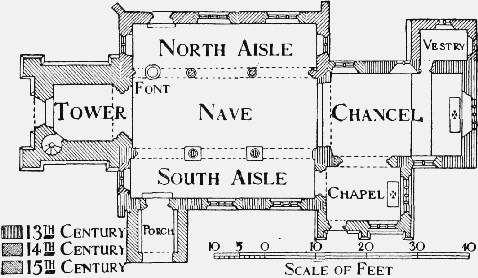 The chancel, chancel arch and south arcade of the nave belong to the latter half of the 13th century, though the chancel retains only two original windows and has been otherwise altered. The north arcade and aisle, vestry and clearstory date from the 14th century, the arcade being first built, while the chapel, tower and porch are 15th-century additions, the chapel having been erected by William Chambre and his wife, who founded a chantry there in 1488. Several new windows were inserted about this time. The chancel was restored in 1863, and the rest of the church in 1893, when the old seats and a west gallery were removed and the tower arch opened out. The building is at present used chiefly for funerals, and is furnished with chairs.
The chancel has a four-light east window with much restored early geometrical tracery, and in the north wall is a window of two uncusped lights with a quatrefoiled circle in the head. The other windows, one at the west end of the north wall and the other on the south side, are 15th-century insertions, each of two cinquefoiled lights. The piscina is in the sill of the south window and there are brackets for statues in the east wall, on either side of the window. The chancel arch is of two chamfered orders on moulded corbels, that on the south side having nail head ornament and a small angle shaft supporting the outer order.
The 13th-century south arcade has chamfered arches of two orders springing from cylindrical piers with moulded capitals and bases, and from a similar respond at the west end. The nail head occurs in the capital of the easternmost pier, and at the east end the arch rests on a corbel. (fn. 48) The circular bases stand on large square plinths 9 in. high, which may be part of the south wall of an earlier church. The north arcade has cylindrical piers of less diameter (fn. 49) and half-round responds, all with circular moulded capitals and bases, (fn. 50) and the arches are also of two chamfered orders. There is a 14th-century piscina with mutilated bowl in the south-east corner of the north aisle, and this aisle retains its 14th-century east and west windows, each of two trefoiled lights with a quatrefoil in the head, and the west window of the south aisle is of the same period and style. The other windows of the aisles are four-centred 15th-century insertions of three cinquefoiled lights, and the clearstory has two square-headed two-light windows on each side. The moulded north doorway is contemporary with the wall, but the south doorway is of 15th century date. The nave roof has four moulded principals, one of which bears the initials and date 'I.B. 1676.' The chancel roof is modern.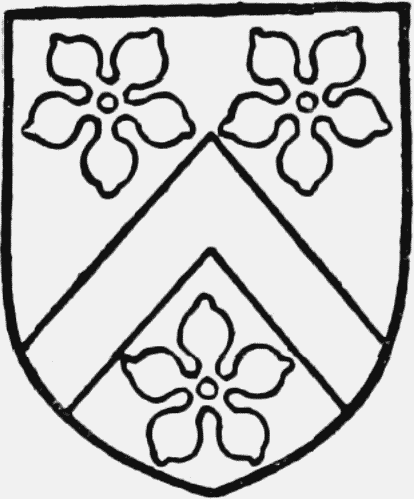 The Chambre chantry chapel is 14 ft. 6 in. long by 10 ft. 6 in. wide and is open to the chancel by a 15th-century arch of two moulded orders on attached shafts, and to the aisle by a narrower arch of the same type, the shafts having moulded capitals. In the east capital of the arch to the chancel and the north capital of the aisle arch are shields of arms, the former the arms of William Chambre, and there is a third below a bracket in the east wall. The chapel stands in front of the south aisle and is lighted by a four-light east window with Perpendicular tracery and by two three-light windows of the same type on the south side. Below the westernmost window is an external doorway with rectangular hood, and in the usual position an elaborate traceried piscina recess with battlemented cresting and circular bowl. The late 14th-century vestry retains two original windows and its west wall is weathered back so as to clear the older chancel window.
The tower is of four unequal stages and has a moulded plinth and buttresses covering the angles, on which animal figures are carved on the strings at each stage. The moulded west doorway is deeply recessed, with crocketed ogee hood set within a rectangular frame, with quatrefoiled circles in the spandrels. Over the doorway is a traceried window of three cinquefoiled lights, with a small niche above, both with crocketed ogee hoods. The three lower stages on the north side and the two lower on the south are blank, the third having a small traceried opening. The lofty upper stage is almost wholly occupied by double square-headed, traceried bellchamber windows of two lights, with wide middle mullions and traceried transoms, above which is a band of quatrefoils and battlemented parapets with tall crocketed angle pinnacles. The tower arch is of three chamfered orders, the innermost on halfround responds with moulded capitals and bases. The vice is in the south-west angle.
The late 13th-century font consists of an octagonal bowl moulded on the under edge, on a pedestal composed of eight keel-shaped shafts with moulded bases. The font was sold in 1655, but was set up again in 1662, when it was releaded. (fn. 51)
In the chancel is the brass of William Aldwincle (d. 1463), who is represented in a long garment with his feet resting on a dog. The inscription reads, 'Hic jacet Williū Aldewyncle armig. qui obiit xxviii die augusti A° Dni. Millmō cccclxiii cujus aĩe ppicietur Deus.' On the wall of the north aisle is a brass commemorating John Pykering, physician (d. 1659) with a rhyming inscription written by himself in 1652.
There are Jacobean turned altar rails, and over the chancel arch the names of the churchwardens of 1814 on either side of the space formerly occupied by the Royal Arms.
Bridges records a 'portrait of St. Catharine with her wheel' in the lower window of the south aisle, (fn. 52) but this is lost.
There were formerly five bells (fn. 53) in the tower, but in 1903 four were melted down to provide metal for a new ring at Aldwinkle St. Peter. The remaining bell (tenor) was found to be so badly cracked that it was recast.
The plate consists of a cup and cover paten of c. 1570, and two patens of 1861, one inscribed 'Aldwincle All Saints Church 1864. R. Roberts, rector.' There is also a pewter flagon. (fn. 54)
The registers begin in 1653. The first volume contains entries of baptisms to 1726, of marriages to 1725, and of burials to 1679.
There is a lych gate in memory of Fanny Satterfield Hodgson (d. 1917).
Advowson
The advowson presumably passed with the manor of the Aldwinkle family until in 1315 it was conveyed by Richard son of Henry Aldwinkle to Robert de Holand. (fn. 55) It then went with the manor of Aldwinkle St. Peter (q.v.) until the forfeiture by Francis Lord Lovel in 1487. Sir Ralph Butler, possibly as trustee, presented in 1471. The advowson later passed to the Somerset family, Sir Charles Somerset afterwards Earl of Worcester presenting in 1503 and 1511. (fn. 56) It was conveyed by William Earl of Worcester in 1553 to Gilbert Pickering, (fn. 57) apparently on behalf of his son Boniface, who died seised of it in 1586. (fn. 58) Boniface left it to his younger son John, (fn. 59) and it was probably he who in 1597 presented his kinsman Henry Pickering, father of Mary, mother of John Dryden, the poet, who was born at the rectory in 1631. (fn. 60) Early in the 17th century the advowson was acquired by Simon Lenton, who conveyed it with the manor (q.v.) in 1613 to the Fleetwoods. (fn. 61) Elizabeth, widow of William Fleetwood who sold the manor, presented in 1721, (fn. 62) and died in 1722. Her eldest son Miles had a son and heir William (fn. 63) who died without issue in 1747. Elizabeth, one of his three sisters and coheirs, wife of John Kimpton, obtained her sister's shares in the advowson. John Kimpton desired to sell the advowson, but failing, presented Thomas Haweis, a Methodist, who was assistant chaplain at the Lock Hospital. Later, being offered £1,000 for the advowson, Kimpton tried to eject Haweis. Eventually Lady Huntingdon bought the advowson and Haweis remained incumbent until his death in 1820. (fn. 64) The advowson was afterwards purchased by Lord Lilford, who held it with Aldwinkle St. Peter, to which parish it was united in 1879. (fn. 65) The present Lord Lilford is patron of the united parishes.
The chantry of William Chambre in the church of All Saints was founded by William Chambre in 1488 to pray for William and his wife Elizabeth and her former husband William Aldwinkle (d. 1463). (fn. 66) It was endowed with the manors of Armston and Denford and lands there and in Aldwinkle and Benefield. (fn. 67) It was founded to provide a priest who taught six poor children of the town of Aldwinkle. Its total value in 1549 was £10 15s. 6d. out of which 26s. 8d. was annually distributed in alms to two poor bedesmen in the almshouses in Aldwinkle. (fn. 68) On 18 December, 1546 William Dudley and others were ordered to take possession of the chantry (fn. 69) and nine days later the endowment, including the Chantry House in Aldwinkle, was granted to Sir Edward Montagu. (fn. 70) The property of the chantry seems to have reverted to the Crown and was granted out again in 1570 to Thomas second Lord Wentworth in tail. At the request of Lord Wentworth's son William, it was regranted in 1585 to Theophilus Adams and Thomas Butler. (fn. 71) In 1619 William Montagu, younger son of Edward the original grantee, died seised of a messuage and 20 acres of wood called Priestes Coppice, probably part of the endowment. His heir was his nephew Edward afterwards second Lord Montagu. (fn. 72)
The chantry house, which had been the priest's dwelling and the school house, seems to have been held with the manor. Bridges (1724) states that its ruins 'which were lately pulled down stood, in Mr. Spincke's yard, where human bones were dug up.' (fn. 73)
Charities
By indenture dated 19 Dec 1765, in performance of the intention of Henry Wotton, as expressed by his will, a yearly rentcharge of £1 12s. was granted to trustees. The rentcharge is paid out of land belonging to Lord Lilford and is applied by the overseers in the distribution of 120 twopenny loaves and 12s. in money to between 50 and 60 recipients.
Poor's Allotment. On an inclosure of the lands at Aldwinkle land was set out for the use of the poor. The property consists of 24 a. 1 r. 30 p. of land let to Lord Lilford for £30 yearly, which sum is distributed by the rector and churchwardens in coal to about 60 recipients.
The Church Land was set out on the inclosure of the lands in Aldwinkle and consists of 3 r. 18 p. let to Lord Lilford at £1 15s. yearly, which is applied by the churchwardens towards church repairs.
Richard Thorpe, rector of Barby, who died in 1671, left by his will a quarter of a yardland in Barby Field for teaching poor children at Aldwinkle. The rent is paid to the managers of Aldwinkle Church School.