Pages 173-176
A History of the County of Northampton: Volume 3. Originally published by Victoria County History, London, 1930.
This free content was digitised by double rekeying. All rights reserved.
BARNWELL ALL SAINTS
Bernewelle (xi cent.); Bernwella (xii cent.); Barnewell, Kyngesbernewelle (xiv cent.); King's Barnwell (xvi cent.); Barnwell All Saints (xvii cent.).
The parish of Barnwell All Saints, which since 1821 has been united with the sister parish of Barnwell St. Andrew (fn. 1) covers 1,781 acres on a subsoil of Cornbrash, surrounding Great Oolite in the north and centre and Oxford Clay in the south-east. The land is mostly under grass, but hay, wheat, barley and beans are grown. There are over 200 acres of woodland. The average height above the ordnance datum is 200 ft. In the west of the parish the main road from Thrapston to Oundle leads northwards, separating it from Lilford cum Wigsthorpe. The village is watered by a stream flowing, also northwards, into and through the neighbouring village of Barnwell St. Andrew, which passes in its course the site of the manor house, tenanted in the early years of the 18th century by Mrs. Elizabeth Creed, philanthropist and artist, a Montagu by birth, (fn. 2) and the remains of the church of All Saints. A little distance to the east are Friar's Close Farm, a moat, and Foot Hill Spinney. There is a considerable amount of woodland in the south-east of Barnwell All Saints and different parts of this are named Rough Wold, Common Wold, Barnwell Wold, Gunwell's Wold, Middle Coppice, and New Park Close. Earlier place names are Newdegardun, which belonged to the chief manor in the 14th century, (fn. 3) Tuthill and Breakhill situated east of the village, and Kilsey meadow, all three known in the 18th century.
Barnwell All Saints is said to have been inclosed in 1683. (fn. 4) In 1921 its population numbered 79 persons.
Manors
Barnwell All Saints belonged to the king in 1086, but in the following century was alienated to Robert de Ferrers. (fn. 5) Robert and his successors in the parish held of the Crown in chief until 1608. (fn. 6)
From the first Robert de Ferrers, created Earl of Derby in 1138, SPENSER or KINGS BARNWELL descended to his son of the same name (fn. 7) who gave 10 librates of his fee here to his daughter Isold on her marriage with Stephen de Beauchamp. Isold was a widow in 1185, with a son aged four and five daughters. (fn. 8) Her son, another Stephen de Beauchamp, was dead without issue in 1216 (fn. 9) and his lands in Barnwell went to John, son of his sister Isold de Suburie, (Sudborough), by her husband Richard de Suburie, and Maud, another sister, widow of William de Wascough (fn. 10) who conveyed their shares in the manor to Sir Philip Basset. (fn. 11) This conveyance was confirmed by John de Suburie and Ralph son of Maud de Wascough, in 1248. (fn. 12)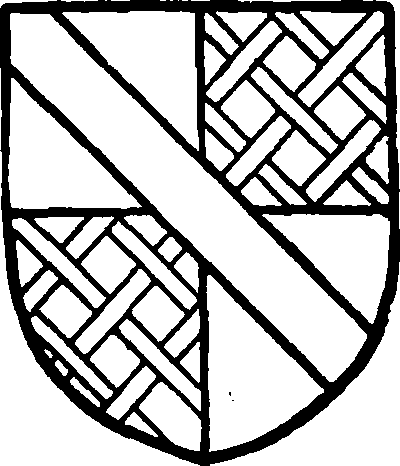 Sir Philip Basset gave the manor of Barnwell All Saints to Hugh le Despenser in free marriage with his daughter Aline or Aveline, (fn. 13) who became the wife of Hugh Bigod, Earl of Norfolk (fn. 14) after her first husband's death at the battle of Evesham. (fn. 15) She died in 1281 and the manor descended to her son and heir Hugh le Despenser (fn. 16) afterwards Earl of Winchester. (fn. 17) In 1284 two-thirds of the manor was held by Hugh and the remaining third by John de Beaumont, on whom Godfrey de Beaumont and his wife Cecily, two years before, had settled lands, the inheritance of Cecily in Barnwell. (fn. 18)
Hugh leased the manor in 1297 (fn. 19) and before 1316 granted it for life to Walter de Langton, Bishop of Coventry and Lichfield, who died seised of the manor called Spenser in Barnwell. (fn. 20)
In 1326, the Earl and his son were executed and their lands forfeited. (fn. 21)
After the death of Giles de Wachesham, another life owner, (fn. 22) the king in 1337 granted the manor to his yeoman, John de Ravensholme. (fn. 23) Later in the same year Hugh le Despenser, the earl's grandson, renounced his right in the manor in John's favour. (fn. 24) John, in 1344, made a settlement of the manor in his wife Margaret and his heirs. (fn. 25) He died in 1353, (fn. 26) Margaret and their son Thomas, then aged four, surviving him. (fn. 27) After Thomas's death without issue in 1370, the manor was held by his mother until her death in 1375. (fn. 28) The heirs of John de Ravensholme were then found to be the descendants of Margery and Cicely, the sisters of his father William de Ravensholme, namely, John Dyn, grandson of Margery, and John Dounome, son of Cicely. (fn. 29) John Dyn had already conveyed the reversion of his moiety to Sir Richard Stury, (fn. 30) to whom John Dounome soon after Margaret's death, sold his moiety. (fn. 31) In 1376 Sir Richard received a life grant from the Crown of a weekly cartload of firewood for his hearth at Barnwell such as Sir John de Ravensholme had enjoyed before him. (fn. 32) In 1385 he settled the manor in tail male, (fn. 33) and on the death of his widow Alice in 1413 Barnwell All Saints descended to Robert Stury, the third but first surviving contingent heir. (fn. 34) Sir Robert settled it on his son Richard, to whom Catherine Stury, his widow and Richard's mother, released her right. (fn. 35) In 1436 Joan Pavy, widow, formerly relict of John Kent, also renounced her right. (fn. 36) In 1438 Richard Stury, then knight, sold Barnwell All Saints to John Sturdys, citizen and goldsmith of London. (fn. 37) A considerable part of the manor seems also to have belonged to John Laurence of Wyboldston, Bedfordshire, and Elizabeth, wife of John Estwyk, who, together with John Estwyk, sold their rights here to John Sturdys in 1441. (fn. 38) John Sturdys sold the manor in 1447 to Thomas Thorpe (fn. 39) in whose possession it was in 1451. (fn. 40) Thomas, one of the Barons of the Exchequer under Henry VI, was taken prisoner at the Battle of Northampton and executed after a long imprisonment. (fn. 41) His lands in Northamptonshire were confiscated by Edward IV in 1461, (fn. 42) but were restored to his son Roger on the accession of Henry VII. (fn. 43) Roger was lord of the manor of Barnwell All Saints in 1496 when, with his wife Constance, he sold it to David Phelip (fn. 44) afterwards knight of the body to Henry VII. (fn. 45) Within a year of his death in 1506 (fn. 46) Sir David sold the reversion to George Kirkham, who sued his executors in Chancery for their refusal to complete the bargain. (fn. 47) George, however, was seised of the manor of Barnwell All Saints when he died in 1528. He had settled it on his son Robert and his wife Sybil. (fn. 48) In 1548 Sir Robert Kirkham and Sybil, together with John Banastre, whom Sir Robert had enfeoffed of some part of his estates, (fn. 49) sold the manor to Sir Edward Montagu (fn. 50) and within the next three years George Middleton and George Lynne, sons and heirs respectively of Margaret Middleton and Agnes Lynne, the daughters of George Kirkham, confirmed his title. (fn. 51) From that time to the present day Barnwell All Saints has descended with Barnwell St. Andrew (q.v.)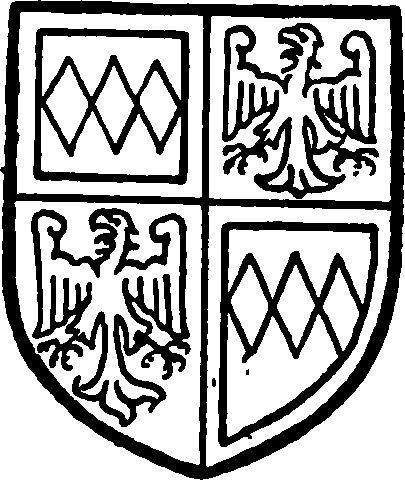 Another so-called manor in this parish was in the possession of William Dudley of Clapton in 1521 and descended with the manor of Clapton (q.v.) until 1666, when it was mortgaged by Sir William Dudley (fn. 52) and acquired six years later by Edward Lord Montagu. (fn. 53)
An estate in this parish called Barnes between 1518 and 1529 appears to be the so-called manor of Barnes sold to Sir Edward Montagu in 1548 by John Banastre who seems to have acquired it from Sir Robert Kirkham. (fn. 54)
The manor of Barnwell All Saints had two dovecotes in the 14th century, (fn. 55) twelve in 1548. (fn. 56) A fishery is mentioned amongst its appurtenances in 1281. (fn. 57) There were a capital messuage and a wind- mill here in 1322. (fn. 58) The windmill was still standing about thirty years later but only the site of the manor remained. (fn. 59) John de Ravensholme received a grant of a weekly market on Friday and a fair every year on St. Luke's day, in 1349. (fn. 60)
Church
The church of ALL SAINTS consisted of chancel, nave, north and south aisles, and tower with broach spire on the south side forming a porch. The east end of the south aisle was widened out to form the Montagu chapel, the south wall of which was in line with the tower. All the roofs were leaded. The whole of the building, with the exception of the chancel, was pulled down about 1825. From the evidence preserved (fn. 61) it seems to have been of 13th and 14th century date, the tower and spire being of the latter period, and very good examples of a well-known local type. The chancel was left standing as the burial place of the Montagus, Earls of Sandwich, and contains many mural monuments to members of the family. It was restored in 1894, but the vault had been closed ten years earlier.
The chancel now stands isolated in the middle of a field. It is built of rubble and has plain parapets and a low-pitched roof. Internally it measures 29 ft. in length by 17 ft. 6 in. in width, and is of 13th-century date. There are no buttresses, but some portion of the walling north and south of the chancel arch has been left standing, the arch itself, which is of two chamfered orders on half-round responds with octagonal moulded capitals, being blocked by a modern wall in which a doorway is inserted. At the west end of the north wall is a small lancet low-side window, now blocked and covered on the inside, and there is a blocked square-headed two-light window of 14thcentury date at the west end of the south wall. The five-light east window is a 15th-century insertion, as are also a two-light transomed window on the north and one of three lights on the south side. Internally the walls are plastered, but the east end was panelled in oak in the early part of the 18th century by the Duke of Montagu, (fn. 62) the panelling covering the lower part of the window.
The font is ancient and consists of a plain octagonalto-square bowl standing on four short pillars.
The most interesting of the monuments is that to Henry Montagu, infant son of Sir Sidney Montagu, who was drowned 28 April 1625 at the age of 3. He is figured under a curious tapering alabaster canopy and is described as 'a wittie and hopeful child tender and deare in ye sight of his parents and much lamented by his friends.' (fn. 63) There are also memorials to Dame Lettice Montagu (d. 1611), Thomas Dillingham, rector (d. 1704), Mrs. Dorothy Creed (d. 1714), Rev. Matthew Hunt (d. 1729), William Dillingham, gent. (d. 1753), and Ann, wife of William Ord (d. 1808). In the floor are armorial slabs, with brass inscriptions, to the 4th and 5th Earls of Sandwich (1792, 1814), and a brass plate on the wall records the names of all the Montagus buried here from 1622 to 1862. (fn. 64)
High up on the south wall are two iron brackets, one designed to support a flag staff, and the other a long spike to hold a helmet. The helmet is hammered out of sheet iron and has a wooden crest of Montagu —a griffin's head couped and collared with a crown, between two expanded wings; (fn. 65) the flagstaff is lost, and a sword is now suspended from its bracket.
The four bells were sold when the church was taken down; no record of them appears to have been kept. (fn. 66)
The registers are now at Barnwell St. Andrew; before 1812 they are as follows: (i) baptisms and burials 1695–1812, marriages 1705–1753; (ii) marriages 1754–1812. A large number of briefs is recorded 1707–43.
Advowson
The church of ALL SAINTS, which has been under this dedication since 1260, (fn. 67) belonged to the king's fee until Henry I gave it, it is said, about the year 1120, (fn. 68) to the Priory of St. Neots, upon Michael its rector, son and successor of the Archdeacon Nigel, rector under William II and Henry I, taking the habit of a monk. (fn. 69) The priory was confirmed in its possession by Alexander Bishop of Lincoln in 1140, and by Hugh Bishop of Lincoln about seventy years later. (fn. 70) A pension of £3 a year, payable from this church to the Prior of St. Neots, was disputed by Robert the parson in 1232 (fn. 71) but was still due in 1291. (fn. 72) During the 14th century the church was several times in the king's gift, the temporalities of the alien Priory of St. Neots being in his hands on account of the war with France (fn. 73) and a grant of the advowson was made by Edward III to John de Ravensholme in 1345. (fn. 74) In 1496 Roger Thorpe included the church in his sale of the manor. (fn. 75) A later lord of the manor, George Kirkham, was seised of the advowson of Barnwell All Saints at his death in 1528, (fn. 76) holding it by grant of next presentation from the prior, who afterwards made similar grants to John Lord Mordaunt and Sir Edward Montagu. (fn. 77) Lord Mordaunt presented to the church in 1554 (fn. 78) and the ad- vowson remained in his family until 1600, when his grandson, Lewis Lord Mordaunt, with his son and heir Henry Mordaunt, sold it to Edward Haselrigg, (fn. 79) by whom the reversion was granted to Robert Syers of Isham, convicted of recusancy in 1603. Five years later Edward Haselrigg obtained a grant of the advowson for forty-one years on payment of a fine to Robert Syers. (fn. 80) The presentation of 1617, however, was made by Sir Edward Montagu, (fn. 81) and although the Crown reasserted its rights in 1620 by granting the church to Sir Henry Spiller and others, (fn. 82) it seems to have followed the descent of the manor until 1821 (fn. 83) when it was united to the church of Barnwell St. Andrew. (fn. 84)
Charities
This parish participates in the benefits of Parson Latham's Hospital, an account of which is given under the parish of Barnwell St. Andrew.
A sum of 6s. 8d. yearly, known as the Montagu Dole, is due on St. Thomas' Day for the poor of Barnwell All Saints out of Lord Montagu's Estate. The origin of this charity is unknown.