Pages 245-248
A History of the County of Northampton: Volume 3. Originally published by Victoria County History, London, 1930.
This free content was digitised by double rekeying. All rights reserved.
SUDBOROUGH
Sutburg (xi cent.); Suburg, Subbure, Suthburg, Silburk (xiii cent.).
Sudborough lies in the district formerly a part of Rockingham Forest, and covers an area of 1,819 acres. The land, which is of clay, with a subsoil of clay and limestone, rises north-east and south-west from Harper's Brook, which flows in a south-easterly direction through the parish. The principal crops are wheat, barley and beans. There are considerable stretches of woodland on the higher land. In the north-east angle of the parish is Lady Wood Head, to the west of which is Assarts Coppice. In the northwest is Cat's Head Wood, with Cat's Head Lodge to the south of it. Snapes Wood, lower down along its western boundary, is a continuation of Long Lown Wood, in Slipton. In the extreme south of the parish is Round Lown Wood, with New Lodge at its southern end. The village lies in the valley of Harper's Brook along a by-road leading from the main road from Thrapston to Market Harborough, to the main road from Thrapston to Kettering. The church is on the south side of the road, with the rectory house, a pleasantly situated stone building erected in 1826 by the rector of the day, on the east. Near by is the school built in 1841, by the Duke of Cleveland. The manor house stands at the west end of the village.
The population in 1921 was 207. At one time a considerable number of women of the village were employed in lace-making, and an extensive brewery was carried on. Stone is procured for buildings and roads, and about half a mile to the north of the village there were formerly brickworks which have been converted into a poultry farm.
There is a tradition that at a place called Moneyholes in the parish, where there are large earthworks and ponds, once stood a monastic establishment, but there is no evidence to support it. Another tradition connects a corner near Lady Wood, now ploughed up and long known as the Soldier's grave, with the attempt of the Black Watch to return to the Highlands in 1743. It is said to be the burial place of one of the regiment who died during their sojourn in Lady Wood.
In the north of the parish is Sudborough Green, with Sudborough Green Lodge.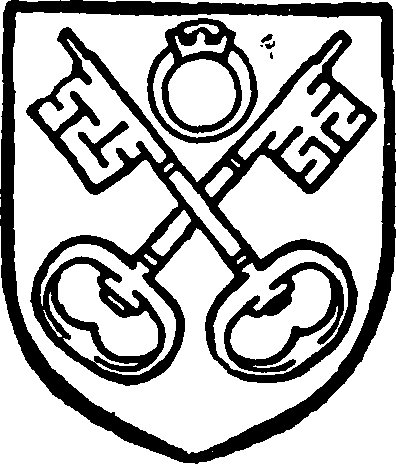 Manors
Land in SUDBOROUGH was granted in 1066 by Edward the Confessor to the abbey of Westminster, (fn. 1) which in 1086 held 3 hides with a mill and woodland 7 furlongs in length and 6 in breadth. (fn. 2) By the reign of Henry I this property had diminished to 2½ hides. (fn. 3) In 1276 it was stated that the abbey had return of writs in Sudborough and Islip, (fn. 4) and in 1329–30 the abbot claimed to hold in frankalmoin by virtue of a grant of King Henry III, inspected and confirmed in 1291 by his son King Edward. (fn. 5) The abbey held the manor until the Dissolution, when the fee farm of £7 was granted to the dean and chapter of Westminster by Henry VIII, (fn. 6) fresh grants of these manors being made by Queen Mary in 1556, (fn. 7) and by Queen Elizabeth in 1560. (fn. 8)
The first recorded tenant of the abbey in Sudborough was Bartholomew de Sudborough, who in 1225–6 levied a fine with Richard, abbot of Westminster, as to his custom and service. (fn. 9) The next was Walter de Denford who, with Sarah his wife, who was probably the heir of Bartholomew, levied a fine with Henry de Drayton of common of pasture in Sudborough in 1231–2. (fn. 10) In 1236 Isabel, wife of Ralph de St. Sampson attorned the said Ralph and William de St. Sampson against Walter de Denford for a third part of the pannage of his wood of Sudborough. (fn. 11) A fine was levied of land in Sudborough between William [? Walter] de Denford and his wife Sarah, and Gilbert de Denford in 1240–1; (fn. 12) and in 1249 Sarah, the widow of Walter de Denford, brought an assize of novel disseisin against Gilbert, son of Walter, and others of a tenement in Sudborough. (fn. 13) Either Sarah herself or possibly a daughter of her name may be indicated in a fine levied between Walter de la Hyde and Roger de la Hyde and Sarah his wife of a messuage and land in Sudborough in 1259–60. (fn. 14) Before 1284 Sarah de Denford had granted the manor to Reginald de Waterville and Extranea his wife when Reginald was holding the vill of the abbot. (fn. 15) From Reginald, who survived his wife, it descended to his three daughters, Joan, the wife of Robert de Vere, Maud, sometimes given as Elizabeth, the wife of Robert de Wykeham, and Margaret, the wife of Henry de Tichmarsh. (fn. 16)
The third part which went to Robert de Vere and Joan, his wife, passed to their son Robert, who apparently forfeited for rebellion, (fn. 17) and his lands in 1329–30 were in the hands of Henry de Percy and Robert de Tolthorp, (fn. 18) probably feoffees in trust for Maud his wife, who had an interest in the manor as dower, with reversion to Sir Nicholas de la Beche. (fn. 19) What Sir Nicholas's interest was is uncertain, but he and his wife Margery died without issue and it then ceased. This third seems to have passed to the Mallorys. In 1358 William Mallory of Sudborough granted a rent of £20 out of his manor of Sudborough to John Pyel, citizen and merchant of London, and Joan his wife, (fn. 20) and in the same year Anketyn Mallory granted a rent of 20 marks to William de Sandford. John Pyel's holding was conveyed by him in 1363 to Henry Pyel, rector of Warkton and others, (fn. 21) and in 1376 Henry Pyel, then archdeacon of Northampton, and others conveyed the manor of Sudborough to John Pyel of Irthlingborough, Simon Simeon and others. (fn. 22) In 1385–6 Simon Simeon with John Curteys granted to Joan, widow of John Pyel, a rent of 50 marks out of the manors of Irthlingborough, Cranford, Sudborough and elsewhere. (fn. 23) It is doubtful if John Pyel's estate ever comprised the manor or a part of the manor. Anketyn, who succeeded William Mallory, in 1360, settled a manor of Sudborough on his daughter Ala and her husband, Thomas Green of Isham, and their heirs. (fn. 24) Another daughter, Katherine, also brought to her husband Ralph Green, nephew of Thomas Green, apparently a manor of Sudborough. Sir John Dantre and Alice his wife, daughter of Randolph Boys and heir of Robert Vere, in 1394 attempted unsuccessfully to obtain possession of the manor from Thomas Green. (fn. 25) John Green succeeded his father Thomas (fn. 26) and died before 1445. His widow Isabel is said to have occupied with Richard Stacy, since the death of Sir William Mallory in 1445, lands in Sudborough of which Sir William had died seised, and left a son and heir Thomas. (fn. 27) This Thomas Mallory dispossessed Thomas, son of John and Isabel Green, of the manor of Sudborough, held of the abbey of Westminster, (fn. 28) but Thomas Green later recovered possession. The manor continued to descend in the Green family, of which Sir Thomas Green, kt., who witnessed a charter of Edward, Earl of Wiltshire, in 1494, dealing with the Wykeham manor, was probably a member. (fn. 29) In 1529–30 this Green manor of Sudborough was in the hands of Richard Rayne and Joan his wife, daughter and heiress of Thomas Green, deceased, who settled it on their son Thomas. In 1531 and again in 1534, Thomas Rayne, son of Richard Rayne and Joan, with Dorothy his wife, were dealing with this property, (fn. 30) these conveyances being probably preparatory to a conveyance of this manor to the owners of the other manor of Sudborough representing the Wykeham third, then held with Drayton in Lowick (q.v.).
The third of Robert de Wykeham and Maud de Waterville was conveyed by Robert, their son, and his wife Elizabeth, in 1309–10 and 1311–12, to Robert de Ardern. (fn. 31) The wife of Robert de Ardern was Nichola, possibly the daugher or sister of Robert de Wykeham. (fn. 32) Ardern had grants of free warren in his lands at Sudborough in 1317, 1327 and 1328 and he was holding them in 1329–30. (fn. 33) After his death Nichola his widow married Sir Thomas de Wake or Wade, (fn. 34) to whom this third of the manor passed. In 1345 Sir Thomas Wake and Nichola conveyed their third to Simon de Drayton, (fn. 35) to whom it was confirmed three years later by John de Wykeham, grandson of Maud de Waterville, and Parnel his wife. (fn. 36) It passed after the death of Simon de Drayton to his son John de Drayton and his grandson Baldwin. (fn. 37) From them it went about 1362 to Sir Henry Green, who had married Katherine, daughter of Simon de Drayton. (fn. 38) From this time this third part, and from the middle of the 16th century the Vere third part, passed with the manor of Drayton in Lowick (q.v.) until the end of the 17th century.
When Bridges wrote it was in the hands of Lady Torrington, relict of Thomas Newport, Lord Torrington, by purchase from the Earl of Peterborough, and according to him Lady Torrington owned with the manor all the parish except two or three small freeholds. Lady Torrington died in 1735. (fn. 39)
In 1805 it was held by William Henry, Earl of Darlington, (fn. 40) who was created Duke of Cleveland in 1833, and the Dukes of Cleveland were later in the century lords of the manor. (fn. 41)
The third of the manor which went to Henry de Tichmarsh and Margaret de Waterville passed to their son John and from him to his son Henry and his wife Joan. (fn. 42) It descended with the Tichmarsh Manor in Tichmarsh (q.v.), and was represented by the manor of Somercetts in Tichmarsh, Sudborough, and Lowick of which a grant was made to John and Gilbert Pickering in 1587–8. (fn. 43)
In 1490–1 a dispute arose about common of pasture in Lowick Leyse pertaining to Lowick, and Brigsy Leyes (Brigstock Leys) pertaining to Sudborough, which was referred by the inhabitants to Edward, Earl of Wiltshire, as chief lord over both lordships. (fn. 44)
SUDBOROUGH PARK, which was originally held with the manor, (fn. 45) was in 1670, with a messuage, 10 acres of meadow, 530 acres of pasture and 10 acres of wood and appurtenances in Sudborough, Lowick, and Brigstock, in the hands of William Montagu, and Mary his wife, who conveyed it by fine to Montagu Lane. (fn. 46)
SUDBOROUGH GREEN was referred to in 1540 in a licence to impark Lyveden Park, the western side of which was described as abutting upon it. (fn. 47) In 1795 an Inclosure Act was passed for Brigstock, Stanion, and such part of the parish of Sudborough as is called Sudborough Green. It was stated that the commoners in Brigstock and Sudborough intercommoned with each other in certain commons, called Brigstock Commons; and the Great and Little Green adjoining the same, and that the cattle upon these commons were liable to escape into the Haye or Walk of Farming Woods, part of the Forest of Rockingham. An allotment of these greens was made. (fn. 48)
Church
The church of ALL SAINTS consists of chancel 33 ft. 4 in. by 15 ft., nave of three bays 40 ft. 3 in. by 17 ft., north and south aisles each 8 ft. 6 in. wide, north and south transeptal chapels each 14 ft. by 13 ft., south porch, and west tower 9 ft. by 9 ft. 10 in. The width across the nave and aisles is 38 ft. 8 in., and across the transepts 50 ft. 6 in. All these measurements are internal. The church was entirely rebuilt in the second half of the 13th century, probably in place of an aisleless cruciform building, the influence of which is apparent in the transeptal plan. The tower and nave with its aisles seem to have been rebuilt first, followed by the transeptal chapels and chancel, which were completed c. 1280–90. No substantial addition was made subsequently other than the porch, which was built in the 15th century, when new windows were also inserted in the aisles. The building was repaired in 1808, and again in 1830 when a west gallery was erected. In 1851 the gallery was taken down and the north aisle rebuilt; the porch was rebuilt in 1870, and the chancel restored in 1871–72. At a later restoration (1891) two stones were found under the north-east pier, which together formed part of a pre-Conquest cross. They were replaced in the position in which they were found but unfortunately covered with cement so that the carving is obliterated. (fn. 49)
The chancel is divided externally into two bays by buttresses, each of which is finished by a small pediment set in the middle of its upper slope and ornamented on the outer face by a spherical triangle with cusping. Over the pairs of buttresses at the eastern angles are handsome octagon pinnacles, the tops of which seem to have disappeared. There is a plain doorway in the south wall. The windows retain their original geometrical tracery, of a very elegant type, with applied cusping; the lights have trefoiled heads, and the mullions are moulded. The east window is of four lights with a flat head, and has internally a segmental rere-arch. The lateral windows on either side from east to west are respectively of three, two, and one light, the narrower openings having obtusely pointed rere-arches. On the north side the single light of the western window is lowered with a transom, forming a low-side opening. The corresponding window on the south has a low sill and may have been planned in the same way, but the lower part was never open. This window, like all the others, has a square hood outside; in this case the hood is finished with very curious head-stops, rudely carved with roughly indicated hair.
On the south side of the chancel internally are two sedilia with beautiful late 13th-century moulded arches springing from dwarf columns. In the eastern seat, which is a step higher than the western, is a piscina with fluted bowl. Opposite, in the north wall, is a tomb-recess with a drop arch, containing an effigy of Sir Robert de Vere (d. 1249), which has already been described. (fn. 50)
The arch between the chancel and nave is of the same character as the arches of the nave arcades, with rather plain half-octagon responds. The piers of the nave are cylindrical, with bases which in some cases have water-mouldings. The capitals are of two types which differ slightly in design as regards the abaci and the section of the upper mouldings. The arches are of two orders, the inner order having a hollow chamfer. From each pier a transverse arch is carried across the adjoining aisle to a respond; the chamfers of these arches are stopped by small broaches above the capitals. Similar arches are carried across the east wall of each transeptal chapel. The transept windows have good geometrical tracery, which in the north chapel has been much restored; that in the three-light south window of the south chapel is a remarkably beautiful example of early bar-tracery. In this and in the east window are some fragments of old glass; (fn. 51) and in the south wall of the south chapel there is a piscina with octagonal bowl, large hollowchamfered arch and hood.
The windows of the aisles, as already noted, are 15th-century insertions. The north and south doorways of the nave are contemporary with the arcades, and the north doorway has a well-preserved roll and triple fillet moulding in its outer order. The porch has a high gable and outer arch of two moulded orders, the inner springing from half-round responds with moulded capitals. The walling throughout is of rubble, with plain parapets to chancel and aisles, and eaved roofs to the transepts. The chancel roof is leaded.
The arch between the nave and tower is of three orders, the innermost order being set upon halfoctagon responds with hollowed sides. The tower itself is of the same date as the rest of the church, and is of three stages, with plain parapet, angle pinnacles and pyramidal roof with vane. Below the parapet is a corbel table with large dog-tooth alternating with heads and other ornaments widely spaced. There are diagonal buttresses of two stages on the west side and a renewed three-light west window on the ground floor. The middle stage has a single trefoiled window north and south, and on the west a circular soundhole. The two-light belfry windows have early bar tracery. There is no tower stair.
The font is a plain octagonal bowl with octagonal pedestal and a 17th-century cover. There is a stone bench along the wall of the south aisle internally. Against the east wall of the north transept is a bracket for an image, and near this are the brasses of William West (d. 2 Feb. 1390–1) and his wife Joan (d. 16 Dec. 1415), with a curious representation of their children, headed by a priest vested in apparelled alb, crossed stole, amice and maniple. This is inscribed: Orate p aĩab[us] sup[er]d[ict]ore Willi[am] West & Joh[a]na ac pro aĩab[us] d[omi]ni Joh[an]is West capell[an]i Willi[am] West marbler et Alicie qñdam vx[or]is Ric[ard]i Masoñ. Necnō & octo pu'ore lib'ore p'dcore Will'i & Iohanne. Pater nos' & Aue.
The roofs, pulpit and other fittings are modern. The organ is in the south transept, which also forms a vestry. The interior of the church is plastered.
There is a ring of five bells, the treble being an addition in 1897 to a former ring of four. It is by Taylor of Loughborough. The second and tenor are by Thomas Norris of Stamford, 1647, the third is a blank bell, and the fourth, inscribed 'Thomas,' bears the stamp of the early Leicester founders, but is probably by Thomas Newcombe II (1562–80). (fn. 52)
The plate consists of a cup of 1820, a paten of 1842, and a flagon of 1857, all London make, and a silver basin with the mark of William Shaw and William Priest, of London. (fn. 53)
The registers before 1812 are as follows: (i) baptisms 1660–1708, marriages 1662–1703, burials 1660–1707; (ii) baptisms and burials 1704–1812, marriages 1708–1753; (iii) marriages 1754–1812. The first volume contains a list of briefs 1708–64, and a terrier of rectory lands. There are churchwardens' accounts from 1675 to 1769, and a tithe book 1781–1838.
Advowson
The advowson was held by the abbey of Westminster with the manor until the Dissolution, (fn. 54) and was granted to Thomas, bishop of Westminster, in 1541. (fn. 55) Ten years later it was granted to Nicholas, bishop of London, by Edward VI, (fn. 56) but was held in 1608–9 with the manor by Henry Lord Mordaunt. (fn. 57) The presentation was made alternately by the Crown (presumably during vacancy of the see), and the bishop of London from 1617 to 1648, (fn. 58) and since then by the bishops of London (fn. 59) until, after 1786, Sudborough was transferred to the bishopric of Peterborough, in whose gift it now is. A vicarage had been ordained early in the 13th century, a pension of one gold piece (mark) to the perpetual vicar being reserved on presentations to the church made c. 1214, (fn. 60) and one of 2s. in a presentation made in 1221–2. (fn. 61)
Tithes in Sudborough were held by Robert, Earl of Salisbury, in 1608. (fn. 62)
Charities
A piece of grass land containing 11 acres appropriated to the repairs of the church is let by the churchwardens to the Islip Iron Co., Ltd., for £12 yearly, which is applied towards the upkeep of the church. Henrietta Laura, Marchioness of Bath, established a Sunday School in 1788, and transferred a sum of £666 13s. 4d. 3 per cent. annuities to trustees upon trusts declared in a deed dated 20 October, 1788, for the support of the school. The stock is now £666 13s. 4d. Consols with the Official Trustees of Charitable Funds, producing £16 13s. 4d. yearly in dividends. The trustees consist of the rector and three others.