Pages 279-280
A History of the County of Northampton: Volume 3. Originally published by Victoria County History, London, 1930.
This free content was digitised by double rekeying. All rights reserved.
HIGHAM PARK
Park of Hecham (xii cent.), Park of Hegham Ferrers (xiv cent.).
Higham Park, the park attached to Higham Ferrers Castle, was formerly extra-parochial and included in the liberty of Rushden, but is now an independent parish. It lies in the south-east of Higham Hundred, on the borders of Bedfordshire and covers 600 acres, of which 167 acres are in the parish of Knotting in Bedfordshire. About half the total area is arable land where wheat, oats, barley beans and turnips are grown and the remainder permanent grass. The surface is friable clay, the subsoil Oxford clay with streaks of cornbrash. In 1921 the population numbered thirteen persons.
There has never been a parish church, but there was a chapel attached to the Great Lodge of the Park which fell into decay with the house.
The park was at one time surrounded by a ditch. The principal entrance was on its north-west side by the road leading indirectly from Rushden. A moated inclosure, now partially destroyed, marks the site of the Great Lodge, where the keeper of the park lived.
It was described as in Rushden in 1327 (fn. 1) and consisted in the 15th century of a hall, chapel, chamber, kitchen, brewhouse and bakehouse. (fn. 2) There were a dovecot (fn. 3) and two fishponds (fn. 4) in the grounds. Besides the Great Lodge there was a Little Lodge or New Lodge which stood in the 16th century at the south end of the park. (fn. 5) The present Old Hall, now a farm house, was possibly built on a new site when the Great Lodge fell into decay in the time of the Commonwealth. (fn. 6) At the end of the 18th century the Great Lodge was known as Higham Park House. The park was said in 1649 to be well wooded and to contain many valuable trees. It was, however, disparked by 1671 (fn. 7) and the land converted into arable and pasture.
The earliest mention of the park seems to belong to the 12th year of Henry II (1166), when the sheriff of Northamptonshire owed £15 16s. 10¼d. for the exchange of the park of Higham. (fn. 8)
King John's grant of Higham Ferrers to the Earl of Derby shows, however, that the King's great-grandfather, Henry I, had acquired the park from the elder William Peverel and that it remained part of the royal demesne until 1199. (fn. 9) It was enlarged in or before 1166 by Henry II, who inclosed within it certain lands for which he gave in exchange to the tenants, Richard and William de Newton and Aleswas or Halenod Bochard, land elsewhere in the same fee. (fn. 10) Thenceforward payment on this account was made yearly into the Exchequer. (fn. 11) After the grant of 1199 these three knights redeemed their old inheritance and the lands they had held in exchange were absorbed in the manor of Earl Ferrers. (fn. 12) Higham Park, thus reduced to its earlier dimensions, followed the descent of the manor of Higham Ferrers (q.v.) until 1672. In 1298 and again in 1327 it is called the park of Rushden, of which parish it formed part until the latter part of the last century, but later in the 14th and throughout most of the 17th century it was generally known as Higham Ferrers Park. In 1406, Henry IV leased its herbage and pannage to Thomas Beston and the parker was charged to provide him with a key of the gate of the park that he might have free entry with his cattle. (fn. 13) Two leases of the same for twenty-one years were made by James I in 1604, first to William Purvey and afterwards to Sir John Stanhope, vice-chamberlain of his household. These leases included the warren of the park, all buildings there and the office of keeper. These were followed, early in the next year, by a grant in socage of Higham Ferrers Park to Sir George Hume, Chancellor of the Exchequer. (fn. 14) In 1610 Sir John Stanhope, now Lord Stanhope, surrendered his claim to the park of Higham Ferrers in Northamptonshire and Bedfordshire to the king for £400. (fn. 15) William Purvey was dead, but his lease was still in force when a fresh one was granted in 1618 to John Levingston, groom of the bedchamber, for life and twenty-one years beyond. (fn. 16) This was to come into force in March 1624, and in this month instructions given a year before were renewed to Sir Thomas Tresham, verderer of Rockingham Forest, to report on the game and woods in Higham Ferrers Park. He found great disorder prevailing, and the new keeper refused to take charge until a survey had been made. (fn. 17) In the following November Sir Robert Osborne was ordered to examine the deer-stealers from Higham Ferrers Park, and three weeks later steps were taken to arrest Edward Ekins who was chiefly responsible for the outrages there. (fn. 18) The park formed part of the jointure of Queen Henrietta Maria in 1630. (fn. 19) Sir John Levingston had died more than three years before, (fn. 20) and in or about 1632 his widow, who then held the remainder of his lease, petitioned Charles I to renew it to her son, (fn. 21) presumably the James Levingston, groom of the bedchamber, in 1625, (fn. 22) who leased the keepership of the park to Francis Dyn in 1649. (fn. 23)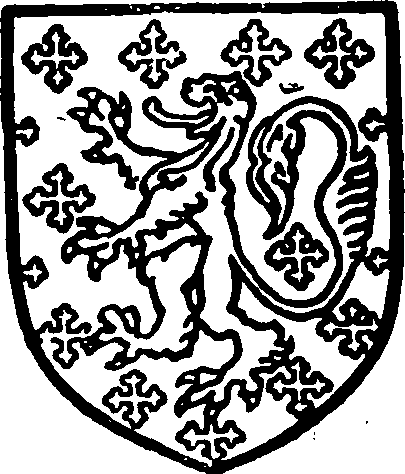 A later lessee, Sir Robert Long, bart., Auditor of the Exchequer, exchanged his interest for permanent possession in 1672, when he paid £800 for the grant in free socage of Higham Ferrers Park with its appurtenances. (fn. 24) In the following year he was succeeded by his nephew and heir Sir James Long, bart., of Draycot Cerne, (fn. 25) whose greatgrandson, the third Sir Robert Long, was seised in the latter part of the 18th century. (fn. 26)
The Parliamentary Commissioners of 1649 declared Higham Park to be tithe free, (fn. 27) but about 60 years later tithes from this estate belonged to the rectory of Rushden. (fn. 28)