Page 149
A History of the County of Northampton: Volume 4. Originally published by Victoria County History, London, 1937.
This free content was digitised by double rekeying. All rights reserved.
THE HUNDRED OF ORLINGBURY
containing the parishes of Brixworth; Broughton; Cransley; Faxton; Hannington; Hardwick; Harrowden, Great; Harrowden, Little; Isham; Lamport; Old alias Wold; Orlingbury; Pytchley; Scaldwell; Walgrave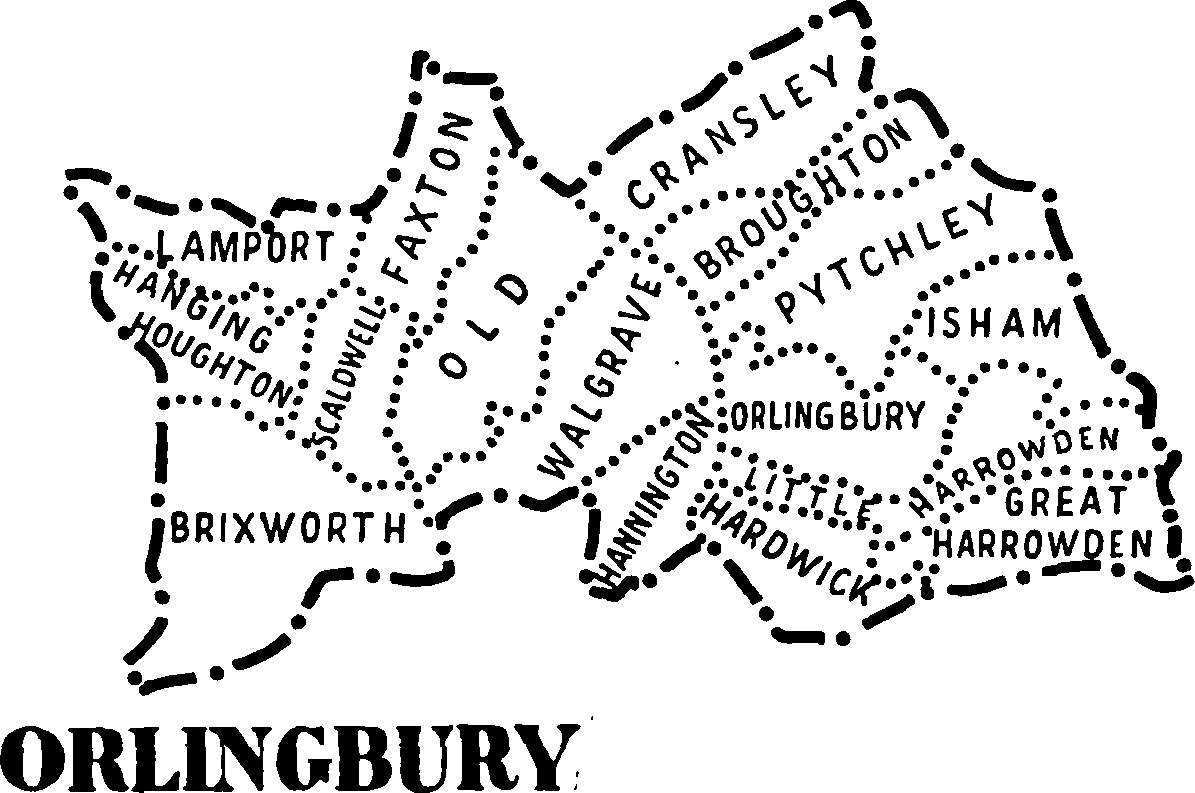 At the time of the Domesday Survey these parishes were divided between two hundreds, the eastern portion, containing the parishes of Broughton, Cransley, Hannington, the Harrowdens, Orlingbury with the hamlet of Withmale, and Pytchley, being the Hundred of 'Ordinbaro'. The western half, containing Brixworth, Faxton, Lamport with the hamlet of Hanging Houghton, Old alias Wold, Scaldwell, and Walgrave, constituted the Hundred of 'Maleslea'. This latter hundred took its name from, and doubtless had its meeting-place at, Mawsley in Faxton, described by Bridges as 'a hamlet of one or two cottages and a wood'. (fn. 1) The two hundreds were united before the middle of the 13 th century, occurring in 1246 and 1252 as the Hundred of Orlingbury and Malesle, (fn. 2) but from 1275 (fn. 3) onwards the name of Mawsley is omitted.
In 1329 it was reported that the ancient farm of the hundred had been 4 marks until John de Aston when he was sheriff raised it to 8 marks 'to the impoverishment of the people'. (fn. 4) This statement appears to be inaccurate, as John de Aston was sheriff in 1303, and again in 1316, but in 1252 the value of the hundred was returned as 8 marks. (fn. 5) Six years earlier it had been 6 marks. (fn. 6)
The hundred was still in the hands of the Crown when Bridges wrote, but later in the 18th century was acquired by the family of Young who held Orlingbury Manor. (fn. 7)