Pages 217-222
A History of the County of Northampton: Volume 4. Originally published by Victoria County History, London, 1937.
This free content was digitised by double rekeying. All rights reserved.
WALGRAVE
Woldgrave (xi cent.); Waldegrave (xiii cent.).
This parish lies to the west of the road from Northampton to Kettering, which for a short distance forms its eastern boundary; and is bounded on the north by Broughton, south by Hannington and Holcot, east by Orlingbury, and west by Old. The ground in a considerable part of it rises as high as 400 ft. or more, but the village is situated in something of a hollow, and has a stream running to the south of it. It is very pretty and compact and occupies the centre of the parish, along a road branching west from the Northampton road. This branch road is crossed by another running north and south: the church stands on high ground at the centre of the village near their point of intersection, and close to the church is a ford. Grouped near by are the smithy; the Council school, a large building erected in 1900 to replace one built in 1828; the Baptist chapel, erected in 1788, with a small burial-ground attached; and the Calvinistic Baptist chapel built in 1853. The rectory house, built in 1687 by John Smith, rector, but subsequently enlarged, stands east of the church. At the west end of the village, on the Holcot road, is a thatched house dated 1672.
Lewis referred in 1849 (fn. 1) to the remains of a cross in the centre of the village, and a cross has now been erected on the village green as a memorial to twentyfive men of the parish who gave their lives in the Great War 1914–18.
In a field at the northern end of the village are the remains of a moat, and the foundations of the house to which it belonged, probably the 'Northall' referred to in certain documents. Walgrave Hall stands a short distance to the south-east of the village, on the road to Hannington, and is a 17th-century two-story building with attics, now a farm house, with a projecting gabled wing at the east end, and slated roofs. (fn. 2) Though much altered and modernized the house retains some of its mullioned windows, and contains a fine oak staircase, with flat balusters and panelled newels with openwork finials. The great hall was originally 39 ft. by 19 ft. 3 in., but has been divided: over the fireplace on the north side (now a passage) are the arms (fn. 3) of Sir John Langham, bart., with the date 1674, probably placed here by his second son Dr. W. Langham after he took possession of the Hall in 1671. (fn. 4) The front of the house, which faces south, is in the main of Weldon stone, but elsewhere the walling is of local ironstone, and the chimneys are of brick. The gateway has good stone piers with finials. Fishponds in the grounds are fed by the stream previously referred to. It is now owned and occupied by William A. Knight, esq., one of the principal landowners.
The population, which in 1871 was 660, was 659 in 1931. (fn. 5) The area of the parish is 2,381 acres. The soil is partly clay and partly northern sand; subsoil ironstone. The chief crops are wheat, barley, and much of the land is pasture.
The parish has had many notable inhabitants. As rector in the early 17th century it had the celebrated Archbishop Williams, (fn. 6) who was presented to Walgrave in 1614 and retained the living after his appointment, in 1621, as Bishop of Lincoln, of whom it was alleged in 1638 'he has never been at Walgrave since he was made bishop, whereat the whole county murmurs'. (fn. 7) But the work he did in repairing the church still bears his initials and the date 1633, and he left land to the poor. Another rector of Walgrave was Walter Whitford, who as Bishop of Brechin in 1637 had ascended his pulpit in Scotland to read the new service armed with a brace of pistols, his servants and family attending him armed, after which, on taking refuge in England, upon his deposition and excommunication by the Glasgow Assembly, he was presented to Walgrave on 5 May 1642. (fn. 8)
Manors
Three hides and 3 virgates in WALGRAVE, appurtenant to the manor of Faxton, which were before the Conquest held with soc and sac by Alsi, were in 1086 among the lands of the Countess Judith, being then, as formerly, worth £3. (fn. 9) The overlordship descended with the honor of Huntingdon, as Yardley Hastings (q.v.).
The Malesoures family were under-tenants in this manor from an early date. Fulcher, who was holding under the Countess Judith in 1086, (fn. 10) and Henry, his successor in the 12th century, (fn. 11) were members of that family. (fn. 12) Geoffrey de Malesoures, described as son of Henry de Malesoures in the grant of Walgrave church made by him to the priory of Daventry, (fn. 13) appears in 1242 as holding this fee in Walgrave, (fn. 14) which he had obtained in 1227 from Walter de Malesoures. (fn. 15) It was possibly his son of whom we are told (fn. 16) that 'there was strife and hatred between Master William Brokedys, parson of Walgrave, and Robert Malesoures of Walgrave about a common of pasture in the fields of Walgrave. And so, as Robert was passing William's door on 9 September 1274 in the twilight, there came William Pollard, William Pillecrowe, and Walter, servant of Master Alan de Brokedys, and dragged Robert within Master William's door, and slew him with their knives, and this they did by assent of Master Alan Brokedys, and before his eyes; and Catelina, servant of Master William, held a burning candle while they slew Robert.' Henry Malesoures was holding Walgrave in 1275 and claimed view of frankpledge, assize of bread and ale, &c. (fn. 17) The last Malesoures recorded in Walgrave was Richard son of Henry who was holding of John de Hastings in 1284. (fn. 18)
Walgrave was next held by the family of Walgrave or de Waldegrave, a family owning property in Norfolk, Suffolk, and Essex, and according to a fabulous legend in the Norfolk visitation of 1563 (fn. 19) holding lands in the county of Northampton from the time of the Conquest. Hugh de Waldegrave had with Alice his wife, and Robert de Warr and Isabel his wife, received a grant of land in Walgrave from William de Northampton in 1252–3. (fn. 20) John son of Walter was holding Walgrave in 1316, (fn. 21) and was possibly the John de Walgrave included in the list of persons for whose souls Ralph de Walgrave, parson of Walgrave, (fn. 22) in 1328 founded a chantry in the parish church. (fn. 23) John de Walgrave was holding the manor in 1329 (fn. 24) and 1346. (fn. 25) He had been succeeded before 1384 by Sir Richard de Waldegrave, (fn. 26) to whom free warren in his lands in Walgrave, Hannington, and Twywell was granted in that year. (fn. 27) In 1428 Richard de Waldegrave was holding the fee in Walgrave formerly held by John Waldegrave. (fn. 28) As Sir Richard de Waldegrave, senior, he, with his wife Joan (Doreward), settled the manors of Walgrave and Twywell in 1437–8 on his son Richard and Alice his wife. (fn. 29) Richard, the son, died (s.p.) on 20 June 1453, seised of this manor, his heir being his (elder) brother Thomas; (fn. 30) the manor remained in the hands of Alice his widow until her death on 12 June 1478, (fn. 31) when William, son of the said Thomas, succeeded to it. (fn. 32) His son, Sir William Walgrave, in 1506 granted a lease for 99 years of the manor at £20 rent to William Lane, together with view of frankpledge, court baron, &c. The grant contained permission for cutting timber for the repair of the houses and buildings of the mansion of the manor, 'which mansion is now set there in the close called the Hall Close'. (fn. 33) William Lane, lessee of the manor, died on 12 May 1527, (fn. 34) having bequeathed his lease of the manor to his wife Jane, with reversion to his sons John, William, and Ralph. William Lane's heir was his son Ralph, who had in 1517 married Maud daughter and co-heir of Sir William Parr.
Sir William Waldegrave died seised of the manor of Walgrave on 30 January 1528. (fn. 35) He was succeeded by his son George, who died on the following 8 July. (fn. 36) George Waldegrave was succeeded by his son William, (fn. 37) who in 1540, together with his brothers George and William, and Mary Frances wife of George, sold the manor to John Lane, the then lessee. (fn. 38) John Lane made a settlement of the manor on his marriage with Elizabeth, daughter of Robert Packington, and died on 12 September 1557. (fn. 39) His son William, who then succeeded him at the age of 13, (fn. 40) died on 8 August 1559, his heir being his brother John. (fn. 41) Elizabeth Lane, their mother, continued to hold the manor in jointure, and married as her second husband Sir Richard Malory of London. (fn. 42) For many years the manor was the subject of family disputes. (fn. 43) Her son John Lane, in 1566, on his marriage with Agnes daughter of Edward Montagu of Boughton, settled the reversion of the manor on Agnes for her life, with remainder in tail male to the heirs of John and Agnes. (fn. 44) Various conveyances of the manor were made for the purpose of raising money, to which John Lane and his wife Agnes, Edward and Augustine his brothers, Sir Edward Montagu, and Sir Robert Lane (fn. 45) were parties, together with William Saunders of Harrington, who advanced money on the manor and was in subsequent Chancery proceedings described as its purchaser for £3,000. (fn. 46) The manor was in 1576 conveyed by John Lane to his brother Edward, (fn. 47) which led to lawsuits succeeding each other for more than half a century. In 1579 the brothers John and Edward conveyed the manor to William Saunders (of Harrington) and his son Edward. (fn. 48) William Saunders died seised thereof on 14 July 1582, (fn. 49) and was succeeded by his son Edward, to whom in the same year a conveyance of the manor was made by John Lane and his wife Anne. (fn. 50) In 1590 the manors of Walgrave and Northall were conveyed by Edward Saunders to Thomas Pagitt, (fn. 51) who in 1611, with James Pagitt and his wife Katharine, sold them to Ferdinand Bawde and Lawrence Eyton. (fn. 52) The manor had been confirmed to Thomas Pagitt by a decree of Chancery, (fn. 53) for the reversal of which Robert Lane appealed. Orders in connexion with his petition were being issued in 1626, (fn. 54) but the case Lane versus Bawde (apparently then William Bawde son of Ferdinand) respecting the manor of Walgrave was still dragging on in 1641, when Robert Lane had petitioned to sue in forma pauperis. (fn. 55) On 17 January 1648 the matter was still further complicated by an order in Parliament that the Committee at Goldsmiths' Hall should sell the estate of William Bawde at Walgrave for his recusancy and delinquency and apply the proceeds to pay Parliament's debt to shoemakers of Northampton. (fn. 56) In 1650 these claims on the estate were under consideration: (1) that of Montague Lane son of Robert, who now begged examination of his title; (2) that of Thomas Atterbury and John Gurney, tenants of William Bawde, who claimed allowance for repairs to manor, mills, &c; (3) that of Thomas Knighton and Henry Wellden, tenants to the state, who begged allowance for repairs from the rents of Atterbury and Gurney; (4) that of the children of William Bawde—Jeronima, William, and Ferdinand —who begged one-fifth of their father's estate pending the hearing of his appeal against sequestration as a popish recusant in arms; and (5) that of Bawde himself who desired to be admitted tenant to his own estate while on his appeal. After further disputes the matter was settled in 1653 by the discharge from sequestration of the manor, on its purchase from the Treason Trustees by Major John Browne, as forfeited by William Bawde. (fn. 57) Eventually Browne and Bawde sold it for £8,630 to John Langham, (fn. 58) who was later created in 1660 knight, and then baronet, as Sir John Langham of Cottesbrooke, Alderman of London. (fn. 59)
In 1657 John Langham settled Walgrave on his second son William at his marriage with Elizabeth, daughter of Sir Anthony Haslewood. (fn. 60) William Langham made his title to the manor secure by obtaining in 1664 conveyances of it to himself from Ferdinand Bawde (one of the children referred to in the proceedings of the Committee for Compounding (fn. 61) ) and Ann his wife, (fn. 62) and from Charles Proger Herbert and Jeronima his wife. (fn. 63)
By the death without issue in 1699 of his elder brother, Sir James Langham of Cottesbrooke, Dr. William Langham succeeded to the baronetcy and that manor, and it is with Cottesbrooke (q.v.) that Walgrave has since then descended in the Langham family. (fn. 64)
Half a hide in Walgrave held freely before the Conquest by Martin was in 1086 held of the Count of Mortain by Robert and had risen in value from 5s. to 10s. (fn. 65) This Robert was most probably Robert de Meulan, whose son Robert Earl of Leicester (fn. 66) was holding this half-hide in the 12th century. (fn. 67) In 1270 Roger de Quincy, Earl of Winchester, was holding this halfhide, (fn. 68) which on the division in 1204 of the Leicester fief (fn. 69) between co-heirs, had descended to Amice or Avice, daughter and co-heir of Robert Earl of Leicester, and from Amice to her son Robert de Quincy Earl of Winchester, and his son Roger. (fn. 70) Ellen, (youngest) daughter of Roger de Quincy, succeeded her father as co-heir, and from her this quarter fee descended to her son Roger la Zouche, whose son Alan la Zouche (fn. 71) died seised of a fourth part of a knight's fee in Walgrave and Nortoft in 1314, (fn. 72) leaving three daughters as co-heirs. This quarter fee descended to his daughter Maud, wife of Robert Holand, who in 1329–30 proved her right to view of frankpledge and other liberties in the hamlet of Walgrave (fn. 73) as a member of the manor of Hawes (q.v.). Maud, their grand-daughter and heir, married John, Lord Lovel of Tichmersh, (fn. 74) and the Lovels of Tichmarsh next held this quarter fee, which in 1428 was returned as divided between Sir [William] Lovell and Sir John Welles. (fn. 75) It continued to be held by the Lovels until, in 1491, after the attainder of Francis Lord Lovel in 1487, all the lands in Walgrave held by him of the Winchester fee were granted to John Moton, (fn. 76) after which the overlordship seems to have lapsed.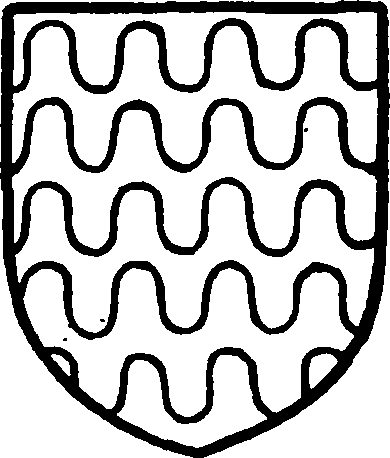 In 1270 this quarter fee was held under Roger de Quincy by Alan de Romely, under whom William de Turevill was holding, of him William de Novencurt, and of him Thomas le Lord. (fn. 77) It was still held by Thomas le Lord in 1284 of William de Novacurt or Novencurt, who was then said to be holding of Robert de 'Romeny', Robert of William de Turvill, and William de Turvill of the Earl of Leicester. (fn. 78) John son of Thomas le Lord was holding it in 1314. (fn. 79)
A manor of Walgrave called BRAUNSPATHES and later ELBOROWES was possibly identical with that just mentioned. In 1456 it was conveyed by John Watford and Elizabeth his wife to Robert Isham and others. (fn. 80) This was appurtenant to the chief manor of Walgrave held of the honor of Huntingdon, as in 1617 Anne Elborowe, who died at Brixworth on 1 July 1594, was said to have been seised jointly with her husband Thomas Elborowe, but in her right, of a manor called Braunespathes in Walgrave, and tenements in Brixworth, formerly parcel of the possessions of Anthony Salisbury, her grandfather; this manor had been held of Thomas Paget as of his manor of Walgrave, and at the date of the inquisition was held of Ferdinand Bawde as of that manor. (fn. 81) William Elborowe, her son and heir, had been succeeded in 1657 by Thomas Elborowe, clerk, and Frances his wife who with John Goodman, clerk, and Isabel his wife conveyed it as the manor of Walgrave to John Langham. (fn. 82) It continued to be held with the principal manor, which in subsequent deeds was described as the manor or lordship of Walgrave alias Walgrave Elborough. (fn. 83)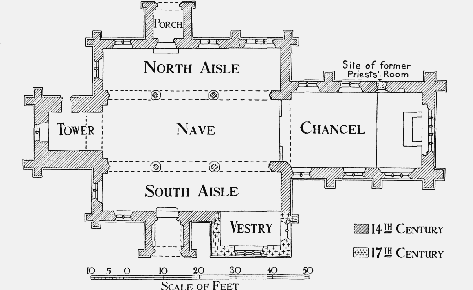 The grant of the church (q.v.) to the monastery of La Charité sur Loire and its daughter house of St. Augustine in Daventry was made with all that belonged to that church, and when the dissolution of St. Augustine's by Clement VII in 1526 was followed by the bestowal of its lands on Cardinal Wolsey for 'Wolsey's Colleges' (fn. 84) a manor in Walgrave was included among them, (fn. 85) and was surveyed in that year. (fn. 86) In 1532 messuages in Walgrave, in the king's hands by the attainder of Wolsey, were granted to the use of the dean and chapter of King Henry VIII's College (of Christ Church) in Oxford. (fn. 87)
In 1275–6 the Master of the Hospital of St. John of Northampton appears as withholding suit due from a tenement in Walgrave at the hundred court of Orlingbury. (fn. 88)
Lands which Sir William Waldegrave and others had of the grant of John Smyth, (fn. 89) late of Walgrave, willed to finding of four poor folk in Waldegrave at the naming and ordering of the said Sir William, were excepted from the lease of Walgrave Manor, granted in 1505 by Sir William Walgrave, to William Lane. (fn. 90) This was presumably the Hospital at Walgrave, concerning which it was stated in 1628, in the cause of Lane v. Bawde, that there was a hospital founded in Walgrave by a blacksmith in the reign of Henry VI, with lands producing £140 a year, of which Lady Mallory, 'sometime wife of one of the Lanes, lord of said town', had seized the title-deeds and appropriated the lands. She, however, and Sanders, who bought from Lane, had contributed to the relief of the poor in the hospital; but Paget and Bawde, the later purchasers, had only put six of their own servants into the hospital, allowing them 20s. apiece. (fn. 91)
Church
The church of ST. PETER stands on high ground on the south side of the village and consists of chancel, 36 ft. by 21 ft.; nave of three bays, 49 ft. by 17 ft 9 in.; north and south aisles, north and south porches, and west tower, 10 ft. 8 in. square, surmounted by a broach spire. There is also a vestry and organ-chamber, 16 ft. 9 in. by 10 ft. 3 in., opening from the south aisle, erected originally as the mortuary chapel of the Langham family, in which was a galleried pew. The south aisle is 10 ft. 8 in. wide, and the north aisle a foot wider. All the above measurements are internal.
The ground-plan of the church, with the exception of the vestry, is of the 14th century, and the building is a very good example of the architecture of the period. In 1867–8 the spire was partly rebuilt and the church restored, a clerestory added, new high-pitched roofs placed on the nave and chancel, the west window and tower arch opened out, and new seating introduced. The chancel roof is tiled, that of the nave slated, while the aisles have lean-to leaded roofs. The Langham chapel (vestry) was probably added in the latter half of the 17th century, shortly after the family acquired the manor in 1654; it has a straight parapet and opens without an arch to the aisle, the roof of which is continued over it.
The chancel is of three bays, with a two-light window in the two western bays on each side, and a window of three lights in the eastern bay on the south. There was formerly a vestry, or priests' chamber, on the north side, the blocked doorway of which remains. The east window is of five trefoiled lights with reticulated tracery, and the two-light side windows are trefoiled with a quatrefoil in the head. The westernmost on the south has a transom at about a third of its height, below which the openings are subdivided by mullions, making a lowside window of four pointed lights; the sill inside is flat and forms a seat. (fn. 92) The sill of the easternmost window, which has cinquefoiled lights, forms also a plain seat, but no piscina remains. In the north wall is a pointed aumbry. A moulded string runs round the chancel at sill level inside and out, and the priest's doorway, below the middle window, is ogee-headed with continuous moulded jambs. All these features are original, but the embattled parapet is said to have been added in 1633 by Bishop Williams, (fn. 93) who held the rectory together with the see of Lincoln. The lofty chancel arch is of two hollow-chamfered orders dying into the wall. Some carved bosses from the former chancel roof have been preserved, one with the rebus of Arthur Wingham, rector (d. 1650).
The arches of the nave arcades are of two chamfered orders springing from pillars of four half-rounds and hollows, with moulded capitals and bases; there are three clerestory windows on each side. The aisle windows are all pointed and of two cinquefoil lights with quatrefoil in the head, except the easternmost in the north aisle which has three lights. At the east end of this aisle, in the usual position, is a trefoil-headed piscina, the bowl of which has been mutilated. The north doorway and the outer arch of its porch are wavemoulded, and the south porch has an outer arch of two hollow-chamfered orders and wall arcades consisting of two pointed arches, supported in the middle by carved heads. Both porches are leaded.
The tower is of three stages, marked by strings, with coupled buttresses to the top of the second stage. It has a moulded plinth, restored west window of two lights, and a narrow pointed doorway on the north side towards the village. The bell-chamber windows are of two trefoiled lights with quatrefoil in the head, and the spire has ribbed angles and two sets of lights on each of the cardinal faces. The tower arch is of three hollowchamfered orders dying into the wall, and beneath it is a low oak-panelled screen, with carved rail and middle opening. There is no vice.
In the chancel are mural tablets to Montague Lane (d. 1670) and Samuel Harris (d. 1707), and in the floor a brass plate to Arthur Wingham, D.D., rector (d. 1650), a slab marking the place of burial of John Lane (d. 1557) and Elizabeth his wife, (fn. 94) and in the middle a larger slab with the matrices of the brass of a priest with canopy and marginal inscription.
The font is ancient and consists of a circular bowl with moulded top on a modern pillared stem. The pulpit and other fittings are modern.
In a glazed case in the chancel are kept a chained Bible of 1611 and a 'Book of Homilies', 1676: the case is made up in part from old bench-ends of yew, one of which is carved with a representation of David with the lion and the bear.
There are five bells, the first by Taylor & Co., of Loughborough, 1867, the second, third, and tenor by Thomas Russell, of Wootton, 1723, and the fourth dated 1766. There is also a medieval sanctus bell inscribed 'Sit nomen Domini Benedictum', but it is unhung. (fn. 95)
The plate consists of a silver cup, cover paten, flagon, and bread-holder of 1671, given in 1674 by Sir William Langham. (fn. 96)
The registers before 1812 are as follows: (i) all entries 1571–1655; (ii) all entries, imperfect, 1659–81, baptisms 1681–1743, marriages 1695–1707; (iii) baptisms 1743–64, marriages 1721–53, burials 1678– 1764; (iv) marriages 1755–1811; (v) baptisms 1762– 1801, burials 1765–1801; (vi) baptisms and burials 1802–12; (vii) marriages 1811–13.
To the west of the south porch is the socket and stump of a churchyard cross.
Advowson
The church was returned in the Taxation of 1291 as then worth £13 6s. 8d. yearly. (fn. 97) The Valor Ecclesiasticus of 1535 gave the value of issues from tithes, mansion, and glebe yearly as £22 14s. 10d. At the inclosure of the common lands in 1776 an allotment was made to the rector in respect of three yard lands called the glebe land, with commons thereto belonging.
The advowson was at an early date held with the manor (q.v.), and by Geoffrey Malesoures was granted to St. Augustine's, Daventry. (fn. 98) It was not long, however, before it had passed from that monastery to the bishops of Lincoln, (fn. 99) by whom it was held until in 1852 it was transferred to the Bishop of Peterborough.
On 18 May 1328 Master Ralph de Waldegrave received licence for the alienation in mortmain of 2 messuages, a mill, land, and rent in Walgrave, Holcot, and Northampton to provide a chaplain to celebrate daily in the parish church of Walgrave for the souls of the king, &c, and of members of the de Waldegrave family. (fn. 100) Later, in 1361, the same Master Ralph had licence to give certain tenements in Wold and Northampton in mortmain. (fn. 101) That these tenements were either granted in substitution for those previously mentioned, or to supplement them, is indicated by the fact that the provision of a priest in Walgrave church was made a condition in a grant, made before 1501, by one John Smyth to Thomas Spencer and his wife Margaret, of the manor and advowson of Wold. (fn. 102)
Charities
Town land. Certain lands in the open fields understood to have been purchased with £240 given by John Williams, Bishop of Lincoln, were conveyed to trustees by deeds dated 7 February 1642 for the benefit of the poor. The property consists of 38 acres of land, the yearly rent of which is distributed by the trustees (three in number) in groceries.
Poor's allotment consists of 8 a. 2 r. of land set out on the inclosure for the use of the poor. The charity is administered by the rector and four other trustees who distribute the income in groceries, meat, and coal.
Francis Baxter by his will (date unknown) gave an annual sum of 15s. to the churchwardens for distribution in bread to the poor. The income is distributed in thirty 6d. loaves.
The Charity of John Sheldon founded by will dated 2 July 1812 is regulated by a scheme of the Charity Commissioners dated 29 September 1916. The endowment consists of stock with the Official Trustees of Charitable Funds producing about £1 16s. 8d. yearly in dividends, which is distributed by the rector and churchwardens in sums of 5s. each to aged poor widows being members of the Church of England.