Pages 303-306
A History of the County of Oxford: Volume 1. Originally published by Victoria County History, London, 1939.
This free content was digitised by double rekeying. All rights reserved.
D. Industries
Oxfordshire was in Roman times, as it remained until quite recently, predominantly a rural county, given over to agriculture and pasturage. Yet, apart from our knowledge that there were numerous villas, farmsteads, and villages scattered up and down the county, we have not, nor can we expect to have, any visible evidence of the existence of these industries here in Roman days.
There is no proof that ironstone was worked in the district, though we may suspect that it was worked at Drun's Hill, Wood Eaton (p. 345), and also that the concentration of settlement in the Bloxham-Banbury district had some connexion with such working, and was not merely fortuitous. That the local oolite of the Cotswolds was quarried for roofing slates and building-stone we know from discoveries in excavated villas in the district. Doubtless also the value of the Headington and Shotover beds for stone-quarrying was already realized. But no actual Roman workings have come to light, and such industry as they did give rise to is likely to have been only of local importance.
It is otherwise with pottery-making. A series of kiln-sites has been found along, or not far from, the line of the North-South Roman road between Headington and Dorchester, and the industry appears to have flourished from at least the 2nd, if not the 1st, century a.d. up to the early-5th century. As yet no student has undertaken the research necessary to show how far the pottery made in these kilns was traded and peddled; the evidence exists: we know what wares (Pl. XIX) were made at Sandford, Rose Hill, and Dorchester, and it only remains for some one to work over the finds of pottery on Roman sites in neighbouring counties in order to trace the extent of the trade. Meanwhile Oxfordshire finds show that there are few if any Roman sites in our own county which were not supplied to some degree with local wares. (fn. 1) Of the sites of kilns along the Headington-Dorchester line, the farthest from the Roman road, that at Rose Hill, Cowley, lies about 1¾ miles west; the nearest to it, that at Allen's pit, Dorchester, lies only some 200 yards east. They were all very conveniently situated for transport and supply, and their wares may well have had a wide distribution in central Britain.
The first suggestion that these potteries existed was made as far back as 1850, when Llewellyn Jewitt surmised, (fn. 2) from the discovery at Headington Wick villa of a mould for an appliqué mask, (fn. 3) portions of vitrified flooring, lumps of chalk, &c., that pottery-making had been indulged in at or near the villa-site. Later, the Rev. E. Marshall (fn. 4) notes that traces of several small kilns with remains of Roman pottery were found at Mountpleasant, on the west side of the Oxford road between Littlemore and Iffley. But it was not until Rolleston in 1879 excavated four kilns on the site of the Mynchery Farm, Sandford, that the importance of the industry was realized. Rolleston (fn. 5) published only a short account of his finds and it was left for Thomas May, in 1922, (fn. 6) to issue the definitive account of the fabrics discovered. Meanwhile Manning in 1898, (fn. 7) as well as corroborating Marshall's site at Mountpleasant by recording further discoveries there, noted another kiln-site in Harry Bears's pit, Headington, and two other possible ones farther south, to the west and east of the footpath leading thence to Cowley Marsh. So matters remained till 1935, when a kiln (with traces of a second) was found during the laying out of Annesley Road, Rose Hill, a discovery followed in 1936 by that of two kilns in Allen's pit, Dorchester. (fn. 8) More recently still the stoke-hole of a third kiln occurred in the east bank of the Oxford road, 100 yds. east of the Annesley Road kilns, during widening operations in 1937. (fn. 9)
The three kilns excavated recently, two at Dorchester (for the first see Pl. XX, a, and Fig. 27) and one at Rose Hill, belong to Grimes's class A i 1, round or oval up-draught kilns with the potchamber supported on a central tongue. (fn. 10) A full account of their construction, as far as the extant remains allowed, has been given in Oxoniensia (loc. cit.), and details need not be repeated here. The furnace-chamber was built of hand-made, puddled-clay slabs in a hole excavated in the gravel; no stones were used in their construction except to make supporting columns on each side of the mouth of the chamber. The floor of the pot-chamber was built of similar puddled-clay slabs, and was pierced by a series of vent-holes, about 4 in. diameter, to allow the heat to penetrate from the furnace upwards. In all three examples the walls and roof of the pot-chamber had perished, only debris remaining. The stoke-hole was always a simple pit in the gravel. All three kilns were roughly the same size, the furnace-chambers varying from 6 ft. long by 4 ft. wide to 5 ft. long by 3 ft. wide.
The Sandford kilns (fn. 11) also appear to have been of Grimes's A i 1 class. Two (May, loc. cit.) were apparently built on top of the gravel and had walls of rough stones set in clay; the other two were set in a pit in the gravel, and built of puddled-clay slabs, like the examples more recently found. One of the kilns built of stones is said to have been a double one (Rolleston, loc. cit.), but this appears to refer not to two furnace-chambers, but to a single chamber with a partition, like that of Fig. 27. If so, the other three kilns had presumably no such central partition, and were thus variations on the Rose Hill-Dorchester type. The abundance of coarse, flattish pieces of clay with impressions of straw noted by Rolleston led May to infer that 'the sides of the [pot-]chambers were probably substantial, more or less domed or "beehive" shaped, with a central opening for packing the kiln and regulating the draught.
This opening was apparently covered in with grass or straw after each charge and then roofed with little slabs of clay'. He recalls that at Castor Artis found similar evidence of such a method of roofing kilns. (fn. 12) This tallies well with similar debris found at Rose Hill and Dorchester, as well as at Mountpleasant, (fn. 13) and goes to prove that all these kilns were so roofed and not, as was suggested in Oxoniensia (loc. cit.), with a wattle-and-daub construction.
Apart from the actual remains of kilns, the Sandford, Rose Hill, and Dorchester sites produced other remains of the pottery-works that had existed there. At Sandford what appears to have been an extensive potters' waste-heap was excavated, which is claimed to have been 100 ft. long (May, loc. cit.), and also a well, situated to the NW. of the kilns, which contained much pottery, including some complete pieces. In the earth adjoining the largest (double) kiln were found two human skeletons. At Rose Hill extensive remains of habitation, in the form of hut-floors, occupation-pits, and ditches, as well as one or more potters' waste-heaps occurred; and here, also, two skeletons, presumably of Roman date, were found in the bank on the east side of the Oxford road, 100 yds. east of the excavated kiln, near the stoke-hole of the third kiln. (fn. 14) At Dorchester not only was there a large pit full of potters' wasters and a dump of clay mixed for potting, carefully laid out on a rectangular platform of stones, (fn. 15) but also a hole sunk in the gravel to water-level and lined with wooden staves and with a square wooden frame-work at the bottom; this last was presumably the puddling-hole, where the clay was mixed. Near or on top of the waste-heap a cremation-burial was found of the 1st or early 2nd century a.d.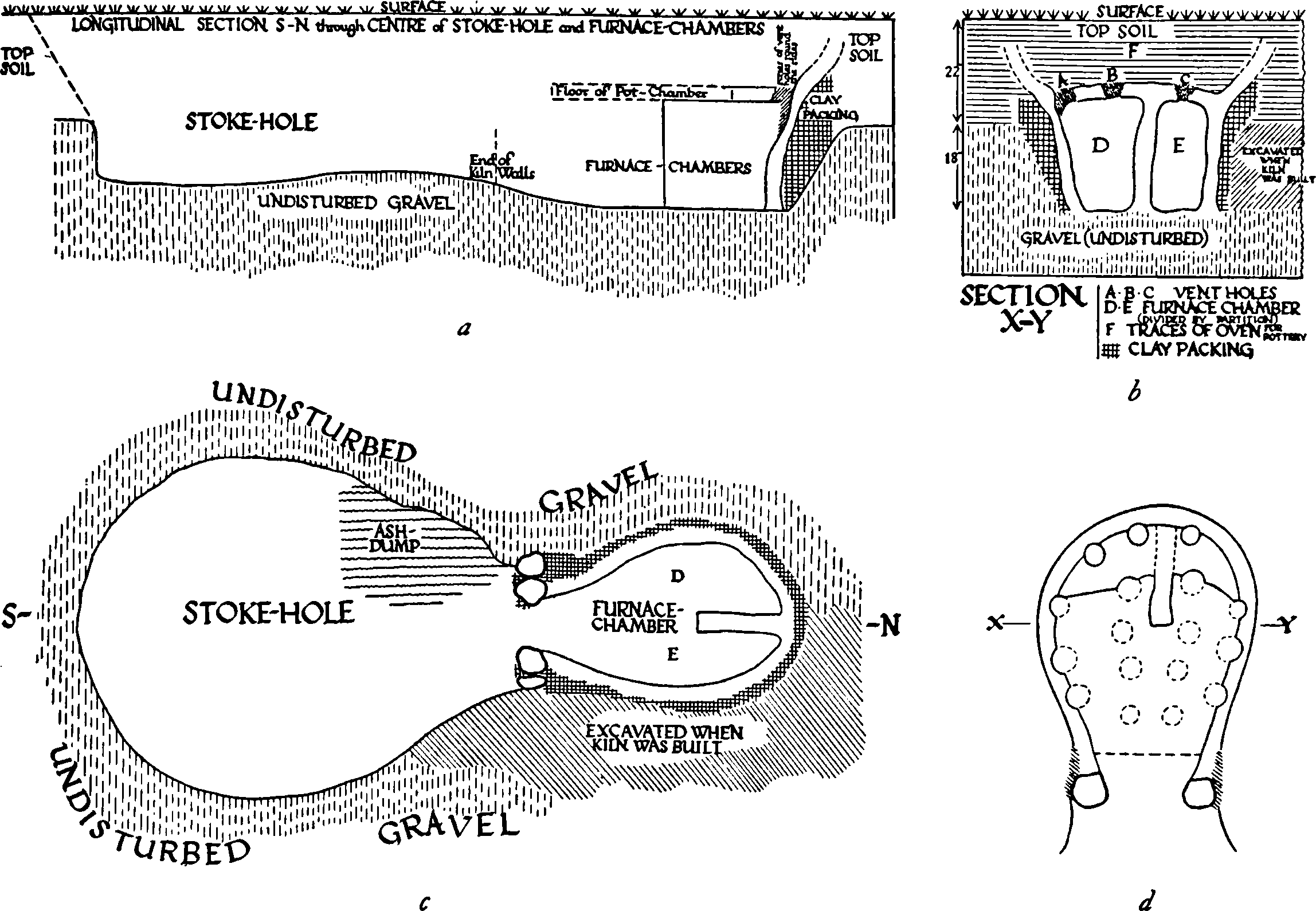 a. Longitudinal section through stoke-hole and furnace-chamber.
b. Cross-section through furnace-chamber.
c. Ground plan of stoke-hole and furnace-chamber.
d. Ground plan of pot-chamber.
(After Oxoniensia, i, fig. 14)
The pottery from the various waste-heaps, combined with the fragments found in the actual kilns, gives a very fair conspectus (Pl. XIX) of the ware which these factories made, and thereby of the inclusive date of their activity. May has analysed in detail vases and fragments from Sandford, which include the following varieties:
1. Imitations of early Samian shapes (Drag. 27, 29, 30, and 33) in hard grey ware or soft red ware, often with white barbotine or with combed linear patterns of the 1st or 2nd century.
2. Ollae, bowls, dishes, and beakers of grey smother-kiln ware, often coated wholly or in part with bitumen, and dating from the 1st to the 4th century.
3. Jugs, amphorae, bowls, and mortaria of white ware, dating from the 2nd to the 4th or early 5th century.
4. Bulbous beakers, resembling Castor and New Forest types, often decorated with rouletting, thumb-indents, or barbotine; rosette-stamped bowls with vertical sides; mortaria imitating the Samian form 45 with lion's-head spout; bowls imitating Samian forms 31, 36, 38, 40; all of red colour-coated ware of various dates from the 3rd to the early 5th century.
At Rose Hill the only well-excavated kiln was apparently used for making grey smother-kiln ware of the 2nd or less probably of the 3rd century, but fragments and wasters found elsewhere on the site suggested that it was occupied, presumably by potters, from at least the 2nd, if not the 1st century, up to the early 5th century, and that kilns also existed here for making white ware and red colour-coated ware (groups 3 and 4 above). Similarly at Dorchester, though the two kilns discovered were of the latest period, and both used for red colourcoated ware, the finds in the puddling-hole and in the waste-heap proved that here, too, pottery-making was in progress from at least the 2nd century onwards, and that there was a considerable output also of grey smother-kiln ware, as well as of white mortaria, jugs, and the like.
On all these three sites, therefore, pottery-making appears to have begun during the 1st or at least the early 2nd century and to have continued uninterruptedly up to the early 5th century. The few coins discovered in association corroborate this. At Dorchester none has yet been found, but at Sandford occurred 1 Antoninus Pius and 1 Radiate, and at Rose Hill 2 Radiates, 1 Constantius II, 1 Valens (?), 1 House of Valentinian I (?), and 1 House of Theodosius (?).
It only remains to mention a few other sites in Oxfordshire where it has been alleged that Roman pottery-kilns existed. We need pay no attention to Warton's vague theorizing about a Roman officina near Stonesfield. (fn. 16) At Fencoton-Otmoor (fn. 17) and at Stoke Row, Ipsden, (fn. 18) the finding of large quantities of broken pottery has been claimed to prove that a potter's works existed. Passing references are made to kilns found at Shotover (fn. 19) and at Wilcote (fn. 20) but, lacking evidence, they must be considered as unproven. That there was such a kiln at Shotover is likely, for Jewitt, our authority for this statement, was a particularly competent observer in such matters, and the site is in the centre of the Oxfordshire pottery area; it is otherwise, however, with Wilcote. Finally, in Camp Spinney, north of Spring Farm at Hanwell, Manning (fn. 21) notes that an 'oven with several rough pieces of pottery in it' was discovered, and that 'the soil around the oven was burnt red'; this may have been merely a bake-house, but it is equally possible it was a kiln.