Pages 225-260
A History of the County of Oxford: Volume 10, Banbury Hundred. Originally published by Victoria County History, London, 1972.
This free content was digitised by double rekeying. All rights reserved.
SWALCLIFFE
The ancient parish of Swalcliffe covered an area of 6,946 a. on the high ground of north-west Oxfordshire, about 5½ miles south-west of Banbury, its western boundary forming the county boundary between Oxfordshire and Warwickshire. (fn. 1) The parish contained the townships of Swalcliffe (1,679 a.), Epwell (1,140 a.), Shutford East (409 a.) and West (952 a.), Sibford Ferris (1,008 a.), and Sibford Gower (1,758 a.). (fn. 2) A further settlement, Burdrop, lay between the two Sibfords, and in the Middle Ages there was a settlement north-west of Swalcliffe at the Lea. Each township was separately organized for local government purposes and therefore came to be regarded as a civil parish in the 19th century. (fn. 3) In 1841 the ancient parish was divided by the creation of the ecclesiastical parish of Sibford Gower, which included Sibford Ferris and Burdrop; (fn. 4) Epwell was added to this parish in 1905. (fn. 5)
The estimated population of Swalcliffe in 1623 was 1,000, and the Compton Census in 1676 recorded 361 conformists and 15 nonconformists of adult age. (fn. 6) In 1801 the population of the ancient parish was 1,465 and increased steadily to a peak figure of 2,012 in 1851. In 1961 the population of the equivalent area was 1,361. (fn. 7)
The ancient parish was bounded on north, south, and part of the east by small streams, and on the west by an ancient lane (Ditchedge Lane), which formed the county boundary. The land lies mostly within the Inferior Oolite series, with a narrow strip of Upper Lias Clay between Epwell and Sibford; a line of hills, formed by the denudation of the Upper upon the Middle Lias plateau, runs across its northern half. (fn. 8) The highest point is Epwell Hill (743 ft.) in the north-west and the ridge there includes four hills of between 500 and 600 feet. Nearly the whole of the parish is hilly and lies between the 400 and 600 foot contours: Shutford and Swalcliffe in the centre are separated by Langley and Jester's Hill (585 ft.); to the west is Tyne Hill and on the western extremity is Sibford Heath (704 ft.). (fn. 9) The soil is brown sandy limestone with red sand around Swalcliffe and Sibford. Arthur Young described it as 'the glory of the county … deep, sound, friable, yet capable of tenacity; and adapted to every plant that can be trusted to it by the industry of the cultivators'. (fn. 10) There is a belt of clay at the bottom of the line of hills.
Although there is little woodland there are several coppices, and the post-inclosure hedges are welltimbered. (fn. 11) Stone walling, now largely concealed by hedgerows, is also a characteristic feature. The area is well watered; besides the Swale, a small tributary of the River Cherwell, rising in the north of the parish, and the Stour, which rises in the south, there are numerous small streams and springs. The high ridge between Swalcliffe and Sibford is the watershed between the Thames and the Avon.
An ancient trackway from Tadmarton Heath to Edgehill crosses the parish in a north-westerly direction, passing through Swalcliffe Grange and Tyne Hill. (fn. 12) A Roman road from Droitwich through Stratford-upon-Avon and Eatington (Warws.) seems to come to an end near the Romano-British settlement at Lower Lea Farm. This road is described in a 12th-century charter as 'Salt Street'; (fn. 13) it is possible that it continued through Broughton and Bodicote to the river-crossing at Twyford. (fn. 14) Another Roman road, from Over Norton to Warmington (Warws.), crosses Swalcliffe Park, and is as much as 10 ft. wide near Swalcliffe Grange. (fn. 15) The chief modern road in the parish is that from Shipston-on-Stour to Banbury which passes through Swalcliffe village; between 1781 and 1872 it was a turnpike with a toll-house near Epwell. (fn. 16) It was greatly improved in 1844 by the lowering of a steep hill at the entrance to the village. (fn. 17) A branch road from Shutford in the north to Wigginton in the south crosses the main road at Tyne Hill and several minor roads connect the hamlets in the parish with each other and with Hook Norton, North Newington, Tadmarton, and Shenington. Even so Swalcliffe parish was comparatively isolated: before the introduction of bus services the only public means of reaching Banbury from Sibford was by the twice weekly carrier's cart, which took about four hours. (fn. 18)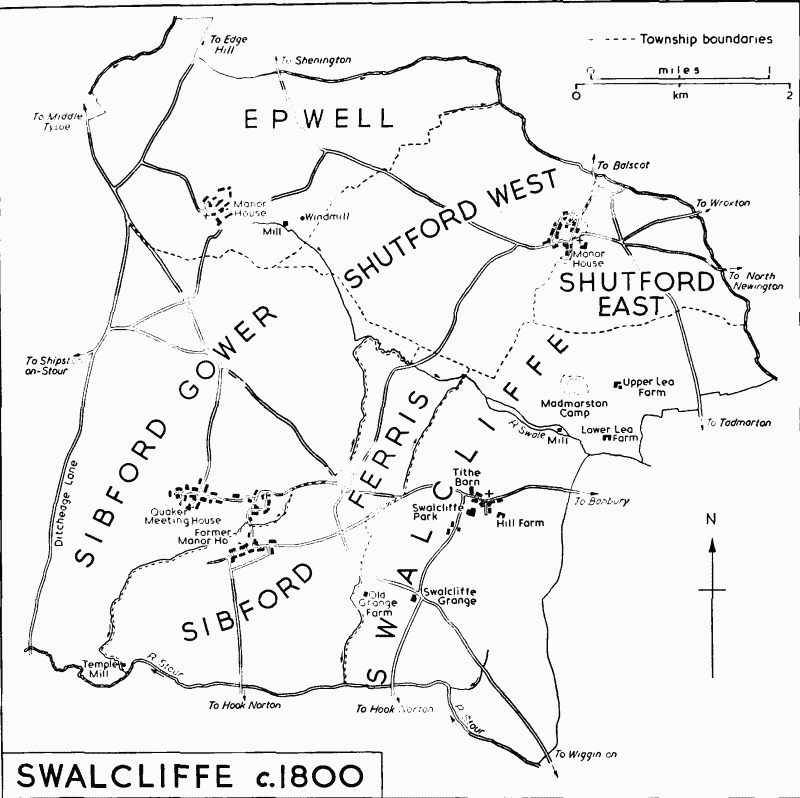 The area has been settled from an early period. There are Iron-Age barrows at Sibford Gower and Swalcliffe. (fn. 19) The remains of an extensive camp, Madmarston, lie north-east of Swalcliffe village. It was probably occupied from the 2nd century B.C. until the 1st century A.D. when it appears to have been deserted, except for a brief period of reoccupation in the 4th century. (fn. 20) Close by lies one of the largest Roman occupation sites in the county, covering 50 acres. The site was occupied throughout the Roman period, and possibly earlier. The settlement which was quite large in the first century A.D. seems to have declined in the second, but flourished again in the late third and fourth centuries. (fn. 21) Placename evidence suggests that Saxon settlement of all the principal hamlets was comparatively early. (fn. 22)
Swalcliffe (fn. 23) ('Swallow cliff') stands 540 feet above sea level surrounded by undulating hills, immediately south of a tributary of the River Swale. (fn. 24) The availability of springs, the proximity of ancient roads, and the cultivated fields of the Romano-British settlement were probably factors in the choice of its site. In 1327 25 villagers were assessed for tax and in 1377 seventy-six. (fn. 25) By the 17th century, however, Swalcliffe was probably much smaller than either of the Sibfords; in 1665, only 14 people, 5 of whom were 'paupers' were assessed for hearth-tax. (fn. 26) In 1774 there were said to be 47 houses in Swalcliffe. (fn. 27)
The ancient plan of the village has to some extent been preserved. On the high ground north of the main road lie the chief buildings, the church, the medieval rectory-house, the massive 14th-century tithe barn, and the 19th-century vicarage-house; opposite is the manor-house of the Wykehams, Swalcliffe Park. (fn. 28) A small green, planted with elms, lies between the church and the main village street, which branches off the high road and curves down the southern slope of the hill. Most of the farmhouses and cottages are built of local coursed ironstone rubble with brick chimney stacks; most are two-storied, thatched structures, although several previously thatched houses are roofed with stone or Welsh slate. These features are well illustrated in a 17th-century group of four cottages, including the post-office and the 'Stag's Head', and a thatched 17th-century cottage in a lane north-west of Hill Farm. These features are also dominant in Hill Farm itself, which is probably an 18th-century house. To the south-west of the church is a threestoried 18th-century rubble house with a Welsh slate roof and moulded stone stacks. The character of the village was altered in the mid 19th century by Henry Norris of Swalcliffe Park who replaced the row of 'miserable' cottages at the entrance to the vicarage drive by four soundly built ones; another cottage was then refronted. In 1852 the 'Gothic' school (now closed) was built and before 1877 Norris had a water supply for the village laid on. (fn. 29) Besides the post-office the village in 1965 contained a general stores and two inns. The 'Wykeham Arms' was first licensed under that name in 1782. (fn. 30)
Of the outlying farms in Swalcliffe township two are the survivors of earlier settlements. Lower Lea Farm stands near the shrunken medieval hamlet of the Lea, (fn. 31) which itself stood on the site of the Romano-British settlement. The Lea, which was separated by the river from Swalcliffe, lay originally in the tithing of Shutford and was called in the mid 17th century Shutford le Lea; (fn. 32) later, however, it was known as Swalcliffe Lea. In 1327 14 people were assessed for poll tax there; in 1334 the total assessment was fixed at £2 6s. 2d., and in 1377 38 people were assessed for poll tax, exactly half the number assessed for Swalcliffe itself. (fn. 33) The Lea was still described as one of the seven villages of Swalcliffe in the 1660s, but in 1718 Richard Rawlinson, the antiquary, saw ruined houses there on a piece of ground called 'the town'. (fn. 34) There can be little doubt that the cause of the decline of the settlement was the inclosure, probably for sheep-farming, of a large part of Lea manor in the 16th century. (fn. 35) In 1598, however, that manor still contained 6 houses (fn. 36) and it is possible that the further reduction of the hamlet was a gradual process: excavation of one of the medieval farms there suggests that it was occupied from the 14th to the 17th century. (fn. 37) Lower Lea Farm, the manor-house of the Hawten family, remains. (fn. 38) A rather smaller settlement is now represented by Old Grange Farm and Swalcliffe Grange. They were described with their attendant cottages in the 1660s as another of the seven villages of Swalcliffe. (fn. 39)
The names Old Grange and Hollow Lane were until recently the only surviving evidence for the site of Holwell Grange, an outlying grange of the Cistercian abbey of Bruern. The early forms of the name Holwell suggest 'spring in a hollow', and there is a spring south of the Old Grange. (fn. 40) In the Middle Ages the grange was inclosed by a wall and approached by a road from Sibford. (fn. 41) In the 20th century the owners of the site excavated large foundation stones in an area extending over roughly an acre, and also the monks' fishpond. (fn. 42) In the grounds of the modern Swalcliffe Close, is a small chapel, completed in 1942, which incorporates a small medieval window with two lights and some carved stones representing human heads, apparently of a king and a monk, found in an old building near the Grange Farm. (fn. 43)
Shutford lies in the extreme north of the parish, just south of the Sor Brook which separates it from Wroxton parish. (fn. 44) It derives its name from a ford on the brook and the Old English personal name Scyttel, the diminutive of Scytta. (fn. 45) The village stands well above the brook at about 500 feet, and appears to have grown up round three sides of a green, with an extension along a minor road to Balscott. The direct connexion with Swalcliffe lies across the fields by a path.
The village and township were divided for administrative purposes into Shutford East, in which lies little but the church and the Fiennes manor-house, (fn. 46) and Shutford West, which includes most of the farms and cottages; Shutford village, however, forms a single unit. Its extremely irregular plan is probably a consequence of its semi-industrial character in the 18th and 19th centuries, (fn. 47) when growth in population led weavers to build additional dwellings and workshops on their properties.
In the 14th century the village was quite large; 20 people were assessed for tax in 1327, in 1377 as many as 86, 10 more than in Swalcliffe. (fn. 48) Only 9 people were assessed for the hearth tax of 1665, (fn. 49) but in 1676 74 adults were listed in the Compton Census. (fn. 50) A fire in 1701 destroyed parts of 24 houses, some of which contained as many as 30 bays of building. These clearly included weaving sheds and other outhouses, where woollen and linen yarn were woven and stored. (fn. 51) Seventy-one houses were recorded in 1774. (fn. 52)
The 17th- and 18th-century cottages and farmhouses, of which many remain, are built largely of local coursed ironstone rubble; much thatch is still used, and a few dwellings retain stone mullioned windows and ancient wood lintels. Most of the farmhouses are in the village; Shutford Grounds Farm, however, is clearly a product of early inclosure since the west range is possibly 17th century in origin; over a stone porch are the arms of Wykeham. A few village houses were modernized in the 18th century, and there was some new building. Occasional wooden hoods, sash windows, and other 18th-century features are to be seen. In the 19th century a school and two nonconformist chapels were added, and in the 20th century there has been in-filling, and the addition of council houses. The 'George and Dragon', of which the gable is dated 'W.R.M. 1700', is still in use.
Epwell lies in the north-west of the parish on the Warwickshire border, about 6 miles from Swalcliffe and 6 miles west of Banbury. The hamlet lies in hilly terrain and itself stands 500–600 feet up on a group of small hills. (fn. 53) Plentiful springs dictated the choice of settlement and from one of them, 'Eoppa's well' or spring, Epwell took its name. (fn. 54) The river is fordable there. The houses were probably once built round a green, with the church and manor-house on the west and south sides. The houses to the south, which are separated from the main village, may have been a later expansion. In 1327 26 people were assessed for tax, and there were 59 contributors to the poll-tax of 1377. (fn. 55) For the hearth tax of 1665 as many as 7 of the 16 contributors were assessed on 3 or more hearths. (fn. 56) After Shutford Epwell was the largest of the hamlets in 1774 with an estimated 52 inhabitants. (fn. 57)
Many 16th- and 17th-century houses survive; as in the other hamlets their characteristic features are coursed ironstone walls, stone mullioned windows, thatched roofs, brick stacks, and casement windows. Three medieval buildings belonging to New College, Oxford—the chaplain's house, (fn. 58) a barn repaired in 1406–7, and a sheep-fold built in 1448 (fn. 59) —have left no trace. A small house with kitchen and hall (or parlour) occupied in 1674 by Abraham Finch and described by Warden Woodward of New College as 'very handsome' cannot now be identified. (fn. 60) Outstanding among the surviving houses are Yarnhill Farm, a long two-storied house with stone-mullioned windows and a central doorway ornamented with swags and a shield inscribed 'C.H. 1686', and the 'Chandlers' Arms', which has a number of two- and three-light stone-mullioned windows with square moulded labels. A date-stone, 'M.T.D. 1694', reset in a mounting-block outside the front of the inn, was found in the cellar. The inn was first mentioned by name in 1785. (fn. 61) Outside the village are the mill, now a private house, and two isolated farm-houses, Epwell Grounds Farm and Vicarage Farm. Some brick houses were built in the 19th and 20th centuries but buildings of local stone still predominate. The hamlet has a post-office and a grocer's shop.
Sibford Gower and Sibford Ferris (Sibba's ford) lie close to the parish's western boundary with Warwickshire, about ¼ mile from each other on either side of the steep valley of the river Stour; Burdrop, which lies between them, is probably a rather later settlement. (fn. 62)
Sibford Gower has always been the largest of the three settlements; in the 13th century it was called Great Sibford; (fn. 63) Gower was the name of the lords of the manor in the 13th century. (fn. 64) The site of the village was probably chosen because of the springs and the near-by ford. It is made up of a long street running from east to west near the crest of a hill; at the west end the farms and cottages are grouped round the pond and a small green, and a minor road branches off southwards. In 1327 27 people were assessed for tax in Sibford Gower, and in 1523 as many as 39. (fn. 65) For the hearth tax of 1665 27 people including 7 'paupers' were assessed, 7 of them on 3 or 4 hearths, the remainder on 1 or 2. (fn. 66) In 1774 it was said to contain 45 houses. (fn. 67) It remained in 1969 the most densely populated of the hamlets and its old houses had on the whole been well restored. About half the inhabitants at that date were either retired or employed outside the village. Many two-storied coursed rubble and thatched houses dating from the 17th century survive; among them are Court House (much restored), Buttslade House, Temple Close, and Crossways, which incorporates a re-used window on its north side, containing tracery of 14th-century character. The so-called Manor House was constructed by linking and extending a number of old cottages. The square tower was built about 1908. (fn. 68) The 17th-century 'Wykeham Arms' was probably a farm-house in origin. It is first recorded, however, in 1793; in 1782 the 'King's Arms' was the only licensed ale-house. Some modernization was carried out in the 18th and early 19th century when the village was expanding. The chief 18thcentury addition was the house later used as the vicarage-house, and among the 19th-century additions were the non-conformist chapels, (fn. 69) the church, and the school. (fn. 70)
Sibford Ferris takes its second name from the Ferrers family, earls of Derby, the medieval lords of the manor. (fn. 71) The village lines a winding street at a height of 600 feet; the site has many springs. The village is noted particularly for its Quaker school, founded in 1842. The siting of this school in Sibford owed much to the long established Quaker movement in Sibford itself, as well as to eminent Quakers from Banbury and elsewhere, and it has contributed much to the continuing strength of Quakerism in the parish. (fn. 72) It opened with 26 boys and 22 girls, many of whom came from outside Oxfordshire. In recent years it has numbered over 300 pupils, including a number of non-boarders, thus increasing the educational capacity of the parish. The school has also provided employment and strongly influenced the social life of the village.
The village contains a number of carefully modernized 17th- and 18th-century farm-houses and cottages. The consistent use of local stone, at least until the 20th century, make it a good example of the regional style of building. The most substantial house is the Quaker School building, formerly the manor-house. (fn. 73) The Old House, formerly the Home Farm, was the farm-house of the Lambs in the 17th century. It was bought by Jeremiah Lamb in 1658. The family still owns some property in the village. (fn. 74) There are a number of dated cottages; one row of three bears the inscription 'J. C. 1691' on the end gable; another row of four has 'E.I.R. 1782'; and another cottage has 'L.J.S. 1711'. Home Close was built in 1911 to the design of H. Baillie Scott in the traditional Cotswold style. The chief 20th-century alterations in the Sibfords were the provision of mains services, the extensions to the Friends' School, the building of a red-brick Co-operative stores in 1903, of council houses after the Second World War on four estates, and of a village hall, the result of years of community effort, in 1957. An earlier wooden hall, made available by Frank Lascelles of the Manor House and used between the wars, is now demolished. (fn. 75)
The name Burdrop means the hamlet near the burh. (fn. 76) The place stands on the top of a steep hill and there may have once been here some fortified house from which it derived this name, or there may have been a burial mound. It has a small triangular green and a number of 17th- and 18th-century cottages. Its public house has the unusual name of 'Bishop Blaize', a 4th-century Bishop of Armenia, who was adopted as the patron of the wool combers. (fn. 77) The house bears the inscription 'R.L. 1640', but this has evidently been reset during some later rebuilding. The names of Burdrop's licensed houses was said to be the 'Wykeham Arms' and the 'Old Inn' in 1782; (fn. 78) 'Bishop Blaize' (first recorded in 1816, and probably applied to the 'Old Inn') may have been copied from the inn at Williamscot. (fn. 79)
Swalcliffe parish produced a number of long established yeoman families; the Lamb, Pettipher, Sabin, Soden, and Harris families, for instance, lived in Sibford for 300 years. The Wykehams of Swalcliffe were a widespread family of the gentry class, who acquired more than local interest by their determined struggle in the 16th and 17th centuries to establish their claim to be related to Bishop William of Wykeham. A Commission headed by Richard Glover, Somerset Herald, and appointed by Lord Burghley decided against Humphrey Wykeham's claim that his family was entitled to the privileges of founder's kin at New College, Oxford. The Wykehams, however, did not accept this decision and the case was twice reopened in the early 17th century. Their main argument was based on the similarity of their arms with those of the bishop: silver, 2 chevrons sable, between 3 roses gules. (fn. 80)
Manors and Other Estates.
With the exception of the Sibfords and Epwell, Swalcliffe parish formed part of the Bishop of Lincoln's ancient estates in Banbury hundred, and may be assumed to have formed part of the 50-hide Banbury manor mentioned in 1086. (fn. 81) Epwell, also owned by the Bishop of Lincoln, almost certainly formed part of the early endowments of the see of Dorchester, for it later belonged to Dorchester hundred, (fn. 82) and was probably included in 1086 in the 90-hide Dorchester manor. (fn. 83) The overlordship of Swalcliffe was an appurtenance of Banbury castle and hundred, which in 1547 were sold by Bishop Holbech to the Duke of Somerset. (fn. 84) Swalcliffe was probably included in a grant of Banbury castle and hundred in 1550 to the Earl of Warwick, later Duke of Northumberland, who in 1551 granted them to the Crown. (fn. 85) No further reference to the overlordship of Swalcliffe has been found. Epwell probably followed the descent of Thame manor, since in the late 16th century it was held by John, Lord Williams of Thame, and in the 18th century by the earls of Abingdon. (fn. 86)
The Lincoln estate in Swalcliffe parish was held in the 12th and 13th centuries by several of the bishop's knights, whose exact holdings are not known. In 1166 Richard of Stoke held 3 fees of the bishop, and these may safely be identified with the 3 fees in Swalcliffe, Epwell, Wickham, and Fawler held by Robert of Stoke in the early 13th century. (fn. 87) It is probable that Robert of Stoke was the same man as Robert de Wykeham, (fn. 88) who at the same date held ½ fee at Epwell, (fn. 89) and before 1228 gave land in Fawler to Eynsham Abbey. (fn. 90) Certainly in 1242 Robert (II) de Wykeham claimed to be son of Robert de Wykeham and grandson of Richard of Stoke. (fn. 91)
Robert (II) may have had difficulty proving his inheritance since he was at law over land in Swalcliffe in 1252. (fn. 92) In 1279 his son Robert (III) was holding of him a SWALCLIFFE manor (10 yardlands) and an Epwell manor. (fn. 93) In 1300 Robert (III) did homage to the Bishop of Lincoln for 3 fees in Swalcliffe, Epwell, Fawler, and Wickham, (fn. 94) and in 1316 was returned as one of the lords of Swalcliffe. (fn. 95) Despite his marriage to an heiress, Elizabeth, daughter of Sir John Sor, (fn. 96) he seems to have been in financial difficulties, and he parted with Swalcliffe manor in 1323 to Sir Robert Arden, to whom he had already granted the advowson and some land in 1321. (fn. 97) In 1327 Robert Arden was granted free warren in his Swalcliffe demesne; (fn. 98) he died in 1331 and his relict Nicole, who married Thomas Wale, continued to hold Swalcliffe, probably in the same way as she held the Arden property in Drayton. (fn. 99) Elizabeth, relict of Robert (III) Wykeham, however, now attempted to recover her husband's Swalcliffe property and the two families engaged in a complicated succession of law suits. (fn. 100) In 1332 Elizabeth recovered the manor and advowson from Nicole and conveyed them for her life to her son Robert (IV) Wykeham. (fn. 101) After Nicole's marriage to Thomas Wale the Wales contested the settlement and recovered seisin. In 1342, however, Robert (IV) Wykeham counter-claimed and in 1345 he and his wife Katherine, daughter and heir of William of the Lea, finally secured the manor against Giles Arden and his wife Margaret, to whom Thomas Wale had conveyed the manor in 1337. (fn. 102) In 1346 Robert (IV) Wykeham held 2½ fees in Swalcliffe, Wickham, and Fawler. (fn. 103) He died childless c. 1359, having settled this property on his wife with remainder to his third brother Thomas. (fn. 104) Thomas was probably dead by 1385, when his son Thomas (II) granted land in Fawler to Eynsham Abbey. (fn. 105) This Thomas, called 'of Woodstock', married Isabel, daughter of William d'Oilly, before 1407 (fn. 106) and was recorded as holding 2/3 fee in Swalcliffe. (fn. 107) The manor then passed from father to son in the Wykeham family until 1635 and the following were lords: Thomas (III), who came of age in 1438 and died in 1464; (fn. 108) John (d. by 1514) who married Alice Lydiard of Glympton; (fn. 109) Edward who was a minor in 1514 and who conveyed the manor in 1555 to his son Humphrey (d. 1565); (fn. 110) Richard (fl. 1570, 1585); (fn. 111) and Richard (II), who died without issue in 1635. Swalcliffe then passed to Humphrey (II) (d. 1650), son of Richard (II)'s brother Edward, (fn. 112) and then from father to son to Humphrey (III) (d. 1703); (fn. 113) Richard (d. 1751), who married Vere Alicia Fiennes, sister and coheir of Laurence, Lord Saye and Sele; (fn. 114) William Humphrey (d. 1792), whose wife was Sophia Wenman, daughter of Philip, Viscount Wenman; (fn. 115) and William Richard, on whose death in 1800 Swalcliffe passed to his daughter Sophia Elizabeth Wykeham of Thame Park, created Baroness Wenman in 1834. She died unmarried in 1870 and Swalcliffe passed to her cousin Aubrey Wenman Wykeham (d. 1879); (fn. 116) to his son Wenman Aubrey (d. 1915), who took from his mother the additional name of Musgrave; (fn. 117) to Wenman's son Herbert Wenman Wykeham-Musgrave (d. 1931); and to the latter's son Wenman Humphrey Wykeham-Musgrave. (fn. 118) By 1939 manorial rights at Swalcliffe had lapsed. (fn. 119)
The Wykeham manor-house, Swalcliffe Park, is a largely 18th- and 19th-century building, but was built on the site of an earlier house and probably incorporates parts of it. The principal (south) elevation consists of two stories of ironstone ashlar with bands at first and second floors and a parapet ornamented by blind recesses; there are two threesided bays with a range of five sash windows between them. At the west end above the porch is a 16thor 17th-century achievement of arms (Wykeham, quarterly of six) which has been reset in the walling. Parts of the stable block date from the 17th century. (fn. 120) The back of the house was probably once the front; and the present rear courtyard gave access to it. A carriage drive, which can still be traced, went from the entrance on the east to the Swalcliffe–Tadmarton road. For a short distance it followed the prehistoric way, leading from the two Lea farms towards Tadmarton camp and the Wigginton crossroads.
In 1665 the house was assessed for tax on 11 hearths. (fn. 121) The house was leased for a part of the early and mid 18th century, and was probably rebuilt by William Humphrey Wykeham between 1765 and 1767. The surviving carpenter's accounts for work done between 1765 and 1783, when a total of £266 was spent, suggest that major building operations were carried out: the master carpenter was Lewis Poulton. (fn. 122) If Wykeham himself lived there after his marriage to Sophia Wenman in 1768 it was not for long, for by 1781 the house was leased again. (fn. 123) William Richard Wykeham certainly lived there at the end of the 18th century. In 1801 the house contained a drawing-room, large hall, two parlours, six bedrooms, and garrets, besides the usual offices, stables, and outhouses. There were 20–40 acres of grass in front of the house, and gardens, orchards, and fishponds. (fn. 124) In 1848 the house was leased by Henry Norris (d. 1889), an active squire. (fn. 125) In 1969 it was used as a school for about 30 maladjusted children.
Part of the Wykehams' fee, an estate at Epwell, was subinfeudated. Henry Caperun, one of the Bishop of Lincoln's knights, was holding land at Epwell in the late 12th century, probably as a tenant of the Wykehams, as his family certainly was later on. The Caperuns' chief holding was probably at Coleby (Lincs.) (fn. 126) and Henry's tenants at Epwell seem to have been Robert Frances and his wife Alice, who in 1185 acknowledged that ⅓ fee, including the manor-house and half the demesne, was Henry Caperun's right by inheritance. (fn. 127) In 1223 Robert Frances's son William witnessed that the above agreement had been annulled, although Henry Caperun's grandson, Thomas, who had inherited the manor, claimed that his father, Henry (II), had been in possession for three years and more until unjustly disseised in his absence by the justice Robert Wheatfield, cousin to Alice Frances. (fn. 128) In 1225 it was agreed that William, son of Robert Frances, should hold 7 yardlands, some of which had been granted to him by Thomas Caperun, for the proportionate amount of knight's service due from a fee consisting of 16 yardlands. (fn. 129) William Frances's son Robert succeeded as lord by c. 1249, and was still alive in 1260. (fn. 130) By 1279 the Frances holding was 3 yardlands. (fn. 131) In 1282 Robert Frances granted land and part of a mill to Richard Frances, (fn. 132) who was probably his son, for in 1316 Richard Frances was returned as one of the lords of Epwell. (fn. 133) No further reference has been found to this manor and it was probably united with other Wykeham land in Epwell.
The manor known later as EPWELL was held in the 12th century by Robert Chevauchesul, another of the Bishop of Lincoln's knights. (fn. 134) His sister Maud married Peter Talemasch, ancestor of the Talemasch family of Stoke Talmage, (fn. 135) and another sister, Emma, appears to have married into the Danvers family, since Robert Danvers, her son (fl. 1198), was the nephew of Robert Chevauschesul. (fn. 136) On the latter's death his holding was evidently divided between the Talemasch and Danvers fees which included Tetsworth manor in south Oxfordshire. (fn. 137) In 1198 both Robert Danvers and Richard Talemasch held land in Epwell (fn. 138) and between 1208 and 1212 Robert Danvers, together with Richard's heir Peter (II) Talemasch, were said to hold 1½ fee in Swalcliffe and Fawler. (fn. 139) In 1279 Robert Danvers, heir to the Talemasch holding on the failure of the male line, (fn. 140) held a fee in Epwell and elsewhere, (fn. 141) and in 1300 he did homage for that fee to the bishop. (fn. 142) In 1316 Simon Danvers was lord of Epwell, Swalcliffe, and other manors. (fn. 143) He died c. 1327 and was followed by his son John (d. c. 1347), who married Isabel, a daughter of William of the Lea. (fn. 144) John was succeeded by his son Richard, (fn. 145) who became lord of Calthorpe manor in Banbury, but was called Richard of Epwell as late as 1390. (fn. 146) He apparently disposed of Epwell before 1401 to William Willicotes of Northleigh. (fn. 147) Both the sons of William Willicotes were killed in the French wars and his property passed through a daughter, Philippa, who married Sir William Byshopsden, to her daughters Philippa, wife of Sir William Catesby, and Elizabeth, wife of Thomas Palmer of Holt (Lincs.). (fn. 148) Epwell itself may have passed by arrangement entirely to Elizabeth Palmer, for it was later held by the Bromes of Holton, to whom she was related by marriage. (fn. 149) In 1454 and 1456 William Brome was lord. (fn. 150) He died in 1461 and in 1484 his son and heir Robert released his rights in Epwell to William Catesby, (fn. 151) nephew of Elizabeth Palmer and the favourite of Richard III. (fn. 152) After Catesby's attainder and execution in 1485 the manor remained in the hands of his wife Margaret until it reverted to the Crown on her death in 1494. (fn. 153) It was evidently regranted to her son George Catesby (d. 1505) of Ashby St. Ledgers (Northants.), for his relict, Elizabeth, who had the use of it for life, leased it in 1506 for 40 years to John Hawten of Epwell. (fn. 154) She and her second husband, Sir Thomas Lucy, were still in possession in 1522. (fn. 155) The manor descended to her son Sir Richard Catesby, (fn. 156) who in 1546 sold it to Geoffrey Young of Swalcliffe, whose family had previously been lessees of the rectory estate. (fn. 157) Geoffrey died c. 1558, leaving as heir a minor son John, whose wardship and marriage were sold by the overlord, Lord Williams of Thame, to John's mother Alice. Alice's second husband Thomas Hardy granted the wardship and marriage to Edward Young, of Chipping Norton. (fn. 158) In 1558 Edward, who presumably inherited the manor on the death of the heir, sold it to Thomas Goodwin of Alkerton. (fn. 159)
Thomas Goodwin died in 1591 (fn. 160) and his son and heir William in 1637. (fn. 161) William's son Thomas and his wife Mary conveyed the manor in 1647 to William Goodwin of Alkerton. (fn. 162) By 1679 Brett Goodwin had succeeded (fn. 163) and either he or a son of the same name sold it in 1712 to William Rush of Teddington (Worcs.). (fn. 164) Rush's daughter Anne married Robert Doyley of Adderbury (d. 1750). (fn. 165) Their son Christopher Doyley of Adderbury (d. 1769) sold half the manor to Edward Dix in 1756 (fn. 166) and conveyed the other half to his brother William (d. 1772), (fn. 167) whence it passed to William's second son Robert, (fn. 168) who in 1792 sold it to John Duffield. (fn. 169)
The Dix portion remained in the family until 1875. The purchaser, Edward Dix of Sibford Ferris, the son of a London merchant, (fn. 170) settled in Epwell, and was succeeded by his eldest son Edward (II), whose wife Catherine was a daughter of Robert Doyley. (fn. 171) Before 1785 the property passed to their son Edward (III), who died unmarried c. 1790 and was succeeded in turn by his uncle Joseph Dix (d. 1801); (fn. 172) Joseph's son Edward (IV) (d. 1839); and Edward's son Joseph, who sold it in 1875 to John Page of the Manor House, Epwell, who had already acquired the Duffield property in Epwell. (fn. 173) Thus the manor was reconstituted. It is not known how the Pages acquired the Duffield property, but James Page of Bloxham held it by 1780 and it passed on his death to John Page. He was succeeded before 1877 by James Page and by 1924 by John N. Page. (fn. 174)
The manor-house, now Manor Farm, was assessed for tax on 6 hearths in 1665, when it was occupied by Brett Goodwin. (fn. 175) The house is probably early 17th century, a 2-storied building of rubble and ashlar; in one of the out-buildings is an ancient plain stone doorway, probably re-used.
In the early Middle Ages there were three manors in Shutford, one belonging to the Chapter of Lincoln, the others to knights of the Bishop of Lincoln. (fn. 176) The overlordship of the lay fees remained with the bishop until 1547. (fn. 177)
The chapter manor, later SHUTFORD WEST manor, originated in a grant of 4 hides by Robert de Chesney, Bishop of Lincoln (1148–66). Before 1166, the chapter, considering that 'the service of the Basset family could be of great advantage to them' granted the manor to William Basset and his son Fulk. (fn. 178) The latter was recorded as tenant in 1168 and 1169, (fn. 179) and in the mid 13th century his descendant Richard was in possession, followed by Richard's widow Parnel in 1256. (fn. 180) It may have been her son who created a mesne tenancy, for in 1279 William of the Lea was recorded as holding the manor by feoffment of Robert Basset. (fn. 181) William or his son was holding in 1316 with Richard Hebden who was probably the mesne tenant. (fn. 182) No further mention of this manor has been found before the grant by Lincoln chapter to Thomas (II) Wykeham of Swalcliffe and his heirs in 1392. (fn. 183) Thereafter this Shutford manor followed the descent of Swalcliffe manor (fn. 184) until the death of Baroness Wenman in 1870, when manorial rights appear to have lapsed. (fn. 185)
Of the two lay fees, one formed part of the fee in Cropredy and Shutford, in Kilsby (Northants.) held by Simon of Cropredy in 1225; (fn. 186) the fee followed the descent of Simon's Cropredy manor, and passed in 1524 to Brasenose College, Oxford. (fn. 187) The other fee, later known as SHUTFORD EAST manor, was part of 1½ fee in Bourton and Shutford held by Maud de Busseie in 1209, (fn. 188) and by her heir Robert de Vipont c. 1225, for the service of one knight. (fn. 189) Robert's heirs held of the bishop in 1279 but are not mentioned thereafter. (fn. 190) A mesne tenancy had been created before 1254 when William of Birmingham was granted hunting rights in his demesne at Shutford. (fn. 191) William was succeeded at his death (c. 1263) by his son William (II), who was killed at Evesham two years later fighting for the baronial cause. (fn. 192) Shutford was immediately seized by the Earl of Gloucester's bailiff but was later restored by the earl to William (II)'s mother, Maud of Gatecumbe, as dower. (fn. 193) She was still holding the manor in 1279 of her grandson William (III) of Birmingham, who was himself in possession in 1283, presumably after her death. (fn. 194) William accompanied Edward I on the Gascon expedition of 1294 and was taken prisoner at Belgrade in 1297. (fn. 195) In 1300 his heirs were said to have done homage to the bishop for the Shutford fee, and his son William (IV) held the mesne tenancy in 1316. (fn. 196) On William's death (c. 1345) his grandson John seems to have succeeded at Shutford, although John's father Fulk (d. c. 1375) held Birmingham itself. (fn. 197) In 1376 Fulk's relict Elizabeth, wife of William Coleson, released a claim to one-third of Shutford, presumably dower, to John of Birmingham. (fn. 198) John died without male heirs in 1380, (fn. 199) and the next known tenant of Shutford is William of Birmingham (d. 1426), grandson of Fulk's brother William (V). (fn. 200) William (VI) of Birmingham was succeeded by his son William (VII), who came of age in 1430 (fn. 201) and died in 1478. (fn. 202) His son and successor William (VIII), who suffered recurrent attacks of insanity and was found incapable of managing his estates, enfeoffed his second wife Margaret with Shutford manor in 1490. (fn. 203) There seems little doubt that his second marriage was bigamous, and it was alleged that Shutford was given to Margaret to forestall other claims by her or her heirs on the family lands. (fn. 204) William (VIII) died in 1500 and Margaret, who had subsequently married Walter Bulstrode, was holding the manor at her death in 1543. (fn. 205) Shortly before her death she enfeoffed the manor to the use of Edmund Knightley, who later brought a suit in Chancery over this conveyance and over alleged attempts to poison Margaret's son Henry of Birmingham (d. 1532). (fn. 206) After Margaret's death the reversion of Shutford passed to Edward, son of Nicholas of Birmingham, who was the son of William (VIII) and his first wife Agnes Thomson. (fn. 207) Edward was imprisoned in 1535 on suspicion of felony, but must have held the manor at his death in 1539 when the heir was William (IX), son of Henry of Birmingham, who was the son of William (VIII) and his second wife Margaret. (fn. 208) William (IX) held the manor at his death in 1554 or 1555, the sole heir being Anne, daughter of Edward Birmingham and wife of Richard Atkinson of London. (fn. 209) In 1570 Anne and her second husband Anthony Ashfield conveyed all this manor, except 3 yardlands, to Sir Richard Fiennes of Broughton, (fn. 210) who at his death in 1573 held Shutford in chief, as of Banbury castle. (fn. 211) Thereafter the Fiennes fee was held with Broughton and descended with that manor. (fn. 212) In 1968 Ivo, Lord Saye and Sele, was lord.
The family did not live at Shutford but leased both house and land. In 1592, and probably earlier, (fn. 213) the tenants were Thomas Nix (or Nicholas) and his son Richard. Thomas died c. 1613 leaving half his property to his son Richard and half to his wife Isabel for life. (fn. 214) In 1687 the tenant of the manor was Sir Robert Barkham (probably Sir Robert Barkham of Wainfleet, Lincs.), who died in 1701. (fn. 215) Sir Robert seems to have been succeeded shortly after 1689 by 'Lady Wimbledon's family': Lady Wimbledon, the wife of Edward Cecil, Viscount Wimbledon (d. 1638) died in 1691. (fn. 216) In 1767 a William Ryder was said to have been a recent tenant of Shutford manor-house. (fn. 217)
The manor-house may have been built at the end of the 16th century or early in the 17th century by Sir Richard Fiennes or his tenants the Nix family. (fn. 218) It is an important example of the regional style. (fn. 219) The plan, common in this area, is a later medieval four-unit arrangement of detached kitchen, service rooms, screens passage, hall, and private room. There are now three rooms on the ground floor of which one is the great hall (now 20× 38 ft.), another a large parlour, and the third the dining-room, which was the former buttery and pantry. The first and second floors also are each subdivided by timber partitions so as to provide three rooms. The staircase, which projects from the north elevation of the house, has solid baulk steps of oak around a built up central newel. The porch is a later addition of the 17th century. In 1662 the house, taxed on 12 hearths, was already large, (fn. 220) but a two story annexe, originally with a pent roof, was added at the end of the 17th century. Even so to Celia Fiennes it appeared as 'a little neat house and garden'. (fn. 221) In the 19th century it was used as a farm-house, (fn. 222) but was carefully restored by Walter Tapper in 1927–8 for the owner Mr. M. E. Bauer. A west wing of Hornton stone was added, and a 2-story stable wing on the northwest. (fn. 223)
SWALCLIFFE LEA manor was in existence in 1227 when Ralph of Wilby arranged to endow a chaplain for the chantry there. (fn. 224) It appears that by 1279, as on the rest of the Bishop of Lincoln's manors, there had been considerable subinfeudation. Robert of Wilby held in chief, with William of Stoke and William of York holding of him, while the demesne tenant was William of the Lea who held the manor as ⅓ fee. (fn. 225) William of York may be identified as a king's justice who died in 1283. (fn. 226) In 1300 another William of York held ⅓ fee here, and in 1346 John of York was recorded as lord. (fn. 227) The Richard Hebden recorded as a lord of Shutford and the Lea in 1316 was possibly a relation. (fn. 228) The demesne tenant in 1316 was still William of the Lea, and another William of the Lea was assessed for tax in Swalcliffe in 1327; (fn. 229) thereafter the family does not appear. (fn. 230) In 1399 Nicholas Hebden granted the manor to his daughter Elizabeth and her husband Thomas Dymoke of Scrivelsby (Lincs.), to hold of the chief lords. (fn. 231) Thomas, later champion to Henry IV, died in 1422, (fn. 232) but Elizabeth continued to hold the manor in dower in 1428. (fn. 233) As their descendants held the manor in the late 16th century it presumably passed on Elizabeth's death in 1453 to her son Philip (d. 1455) and so to her grandson Thomas, an eminent Lancastrian. Thomas's heir Robert was a minor in 1470 when his father was beheaded. Robert's son Edward Dymoke of Scrivelsby died in 1566 in possession of the Lea manor. (fn. 234) In 1578 another Edward Dymoke granted the manor to Edward Hawten, (fn. 235) whose family had been tenants at the Lea for some time. (fn. 236) Edward Hawten was succeeded before 1595 by his son John on whom he had settled the manor in 1587. (fn. 237) On John's death in 1598 his relict Elizabeth was granted wardship of the heir, John's second son William, (fn. 238) who was of age by 1601. (fn. 239) After attempts to raise money on mortgages of the manor (fn. 240) William sold it in 1605 to Thomas Chamberlayne of Wickham, (fn. 241) although he and his descendants continued to live at the Lea as tenants. (fn. 242) Chamberlayne (d. 1625) was succeeded by his eldest son Thomas, created a baronet in 1643, the year of his death, and by his grandson Sir Thomas. (fn. 243) A year before the latter's death in 1682 marriage settlements were made for his daughters and coheirs: all the Chamberlayne estates (including the Lea) were settled on Penelope and her intended husband, Robert Dashwood of Northbrook, in consideration of £16,000 paid to the other daughter Catherine. (fn. 244) Robert died in 1734 and was succeeded at the Lea as in other estates by his grandson Sir James Dashwood, Bt., who was leasing out much of the land in 1745. (fn. 245) Sir James (d. 1779) was followed by his son Sir Henry Watkin Dashwood. (fn. 246) No further mention of the manor has been found after 1786 (fn. 247) and it is probable that the estate was broken up at this time, since Sir Henry was a notorious spendthrift and left heavy encumbrances even on that portion of the Dashwood estates not sold by him. (fn. 248)
The manor-house was Lower Lea Farm, which was largely rebuilt in the 19th century, but retains a 16th- or 17th-century core.
In 1086 a knight's fee in SIBFORD GOWER, assessed at 11 hides, was held by Hugh de Grantmesnil, Earl of Leicester. (fn. 249) Hugh (d. 1103) was one of the most highly rewarded of the Conqueror's servants, although he held comparatively little land in Oxfordshire. In 1102 his son Ivo, before going on crusade, mortgaged this fee to Robert de Beaumont, Count of Meulan. When Ivo died on crusade the king allowed Count Robert to take possession of the Grantmesnil lands. The overlordship of Sibford, therefore, descended in his family to his great-grandson Robert FitzParnel, who died childless in 1204. (fn. 250) When the honor was divided between Robert's sisters Sibford fell to the share of Margaret, wife of Saer de Quincy (d. 1215), (fn. 251) Margaret confirmed at least one grant of land in Sibford. (fn. 252) On her death in 1235 the honor passed to her second son Roger (d. 1264) and was then divided between her three grand-daughters. (fn. 253) Sibford was among the lands that went to Helen, wife of Alan la Zouche, of Ashby-de-la-Zouch (Leics.). He was a great benefactor of the Templars and gave them much land in Sibford, (fn. 254) while Helen herself, after his death in 1270, was a benefactor to Oseney Abbey, releasing the abbey from most of its dues from land in Sibford. (fn. 255)
On Helen's death in 1296 the overlordship of the fee passed to her grandson Alan, Lord Zouche (d. 1314), (fn. 256) and then to his daughter, Maud; Maud was wife of Robert, Lord Holand, who was beheaded in 1328. In 1346 the manor was held by Thomas Holand, Maud's second son, and descended to his niece, another Maud, daughter of his elder brother Robert. (fn. 257) Her husband John Lovel, Lord Lovel of Titchmarsh, was overlord in 1374, (fn. 258) and Maud presumably held the manor after his death in 1408 until her own death in 1423. (fn. 259) It then passed to her grandson William, Lord Lovel (d. 1455), (fn. 260) and so to his son John (d. 1465), (fn. 261) with whom the Lovel connexion appears to have ended.
In 1086 Aba was the demesne tenant and her manor had previously been held by Baldwin. (fn. 262) According to a 13th-century account in the Oseney cartulary (fn. 263) a successor of Aba was Alda, also called 'the Abbot's son', whose son was Ilbert. (fn. 264) Ilbert's son Robert, who was in possession c. 1190, was succeeded by his son Brian before 1220, (fn. 265) and by Brian's son John. (fn. 266) This family took its name from the place, and the male line seems to have died out with John of Sibford. He gave 3 hides of his Sibford manor to Oseney Abbey and c. 1235 granted to the abbey the demesne of 5 yardlands and his manorhouse. (fn. 267) In c. 1240 John granted to the abbey the homage and rent of a free tenant Simon Vittor, who held 2 yardlands of him. (fn. 268) Simon and his mother Maud had already been at law about 4 hides in Sibford in 1235 (fn. 269) and Simon was returned in 1235–6 as the holder of a ½ fee. (fn. 270) It seems, therefore, that he was already in possession of a part of Aba's original holding. In 1242–3 he and Oseney Abbey were both returned as lords of Sibford, each holding directly of the Earl of Winchester. (fn. 271) Simon acted as the abbey's representative, receiving scutage for their ⅓ fee, and paying suit of court for them and for his own holding. (fn. 272)
Oseney Abbey held the manor until 1539, (fn. 273) when it reverted to the Crown and was regranted in 1546 to Christ Church, Oxford, (fn. 274) who retained it until at least 1841. (fn. 275) The site of the manor-house is not known, but it is likely to have been on the site of the 18th-century house on the west of the village near which stands an ancient dovecot.
Another 3 hides of Aba's holding appear to have come later into the hands of the Clement family, which figured prominently in 12th-century Sibford charters. Before c. 1195 Henry Clement granted to the father of Geoffrey de Alney 3 hides, part of a 10hide fee, for which he was to do the proportionate knight's service. (fn. 276) Geoffrey conveyed his rights in c. 1195 to his brother Walter, who was succeeded before 1210 by Henry de Alney, perhaps his son, and Henry's wife Agnes. (fn. 277) These two were followed by their son Walter of Wheatfield, who gave the estate to the Templars in c. 1225; the grant was confirmed by the Countess of Winchester. (fn. 278) In 1314 the Templars' land consisted of 10 yardlands and was held as ¼ fee. (fn. 279) This property followed the descent of the main Templar property in Sibford Ferris. (fn. 280)
A second Domesday manor in SIBFORD GOWER, assessed at 10 hides, was held as 1 knight's fee by William Corbucion. (fn. 281) Peter Corbucion was lord c. 1190, and he may have been followed by his son William. (fn. 282) In 1222 the overlord was Henry de Beaumont, Earl of Warwick, who was related to the Beaumonts who held the other Sibford Gower manor. (fn. 283) The manor then descended in the line of the Earls of Warwick, many of whom were benefactors of the Templars. (fn. 284) Margaret, Countess of Warwick, daughter of Henry de Beaumont and heir of Thomas de Beaumont her brother (d. 1242), took Sibford to her first husband, John Marshall, and to her second husband, John de Plessis. (fn. 285) Although Sibford certainly followed the descent of the other Warwick lands, it seems that John de Plessis transmitted some right in Sibford to his heirs, since Hugh de Plessis was said to have held the fee in 1363, possibly as an under-tenant, and his wife Elizabeth was assigned dower in 1368. (fn. 286) The last known reference to the Warwick overlordship is to Richard Nevill's rights in Sibford in 1458. (fn. 287)
In 1086 the demesne tenant of this fee was Ralph, who may have been the same Ralph who was tenant of Sibford Ferris. (fn. 288) In the 12th century the fee was held by the Norman family of Goher, from which Sibford Gower took its name. William Goher, mentioned c. 1190, (fn. 289) was the first known tenant from this family, and he was succeeded by Thomas. (fn. 290) Thomas was dead by 1212 (fn. 291) and in 1222 Simon de Berchesdon claimed that Isabel, Thomas's relict, had disseised him of the manor. (fn. 292) In 1224 Isabel admitted that she had a right to dower only, and Simon was granted seisin. (fn. 293) It is likely that the Gohers had forfeited their lands for rebellion, for Isabel claimed that William Goher, her warrantor, was in Normandy and dare not come to England. (fn. 294) In 1231 and again in 1233 the king granted this manor to Godfrey de Craucumbe, outstanding among the benefactors of Studley Priory. He was to hold during the king's pleasure, that is until the king should restore the lands to the right heirs (fn. 295) and he was still holding in 1236. (fn. 296) By 1242–3 this knight's fee had been recovered by Thomas (II) Goher. (fn. 297)
The next known tenant of the fee, or of a part of it, was Robert de Hoo, lord also of land in three Midland counties, who was granted hunting rights in his demesne lands in Sibford Gower in 1292. (fn. 298) Simon de Briddesthorne had a life interest in the manor in 1307, when Robert de Hoo conveyed it to Thomas Abberbury. (fn. 299) The fee appears to have been split up in the 14th century, part remaining with the Abberburys and part going to Thomas of Broughton. (fn. 300) When Richard Abberbury died in 1333 he held 1/6 fee. (fn. 301) His heir was his son John, who died in 1346 childless holding ¼ fee. (fn. 302) In the same year Thomas Abberbury, probably John's uncle, held a part of the fee. The Broughton family's share was held by Thomas Holand. (fn. 303)
In 1428 John Langston held a part or all of this property as a ½ fee. (fn. 304) The precise connexion between the Abberburys and the Langstons has not been established, but that a connexion there was is suggested by their appearances as feoffees of the Abberburys in 1460. (fn. 305) It is likely that the manor continued to descend in the Abberbury family, since it was in the possession of their descendants in 1458. In that year Sir John Dynham died holding the manor jointly with his wife Joan, the great-niece and heir of Richard Abberbury, the younger, of Donnington (d. by 1428). (fn. 306) Joan was assigned dower in Sibford. (fn. 307) She died in 1496 and the manor passed to John, Lord Dynham, her son and heir, who, before his death in 1501, settled the manor on Sir John Sapcotes, the husband of his sister Elizabeth, with remainder to their son Richard. (fn. 308) Richard died in 1542 and in 1551 Robert Sapcotes conveyed the property (then known as Bury Farm) to James Langworth of Tysoe (Warws.) who sold it at once to Edward Hawten and William Harris, the latter giving up his share in 1553. In 1587, following an agreement made ten years earlier, Edward Hawten settled Bury Farm on his son Gerard and his wife Margaret, daughter of Lawrence Washington. In 1588 Gerard and others conveyed the estate, described as Sibford Gower manor, to Edmund Bodicote and John Hawkes; before 1596 it passed from William Hawkes to Henry Johnson the elder of Sibford Gower, who held it jointly with his son Henry. In 1599 the two Johnsons sold the estate to Ferdinando Wykeham (d. 1637). (fn. 309) Thereafter the descent of this manor has not been traced, but it may be the manor which was held in the 18th century by the Egerton family, dukes of Bridgwater; (fn. 310) certainly the Bridgwater manor in Sibford Gower was distinct from the other two Sibford manors (held by Christ Church, Oxford, and the Sheldon family). No reference to the Bridgwater manor has been found after 1793, when most of the quitrents were said to be 17 years in arrears.
In 1086 SIBFORD FERRIS or LITTLE SIBFORD manor, assessed at 10 hides, was held by Henry de Ferrers, (fn. 311) ancestor of the earls of Derby. The overlordship descended with the honor of Tutbury (Staffs.) from Robert de Ferrers, Henry's third son, who was created Earl of Derby in 1138, to Robert's son Robert, Earl of Derby, who confirmed the grant of this manor to the Templars c. 1153. (fn. 312) The Templars subsequently held directly of the Crown. (fn. 313)
A mesne tenancy had been created by the mid 12th century. In 1153 Giralmus Curson confirmed his tenant's grant of the manor to the Templars. (fn. 314) Giralmus was probably the heir of Hubert Curson who in the reign of Henry I held of the Ferrers honor three fees, one of which had been granted to the Templars by 1166. (fn. 315)
The Domesday demesne tenant was one Ralph. (fn. 316) In 1153 William of Sibford, son of Roger, granted himself and 9 hides of his land to the Templars in free alms with the proviso that he and his heirs should hold 2 demesne hides free from all obligations save 'foreign' service. (fn. 317) The initiative for this grant may have come from the Earl of Derby, who was a benefactor of the Templars. (fn. 318) William later renewed the original grant with the addition of a hide of land and the provision that he and his heirs should hold 3½ of the 10 hides quit of all exactions. (fn. 319) He stipulated for his son the payment of 12d. only for relief on taking up his inheritance. (fn. 320) The Sibford family still lived at Sibford in 1316. (fn. 321)
In 1235–6 the Templars held this manor as one knight's fee (fn. 322) and it formed part of their Sandford Preceptory until the dissolution of the order in 1308. Sibford was then taken into the king's hand (fn. 323) and was granted in 1327 to the Hospitallers. (fn. 324) It reverted to the Crown in 1540 when the Hospital was dissolved. (fn. 325) Together with the Hospitallers' lands in Sibford Gower this Sibford Ferris manor was sold in 1542 to Sir Thomas Pope. (fn. 326) The estate then became known as SIBFORD GOWER AND SIBFORD FERRIS manor. (fn. 327) In 1545 Pope exchanged it for the lands of the Holy Trinity Priory, Ipswich. (fn. 328) The manor was held by the Crown until in 1558 it was granted with other lands by Philip and Mary to the priory of St. John of Clerkenwell on its refoundation. (fn. 329) When the priory was dissolved on the accession of Elizabeth I the manor was held by the Crown; the capital messuage was granted in 1564 to Sir Francis Knolles, (fn. 330) but the Crown retained some lands which in 1570 were leased for 21 years to Thomas Bateman. (fn. 331) In 1591 the manor was held by Thomas Hawten. (fn. 332) The day before his death in 1603 Thomas sold it to Henry Hawten of Easington (in Banbury). (fn. 333) In 1607 view of frankpledge and court baron of Sibford were being held in Henry Hawten's name, (fn. 334) but in 1610 he disposed of this property to Sir Anthony Cope of Hanwell, (fn. 335) though the Hawten family continued as lessees. Sir Anthony (d. 1614) was succeeded at Sibford by his son William who died in 1637. (fn. 336)
Before 1668 the manor had passed to Francis Blake of Covent Garden, who granted it in that year to Job Nutt of Deddington. (fn. 337) In 1684 Nutt sold it to Ralph Sheldon of Beoley (Worcs.), in whose family it remained until 1901. (fn. 338) Ralph Sheldon of Steeple Barton was lord in 1704. (fn. 339) As second cousin and heir of Ralph Sheldon (d. 1684) he had inherited the Sheldons' Warwickshire estates. (fn. 340) On his death in 1720 Ralph Sheldon was succeeded by his eldest son Edward, (fn. 341) on whose death in 1736 the estate went to his son William (d. by 1784), to his grandson Ralph, and to Edward's great-grandson Edward Charles Ralph Sheldon (d. 1836), the first Anglican member of the family. (fn. 342) The heir of the last, his eldest son Henry James Sheldon, died in 1901 without direct heirs, and the manorial rights appear to have lapsed. (fn. 343)
The manor-house, now the oldest building of the Quaker school, retains a 16th- or 17th-century core, but was refronted in the 18th century. It has sash windows with keystoned architraves, and the doorway is protected by a flat hood supported on brackets. The house was held by the Walford family from at least the mid 17th century; in 1797 it was sold to a member of the Harris family, who were Quakers. In 1842 it was sold to the Society of Friends. (fn. 344)
When SWALCLIFFE RECTORY was appropriated by New College in 1389 its estate consisted of glebe and great tithes (fn. 345) and of certain money payments. The Rector of Tadmarton owed a pension of 3s. 4d. a year and an annuity of 4s. was due from land in Sibford Ferris. (fn. 346) New College held the rectory until 1959, (fn. 347) when it was sold to trustees on behalf of the tenants, among whom the estate was then split up. (fn. 348)
The extent of the glebe before the 18th century is not certain, but it contained land in Swalcliffe, Shutford, and Epwell. The Shutford glebe usually, and the Epwell glebe sometimes, were leased separately from that of Swalcliffe. New College added to its estate at Swalcliffe at various dates, the most notable addition being the land known as Towers land (including 'Lyardland' in Epwell) which it acquired probably at some date in the 15th century. (fn. 349) When the parish was inclosed in 1765–89 New College received the following allotments: 121 a. in Swalcliffe in lieu of 6 yardlands of glebe, 91 a. in Epwell in lieu of 3 yardlands of glebe and ½ yardland of old inclosure, and 10 a. in Shutford in lieu of 1 yardland of glebe. (fn. 350) The awards also allotted 116 a. in Shutford for great tithes, 121 a. in Swalcliffe, 146 a. in Sibford Ferris, and in Epwell 7 a. for hay tithes and 13 a. as a composition for tithes of old inclosure. (fn. 351)
Before the commutation of tithe, there had been the usual disputes over payment. By 1665 the hay tithe from Swalcliffe manor had been commuted at the rate of 2d. a yardland. (fn. 352) The Lea manor paid a modus of £10 a year, which was objected to by the tenant of the rectory in 1716 on the grounds that if he were paid in kind the hay tithe from the Lea would be worth more than £30 a year. (fn. 353) In 1776 the great tithes in Swalcliffe, Sibford Gower, and Burdrop were being sub-let for £105 a year to a number of local farmers and yeomen, and there was a complaint of over-assessment. (fn. 354)
The first surviving lease of the rectory dates from 1397. Thereafter it was leased constantly and the tithes were farmed. (fn. 355) In 1527 Geoffrey Young, presumably a member of the family who held Epwell manor, took a 10-year lease of the rectory; (fn. 356) in 1551 Edward Young was the lessee and in 1605, Richard, Lord Saye and Sele, his wife Elizabeth, and William, his eventual heir, took a 10-year lease. (fn. 357) In 1610 the Saye and Seles sub-let the property to William Loggin, (fn. 358) whose family continued to lease the estate throughout the 17th and 18th centuries. (fn. 359)
Towers land, leased separately, was usually held by the lessee of the rectory, but for longer terms, sometimes 20 years. (fn. 360)
The Shutford part of the rectory estate (which included the chapel and chaplain's house) was also leased by members of the Young family in the 16th century. (fn. 361) In 1569 the lease was taken up by Humphrey Wykeham, and in 1594, by Richard Wykeham who held it until c. 1620. (fn. 362) Other tenants of local importance were Thomas Merriot, Vicar of Swalcliffe, lessee in 1624, and Richard Goodwin, lessee in 1688. (fn. 363)
The Epwell part of the rectory estate was leased separately from the 15th century until at least 1735, usually for 10 years. (fn. 364) From 1678 it was leased by the Hawten family. (fn. 365)
The rectory manor-house, or grange as it was called, was originally built in the mid 13th century, and was considerably altered and enlarged between 1397 and 1423 by New College. (fn. 366) The Warden and Fellows came to Swalcliffe four times in 1403–4 to supervise its building. (fn. 367) Although again altered and extended in later centuries the house remains a fine example of medieval building. The present service wing of 2 stories is the earliest part; its north-east wall is 3 ft. thick and retains its original dual service doorways in the middle of the wall. In the opposite wall, which has been rebuilt, there was no doubt a doorway leading into a detached kitchen. The 13thcentury solar may have been above this wing, which seems to have been connected with a ground-floor timber-aisled hall, apparently measuring, with the through passage, c. 38×19 ft. Successive alterations have left little but the original entrance doors at either end of the screens passage and a part of one of the windows. At the end of the 14th century this hall was rebuilt in stone and a solar wing of 2 stories added on the north-east. The lower story of the solar was vaulted in four quadripartite bays with a central column, and a vaulted passage now leading along the north-west wall of this undercroft presumably went to a stair in the north corner, leading to the solar above the magna camera mentioned in the accounts. It is comparable to the larger scale work at Broughton Castle. Richard Winchcombe, the noted Oxford mason, was employed on the hall in 1405–6, and Richard Gylkes, a carpenter often employed by New College, in 1397–8 and on the chapel and other chambers between 1423 and 1433. The south end of the hall was reroofed in 1444–5. The magna camera was mentioned in 1431–2 when it was made clear that the chapel adjoined it and probably also the latrine. A little room at its west end was repaired in 1448–9. In the next year the little chamber was reroofed and the latrine rebuilt. A medieval wallpainting remains on the west gable wall, immediately below the roof timbers. In the 16th century the hall was subdivided in height and length: a first floor and a new roof were made, the latter at a higher level than the original of which there is no trace. The existing fire-place was introduced against the screens passage, and a new kitchen wing was added. (fn. 368) When the Loggin family were lessees in the mid 17th century, the house was taxed on 5 hearths. (fn. 369)
The medieval house and the farm buildings were built round a courtyard, the 'great gate' of which was built in 1409–10 with Taynton stone and was roofed with stone slates by John Coventry. The household outhouses and farm buildings were repaired and rebuilt about the same time; there was a bakehouse (1439–40), a slaughter house next to the kitchen (1440–1), a well, and a stable (1439–40). The bakehouse and stable both had walls of local stone, and roofs of timber, bought at Stratford-upon-Avon by John Wiltshire, the carpenter. There was an oven in the courtyard, (fn. 370) possibly a slow-burning coal oven used for drying peas and vetch and to provide a gentle heat for malting. (fn. 371) A granary and dovecot were erected in 1440–1, the old ones being pulled down. Both were roofed with stone slates by Wiltshire and John Credwell. The tithe barn, the finest in Oxfordshire, also dates from the early 15th century. It measures 128×22¾ ft. internally and is of 10 bays, defined externally by prominent buttresses. The masonry is of high order; the coursed ironstone rubble walls are 3 ft. thick; the two entrance porches retain their stone gables and archways; the timber roof is of the cruck truss type, the crucks closely resembling those in the barn at Enstone. The Stonesfield slate roof has replaced an earlier stone-slated roof. (fn. 372)
At some date between 1148 and 1166 Richard of Stoke, lord of Swalcliffe manor, granted Holwell with 30 a. of land in Swalcliffe to Bruern Abbey. (fn. 373) The abbey also acquired an estate of 1 hide and 20 a. in Sibford Ferris from William of Sibford. (fn. 374) Both grants were confirmed to the abbey by Henry II. (fn. 375) William granted the overlordship of Bruern Abbey's land to the Templars with his other Sibford lands. It passed from the Templars to the Hospitallers and the abbey therefore appears in the 1512 survey of the Hospitallers' lands as one of their free tenants. (fn. 376) The yearly value of the whole property was £8 8s. in 1291; by 1535 it was leased. (fn. 377)
Bruern Abbey surrendered to the king in 1536 (fn. 378) and its Holwell Grange estate was apparently retained by the Crown until Sir Thomas Pope purchased it in 1545 and sold it in the same year to Richard Warner. (fn. 379) Three years later 4½ yardlands of this property were held by John Potter and his wife, who were licensed to alienate them to William Hansholke. (fn. 380) In 1590 the portion still held by the Warners (c. 150 a.) was sold by Thomas Warner the younger to Richard Ashcombe. (fn. 381) In 1593 the property was held by John Ashcombe, later by Thomas Ashcombe, and then by Thomas's brother William, who died in 1627 leaving six daughters, all minors. (fn. 382) Its subsequent descent is not known.
Economic History.
The account of the parish in Domesday Book is incomplete; only estates in the Sibfords, which did not, like the rest of Swalcliffe, belong to the Bishop of Lincoln were included. Two of the three estates in the Sibfords were undercultivated: on the 10-hide Ferrers estate there was land for 10 ploughs but only 6 ploughs were in use, 3 of them on the demesne; on the 10-hide Corbucion estate only 4 ploughs were in use, one of them on the demesne, although there was land for 7 ploughs. On the 11-hide Grandmesnil estate, where there was land for 8 ploughs, only 2 ploughs, both in demesne, were mentioned. On this estate no tenants were listed; on the Ferrers estate there were 3 serfs and 7 villeins, on the Corbucion estate 2 serfs and 6 villeins. In Sibford Gower there was plentiful pasture, 13 furlongs on the Grantmesnil estate, 49 square furlongs on the Corbucion estate; both had very little meadow (4 a.). On the Ferrers estate there were only 2 square furlongs of pasture but 40 a. of meadow. This estate may have suffered in the rebellions following the Conquest since it had declined in value from £10 in 1065 to £5, although by 1086 its value had risen to £7; the value of the Corbucion estate had remained at £4, and only the former value (£4 10s.) of the Grandmesnil estate was given. (fn. 383)
A detailed account of the Templars' 12-hide estate at Sibford Ferris survives from 1185. The donor of the estate held 3½ hides freely; the manor-house and half a hide of land were let for 9s.; another 21 yardlands and a toft were let for a total of £4 10s. (fn. 384)
Swalcliffe itself was not surveyed until 1279, when the Wykeham manor comprised ½ ploughland in demesne, a mill, and 5 villein yardlands; the greater part of the fee (c. 22 yardlands) was held by 8 free tenants. The tenurial framework was complex; ½ yardland held of Robert Wykeham, for example, had been subinfeudated a further four times. The largest tenants of the manor were the Rector of Swalcliffe who held 4 yardlands for 30s. a year and 9 a. in free alms, Bruern Abbey, which held 1 ploughland (Holwell Grange) in demesne in free alms, and William Blund, who held 4 yardlands, which were subinfeudated, for 10s. scutage. One of Robert Wykeham's tenants, who held 2 yardlands, had to supply a mounted knight at his lord's castle, the lord supplying the horse; he also paid scutage and owed service as the lord's messenger anywhere in England. (fn. 385) On the Danvers estate in Epwell in 1279 no demesne was mentioned; there were six free tenants holding directly from Robert Danvers, of whom the foremost was William of the Lea, who held 11 yardlands, one of them in villeinage, the remainder subinfeudated; Parnel of the Lea held 4 yardlands and there were four holders of 2 yardlands, and the Prior of Chacombe held 1 yardland. Rents and services were various, but most tenants paid scutage, usually at the rate of 3s. 4d. for 2 yardlands. One man who held 2 yardlands of William of the Lea owed suit to the hundred court for the whole Danvers fee; another 2-yardland holder paid service of 5/6 fee. (fn. 386)
On the Birmingham manor in Shutford there were 3 ploughlands in demesne and 14 villein yardlands, each paying 2s. rent, as well as other services, for scutage and tallage. There were 4 free tenants, holding 6 yardlands in all; one 2-yardland holding owed the service of 1 knight. All free tenants paid scutage and two owed suit of court. The second Shutford manor comprised 16 yardlands of which 3 yardlands and 3 acres were held in demesne by William of the Lea who paid from the estate 10s. 8d. to the canons of Chacombe, a pension granted originally by his uncle. (fn. 387) There were 10 free tenants holding 11 yardlands and 8 acres. One tenant of 3½ yardlands paid only 1s. a year, but a life-tenant of 8 a. paid 7s. 6d. One holder of a yardland paid 4s. and another held the same amount of land in dower for only 3d. None of these tenants paid scutage. There were also 4 yardlands in Shutford known as 'la Hide', parcel of Cropredy manor and held by free tenants. One of these was held by the Templars, who had leased it out for 3s. a year. (fn. 388)
In 1279 Epwell was divided largely between the two fees of Danvers (8 yardlands) and Wykeham (10 yardlands). Only free tenants were mentioned, the most important on the Danvers manor holding 3 yardlands for a rent of 8s., suit of court, and scutage. Five other free tenants there each held a yardland, the normal service being 4s. rent, suit of court, and scutage. On the Wykeham manor Robert Frances held 3 yardlands for 8s., suit of court, and scutage. Two other freeholders were named, one holding ½ yardland of the Prior of Ashby for 4s., the other a yardland of an unknown lord. (fn. 389)
Despite the number and complexity of the holdings in Swalcliffe in 1279 it is possible to perceive large amalgamations of property cutting across the manorial structure. John of the Park, for example, held 10 yardlands in Swalcliffe, 8 on the Wykeham manor and 2 on the Danvers manor, for a wide variety of services. He also held 2 yardlands on the Birmingham manor in Shutford for 3s., which he had leased out for £1. (fn. 390)
Details survive of the Templars' and the Oseney estates in Sibford in the later Middle Ages. In 1311, when the Templars' manor was in the hands of the Crown, very few works had been commuted; although an income of 8s. 11d. came from the commutation of 16 days' mowing, 16 days' ploughing, 6 days' carting, and 40 boon-works, many works were carefully exacted. Among the assets of the manor were ploughing services, 26 from 13 yardlanders and 8 from 3 yardlanders and 5 half yardlanders. Of these two had been allotted to the reeve and 32 were used on 16 acres. Another 14 ploughing services were due from a free tenement and 13 customary tenements and 4 were due from 3 yardlanders and 5 half yardlanders. Of these one was allotted and 17 were used on 8½ a. Harrowing services were also due, 13 from as many customary tenants and 7 from 3 yardlanders and 5 half yardlanders, one was allotted to the reeve and the rest were used on 46 a. As for boon-work 3 works were due from one free tenement, 12 from 2 yardlanders, 44 from 11 yardlanders, and 28 works from 3 yardlanders, 5 half yardlanders, and 6 cottars. Of these works 4 were allotted to the reeve and 36 acres were sold with 86 works. Of another 42 works 2 were allotted to the reeve and 40 were sold. (fn. 391)
In 1338, when the Templars' Sibford estate had passed to the Hospitallers, commuted services were worth c. 27s. and the rest of the estate was valued at c. £15 13s. (fn. 392) A full extent has survived for 1512, when Richard Vitter held of the Hospitallers a house called the Temple, a dovecot and close (3 a.), 6 yardlands of arable and pasture (c. 200 a.), the 'lot mead', a cottage and a close (2 a.), common pasture for 12 cows and a bull in commons on Tyndall Hill, and a meadow lying on both sides of the water-mill. The farmer paid a total rent of £2 17s. and no heriot was exacted. There were 4 customary tenants in Sibford Gower, one holding 2 yardlands, a close and meadow for 18s., one holding a close and a yardland in Burdrop for 14s. 6d., and two small holders. (fn. 393) Of the three free tenants the Vicar of Swalcliffe held of the Hospitallers freely half a house for 7s.; a house and 48 a. were held freely for 2s., and one other free tenement of a toft and a yardland in Burdrop for 1s. 1½d. (fn. 394) There were 12 customary tenants in Sibford Ferris, where the normal holding was 1 yardland with an attached close, but four tenants held 2 yardlands each, and one held three. All the holdings paid heriots. (fn. 395) There were also 6 free tenants, usually with small holdings, but there were 3 holders of 2 yardlands and more; one held 6 yardlands by military service, and the Abbot of Bruern held 5 yardlands and a close. (fn. 396) At Shutford the Hospitallers had a house and a yardland which were being leased for 3s. 6d. (fn. 397) In 1517 Sibford, together with the rest of the Sandford Preceptory lands, was being leased by a Londoner and at the Dissolution in 1539 the annual rental was £2 14s. (fn. 398)
Oseney Abbey's manor, part of the abbey's Hook Norton bailiwick, contained 12 yardlands of which 5 formed the demesne, (fn. 399) and in 1291 it was valued with its mill at £4 3s. (fn. 400) In 1337 6 of the yardlands were held by 5 tenants of villein status. Each held a house and 11/5 yardland for 3s. 4d. a year. (fn. 401) Although leasing much of the estate Oseney probably retained some pasture rights, for an agreement of 1271 whereby the abbot was to pay the rector 2s. whenever he had animals pasturing in Swalcliffe appears to have been the culmination of a lengthy dispute. (fn. 402) By 1333, when the estate was being managed by the reeve, the total income had almost halved and it was worth only about £2 8s., of which 16s. 11d. came from rents, 5s. 11d. from produce sold, and 11s. 11d. from the mill. (fn. 403) By 1510 the income from rents had risen to £3 3s. 6d. and this was little changed in 1521. (fn. 404) From 1250 until the Dissolution the abbey also had a house and a yardland in Epwell. (fn. 405)
At Sibford there is early evidence of a two-field system of crop rotation. In 1240 Oseney Abbey granted a parcel of land made up of 9½ a. in one field and 10½ a. and 1 butt in another. (fn. 406) There was no consolidation of strips: the 9½ a. were divided into 21 separate pieces, and the 10½ a. and 1 butt were divided into 22 pieces, no piece being larger than half an acre. (fn. 407) The Templars, however, seem to have tried to consolidate their estate, which was centred on their grange at Sibford. Land which was granted to the Templars frequently adjoined land they already held: two grants in c. 1190 and c. 1200, for instance, consolidated existing holdings. (fn. 408) That variations of a two-field crop rotation were practised is shown by an agreement of 1242, whereby the monks of Bruern agreed that land below Holwell Grange which they had habitually cultivated should in future be cultivated or remain fallow with the contiguous land of the Templars. (fn. 409)
In 1311 the largest crop on the Templars' estate was maslin; 16 of the 42 qr. produced were used to seed 40 a. for the next year's crop, and after deduction for poultry food the remainder was sold. Of the 40 qr. of rye produced that year, 18 qr. were used to seed 58 a., and 21 qr. were sold. Of the 19½ qr. of oats produced, 9 qr. went to seed 18 a., a large proportion was used as cattle fodder, and 6½ qr. were sold. Peas and vetch seem to have been grown together in small quantity, just over 10 qr., of which 5 went to seed 17 a. and 5 qr. were sold. No barley was grown in 1311, but malt was included among the tolls of the mill. Rents for the year brought in c. £6, the sale of grain £6 16s., and of livestock, including oxen and poultry, £2 18s. The sale of hides and skins brought in as much as £4 15s. 6d.; principally from 21½ fleeces at 4s. 1d. each. The expenses of the estate in 1311 were very miscellaneous, including rent, blacksmith's and shepherd's wages, and above all the purchase of stock. Although arable farming was profitable, greater emphasis was probably placed on sheep farming; no profit could be recorded from the pasture that year as it was all used for pasturing the manor stock which included as many as 233 sheep. Cattle farming was of no importance and only 1 cow, whose milk was sold, and 1 calf, which was sold, were recorded. (fn. 410)
There is little direct reference to pasture and meadow land in the parish in the Middle Ages. The meadow presumably lay near the streams, and in the south of Sibford Ferris township. 'Netheresmede' in Sibford was mentioned c. 1210, (fn. 411) also the little meadow of the Templars next to their mill-race in Sibford Ferris, (fn. 412) and in 1512 a meadow in Sibford known as 'le mylne sydlinge' adjoined the water-mill on both sides. (fn. 413) 'Halmeadow' on the manorial demesne at Swalcliffe was marked out with boundary stones in 1391. (fn. 414) From c. 1200 the Templars had many small pasture crofts which they used as the basis of further inclosure; (fn. 415) the agreement of 1242 between Bruern Abbey and the Templars stipulated that an important pasture called 'Little bromes' belonging to Bruern and extending from Holwell stream to the boundary of the Templars' land, and a pasture called the 'holdefeld' belonging to the Templars should continue to be held in common by the two parties. (fn. 416) In 1240 lands with 'hadlands' and 'sidelings' of meadow attached were granted to Oseney. (fn. 417) Like other parts of north Oxfordshire Swalcliffe contained leys or greensward interspersed in the common fields; (fn. 418) at Epwell in the 17th and 18th centuries, for instance, about a third (c. 26 a.) of the rectory land was in leys. (fn. 419) A tenant described the rectory in 1783 as being 37 leys, 4 yards or quarter acres, 2 a., and one sideland, and 6 lots of heath, furze, and greensward lying dispersed in the fields. (fn. 420)
Woodland played a comparatively small though valuable part in the parish economy. The demesne of Swalcliffe contained Tourne Wood, most of the trees from which were sold in 1395, and there was another wood in the township known as Wykeham's Grove; (fn. 421) in 1400 timber for New College Grange was taken from Bewlepark Wood. (fn. 422) In 1570 there were 10 a. of woodland attached to the Lea manor. (fn. 423) When in 1592 Lord Saye and Sele let the rest of his Shutford land, he expressly reserved the coppices. (fn. 424) Timber was frequently one of the more valuable bequests in wills. (fn. 425) New College, when they had their estates at Swalcliffe surveyed, always included an account of the timber. In 1762, for example, they had 266 ashes, 21 elms, and 2 oaks; in 1768 on the land let to Edmund Loggin they had 101 pollard ashes, 27 elms, and 5 oaks, while on the college plot there were 45 pollard ashes and oaks. (fn. 426) In 1762 W. H. Wykeham had 7 spinneys of young plantation and two inclosed woodlands known as the 'Nurseries'. (fn. 427)
There was much heath land. In c. 1180 the Templars were granted 30 a. in Sibford Heath. (fn. 428) Lea manor in 1570 was said to have over three and a half times as much meadow, pasture, furze, and heath as arable. (fn. 429) In 1631 the rectory estate at Epwell had 5 lots of furze ground (c. 2½ a.), (fn. 430) and a description of heath at Sibford Gower in the 18th century mentioned lots at three different places. (fn. 431)
As in other north Oxfordshire parishes a four-field system had been generally adopted by the early 17th century. An undated 17th-century terrier shows that at Epwell the former two fields had been divided into four quarters. (fn. 432) Quarters occur at Swalcliffe in 1716, at Sibford Gower in 1750, and Sibford Ferris in 1784. (fn. 433) Only at Sibford Ferris are details of the size of the fields known; there were forty 20-acre yardlands, of which 10½ were arable; the open fields, therefore, contained c. 420 field acres, and each field was roughly 104 acres. (fn. 434) Much of the parish was inclosed long before parliamentary inclosure at the end of the 18th century. Small closes and crofts, many of them medieval in origin, surrounded the villages; at Epwell, for instance, almost every proprietor of land at the time of the award held some piece of old inclosure and the Inclosure Commissioners tried to arrange allotments so that they adjoined existing inclosures. (fn. 435) Some manorial land at Epwell was inclosed early; in 1586 the lord sold 2 closes with a yardland of arable and leys; one was parcel of the Fern close, 'as it is now mounded from one part of the said Fern close', and the other was called Peacock close. (fn. 436) Not all early inclosure was for sheep farming; in 1697 Brett Goodwin leased 40 a. of inclosed land of which the greater part was arable. (fn. 437) Much of the Lea manor was inclosed as early as 1570 and the village was largely abandoned. By 1745 Lower Lea farm seems to have been entirely inclosed. (fn. 438) When Swalcliffe township was inclosed old inclosures amounted to about 706 acres. Shutford East was the property of the 16th-century inclosing landlord, Lord Saye and Sele. His land lay south-east of the village and adjoined land in Broughton inclosed for pasture farming. (fn. 439) A survey of 1592 described the Fiennes property in Shutford (425 a.) as all closes of pasture, meadow, and woodland, and as the worst land on the Fiennes estates. (fn. 440) Shutford open fields lay to the north-west of the village, but in this area also some inclosure had taken place before 1776: the Wykehams had an acre of old inclosure at the Spinney and the Ham, four inclosed meadows, and a pasture inclosure of over 4 a., called 'Squire's Great Meadow'. Other proprietors owned small inclosures in the Spinney and the Ham and elsewhere. (fn. 441) At the Sibfords and Burdrop there were over 100 a. of old inclosure. (fn. 442)
There was little consolidation of strips on much of the open-field land: terriers of the rectory and glebe land show that it was mostly distributed in lands, butts, and leys of an acre or less. At Epwell in 1631 3 yardlands were distributed in 36 lots, the largest of which were between one and two acres; (fn. 443) at Burdrop in 1700 2 yardlands were divided into 24 pieces and at Sibford Gower ½ yardland was in 37 separate pieces, while in 1737 another ½ yardland was in 58 pieces. (fn. 444) Consolidation seems to have been hampered in certain cases by frequent division among heirs; at Sibford Gower in 1686 ½ yardland was divided between 4 heirs so that each received about 10 pieces. (fn. 445)
Despite the large amount of inclosure mixed farming was almost universal and the crops mentioned in 17th-century terriers and probate inventories were as varied as in most villages: wheat, barley, oats, maslin, pulse, rye, and peas were all grown. One farm in Epwell supported 3 cows, a 'blind mare', 1 heifer, 28 sheep, and 3 pigs, and there was sufficient work at harvest for the farmer to pay 13s. 4d. for extra labour. The produce of the arable land represented a third of the farmer's wealth but his stock only about a sixth; in 1678 his executors paid over £7, about a sixth of his personalty, in tithes, taxes, and expenses of the farm, including £2 2s. for tithe, £1 to the smith, and 18s. in taxation. (fn. 446) A carpenter who kept a shop at Epwell in 1699 left six lands of wheat, hay and corn in the barn, 3 cows, 2 pigs, and some bees as well as his timber and tools; his most valuable asset was the money in his shop book. (fn. 447) Almost all the farmers had pigs, some kept bees, and some ducks and poultry. (fn. 448) One man annually reared 15 turkeys. (fn. 449) Among other crops recorded in the 17th century were hops.
Although sheep never became predominant in Swalcliffe's economy there was a ready market for wool both at Banbury and in the local weaving industry. In c. 1543 it was said that sheep were commonly bought and sold within the parish and the real profits came from the fleeces. (fn. 450) Although some early inclosure was for sheep-farming a selection of 38 inventories from wills proved between 1583 and 1720 shows that only c. 60 per cent. of the farmers left any sheep, although it is noticeable that those who did not do so were invariably of the poorer class. (fn. 451) No instances of large flocks have been found in the inventories used: numbers mostly varied between 30 and 50 in the case of the yeoman farmer, (fn. 452) although a Hawten owned 140 in 1671 and another farmer owned 117 in 1672. (fn. 453) In 1703 the lord of Swalcliffe manor owned only 68. (fn. 454)
The pattern of mixed farming does not seem to have changed in the 18th century. A survey of the inventories of those who died in Sibford Gower manor between 1753 and 1786 reveals a number of prosperous farmers. Although estates varied between £4 and £900 in value few farmers had less than £100 worth of personalty at their death. Sheep were more important than cattle: in six cases flocks of 60 to 100 sheep were kept. A large proportion of the wealth of the farms lay in arable. Peas, oats, barley, wheat, and pulse were all grown, although wheat was certainly the most important crop. (fn. 455) On New College's Home Farm only 60–80 a. out of 216 a. were arable, but the Grange farm was then entirely arable, and on the college's Sibford Ferris farm only 26 a. out of 150 a. were pasture. (fn. 456) At Sibford Gower 61 a. out of 255 a. were pasture, and at Epwell all 7 a. of the college estate were arable. (fn. 457) Later in the 18th century, however, land in Epwell was converted from arable to pasture, (fn. 458) and in 1771 and 1806 there are examples of Sibford tenants being forbidden to plough up pasture. (fn. 459)
Stints on the common seem to have been gradually reduced in the 17th and 18th centuries. In 1631 the stint for 3 yardlands at Epwell was 12 milch cows or dry beasts, 9 horses, and 120 sheep on the heath fields and all other commonable places. (fn. 460) At Swalcliffe in 1716 the stint was 12 cows, 7 horses, and 22 sheep a yardland, but the rectory tenant recorded that it had once been 30 and even 40 sheep. At Sibford Ferris in 1784 the stint of sheep was 20 to a yardland. (fn. 461)
Between the 16th and 18th centuries a ½-yardland holding in the open fields was not uncommon, (fn. 462) but a number of prominent families had built up far larger holdings. The Gilkes family, for instance, 4 members of which were taxed in 1524, (fn. 463) gradually increased their wealth: Richard Gilkes (d. 1695) of Sibford Gower bought 5 houses during his lifetime; (fn. 464) Thomas Gilkes (d. 1703) held 4 yardlands; another Thomas (d. 1719) held 5 yardlands (fn. 465) and was almost six times more wealthy than the average farmer in the village. (fn. 466) In the 18th century this predominantly Quaker family was probably the wealthiest yeoman family in Sibford Gower; John Gilkes the elder had personalty worth c. £435 at his death in 1738 and John Gilkes of Burdrop c. £370 in 1743. (fn. 467) At the time of inclosure at Epwell, besides Robert Doyley's holding of 5 yardlands there were holders of 3½ yardlands, 3, 2½, and 2 yardlands; there were also 3 holdings of 1½, 1¼, and 1 yardland, but 5 people held ½ yardland and 4 people ¼ yardland. (fn. 468) At Shutford, where 24 a. made up a yardland, the concentration of wealth was even more marked; apart from the Wykehams' large holding of 12 yardlands, there was one of 7 yardlands, two of 3, two of 2½, three of 2, two of 1 yardland, and only four ½-yardland holdings. (fn. 469) Other outstanding families were the Loggins, the Alcocks, and the Tredwells: in 1665 John Loggin had one of the largest houses in Swalcliffe. (fn. 470) Of the Alcocks, chiefly an Epwell family, William (d. 1612) left goods worth £128, Thomas (d. 1613) of Shutford goods worth £139, and John (d. 1694) goods worth £152. (fn. 471) Their houses, however, were assessed for the hearth tax of 1665 on only two or three hearths. (fn. 472) Of the Tredwells Thomas, who came from Epwell, left personalty at his death in 1620 worth £201 and Richard, of Sibford Gower, £168 in 1693. (fn. 473) They remained an important yeoman family in the 18th century; John Tredwell, for example, left in 1750 goods worth £219. (fn. 474)
Much of the parish land formed part of large estates. The Fiennes estate at Shutford extended over 425 acres. In c. 1580 the whole estate, apart from the coppices, was let for £200 a year. (fn. 475) Rising prices and the pressure of an increasing population brought increased rents and by the end of the 17th century the estate was yielding £289 10s. a half-year from tenants alone. (fn. 476) At this date the Shutford estate, although inclosed, was not farmed as a whole but was leased to some 12 tenants. The largest of their holdings was 74 a., but most consisted of only one or two small fields. (fn. 477) The tenants paid high rents for liberty to plough and the fact that they were prepared to do so indicates the profits available from arable farming in the 16th and 17th centuries in Swalcliffe parish. (fn. 478) Similarly, the Lea was said to be worth £1,000 a year if it was under the plough. (fn. 479) In a rental of 1684–5 one tenant paid £13 for land, said to be 5 years ploughed with one year to go, while three other tenants had holdings where the ploughing time had expired and for which grazing rents were paid. (fn. 480) On the Christ Church estate in Sibford Gower holdings continued to be for three lives until at least the early 19th century; heriots continued to be taken throughout the same period. (fn. 481) Rents were low but a heavy fine of one year's value was exacted for entry into a farm. (fn. 482) Christ Church owned 5 copyhold estates of between 1 and 3 yardlands and all 5 descended in the same families throughout the 18th century. (fn. 483)
It is probable that in the early 18th century a yardland would have cost a little more than £200 throughout the parish. In 1710 ¼ yardland in Sibford Gower was sold for £55 and in 1757 ½ yardland in Shutford for £103. (fn. 484) Property, however, cannot here be valued only on the money-rent or price it could command, for the achievement of a purely monetary economy at Swalcliffe was a very late development. New College chose to have a large proportion of their rents paid in grain, thus to a certain extent using the Swalcliffe estate as a home farm from which to supply the college's immediate needs. Thus at the beginning of the 17th century they leased Shutford chapelry to the Vicar of Swalcliffe for £1 5s. 6d. in cash, 9s. 2d. worth of good wheat, and 8s. 9d. worth of good malt. (fn. 485) They demanded similar rents throughout the 18th century both for Shutford and for the other glebe lands. (fn. 486) Nor was it only the college which demanded rents in kind; in 1771 a yardland and a close were let to Joseph Dix for £13 and one load of thatch a year, and the trees were expressly reserved. (fn. 487)
At the end of the 18th century the whole parish was inclosed in stages. Shutford field, which comprised over 40 yardlands (c. 900 a.), (fn. 488) was inclosed in 1766. A total of 868 a. was allotted to 16 proprietors: the Wykehams received 232 a. for 12 yardlands, Hannah Bishop 120 a. for her 7 yardlands, and Thomas Youick 47 a. for 3 yardlands; there were six allotments of 30–45 a., including one made to the vicar of Banbury, two allotments of 10–30 a., and 5 of under 10 a. An acre was allotted for the public stone-pits. (fn. 489)
About 972 a. of Swalcliffe were inclosed in 1772. According to the Inclosure Act the lands were intermingled and incapable of improvement except by inclosure. (fn. 490) William Humphrey Wykeham, lord of the manor, was allotted 579 a. for 26 yardlands; a tenant, Ann Walford, received 115 a. for 6 yardlands. The other allotments were small, three of 20 a., 16 a., and 12 a., and four of between one and four a. (fn. 491)
The inclosure of Epwell took place the following year. On the eve of inclosure there were 27 yardlands which, together with the common at Epwell Hills and Gauze Heath, amounted to 1,400 a. (fn. 492) Over 1,069 a. were inclosed and divided into 45 allotments. Among them were four holdings of over 100 a., but most were between 20 a. and 30 a. (fn. 493) Robert Doyley received the largest allotment, 152 a. for 5 yardlands, Henry Wigley was awarded 133 a. for 3 yardlands, and Jonas Turner was awarded 115 a. for 3½ yardlands. (fn. 494)
The Sibford Ferris Inclosure Award of 1790 (fn. 495) divided 916 a. of open field. New College received an allotment of 142 a. for tithes in the open field and 4 a. for tithes of old inclosure; and Ralph Sheldon, lord of the manor, was given a small allotment (2 r. 22 p.) for rights in the waste. The largest allotment (175 a.) was made to William Walford, who had previously bought out some 8 tenants and therefore held 11¼ yardlands in the common field. Edward Jenkinson received 155 a. (fn. 496) There were 5 allotments of 20–70 a. and another 13 of 20 a. or less.
At the time of inclosure in 1773 Sibford Gower consisted of one large open field called Broad Sibford field of 80 yardlands. (fn. 497) The award of 1774 divided 1,666 a. between 48 proprietors. New College and their tenant received 257 a. for tithes and glebe, and the Vicar of Swalcliffe 42 a. for small tithes, and William Sheldon, lord of the manor, 4 a. for rights in the waste. The feoffees of the town estate received 207 a. for 7½ yardlands, Thomas Walford 148 a., and Thomas 'Sweetbryer' Gilkes (fn. 498) 90 a. There were 6 other allotments of more than 40 a., 9 of between 40 a. and 20 a., 10 of between 20 a. and 10 a., and 18 smaller allotments. (fn. 499)
The immediate effect of inclosure seems to have been an increase in land values; New College were able to raise the fine on their rectory farm from £532 in 1792 to £946 in 1796. (fn. 500) Probably inclosure also led to more experimental farming, but the only evidence for improved methods comes from leases. One lease specified that the land should be properly manured and the arable divided into three parts, one part to lie fallow or be planted with turnips, one part to be in crop, and one part to be planted with grass or clover. (fn. 501) In 1845 on a farm at Shutford there was to be a rotation of fallow, grain, and grass, one-quarter of the land being always fallow or in turnips or grass seed. (fn. 502) In 1847 the trustees of the town estate of Sibford Gower ordained a crop rotation of fallow, grain, and grass. The lessee was never to grow two grain crops in succession and at least once in six years every part of the farm had to be in clover or grass for a year. (fn. 503) A greater variety of crops were grown in the 19th century, the greatest increase being in root crops. In 1854 a 50-acre farm had 3 a. of vetches, 3 a. fallow, 5 a. of turnips, 21 a. of turnips and swedes, and 15 a. of young seeds, although 40 years previously the same farm had produced only beans and white peas apart from grain. (fn. 504)
In 1797 roughly half the parish was pasture, particularly in a belt running across the parish between Sibford Gower, Burdrop, Sibford Ferris, Swalcliffe, and Shutford. (fn. 505) In 1834, however, threequarters of the land in Epwell was arable. (fn. 506) At Sibford Ferris 43 a. of a 148-acre farm were arable and at Sibford Gower 155 a. of a 255-acre farm; West Shutford Field farm (131 a.) had 40 a. of pasture in 1815, but by 1836 there were an additional 32 acres. (fn. 507) Lower Lea farm in Swalcliffe was equally divided between pasture and arable in 1852, but by 1885 the pasture had been replaced by 62 a. of woodland. (fn. 508)
The pattern of land ownership in the townships varied considerably. The Sibfords were characterized by the number of small owner-occupiers. In 1785 there were 35 proprietors in Sibford Ferris and 44 in Sibford Gower; the largest holdings in each village were assessed to the land tax at £11 and £8 respectively, while the next highest assessments were between £4 and £5. At Epwell the land was divided between 24 owners and in 12 cases was let to tenants. There was only one owner-occupier of any importance. (fn. 509) At Shutford there were 18 proprietors, 18 tenants, and only 5 owner-occupiers, but here nearly half the land tax was paid by Lord Saye and Sele, whose tenant occupied the whole of a holding assessed at c. £39. There were 10 other holdings over £2 of which 8 were tenant-occupied. At Swalcliffe, on the other hand, despite its larger acreage there were only 11 proprietors, of whom 7 were owner-occupiers, and there were 9 tenants. Mrs. Wykeham paid £31 19s. (fn. 510)
By 1831 there had been few changes in the pattern of landholding in the parish; although in the case of the larger holdings there seem to have been more owner-occupiers (there were 3 assessed at between £12 and £14 in Swalcliffe) this may have been merely that the New College tenants paid their own landtax. At Epwell the larger number of owners may be accounted for by the appearance of 6 houses assessed at 1s. or 2s., while in the 18th century none was assessed at under 6s. (fn. 511)
In 1851 there were some 53 farmers in the whole parish. Of the 6 farms in Swalcliffe township three were large 350-acre farms and all were above the average acreage for the parish as a whole, the smallest being 200 acres. At Sibford Ferris on the other hand the largest farm was 240 a. in extent and only two were more than 120 a., and at Sibford Gower, apart from John Hitchcox's 300 a. farm, which employed 15 labourers, the 18 farms in the hamlet were all less than 200 a. in extent, and the average size of a holding was 65 acres. At Epwell there was one large farm of 310 a., employing 13 men, but the other 11 farms were all small, and 4 were less than 20 acres. The largest farm at Shutford was 245 a. in extent, there were two of c. 130 a. and 5 of less than 60 acres. (fn. 512) At Swalcliffe and Epwell a number of farms in 1851 were being cultivated by men born outside the parish; four such farmers held 67 per cent. of Swalcliffe's land; 70 per cent. of Epwell's land was in the hands of immigrants. (fn. 513)
Agricultural distress in the late 19th century was acute, and in 1867 a labourer from Epwell complained that he could not find work since the larger farms did not need so many employees as the small ones had done. The wages of his ploughboy son had recently been reduced, and when he himself had work he earned only 10s. a week, except in harvest when for a period he might earn as much as 5s. a day. (fn. 514) The general decline in agricultural prosperity was reflected in a reduction of rents. The Vicarage farm at Epwell, for example, rented for many years at £200, was let in 1882 for £120 and the vicar could find no tenant for the Sibford farm which had previously been leased for £130. (fn. 515)
The inhabitants of Swalcliffe were not, and indeed had never been, totally dependent on agricultural employment. Carpenters occur frequently in the documents from the 16th century, (fn. 516) and in 1851 there were 18 in the parish, including one woman. (fn. 517) Blacksmiths often combined their work as smiths with farming: for example Thomas Alcock of Sibford Ferris, who died in 1635, left 15 sheep, 3 cows, 3 calves, and 2 hogs, and a yardland of wheat (his most valuable possession), 4 ridges of barley, one land of peas, and some hay as well as the tools of his trade. (fn. 518) In 1851 there was enough work to support six blacksmiths. (fn. 519)
Owing to its numerous fast-flowing brooks Swalcliffe had an unusual concentration of water-mills. Only two were mentioned in Domesday Book, but there were probably at least two others in existence at that date on the Bishop of Lincoln's estate, one in Swalcliffe, the other in Epwell.
One of the bishop's mills was attached to the Wykeham manor in Swalcliffe in 1279, (fn. 520) and continued thus until modern times; it appears to be the mill later known as Swalcliffe Lea mill. (fn. 521) It is possible that it was at some period a fulling-mill, for there were fields in Swalcliffe Lea known in the 16th century and later as Fulling Mill meadows and Fulling Mill piece. (fn. 522) A mill at the Lea frequently occurs in 16th- and 17th-century documents, (fn. 523) and Swalcliffe Lea mill was still at work as a corn-mill as late as 1851. (fn. 524)
The two recorded Domesday mills were attached to the two manors at Sibford Gower (fn. 525) and have left no later traces, unless one was the 12th-century Templars' mill. This mill, which later evidence indicates was in Sibford Ferris on a tributary of the Stour, was given to the Templars by Agnes of Sibford in 1153. (fn. 526) William of Sibford may also have had an interest in it for in 1185 it was stated that he gave the mill to the Templars. (fn. 527) In 1338 this mill, known as Sibford or Temple mill, passed to the Hospitallers and was then valued at £1. (fn. 528) It remained in their possession until the dissolution of the order. In 1512 it was leased with its closes and later passed with the Sibford estate to the Crown and then to Sir Thomas Pope. (fn. 529) It remained attached to the manor of Sibford Gower and Sibford Ferris. Temple mill was still being worked in 1939, but closed soon after the Second World War. (fn. 530)
There are scattered references to a mill (or mills) at Epwell. One was attached to the bishop's manor there in and before 1223, for it was acknowledged in that year that the tenant Thomas Caperun had inherited it from his father. (fn. 531) Part of this mill was granted by Robert Frances to Richard Frances in 1282. (fn. 532) In the 16th century the Fraternity of Brailes (Warws.), Oseney Abbey, and Bruern Abbey were each drawing rents from Epwell mills. (fn. 533) Oseney's mill in 1529 was known as 'Rolffesmill' and was being leased with land for 10s. 1½d. although it had been worth £2. (fn. 534) In 1542 this mill was granted with Oseney's other land in the parish to Christ Church. (fn. 535) An Epwell mill was at work in 1903. (fn. 536)
A horse-mill existed on New College's rectory estate and was leased for 6s. 8d. a year in 1540, (fn. 537) and there were windmills at Epwell and Sibford Gower in the 17th century and later. (fn. 538) An Epwell windmill was still at work in 1887. (fn. 539)
Several probate inventories of men and women dying before the outbreak of the Civil War contain references to comparatively large amounts of hemp and linen yarn, as well as to made up woollen and linen cloth. (fn. 540) There are records of a broad-weaver at Epwell in 1605, of 3 weavers in the same village, and of one at Burdrop between 1610 and 1620; a woman who died in 1619, left cloth worth £1 2s., 21 ells of linen cloth, 6 lb. of hemp, and 3 lb. of coarse linen yarn. (fn. 541) After the Civil War and during the 18th century many householders in the parish bequeathed three or more spinning wheels. (fn. 542) After the fire at Shutford in 1701 the losses listed by some of the householders included much linen and woollen yarn, and many spinning wheels. Lace thread, a pillow and bodkins, are also among the items listed, but there is insufficient evidence to say whether much lace was made for sale at this or at a later date. (fn. 543) A wealthy wool-comber died at Burdrop in 1743 and two poor weavers of the same family in 1745 and 1749. (fn. 544) A dyer of Sibford Ferris occurs in 1754, (fn. 545) and a wool-comber and a weaver died in the same village in 1761 and 1779. (fn. 546) Home-weaving continued into the 19th century. In 1851 there were 5 handloom cotton weavers and one hand-loom silk weaver living in Shutford. (fn. 547) They are likely to have been working for Banbury masters or for the Wrench firm of plush-makers, who also manufactured corduroys.
Plush- or shag-weaving was an established industry in the parish by 1747 and by the early 19th century Robert Lees had set up a finishing shop at Shutford. (fn. 548) His business was taken over by the Wrench family in c. 1815 and during the century a remarkable trade was built up. The growth of the industry attracted workers to Shutford; two natives of Neithrop (in Banbury), for example, were working at Shutford in 1785. (fn. 549) Owing to the fluctuations in the national industry unemployment was often serious; it was estimated in 1834 that at Shutford West as many as twenty weavers at a time might be out of work. (fn. 550)
Hand-looms were used in the manufactory at first and a number of women were employed for the finer work. In 1851 William Wrench, 'manufacturer of livery plushes and velvet', was employing 23 men in his factory. Four were described as weavers of plush and hair and 19 as plush-weavers. (fn. 551) By 1885 when power-looms were first introduced there were 40 hand-looms. The firm made richly dyed plush liveries for most of the royal courts in Europe including that of Edward VII, and there was a considerable trade with Japan and Persia and later with South America. Plush was supplied to the House of Commons and plush coats made for the Heythrop Hunt. Various industrial and other uses were developed: silk plush was used in the printing trade, fine plush for the lining of airmen's goggles. A fire of 1913, however, destroyed most of the machinery. The changing map of Europe led to a great reduction of the number of royal liveries required. The business was finally sold by H. E. Wrench in 1948 to J. H. Walker & Sons of Dewsbury and work at the Shutford factory came to an end.
Local stone was extensively quarried for building. There were at least seven quarries at Epwell in the 19th century and there was a particularly large one north of Swalcliffe mill. (fn. 552) In 1772 there was a stonecutter with his own shop in Shutford. (fn. 553) Masons are recorded from time to time from the 16th century. (fn. 554) In 1851 a family of three masons were living in Swalcliffe village, there were two or more at Epwell, four at Sibford Gower, and three at Shutford. (fn. 555) Lime-kilns also provided some employment. In the 18th century lime was used as manure, (fn. 556) and Swalcliffe lime may have been commonly used outside the parish; it was also used in 1809 in the rebuilding of Wigginton church. (fn. 557)
There was a long tradition of clock- and watchmaking among the Quaker families of Sibford. (fn. 558) Thomas Gilkes (? 1665–1743) was a pioneer of the clock-making industry in north Oxfordshire. Another Quaker clock-maker, John Wells, was probably trained under Gilkes, for he had early connexions with Sibford. A Richard Gilkes (b. 1767) was making clocks in Sibford in 1800. Another Quaker, Ezra Enoch, who had served his apprenticeship with Charles William Drury of Banbury, must have worked in Sibford as a clock-maker for he was resident there from 1799 until c. 1828, when he moved to London, and again from 1851 to 1860. His son John worked as a repairer in the adjoining villages. (fn. 559)
Among the recorded tradesmen the most notable was a Shutford mercer who died in 1729 leaving among his goods distilling implements and tobacco. (fn. 560) The parish had a number of physicians: in the late 17th century there was Thomas Walford of Sibford Ferris, 'troublesome quack or emperick', (fn. 561) who was given the courtesy title of Doctor; and a monumental inscription eulogizes his contemporary at Epwell, Joseph Stanton (d. 1696), a physician and surgeon. (fn. 562) Among three who lived in the parish in the 19th century was one described as 'farmer and bone setter'. (fn. 563)
The traditional occupations have mostly died out and hardly any local tradesmen remain in the parish; Sibford, for instance, has neither butcher nor baker. Some employment is provided by the Quaker school, but most of the male population work outside the village in Banbury. (fn. 564)
Local Government.
Few records of Swalcliffe's medieval manorial courts have survived. Reference to the court baron of the Wykehams in Swalcliffe has survived for 1771 only, (fn. 565) but the lords probably exercised view of frankpledge in the Middle Ages as later. (fn. 566) Oseney Abbey held a court for its tenants in Sibford Gower and Epwell in the Middle Ages (fn. 567) and there is evidence that on the Zouche fee the right to hold a view of frankpledge twice yearly was enjoyed by the lords. (fn. 568)
In the 16th century Christ Church's court baron at Sibford Gower and the courts of Thomas Lucy and his wife at Epwell were still dealing with problems of land tenure and setting fines for default of service and for breaches of manorial rules such as encroachment on the waste. (fn. 569) The Christ Church court also controlled agricultural policy on the estate and frequently enforced house repairs and other improvements. (fn. 570) As it was a manorial peculiar (fn. 571) the court of the Sibford Gower and Sibford Ferris manor was particularly important, for here probate was given of all the wills of those living within the manor's boundaries. (fn. 572) The Christ Church court is known to have survived until 1841, (fn. 573) but the main responsibility for local government had long been in the hands of officers appointed by the vestry.
With the development of local government through the vestry the parish was divided into 6 autonomous districts: Swalcliffe, Epwell, Shutford West, Shutford East, Sibford Gower, and Sibford Ferris. After the 1834 Poor Law Act all became part of the Banbury Union.
Most of the surviving records for Swalcliffe township are concerned with poor relief. Between 1721 and 1770, the period covered by surviving accounts, (fn. 574) one overseer usually served for one year. Expenditure rose from £34 in 1722 to £48 in 1726, then declined steadily to £13 in 1743. In the period 1730–50 the average of 5 regular recipients of 1s. to 2s. a week was slightly higher than before but expenditure never rose above £38. In 1758 an outbreak of smallpox raised the total expenditure to £72, but in the 1760s the total remained between £25 and £35. The overseers made the usual payments: out-relief, house rents, medical bills, coffins for paupers, and clothing. (fn. 575) Total poor relief expenditure in Swalcliffe township for 1775–6 was £109, although over a third of that sum was for legal expenses. (fn. 576) By 1783–5 there had been little increase but in 1802–3 £259 was spent on out-relief alone, given regularly to 19 adults and to 23 children. The total expenditure was £347, including the county rate and other items, paid for by a rate of 5s. 8d., about the average for the hundred. Poor relief cost the village just under £1 a head. (fn. 577) The peak totals were in the years 1817–19 when nearly £580 was spent each year, and in 1821 poor relief was still costing Swalcliffe over 27s. a head, more than in any other township in the parish. (fn. 578) At this time roughly one-ninth of the total was spent on roundsmen. (fn. 579) Recovery from economic distress in 1817–19 and 1826 was slower than elsewhere and it was only in 1833–4 that there was a substantial fall in expenditure. (fn. 580) Throughout this period the overseers were receiving money contributions from John Loggin's charity. (fn. 581)
Detailed information about poor relief in Epwell is first available for 1775–6 when £50 was spent. In the next six years expenditure rose more rapidly than elsewhere in the hundred and the average total between 1783 and 1785 was over £108. By 1802–3 relief was given regularly to 19 adults, of whom 9 were aged or infirm, and to 16 children. This cost £272, not quite £1 a head of the population. (fn. 582) Poor relief expenditure reached a peak in 1817–19 when an average of £440 was spent annually. By 1821, despite population increase, expenditure had fallen to £252, under 15s. a head and well below most of the rest of the parish. (fn. 583) Costs rose again to £320 in 1826 and 1832 but were still lower per head than in the rest of the parish and they started to fall before the new Poor Law came into operation. (fn. 584)
The overseer reported to the Poor Law Commissioners of 1834 that there were 33 agricultural labourers in the township and 16 'employed by the parish' of whom 6 were given work on the roads, summer and winter; at harvest time there was some work for women and children at c. 2s. a week. Weekly wages, both from private employers and from the parish, were 9s. for a married man and 5s. 6d. for a single man. (fn. 585) At least 38 people were receiving relief in addition to their wages from their employers. The parish paid an extra allowance for third and subsequent children at 1s. 6d. a head. (fn. 586) The roundsman system was by this time no longer in use, nor were the labourers distributed among the farmers in proportion to the size of the farms, though the overseers thought this would be desirable. (fn. 587)
At Shutford West, where the amount of poverty was to some extent affected by fluctuations in the local weaving industry, (fn. 588) the problem became serious only after 1800. In 1775–6 the parish spent £67 on poor relief and from 1783–5 an annual average of only £55, a lower rate of expenditure than elsewhere in the parish; in 1802–3 the amount spent per head of population (15s. 7d.) and the rate in the pound (5s.) were much the same as elsewhere, though the total expenditure went up to £217, a greater proportionate increase than in the other villages. (fn. 589) By 1813 poor relief was costing Shutford West more than twice as much and the rate per head had gone up to £1 6s. 9d. (fn. 590) From 1816 to 1820 there was a further steady rise to a peak of £519, c. £1 8s. a head, and, though the general crisis of 1826 caused relatively little increase in expenditure, in 1832 as much as £474 was spent. (fn. 591) The overseers reported to the 1834 Poor Law Commissioners that rates were between 7s. and 8s. at the rack rent on a valuation made c. 1800. (fn. 592)
In 1803 13 adults were getting permanent relief, of whom 7 were old or disabled. (fn. 593) Thirty years later, the population having risen from 276 to 431, 40 persons were receiving relief of all kinds, besides 6 or 7 families not living in the parish. There was little difference between the wages paid by private employers and by the township and all labourers alike could get an allowance of 1s. 3d. a week for each child after the second. The overseer thought that the wages were just adequate for a healthy family with 4 children, provided they also were allowed to rent a potato patch, 'their chief food', and quite often 1s. a week was paid into a clothing club. The roundsman system was practised 'in the case of those men who are not apportioned'; apportionment was according to the rate paid. The overseer felt that the roundsman system made bad workmen and that 'head money' ought to be abolished if some better method could be found; relief in kind might prove cheaper to the village and might prevent labourers from running up debts, especially to bakers. (fn. 594)
Shutford East, a small administrative area of some 400 acres, spent nearly £17 on poor relief in 1776 and nearly £12 in 1783–5. In 1802–3 the total was £22, over 16s. a head. (fn. 595) Like Shutford West Shutford East had a bad year in 1820 and expenditure remained about £50–£60 with little improvement until after the passing of the 1834 Act. (fn. 596)
The only early parish records to survive at Sibford Gower are a constable's book and overseers' accounts for the period 1774–1810. Usually the same man was constable for two or three years and some of his expenses were almost certainly directly met by the overseer. In 1817 the constable's levy produced £9, of which £1 1s. was spent in the collection of 7 levies, 10s. 6d. on entering the overseers' accounts, and £2 2s. 6d. on measuring the Poor Land. (fn. 597)
Between 1774 and 1811 there were normally two overseers a year, each keeping the accounts for a half year. (fn. 598) In 1807 the magistrates disallowed the accounts because the overseer was illiterate and could not swear to them. The overseers obtained their money from two sources, from the levies and from the feoffees of the Sibford Gower charity, the original intention of which was that one-third of the profits of the estate should be spent on poor relief. The poor's third was paid directly to the overseers, and they and the feoffees often worked closely together. (fn. 599)
In 1775–6 poor relief expenditure in Sibford Gower was £143 and the annual totals on the whole went down until the latter part of the 1780s when there was a steep rise; the average sum spent in the next decade was nearly double. In 1800–1 the total reached £548 and though it fell to £428 in 1802–3 it was still over £1 a head. (fn. 600) In 1810, a bad year, expenditure rose to over 30s. a head (fn. 601) and thereafter the totals remained extremely high. The steepest rise in expenditure was in the period 1817–19; £964 was spent in Sibford Gower in 1819. Thereafter expenditure was lower, perhaps because of a fall in population, but the village continued to spend over £1 a head on poor relief. Although the general crisis of 1826 caused little increase, that of 1831 had lasting effects in Sibford Gower: expenditure did not go down until after 1834. (fn. 602) In the last two years of operation of the old Poor Law an average of £725 was spent, but in 1835–6 the total fell to £436. (fn. 603)
In the 1770s the overseers in many cases supplemented weekly relief by providing other necessities such as lodging, rents, clothing, shoe repairs, and thatching. Coal and bread were bought for the poor, and furze was rented for them to cut, while the overseers had at one time to pay for the support of the parish militia man's family at Alkerton. A smallpox epidemic in 1787–8 cost £10 10s. in doctor's fees and additional sums for fuel, food, wine, sheets, and nursing for the 'small pox folks', who appear to have been isolated in a separate building. In 1799–1800 a surgeon and apothecary agreed to attend the sick poor for 4 years; his fee of £5 5s. a year covered all cases needing medical attention except fractures, smallpox, and childbirth. (fn. 604)
In 1784–5 the overseers tried the experiment of a workhouse and equipment for it was bought. The master of the workhouse at first was paid £25 a quarter, which apparently also covered regular outrelief; rent for the workhouse was £6. In 1787–8 the regular itemized out-relief payments reappear in the accounts; 20 persons were receiving help, and workhouse costs were dealt with in terms of actual expenditure. In 1793–4 there were 14 persons receiving 1s. 6d. to 7s. 6d. a week. (fn. 605) Workhouse payments of some kind continued until at least 1797 but the parliamentary return of 1804 makes mention only of out-relief. At that time 41 adults and 28 children were on out-relief out of a population of c. 400. (fn. 606) Roundsmen are first recorded in 1786–7 and in the following decade there seem to have been eight or fewer; the number fluctuated but went up after the turn of the century. In 1800 a farmer refused to employ a roundsman who had to be paid by the parish for doing no work at all for 80 days. In 1832 £114 was paid out in 6 months to men 'who did not strike one stroke of work for it'. (fn. 607)
No overseers' accounts survive for Sibford Ferris. In 1776 not quite £50 was spent on poor relief. By 1802–3 this figure was more than quadrupled and 53 adults were on out-relief. This number constituted a quarter of the population, and a much higher proportion than in neighbouring Sibford Gower, although the expense per head was rather less. (fn. 608) Shortly after figures next become available, in the years following the Battle of Waterloo, the cost of poor relief rose as high as £531 and in 1821 it was £375, over 35s. a head. There was relatively little increase in the mid 1820s, although expenditure was again high in 1831–2 and cost the village nearly 25s. a head. The total had already fallen before the new Poor Law came into effect. (fn. 609)
Churches.
In the Middle Ages Swalcliffe parish contained four chapels, at Epwell, Sibford Gower, Shutford, and Swalcliffe Lea. By the 16th century only Shutford and Epwell chapels survived. Swalcliffe parish was first divided in 1841 when the new ecclesiastical parish of Sibford Gower, with Sibford Ferris and Burdrop, was created; (fn. 610) and further in 1905 when Epwell was made into a rectory annexed to the parish of Sibford Gower. (fn. 611) Until 1714 Shutford was probably independent of the mother church, (fn. 612) but since that date it has been a dependent chapelry.
Architectural evidence shows that the mother church dates from at least the 11th century, (fn. 613) but the earliest known priest is not mentioned until c. 1190. (fn. 614) In 1389 the rectory was appropriated by New College, Oxford. (fn. 615) A vicar is first mentioned in 1221, and from at least 1260–1 the rectors regularly presented to an endowed vicarage, with the consent of the patron. (fn. 616)
The early history of the advowson is obscure. The first known presentation to the rectory was made in 1221 by a Lady Le Strange, (fn. 617) who was probably a member of the Stoke (or Wykeham) family, which held the manor, and in 1239–40, the advowson. (fn. 618) These early presentations were contested by the Priors of Chacombe (Northants.), (fn. 619) and it was not until 1266 that the priory made a final quitclaim to Robert of Wykeham. (fn. 620) In 1322 the Wykehams sold the advowson to John Pecche, a sale which was doubtless connected with the financial difficulties in which the family seem to have been at this date. (fn. 621) Pecche never presented, for the advowson was claimed from him by Sir Robert Arden to whom Robert of Wykeham had previously granted it in 1321, (fn. 622) and Pecche allowed the claim. (fn. 623) The presentation in 1323 was therefore made by Sir Robert (fn. 624) and the advowson passed on his death, with the manor, to his relict Nicole and her second husband Thomas Wale. The latter presented in 1333, he and his wife having recovered the presentation against Robert of Wykeham. (fn. 625) Disputes between the Arden and Wykeham families over both manor and advowson continued until 1345 when the advowson seems to have been finally recovered by the Wykehams. (fn. 626) In the same year Robert of Wykeham granted it to Simon Simeon, who may have been acting for William of Wykeham. (fn. 627) Simeon disposed of the advowson to Thomas Logges, Vicar of Pinchbeck (Lincs.), and others, and Logges presented in 1359 and again in 1361. (fn. 628) Simon Simeon having surrendered all rights in Swalcliffe in 1380 to William of Wykeham, Logges granted the advowson to William, (fn. 629) and William granted it to New College in 1381. (fn. 630) According to a Bull of 1383 Wykeham's intention was that Swalcliffe rectory should be ceded to the college to provide stipends for the fellows, he himself having insufficient money for that purpose. Wykeham also obtained permission to grant the advowson to the college. (fn. 631) New College first presented in 1395 (fn. 632) and has done so ever since.
Both before and after the appropriation of the rectory in 1389 the vicarage was supported by the altar dues and the small tithes, and the vicars paid all ecclesiastical dues and burdens. (fn. 633) No information about the value of the vicarage has been found before 1526 when it was said to be worth £8, (fn. 634) although probably this valuation did not include Epwell. (fn. 635) In 1536 the vicar was also receiving a pension from New College of £3 3s. 4d. (fn. 636) In 1611 a witness in a tithe dispute estimated the value of the vicarage at £30 a year (fn. 637) and in 1675 the net value was £40 13s. 4d. of which £30 was paid by Epwell; New College allowed the vicar £2 13s. 4d. and from Swalcliffe, the Sibfords, and Burdrop the vicar received £8. (fn. 638) After 1714 New College paid the Vicar of Swalcliffe £20 for serving Shutford, (fn. 639) bringing the annual value up to £60 13s. 4d. By 1808 the living was worth £266 10s. 8d. net; allotments made at inclosure for tithe and glebe in Swalcliffe, Epwell, and the two Sibfords were worth £20, £130, and £73 10s. respectively; a modus of 14s. was paid on the Lea and Grange farms, and the vicar, apart from an increased stipend of £25 received from New College for the Shutford curacy, also received the ancient payment of £2 13s. 4d. for himself and a further £7 in surplice fees. (fn. 640)
In the 17th century the vicar was receiving small tithes, except of wool and lambs, from all the parish except Shutford, where he received only the hay tithe and half the offerings. He also received great tithes from Epwell. (fn. 641) In 1624 31 parishioners begged New College to improve the vicarage by annexing to it the tithes of Shutford; they claimed that the living was badly served because of its poverty. Their request seems to have been granted, for in 1655 the vicar wrote to the college demanding an allowance of £30 because the Shutford tithes had once more been taken from him. (fn. 642) During the years 1765–89 when the parish was being inclosed the vicar received the following allotments in lieu of small tithes and glebe: 9 a. in Swalcliffe, 42 a. in Sibford Gower, 22 a. in Sibford Ferris, an annual sum of £5 13s. 4d. from Shutford for the hay tithe, and 107 a. in Epwell for great and small tithes. (fn. 643) In 1828 Swalcliffe vicarage comprised two farms: one at Swalcliffe and Sibford was let with the vicarage-house, the other at Epwell was let to another tenant. (fn. 644) In 1900 the vicarage had 74 a. in Swalcliffe and Sibford let for £75 and its Epwell farm was let for £108; the modus and surplice fees brought in £6 a year. (fn. 645) In 1963 only 7 a. of glebe were left. (fn. 646)
The old vicarage-house was a long, low, thatched cottage between the west end of the church and the rectory-house. In 1665 it was assessed for tax on 5 hearths. (fn. 647) In 1762 the house was a 'total ruin', but the vicar was able to repair and inhabit it until his death. (fn. 648) In 1838–9 Canon Payne replaced it with the present vicarage-house built from his own plans on a new 10-acre site to the north-east of the church. (fn. 649)
Because of its wealth Swalcliffe rectory in the early Middle Ages was used by the patrons to provide for their relatives: Thomas de Wykeham (inst. 1265) and Thomas Arden (inst. 1329) are examples. (fn. 650) Other rectors were distinguished clergy, such as Richard Whitewell (inst. 1333), king's clerk and pluralist, who by will dated 1359 left money to repair houses and vestments in Swalcliffe, and to found a chantry to the Virgin Mary in the church. (fn. 651) His successor William Doune, Archdeacon of Leicester, an ecclesiastical lawyer, also held a prebend and a canonry, but seems to have lived at Swalcliffe where he spent money freely on the rectory-house, for which he left £26 13s. 4d. in his will. He made other bequests to his vicar, to the parish clerk, and to the Chaplain of Epwell. (fn. 652) The last known rector was William Ward of Woodthorpe, presented in 1361. (fn. 653)
Some of the early vicars held the living for long periods; one of the earliest known held office for half a century, and his successor died at the time of the Black Death after ten years of office. At the end of the 14th century, as was usual elsewhere, exchanges for a more profitable or more influential benefice became very common: thus between 1379 and 1396 there were five vicars. (fn. 654) Many of the incumbents of Swalcliffe in the later Middle Ages were graduates and after 1381 Fellows of New College were sometimes presented to the vicarage. Nicholas Wyldebore (1413–19), for instance, had been a Fellow for ten years before his presentation: (fn. 655) during his incumbency John Wykeham, a relative of the lord of Swalcliffe manor, was pardoned after being convicted of Lollardy. (fn. 656) Of the early-16th-century vicars little is known, and nothing of importance was presented at the visitations of 1517 and 1530. (fn. 657) William Goodman (inst. 1544), previously curate of Banbury, was deprived of Swalcliffe in 1556; his successor was replaced almost at once by another, who resigned some time in 1557; the next incumbent, a Fellow of Merton College, was deprived in 1559. His successor, Matthew Glave, previously curate of Broughton, had been a volens subscripsi signatory. (fn. 658)
The Elizabethan settlement seems to have brought stability, and from 1577 to 1623 the living was held by two members of the Crayker family, John and Soloman, both of whom were resident. (fn. 659) At his death Soloman left goods and chattels valued at the comparatively high figure of £164 10s. (fn. 660) Even so in 1624 the parishioners attributed the low standard of spiritual ministry in Swalcliffe to the poverty of the living: they claimed then that for years they had endured 'a continual failure of hearing God's word preached'. (fn. 661)
A notable 17th-century vicar was Thomas Merriott, Fellow of New College and a well-known grammarian, who taught grammar at Swalcliffe and published many books on the subject. Instituted in 1623–4, he was resident, kept a school at Swalcliffe, and was buried in the parish church. (fn. 662) His royalist sympathies led to difficulties with his parishioners and with Parliament; in 1637 he appealed against his assessment for ship-money, describing the living as very poor and attributing his high assessment to his parishioners' spleen against him because on another occasion he had 'rightly over-ruled their disaffection'. (fn. 663) In 1642 he was summoned to appear before the House of Commons for using 'reproachful terms against Parliament and for publishing the last royal declaration'; the living was then sequestrated. In 1646 after a hearing before the Committee for Plundered Ministers he appears to have been allowed to return to his living, from which he was forced to resign in 1659. (fn. 664) He was readmitted at the Restoration but at his death in 1662, perhaps as a consequence of his opinions, he was 'very poor and worth nothing' after his debts had been paid. (fn. 665)
The 18th-century incumbents were resident and employed assistant curates. In 1738 there was one service with a sermon in each church in the parish every Sunday, three communion services a year, and c. 60 communicants at Swalcliffe. (fn. 666) By 1768 communion services had been increased to four a year, prayers were read at Swalcliffe every Saint's Day and Holy Day, and children were catechized both at Swalcliffe and Epwell. (fn. 667) The vicar, John Caswell (1761–1808), suffered from ill-health and was somewhat easy going, claiming to read prayers on Holy Days only 'as a favour to the parishioners'. (fn. 668) During his incumbency the church choir and band were flourishing. There were at least fourteen singers and between 1783 and 1785 an oboe and bassoon, a vox humana, a hautboy, and a bass viol were acquired. (fn. 669) Caswell made improvements in the vicarage-house and the newly inclosed glebe, on which he planted many trees. (fn. 670)
During the incumbency of John Stevens (1808–37) the problem of serving a large parish on a comparatively poor income became acute; Stevens, moreover, had ten children to support. (fn. 671) He alienated his parishioners by cutting down young trees on the glebe, (fn. 672) dismissing a curate, himself in financial difficulties, at short notice, and finally by attempting to serve three churches himself, although blind and senile. (fn. 673) At times he found incompetent curates because he paid them so little; (fn. 674) it was also alleged that he offered the cure for sale and that 'though a rich man, he would sell himself if he could'. (fn. 675) His parishioners were reported as saying that they thought Stevens must have turned Roman Catholic for he prayed for the dead Queen Charlotte and must evidently be trying to save her from Purgatory. (fn. 676) By 1814 the number of communicants at Swalcliffe had fallen to 35. (fn. 677) In 1831 one Sunday service was held in each church at which Stevens occasionally preached ex tempore, contrary to the bishop's direction. (fn. 678) In 1835 the churchwardens reported that many did not come to the church and in time none would do so, but even during this unfortunate incumbency when the number of nonconformists was increasing in the hamlets there was none at all in Swalcliffe, thanks mainly 'to the sturdy churchmanship of the farmers'. (fn. 679)
With Edward Payne (vicar 1837–86) the situation improved. Besides rebuilding the vicarage-house and continually improving the church buildings, he did much for the education of the poor, and attempted to preserve village traditions such as the May Day celebrations. (fn. 680) Above all he was largely responsible for the creation of the new Sibford benefice. By 1854 religious life in the three hamlets was flourishing; at Swalcliffe the vicar employed two curates, one for Shutford and one for Epwell, and daily prayers were said; there were two services on Sundays and a monthly administration of the Sacrament; there were c. 70 communicants and a congregation of between 150 and 200. In 1855 there was no dissent in Swalcliffe parish and the average number of communicants was said to be far more than was usual in small rural parishes. (fn. 681) In 1869 Payne began to have daily services in Lent. In 1878 there were 17 celebrations of communion in the year and 134 communicants. (fn. 682) There were two full services every Sunday except on the Sundays when there was a communion service; (fn. 683) and there was a great increase in services during Lent. Payne had held evening classes for young men in the winter months in the 1850s and later in the century with the assistance of Henry Norris of Swalcliffe Manor he opened a reading-room for working men. No smoking, gambling, or drinking of alcohol was allowed. (fn. 684)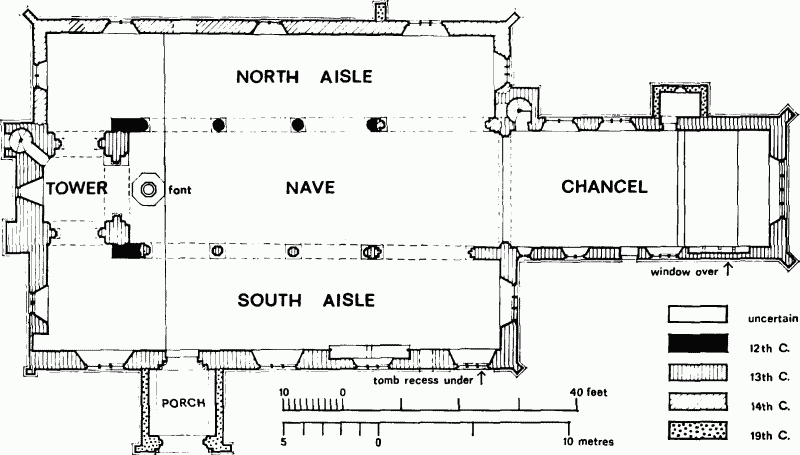 The church of ST. PETER AND ST. PAUL is a large stone building. (fn. 685) It comprises a chancel, nave, and north and south aisles which extend to the western end of the tower. The church was built mainly between the 12th and the mid 14th century, but part of the upper walls of the present nave belong to an earlier church, probably consisting only of nave and chancel and covering no more ground than that occupied by the present nave: the two small, partially blocked, round-headed windows on either side of the nave date probably from the late 11th century. (fn. 686) The three western arches of the northern arcade, which rest on circular piers with square capitals, are mid 12th century. The three western arches of the southern arcade were probably built early in the 13th century and are supported by octagonal piers; two of the capitals are decorated with stiff leaf foliage. The eastern arch, which is wider, was built later in the 13th century. The south aisle dates from the 13th century and is lighted by four triple-lancet windows and a double-lancet window at the west end. The south porch was also built in the 13th century. The tower was originally built in the 13th century and was remodelled in the 15th century when it was heightened. (fn. 687) An important enlargement took place at the end of the 13th century when the chancel was added. It is separated from the nave by a wide arch. The east window of the south aisle is contemporary with the chancel. On the outside of the church, on the eastern gable of the nave, there is a 14th-century pinnacled niche, built to house the sanctus bell. A stair in the angle between the chancel and the north aisle led originally to the rood-loft.
Further alterations were made in the mid 14th century, when the nave clerestory and a new roof were added. The northern aisle was rebuilt together with the eastern arch of the northern arcade of the nave. Throughout the 15th century there are constant references to the repair by New College of the lead roof of the chancel, and the stonework and glass of the windows. In 1446–7 a carpenter was paid for making desks and seats in the chancel, and in 1451–2 timber was brought from Tingewick (Bucks.), and further payments made for the choir furniture. In 1483 the chancel roof was renewed; a carpenter was sent from Oxford to supervise the work and Master Willeys received nearly £27 for work on the roof and the chancel. (fn. 688)
In the 17th century much of the woodwork of the church was renewed. The two front pews bear the dates 1637 and 1638; the pulpit casing, which incloses an earlier pulpit, is dated 1639; (fn. 689) and the oak door of the nave is inscribed 'Thomas Chamberlayne, 1679' and bears his coat of arms. (fn. 690) In 1664 the church was 'ruinous and much in decay'; damage, which seems to have extended to the whole fabric, but particularly to the walls and roof of the nave, was restored and repaired the same year. (fn. 691) The church appears to have been kept in fairly good repair in the earlier 18th century. In 1755 the archdeacon ordered several improvements, including the white-washing of the walls and repair of the seats, but little else was done during the next hundred years. (fn. 692)
A thorough restoration was carried out in the 1850s. The chancel, which was in a dangerous state, was restored by New College. The west gallery, which had been erected for the church musicians probably in the 18th century, and had had a small organ placed in it in 1842, (fn. 693) was cleared away. The ground floor of the tower was thrown open and the belfry raised to the first landing; the western ends of the north and south aisles were thrown open and their paving relaid; the stonework of the arcades was cleaned; and the square, deal pews were removed and several Jacobean pews repaired and reconstructed. (fn. 694) In 1862 extensive repairs to the roof were carried out, and in 1876 the south porch was entirely rebuilt. (fn. 695) Among 20th-century improvements may be mentioned the installation of electric light in 1933 by members of the Dix family, the restoration of the south aisle in 1937, and the extensive repairs carried out between 1952 and 1958, especially the replacement of the wooden chancel floor with tiles on a concrete base. A new heating system was also installed. (fn. 696)
The font dates probably from the 14th century, but the crude decoration carved on the sides is later, probably early-17th-century work. (fn. 697) The chancel screen may have been set up in 1483 when the chancel was repaired; an elaborate coloured strapwork cresting was added to it in the 16th century but has since been removed to the west end of the south aisle. A copy in tapestry of the Descent from the Cross by Roger van der Weyden was given in 1949 by Lucy, Lady Wingfield. The reredos of 3 mosaics was bought in 1887 with money left for the purpose by Edward Payne (vicar 1837–86). (fn. 698) The altar rails at the west end of the north aisle are 17th-century.
Traces of medieval wall-paintings remain in the north and south aisles.
There are brasses to Joyce Newman of Epwell (d. 1584), a daughter of John Hawten of Swalcliffe, to Joan Harris and her infant (d. 1635), and to Humphrey and Martha Wykeham (d. 1650 and 1661). (fn. 699) Only one medieval monument remains, a tombstone under a 14th-century canopy in the south aisle. Among later monuments are the following: in the south aisle a stone memorial to John Hawten of the Lea (d. 1598), framed by Corinthian columns and surmounted by a shield of arms, a marble monument with coloured demi-figures and arms to John Duncombe (d. 1645/6) and his wife Elizabeth, and a memorial to William Richard Wykeham (d. 1800); in the north (or Wykeham) aisle a marble monument with armorial shields to Richard Wykeham (d. 1635), his wife Anne (d. 1649), and to Humphrey Wykeham (d. 1650) and his wife Martha (d. 1661), a ledger stone to Ferdinando Wykeham (d. 1637), and memorials to Richard Wykeham (d. 1751) and Richard Tredwell (d. 1759); in the chancel memorials to the Caswell and Loggin families. The following vicars are commemorated: Thomas Merriott (d. 1662), William Mayo (d. 1717), John Caswell (d. 1808), J. T. Wilkinson (d. 1894), and E. G. Norris (d. 1935). (fn. 700) There is a painted glass memorial window to John Langley (d. 1865).
In 1806 the church possessed one silver cup. (fn. 701) In 1852 Henry Norris gave two Elizabethan chalices and Eleanor Norris a silver flagon. There is also a silver-gilt paten of 1784. (fn. 702)
The tower has a ring of six bells. (fn. 703) All were originally cast by Henry and Matthew Bagley of Chacombe in 1685, though the third was recast in 1720. The first was given by Richard Wykeham for the benefit of the poor, the second by Humphrey Wykeham, and the tenor by five churchwardens. All the bells were rehung in 1938 when the moulded sections of the old Jacobean bell-cage were preserved. (fn. 704)
The registers begin in 1558 and, except for minor gaps, are complete. (fn. 705)
Shutford chapel is first mentioned in 1404 but the building dates from the 12th century. (fn. 706) The chapel's status was the subject of dispute and conjecture in the 17th century and later. Whatever its origins, by the 15th century the chapel, along with a house, a yardland, and certain unspecified tithes was held and leased, apparently as parcel of the rectory estate, by New College. (fn. 707) Leases of the rectory estate made provision for the maintenance of the chapel and chaplain; in 1406, for instance, the lessee was to provide the chaplain with 12 bushels of corn, and in 1614, when Richard and Anne Wykeham were the lessees, they had to find a chaplain at their own expense to hold services in the chapel and administer the sacraments. (fn. 708) The chapel with its appurtenances was leased separately also; the college lease to Thomas Merriott, Vicar of Swalcliffe, in 1624 provided that he should either serve the cure himself or provide a chaplain. (fn. 709)
Shutford not only had its own burial ground from at least 1699 (fn. 710) but also was responsible for assessing its own church rate. (fn. 711) It seems, however, that not all of Shutford lay within the bounds of the chapelry: in 1700 the tenants of Lord Saye and Sele in Shutford East claimed that, although the chapel lay within it, Shutford East was a liberty exempt from dues paid to Shutford vill or chapelry; they alleged that they had never served as chapel wardens, overseers of the poor, or constables, that neither the proprietors of the manor nor its inhabitants had ever had any legal right to any particular seat within Shutford chapel, and that those who had attended service there had done so by 'courtesy only'. Apparently Lord Saye and Sele from time to time maintained a chapel in his Shutford East manorhouse which his tenants frequented, and funerals and christenings that were not held there took place at Swalcliffe, Shenington, or other neighbouring places. (fn. 712) This situation may explain the fact that in 1666 Lord Saye and Sele was allowing the income from Shutford tithes, which he had apparently leased, both to his own chaplain and to the curate of Shutford. (fn. 713) Although the decision of the ecclesiastical court in this dispute has not been recorded the claim of Shutford East to be a 'separate liberty' was upheld at assizes; (fn. 714) this probably meant only that it was exempt from paying church rates to Shutford, for there seems little doubt that Shutford East paid tithe to the Vicar of Swalcliffe. (fn. 715) It may be that in the early Middle Ages Shutford chapel served only the Chapter manor in Shutford West, that the rest of Shutford belonged strictly to Swalcliffe parish; and that this rather than Swalcliffe's status as mother church explains why the vicarage included the hay tithe and half the offerings from Shutford. (fn. 716) Although for a brief period in the 17th century Shutford tithes were annexed to Swalcliffe benefice (fn. 717) it was not until 1714 that New College simplified the situation by making the vicar permanently responsible for serving Shutford or for paying the curate. (fn. 718) This change of status did not take place without protest, for William Mayo (vicar 1680–1734) reported to New College that the former curate refused to give up the chapel keys. (fn. 719) As late as 1768 the Vicar of Swalcliffe told the bishop that Shutford must be a peculiar, as he had been 'elected' to it separately after he had been presented to Swalcliffe; (fn. 720) and in the early 19th century it was reported that Shutford was a parochial chapelry, which had not in any sense been united to Swalcliffe vicarage before 1714. (fn. 721)
New College paid the curate's salary when it was not specifically reserved in leases of the rectory estate, and in 1708 it was raised from £15 to £20 yearly. (fn. 722) In 1738 the amount allowed was still £20, of which the vicar retained £10 and paid the rest to a curate to hold Sunday services. (fn. 723) In the 19th century, however, the curate's salary rose rapidly from £25 in 1797 to £150 in 1850. (fn. 724)
Shutford had its own curate in 1526 and 1530. (fn. 725) The curate in 1583, Harry Hay, had a standard of living little higher than that of his poorest parishioners judging from the value of his estate at probate. (fn. 726) In 1674 the curate's house was described by Warden Woodward of New College as a 'pitiful, low, and dark house', unfit for any man to live in. At the time of his visit, however, the curate was renting another house in the village where he was able to entertain the visitors liberally, giving them 'very good wine and bottled ale, strong and small'. (fn. 727) Throughout the 18th century curates were non-resident, there was one service each Sunday, and three or four communion services a year; the number of communicants fell gradually from 20 in 1759 to 10 in 1805. (fn. 728) Shutford suffered as much as Swalcliffe from the ministry of John Stevens; in 1827 the inhabitants complained that he held the Sunday service when the poorer people were having their dinner, and it was reported that the clerk had frequently to baptize ailing children in default of a clergyman. (fn. 729) By 1831, although the curate of Shutford lived in Tadmarton, conditions seem to have improved: there was one service each Sunday, and two on one Sunday of the month, and these were well attended. Shutford shared in the general rise in standards in the mid 19th century, and in 1857 the licensed curate who served no other cure, held two services with a sermon each Sunday, and communion services monthly. Throughout the rest of the century Shutford remained to all intents and purposes a distinct parish, with its own resident licensed curate. (fn. 730)
The church of ST. MARTIN at Shutford is a small stone building comprising chancel, nave, north aisle, north chapel, and a tower, standing at the west end of the north aisle. (fn. 731) The oldest parts of the structure date from the late 12th century. The nave arcade of two pointed arches is supported by a pier and responds with Romanesque scalloped capitals, and the Romanesque west window of the aisle remains in the west wall of the later tower. There are remains of 12th-century masonry in the south wall of the nave, although most of the nave was rebuilt in the 14th century. The chancel walls and chancel arch are probably 13th century, but the east window was remodelled in the 14th century. The north chapel, which projects in the manner of a transept, is lighted by lancet windows which indicate that it, too, dates from the 13th century. The battlemented tower was added in the 15th century. There is an oak screen with openwork tracery probably of early-15thcentury date. The font dates from the end of the 12th century.
In 1674 the Warden of New College found both church and chancel in good repair. In 1755 the walls were repointed, the floor repaired, and new steps made to the pulpit. (fn. 732) In 1837 and 1840, however, neglect was reported, (fn. 733) and the vicar considered the church in 'a disgraceful state'. The building was thoroughly restored in 1841: the north wall of the aisle, the east wall of the chancel, and parts of the north chapel were restored, the aisle and chapel reroofed, the singers' gallery removed, the church reseated and repaved, the mutilated windows together with the screen repaired, and a new altar (since replaced) erected. (fn. 734) The chancel was rebuilt in 1862. (fn. 735) In 1923 the roofs of the nave and chancel were restored. (fn. 736) Calor gas replaced the oil-lamps in 1937. (fn. 737)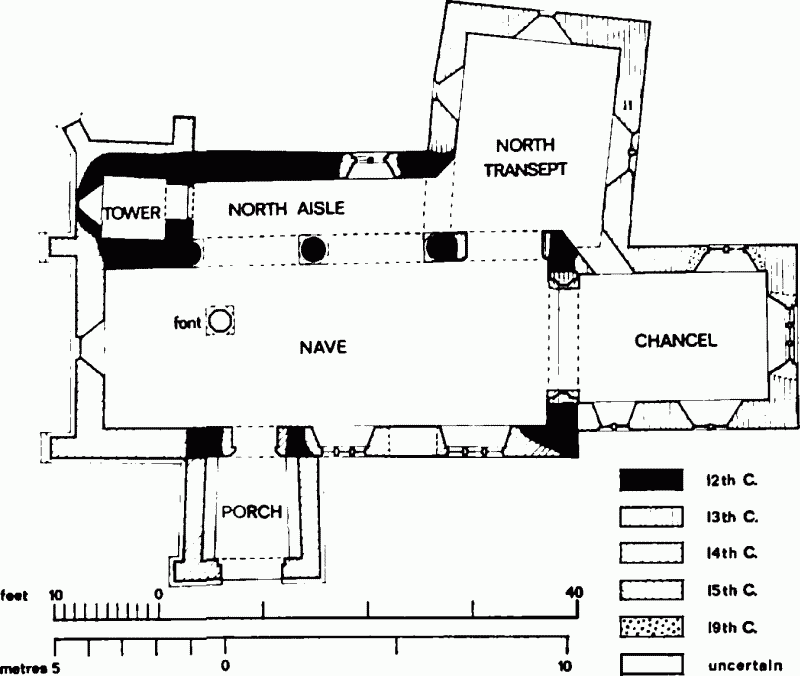 In the early 19th century there were extensive remains of early wall paintings.
The church owns a small Elizabethan chalice (1571–5).
There are two bells, one of which dates from 1675. (fn. 738) They were rehung in 1844, when one was recast. (fn. 739)
The register of baptisms begins in 1698, burials in 1699, and marriages in 1702. (fn. 740)
Epwell chapel was first mentioned in 1360 or 1361. (fn. 741) From the 16th century it appears to have had its own graveyard, and marriages were solemnized; (fn. 742) from at least 1517 there were two chapelwardens, although in the 18th century there was only one. (fn. 743) The chapel's endowment was never impropriated by New College and the Vicar of Swalcliffe had all the tithes and the glebe there. (fn. 744)
A chaplain at Epwell is mentioned in the Rector of Swalcliffe's will of 1360 or 1361, and in 1416 a new chaplain's house was built. (fn. 745) He was receiving a stipend of £5 in 1526. (fn. 746) In the early 17th century there were three communion services a year. (fn. 747) Later in the century the hamlet was said to demand the greater share of the Vicar of Swalcliffe's time because it contributed most towards his maintenance. (fn. 748) During the long incumbency of John Caswell (1761–1808) Epwell suffered from his increasing infirmity; he refused to take the service at Epwell, some miles away, unless he could go in a carriage. There was a steady decline in the number of communicants and by 1808 he was forced to maintain a curate there. (fn. 749) In 1821 and 1822 the vicar, John Stevens, was three times presented for being incapable of 'performing his duty in the church of Epwell in a proper manner'. (fn. 750) In 1829 Stevens's curate was also presented for minor negligence. (fn. 751) In 1833 and 1835 Stevens was again presented for failing to find a curate to do regular duty. (fn. 752) With Edward Payne there was a great improvement. He regularly employed curates at Epwell and purchased a residence for them, but there were frequent changes, as many as four between 1853 and 1857. (fn. 753) In 1903 a non-resident curate was serving the chapel. (fn. 754) In 1905 Epwell became a rectory annexed to the perpetual curacy of Sibford Gower. (fn. 755)
The church of ST. ANNE at Epwell is a small stone building of a somewhat unusual plan. The tower rises from the south porch, and a small aisle or chapel of two bays stands on the south side of the nave to the east of the porch. The main structure, comprising nave, chancel, tower, and aisle, appears to date from the 13th century, but a number of alterations took place in the 14th century. The tower was heightened, the original two-light belfry windows were replaced at a higher level, and several new windows, together with an aumbry and piscina, were inserted in the walls of the chancel. Repairs to the chancel were undertaken in 1425–6. (fn. 756)
In 1615–16 the chancel was again repaired (fn. 757) and in 1674 was said to be 'leaded over' and in good condition. (fn. 758) By 1755, however, the whole church was greatly in need of attention: the archdeacon ordered the outside walls to be pointed, the inside south wall to be repaired, the chancel roof to be 'boarded or ceiled', a new door to be provided for the south entrance, the royal arms to be newly painted, and the commandments and texts to be written on the walls. (fn. 759) Despite many minor repairs (fn. 760) and the building of a new roof in the 1830s (fn. 761) the church was 'in a very bad state' before its restoration in 1857. The work was carried out by Henry Franklin, a Deddington builder; the south aisle was repaved, the church reroofed, new pews inserted, and the singers' gallery at the west end, probably an 18th-century addition, removed. (fn. 762) Electric light was installed in 1957. (fn. 763)
The font is ancient, but of indeterminate date. Rawlinson found tablets to Joseph Stanton, 'professor of medicine and surgery' (d. 1696), Brett Goodwin (d. 1678), John Goodwin (d. 1694), Brett Goodwin (d. 1715), and Thomas Hawten (d. 1711). (fn. 764) Seventeenth- and 18th-century ledger stones to members of the Goodwin, Dix, Lydiatt, Pagett, and Mathews families have survived. There is a war memorial of Hornton stone in the churchyard.
In 1552 the church owned a silver gilt chalice, two brass candlesticks, a censer, a cross and painted cloth, and two pairs of vestments and a cope for the priest. (fn. 765) The present Elizabethan chalice (1571) may be an original one which escaped confiscation. There is also a small silver paten (1768). (fn. 766)
In 1552 the tower had, as now, a ring of two bells (fn. 767) and both were recast in 1858. (fn. 768) The churchyard, described in 1674 as very large, (fn. 769) was held in trust by the overseers of the poor. At the inclosure of Epwell in 1773 a piece of land (c. 1½ a.) was set out for the repairs of the chapel. This land was let in 1824 by the churchwardens at the high price of £6 10s. (fn. 770)
The register of baptisms begins in 1577, marriages in 1580, and burials in 1584. (fn. 771)
A chapel at Sibford Gower was granted before 1153 to the Templars by Agnes of Sibford. (fn. 772) In the Templar's hands it became independent of the mother church at Swalcliffe, and by the late 12th century it had its own burial ground. (fn. 773) The chapel passed with the rest of the Templar property to the Hospitallers, who in 1338 were paying £3 6s. 8d. to a chaplain to celebrate at Sibford. (fn. 774) In 1520, when they leased their other Oxfordshire lands, they bound the tenant to perform all necessary repairs to the chapel and to find a priest to say mass three times a week. (fn. 775) In 1526 the chapel had its own curate, who was paid £4 6s. 8d., (fn. 776) but by 1530 it was said to be 'annexed to Swalcliffe' (although the Hospitallers were not dissolved until 1540) and was being served by the curate of Shutford. (fn. 777) In 1542 when the manor of Sibford Gower and Sibford Ferris was sold by the Crown it was charged with the payment of £2 to Sibford's chaplain. (fn. 778) Yet in 1548 the chapel was considered to be a 'free chapel', and the king was responsible for the payment of the curate's stipend of £2. At that date the chapel was valued at £1 only; its walls were said to be very old and of rough stone, while the lead and timber roof was slated and badly decayed. There was little glass and two bells. (fn. 779) By 1560 the chapel was described as small and ruined and it is evident that religious services had ceased as the chapel was granted away to George Howard. (fn. 780)
Like most of the properties which had belonged to the Templars Sibford was probably a donative. In the 18th century the Sheldons' manor, covering parts of Sibford Ferris, Sibford Gower, and Burdrop, remained a peculiar. Since there was no longer any chapel at Sibford the only known consequence of that status was that wills were proved in the manorial court. Records of probate and administration exist from 1732 to 1829; the peculiar rights must have lapsed with the Acts of the 1830s and 1840s. (fn. 781)
By this date it had become obvious that Sibford suffered from having no church of its own. It was owing to the initiative of Edward Payne and his efforts to raise money by private subscription that a new church, registered for the solemnization of matrimony, was built at Sibford Gower in 1839–40 (fn. 782) and in the following year the separate ecclesiastical parish of Sibford Gower with Sibford Ferris and Burdrop was created. (fn. 783)
Sibford became a perpetual curacy and the patronage was vested in New College, who were still the patrons in 1965. The church was given a ½-acre of land by the Revd. William Gilkes, and, of a total endowment of £100, £30 was from a rent-charge on Swalcliffe rectory and £20 from a rent-charge on Swalcliffe vicarage. (fn. 784) In 1842 the benefice, then worth £55, was augmented by a grant from Queen Anne's Bounty of £200 to meet a private benefaction of £500. (fn. 785) In 1844 a further grant of £27 a year was made, to bring the income to £100. (fn. 786) In 1898 the income of Sibford, over £223, came from £130 rentcharge on the rectorial estate, £20 from Swalcliffe vicarial estate, £39 from the rent of glebe (11 a.), and £34 5s. 2d. from other emoluments. (fn. 787) In 1905 Epwell was annexed to this parish. (fn. 788)
HOLY TRINITY church, designed by H. J. Underwood of Oxford, was erected at Sibford Gower in 1839–40 on the land given by the Revd. William Gilkes. (fn. 789) It is a stone building in the Early English style and consists of nave, transepts, and shallow chancel. A turret at the west end of the nave contains a clock and one bell. Bishop Wilberforce considered it aesthetically a failure, built 10 years too soon. (fn. 790) In 1879 a new porch was built in memory of Elizabeth Dix. (fn. 791) In 1906 choir stalls of unstained oak and a new organ were presented by the parishioners, and electric lighting was introduced in 1934. (fn. 792) In 1938 the organ was removed to the gallery. (fn. 793) There are painted glass windows in memory of the Revd. Richard Eliot (d. 1869), Elizabeth and Joseph Pettipher (d. 1851 and 1878), and Flying Officer Hugh Oddie (d. 1943).
The registers are complete from 1841. (fn. 794)
Nonconformity.
A few Roman Catholics were returned in Swalcliffe parish in the 18th and 19th centuries. In 1784 there was a group of six in Shutford hamlet which had increased to eleven by 1811, but had dropped to two by 1814. The vicar reported that no priest attended them. (fn. 795)
Anabaptist and Quaker groups were established in the parish during the 1660s, and were probably stronger than the Compton Census of 1676 suggests, since that enumerates only 15 nonconformists, 3 in Swalcliffe, 5 in Sibford, and 7 in Shutford. By 1669 Quakers were meeting regularly in Thomas Gilkes's house in Sibford, and by 1682 they had a meetinghouse and burial ground. (fn. 796) The Sibford Quaker community remained strong, and its meeting is one of two surviving members of Banbury Monthly Meeting. A 1679 list of freeholders belonging to the meeting contains five Sibford members (two from the Gilkes family), one from Rollright Mill, and four from Hook Norton. (fn. 797) The meeting also drew support from Swalcliffe and Burdrop and Epwell, and in its early days from Shutford and the villages which later attended Shutford meeting. Friends from Hook Norton continued to be buried at Sibford after the building of their own meeting-house, which probably dates from the early 18th century. (fn. 798)
Banbury Monthly Meetings were held fairly frequently at Sibford, two each year in the 18th century, three from 1804, and five from 1870. (fn. 799) To accommodate increasing numbers it was necessary in 1736 to erect a gallery in the meeting-house. This also enabled the Women's Meeting of Discipline to assemble there. (fn. 800) Despite decline elsewhere Sibford Meeting continued to flourish in the 19th century and after 1842 when Sibford school was opened the resident staff and pupils swelled the meeting. (fn. 801) According to the 1851 Census the meeting-house could hold 200 and had an average congregation of 112. (fn. 802) The old meeting-house was built or acquired in 1678, and was replaced by the present one in 1865. (fn. 803)
Some indication of the size of the community can be gained from the Quaker register which records at least 17 Sibford family names in the 17th century, over two-thirds of them from Sibford Gower. In the 18th century as many as 47 different family names are recorded and in 1808 the two Sibfords had 24 Quaker families with over 100 members. (fn. 804) An 1870 printed list of members has 22 family names and membership between 1905 and 1929 fluctuated between 68 and 81, excluding members of the school. In 1960 membership was 90. (fn. 805)
In the 17th and 18th centuries the Tredwell, Meakes, Gilkes, Soden, and other similarly wellestablished farming families were constantly 'suffering' for their refusal to pay tithes. The last recorded distraint for non-payment of church dues was as late as 1799. (fn. 806) The vicar said, however, in 1768 that dues were always paid, and that he himself behaved with gentleness and mildness to which the Quakers responded, but in 1771 he reported that he was 'lately compelled by their own particular desire to have a warrant for three Quakers' and that they were 'now as amicable as ever'. (fn. 807)
There was a large Quaker group in Epwell, whose members attended Sibford meeting. The Quaker register and the book of 'sufferings' record five Epwell family names in the 17th century, at least three being those of yeomen. Seven family nmaes occur in the 18th century and five in the 19th; numerous members of the Hemings family occur.
Shutford also had a strong Quaker community: in the 17th century the Quaker register records no fewer than 17 Shutford family names and in the 18th century 23, but in the 19th century there were only five, two of them new. (fn. 808) A regular meeting had been established at least by 1677 and a meeting-house certainly existed by 1689. (fn. 809) By 1696 Banbury Monthly Meetings were occasionally being held there. (fn. 810) Among the leaders were eight freeholders, including three Alcocks and Thomas Taylor, (fn. 811) but Shutford Particular Meeting drew regular support from other villages, from Shenington, Tadmarton, and Hornton, and probably from other neighbouring villages. (fn. 812) John Alcock and Thomas Taylor figure regularly in the book of 'sufferings' for failure to pay tithes and consequent distraint of goods. (fn. 813) In the 18th century leading members seem to have been Hornton rather than Shutford men. Representatives of the Stevens, Jarret, Soden, and Thompson families, for instance, were from Hornton and it was a William Thompson of Hornton who was the most active member of the Shutford meeting at the end of the 18th century. (fn. 814)
Many of these old leaders died in the last quarter of the century (fn. 815) and in 1784 the members failed to contribute to a collection ordered by the Monthly Meeting; on investigation it was reported that 'there is not ability among them to contribute'. Early in 1787 it was agreed that Shutford and Banbury Particular Meetings should unite for one Preparative Meeting. In 1802 Banbury and Shutford Preparative Meeting was released, at its own request, from holding meetings at Shutford, and though meetings continued to be held there for a time the Particular Meeting merged with Banbury in 1804. (fn. 816)
In 1669 there was a conventicle of Anabaptists at Burdrop, where about 50 persons presumably drawn partly from outside the parish met in Charles Archer's house. Archer himself taught them and also James Wilmot of Hook Norton. (fn. 817) These two men were joint pastors of a 'baptized congregation' at Hook Norton. (fn. 818) In the 18th century there were still a few Anabaptists at Swalcliffe itself. A house licensed for meetings at Shutford in 1705 may have been for this sect; in 1759 the vicar reported one or two dissenting families of unspecified denomination at Swalcliffe, and in 1784 one Anabaptist was reported. (fn. 819) A barn was licensed in 1833, possibly for the use of Baptists, but in 1854 there was no dissenting place of worship in Swalcliffe village and the vicar returned only two dissenters. (fn. 820) For a brief period in the early 19th century there were a few Baptists at Sibford and Epwell. In 1811 a certificate was sent in for a meeting-house at Sibford in a barn occupied by Philip Evans. (fn. 821) The Baptist Building Fund in London made a grant of £20 to Epwell in 1833; (fn. 822) no chapel is recorded, but the Baptists mentioned by the vicar in his visitation returns of 1814 and 1820 may have belonged to Epwell. A teacher came over to them from Hook Norton. (fn. 823)
Methodism gained a firm foothold in Sibford, Shutford, and Epwell. One family was reported in Sibford in 1808, (fn. 824) the Methodist minister of Chipping Norton licensed a meeting-house in 1823, and a chapel was built at Sibford Gower in 1827. (fn. 825) In 1851 it had 120 sittings and an average congregation of 90–100. (fn. 826) It was still in use in 1969. (fn. 827) Methodists are first recorded at Shutford in 1805; in 1808 and 1814 there were six taught by a poor shoemaker whose house was licensed; he was perhaps William Pearson who in 1808 certified that his house was being used for Methodist meetings. The curate considered that something should be done to prevent 'the facility with which such poor ignorant people obtain licences'. (fn. 828)
Two 'chapels' (formerly a barn and a carpenter's shop) were licensed in 1826 and 1827 (fn. 829) and the Wesleyan chapel had congregations of 95 and 112 at the two services on the census day in 1851. (fn. 830) A small Primitive Methodist chapel also was recorded in 1869. (fn. 831) This continued active until 1920 when it amalgamated with the main Methodist body. It still had a membership of eight in 1965. (fn. 832) The chapel in Shutford West has been renovated since the Second World War largely through the energy of its women members. (fn. 833)
At Epwell in 1814 an occasional teacher from Tysoe (Warws.) was ministering to a few of 'the lowest order' (fn. 834) and in 1825 the Primitive Methodist minister of Wellesbourne (Warws.) certified a 'revivalist chapel', the property of Thomas Marsh. (fn. 835) In 1851 the chapel was said to have 110 sittings and an average congregation of over 150. (fn. 836) The society still survived (as Methodists) in 1969. (fn. 837)
Education.
The oldest established school in the parish was an endowed elementary school at Sibford Gower. (fn. 838) Its origin is obscure, but it was certainly founded before 1612 when the Commissioners for Charitable Uses ordered the restoration of the original division of the income of the town estate into three parts, one of which was for a school and schoolmaster. (fn. 839) It was stated in the 17th century that a schoolroom was built in 1623. (fn. 840)
In 1815 the school was attended by 32 boys and 23 girls, and plans were in hand to introduce the National Society's method of teaching, but it was feared that lack of books would prevent this. (fn. 841) In 1818 a new cottage was built for the master, and his salary was increased by the feoffees of the town estate, (fn. 842) although the extra money had to be taken from the poor's share of the estate. The master was expected to teach reading, writing, and arithmetic to all the children of Sibford Gower and Burdrop between the ages of 5 and 11, while his wife taught the girls knitting and sewing. Parents paid no fees for the children, but provided books and writing materials. In 1825 there were 59 children in the school, (fn. 843) but by 1833 there were no more than forty. (fn. 844) The state of the school was highly unsatisfactory. The vicar alleged in 1837 that the charity had been mismanaged for many years and was badly in debt; the master was a 'broken-down wool stapler' who had been appointed to the office to save the parish from supporting him; his wife was almost illiterate, and the buildings were ruinous. (fn. 845) On the other hand a scheme of the Charity Commissioners in 1862, which proposed the sale of the estate and the setting up of a 'County of Oxford Industrial School', was rejected on the grounds that there was no dissatisfaction at that time with the administration of the charity. (fn. 846) Finally in 1866 the master's house and school were rebuilt, and in 1878 the school was placed under government inspection. (fn. 847) In 1890 there were 68 children at the school compared with an average of 56 in 1871; in 1903 there was accommodation for 139 children and an average attendance of 81. (fn. 848) At that date the children of Sibford Ferris, for whom the charity was not available, had to pay fees. Children of labourers of Sibford Gower were educated free, but tradesmen and farmers paid 4d.–6d. a week. (fn. 849)
The strong nonconformist element in the parish, composed mostly of Quakers and Wesleyans, objected to the classification of this school as Church of England and held a public meeting of protest in 1891. The Charity Commissioners agreed that there was no specific requirement that the children should be instructed in accordance with Church principles. (fn. 850)
In 1947 the school was reorganized as a primary school. (fn. 851) In 1965 the one-third of the Sibford Gower charity formerly assigned to the school was being used for the upkeep of the one-time schoolmaster's house, which was let. (fn. 852) The number of children on the school roll in 1970 was 95. (fn. 853)
Other early schools in the parish were more ephemeral. One was kept by Thomas Merriott, vicar 1623–62. (fn. 854) In 1718 there was a 'free school' at Epwell to which the inhabitants of Sibford contributed; (fn. 855) in 1758 a schoolmaster was recorded at Sibford Ferris. (fn. 856) In 1808 there was a Quaker school at Sibford Ferris, a small school for girls at Burdrop, and a school at Epwell, where 12 children learned to read, write, and count. (fn. 857) In that year it was proposed to build a school for the parish poor in Swalcliffe with a £30 mortgage which had been given by Mrs. Loggin, but it is uncertain whether this project was carried out. (fn. 858) In 1815 there were said to be six schools in the parish, where c. 147 children were taught out of a total of 400: (fn. 859) they were probably all fee-paying. In 1818 only one other school for the poor existed besides the free school at Sibford Gower. The villagers were described as 'anxious to give their children schooling, but too poor to pay for it'. (fn. 860) A day school for 15 boys and 12 girls opened in Swalcliffe in 1822, and another for 3 boys and 7 girls in 1833, when the existence of a day and boarding school was also recorded. These schools and one at West Shutford, opened in 1832 for 7 boys and 17 girls, were fee-paying. (fn. 861) By 1837, according to the vicar, there was no school in the parish, apart from a 'very primitive dame school and the Sibford Gower endowed school'. With the encouragement of Henry Norris, lessee of Swalcliffe manor, the vicar opened a subscription fund for a National school. After some difficulty in acquiring a site in Swalcliffe a village school with accommodation for 70 was opened in 1852. (fn. 862) It had an initial attendance of 43; there was no infant school, and children were not admitted until the age of eight. (fn. 863) Government inspectors found the school reasonably satisfactory, but the children 'naturally very dull'. (fn. 864) By 1892 the school was receiving a Parliamentary grant; in 1903 it had a roll of 37; it was closed in 1948, and the children were transferred to Tadmarton and Hook Norton. (fn. 865)
Epwell acquired a National school, supported entirely by subscriptions, in 1860, when New College gave a small cottage and garden to be converted into a school. (fn. 866) The difference this made to the parish can be judged from a labourer's statement seven years later that although neither he nor many men in the parish could read or write, his two eldest children, aged 11 and 8, could. (fn. 867) The school building was enlarged in 1873 to meet the requirements of the 1870 Education Act. (fn. 868) The children paid fees of 2d. or 1d. and there were 40 pupils in 1871, 30 in 1892, and 40 in 1900. (fn. 869) The school was reorganized as a junior school in 1924 and had an average attendance of 11 in 1939; it was closed before 1945. (fn. 870)
West Shutford National school, which opened in 1869 and was built by subscriptions collected by the vicar, was said to be the first school in the hamlet. Between 35 and 44 children attended in the first few weeks, (fn. 871) and the first inspections show that, inevitably, the standard was low. The greatest problem was one of poor attendance because the children were sent to work in the fields. (fn. 872) By 1893 the average attendance was 61 and the school was then in receipt of a grant. (fn. 873) It was reorganized as a primary school in 1948, and in 1953 had a roll of 15. (fn. 874) In 1962 the Oxfordshire Education Committee decided to send all children aged between 9 and 11 to North Newington, but to keep the school at Shutford open for smaller children for the time being. The vicar and parents of 7 children defied the closure. (fn. 875) The school was finally closed in 1963. (fn. 876)
The earliest Sunday school held in the parish was probably at Swalcliffe; one was started by subscription in about 1809, and continued, apparently without a break, until at least 1884. (fn. 877) A Sunday school for 40 boys and 35 girls was started in West Shutford in 1829 and was supported by the township. (fn. 878) A Sunday school was also held in the Epwell National school after 1860. (fn. 879)
Besides schools providing elementary education the parish has had from 1842 a well-known Quaker boarding school for older pupils. (fn. 880)
Charities for the Poor.
In 1634 Richard Wykeham of Swalcliffe gave money towards the purchase of a new bell, on condition that each time it was rung some money should be put into a box for the perpetual relief of the poor. He wished that the 'people's love and forwardness to works of mercy', rather than any conditional obligation, should establish this charity. (fn. 881) The bell and an alms box were duly purchased; both were in the church in 1964.
In 1635 William Loggin left a rent charge of £2 a year to the poor, which by 1771 was charged on the rectory of Eatington (Warws.). (fn. 882) In 1824 the amount was added to the rent of a fuel allotment (fn. 883) and the whole given away in cash, according to the size of each poor family. In 1969 the income from invested capital was 10s. 4d. (fn. 884)
John Loggin, Rector of Long Marston (Glos.), by will dated 1726 gave £200 to the poor church-goers of Swalcliffe, the Sibfords, and Burdrop, and three parishes in Gloucestershire, for bread and clothing and for setting out apprentices. The money was invested in land at Sibford Ferris in 1749 and exchanged at inclosure in 1789 for two plots amounting to 20 acres. Before 1813 the accounts were in some confusion, but by 1824 the annual rent was £30–£40, and the share of the four Oxfordshire townships went to one account and was distributed in clothing, bread, and money. At that date two boys were bound apprentice out of the rates at £15 and £13, to which the charity contributed £10. By 1866 it was the rule for Swalcliffe to receive two-fifths of the total income of the charity. During the preceding 10 years £95 had been distributed among 60 persons, whether or not they received parish relief, provided they attended church. This proviso was considered an anachronism by the vicar in 1919, and he refused to act as a trustee. By a Charity Commissioners' scheme of 1900 the scope of the charity was widened to include the provision of medicine, nursing, and hospital fees, but it seems that until 1923 the entire grant was given in groceries. The rent of the land belonging to the charity increased from £34 in 1949 to £50 in 1960; in 1969 Swalcliffe received £16. 10s. (fn. 885)
In 1772 10 a. of common land were awarded to the poor of Swalcliffe in compensation for their right to cut furze; the land was to be leased and the rent distributed by trustees. In 1866 only 2 a. were still cleared of furze, which was cut by sufferance of the tenant. The rent at this date was £10 a year and poor householders received 2s. 6d. each, which they claimed as a right. By 1931 c. £21 had accumulated from the sale of stone to the rural district council and an income of £7 was derived from hunting rights and rents. (fn. 886) In 1969 the only income was £8 from hunting rights. (fn. 887)
Christopher Cook, by will proved in 1882, left money to several parishes out of which £4 a year was paid in food, clothing, or money to the poor of Swalcliffe in and after 1899. By 1904 the capital apportioned to Swalcliffe had accumulated to £160. In 1969 the income was still £4. (fn. 888)
In 1969 the income from the Swalcliffe charities, with a little interest from accumulated capital, £30 in all, was given away in cash to old age pensioners and widows in the parish. (fn. 889)
At some date before 1725 Joseph Harris gave £5 to the poor of Sibford Ferris, the interest of which (5s. a year) was paid by his nephew Joseph Harris between 1725 and 1793. The latter's son Joseph agreed to continue the payment. The charity survived until at least 1825. (fn. 890)
Sibford Gower town estate, comprising land and cottages, (fn. 891) was given for the benefit of the poor in about 1560; the donors were believed to be three sisters. In 1612 a decree of the Commissioners for Charitable Uses ordered that new trustees be appointed and the ancient uses of the charity be restored: the income was to be spent equally on the relief and maintenance of the poor, on an elementary school and school-master, and on 'pious and charitable purposes'. (fn. 892)
The town estate included 7½ yardlands in the openfields for which, at the inclosure of Sibford Gower in 1774, the feoffees were granted 207 a. on Sibford Heath. The feoffees also held six old inclosures in the village, which they exchanged for further allotments on the heath, increasing the town estate to 222 acres. (fn. 893) Eleven acres allotted to the poor for their right to cut furze were also added to the town estate. (fn. 894) In 1824 the property comprised the schoolmaster's house and land, a number of cottages occupied freely or at a nominal rent by poor persons placed in them by the overseers, and two leasehold farms which yielded a rent of £135 a year. The estate was burdened with two debts, one a mortgage of c. £414 entered into to pay off expenses of inclosure, the other the £50 remaining to be paid for the purchase of the schoolmaster's house. Thus in 1824 only £77 15s. was available for division. (fn. 895) The nine cottages belonging to the estate were sold in the 19th century and more land was bought. The town estate in 1891 was yielding a rent of £145, which by 1939 had been reduced to £127. (fn. 896) New schemes for the charity were made in 1921 and 1925. (fn. 897) In 1965 the property comprised the schoolmaster's house and Sibford Heath farm (120 a.). The income amounted to c. £520 for the rent of the farm and £25 for the schoolhouse. (fn. 898)
The threefold division of the income of the estate was not always strictly observed. In 1765 the vicar complained that the feoffees were diverting the money of the charity 'which should be applied to pious and charitable uses' to pay the parish levies, a charge which may perhaps be substantiated to some extent by later evidence. He also complained that the feoffees gave no notice of their meetings, failed to exhibit accounts or the names of the poor to whom the money went, and often gave money to persons outside the parish. (fn. 899) In 1825 the schoolmaster's salary was met partly out of the poor's third. (fn. 900) The practice whereby paupers occupying town houses had 9d. weekly deducted from their allowance was criticized by the Charity Commissioners in 1825; they held that the rent should actually be devoted to the section of the charity used for 'pious and charitable purposes'. (fn. 901) In 1824 this part of the charity was paid partly to persons not receiving poor relief, in sums varying from 1s. to 30s., and partly to weekly pensioners. Distribution of this money was made by one or two of the feoffees usually assisted by the overseer. Between 1822 and 1824 sums ranging from £18 to £27 were distributed; in 1823 £11 was also given to poor sick persons. (fn. 902) 'Pious purposes' included such objects as clothing, doles of food, medical supplies, and convalescent holidays, and the vicar was personally responsible for making such gifts. The poor's third was paid direct to the overseers; in 1789–1800, for instance, they distributed £6 6s. a year from the feoffees. (fn. 903)
In modern times the profits of the charity have been spent partly on the school and most of the surplus on coal for windows and old age pensioners. In 1969 most of the £1,000 income of the charity was held over, pending approval of a scheme to broaden the Trust's objectives, but some money was spent on educational purposes. (fn. 904)
The income of the portion of John Loggin's charity allotted to Sibford Gower, Sibford Ferris, and Burdrop amounted in 1969 to £55 which was distributed to the aged and needy in £1 grants for groceries at Christmas. (fn. 905)
At inclosure in 1773 10 a. was awarded to the poor of Epwell in compensation for their right to cut furze and other fuel. (fn. 906) In 1969 the income from rents was c. £55 which was spent on coal for the aged and needy at Christmas. (fn. 907)