Pages 274-281
A History of the County of Oxford: Volume 12, Wootton Hundred (South) Including Woodstock. Originally published by Victoria County History, London, 1990.
This free content was digitised by double rekeying. All rights reserved.
Manors and other estates
In 1066 STANTON, including land in South Leigh, was held by Alnod, and in 1086 by Odo of Bayeux: it was reckoned at 26 hides, (fn. 7) of which one lay in Hanborough and was given to Oseney abbey c. 1138. (fn. 8) Another 1 ½ hide in 'Pereio', probably in South Leigh, and held under Odo by Wadard, was apparently absorbed into the main Stanton estate before the late 12th century. (fn. 9) Following Odo's forfeiture the estate was held possibly by Ranulf Flambard, and in 1101 by Rualon d'Avranches, perhaps in custody. (fn. 10) Before 1130 Henry I gave it to his second wife Queen Adela, (fn. 11) who alienated it piecemeal, mostly after 1135.
Before 1141 Adela gave to her kinswoman Millicent, wife of Robert Marmion, land in Stanton Harcourt and South Leigh worth £40, four fifths of the value in 1086. When Robert died c. 1144 the estate, later called STANTON HARCOURT, passed to Millicent's second husband Richard de Camville, on whose death in 1176 it was seized by Henry II. (fn. 12) It was held in custody by Richard Rufus until 1190, (fn. 13) when Richard I restored it to Richard de Camville's son Richard, who died on crusade in 1191; it then passed to Robert de Harcourt of Bosworth (Leics.), who had married the elder Richard de Camville's daughter Isabel. (fn. 14) Thereafter, apart from a brief period in the early 17th century, Stanton Harcourt descended in the main line of the English Harcourts, who made it their principal seat until the early 18th century.
The manor was held by knight service and by serjeanty: Stanton Harcourt and South Leigh meadows in the royal park at Woodstock were to be cut and carried, and in winter underwood was to be cut and forage strewn for the deer if snow lay for three days. (fn. 15) In 1330 the manor was said to be held in chief as of Woodstock manor. (fn. 16) In 1196 it was reckoned at 2/3 knight's fee, in 1235-6 at ½ knight's fee, and in 1279, probably in error, at 1 1/3 knight's fee; (fn. 17) during the earlier 13th century it was more usually reckoned at 1/3 fee, and from the 1240s onwards at 1 knight's fee. (fn. 18)
Robert de Harcourt was succeeded in 1202 by his son William; (fn. 19) William's son Sir Richard (d. 1258) succeeded before 1234, when his lands were temporarily seized following confusion with the Norman Harcourts. (fn. 20) Richard's son Sir William (d. c. 1270) supported Simon de Montfort but recovered his lands under the Dictum of Kenilworth; Sir William's son Sir Richard obtained possession c. 1277 and died in 1293, when his relict Joan was assigned a third of the manor in dower. (fn. 21)
Richard's son Sir John, of age by 1301, held the manor in 1316; (fn. 22) on his death in 1330 it passed to his son Sir William, who settled it on himself and his wife Joan. (fn. 23) In 1341 the manor was said to be held by William de Shareshull, the lord chief justice, whose daughter Joan had married William's eldest son Richard; (fn. 24) William de Harcourt died siesed in 1349, however, (fn. 25) and the manor passed on his relict Joan's death in 1369 to their son Sir Thomas (d. 1417). (fn. 26) Thomas was the first Harcourt deeply involved in Oxfordshire administration, serving as knight of the shire in 1376 and as custodian of Oxford castle; he possibly began the rebuilding of the manor house, and his wife Maud was commemorated by an elaborate tomb in Stanton Harcourt church. (fn. 27)
He was succeeded by his eldest son Thomas (d. 1420), (fn. 28) and Thomas by his son Sir Robert, K.G., M.P. for Oxfordshire in 1450 and sheriff in 1455. (fn. 29) Robert was described as late of Stanton Harcourt in 1438 and 1450, (fn. 30) but was probably responsible for major additions to the manor house in the 1460s; (fn. 31) he was killed by the Lancastrians in 1470. (fn. 32) In 1473 his widow Margaret recovered two thirds of Stanton Harcourt and a third of the Harcourts' other Oxfordshire manors as jointure under an arrangement of 1440, following a dispute with John Harcourt, Sir Robert's son and heir; she was still living in 1484. (fn. 33)
In 1475 John Harcourt granted the manor to trustees, and in 1483 was outlawed for his part in Buckingham's rebellion; he died in 1484, leaving the manor to his relict Ann. (fn. 34) Their son Robert succeeded before 1495; in 1494 he was made K.B., and served as sheriff of Oxfordshire and Buckinghamshire. (fn. 35) He died before 1509, leaving four daughters, and under the settlement of 1440 Stanton Harcourt passed in turn with his other land to Richard Harcourt (d. 1513) and Sir Simon Harcourt (d. 1547), great-nephews of Sir Robert (d. 1470). (fn. 36) Simon entertained the king at Stanton Harcourt in 1534 and added the gatehouse to the manor house. (fn. 37)
The manor passed to his son Sir John (d. 1565), to John's son Sir Simon (d. 1577), sheriff of Oxfordshire, and to Simon's son Sir Walter (d. c. 1614), (fn. 38) who inherited debts from his father. In 1579 Walter leased Stanton Harcourt to his uncle Robert Harcourt as security on debts of £3,000; in 1595 his Oxfordshire lands were temporarily seized for non-payment of loans. (fn. 39) In 1602 he conveyed the manor to his son Robert (d. 1630), the traveller and speculator, with whom in 1604 he sold the South Leigh part of the estate. (fn. 40)
In 1611 Robert settled the manor house and demesne on his wife Frances in jointure. (fn. 41) In 1612 he apparently sold the manor, with all remainders and reversions, to Humphrey Aylworth, rector of Tackley, presumably to finance an expedition to Guiana, and in 1614 Aylworth sold the manor in fee simple to Francis Searle of Combe. (fn. 42) Searle died in 1619, and in 1621 his relict Eleanor and son Francis sold the manor to Edward Wakeman and Nicholas Roberts, but in 1633 Robert Harcourt was found to have died seised of the manor under the settlement of 1611. (fn. 43) Roberts vindicated his title, but in 1635 the right of Harcourt's son Sir Simon was upheld in the court of wards, whose officers, according to Roberts, were in league with Harcourt. The dispute was eventually settled in the Harcourts' favour in the 1640s. (fn. 44)
In 1642 Sir Simon Harcourt, governor of Dublin, was killed at the seige of Kilgobbin castle (co. Dublin). (fn. 45) His relict Ann, seriously in debt, in 1646 secured a jointure of £500 a year from the manor. (fn. 46) She later married Sir William Waller and in 1660 settled most of Stanton Harcourt on her son Sir Philip Harcourt, who held it in 1665. (fn. 47) Philip mortgaged the demesne in 1672, and later settled the house and much of the estate on his second wife Elizabeth; (fn. 48) he was succeeded in the rest of the manor in 1688 by his eldest son Simon, knighted in 1702 and created Baron Harcourt in 1711 and Viscount Harcourt in 1721. Simon revived the family's fortunes, adding to the Stanton Harcourt estate in the 1690s, but did not succeed to his step-mother's share of the manor until c. 1714, living mostly at Cokethorpe. In 1710 he bought Nuneham Courtenay, later the family's principal seat. (fn. 49)
He was succeeded in 1727 by his grandson Simon (d. 1777), created Earl Harcourt in 1749. From him Stanton Harcourt passed to George Simon Harcourt, Earl Harcourt (d. 1809), and to George's brother Field Marshall William Harcourt, on whose death in 1830 the title became extinct. The manor continued to descend with Nuneham, and in 1904 passed to Lewis Harcourt (d. 1922), created Viscount Harcourt in 1917. (fn. 50) In 1924 much of it was sold under the viscount's will, and further small sales were made later. (fn. 51) The remains of the estate, including the manor house, passed to Sir William Edward Harcourt, Viscount Harcourt (d. 1979), and were held in 1988 by his daughter, the Hon. Mrs. Ann Gascoigne. (fn. 52)
Before 1176 a small undertenancy was created in the manor, when Millicent and the elder Richard de Camville granted lands there to Leger Pipard to be held for 1/3 knight's fee; in 1190 the fee was held of the younger Richard de Camville by Leger's son Robert, who transferred it to his brother Richard (d. after 1228). (fn. 53) Richard's son Henry Pipard, of Lapworth (Warws.), held lands of the Harcourts worth 100s. and died c. 1258 when the Stanton Harcourt fee passed to his daughter Cecily, who married secondly Sir Henry de Harcourt, younger brother of Sir Richard Harcourt (d. 1258). (fn. 54)
Henry died before 1275, when half the fee was held by his relict and half by his heir. (fn. 55) Following Cecily's death the mesne lordship seems to have passed to her heirs by her first husband, Sir Thomas de Bishopsdon, since in 1293 Henry de Harcourt the younger, probably Henry and Cecily's son, died seised of lands and rents in Stanton Harcourt held of John de Bishopsdon; the mesne lordship was not mentioned later. (fn. 56)
The younger Henry's relict Emme married Richard Pipe, who held the fee in 1306 and 1327, and whose son John married Henry's daughter Margaret. (fn. 57) John Pipard, who apparently held the fee in 1316 and was presumably a junior member of the family, probably surrendered any rights c. 1320, when he quitclaimed lands in Warwickshire to John Pipe and Margaret and to their son Richard. (fn. 58) Margaret died after 1349, when the estate possibly passed to her grandson Henry Pipe; the later history of the fee is unknown, and the tenancy probably lapsed in the later 14th century when the family sold its Warwickshire lands. (fn. 59)
The medieval manor house stood west of the church; it was taxed on 24 hearths in 1665, (fn. 60) and in the early 18th century comprised an irregular group of buildings around an inner courtyard, with an outer courtyard to the north incorporating stables and a gatehouse. Another yard, with barns and farm buildings, lay on the west. (fn. 61) After 1688 it ceased to be the family's principal seat, and in the mid 18th century was mostly demolished, leaving the former north-east tower and chapel, the kitchen with a range to the south, and the gatehouse, extended in the 19th and 20th centuries and reoccupied as the manor house from 1948.
The main range, on the north side of the inner court, included the great hall, which was probably open to the roof and had an arched bay window on the north, said in the 18th century to contain medieval stained glass. (fn. 62) At the hall's west end was a cross passage with service rooms beyond and a north porch; on the east the hall adjoined the great parlour, which opened south into the little parlour and had a room above. The tower and chapel, beyond the parlour, were added probably between 1460 and 1470 by the mason William Orchard; (fn. 63) the chapel's surviving west wall was formerly the east wall of the parlour, and retains an earlier angle buttress on the north. The chapel, on the ground floor, comprises a short, flat-roofed nave and stonevaulted chancel, with shields of arms of Sir Robert Harcourt (d. 1470); over the chancel, the tower rises another three stories. A room over the nave included a window, later blocked, overlooking the chancel, and was used as the family pew. The chapel's north doorway may be 17th- or 18th-century. (fn. 64)
A long range, probably including bedrooms and perhaps the servants' hall, (fn. 65) ran southwards from the great parlour in the 17th century, and other rooms and a great staircase abutted the south side of the hall. At the west end of the hall buildings running more than 200 ft. south from the service rooms included the kitchen, a square stone tower 40 ft. high surmounted by an octagonal timber lantern. It has been suggested that the tower is the work of Sir Thomas Harcourt (d. 1417), (fn. 66) but the lantern is late 15th- or early 16th-century, (fn. 67) and the tower itself is probably of similar date. Smoke from three fireplaces was dispersed through shutters under the eaves, (fn. 68) which have been replaced with windows.
The two-storeyed range against the kitchen's south side is probably late 16th-century, and contained two principal rooms on the first floor; in 1726 a free-standing gallery, since destroyed, ran along the range's east side. (fn. 69) A timberframed east porch was later incorporated into the south side of the inner court.
The two-storeyed gatehouse was built c. 1540 by Sir Simon Harcourt, whose arms appear beside the main arch; (fn. 70) it lay in line with the hall porch and was flanked by lodges. A bowling green lay between it and the hall in the earlier 18th century. (fn. 71)
In 1665 the manor grounds extended south and east of the churchyard in a horseshoe shape; a series of stews on the east, still surviving, had an unusual system of sluices and ditches allowing each stew to be emptied without disturbing the others. (fn. 72) The park, probably made c. 1495, (fn. 73) lay east of the ponds.
After Sir Philip Harcourt's death in 1688 his relict Elizabeth ceased to live there. (fn. 74) In 1718 the roof of the main buildings was much decayed and many of the windows were broken. (fn. 75) Proposals c. 1720 for a new house to the south (fn. 76) seem to have been abandoned, and by 1760 the hall, east range, and much of the west range had been demolished, some of the stone being reused at Nuneham Courtenay. (fn. 77) In 1807 the chapel retained its painted ceiling, but the stained glass had been mostly removed or broken, and in 1818 the manor site was mostly ruins with 'one or two respectable dwellings' with large gardens and orchards, presumably the former gatehouse and the range south of the kitchen. (fn. 78) Both chapel and tower were used for farm storage, and in 1871 the tower was a brewhouse; the chapel was restored before 1876. (fn. 79)
The range south of the kitchen was leased to tenant farmers from the early 18th century. (fn. 80) Its southern end was demolished before 1760, leaving a stone pigeon house standing free; (fn. 81) it remained a farmhouse in 1988.
The gatehouse, occupied first by a tenant farmer and then by the vicar for parts of the 18th and 19th century, was later used by the Harcourts as an occasional residence. (fn. 82) With the stable block on the west it was incorporated into a new house for Col. Edward William Harcourt probably c. 1866: the carriageway was made into an entrance hall, additional windows were put into the north front, and a large extension was built on the south. (fn. 83) Thereafter the house, renovated in 1905, was occupied by lessees until 1948, when Lord Harcourt, having sold Nuneham Courtenay, made it his residence. A picture gallery was added on the east in 1953. (fn. 84)
The grounds, overgrown in 1948, were landscaped and embellished with sculptures and other features from Nuneham Courtenay. Their character was radically altered in 1977 with the loss of the elms, a feature since the 18th century. (fn. 85)
About 1136 Queen Adela gave land formerly held by Reynold the forester to Reading abbey. (fn. 86) The land, which escheated to the Crown in 1156 and again in 1165, was perhaps later held by the elder Richard de Camville and by Richard Rufus, and probably formed part of 2 carucates in Stanton Harcourt and South Leigh which Richard I gave c. 1194 to Henry de la Wade, a royal falconer. (fn. 87) The manor, later known as STANTON WYARD or STANTON HERLE, was held by serjeanty of guarding the king's falcons or carrying a gerfalcon; (fn. 88) the lord and his tenants also owed the services in the royal park at Woodstock by which the Harcourt manor was held, and in the 15th and 16th centuries Stanton Wyard was said to be held as of Woodstock manor. (fn. 89) In 1349 it was reckoned at ¼ knight's fee. (fn. 90)
Henry de la Wade died before 1202, leaving an infant son Henry, (fn. 91) in possession by 1228; he died in 1287, when the estate passed to his son John de la Wade (d. 1309). (fn. 92) In 1302 John conveyed Stanton Wyard, presumably by sale, to Roger Mortimer (d. 1326) of Chirk (Denb.). (fn. 93) Following Mortimer's rebellion in 1321-2 the manor was seized by the Crown, which held it in 1324; in 1327 Mortimer's nephew Roger Mortimer (d. 1330) of Wigmore (Herefs.) granted the manor in fee simple to John Wyard of Kyre Wyard (Worcs.). (fn. 94)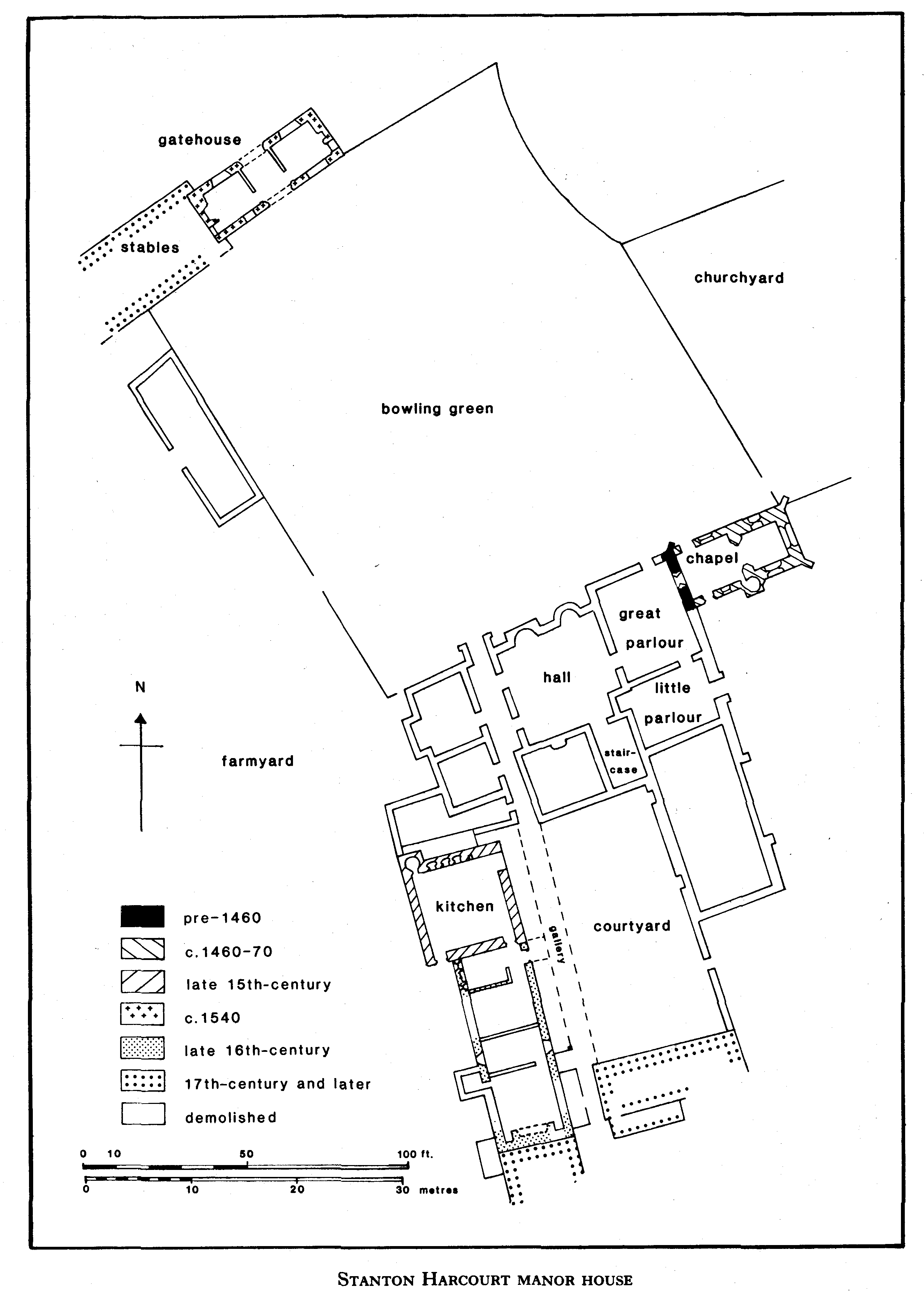 John was succeeded in 1349 by his son Sir Robert, (fn. 95) who in 1353 leased the manor for three years to Roger of Nottingham and his wife Maud and in 1354 died leaving three infant daughters, of whom only Elizabeth seems to have survived: before 1365 she married Sir John de Herle, and in 1395 they settled the manor on themselves, their daughter Margaret, and Margaret's husband Thomas Vaughan. (fn. 96) John died in or before 1396, and Elizabeth in 1397; a grant of the manor to Gilbert Talbot in 1396 was presumably for a term, since Thomas Vaughan died seised of the manor in 1432. (fn. 97) He was succeeded by his and Margaret's son William, who seems to have retained the name Herle, and died in 1437 leaving an infant son, John de Herle (d. 1511). Thereafter the manor apparently passed with Stoke Bliss (Worcs.) to John's son George (d. 1512), to George's brother Thomas de Herle (d. 1521), and to Thomas's son John Herle of Stanton Wyard. (fn. 98)
John's relict Catherine and their son John sold the manor c. 1584 to William Buttle of Stanton Harcourt, the lessee of the rectory estate, allegedly for far less than its real value; the younger John was then said to be heavily encumbered and had no other lands, and was in prison by 1585 charged with involvement in a plot to free Mary, queen of Scots. (fn. 99) He was dead by 1590, when Buttle sued Catherine over his rights in the manor; Catherine died before 1616. (fn. 1)
Buttle died before 1591, leaving a widow Alice (d. 1622). (fn. 2) In 1616 Stanton Wyard was held by their son William; (fn. 3) he died without issue in 1625, leaving as coheirs four sisters who married, respectively, William Crutchley, Thomas Wenman, John Pridy, and William Boswell. Boswell, an Oxford mercer and alderman who already had an interest in the manor, was by 1626 lending money to the other portioners and in 1633 received several terms of years in the other portions. In 1634 John Pridy the younger conveyed his portion to Thomas Wenman, who in 1635 conveyed both his portions to Boswell in fee. On Boswell's death in 1638 most of his estate passed to his elder son William, a doctor of law, who changed his name to Bosvile, and who over the next few years acquired the fourth portion from Crutchley's widow Elizabeth and her son William. (fn. 4)
Bosvile died unmarried in 1678, when most of his estate passed to his nephew Thomas Bosvile, to whom the rest reverted c. 1687; (fn. 5) Thomas also acquired from his brother William three farms in Stanton Harcourt and Sutton which had passed to their father Edward Boswell in 1638. (fn. 6) From 1683 Thomas mortgaged the estate, (fn. 7a) and between 1691 and 1693 several farms were sold to Simon Harcourt, later Viscount Harcourt. In 1693 Thomas settled the rest of the manor, mostly in South Leigh, on himself, his wife Elizabeth, and son Henry. (fn. 8a) Thomas died after 1703, and the manor presumably passed to Henry; from 1737 it was held by Hugh Bosvile (d. 1782) of Llanelen (Mon.), probably Henry's son, (fn. 9a) who inherited serious debts, (fn. 10a) and was succeeded by his son John, a physician. On his death in 1790 John left his Oxfordshire estates in trust to be sold, and in 1791 Stanton Wyard was bought with the manorial rights by John Sibthorp, later the owner of South Leigh. (fn. 11a) The manorial rights had lapsed by 1875, when the Stanton Wyard lands were sold as part of the South Leigh estate. (fn. 12a)
In 1327 John Wyard was licensed to crenellate his manor house at Stanton Harcourt; (fn. 13a) its site is unknown, but by the late 17th century the manor house was leased to Thomas Flexney and was probably that later known as Flexney's House, north-east of Blackditch. (fn. 14a) The house, of coursed limestone rubble with a gabled stone slate roof, is of two storeys, and comprises an early or mid 17th-century cross wing, remodelled in the 19th century, and an early 18thcentury range to the north-west; a stone bears the date 1675 and the initials TF, probably for another Thomas Flexney. (fn. 15a)
Before 1144 Queen Adela granted land in Stanton Harcourt to the Templars, who held lands there in 1163. (fn. 16a) The estate was probably the escheat of 7 yardlands recorded 1165-73 and the 8 yardlands in Sutton held before 1207 by the Hospitallers, from which 1 yardland had become detached. From 1165 the escheat was farmed and in 1173 was given to Turold, the king's watchman. (fn. 17a)
In 1207 the 8 yardlands, later SUTTON manor, were disputed between William de Harcourt and the Hospitallers, who sought to have an agreement with Robert de Harcourt (d. 1202) upheld. William recognized the Hospitallers' right and agreed to provide a substitute for the missing yardland; in return he was to hold the estate for life paying 38s. 4d. a year. (fn. 18a) In 1215 the manor was held by John de Preaux, presumably of William de Harcourt. (fn. 19a) In 1224 William's son Richard de Harcourt acknowledged the earlier agreement, (fn. 20a) and thereafter the manor was held by the Hospitallers until the Dissolution.
In 1544 Henry VIII granted the manor to his chaplain John Warner, from whom it passed in 1552 to William Torleis or Butcher and his wife Elizabeth, in 1569 to William Buttle, and in 1581 to Exeter College, Oxford, which in 1591 sold it to William Crutchley and his wife Elizabeth. (fn. 21a) The manor presumably passed to the Bosviles with the Crutchleys' Stanton Wyard lands, and descended with Stanton Wyard until the 18th century, being similarly reduced by sales during the 1690s; Sutton manor farm, Hamstall farm, and Friars wood were retained as jointure for Thomas Bosvile's wife Elizabeth. (fn. 22a) In 1790 the residue of the estate and the manorial rights were sold with Stanton Wyard to John Sibthorp. (fn. 23a)
In 1796 Sibthorp left lands in Sutton manor, later known as University farm, to Oxford university, to finance publication of his book Flora Graeca and to establish a professorship of rural economy; the farm was sold during the 20th century. (fn. 24a) Friars wood and Armstalls farm were absorbed into the Sibthorps' South Leigh estate, with which they were sold in 1875. (fn. 25a)
There may have been an estate office or manor house at Sutton by 1327, when Thomas le Frere contributed 8s. to the lay subsidy. (fn. 26a) From the 17th century or earlier the manor house was leased to tenant farmers, (fn. 27a) and was presumably the house given by Sibthorp to Oxford university: it was rebuilt in the 19th century.
Before 1137 Queen Adela granted 1 hide at Hamstall to Eynsham abbey, which already held half the hide for 4s. a year. (fn. 28a) Following inquiries into alienated royal demesne the land was seized by the Crown, and in 1165 and 1166 rendered 13s. a year; from 1167 to 1176 it rendered 9s., perhaps because the half hide formerly held by the abbey had been returned to it to be held free of rent, and the abbey continued to hold land in Hamstall probably until the Dissolution. (fn. 29a) By the 17th century Hamstall was attached to Sutton manor, with which it subsequently descended. (fn. 30a) The other half hide was held in custody with Stanton manor by Richard Rufus from 1171 to c. 1189, when it seems to have been incorporated into the escheat granted to Henry de la Wade. (fn. 31a)
In or before 1130 Queen Adela gave to William of Harfleur an estate of 2 ½ hides, described as one tenth of the Domesday estate. (fn. 32a) It may have been held by Roger of Sandford in 1162; Reading abbey apparently acquired Adela's charter and therefore perhaps the estate, presumably lost with its other Stanton Harcourt lands during the later 12th century. (fn. 33a)
In the early 13th century a small freehold of the Underwall (Submuro) family of Eynsham included land in Sutton and South Leigh. In 1228 Richard Underwall's relict Isabel claimed a third of ½ yardland in Sutton and a third of 4s. rent in Sutton or Pinkhill as dower; she later granted all her dower lands to her son William, who mortgaged the estate to local Jews. In 1258 Eynsham abbey redeemed the land in return for a 40-year grant from William, who sold all his land to the abbey before 1268. The lands in Sutton presumably became merged with the abbey's Hamstall estate. (fn. 34a)
The rectory estate, comprising a house, tithes, and c. 108 a. of glebe in Stanton Harcourt and South Leigh, was appropriated in 1506 to Reading abbey, which in 1509 leased it for 38 years to John Camby, registrar of the archdeaconry of Oxford, who granted it to his wife Isabel. At the Dissolution the reversion passed to the Crown, which in 1542 granted the estate at farm to Edward Fettiplace for 40 years from the expiry of Camby's lease. (fn. 35a) By 1558 the lease was held by John Penny, and by 1567 by William Butcher; before 1570 it was acquired by William Buttle. (fn. 36a)
In 1551 the rectory was included in Edward VI's exchange of lands with John Ponet, bishop of Winchester, (fn. 37a) but Queen Mary rescinded the grant. (fn. 38a) In 1558 Cardinal Pole consolidated part of the rectory estate with the vicarage; (fn. 39a) the rest of the estate, variously described as a third or two thirds (fn. 40a) and comprising great tithes, the house, 8 a. of inclosure, and Parson's wood, was granted to All Souls College, Oxford. (fn. 41a) Follow ing Elizabeth's accession the part of the rectory consolidated with the vicarage reverted to the Crown, and in 1570 was leased to William Buttle, who also obtained a lease of the All Souls portion. (fn. 42a)
In 1584 it was decided that the grant to Bishop Ponet had never been legally revoked, and Bishop Cooper reconveyed the whole estate to the queen, (fn. 43a) who leased it to William Buttle. (fn. 44a) After much effort All Souls re-established its title, (fn. 45a) and in 1589 Elizabeth granted the remaining part to the bishop of Oxford, (fn. 46a) who retained it until 1856 when it was vested in the Ecclesiastical Commissioners; by the 1960s the bishop's land was divided between Hoveringham Gravel Co., Lord Harcourt, and others. (fn. 47a)
The Buttles' lease was sold c. 1615 to William Boswell, later lord of Stanton Wyard, whose family remained lessees of the bishop's portion until the late 18th century; (fn. 48a) the tithes and glebe were occasionally sublet separately. (fn. 49a) By the late 18th century a modus of 2d. a cow for milk tithes and 1s. for calves had been established. (fn. 50a) In 1790 the estate was leased to Andrew Walsh of Oxford who sublet it soon after; (fn. 51a) in 1815 Andrew's relict Martha sold the lease of the glebe in South Leigh and the tithes there to Humphrey Sibthorp, the owner of South Leigh manor, and the tithes were commuted for a rent charge. (fn. 52a) In 1834 Martha left the rest of the estate to her sons, the eldest son Percival apparently holding the lease in 1848. (fn. 53a)
The All Souls estate was leased with the house to relatives of Robert Hovenden, the warden, in the early 17th century; (fn. 54a) Parson's wood was leased separately from c. 1624. (fn. 55a) Later lessees included Robert Huntington (d. 1685), (fn. 56a) William Gibbons, M.D. (d. 1728), and Sir Edward Ernle of Abingdon; (fn. 57a) from 1785 to 1938 the Arnatt family were lessees. (fn. 58a) The college reserved the right, not known to have been exercised, to occupy four rooms during outbreaks of plague. (fn. 59a) In the later 20th century much of the estate, including the house, was sold. (fn. 60a)
Parsonage House, a stone-built classical house with a hipped roof of Stonesfield slate, stands north-west of the church on the site of the earlier rectory house; (fn. 61a) it was built probably for Robert Huntington soon after 1669. (fn. 62a) The symmetrical plan incorporates a front of seven bays and sides of five bays, all with central doorways; a small walled forecourt has a central gateway. A small service wing was added soon after the house was built. The hall and staircase, three bays wide, run the full depth of the house; on the east are two panelled parlours, one of which retains its original marbled and grained decoration. The kitchen has original racks and benches. Paintings in the hall have been attributed to James de Witt. (fn. 63a)
A stone dovecot, south-east of the main building, was apparently built before the late 16th century; the stables, later destroyed, are said to have been built in 1792. (fn. 64a) In the 16th century the grounds contained six or seven long rectangular fishponds, of which there remain a canal, adapted soon after the present house was built, leading from the east front, and moats on the north and east. (fn. 65a)
The house was little altered until 1939-40 when it was carefully restored. Dormer windows were added to the south and west sides c. 1980