Pages 61-67
A History of the County of Oxford: Volume 12, Wootton Hundred (South) Including Woodstock. Originally published by Victoria County History, London, 1990.
This free content was digitised by double rekeying. All rights reserved.
Economic history
The open fields of Cogges are ill-recorded. North field, in the north-west part of the parish around the modern Northfield Farm, was mentioned from the early 13th century. (fn. 68) A deed in 1302 granted 3 a. in the fields of Cogges, (fn. 69) but except in North field the strips were located by reference to individual furlongs. Langefurlonge and Briddeslande were mentioned in 1242, the first immediately south of Manor Farm. (fn. 70) Two holdings described in 1407 included pieces on Sumnere, in Longemedlond, in Shortmedlond, in the furlong called Lyteldoune, in the furlong beneath Lyteldoune, at Wedefurwemere, and on the north side of Southwedemere. (fn. 71) There were three open fields by the late 17th century, when lands were divided between Cogges Court field, Gill Mill field, and Down field, and in 1776 the glebe and tithes showed the usual threefold division between wheat, lenten grain, and fallow. In the 1770s lands were divided between Upper, Middle, and Town fields. (fn. 72)
The arable included a substantial acreage of old inclosures. In 1212–13 Newland was laid out over parts of existing closes in the north-west, (fn. 73) and numerous closes were mentioned between the late 16th century and the late 18th. In 1656 Goode's farm was leased with 3 yardlands of arable and 10 named closes, (fn. 74) and in 1701 the crop of Broad close was valued at £18 and that of Jordan's close at £1, implying considerable acreages. (fn. 75) Old inclosures mentioned in 1787 lay mostly on the Oxford Clay plateau around High Cogges, where a group of very small, irregularly shaped fields, including the field-names Winnings, Grubbis, and Breach, suggest 12th- or 13th-century assarting. (fn. 76)
Medieval Cogges contained large areas of meadow, wood, and waste. River meadows bordered the Windrush along the entire south-western boundary, on the alluvium and floodplain terrace between Manor Farm and Gill Mill; meadow 11 furlongs by 2 and hay yielding 10s. a year were recorded in 1086. (fn. 77) Manasser Arsic (d. by 1190) gave to Eynsham abbey 5 a. in the meadow called Hengstesei next Thegmed. (fn. 78) The large meadows Grimesmead and Flemingfield were mentioned frequently from 1228; (fn. 79) Flemingfield was an inclosed pasture of 40 a. in 1602. (fn. 80) Cogges tenants had rights in Langel common, on the Witney side of the parish boundary, which in 1658 was said to be worth £30 a year and was free for all comers. (fn. 81)
Pasture measuring 3 furlongs by 1 was recorded in 1086, (fn. 82) and in 1228 the prior of Cogges was in dispute with Robert Arsic and others over common of pasture in Cogges. (fn. 83) In the 13th and 14th centuries there was, however, scarcely any several pasture. There was considerable heathland waste on the east boundary south of Cogges wood, where a group of rectilinear fields, many bearing the name heath, were laid out at inclosure in 1787; the adjoining areas of Eynsham and South Leigh were still heathland ten years later. (fn. 84)
Cogges lay on the south edge of Wychwood forest, and woodland was of major importance in its economy. Woodland measuring 18 furlongs by 6 was recorded in 1086. (fn. 85) Cogges wood, within the medieval forest, was once considerably larger and seems to have included the extraparochial area of Osney hill, also called Cogges wood in 1216–17. (fn. 86) There seems to have been vigorous assarting in the 12th century, for Cogges was one of the few local townships for which large fines from forest pleas were recorded. (fn. 87) In 1242 Archbishop de Grey acquired the manorial wood, estimated at 200 a., from the de la Hayes, who were to receive a cartload of firewood for every week that they spent at Cogges, and have 20 pigs in the wood quit of pannage when it was levied. (fn. 88) The archbishop had the wood freed from the foresters' regard, even though it remained within the bounds of Wychwood. (fn. 89) In 1255 the prior of Cogges was fined 40s. for unlicensed felling, (fn. 90) and further clearances during the 13th and 14th centuries seem to have steadily reduced the area of woodland. Forest proceedings throughout the 14th century recorded fellings, inclosures, purprestures, and waste committed by the de Greys in Cogges wood, which was estimated at only 100 a. in 1372; (fn. 91) in 1423 the manor included 60 a. of woodland worth nothing. (fn. 92) In the early 17th century there was a protracted dispute between Sir William Pope and a lessee who had felled over 1,000 trees. (fn. 93) Thereafter, depletion seems to have stopped; the lord was receiving £70 a year from Cogges coppice in 1660, (fn. 94) and in 1876 the wood covered c. 212 a. (fn. 95)
In 1086 there was land for 8 ploughteams; 2 were worked on the demesne by 3 servi, but no tenants or tenant ploughteams were recorded. The manor retained its pre-Conquest value of £10. (fn. 96) The apparent under-stocking and the absence of tenants seem best attributed to scribal omission, though it is possible that the whole manor was managed as a demesne. There were agricultural tenants c. 1225, when the vicar was to receive the rents of 4 cottars and the tithe of sheaves from 3 villein hides. (fn. 97)
In the 1150s a monk of Fecamp described the dismal condition of the priory manor: the house was ruinous; pigs and horses had been killed by a falling building, and oxen and sheep by pestilence; bad weather prevented cultivation; there were insufficient ploughs; and the lay lord sought to repossess all the land which his grandfather had given to Fecamp. (fn. 98) The comments suggest that Cogges had been seriously disrupted by the Anarchy.
In 1279 the smaller (de Gardinis) moiety of the main manor had ½ ploughland in demesne. Seven free tenants were named whose holdings varied considerably, from 2/3 yardland for 5s. a year to 4 a. for 2s. Two bondmen held 1 yardland jointly at the lord's will; they owed works 5 days a week except Saturday, between the feast of St. John the Baptist and Michaelmas, commutable at the lord's will for 3s. 9d.; works in the rest of the year were commutable for 3s. 9d. (fn. 99) Only two years earlier free rents had been assessed at 40s. (compared with 24s. in 1279), other rents at only 5s.; the demesne was given as 30 a. of arable worth 10s. a year and 6 a. of meadow worth 6s. a year. (fn. 1)
In 1279 the larger moiety of the manor included two demesne ploughlands with meadow and adjoining pasture. There were 11 villeins, 10 of whom held ½ yardland and owed works at the lady's will commutable for 2s. 6d.; the other villein held 1 yardland, was tallaged at will, and owed works commutable for 5s. Five cottagers each held a yardland, could be tallaged at will, and owed the same service as the villeins. Of 15 named freemen, 6 held between ½ yardland for 10s. 6d. and 1 yardland for 5s. and suit of court every three weeks; the two tenants of Gill Mill held ¼ yardland, paying a total of 30s. yearly and owing suit. The other 7 free tenants held 1 a. plots, almost certainly houses in Newland, for 12d. each. (fn. 2) In 1311 there were 28 unfree tenants recorded on the same moiety, and 43 free tenants paying rent of £7 6s. 3 ½d., suggesting serious omissions in the 1279 survey. Services owed by seven cottagers and another tenant in 1311, worth 4s. 10 ½d. a year and confined to light mowing and harvest works, show that commutation had progressed since 1279. The demesne in 1311 comprised the house, 300 a. of arable worth 100s., 40 a. of meadow worth 66s. 8d., and several pasture worth 3s. a year. (fn. 3)
The priory lands, not described in 1279, included in 1294 80 a. of arable worth 1d. an acre, 22 a. of meadow worth 1s. 3d. an acre, and 9 a. of land held by free tenants paying 5s. 10d. a year. In 1324 there were 60 a. of arable, 20 a. of meadow, and rents of 8s. 10d. from free tenants. (fn. 4) The size of the medieval yardland is unknown, but in the late 18th century yardlands on the Wenman estate were estimated at c. 21 ½ field acres or c. 17 statute acres. (fn. 5)
In 1316 there were 26 contributors to the lay subsidy, and in 1327 there were 35, including Wilcote tenants whose numbers, though small, are uncertain. (fn. 6) The largest contributor to both subsidies was Robert de Morby, life-tenant of the de Grey estate, assessed on goods worth £22 in 1316, and £15 in 1327. The second highest contributor in 1316, Hugh of Standlake, assessed on goods worth 94s. 8d., was perhaps undertenant of the smaller portion of the manor, although in 1327 Thomas de Gardinis was only the fourth highest contributor. At least 17 and possibly 20 paid less than 2s. in 1316, and 19 in 1327; Alice Jordan, who held 2 yardlands in villeinage in 1311, (fn. 7) paid 3s. 7d. in 1316. Overall the value of movables assessed rose from £53 12s. to £98 10s., falling to £70 in 1334. (fn. 8) A number of peasant families were recorded both in 1279 and in the subsidy rolls, including the villein families of Jordan, le Roke, Alriche, and Grobias, and the freeholding families of Brown and Hall.
The effects of the Black Death in Cogges seem to have been limited. (fn. 9) In 1387 rents from tenants on the priory estate totalled 5s. 6d.; there were then 26 a. of pasture besides common pasture for 200 sheep and 12 other animals, and the priory held 1 ploughland containing 75 a. of arable valued at c. 7d. an acre. The priory house and dovecot had fallen into disrepair. (fn. 10) The emphasis on sheep is not unexpected, but the greatly increased arable value seems at variance with other evidence; in 1423–4 the main manor included 180 a. of arable worth 2d. an acre yearly, with 64 a. of pasture worth 1s. an acre, 114 a. of pasture worth 2d. an acre, and 60 a. of woodland worth nothing. (fn. 11) The figures suggest that the arable was losing ground to pasture.
Some customary holdings first listed in 1412 were evidently former demesne; they included inclosed land called Prior's field in the North field with a croft, a piece of land called Borehull, 30 a. taken from the demesne, and crofts called Prior's croft, and Prior's garden; Prior's field was Priory close in 1776. The land, excluding the crofts, for which no acreages were given, totalled c. 77 ½ a., suggesting that the 75 a. demesne ploughland of 1387 had been broken up into copyholds. Other priory copyholds, mentioned in 1429, were closes called Cogges Hill, Tofts, Lye field, Middle field, Middle lands, and Oumphrey. By 1412 the priory meadow of Grimesmead had also been let out as 7 customary parcels amounting to 13 a., at a total rent of £1 6s. 4d.; there were other meadows called Twelveacres and Sydenale. (fn. 12) Both arable and meadows, including some former open-field land in North field, had clearly undergone piecemeal inclosure, again suggesting increased pastoral farming, and in 1500–1 William Newman of Cogges converted 20 a. of arable. (fn. 13) The prosperous Witney merchant Richard Wenman, who leased the priory manor from 1493, may have done so for the grazing: his will of 1533 mentions cattle and sheep in Cogges. (fn. 14)
In 1524 there were 25 contributors to the subsidy, of whom 13 paid 1s. or less. The highest contributor was Maud Bryan, lessee of the manor, assessed at 20s. William White, whose family lived at Cogges for over 200 years and provided several stewards or bailiffs of Eynsham abbey, paid 6s. 8d., Richard Bryan 6s., and the remaining seven between 5s. and 2s.; the total contribution was £3 7s. 6d. (fn. 15) Ten tax-payers from Cogges and Wilcote were assessed on goods ranging from £10 to £3 in 1578, and one person was assessed on 20s. worth of land. Walter King, whose family was prominent in Cogges throughout the 17th century was assessed on £6, two members of the Bryan family on £4, and Elizabeth White on £3. (fn. 16)
Seventeenth-century inventories confirm that a small group of families, notably the Whites and the Constables, were exceptionally prosperous. Jacob White (d. 1662), yeoman, left a total estate of £570, and Henry White (d. 1677), gentleman, £923. (fn. 17) Richard Constable (d. 1627) left £101, Lawrence Constable (d. 1632) £192, and Lawrence Constable (d. 1668) £136. (fn. 18) Edward Kearse, who lived in a house of at least 12 rooms, left an estate of over £225 in 1640. (fn. 19) William Harman (d. 1697) left goods and chattels to the value of £224, Hester Holt £104, and Sampson Horne, yeoman, £136. (fn. 20) Among craftsmen William Brooke (d. 1621), weaver, left £129, but John Lawton, blanket weaver, only £22 in 1716. (fn. 21)
In 1662 there were 25 contributors to the hearth tax in Cogges, and six, all assessed on one hearth, in Newland. (fn. 22) At least 12 farmhouses in Cogges had 3 or more hearths: Thomas Collier, lessee of the manor house, had 16, Edward Wise had 5, and James White had 4, and 9 others, including members of the Constable, Brinkfield, Andrews, and Horne families, had 3 hearths. Nine paid on 2 hearths, and 4 on one. Amongst 4 people discharged tax on account of poverty in 1665 was John Brookes, who at his death four years later had goods and chattels worth £44. (fn. 23)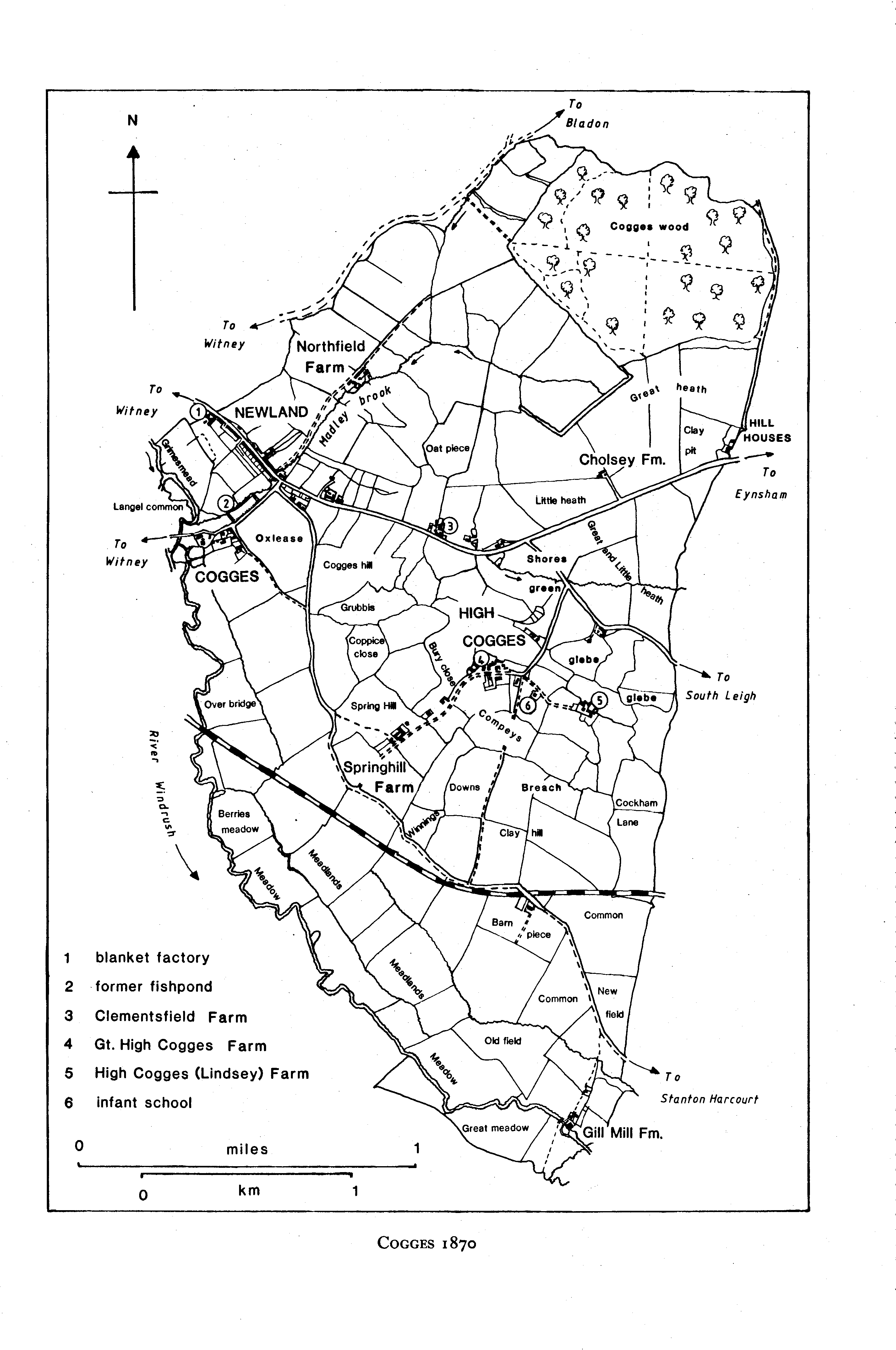 In 1517 the demesne of Cogges was let with the manor house and a dovecot. (fn. 24) In 1542-3 the lord received its rent of £13 6s. 8d., additional rents of £24 4s. 10d., and 5s. from perquisites of court; the unstocked rabbit warren rendered nothing. (fn. 25) In 1660 the demesne rents amounted to £382, of which £257 was for the home farm and £70 for Cogges coppice. Rents from 25 copyholders yielded £17 3s. 5d.; copyholders owed poultry once a year at Michaelmas, amounting to 13 capons and 11 hens, valued in all at 23s. 7d. Sixteen freeholders paid a total rent of £9 17s. 3d. a year. (fn. 26)
Copyhold grants continued on Cogges manor throughout the 17th century, although tenants also held by lease. (fn. 27) In 1718 it was stated that copyholders but not their widows were to pay heriot, and that when copyholds became vacant tenants were to have first refusal. Tops, lops, and underwood were the tenant's but other timber for repairs or building was to be had by application to the court. (fn. 28)
Sheep were kept in large numbers by the more prosperous farmers in the 17th century. Jacob White (d. 1662) had a flock valued at £102; the 96 sheep owned by Laurence Constable (d. 1632) were valued at £20. (fn. 29) Another Constable had a flock of 60, and William Harman (d. 1697) had 85 sheep. (fn. 30) The average number of cattle listed in inventories was c. 8 and the highest number 18, including 2 bulls, kept by William Harman. (fn. 31) Most farmers kept a few pigs, horses, and some poultry, but only Jacob White had many, his livestock being valued at £240; he was also a considerable arable farmer. (fn. 32) The stint in the late 18th century was 40 sheep and 4 cows to a yardland, and there was unlimited sheep commoning on the heath; in 1735 the cattle commons were said to be sound enough for good farmers to make up almost half their income from them. (fn. 33) In the early 18th century the Hayes, North field, and Cagehills were common for great cattle from Michaelmas to Candlemas, the Berrymeads for all cattle, and Tenacres and the common closes according to custom. Grimesmead was common at Lammas, and Burrell when the corn was off. Power's meadow and other grounds belonging to Gill Mill on the far side of the river were common from Lammas to Lady Day. (fn. 34)
Arable farming was varied; corn, wheat, barley, pulse, and hay were the most common crops. Only one farmer is known to have grown oats, (fn. 35) and another grew some rye; (fn. 36) vetches, too, were rare. A typical farmer, Richard Constable (d. 1627), had winter corn, barley, beans, pulse, and hay, and like most Cogges farmers seems to have balanced arable with pastoral farming. (fn. 37)
By 1735 there seems to have been some amalgamation of holdings. John Kearse's two farms together comprised over 200 a.; the manorial farm, held by Thomas Beconsale, comprised 400 a., and two others over 100 a. each. There were some farms of c. 40 a. or less, and c. 500 a. were let out to small tenants for lives. Several tenants were in arrears, which on the Harcourts' Oxfordshire estates generally was blamed on dull management and old-fashioned farming methods; (fn. 38) in 1738 Beconsale had to sell up in order to pay off arrears of over £900, and for a time part of the manorial farm was kept in hand. (fn. 39) The priory manor in 1776 comprised c. 101 a. of inclosed arable and meadow worth £78 6s. 2d. yearly, and 26 a. of open-field land worth £15 1s. 6d. a year; the open fields were said to be in a very bad state of husbandry, producing on average only 8 or 9 bu. of wheat an acre and c. 16 bu. of lenten grain. The common meadows were described as 'exceeding poor land'. (fn. 40) Such returns presumably encouraged Simon, Earl Harcourt (d. 1777), and his son George (d. 1809) to press for inclosure, and in 1777 Simon negotiated to buy the Wenman estate, then comprising three farms totalling c. 200 a., principally to enable him to inclose the parish without opposition. (fn. 41)
The parish was inclosed in 1787 under an Act of the same year. (fn. 42) The total area allotted was 1,489 a., of which 250 a. were former waste; another 785 a. of land in the parish presumably comprised old inclosure. (fn. 43) The provost and fellows of Eton were allotted c. 112 a. for glebe and c. 327 a. for tithe, mostly in the north-west around Northfield Farm, with a few meadows in the south-west. Earl Harcourt received c. 977 a. A member of the family later noted that the benefits of inclosure had exceeded the most sanguine hopes. (fn. 44)
In 1786 Cogges was farmed largely by tenants: there were only four owner-occupiers in the parish, all of them small landowners. Earl Harcourt had nine tenants, the total assessment for his land being £ 121 6s. out of £ 169 12s.. for the parish. (fn. 45) By 1831 there were eight owner-occupiers, (fn. 46) of whom Samuel Taylor, assessed at £26 15s., had probably bought the lease of the priory manor in the 1820s. (fn. 47) The total assessment of the parish was then c. £ 194, of which the Harcourt estate accounted for c. £ 128. Most of the small owners of 1786 had left by 1831, perhaps because inclosure had caused them difficulties.
Inclosure accelerated amalgamation of holdings by successful tenant farmers, and by 1809 the Harcourt estate included six farms of over 100 a., amongst them Manor farm and Great High Cogges farm, each over 300 a., and High Cogges (later Lindsey) farm of 230 a.; Clementsfield farm was 168 a. (fn. 48) Eton College's Northfield farm comprised over 400 a. by the later 19th century. (fn. 49) By 1832 the later farm pattern was well established. (fn. 50) Most farms were fairly evenly divided between arable and pasture or meadow, and land use changed little before the late 19th century: in 1871 Clementsfield farm was 64 per cent arable, Great High Cogges farm was 62 per cent, Lindsey farm 57 per cent, and Springhill farm and Manor farm c. 40 per cent. Gill Mill farm, by the Windrush, was entirely pastoral in 1832, but acquired c. 41 a. of arable land before 1871, when it remained 75 per cent pastoral. (fn. 51)
Most farms on the Harcourt estate were in a reasonable state of cultivation in 1871, although William and Thomas Hollis at Springhill farm and Manor farm were described as indifferent farmers, and High Cogges or Lindsey farm, held by the Lindseys for several generations, was in a 'disgraceful' state and needed draining. (fn. 52) From c. 1876 several Cogges farmers suffered severely from the agricultural depression, (fn. 53) their problems being blamed by Frederick Mair, the Harcourts' local agent, on appalling weather, American competition, and in some cases poor management. William Hollis was bankrupt by 1877, and Springhill farm was leased to John Marriott Clinch of Great High Cogges farm on a separate tenancy; in 1884 Clinch was forced by debt to give it up, and by 1886 he owed over £1,500 to the Harcourt estate. In 1877 Harcourt offered 10 per cent rebates to tenants paying on time, and in 1881 the rents, which had been raised c. 1871, were reduced; in 1883, however, only two tenants were able to pay on time, and by 1886, despite repeated allowances, only one of the eight tenants on the two estates in 1876, Richard Castle of Gill Mill farm, was still in possession.
In 1878 Mair admitted that nearly all the land on Clementsfield farm needed draining, and in 1877 John Clinch's wheat was under 3 ft. of water. Gill Mill farm was flooded in 1872, in 1875, and particularly badly in 1877. In 1878 funds for cleaning the river were raised from local landholders likely to benefit by the Thames Valley Drainage Board, with which Mair was involved, and although in 1879 Gill Mill farm was again flooded, the scheme was said to have been generally successful. The Harcourts undertook piecemeal drainage on several farms during the 1870s and 1880s, particularly on the poor clay soil of the former heath around Cogges wood, and on Manor farm systematic drainage continued into the 1890s.
In Cogges as elsewhere the depression prompted a shift from arable to pastoral farming, and between c. 1882 and 1894 c. 400 a. of arable were converted to permanent pasture, most of it presumably on the ill-drained Oxford Clay in the east. By 1917 c. 72 per cent of agricultural land in the parish was permanent pasture, compared with c. 38 per cent in 1870, and the number of cattle had doubled. Most, particularly on the new clayland pastures, were beef cattle, although dairying continued on Cogges and Manor farms which included significant amounts of meadowland by the Windrush. Gill Mill farm was primarily a dairy farm in 1871 and so remained. Sheep farming continued during the 1880s but declined thereafter; there were said to be c. 20 or 30 pigs on Manor farm in the 1910s, but there were apparently none by 1916. Wheat and barley continued to be the most important crops, with some swedes, turnips, and vetches, formerly grown as feed for sheep, and a small quantity of potatoes.
During the 1880s and 1890s several farms became amalgamated under the Mawles of Manor farm, the only family apparently to weather the depression. Joseph Mawle held Clementsfield farm from 1887 and Springhill farm from 1888, bringing the Mawle holding to 682 a., which included much of the better farmland; both Manor and Springhill farms were sold to the Mawles in the 1920s. Gill Mill farm was amalgamated probably with Lindsey farm in the 1890s; Robbins farm, 80 a. farmed with Northfield farm during the 1870s, was dismembered in 1883. In 1939 the largest farms were Manor farm, Springhill farm, and High Cogges and Lindsey farms. (fn. 54)
From the 13th century some inhabitants found work associated with Witney, especially in the cloth industry. Newland tenants in 1212-13 included Geoffrey the napper and Ralph the fuller, and John Milford, a webber of Cogges, was mentioned in 1400. (fn. 55) Not all the weavers and broadweavers mentioned in the 17th and 18th centuries worked in Witney; John Lawton of Newland, for example, described as a blanket-weaver, worked his own loom and sold his blankets in Witney. (fn. 56) Also mentioned in the 17th and 18th centuries were carriers, masons, wheelwrights, and in 1711 a lime burner and brickmaker, Thomas Lardner, who supplied bricks for the kitchen garden at Blenheim in 1705 and who seems to have made a good living. (fn. 57) John Harwood of Cogges, brickmaker, was mentioned in 1693; in the later 18th century one of his descendants had a limekiln, still used in 1803, at Hill Houses on the South Leigh boundary, and there may formerly have been a brick kiln on Cogges hill. (fn. 58)
Probably some parishioners were employed full-time in Witney, and although the employment in the blanket industry declined after the introduction of new machines in the late 18th century (fn. 59) the effect in Cogges was mitigated by the setting up at Newland of Early's blanket factory and Pritchett's (later Pritchett and Webley's) glove factory by the early 19th century. (fn. 60) Between 1801 and 1831 the proportion of inhabitants involved in trade, manufacture, and handicrafts rose from c. 7 per cent to over 30 per cent, (fn. 61) and in 1841 there were 20 weavers and 13 glovers at Newland, besides 9 carpenters, 6 stonemasons, 6 shoemakers, 4 bakers, a butcher, a fuller, a plumber, and a plasterer. Newland was by then effectively a part of Witney rather than of the rural community, although there was also a blacksmith, a saddler, 2 horsekeepers, and many agricultural workers, whose number declined in the later 19th century. (fn. 62) By 1883 the Cantwell family, stone-masons in the 1840s and 1850s, were established as builders on Abingdon Lane at Cogges, and William Hollis, a blacksmith in 1854, had set up on South Leigh Lane at High Cogges as Hollis and Son, wheelwrights and agricultural implement manufacturers and agents. (fn. 63)
During the 1910s and 1920s there was a shop and carpentry business at High Cogges, and the agricultural implement business continued in the 1930s; near Cogges there was still a shop and a small dairy on Stanton Harcourt Road in the 1940s. (fn. 64) In the 1970s the extension of large housing estates with shops and other amenities (fn. 65) effectively absorbed Cogges village into Witney; in 1988 High Cogges remained a separate, scattered farming community, but most of the rural trades had disappeared.
Mills and Fisheries
In 1086 there was a mill at Cogges, worth 10s. (fn. 66) The manorial mill, at the southern tip of the parish, was called Gold Mill (later Guilden, Guild, and finally Gill Mill) by 1279. (fn. 67) Gill Mill formed a small freehold estate within the manor in 1423–4 (fn. 68) and 1660. (fn. 69) In 1550 it was held by Richard Curson, gentlesman. (fn. 70) In 1564, when Vincent and Elizabeth Curson granted it to Richard Wright, the mill had a house and garden attached, with 3 a. of land, 6 a. of wood, 16 a. of meadow, and 20 a. of pasture. (fn. 71) Another Richard Wright and his son of the same name were owners and millers in 1638. (fn. 72) The mill was sold in 1639 to William Stonehouse of Cokethorpe, (fn. 73) in 1642 to Edward Perrott of North Leigh, and in 1670 to Sir Thomas Gore, the owner of South Leigh. (fn. 74) The Wrights may have remained tenants, for a Richard Wright held land in Cogges in 1660. (fn. 75) From 1670 the mill was leased separately from the house and garden to John Carter of Witney, fuller; in 1704 and 1712 there were two fulling mills there. (fn. 76) Gill Mill was apparently still worked c. 1803, but by 1832 was part of the farm. (fn. 77)
The priory mill, (fn. 78) on the Windrush north of the priory, existed by 1242. (fn. 79) It was worth 20s. in 1294 and the same value as a fulling mill with adjoining croft in 1387. (fn. 80) It was demised in 1406 to John Brayne, who held it as a customary tenement at 20s. rent in 1429. (fn. 81) The mill, with the adjoining meadow called Mullenham, was regularly leased by Eton College between 1457 and 1702, but seems to have ceased working before 1704. (fn. 82)
In 1279 the de Greys held a free fishery in the Windrush between their manor house and Gill Mill. In the 18th century it was let to tenants for £3 a year. (fn. 83)