Pages 101-110
A History of the County of Oxford: Volume 15, Bampton Hundred (Part Three). Originally published by Victoria County History, London, 2006.
This free content was digitised by double rekeying. All rights reserved.
CARTERTON
Origins and Development
Carterton, which by the late 20th century was one of the largest towns in Oxfordshire, was founded soon after 1900 as a colony of smallholders, on agricultural land in the northern part of Black Bourton parish. The founder was William Carter of Branksome (Dorset), a speculator who, through his company Homesteads Ltd of London, bought estates in several counties, in order to establish smallholdings and attract people back to the land. (fn. 1) In Oxfordshire he acquired from W. C. Arkell, in 1900, the 740-a. Rock farm north of Black Bourton village, part of an estate sold by the duke of Marlborough in 1894. (fn. 2) By late 1902 there were 16 houses, and the following year the new settlement, already called Carterton, was included in a local trades directory. (fn. 3)
By 1911 Black Bourton parish's total population had risen to 577, of which probably two thirds lived in Carterton; by 1931 it was 710, reflecting Carterton's early success as a market-gardening centre. Carterton's later transformation into a small town resulted chiefly, however, from the opening in 1937 of the neighbouring Royal Air Force airfield at Brize Norton, its expansion under the United States Air Force from 1950 to 1965, and its subsequent emergence as one of the largest RAF stations in the country: the parish's total population, most of it in Carterton, rose to 2,647 by 1951, 3,640 in 1961, and 9,798 in 1971, of whom some 65 per cent were estimated in 1978 to be RAF personnel and their families. By 1981, the first year for which separate figures are available, Carterton's population was 11,111, and in 1991 it was 12,300. (fn. 4) Further growth followed, with new housing and industrial estates under construction in the early 21st century. From 1985 the town formed an independent civil parish of 1,106 a. (448 ha.), increased to 1,168 a. (473 ha.) in 2001. (fn. 5)
Communications
Carter's new settlement was planned around the intersection of the Burford—Faringdon and Witney—Kencot roads, and relied on the existing road system. (fn. 6) A carrier travelled to Witney once a week by the mid 1920s, and by 1939 daily buses ran to Oxford, Witney, and Lechlade (Glos.), as well as to surrounding villages. (fn. 7) The road southwards to Black Bourton was suppressed in 1951, when Brize Norton airfield was extended across Black Bourton parish; thereafter the airfield formed Carterton's southern perimeter. (fn. 8) The nearest railway station was Bampton Station (in Brize Norton parish) on the GWR, used for delivery of building materials to Carterton in the 1900s; (fn. 9) in 1907 requests were made for a signpost at the station, since curious visitors were said to be unable to find their way to the new settlement. (fn. 10) Westwards the line ended at Fairford (Glos.), and in 1917 it was dismissed as a 'blind alley' which ran the wrong way, undermining links with potential markets at Cirencester, Cheltenham, and Swindon; market gardeners were said to 'lose greatly' through such difficulties, though the problems seem not to have seriously hampered Carterton's overall development. (fn. 11) Carterton station, on the same line some 2 km south of Carterton crossroads, was opened in 1944 chiefly to serve the airfield, and had no goods facilities and only a rudimentary shelter; (fn. 12) after the Black Bourton road was closed it was effectively cut off from the town, and most people used Bampton Station instead. The line was closed in 1962, (fn. 13) and in the 1990s poor transport, exacerbated by congestion of the A40 trunk road, was thought to be undermining attempts to attract new industry to west Oxfordshire generally, including to Carterton and Witney. (fn. 14)
Early Development
Soon after acquiring the estate Carter divided existing closes along the chief roads into over 300 regular plots of apparently 1 a. each, which were offered to settlers at around £25 an acre, with mortgages available. Buyers were required to observe a building line from the adjoining road (30 feet in the case of Milestone Road), and to erect a boundary fence or wall on the north and east sides of the plot at least 3 feet high. (fn. 15) Many settlers evidently bought adjoining plots, and in 1919 most house plots were of 2 a. or more. (fn. 16)
New internal roads were laid out at Carterton's inception, all following former field boundaries on a rectilinear plan. Milestone Road, named from a milestone at its eastern end on the Black Bourton road, had plots along its south side by 1907; Cobbett (later Corbett) Road, connecting Milestone Road with Alvescot Road, existed by around 1910, as did Rock Road, which originally ran westwards from Burford Road to Shill brook. (fn. 17) Lawton and Arkell Avenues were pre-existing lanes leading southwards and eastwards from Rock Farm, a late 18th-century farmhouse built soon after Black Bourton's inclosure in 1770, which was retained at the centre of the new settlement and occupied with a 20-a. allotment. (fn. 18) Agricultural buildings to its west and south were converted to domestic or other uses, one large stone barn subsequently becoming a Roman Catholic church. (fn. 19) Also retained were 19th-century labourers' cottages at the ends of Lawton and Arkell Avenues, including a pair north of the modern Alvescot Road designed by the Oxford architect William Wilkinson about 1857. (fn. 20)
Around 65 houses were noted in 1906, and by 1910 most plots had been sold. (fn. 21) Nevertheless in 1917 Carterton retained a 'colonial air' and a 'disjointed, piecemeal look', with settlers' bungalows 'strewn over such a wide area that the noticeable lack of any feeling of corporate identity is hardly remarkable'. (fn. 22) Settlement was by then loosely scattered along all the chief roads, covering much the same area as in the early 1960s though rather less densely. (fn. 23) Water supply was from wells and rain-water reservoirs, market gardeners having to 'make special facilities for storage against dry seasons'; (fn. 24) the need for public water-supply and drainage was stressed in 1917, (fn. 25) but piped water, refused by Black Bourton parish council in 1932, was not available until around 1938 or later, and there was no mains drainage in the 1950s. Electricity, supplied by the Wessex Electricity Company, was available from 1933, and limited street lighting was installed in 1937. Internal roads, many of them unmade cart tracks, were surfaced by the county council in 1920. (fn. 26)
Early Buildings
Many early buildings, most of them built by settlers, (fn. 27) were bungalows of galvanized corrugated iron mounted on a timber frame, lined internally with matched boarding, and usually with a brick chimney stack (Figs 32–4). An example on Black Bourton Road, apparently built before 1910, contained a sitting room and kitchen (each with a fireplace), two bedrooms (including one with a fireplace), and a scullery, hall, and larder. (fn. 28) Like the Methodist chapel on Burford Road, some may have been supplied by John Harrison and Co. of London, specialists in prefabricated construction, who delivered the chapel to Carterton crossroads by rail, presumably in sections awaiting assembly. (fn. 29) A corrugated-iron bungalow by the Crescent, at the western end of Milestone Road, survived semi-derelict until its demolition in 2002; few others survive unaltered, although No. 31 Lawton Avenue, and the Chestnuts south of Rock Farm, are of similar prefabricated type. A roughcast and partly timbered bungalow with a slated roof, north of Brize Norton Road, is dated 1909, (fn. 30) and some other early bungalows are of rubble or brick with a single internal stack, often roughcast, and sometimes with brick window surrounds or quoining. (fn. 31) More substantial early houses included Tynedale Villa (1906) on Burford Road, a two-storeyed house of red brick with stone quoining, and Allandale House (1908) further south, both owned around 1910, with other houses, by a local builder, who presumably erected them as an investment. (fn. 32)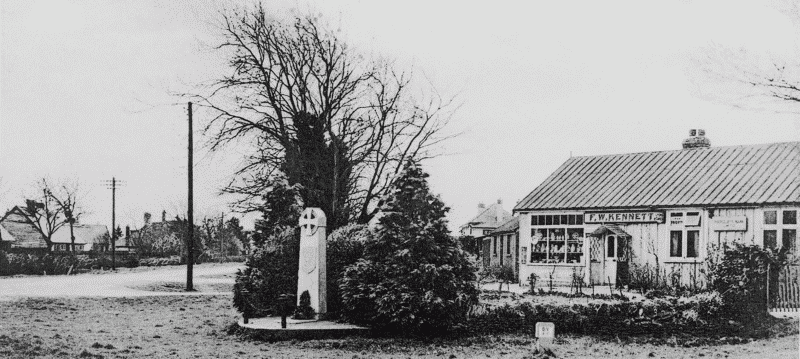 The first large commercial building, erected about 1911, was the Emporium at the main crossroads, a two-storeyed structure of partially rendered brick with a balustrade, which later became the Golden Eagle public house. (fn. 33) By the 1920s and 1930s there were several two-storeyed houses and other buildings of roughcast brick along the chief roads, among them the Beehive Hotel and Co-operative Society buildings on Black Bourton Road, and shops called the Parade near the southern end of Burford Road. (fn. 34) A house auctioned in 1938 included a breakfast room and cocktail lounge, four bedrooms, and a built-in garage with a sun balcony above, reflecting a growing number of incomers with private means attracted presumably by relatively cheap land. (fn. 35)
Development From The Second World War
Carterton's later growth was closely related to the expansion of Brize Norton airbase, and profoundly altered the settlement's character. A small group of substantial two-storeyed houses for RAF personnel, called Brizewood, was built east of Swinbrook Road about 1938, and in the 1950s was expanded with uniform bungalows for American servicemen. (fn. 36) By 1953 Carterton was a 'busy and expanding village', (fn. 37) and its rapid population increase was creating severe housing problems: in 1962 the plight of significant numbers of caravan dwellers prompted an article in the Lancet, though many residents took exception to the town's portrayal, and denied that the picture was typical. By then there were claimed to be more civilians than servicemen living in mobile homes, some of them single women, and the 'shack-like houses of the early settlers', their 'meagre appearance [bearing] eloquent witness to tight budgets and hardship', were contrasted both with the Brizewood estate and with the 'pleasant brick-built houses' elsewhere on the 'busy village main street'. (fn. 38) A few scattered 'Robin' hangars, hastily built during the Second World War to allow aircraft to be housed away from the airfield itself, were converted to other uses during the same period, one on Alvescot Road surviving in the early 21st century as part of a motor repair garage (Fig. 34b). (fn. 39)
In 1967 an ambitious scheme was launched for controlled expansion and for regeneration of the town centre, with a ring road (Upavon Way) to serve new housing, to divert traffic from the centre, and to contain future expansion. New RAF housing was to provide over 1,450 dwellings and private enterprise another 300, while local authorities were to provide shops and other much needed facilities around the central crossroads. (fn. 40) By 1976 over 2,000 houses had been built since the 1960s, those on the large RAF estates in the north-east mostly of uniform appearance with concrete exteriors, and 850 more were planned. Settlement by then spilled over the parish boundary into Brize Norton, though on the north there was no expansion beyond the parish boundary, and expansion south of Milestone Road was constrained by the airfield perimeter. (fn. 41) A large transit hotel within the airfield precinct was built by the RAF in 1970 to serve military personnel and their families. (fn. 42) The number of people in mobile homes still caused controversy in 1980, when there were almost 250 permanent or temporary pitches distributed among several sites, and in the early 1980s some sites were closed and replaced by council houses. (fn. 43) Expansion in the town's eastern part, chiefly for housing, continued in the mid 1980s. (fn. 44)
A reduced scheme for the town centre was launched in 1975 after repeated delays and controversy, and Upavon Way was opened soon after. (fn. 45) By 1997 the town centre had been transformed: shops in a variety of styles lined the four broad main streets, interspersed with a few older buildings such as the Beehive Hotel and the former Emporium, and the crossroads was dominated by a tall domed tower built in 1996, (fn. 46) surmounting new shops and offices. A large Co-operative Society supermarket of flamboyant design, on the site of the earlier building on Black Bourton Road, was erected in 1998, and in 2000 work began on a major expansion programme on the town's eastern edge, to include another 1,200 houses, a shopping centre, leisure facilities, and a new access road. (fn. 47) Rock Farm and its converted agricultural buildings, all stone-built, survived as a small group at the intersection of Lawton and Arkell Avenues, with William Wilkinson's pair of model labourers' cottages set back from the Alvescot road between modern housing. A variety of early settlers' houses also survived scattered among the modern buildings, though by 2004 several had been recently demolished or were semiderelict and under threat from developers, (fn. 48) prompting mounting local controversy.
Public Buildings and Social Provision
Early institutional buildings included a Methodist chapel (1907), a Roman Catholic church (1914), an Anglican mission church (c. 1915), and a school (1928), all initially on Burford Road. (fn. 49) A post office was opened south of Brize Norton Road before 1907, moving in the 1920s to a single-storeyed corrugated-iron building at the crossroads, later to premises on Black Bourton Road, and in the 1980s to Brize Norton Road. It became a money order and telegraph office about 1930. In 1970 another post office opened in the town's north-eastern part, but the postal service was thought inadequate and there were repeated requests for a Crown post office. (fn. 50) A branch of the London and Midland (later Midland) Bank opened before 1924, and a branch of Barclays Bank before 1928, (fn. 51) both remaining open in the 1990s. A two-storeyed police house was built north-east of the crossroads about 1916 on land owned by Oxfordshire County Council, and Carterton had a resident police constable thereafter. (fn. 52) In the late 1960s a new police station was built on Burford Road for a staff of eight, together with six police houses, (fn. 53) and the original police house was demolished. A war memorial erected at the crossroads about 1920 was moved to the new town hall on Alvescot Road in the early 1980s. (fn. 54)
The Emporium included an upstairs room for meetings and social events, (fn. 55) and a large, corrugated-iron Women's Institute hall on Brize Norton Road, erected in 1926 and still in use in 2004, hosted lectures, meetings, and dances. (fn. 56) A reading room mentioned in 1917 was succeeded by a small library also in part of the former Emporium. (fn. 57) 'Refreshment rooms' were mentioned in 1924, the Beehive Hotel on Burford Road was opened in 1932, and the Golden Eagle (renamed the Olde Aviator in 1996) was opened in the former Emporium in 1954. (fn. 58) Land for a recreation ground north of Alvescot Road was given by Carter in 1906, (fn. 59) and football, cricket, tennis, and bowls clubs were formed around 1920, together with a choral society. From 1904 to the 1920s there was a resident physician, and in 1928 a solicitor visited once a week. (fn. 60)
After the Second World War social and leisure provision failed to keep pace with Carterton's rapid expansion: in 1962 there was a midwife but no doctor, chemist, or health visitor, (fn. 61) and in the mid 1970s, when there were only three public houses and wholly inadequate shops, public spaces, and playing fields, Carterton was dismissed by one resident as not a town but a 'collection of people with no facilities'. (fn. 62) New buildings erected between 1967 and the 1980s, besides schools, included a social centre north of Alvescot road, built in 1968 on land given two years earlier for a village hall, a health centre, and, in 1986, a branch library. A swimming pool was built east of Swinbrook Road in 1974, and in 1981 a football club house was built between Swinbrook and Shilton Roads. (fn. 63) A youth centre was established in Allandale House by the county council about 1968, and accommodated several community groups in the late 1970s. (fn. 64) A town hall was built south of Alvescot Road in 1982–3 following adoption of town status a few years earlier, (fn. 65) and a new leisure centre and swimming pool was opened in 2003, though more sports and leisure facilities were still felt to be needed. (fn. 66)
By the late 1970s such initiatives were said to be fostering an increased sense of communal identity. An annual carnival and outdoor Christmas festivities were attended by several thousand, and annual St George's day celebrations were introduced in 1985. (fn. 67) Relations between civilians and the RAF, on which the town continued to depend economically, remained less close, encouraging perceptions of two separate communities. Nevertheless there were occasional joint activities and some joint societies, the RAF allowing civilians to use some of its leisure and shopping facilities, and cooperating with the chamber of commerce. (fn. 68)
Schools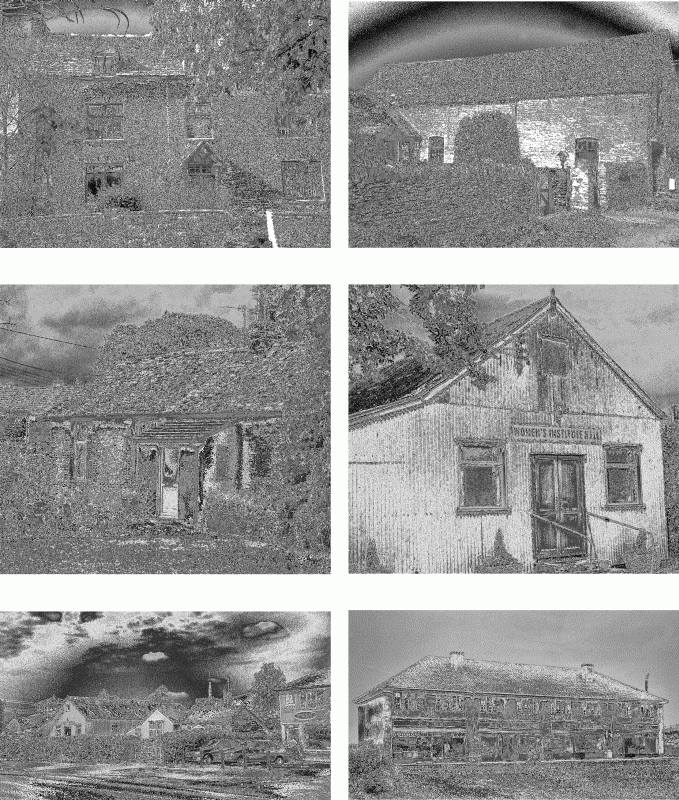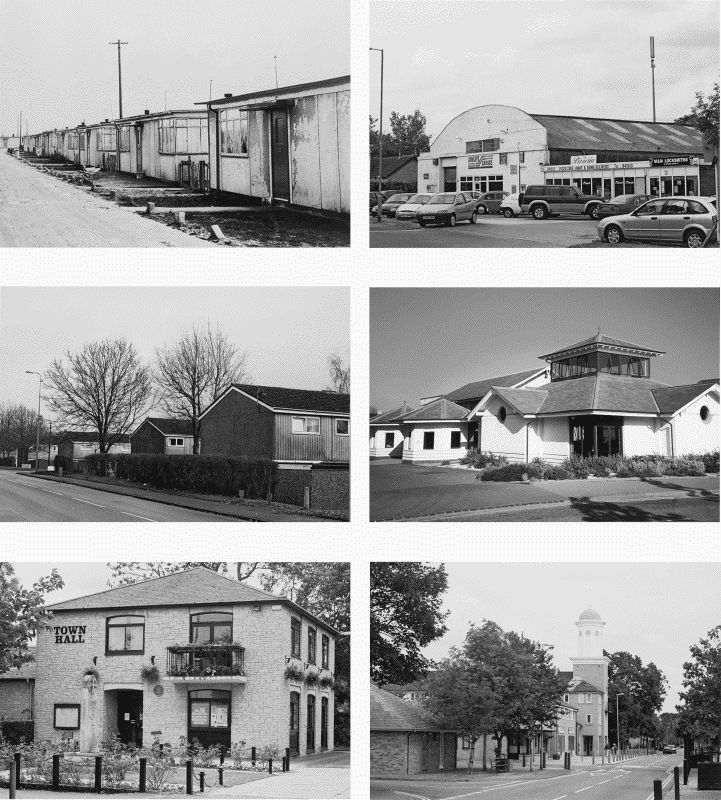 Until 1928 Carterton children attended schools in neighbouring villages, among them a small private school in Black Bourton. (fn. 69) A two-class school for infant and junior children, later Carterton County Primary school, was opened that year on the east side of Burford Road, presumably by the county council, which ran it certainly by the 1940s. (fn. 70) Rising population between the 1940s and 1960s necessitated frequent use of outside buildings as overflow classrooms, and in 1949 over 20 children of Royal Air Force families were attending Brize Norton school, creating overcrowding there. New classrooms were added piecemeal at Carterton school from the 1940s to 1980s, the number of pupils rising from 149 in 1954 to 498 in 1970, and in 1993 the roll was 385. (fn. 71)
Overcrowding during the 1950s prompted the United States Air Force to build a second school in the southeast on the edge of the airfield, for which an iron footbridge was built over the Brize Norton road. (fn. 72) The school was re-opened for children of RAF personnel after 1965 and became the Gateway County Primary school before 1970. St Joseph's Roman Catholic Primary school in the north-west was opened in 1968, and the nearby Edith Moorhouse County Primary school in 1969. In 1993 the rolls were 279, 172, and 291 respectively. St John the Evangelist Church of England Primary school, on the town's north-eastern edge, opened in 2003.
Older children attended Burford Grammar (later Comprehensive) school until 1968, when a junior comprehensive school was established on the airfield in hutted accommodation. The school moved to new buildings north of Upavon Way in 1971, becoming a senior comprehensive about 1976; in 1993 it had 497 pupils.
Church and Chapels
The first religious group to be formally established in Carterton were Wesleyan Methodists, who by 1904 were holding Sunday services in Rock Farm, and in 1905 Carterton was placed on the Witney circuit. (fn. 73) A corrugated-iron chapel was built at the corner of Burford Road and Arkell Avenue in 1907 on land acquired from Homesteads Ltd, as part of a general expansion of the circuit by the Witney pastor Arthur Martin. (fn. 74) Membership, 17 in 1932 and 19 in 1951, nevertheless failed to reflect the rise in Carterton's population, falling to 12 by 1963; (fn. 75) it was 23 by 1974, when local weakness was attributed partly to the absence of a resident minister, and ecumenical approaches to the Anglican Church were recommended. (fn. 76) A new chapel, of rendered block construction and seating 60, was built in 1955 immediately south of the original building, which became a church hall; the original building was replaced in 1981–4 by a new brick-faced chapel with 160 sittings, and the southern building became part of a new attached hall fronting Burford Road. (fn. 77) Both chapel and hall remained open in 2004.
A Roman Catholic church dedicated to St Joseph, probably of corrugated iron and with 50 sittings, was built on Burford Road in 1914. Until about 1938 it was served from Oxford or elsewhere, but thereafter there was a resident priest. A converted 18th- or early 19th-century barn on Arkell Avenue, formerly belonging to Rock Farm, was adopted as a new church and church hall in 1940, and remained open in 2004; the dedication was unchanged. (fn. 78)
An Anglican mission church dedicated to St John the Evangelist, of corrugated iron and with 120 sittings, was built on the east side of Burford Road probably soon after 1915, when the site was conveyed to the Ecclesiastical Commissioners; it was never formally consecrated, and was served from Black Bourton. (fn. 79) The arrangement continued until 1963, when the church was rebuilt and the northern half of Black Bourton parish, including the airfield and all of Carterton, was merged with Brize Norton as a united benefice, the vicar living at Carterton in a newly built house behind the church. The advowson was vested in the dean and chapter of Christ Church, Oxford, as patrons of Brize Norton. (fn. 80) In 1977 Carterton became a separate ecclesiastical parish under Order in Council of 1976, its church, still an unconsecrated mission hall, being designated the Parish Centre for Worship; it became a separate benefice in 1980, to which Christ Church presented. (fn. 81) In 2003 it was re-united with Brize Norton, which was served from Carterton. By then successful ecumenical initiatives were said to be reviving the fortunes of all Carterton's churches, which accommodated various social groups and activities. (fn. 82)
The original corrugated-iron Anglican church was replaced in 1963 by a rectangular hall of brick, to which a bell of 1619, by Henry Knight, was transferred from Black Bourton church; (fn. 83) a clock by Smiths of Derby was installed about 1973. (fn. 84) The church was substantially extended to the north and west in 1993, (fn. 85) when the altar was moved to its new west end, which is lit by a large glass lantern under a pyramidal roof. The extensions are of roughcast brick, with varied roof lines and some circular window openings (Fig. 34b).
A separate chapel of St Christopher was established within the airfield perimeter before 1971. (fn. 86)